Get Business Phone Number
It's time to level up your business with a dedicated business phone number that will help you answer every customer call without delay. Keep your personal and business phone numbers separate and optimize your services to ensure caller experience can be heightened to a new level.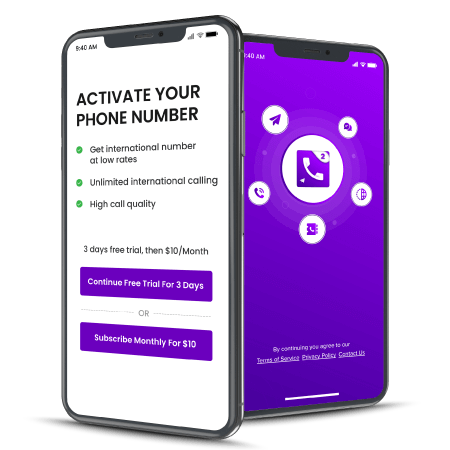 Why You Should Get a Business Phone Number for Your Business?
With a business phone number, you can easily stay in touch with your customers, answer their queries and solve all their problems without further interference. Moreover, it helps you keep your personal life separate and manageable from your business life.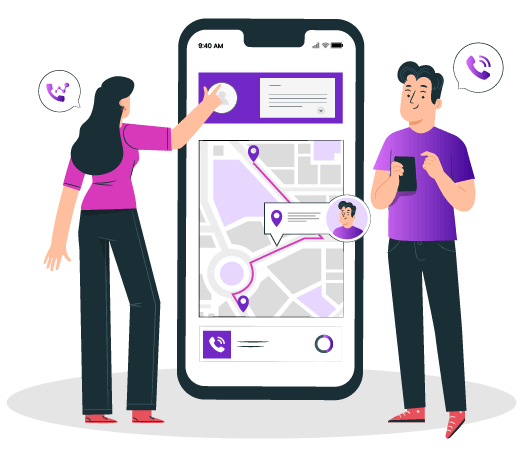 Calls Tracking
When employees make calls to different callers or vice versa, such as the admin department or management department, you wouldn't know what conversation is going on or other call details.
For any future reference, you won't have any data that can help you understand why the call was made, the resolution provided, and the customer feedback. This is why every business must get a free business phone number with which they can track the calls & connect with the customers seamlessly and without any interference.
This will not only help you understand your customers' grievances but also give you leverage in sales management and a strong way of business communication.
Integrated IVR System
Another major advantage of having a virtual business phone number is the integration of Interactive Voice Response (IVR). With this system, you can reduce the burden on front desk executives or those employees who handle re-routing tasks.
The automated Voice Assistant will receive the call, analyze the customer's options, and redirect the same call to the first available executive working in the same domain.
Thanks to this virtual Business Phone System, all the calls will be directed toward the right executive who will be able to solve them. This will further reduce the overall chaos in the project and enhance the user experience.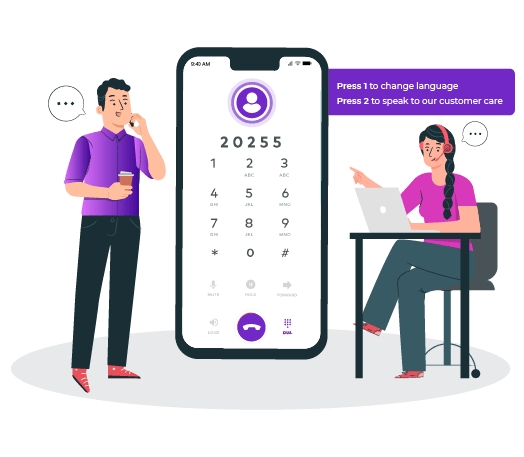 Compatible with Different Phones
When you get a business phone number, you can use that same number to integrate different types of phones or any other connecting devices in the same network.
So, for example, you can connect your mobile, landline number, desk phone, and even remote phones on the same network without having to take multiple phone numbers for each device. This will reduce your total investment and ensure all the work is done uniformly without any discrepancy or redundancy.
For any assistance related to our Business Phone number providing phone System, you can reach our consultants at DialerHQ to learn more about how our business phone number works and what benefits you can enjoy.
VoIP Business Phone Numbers
You would be amazed to know that your virtual phone number for business can be connected to the Internet for making international or remote calls.
The VoIP system and other voice-over-Internet Protocol systems help in making calls over the Internet without using any cellular communication feature.
Therefore, you don't have to worry about handling a long queue of callers waiting in line to get in touch with executive members or frustrated customers who cannot connect with your business for a resolution. Choose now and integrate the business phone number at the earliest.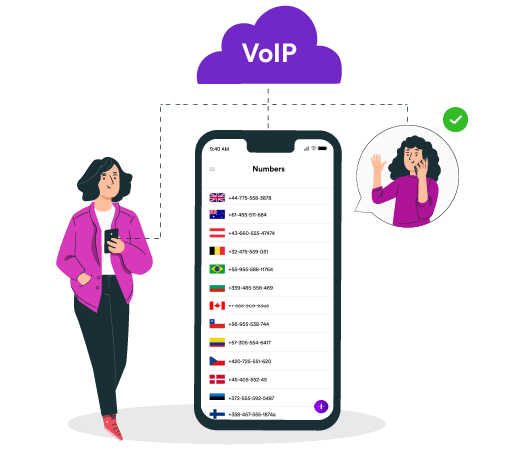 How to Get A Business Phone Number?
If you are starting a small business or planning to expand your business in your local area or internationally, then strong and manageable communication is a must and for that, you need a Business Phone Number. But how will you get one?
The process of getting your preferred phone number becomes really simple with the DialerHQ App: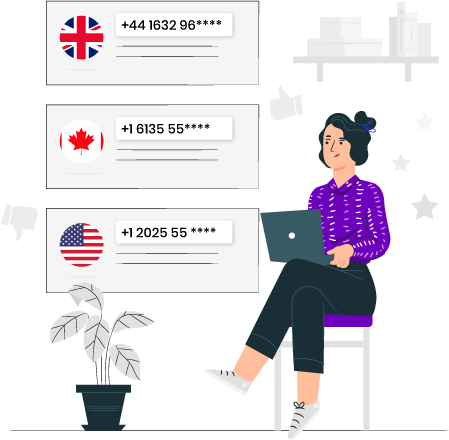 Choose your country location and your preferred business phone number from the list.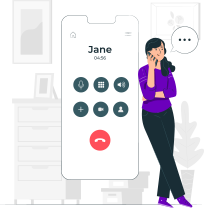 Dial or text your customers anywhere, anytime with your business phone number!
How to Find the Best Business Phone Number from a Long List?
Choose International Numbers
Better Call Quality
With DialerHQ, get exceptional call service at affordable pricing. Reduced call drop while making and receiving calls.
Call And Text Globally
Get a free business number and connect with people from across the globe with no roaming charges or tariffs.
No Additional Equipment Needed
Setting up a business telephone number is a simple process. You will require a good wifi connection & no additional hardware.
Unique Calling Features Available
You get additional features with a free business telephone number, including call recording, voicemail, call forwarding, and more.
Convenient to Use
With get a business number free,  manage all your calls, voicemails, texts, & on a single platform-no need to switch between tabs.
Business Phone Number: Everything you need to Know
Consider owning a separate business phone number to increase your credibility and recognition. A business phone for your business will allow you and your employees to keep their private phone numbers away from business activities.
Want to know more about business phone numbers? Well, you are in the right place.
This article elaborates on business phone numbers, the importance of business phone numbers, business number types, how to choose a virtual business phone number, and the lists of top service providers of affordable business phone numbers in detail.
What is a Business Phone Number? 
A business phone number, also known as direct inward dialing (DID) number, is like other telephone numbers; however, it doesn't tie to any specific phone system. With a business phone number, you can access or use the number on various devices from various locations. In addition, you also use the number while you travel by using the provider's web or mobile applications.

Source
Setting up a business phone number is simple and easy, unlike traditional phone numbers. You only need to download the provided applications on your desktop or mobile phone and select the desired phone number & plan.
Different Types of Business Phone Numbers 
Just like business differs, phone numbers for businesses also change. The business telephone number should be chosen upon the business consideration and the features provided by the service provider.
Source
Here are the lists of 4 main types of virtual business phone numbers from which you can choose the one that suits well for your business.
Local Numbers

: Local business phone number suits businesses looking to establish their presence locally.

Local phone numbers

are tied to specific locations/areas to assist local customers. Moreover, setting up the local phone number is simple and easy.

Toll-Free Numbers

: Toll-free number suits businesses looking for an affordable option to achieve more professionalism.

Toll-free phone numbers

are often considered as the number begins with the 3-digit prefix '800'. However, free business numbers have a variety of area codes other than '800' such as 888, 877, 855, 866, and so on.

Vanity Phone Numbers

: Vanity number suits businesses keen to achieve better name recognition among potential customers. Vanity numbers are referred to as customizable personalized phone numbers. For example, the vanity phone numbers for a flower shop can be 1-800-FLOWERS.

VoIP Phone Numbers

: VoIP (Voice over Internet Protocol) phone numbers suit businesses searching for advanced & latest features for better call management. This business phone number has scalability and additional features you can't find in others.
Why Do You Need a Business Phone Number? 
Having a separate company phone number will always be beneficial for your business.Virtual phone numbers for business offer many more benefits than having a traditional landline. Apart from giving a professional appearance to your business, here are lists of additional reasons that tell you should have a virtual business phone number.
Multi-device access at a time through forward calls or call queues features.

Acquiring additional communication channels like business texting, faxing, MMS, etc.

Other features for better call management include call screening, voicemail, etc.
Must-Have Business Phone Number Features 
Here is the list of highlighting features essential to have in your business number. Take a look.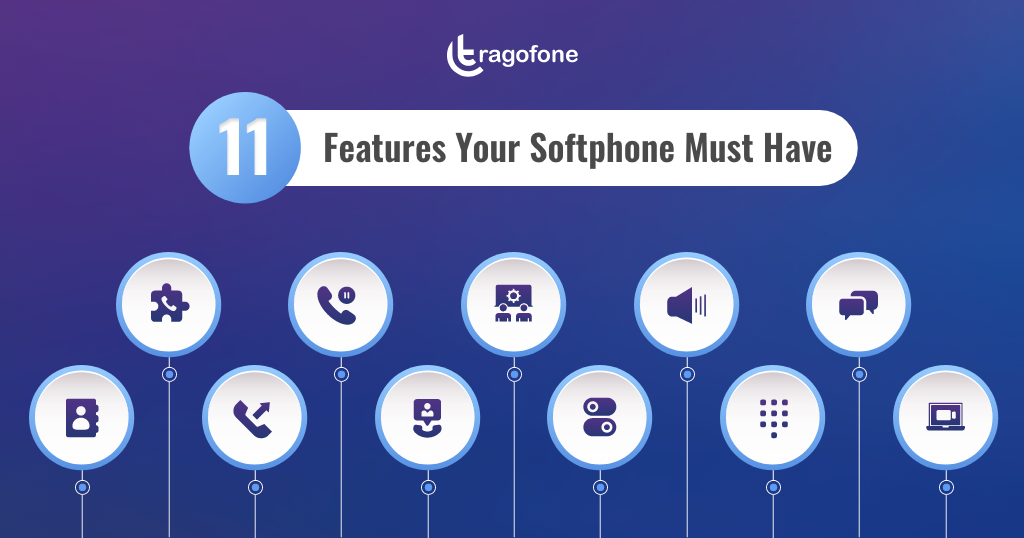 Source
Mobile app – It allows you to conduct hassle-free conversions with co-workers and customers.

Call forwarding – It gives the flexibility for directing the phone calls to other numbers you intended for.

Auto call attendant – It is an automated voice that assists customers in navigating to the right departments.

Voicemail transcription – It automatically provides you with the notes taken from the stored voicemail. Often this feature comes with VoIP services.

Call recording – It makes you don't lose the information received through a call, as it records the entire call conversation as recordings.

Call parking – It allows brands to hold the caller and promote respective employees to assist the caller by providing the right information.

Call analytics – It enables brands to do data analytics over the information gathered from customer calls and utilize them properly to increase customer satisfaction.
How to Get a Business Phone Number? 
A business phone number is vital for small businesses to expand their services. Here are the aspects of looking to get a business phone number free.
Source
Step 1. Choosing a phone number for your business
In the section mentioned above, you may notice the different business numbers, such as local phone numbers, toll-free phone numbers, vanity phone numbers, and VoIP. Among those, pick the right one that suits your business requirements. If your business cannot afford to spend money on a business number, you can go for a free business phone number.
Step 2. Purchasing your business number
Once you decide the type of business phone number you will pick for your business. Now, you need to look for a reliable service provider like Nextiva, DialerHQ, CallHippo, and so to purchase a local phone number for your business. There are many business phone service providers like 'TextFree' to get a business phone number for free. All you need is to check the features and cost of their service.
Step 3. Optimizing business calls
Once you set up your business phone number, start with the extensions that work well with your business. Utilizing extensions will trim the call and costs and give you a royal and more extensive look to your business.  
When to Get a Business Phone Number? 
A business should have a company phone number as soon as it starts. Getting a business phone number will be better for your business communications. Also, it will prevent your business competitor from beating you.
Common signs tell you your business requires a virtual business phone number.
When your potential customers report as they are facing trouble reaching you.

When your calls interrupt your business calls often.

When your business starts receiving a high volume of business calls.

When you are facing trouble managing your business calls.

You need advanced features like call forwarding, call queuing, call recording, etc. for managing your business phone calls.

When your business requires strong legitimacy in the eyes of your customers.
 Best Business Phone Number Providers in 2023 
To find the best business mobile number service, you must know the leading phone service providers' features, costs, pros, and cons. This section illustrates how to select the best phone service provider for your business without stress by providing complete details about the top 7 service providers offering business phone systems.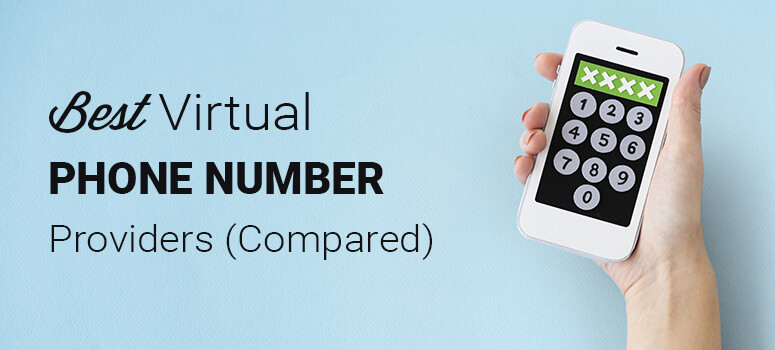 Source
DialerHQ is a cloud-based telephony platform enabling you to make calls & work from anywhere; it is a private low-cost app that helps you to keep your personal & business calls separate. The DialerHQ app uses the user's mobile data or WiFi connection to make international calling and texting.
With the DialerHQ app, you can instantly activate your mobile business number and make calls all over the globe without paying any extra amount. The phone service provider offers a free trial period of 10 days; users can utilize that and judge their service.
Features
Global number selection

High-quality calling

Exceptional portability

Text & call internationally

Convenience at your fingertips

Seamless setup

No new hardware required

Easy access from anywhere

Call forwarding
Cost
$12 per user for a month.

Custom service is available upon request.
Pros
Allows users to do calling and text from the second number.

For security reasons, the entire user conversation will be held in private.
Cons
Need more safety features.

Not suitable for freelance workers.
Callhippo, one of the leading telecommunication companies, offers next-gen cloud-based telephony solutions to businesses worldwide. They increase productivity and boost business performance through their virtual phone systems. The CallHippo services in web and mobile-based business apps offer excellent telephony solutions to startups & small businesses.
CallHippo enables businesses to buy a unique business phone number from more than 50 countries, transforming business sales and improving customer experience. With CallHippo, business stakeholders can easily monitor and manage their operations from one place.
Features
Power dialer

Smart Switch

Smart call forwarding

Call transfer

Call conference

Global Connect

Call Queuing & Call barging

Call recording & Voice mail

On hold music
Cost
Bronze plan: $16 per user for a month.

Silver plan: $24 per user for a month.

Platinum plan: $40 per user for a month.
Pros
The Call Analytics feature lets you easily track your support team performance and measure customer satisfaction.

CallHippo offers a bespoke IVR system that helps callers to engage with the correct department.
Cons
No integration option

No chat options
RingCentral is an American cloud-based communication solution provider offering world-class UCaaS and CCaaS solutions to all-size companies and industries worldwide. With the single app, RingCentral offers the world's leading cloud phone system to empower your business units to increase productivity.
With the RingCentral MVP, businesses can easily create a collaborative work environment for their team regardless of location.
Features
Cloud PBX

Supreme Call Management

VoIP System Collaboration

Instant messaging
Cost
Essentials: $32.99 per user for a month

Standard: $40.99 per user for a month

Premium: $47.99 per user for a month

Ultimate: $62.99 per user for a month
Pros
High performance

Easy to configure

Easy to integrate
Cons
Need to improve customer service

Provide only a central phone system.
Google introduced Voice over Internet Protocol (VoIP) services in 2009, which allows anyone to get a second phone line. Google voice is an entrepreneurial cantered product that will be useful for startups and small businesses to grow.
Google voice, along with Google workspace, would be perfect for businesses to provide better customer support services.
Features
Auto attendant

Call transfer

Easy integrations

Texting

Voicemail Transcription

Call conference

Spam Identification
Cost
Starter plan: $10 per user for a month.

Standard plan: $20 per user for a month.

Premier plan: $30 per user for a month
Pros
Delivers consistent and seamless experience across multiple devices.

Integrates well with G-suite.
Cons
No built-in team collaboration

Lacks in call analytics

Requires Google workspace
TextFree is a communication app that allows users to make free texting and VoIP calls to their friends and families at no cost. Users of TextFree do not need to pay to send unlimited text and picture messages and make VoIP calls. The app generates revenue through Ads.
The app allows its users to create groups and make group conversations easily. TextFree app is best for startups and freelancers who want privacy protection.
Features
Custom phone number

Unlimited free texting

Calling & Voicemail
Cost
Pros
Free unlimited calling and texting.

Option to pick a custom phone number.
Cons
Forced to view ads

The account may deactivate if you don't use it for 30 days.
8X8 eXperience platform offers all business types a unified business phone and VoIP communication services. The communication platform provided by 8X8 enables businesses to build a company-wide collaboration environment.
In simple words, the 8X8 eXperience empowers your business to leverage agile by providing a unified customer and employee experience. The communication platform of 8X8 allows team members to collaborate faster and work smarter.
Features
User-friendly dashboard

Excellent call center management

Automatic call distribution

Call conferencing

Call monitoring & recording

Auto-dialer

Auto attendant

API solution

Call screening, transcription, tracking, and transfer
Cost
Express plan: $15 per user for a month.

X2 plan: $24 per user for a month.

X4 plan: $44 per user for a month.
Pros
Easy to access and easy to use by all users.

The cloud-based business phone system allows remote users to access without any hassles.
Cons
No free trial

Lacks in integration
Nextiva is one of the leaders in providing business phone service and a unified communication platform for all sizes and types of businesses. The company offers businesses a wide range of services that empower them to communicate and build deeper & stronger connections between their employees & customers.
In simple wording, Nextiva offers a complete one-stop communication solution for all-size local business and growing businesses worldwide.
Features
Supreme activity dashboard

360-degree feedback system

Call logging, queuing, reporting, scheduling, monitoring, and recording

Easy access controls/permission

Collaboration tools

Customer experience management

Contact management
Cost
Essential plan: $18.95 per user for a month.

Professional plan: $22.95 per user for a month.

Enterprise plan: $32.95 per user for a month.
Pros
Cost-efficient & highly reliable.

High-quality sound.
Cons
A bit complex to configure.

No integration options.
Tips for Choosing a Business Phone Number 
Choosing a new business phone number will always drive you crazy. It would help if you got the correct business number for your business so that it will benefit a lot. There are many options and factors to consider for making the right choice for your business in selecting a new business number.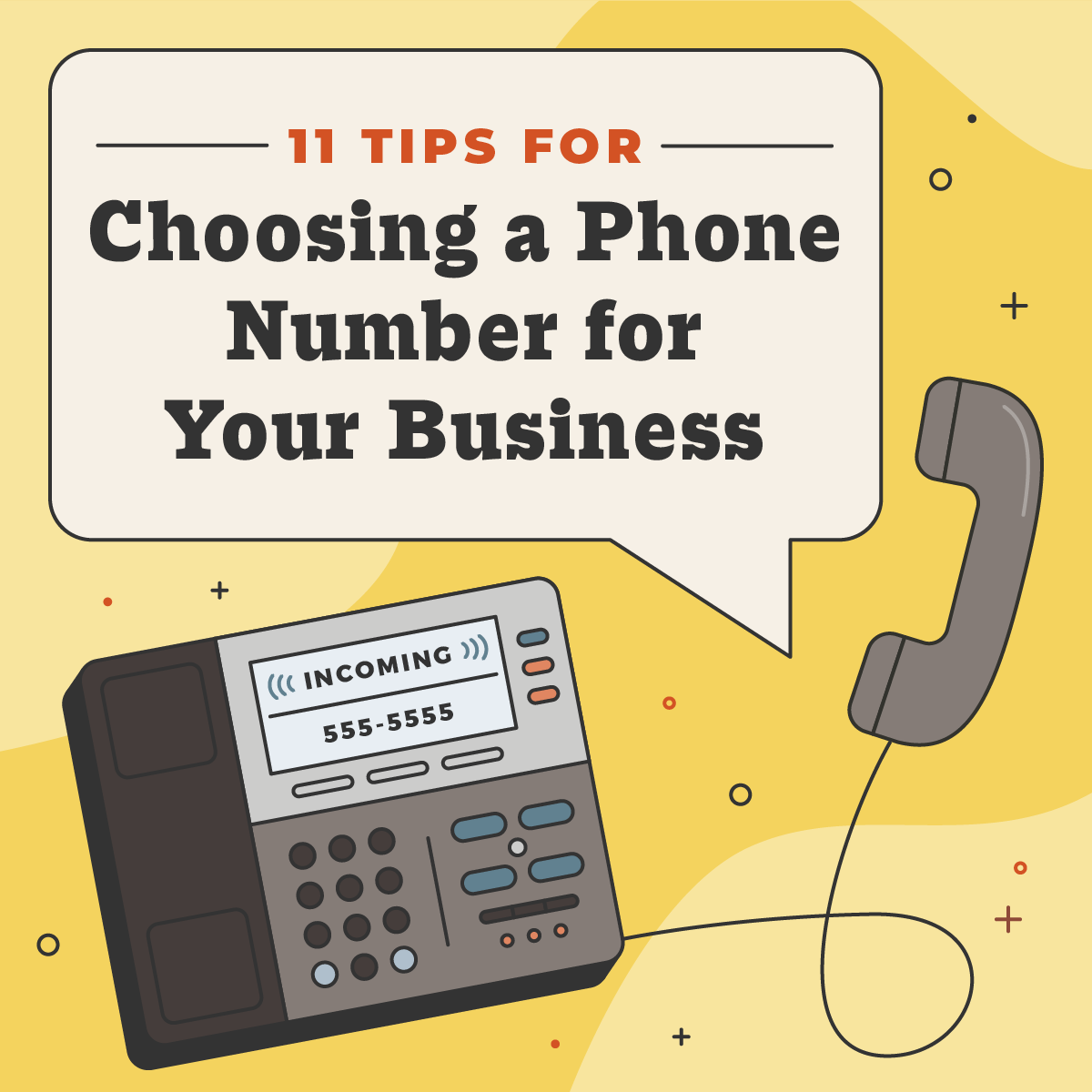 Source
Here are a few expert guidelines to get the right virtual business phone number for your business without wasting time and money.
Be decisive – When purchasing a business communication number, you should be clear about your needs. Local phone numbers and toll-free numbers have pros and cons; you should pick them according to your business needs.

Picking phone numbers – Always go for the simplest and easiest phone number to remember. So that your customers find it easier to reach your business.

Features – You may find numerous features from the service providers, especially on VoIP business phone systems, but always go for providers or plans that offer essential features for your business. This allows you to get affordable phone services for your business.
Wrapping Up
Behind every successful business, a needle pushes the business owners toward the success path. If implemented correctly, the most straightforward business number could be that needle for your business.
Business phone numbers will boost your business appearances and efficiently reach your business presence to target audience groups. More importantly, small business owners, especially, improve their business capability to grow and achieve goal quicker & faster.
Need a Quick & Easy Business Phone Number?
Make international calls & texts without buying a SIM card.