Elevate your communication with next-gen virtual number solutions.

Seamlessly connect with UAE clients from anywhere in the world.

Save on international calling costs as well as operational costs.
What is a UAE Virtual Number?
A virtual UAE number is a special phone number that isn't tied to a physical location or device. It works over the internet– allowing people to call you from anywhere. For businesses, it means having a local presence in the UAE without needing a physical office. This helps build trust, improves customer service, and expands market reach.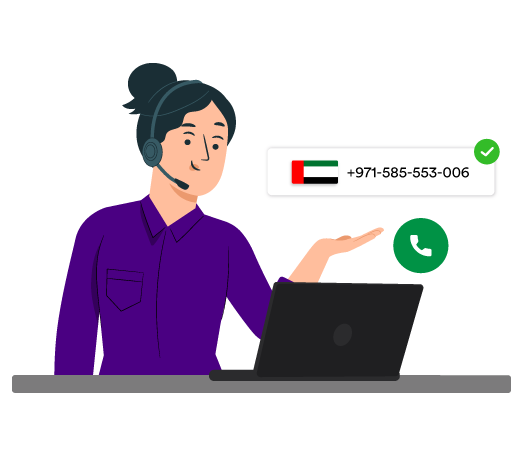 Rule the UAE Market with a +971 Phone Number
With the UAE +971 phone number, you can achieve more business benefits than you imagine. This virtual number not only reflects a local presence but also unlocks a range of other advantages for your business.
Effortlessly connect with customers and partners across the world.

Save on international calling costs with internet-based communication.

Forward calls to any device, ensuring you never miss an opportunity.

Project a professional brand image with dedicated UAE local numbers.

Gain insights into calls and customer interactions for informed decisions.
Benefits of UAE Virtual Numbers
When you buy a UAE virtual number from us at DialerHQ, you gain access to various advantages.
At DialerHQ, we deeply understand the significance of budget considerations for every business. Therefore, we have meticulously structured our pricing options to be highly affordable– with plans starting at just $0.

We recognize your aspirations to expand your business's reach globally. To facilitate this, we provide virtual numbers spanning over 80 countries across continents.

Our virtual phone system boasts over 50 innovative features, thoughtfully designed to elevate your business communication and marketing strategies.

DialerHQ's virtual phone system is accompanied by a range of comprehensive dashboards and reports that offer real-time, insightful perspectives into your strategies.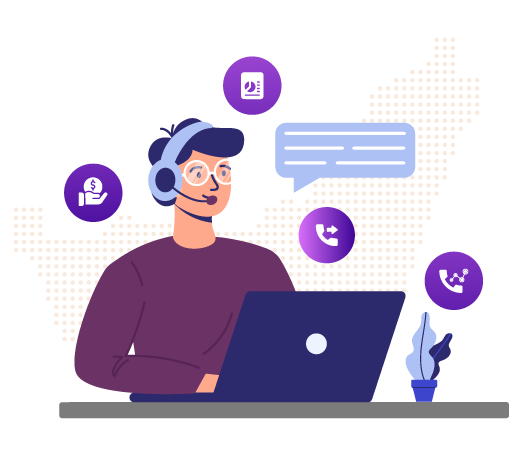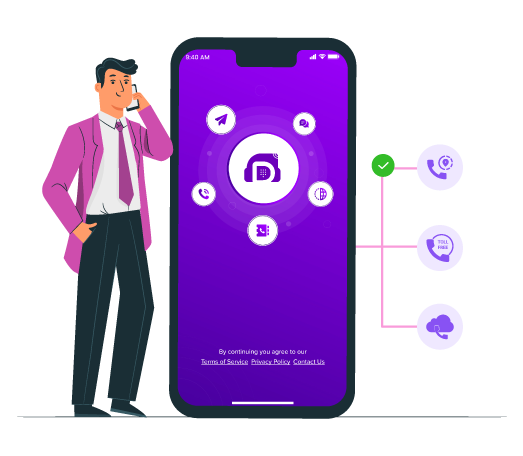 Different Types of UAE Virtual Numbers
UAE Local Numbers: Expand your reach within the UAE by acquiring local numbers that resonate with the community. Build trust, enhance customer interactions, and establish a strong local presence.
UAE Toll-free Numbers:

Elevate customer satisfaction with UAE toll-free numbers from DialerHQ. Empower your audience to reach out without hesitation, promoting engagement and demonstrating your commitment to exceptional service.

UAE International Numbers:

Break down international barriers with UAE international numbers by DialerHQ. Establish your brand as a global player by offering customers from around the world an accessible point of contact.

Port Your UAE Numbers: Make the switch to DialerHQ while keeping your existing UAE virtual numbers. Our smooth and hassle-free porting process ensures continuity of service while you unlock a range of enhanced features and benefits.
What Types of Virtual Phone Numbers Can You Get in UAE?
This table offers information on the different kinds of virtual phone numbers that businesses can use in UAE. These numbers include local, toll-free, national, international, mobile, and vanity numbers, and allow businesses to establish a presence in UAE without needing an actual office. Toll-free numbers are particularly useful for providing free phone services to customers, while vanity numbers are memorable and help businesses stand out. Overall, virtual phone numbers provide businesses with the flexibility to improve customer service and grow their presence in UAE.
| Type of Virtual Number | Dialing Code | Example |
| --- | --- | --- |
| Toll-Free Number | +800 | +800 123 4567 |
| VoIP Number | +971 | +971 56 123 4567 |
| Mobile Number | +971 | +971 50 123 4567 |
Popular Area Codes in UAE
This table provides a comprehensive list of popular area codes in UAE for phone numbers. The table includes the corresponding cities, phone number formats, and examples of how to dial within UAE. The information in this table can be useful for anyone who needs to make phone calls within UAE and wants to ensure they use the correct area code and phone number format.
| Area Code | City | Phone Number Format | Example |
| --- | --- | --- | --- |
| 2 | Abu Dhabi | +971 X XXX XXXX | +971 2 123 4567 |
| 4 | Dubai | +971 X XXX XXXX | +971 4 123 4567 |
| 6 | Sharjah | +971 X XXX XXXX | +971 6 123 4567 |
| 9 | Ajman | +971 X XXX XXXX | +971 9 123 4567 |
| 3 | Al Ain | +971 X XXX XXXX | +971 3 123 4567 |
| 7 | Ras Al Khaimah | +971 X XXX XXXX | +971 7 123 4567 |
| 2 | Al Gharbia | +971 X XXX XXXX | +971 2 123 4567 |
DialerHQ Pricing Plans for UAE Virtual Phone Number
How to Get a UAE Virtual Number?
Embark on your DialerHQ journey now by following the 4 simple steps outlined below.

Sign in to DialerHQ.

Choose your custom virtual number & make the payment.

Configure your account, features, and settings.

Start making and receiving calls anytime, anywhere.
Features of UAE Virtual Phone Number
With DialerHQ's temporary UAE phone numbers, you will gain access to a suite of advanced features, including those listed below.
Power Dialer
Accelerate your call outreach with DialerHQ's innovative Power Dialer feature. Boost your connection rates, efficiency, and conversion rates.
Global Connect
Elevate your global client engagement with DialerHQ's Global Connect. Boost call pickup rates for enhanced success in reaching international clientele.
Smart Switch
Bid farewell to call connectivity woes with DialerHQ's Smart Switch. Seamlessly select optimal providers and enjoy uninterrupted, seamless connections.
Call Barging
Supervise and enhance calls with Call Barging, allowing real-time intervention to ensure quality conversations.
Call Conference
Facilitate group discussions effortlessly with Call Conference, enabling effective collaboration among participants from different locations.
Smart Call Forwarding
Seamlessly redirect calls based on predefined rules using Smart Call Forwarding, ensuring you never miss important connections.
Call Transfer
Transfer calls with ease using Call Transfer, ensuring smooth transitions and providing customers with the right assistance.
Need a Quick & Easy UAE Phone Number ?
Make international calls & texts without buying a SIM card.
Frequently Asked Questions
The local number format in UAE typically consists of seven digits, following the area code.
UAE phone numbers usually start with the area code "+971."
You should choose DialerHQ for UAE virtual numbers because it offers a cost-effective virtual phone solution packed with 50+ features, attentive customer support, 99.9% system uptime, a worldwide network, and much more.
DialerHQ offers UAE virtual phone numbers in four different plans– Basic ($0/user/month), Bronze ($7.99/user/month), Silver ($11.99/user/month), and Platinum ($19.99/user/month). In addition, they also provide various add-on solutions and services.
Getting a UAE virtual number is quick and easy. Simply sign up with DialerHQ, choose UAE as the country, select your preferred number, make the payment, and start using it within minutes.
No, you don't need any additional hardware to use a UAE virtual phone number. It operates over the cloud– so all you need is a reliable internet connection and a device like a computer or smartphone.
Yes! DialerHQ provides detailed call analytics for your UAE virtual phone number– helping you measure key call center KPIs, assess customer interactions, and optimize your strategies continuously.
Setting up a virtual UAE number with DialerHQ is quick and easy. Typically, the entire setup process– from selecting a number to configuring the system, can be completed within a few minutes.
No leading providers– including CallHippo, offer a free UAE virtual number. However, by paying just $7.99, you can get more than just a free UAE virtual number. Visit the DialerHQ pricing page to learn more.
To get a WhatsApp number for UAE, you can sign up for DialerHQ's services and choose a virtual UAE number. Once you have the virtual number, you can configure it with WhatsApp Business API and start using WhatsApp for business communication in the UAE.
Yes, you can use a virtual UAE number for international calls. With DialerHQ's virtual numbers, you can connect with customers both in UAE and internationally.