Get

Malaysia Phone Number
Leverage your business communications and establish a local presence in Malaysia. Provide better customer experiences, build a better brand image, and be available even after business hours.
Why Should You Buy A Malaysia Number?
Malaysia phone numbers have several benefits, including reduced international call charges, increased local brand visibility, and round-the-clock availability. Some of the most notable advantages & features of Malaysia mobile phone number are below: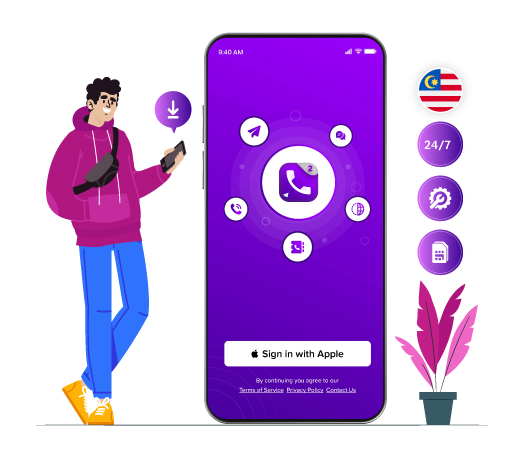 Optimize Your Expenditures
Malaysia virtual numbers eliminate the need for extensive hardware setup and infrastructure and additional expenditures related to maintenance, extra staff, and emergency repairs. Additionally, you need to pay a subscription fee to a provider to get all these services, which becomes obsolete. 
You only need an internet connection and a smart device, and you're good to go. Stay connected to your customers 24/7 from anywhere in the world, send and receive phone and text messages at affordable rates, and interact with your customers better with the best free Malaysia phone number app.
Boost Local Visibility
Creating ties with the local community requires international corporations to blend in with them. A Malaysia mobile number is the best way to achieve this balance if you want to establish a local presence in Malaysia. 
It enhances the trust factor while helping people better associate with the brand. Likewise, customers are more likely to respond to a call from the same mobile phone code rather than an unfamiliar area code or an unknown number.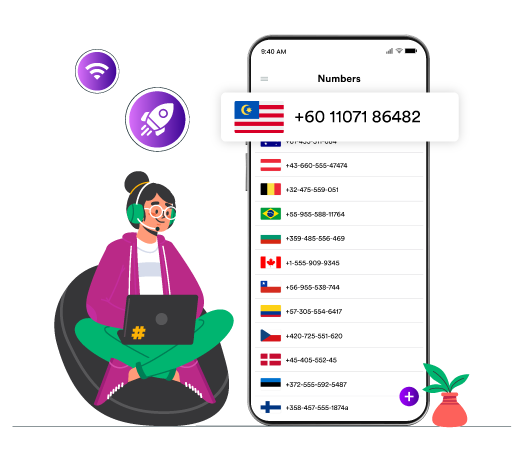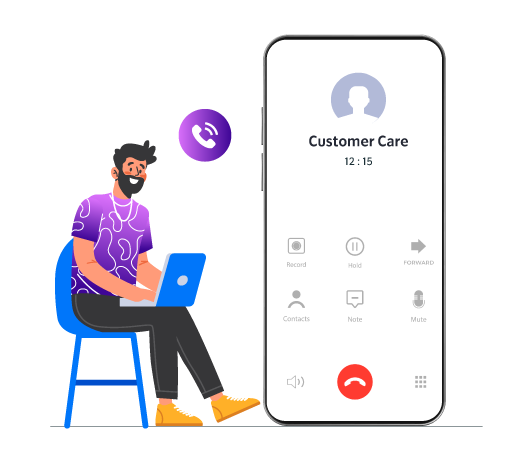 24×7 Connectivity
The need for round-the-clock connectivity for businesses has become increasingly important in our modern era. Loss of potential customers can devastate a company, so you cannot afford to miss a single call.
You can answer calls from any location, even on the go, with a Malaysia number, as it automatically routes numbers to the designated person. It also allows operational flexibility for your agents since they no longer need to work from physical offices.
By incorporating this technology into your communication plan, you will never again miss a call.
IVR Integration
A powerful telephony solution, Interactive Voice Response (IVR), automates all communications needs with a pre-recorded message that greets all incoming calls and routes them to the most appropriate team or agent.
Moreover, many major mobile phone operators give this feature, allowing callers to enjoy self-service tools and prioritized service using the technology, which reduces wait times and improves analytics, improving the efficiency of businesses.
If you change your number midway, it can harm your sales and hurt your brand image. You can quickly transfer your Malaysia number by paying a small fee if you wish to relocate your business.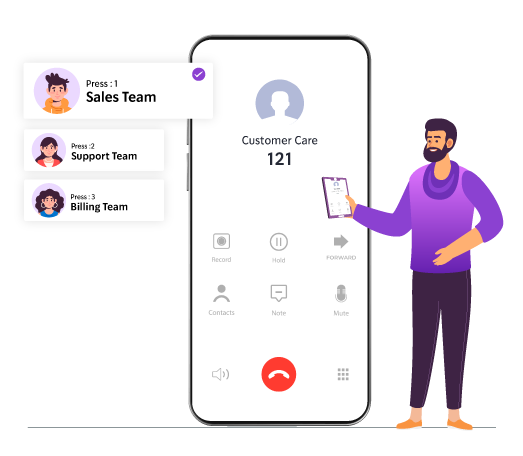 How to Get a

Malaysia Virtual Phone

Number?
The DialerHQ, a leading free Malaysia virtual phone number app, makes buying virtual phone numbers for small businesses easy.
The process of getting a Malaysia virtual phone number is quite simple. Just follow these steps: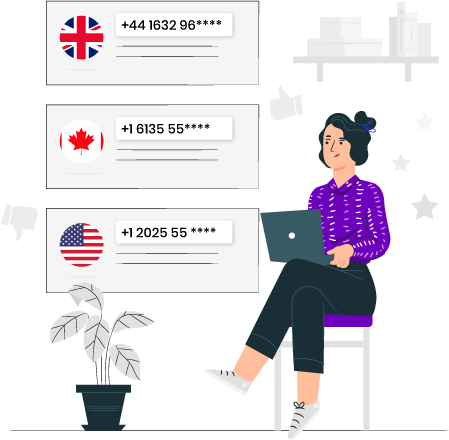 Select your preferred country and choose your new business phone number from the list.
Features of Malaysia Phone Number?
Start today with a virtual Malaysia phone number and boost your brand presence in no time. Choose the country code most convenient for you and begin making and receiving calls immediately.
Enhanced User Experience
It is the best virtual phone number in Malaysia. There is no need for technical expertise due to the user-friendly app interface.
The Malaysian Numbers Pool
You can choose the best Malaysia number with the area code based on your requirements and business interests.
Excellent Call Quality
With DialerHQ, you'll be able to make clear calls and eliminate data latency.
No Hardware Required
Virtual Malaysia phone numbers are quick and easy to set up. All you need is a good internet connection.
Multi User Support
With DialerHQ's cloud telephony Malaysia number services, your staff can easily collaborate with each other.
Need a Quick & Easy Malaysia Phone Number?
Make international calls & texts without buying a SIM card.