Get a Malaysia Virtual Phone Number
Expand your business reach in Malaysia with a virtual phone number and create a local presence that builds trust with customers.
Enjoy reliable and affordable communication.

Maximize your business's growth in Malaysia.

Cut communication costs and improve bottom line.
What is a Malaysia Virtual Phone Number?
A virtual Malaysia phone number is a cloud-based phone service that allows businesses to establish a local presence in Malaysia without needing a physical location. It operates over the Internet and offers a range of benefits, including affordable calling rates, on-demand scalability, and exceptional portability. Moreover, it provides access to features such as a power dialer, global connect, and smart call forwarding– streamlining business communication.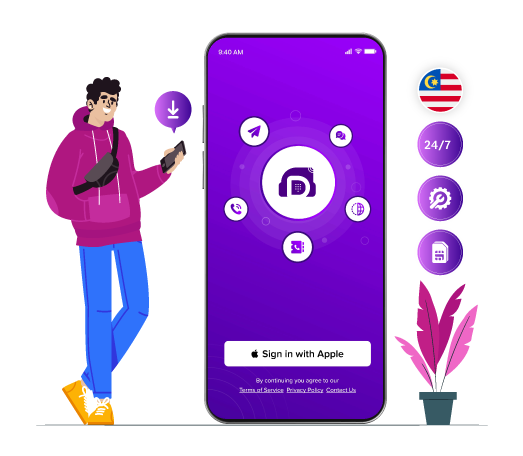 Why Do You Need a Malaysia Phone Number?
In today's customer-centric business landscape, virtual number for Malaysia have become necessary for several reasons, listed below:
To optimize and improve business communication.

To reduce operational and intl calling expenses.

To add a professional touch to the brand image.

To enter and explore new Malaysian local markets.

To gain deeper insights into customer behavior.

To broaden the business horizons in Malaysia.

To make data-driven decisions using analytics.
Benefits of Having a Malaysia Virtual Number
Buying Malaysian virtual phone numbers, especially from DialerHQ, provides businesses with several advantages that can help them succeed, including:
Reduced operational, maintenance, and calling costs.

Access to a variety of business communication features.

Improved portability and on-demand scalability.

Increased reliability with a 99.99% system uptime.

Enhanced customer experience and satisfaction.

Better insight into your customers and their preferences.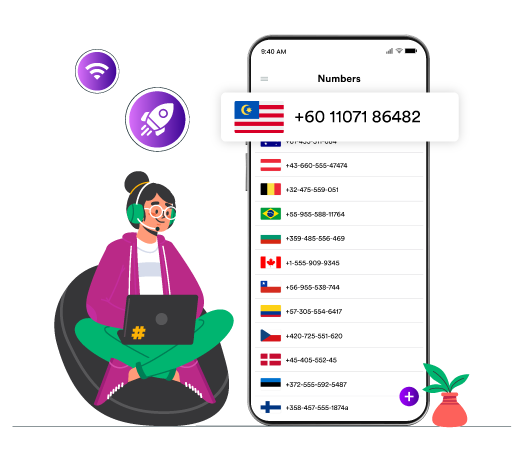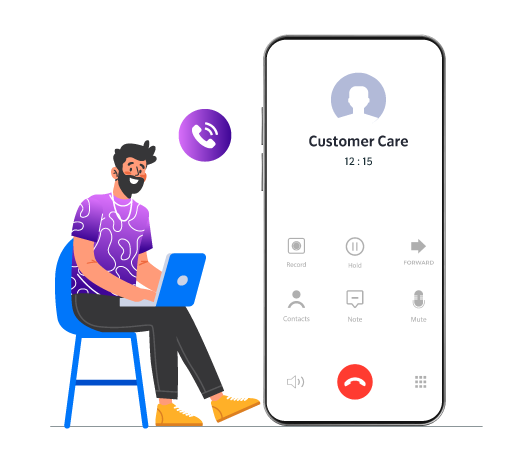 Different Types of Malaysia Phone Numbers
Malaysian phone numbers come in three primary types, each serving a unique purpose:
Local Malaysian phone numbers: 8-digit phone numbers starting with 2 or 3. Suitable for businesses looking to establish a local presence in Malaysia.
Toll-free Malaysian phone numbers:

Phone numbers with 1-800 or 1-300 prefix, allowing customers to call a business for free. Convenient customer support solution.

Malaysian Mobile numbers:

10-digit phone numbers starting with 01, 011, 012, 013, 014, 016, 017, or 018. Allow businesses to stay connected with customers 24/7.
Select the Malaysian virtual number that best suits your business requirements, objectives, and budget.
Why Buy a Malaysia Virtual Phone Number From DialerHQ?
DialerHQ is undoubtedly the best free Malaysia virtual phone number app for the reasons listed below.
Advanced features:

Experience over 40 unique communication and collaboration features, expertly designed to elevate efficiency.

Affordable pricing:

We offer multiple pricing plans that allow you to choose the best fit for your business based on your needs and budget.

Large pool of area codes:

A vast pool of Malaysian area codes, letting you establish a local presence across Malaysia.

User-friendly UI:

Intuitive user interface that simplifies navigation and allows users to maximize their productivity with ease.

Attentive customer support:

Receive timely and reliable support from our dedicated customer support team whenever you need it.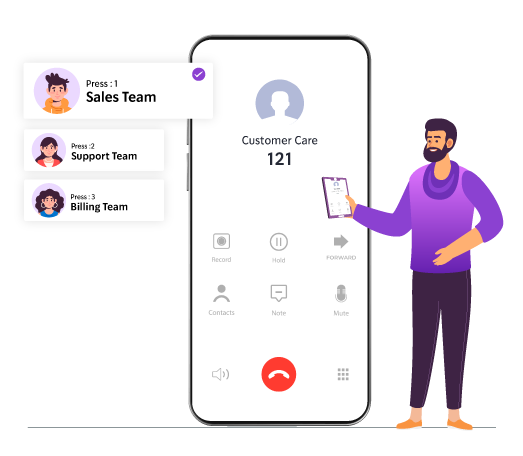 What are Popular Area Codes in Malaysia?
This table provides a list of commonly used area codes in Malaysia, along with their corresponding number formats. It's worth noting that to make international calls from Malaysia, you need to dial the country code, followed by the area code and phone number. For instance, if you want to call the United States from Malaysia, you must first dial "+1," then the area code and phone number.
| State | Area Code | Number Format | Calling Outside Malaysia |
| --- | --- | --- | --- |
| Kuala Lumpur and Selangor | 03 | (03) xxx-xxxx | +60 3 xxx-xxxx |
| Penang and Kedah | 04 | (04) xxx-xxxx | +60 4 xxx-xxxx |
| Johor | 07 | (07) xxx-xxxx | +60 7 xxx-xxxx |
| Melaka | 06 | (06) xxx-xxxx | +60 6 xxx-xxxx |
| Negeri Sembilan | 06 | (06) xxx-xxxx | +60 6 xxx-xxxx |
| Pahang | 09 | (09) xxx-xxxx | +60 9 xxx-xxxx |
| Perak | 05 | (05) xxx-xxxx | +60 5 xxx-xxxx |
| Perlis | 04 | (04) xxx-xxxx | +60 4 xxx-xxxx |
| Sabah | 088 or 089 | (088/089) xxx-xxxx | +60 88/89 xxx-xxxx |
| Sarawak | 082 or 083 | (082/083) xxx-xxxx | +60 82/83 xxx-xxxx |
What are the subscription charges for Malaysia Phone Number In DialerHQ?
How to Buy Malaysia Phone Number With DialerHQ in 4 Easy Steps
Embark on your DialerHQ journey now by following the 4 simple steps outlined below.


Choose your custom virtual number & make the payment.

Configure your account, features, and settings.

Start making and receiving calls anytime, anywhere.
Features of Malaysia Virtual Phone Number
DialerHQ– the best Malaysian virtual numbers provider- offers its users a battery of innovative features, as listed below.
Power Dialer
Boost your sales outreach with the Power Dialer feature. Efficiently connect with more prospects by dialing multiple numbers at once.
Global Connect
Expand your customer reach and enhance engagement by connecting with prospects at their convenience.
Call Forwarding
Ensure your business is always accessible to your clients with the Smart Call Forwarding feature. Never miss an important call again.
Call Recording
Easily record and review critical conversations with the Call Recording feature and refer to them later for future reference.
Call Transfer
Improve customer experience and reduce wait times by seamlessly transferring calls to the most suitable agent.
Call Conference
Host seamless multi-participant calls on our unified platform. Elevate your team's communication and enhance productivity.
Frequently Asked Questions
At DialerHQ, we specialize in providing virtual Malaysia numbers for businesses worldwide. Our numbers offer great quality with robust features like IVR menus, call recording, and voicemail at competitive rates. We make getting set up fast and easy without any long-term contracts.
Getting a Malaysia number through DialerHQ is very simple. All you have to do is select Malaysia as the country, choose a phone number, set up account settings, and start taking calls and texts on the new Malaysian number immediately.
Yes, DialerHQ provides both standard local and toll-free 1-800 numbers for Malaysia. This gives your Malaysian customers an easy free call option.
Yes, DialerHQ makes it easy to port an existing Malaysia phone number over to our platform. This lets you maintain your Malaysian number and call history when switching to DialerHQ for virtual phone services. We handle the number porting process quickly to minimize any downtime.
Sign up now and enjoy the benefits of Malaysian virtual numbers

Make international calls & texts without buying a SIM card.