A Brazilian phone number from DialerHQ will enable you to reach out to your customers in Brazil at local rates and strengthen your local presence without actually setting up an office in the country.
Establish a strong local presence in Brazil markets.

Offer personalized customer service with advanced features.

Streamline your communication process at reduced costs.
You are just one step
ahead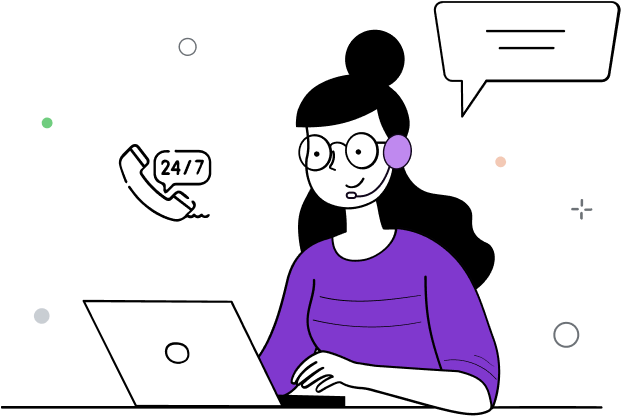 Thank You.
One of our Representative will connect with you shortly.
Trusted by 4000+ companies







What Can a Brazil Phone Number Do?

Having a Brazilian phone number allows you to get in touch with your customers in Brazil without worrying about expensive phone bills. You can be anywhere in the world and still access the Brazilian phone number via your smartphone.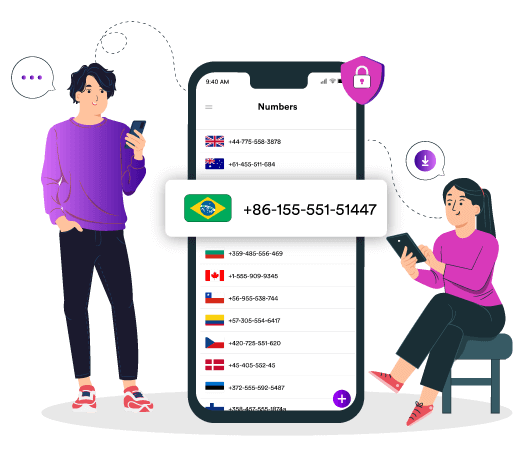 What is a Brazil Phone Number?
A Brazil phone number is a standard number that is associated with the Brazil country code. It starts with the country code +55 and has a two-digits prefix like 11 or 21 followed by a nine digits phone number.
It allows you to make and receive calls from Brazil at local rates, irrespective of where you are. A Brazilian phone number works just like any other phone number worldwide.
You can use it to make calls and send texts but with more features than regular cell phone numbers.
How to Call to and from Brazil?
Step 1:

Type the Exit Code:

The International access code allows you to call internationally. For the USA and Canada, the exit code is

011

.

Step 2:

Add the Brazil Country Code:

A country code allows you to call in that country and are mandatory. Brazil's country code is

55

.

Step 3:

Enter the Area Code:

Brazil has a two-digit code associated with specific geographic areas. For example, if you're calling from the US to Sao Paulo, your dialing pad should have

011-55-11
Step 4:

Enter the Mobile Number or Landline Number:

Brazil uses an 8-digit landline number and nine digits for mobile numbers.
When making long-distance calls to different geographic areas, you'll have to dial: 0+carrier prefix+area code+phone number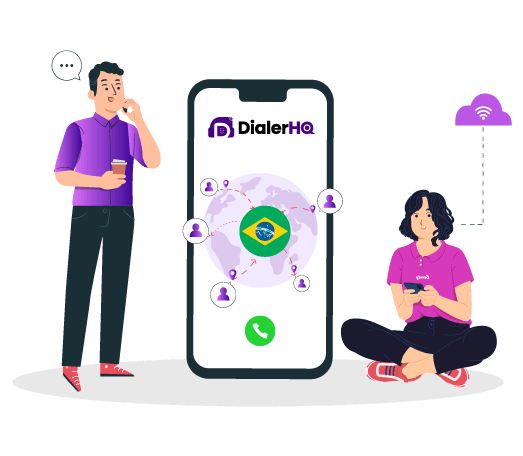 What are the Features of Brazil Phone Number?
Brazil phone number comes with a myriad of features to help you offer a great experience to your customers. It includes
Call Recording

:

Never miss any important detail with call recording. 
Global Connect:

Call people across the globe at pocket-friendly prices. 

Business Hours:

Set your business hours and let callers know when you'll be available.

Unlimited Calling

:

The top-tier plan offers you unlimited calls in Brazil, perfect for small businesses and entrepreneurs.

No More Missed Calls

:

Assign multiple people to one person or business phone number so when a client calls, there will be more than one person to answer.
How to Get A Brazilian Phone Number?
The DialerHQ makes buying a Brazil phone number effortless. These virtual phone numbers make and receive calls over the internet. Therefore, you don't need a physical SIM card to use it. Here are three easy steps to get a Brazilian phone number.
Step 1:

Download the DialerHQ app from Apple App Store and create your account.

Step 2:

Select Brazil from the available countries and choose your new business phone number from the list.

Step 3:

Start calling your customers and promoting your new Brazil virtual number!
You can even get a Brazilian phone number for free from the DialerHQ. However, it comes with limited features.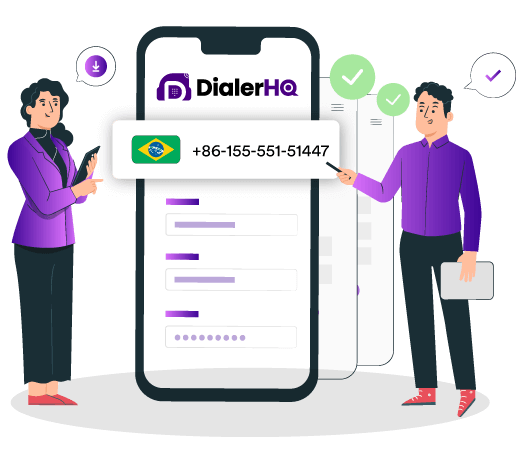 Here is the table of different types of phone numbers available in Brazil:
The following table provides a comprehensive overview of the various phone number types that are currently available in Brazil. It contains information on landline, mobile, VoIP, toll-free, and virtual numbers, including their formats, features, as well as their respective advantages and disadvantages. This information may prove useful for individuals or businesses in deciding which phone number type would be most suitable for their particular requirements.
| Type of Virtual Number | Dialing Code | Example |
| --- | --- | --- |
| Local Brazil Virtual Number | (+55) | (+55) 11 1234 5678 |
| Toll-Free Brazil Virtual Number | (+55) | (+55) 800 123 4567 |
| Mobile Brazil Virtual Number | (+55) | (+55) 9 1234 5678 |
List of Area Codes for Virtual Phone Numbers in Brazil
This is a table that displays area codes for virtual phone numbers in Brazil. The purpose of the table is to aid individuals or businesses in selecting an appropriate area code. Information about number types and formats is also included for each area code.
| Area Code | Location | Number Format |
| --- | --- | --- |
| 11 | São Paulo | (11) xxxx-xxxx |
| 21 | Rio de Janeiro | (21) xxxx-xxxx |
| 31 | Belo Horizonte | (31) xxxx-xxxx |
| 41 | Curitiba | (41) xxxx-xxxx |
| 51 | Porto Alegre | (51) xxxx-xxxx |
| 61 | Brasília | (61) xxxx-xxxx |
| 71 | Salvador | (71) xxxx-xxxx |
| 81 | Recife | (81) xxxx-xxxx |
| 91 | Belém | (91) xxxx-xxxx |
What are the pricing plans of DialerHQ for Brazil Virtual Phone Number?
Call Center Solution (CCS)
Ideal for Bulk Calling for Sales, Support and Call Center Teams
Power & Predictive Dialer
Automatic Machine Detection
Industry leading call connect rates
Compliance Call Recording
Forward To External Device
Smart DID Routing
Speed To Dial
Auto Rotate
Local Presence
Call Barging
Call Queuing
Create Team
Call Whisper
Post Call Survey
After Call Work
Target Vs Achievement
Multiple Level Call Transfer
Route to External Number
Forward to Multiple Device
Google Drive, AWS S3 Integration
Embedded Dialer Integration
Show More
Show Less
Start Free Trial
Office Phone System (OPS)
Ideal for Businesses to support their Customers and not for Bulk Calling
Unlimited calling in UK, US/Can, Aus
Manual Calling Dialer
Auto Rotate DID
Call Tagging
Custom Greetings
Create Team
Call Barging
Shared Inbox
Call Cascading
Audit Logs
Webhook
Phone Support
24*7 Support
Contact Us
Call Notes & Ratings
Dedicated Account Manager
Personalized Onboarding
Advances Integrations
Custom Integrations
Annual Business Review
Show More
Show Less
Start Free Trial
Get Brazil Phone Number With DialerHQ in 4 Easy Steps
Embark on your DialerHQ journey now by following the 4 simple steps outlined below.


Choose your custom virtual number & make the payment.

Configure your account, features, and settings.

Start making and receiving calls anytime, anywhere.
Benefits of Getting a Brazilian Phone Number
A Brazilian phone number can help you strengthen your local presence, build trust with customers, and reduce your phone bills. Get a virtual phone number in Brazil with the DialerHQ and start within minutes. Choose your preferred area code and phone number to make and receive calls. 
Lower Phone Bills
Since the calls from a virtual phone number are routed via the internet, the phone bills are generally lower than traditional calls.
Exceptional Call Quality
The best Brazil phone number app, the DialerHQ, ensures premium call quality, eliminating signal disturbances and data latency.
Round the Clock Access
A Brazil phone number can be accessed using your smartphone, making it accessible round the clock, ensuring you don't miss any more calls and opportunities.
More Value-Added Features
A Brazil phone number has numerous features that make managing customer calls seamless and efficient, such as call forwarding, IVR, unlimited calls, and free SMS, to name a few.
Quick Set Up
Buying and setting up a Brazilian phone number is nothing less than a challenge. However, with the DialerHQ, you only need to download the app to get started.
Frequently Asked Questions
Acquiring a Brazil phone number with DialerHQ is effortless. Visit our website, select your preferred plan, and follow the guided steps to activate your virtual number instantly. No complex procedures or physical installations are required.
Yes, DialerHQ offers number customization options, enabling you to choose a relevant number for your business. Tailor your virtual phone number to reflect your brand identity and make a lasting impression on callers.
DialerHQ's Brazil phone number comes packed with versatile features. Enjoy call forwarding, voicemail-to-email, real-time call analytics, and more. Stay connected with clients and colleagues efficiently, whether you're operating locally or internationally.
Yes, indeed! DialerHQ's Brazil phone number is a valuable asset for small businesses seeking to expand their reach. It fosters credibility, improves customer accessibility, and boosts your local market presence, all while keeping costs manageable.
DialerHQ provides seamless integration options for your Brazil phone number. Whether you use CRM software, VoIP systems, or other communication tools, the solution can be easily incorporated to streamline your operations.
Need a Quick & Easy Brazil Phone Number?
Make international calls & texts without buying a SIM card.