A Brazilian phone number from DialerHQ will enable you to reach out to your customers in Brazil at local rates and strengthen your local presence without actually setting up an office in the country.
Establish a strong local presence in Brazil markets.

Offer personalized customer service with advanced features.

Streamline your communication process at reduced costs.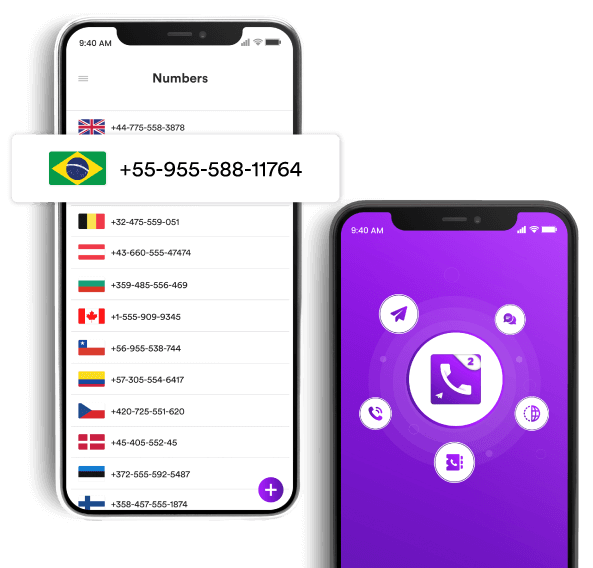 Trusted by 4000+ companies







What Can a Brazil Phone Number Do?

Having a Brazilian phone number allows you to get in touch with your customers in Brazil without worrying about expensive phone bills. You can be anywhere in the world and still access the Brazilian phone number via your smartphone.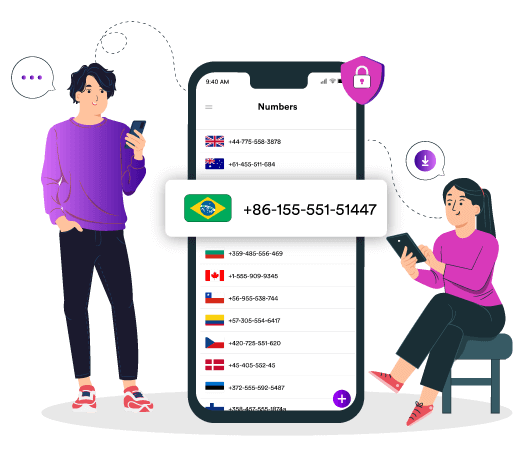 What is a Brazil Phone Number?
A Brazil phone number is a standard number that is associated with the Brazil country code. It starts with the country code +55 and has a two-digits prefix like 11 or 21 followed by a nine digits phone number.
It allows you to make and receive calls from Brazil at local rates, irrespective of where you are. A Brazilian phone number works just like any other phone number worldwide.
You can use it to make calls and send texts but with more features than regular cell phone numbers.
How to Call to and from Brazil?
Step 1:

Type the Exit Code:

The International access code allows you to call internationally. For the USA and Canada, the exit code is

011

.

Step 2:

Add the Brazil Country Code:

A country code allows you to call in that country and are mandatory. Brazil's country code is

55

.

Step 3:

Enter the Area Code:

Brazil has a two-digit code associated with specific geographic areas. For example, if you're calling from the US to Sao Paulo, your dialing pad should have

011-55-11
Step 4:

Enter the Mobile Number or Landline Number:

Brazil uses an 8-digit landline number and nine digits for mobile numbers.
When making long-distance calls to different geographic areas, you'll have to dial: 0+carrier prefix+area code+phone number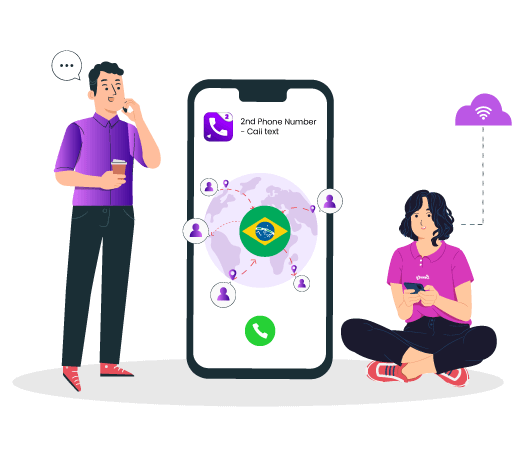 What are the Features of Brazil Phone Number?
Brazil phone number comes with a myriad of features to help you offer a great experience to your customers. It includes
Call Recording

:

Never miss any important detail with call recording. 
Global Connect:

Call people across the globe at pocket-friendly prices. 

Business Hours:

Set your business hours and let callers know when you'll be available.

Unlimited Calling

:

The top-tier plan offers you unlimited calls in Brazil, perfect for small businesses and entrepreneurs.

No More Missed Calls

:

Assign multiple people to one person or business phone number so when a client calls, there will be more than one person to answer.
How to Get A Brazilian Phone Number?
The DialerHQ makes buying a Brazil phone number effortless. These virtual phone numbers make and receive calls over the internet. Therefore, you don't need a physical SIM card to use it. Here are three easy steps to get a Brazilian phone number.
Step 1:

Download the DialerHQ app from Apple App Store and create your account.

Step 2:

Select Brazil from the available countries and choose your new business phone number from the list.

Step 3:

Start calling your customers and promoting your new Brazil virtual number!
You can even get a Brazilian phone number for free from the DialerHQ. However, it comes with limited features.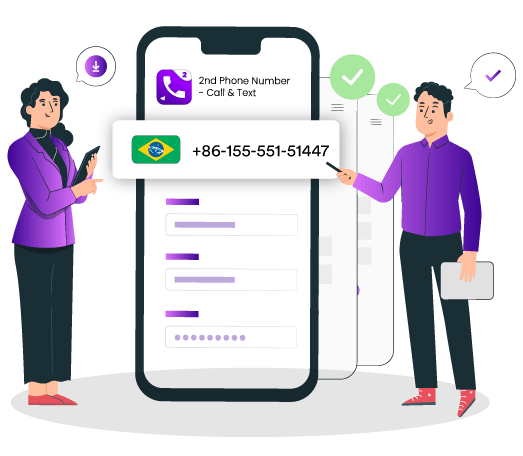 Here is the table of different types of phone numbers available in Brazil:
The following table provides a comprehensive overview of the various phone number types that are currently available in Brazil. It contains information on landline, mobile, VoIP, toll-free, and virtual numbers, including their formats, features, as well as their respective advantages and disadvantages. This information may prove useful for individuals or businesses in deciding which phone number type would be most suitable for their particular requirements.
Phone Number Type
Description
Number Format
Features
Pros
Cons
Landline
A fixed-line telephone that uses copper wire or fiber optic cables to transmit signals.
(11) 1234-5678
Reliable, higher call quality, often cheaper for long calls.
More limited mobility, may require installation and setup.
Mobile
A portable wireless device that uses cellular network technology to make calls and send texts.
(11) 91234-5678
High mobility, can make and receive calls and texts from anywhere.
May have lower call quality, can be more expensive for long calls or high data usage.
VoIP
A phone service that uses the internet to make calls instead of traditional phone lines.
(11) 1234-5678
High mobility, often more affordable, can have additional features like video calls or screen sharing.
Requires stable internet connection, call quality can be affected by internet speed and network congestion.
Toll-Free
A special type of number that allows callers to reach a business or individual without being charged for the call.
0800-123-4567
Provides a professional image, encourages customer inquiries and feedback.
Can be expensive for businesses to set up and maintain, may attract unwanted solicitation calls.
Virtual
A phone number that isn't tied to a physical line or device, but can be forwarded to any phone number or device.
(11) 1234-5678
Offers flexibility, can be used with any device, can provide a local presence even if not physically located in the area.
May have lower call quality or reliability, may require additional setup or fees.
List of Area Codes for Virtual Phone Numbers in Brazil
This is a table that displays area codes for virtual phone numbers in Brazil. The purpose of the table is to aid individuals or businesses in selecting an appropriate area code. Information about number types and formats is also included for each area code.
| Area Code | Location | Number Format |
| --- | --- | --- |
| 11 | São Paulo | (11) xxxx-xxxx |
| 21 | Rio de Janeiro | (21) xxxx-xxxx |
| 31 | Belo Horizonte | (31) xxxx-xxxx |
| 41 | Curitiba | (41) xxxx-xxxx |
| 51 | Porto Alegre | (51) xxxx-xxxx |
| 61 | Brasília | (61) xxxx-xxxx |
| 71 | Salvador | (71) xxxx-xxxx |
| 81 | Recife | (81) xxxx-xxxx |
| 91 | Belém | (91) xxxx-xxxx |
What are the pricing plans of DialerHQ for Brazil Virtual Phone Number?
Everything in Unlimited Plus

✓

$1500/month Spend Minimum3

✓

Power Dialer

✓

Voice Broadcasting

✓

Multi-level IVR

✓

Multiple Level Call Transfer

✓

Conference Calling

✓

Call Barging

✓

Route to External Number

✓

Forward to Multiple Device

✓

Single Sign On

✓

DID Group

✓

Call Whisper

✓

Intelligent Reports/Analytics

✓

Reports via Email

✓

Automatic Machine Detection

✓

Intelligent Call Recording
✓

Unlimited calls within the US & Canada2

✓

Free 1 standard Number per user

✓

Click To Dial

✓

Call Recording

✓

IVR

✓

Call forwarding

✓

SMS/Text messages

✓

Voicemail

✓

Webhook

✓

Role based access control

✓

Integration
Custom
Request Quote
Flexible pricing based on needs Contact Us
Everything in Free Software Plus

✓

Custom Reports & Analytics

✓

Customize Features

✓

Custom integrations

✓

Service Level Agreements

✓

Dedicated Account manager

✓

24X7 Support
Get Brazil Phone Number With DialerHQ in 4 Easy Steps
Embark on your DialerHQ journey now by following the 4 simple steps outlined below.


Choose your custom virtual number & make the payment.

Configure your account, features, and settings.

Start making and receiving calls anytime, anywhere.
Benefits of Getting a Brazilian Phone Number
A Brazilian phone number can help you strengthen your local presence, build trust with customers, and reduce your phone bills. Get a virtual phone number in Brazil with the DialerHQ and start within minutes. Choose your preferred area code and phone number to make and receive calls. 
Lower Phone Bills
Since the calls from a virtual phone number are routed via the internet, the phone bills are generally lower than traditional calls.
Exceptional Call Quality
The best Brazil phone number app, the DialerHQ, ensures premium call quality, eliminating signal disturbances and data latency.
Round the Clock Access
A Brazil phone number can be accessed using your smartphone, making it accessible round the clock, ensuring you don't miss any more calls and opportunities.
More Value-Added Features
A Brazil phone number has numerous features that make managing customer calls seamless and efficient, such as call forwarding, IVR, unlimited calls, and free SMS, to name a few.
Quick Set Up
Buying and setting up a Brazilian phone number is nothing less than a challenge. However, with the DialerHQ, you only need to download the app to get started.
Frequently Asked Questions
Setting up a phone number in Brazil from the 2nd Number takes less than five minutes. Since you don't need a physical SIM card, you can set up a Brazil number from anywhere at your convenience.
There are nine digits in a Brazil phone number, usually preceded by the area code. However, the landline numbers are eight digits long.
You can get a free Brazil number from the DialerHQ and use it to register on WhatsApp. Since the number is free, you won't have to pay anything to use it for WhatsApp. However, phone calls would invite additional charges (per local rates).
Need a Quick & Easy Brazil Phone Number?
Make international calls & texts without buying a SIM card.