Get a Finland Virtual Phone Number
Get a Finland number and improve your communication with Finnish prospects and customers: 
Expand your business reach with a local Finland number.

Enhance customer experience with a familiar area code..

Streamline communication, improve efficiency, and cut costs.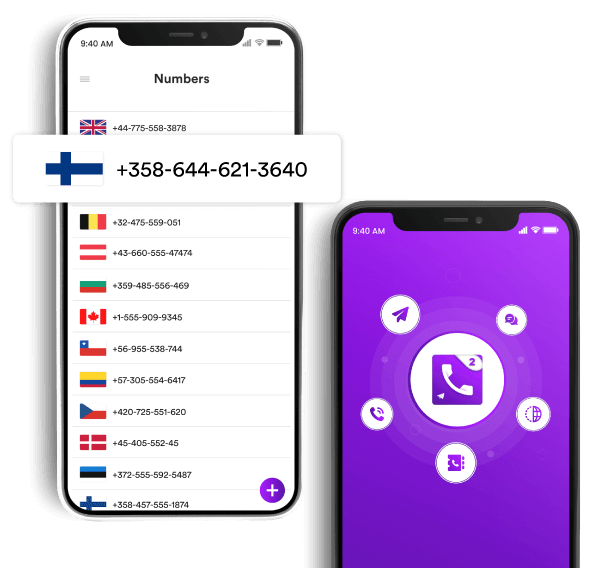 Deliver Unmatched Customer Service with Finnish Numbers!
Reach out to your customers based in Finland more efficiently and at significantly lower costs than traditional communication methods. Buy a Finnish phone number today and experience the benefits for yourself!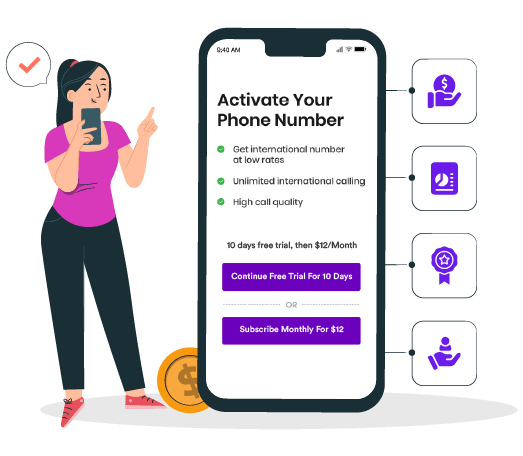 Benefits of Finland Virtual Phone Numbers
A Finland Virtual phone number offers a range of advantages to your company. Here are 5 major benefits of investing in a Finland telephone number:
Communicate with clients effortlessly at significantly lower calling costs.

Improve your brand's reputation and give it a professional edge.

Extend your business's horizons and explore fresh markets in Finland.

Use in-depth analytics and reports to make data-driven decisions.

Serve your clients more efficiently and in a timely fashion.
Different Types of Finland Phone Numbers
There are 3 different types of Finland virtual numbers; each used for a different purpose.
Local Finland phone numbers:

Suitable for businesses that want to reach out to local Finnish clients.

Toll-free Finland phone numbers:

A number that customers can call for free. Ideal for handling customer queries.

Finnish mobile phone numbers:

10-digit numbers consist of an area code and a phone number – excellent for SMBs.
Choose the one that best aligns with your business requirements and objectives.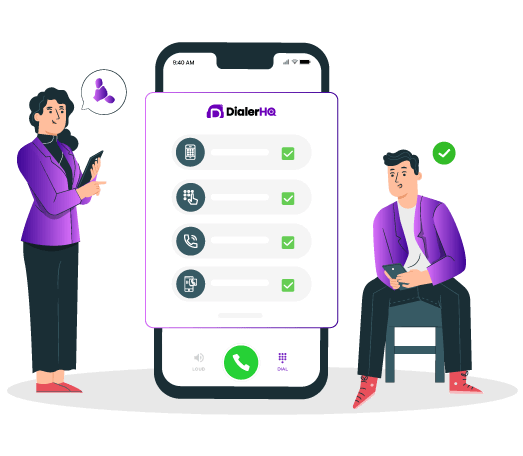 Finland Phone Number Format & Codes
When calling Finland, it's important to understand the phone number format and codes.
Finland Phone Number Format:

The Finnish phone number format is +358 XX XXXXXXX.

Finland Country Code:

The country code for Finland is +358.

Finland Number Area Codes:

Finland has geographical area codes ranging from 01 to 19.

Finland Landline Number:

A Finland landline number consists of 9 digits, including the country and area codes.

Finland Mobile Number:

A Finnish mobile number also consists of 9 digits, including the country code and the mobile prefix.
How Much Does a Finland Number Cost?
The cost of Finland phone numbers depends on multiple factors, such as the features offered, the subscription period, and the provider. For example, DialerHQ offers Finnish phone numbers in the following packages:
Unlimited Plan:

$12/user/month 

Free software:

$1500/month
Connect with our Support team to better understand our packages and their benefits.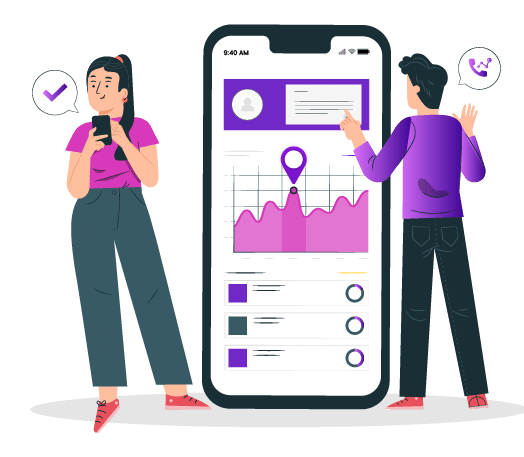 How Much it will Cost to Get an Finland Virtual Phone Number?
Everything in Unlimited Plus

✓

$1500/month Spend Minimum3

✓

Power Dialer

✓

Voice Broadcasting

✓

Multi-level IVR

✓

Multiple Level Call Transfer

✓

Conference Calling

✓

Call Barging

✓

Route to External Number

✓

Forward to Multiple Device

✓

Single Sign On

✓

DID Group

✓

Call Whisper

✓

Intelligent Reports/Analytics

✓

Reports via Email

✓

Automatic Machine Detection

✓

Intelligent Call Recording
✓

Unlimited calls within the US & Canada2

✓

Free 1 standard Number per user

✓

Click To Dial

✓

Call Recording

✓

IVR

✓

Call forwarding

✓

SMS/Text messages

✓

Voicemail

✓

Webhook

✓

Role based access control

✓

Integration
Custom
Request Quote
Flexible pricing based on needs Contact Us
Everything in Free Software Plus

✓

Custom Reports & Analytics

✓

Customize Features

✓

Custom integrations

✓

Service Level Agreements

✓

Dedicated Account manager

✓

24X7 Support
Get  Finland Virtual Number With DialerHQ in 4 Easy Steps
Embark on your DialerHQ journey now by following the 4 simple steps outlined below.


Choose your custom virtual number & make the payment.

Configure your account, features, and settings.

Start making and receiving calls anytime, anywhere.
Features of Finland Phone Numbers
DialerHQ virtual phone system houses a range of cutting-edge features that will take your team's productivity and efficiency to new heights.
Smart Call Forwarding
Never miss an important call. Seamlessly redirect incoming calls to the most suitable person or department based on predefined criteria.
Call Conference
Reduce wait times and enhance customer satisfaction. Keep customers informed and connect them to the next available agent efficiently.
Call Center Analytics
Gain valuable insights and improve your call center's performance. Get a comprehensive overview of your team's activities with real-time data.
Predictive Dialer
Accelerate your sales outreach with the Predictive Dialer. Automatically dial multiple numbers at once and connect with live calls only.
Voicemail Greetings
Make a lasting impression on your customers. Customize your voicemail messages with professional greetings and personalized messages.
Global Connect
Seamlessly connect with international clients and partners with high-quality voice and video calls. Expand your business reach.
Frequently Asked Questions
The Finland contact number has a total of 10 digits. The first two digits represent the area code, followed by the remaining 8 digits– representing the subscriber number.
The country code +358 belongs to Finland. It is used to dial phone numbers within the country and is also used when making international calls to Finland.
By partnering with a virtual phone number service provider like DialerHQ, you can make free calls to Finland using a Finnish phone number. All you need is an internet connection and a device that supports VoIP calling, such as a computer or a smartphone.
Sign up now and enjoy the benefits of Finland phone numbers.

Make international calls & texts without buying a SIM card.