Get South Africa Virtual Phone Number
Establish credibility with your customers from anywhere in the world with a South Africa phone number. Buy a South Africa number online and use it instantly from any device
Why Should You Buy A Virtual South African Number?
A virtual South Africa cell phone number offers you the freedom to enjoy unlimited calling from South Africa to your mobile, office, PBX, or landline. Separate your personal and business calls and enjoy better voice quality at an affordable price.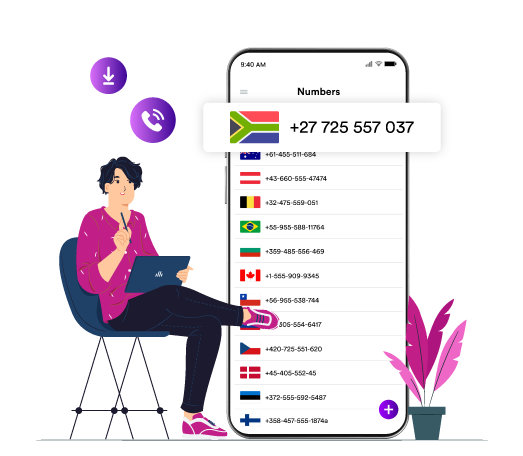 Affordable and Convenient
When you buy a virtual South Africa phone number, there's no waiting time needed for activation. It saves you the trouble of getting a new phone connection/service or a sim card.
The South Africa virtual number once activated with major city area codes, will allow you to contact anyone at a pocket-friendly price. 
All you need is a smart device and stable internet services,  and you are all set! stay reachable at all times from anywhere in the world. Call South Africa numbers, receive incoming calls and send SMS anytime and anywhere.
With a free South Africa telephone number app, you get advanced calling tools to better interact with your business clients.
Improve Customer Relationships
With a South Africa virtual mobile phone number you can enhance customer relationships by creating a local presence in your preferred country and area to broaden your customer base.
With a dedicated South African mobile number in cities like Cape Town or Durban, you can improve your interactions with local customers significantly. With a local South African cellphone number and city calling codes by your side, your customers will be more comfortable taking and receiving your calls.
Being available anytime and anywhere with a local South African mobile number is one of the best ways to improve your customer acquisition and retention rates. Apart from the local customers, you'll also improve your relations with international clientele keen on investing in South Africa.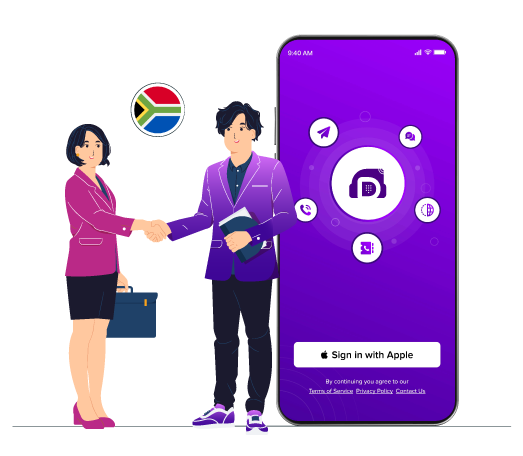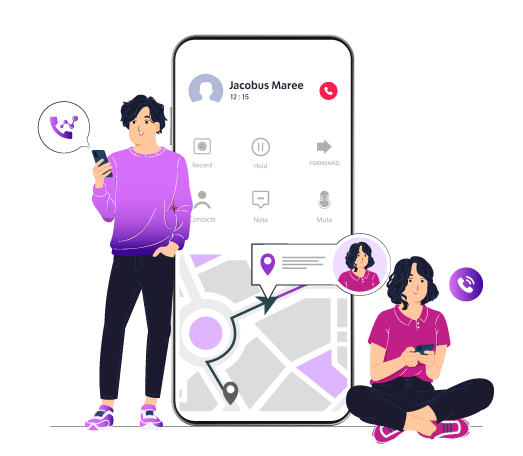 Easy to Transfer/Track Calls
Transferring calls doesn't need to be a mess! The customer support team in your organization can easily transfer calls to the most capable members that can handle customer calls properly. Get a South Africa telephone number for mobile phones and transfer calls effortlessly in no time. Additionally, with South Africa's telephone numbers, you can do more than just transfer calls.
With mobile phone service providers like DialerHQ, you can get a virtual South Africa cell phone number that'll help you know the total number of calls made and received, the average duration of calls, leads generated via international calls, the agents' idle status, etc.
With such advanced reports, you can make informed decisions to improve customer acquisition rates, call quality, and client satisfaction.
Boost Your Pick-Up Rate
People tend to pick up calls more often from mobile/landline numbers they know, rather than an international call. With virtual South Africa phone numbers, customers are more likely to respond to your company's calls.
If you provide your sales team with a local virtual South Africa phone number without a country code, they will have a higher probability of acquiring customers and increasing sales.
Having numbers according to your preferred area codes helps your team enter calls with more credibility which improves your brand value. Moreover, you and your employees can connect and forward calls from anywhere in the world.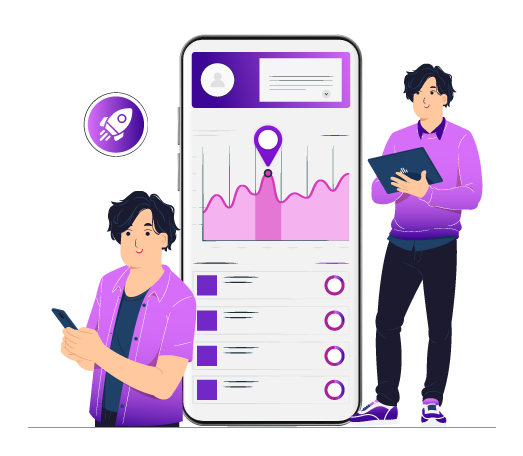 Different Types of Phone numbers Available in South Africa
The following table provides a comprehensive overview of the various phone number types that are currently available in South Africa. It contains information on landline, mobile, VoIP, toll-free, and virtual numbers, including their formats, features, as well as their respective advantages and disadvantages. This information may prove useful for individuals or businesses in deciding which phone number type would be most suitable for their particular requirements.
| Type of Phone Number | Description | Number Format | Feature | Pros | Cons |
| --- | --- | --- | --- | --- | --- |
| Landline | A traditional phone line connected to a wall socket | 011-123-4567 | Reliable, good call quality | Usually cheaper than mobile plans, can bundle with internet services | Not portable, requires physical installation, limited features |
| Mobile | A phone number associated with a SIM card and mobile device | 082-123-4567 | Portable, can make and receive calls and texts from anywhere | Feature-rich, can use apps, internet, and other services | May have weaker signal in remote areas, data and call costs can be expensive |
| VoIP | A phone number that uses Voice over Internet Protocol technology | 021-123-4567 | Can make and receive calls over the internet, often cheaper than landline or mobile plans | Portable, can use on any device with an internet connection, usually includes additional features like video calling and voicemail | Requires stable internet connection, call quality may be affected by internet speed and bandwidth limitations |
List Major Area Codes for Virtual Phone Numbers in South Africa
This is a table that displays area codes for virtual phone numbers in South Africa. The purpose of the table is to aid individuals or businesses in selecting an appropriate area code. Information about number types and formats is also included for each area code.
| Area Code | Location | Number Format |
| --- | --- | --- |
| 010 | Johannesburg | (010) XXX XXXX |
| 011 | Johannesburg | (011) XXX XXXX |
| 012 | Pretoria | (012) XXX XXXX |
| 013 | Nelspruit | (013) XXX XXXX |
| 021 | Cape Town | (021) XXX XXXX |
| 031 | Durban | (031) XXX XXXX |
| 041 | Port Elizabeth | (041) XXX XXXX |
| 051 | Bloemfontein | (051) XXX XXXX |
| 081 | Mobile | (081) XXX XXXX |
| 082 | Mobile | (082) XXX XXXX |
| 083 | Mobile | (083) XXX XXXX |
| 087 | Value Added Services | (087) XXX XXXX |
How Much Does South Africa Virtual Phone Number Cost?
Buy South Africa Virtual Phone Number With DialerHQ in 4 Easy Steps
Embark on your DialerHQ journey now by following the 4 simple steps outlined below.


Choose your custom virtual number & make the payment.

Configure your account, features, and settings.

Start making and receiving calls anytime, anywhere.
Features of South Africa Mobile Phone Number
A South African mobile number provides numerous advantages in terms of quality and cost. You get to enjoy all the advanced features of call recording, real-time reporting, call routing, call forwarding, etc. with high-quality customer service.
Call Forwarding Convenience
Call Recording
Your new South Africa virtual number free will enable you to record calls from employees and customers alike.
Real Time Reporting
View detailed data about calls made to your South African mobile phone number and learn about customers' call habits, preferences, and more!
Voice Response
This feature in your virtual South Africa toll-free phone number supports call transfers between departments of your company and customers.
VoiceMail Message Support
With a virtual South Africa number, customers can conveniently leave voice messages if customer care is busy or unavailable.
Multi-user Support
With DialerHQ's cloud telephony South African phone number services, your agents can easily collaborate while maintaining the organizational hierarchy.
Need a Quick & Easy South Africa Phone Number?
Make international calls & texts without buying a SIM card.