Get a Poland Virtual Phone Number
Reach, engage, and serve Polish customers with our virtual phone number solution.
Explore untapped business opportunities in Poland.

Build trust and credibility with Polish prospects.

Enjoy cost-effective intl calling and 50+ features.
What is a Poland Virtual Number?
A virtual Poland number is a cloud-based number that enables businesses to establish a local presence in Poland without a physical office. Besides, virtual numbers are affordable and come with cutting-edge features such as call forwarding, voicemail, and call recording– providing businesses with flexibility, scalability, and enhanced communication capabilities.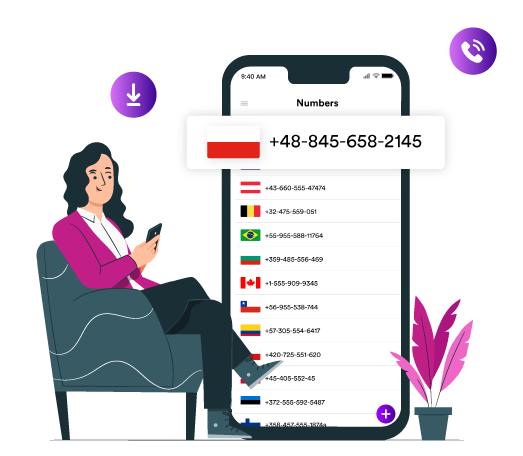 Why Do You Need a Polish Phone Number?
You need a Poland phone number for various reasons, including to cut costs and better serve your customers. Here are a few more:
To establish credibility and local presence with Polish customers.

To streamline communication with local Poland contacts.

To make it easier for people in Poland to reach you.

To target local customers and enhance marketing efforts.

To provide superior customer service to Polish clients.

To reduce calling, setup, and maintenance costs.
Benefits of Poland Virtual Numbers
Buying Poland virtual phone numbers– especially from DialerHQ provides you with more than one advantage, listed below:
Expands business presence in Poland effortlessly.

Boosts customer service efficiency and convenience.

Analyzes call data for valuable insights.

Simplifies setup and management online.

Reduces international calling costs significantly.

Attracts more customers with toll-free options.

Customizes communication strategies effortlessly.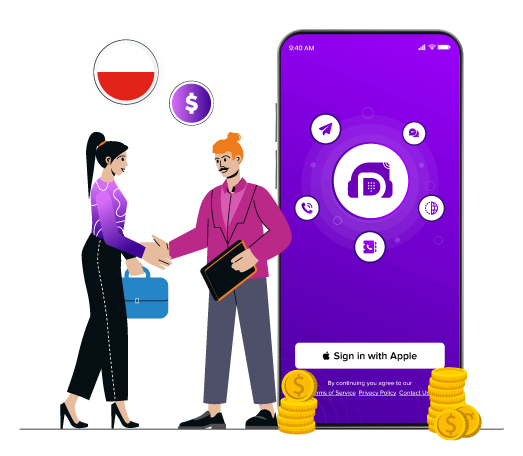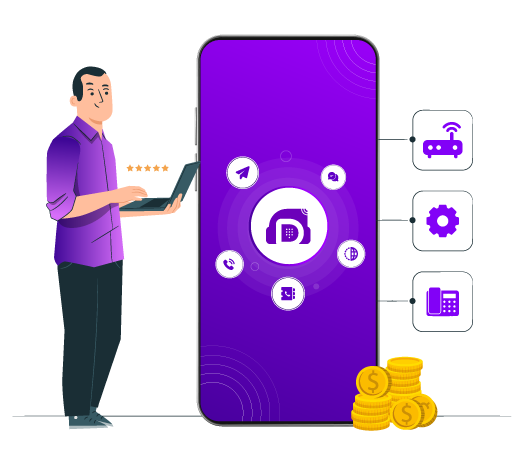 Different Types of Poland Virtual Numbers
Poland virtual numbers come in three primary types, each serving a unique purpose:
Local Poland phone numbers:

9-digit numbers starting with the specific area codes of Poland. Suitable for businesses looking to establish a local presence.

Toll-free Poland phone numbers:

Start with toll-free prefixes like 800 or 801. Ideal for customer support, sales inquiries, and surveys.

Virtual  Poland Mobile number:

9-digit phone numbers starting with the prefix 5. Enable businesses to stay in touch with Polish customers 24/7.
Choose the type of Poland virtual number that best aligns with your business requirements, objectives, and budget.
Why Buy a Polish Virtual Number
From DialerHQ?
DialerHQ is the ultimate destination to buy a virtual Poland number, and here's why:
Advanced features and tools:

Leverage our comprehensive suite of advanced features and tools to enhance your communication capabilities.

Diverse Number Selection:

Choose from a wide range of virtual numbers, including local, toll-free, and mobile numbers, to cater to your unique business needs.

Superior call quality:

Experience crystal-clear voice calls and uninterrupted communication with DialerHQ's advanced VoIP technology.

Flexible plans and pricing:

Enjoy flexible plans and competitive pricing options that can be tailored to your specific business needs.

Exceptional Customer Support:

Our dedicated customer support team is available to assist you at every step, ensuring a seamless and satisfying experience.
What Types of Virtual Phone Numbers Can You Get in Poland?
This table offers information on the different kinds of virtual phone numbers that businesses can use in Poland. These numbers include local, toll-free, national, international, mobile, and vanity numbers, and allow businesses to establish a presence in Poland without needing an actual office. Toll-free numbers are particularly useful for providing free phone services to customers, while vanity numbers are memorable and help businesses stand out. Overall, virtual phone numbers provide businesses with the flexibility to improve customer service and grow their presence in Poland.
| Type of Virtual Number | Dialing Code | Example |
| --- | --- | --- |
| Poland Virtual Phone Number | +48 | +48 123456789 |
| Poland Toll-Free Number | +48 | +48 800123456 |
| Poland Mobile Number | +48 | +48 501234567 |
Popular Area Codes in Poland
This table provides a comprehensive list of popular area codes in Poland for phone numbers. The table includes the corresponding cities, phone number formats, and examples of how to dial within Poland. The information in this table can be useful for anyone who needs to make phone calls within Poland and wants to ensure they use the correct area code and phone number format.
| Area Code | City | Phone Number Format | Example |
| --- | --- | --- | --- |
| 22 | Warsaw | (+48) 22 XXX XX XX | (+48) 22 123 45 67 |
| 12 | Krakow | (+48) 12 XXX XX XX | (+48) 12 345 67 89 |
| 61 | Poznan | (+48) 61 XXX XX XX | (+48) 61 987 65 43 |
| 58 | Gdansk | (+48) 58 XXX XX XX | (+48) 58 765 43 21 |
| 71 | Wroclaw | (+48) 71 XXX XX XX | (+48) 71 234 56 78 |
| 42 | Lodz | (+48) 42 XXX XX XX | (+48) 42 876 54 32 |
| 61 | Kalisz | (+48) 61 XXX XX XX | (+48) 61 543 21 09 |
| 32 | Katowice | (+48) 32 XXX XX XX | (+48) 32 321 09 87 |
DialerHQ Pricing Plans for Poland Virtual Phone Number
How to Get a Poland Virtual Number?
Embark on your DialerHQ journey now by following the 4 simple steps outlined below.

Sign in to DialerHQ.

Choose your custom virtual number & make the payment.

Configure your account, features, and settings.

Start making and receiving calls anytime, anywhere.
Features of Poland Virtual Phone Number
With DialerHQ's Polish virtual numbers, you will gain access to a suite of advanced features, including the ones outlined below.
IVR (Interactive Voice Response)
Set up a customized menu system that guides callers to the appropriate department or information, improving call routing efficiency.
Virtual Attendant
Offer automated greetings and call handling options, creating a professional and polished image for your business.
Analytics and Reporting
Gain access to detailed call data and metrics, allowing you to evaluate call volume, duration, and other relevant statistics for performance analysis.
Call Barging
Allow supervisors or managers to monitor or actively participate in the conversation for quality assurance or training purposes.
Smart Call Forwarding
Forward calls to multiple numbers in sequence to ensure optimal call handling and minimize missed opportunities.
Call Recording
Capture and save conversations for training, compliance, or future reference, providing valuable insights and documentation.
Frequently Asked Questions
A Poland virtual phone number from DialerHQ is a virtual number that operates over the Internet, allowing you to connect with Polish customers and partners without a physical presence.
Yes, you can make local calls within Poland as well as international calls using your Poland virtual phone number. This benefit makes it easier for you to communicate with Polish contacts.
Getting a Poland virtual phone number is simple – sign up with DialerHQ, choose a number, customize your settings, and start making and receiving calls.
Absolutely, a Poland virtual phone number is an excellent option for customer support and service centers– enabling you to provide assistance to Polish customers efficiently.
Yes, DialerHQ allows you to integrate your Poland virtual phone number with various communication tools and platforms– enhancing your overall business operations.
Need a Quick & Easy Poland Phone Number ?
Make international calls & texts without buying a SIM card.