Get An Uganda Virtual Number
Connect instantly with customers in Uganda, and build your brand locally.

Establish trust with a dedicated Uganda virtual number from DialerHQ.

Build your brand in Uganda with an Uganda virtual number from DialerHQ.
What is an Uganda Virtual Number?
An Uganda virtual phone number is a phone number that uses the internet to route calls instead of cell towers. It allows you to establish a Uganda presence and connect with local customers without needing to be located in Uganda physically. These numbers entail features to enhance customer experience and boost agent productivity, such as a power dialer, IVR, voicemail, and analytics.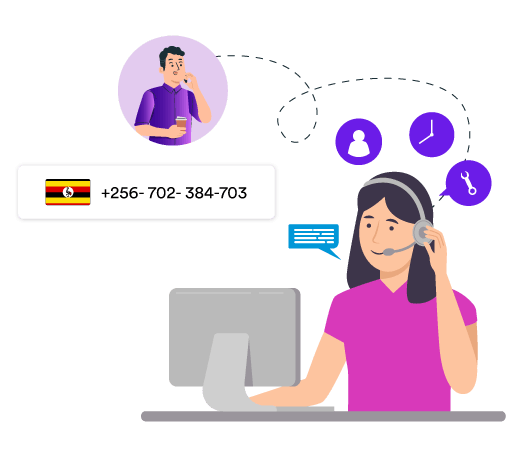 Mark Your Presence in Uganda With a +256 Phone Number
Connect instantly with customers in Uganda and establish a trusted local presence, no matter where you are located. A virtual phone number from DialerHQ enables you to:
Build brand recognition and rapport in the Ugandan market with a local number

Forward Uganda calls to any device for constant connectivity

Set up voicemail greetings in local languages to build trust and credibility

Reduce communication costs by eliminating the need for a physical office

Gain insights into Uganda caller traffic and trends by monitoring calls

Seamlessly integrate the Ugandan virtual number with third-party tools
Benefits of Uganda Virtual Phone Number
An Uganda virtual phone number from DialerHQ offers numerous benefits to your business.
Reduced Costs: With a Ugandan virtual number, you're charged per the local rates, reducing the charges you'd otherwise pay on long-distance calling.
Regional Presence:

At DialerHQ, we offer local numbers of all the regions in Uganda, allowing you to target specific audiences. This can increase the chances of calls being picked up, building customer trust and the conversion rate. 

Better Productivity: DialerHQ's Uganda virtual phone number has 50+ advanced features to improve customer experience and agent productivity. Plus, it integrates with 100+ third-party tools, saving time on data entry. 
In-Depth Insights:

DialerHQ offers real-time insights into every call, enabling you to better understand the customers' needs and coach your agents to improve their experience. Use the insights to make data-driven decisions and boost your revenue.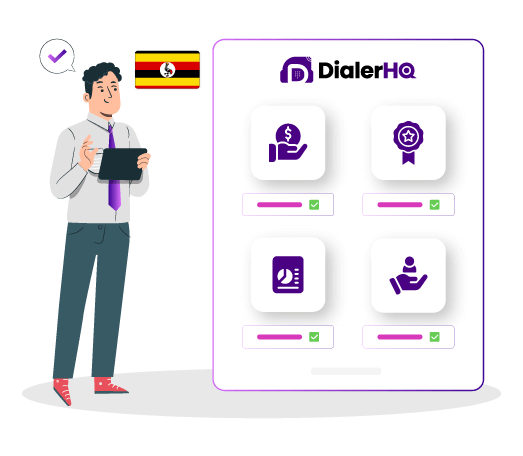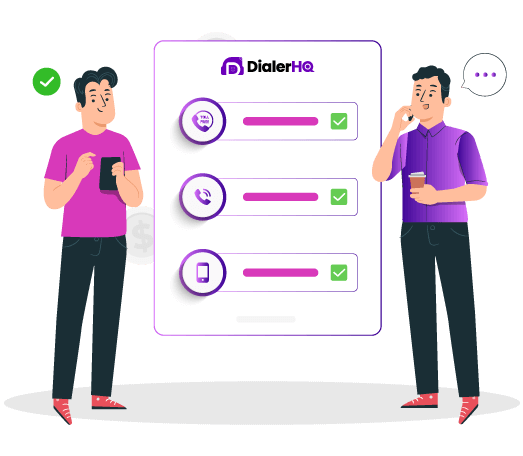 Different Types of Uganda Virtual Numbers
Uganda Local Numbers:

Acquire local Uganda virtual numbers from DialerHQ that map to specific cities or regions. Select numbers with the proper area codes to connect with customers in Kampala, Gulu, Mbale, and other cities.

Uganda Toll-Free Numbers: DialerHQ provides Uganda toll-free numbers starting with 0800, enabling your customers to call you free of charge from landlines or mobiles. Toll-free numbers make it more convenient for Ugandans to engage with your business.
Uganda International Numbers:

Choose virtual international numbers from DialerHQ with the +256 country code for a global presence. International numbers allow you to market to expat Ugandans abroad and take calls worldwide.

Port Your Uganda Phone Number:

Already have a Ugandan phone number? Easily transfer it to DialerHQ to retain your existing business number and caller recognition, gaining improved functionality. Our team ensures uninterrupted communication while you port your number!
What Types of Virtual Phone Numbers Can You Get in Uganda
This table offers information on the different kinds of virtual phone numbers that businesses can use in Uganda. These numbers include local, toll-free, national, international, mobile, and vanity numbers, and allow businesses to establish a presence in Uganda without needing an actual office. Toll-free numbers are particularly useful for providing free phone services to customers, while vanity numbers are memorable and help businesses stand out. Overall, virtual phone numbers provide businesses with the flexibility to improve customer service and grow their presence in Uganda.
| Type of Virtual Number | Dialing Code | Example |
| --- | --- | --- |
| Local Uganda Virtual Number | +256 | +256 41 1234567 |
| Toll-Free Uganda Virtual Number | +256 | +256 800 987654 |
| Mobile Uganda Virtual Number | +256 | +256 77 8765432 |
Popular Area Codes in Uganda
This table provides a comprehensive list of popular area codes in Uganda for phone numbers. The table includes the corresponding cities, phone number formats, and examples of how to dial within Uganda. The information in this table can be useful for anyone who needs to make phone calls within Uganda and wants to ensure they use the correct area code and phone number format.
| Area Code | City | Phone Number Format | Example |
| --- | --- | --- | --- |
| 41 | Kampala | +256 41 XXXXXXX | +256 41 1234567 |
| 312 | Entebbe | +256 312 XXXXXX | +256 312 345678 |
| 414 | Mukono | +256 414 XXXXXX | +256 414 987654 |
| 392 | Jinja | +256 392 XXXXXX | +256 392 456789 |
| 433 | Mbarara | +256 433 XXXXXX | +256 433 234567 |
DialerHQ Pricing Plans for Uganda Virtual Phone Number
How to Get a Uganda Virtual Number?
Embark on your DialerHQ journey now by following the 4 simple steps outlined below.

Sign in to DialerHQ.

Choose your custom virtual number & make the payment.

Configure your account, features, and settings.

Start making and receiving calls anytime, anywhere.
Features of Uganda Virtual Phone Number
With DialerHQ's temporary Uganda phone numbers, you will gain access to a suite of advanced features, including those listed below.
Power Dialer
DialerHQ's Power Dialer enables making multiple calls simultaneously with just one click, saving huge amounts of time and effort when contacting customers or leads. Achieve more in less time.
Global Connect
Strengthen your international outreach with our Global Connect feature and experience better pickup rates. Achieve success in the global market with DialerHQ!
Smart Switch
Smart Switch automatically directs your calls through the top-quality provider available to prevent connectivity loss, keeping conversations smooth and maximizing customer satisfaction.
Call Barging
Call Barging allows managers to securely monitor agent interactions in real-time and provide coaching through call whispers, improving customer experience.
Call Queuing
Let customers know how long it will take to reach the next available agent to reduce frustration and minimize call disconnects. Enhance their overall experience when reaching you.
Smart Call Forwarding
Automatically direct your calls to any global numbers simultaneously, ensuring real-time connection from anywhere. Never miss an important call and keep customers happy!
Call Transfer
Instantly transfers incoming calls to appropriate recipients for quick issue resolution, optimized routing, and enhanced customer satisfaction.
Need a Quick & Easy Uganda Phone Number ?
Make international calls & texts without buying a SIM card.
Frequently Asked Questions
Acquiring a Uganda virtual phone number typically takes just a few minutes. The entire process, from signup to getting your number, can be completed quickly in around five minutes. You just need to sign up for DialerHQ, enter your information, and your Uganda number will be ready in minutes.
The easiest and fastest way is to use a service like DialerHQ that provides virtual phone numbers. You can sign up online in a few minutes and get a Uganda number immediately that you can use. You can also access advanced features like a power dialer, IVR, voicemail, and analytics.
Uganda's country calling code is +256. All phone numbers in Uganda begin with the country code +256, followed by the area code and the phone number.
Yes, obtaining an Uganda virtual number from a reputable provider like DialerHQ is completely legal. The numbers work like regular Uganda phone numbers for calling, texting, and verification.
All you need is your business email address to get started. If we need additional supporting documents, we'll contact you via email.
DialerHQ's plans start from $0 per month. This means you can get a free Uganda virtual number from DialerHQ. The free plan also has features like click-to-dial, global connect, voicemail, text messages, and smart switch.
You can get an Uganda virtual phone number for WhatsApp, Telegram, Google Meet, and Hinge from DialerHQ. The entire signup process takes less than five minutes, and you can verify accounts with the number and use it for calling and texting on various apps and sites.
Yes, you can receive and send SMS text messages with a Uganda virtual number from DialerHQ. It provides the full capabilities of a real Uganda mobile number, including texting.
Uganda virtual numbers from DialerHQ work for receiving OTP verification messages from apps and sites. You can use the number to verify your accounts by sending the OTPs to your virtual Uganda number.