Get Indonesia Virtual Phone Number
Easily reach out to your Indonesian prospects and expand your business's footprint in Indonesia with Indonesian virtual numbers.
Gain insights into customer behavior and campaigns.

Efficiently reach prospects and better serve customers.

Save greatly on operational, calling, and maintenance costs.
What is an Indonesian Virtual Phone Number?
An Indonesian Virtual Phone Number is a phone number that enables individuals and businesses to establish a virtual presence in Indonesia without being physically located there. Virtual numbers use VoIP technology to make and receive messages and calls. Additionally, they encompass a range of novel features that not only enhance business communication but also significantly reduce operational costs.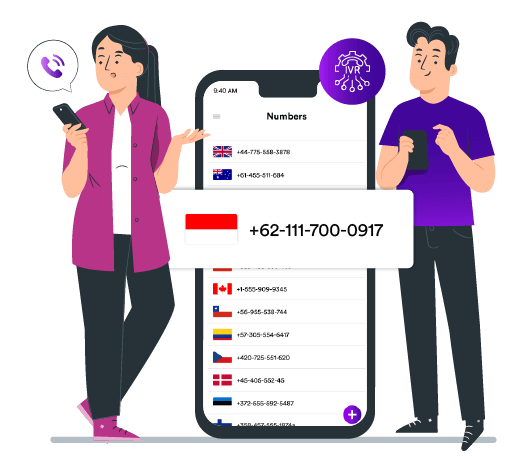 Why Do You Need an Indonesian Phone Number?
Modern businesses need an Indonesian virtual phone number for several reasons. It helps you better serve Indonesia-based customers, as well as enables you to understand your customers' behavior. Here are the key reasons to get one:
To better serve customers and reach target audiences.

To professionalize and globalize your brand image.

To expand your business and reach new markets.

To reduce operational and international calling costs.

To improve customer support and internal communication.

To better understand your customers and their preferences.

To make informed decisions with analytics and insights.
Benefits of Having an Indonesian Virtual Phone Number
When you buy Indonesian virtual phone numbers– especially from DialerHQ, you will receive a host of benefits, including:
Range of collaboration and communication features.

Reduced operational, maintenance, and calling costs.

Enhanced portability, flexibility, and scalability.

Improved customer satisfaction and brand image.

Better understanding of customers through insights.

Strong presence and inroads into the Indonesian market.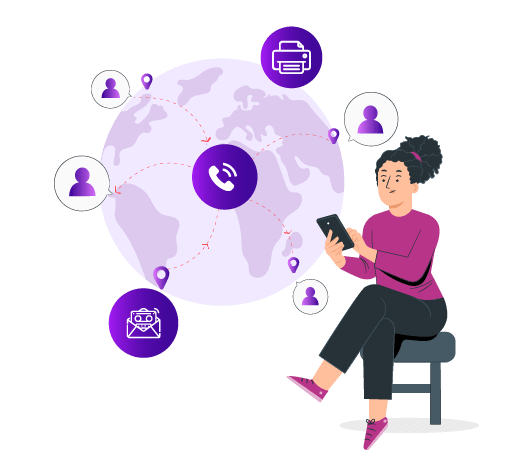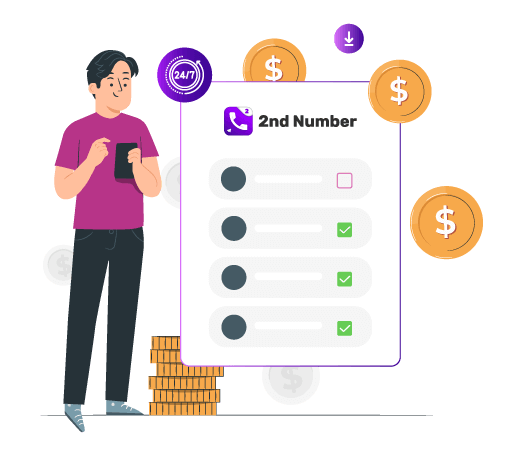 Types of Indonesian Virtual Phone Numbers
Indonesian virtual phone numbers come in three major types, as listed below, each serving a different purpose.
Local Indonesia phone numbers:

9-11 digit numbers suitable for companies looking to expand business in Indonesia.

Toll-free Indonesia phone numbers:

A number that customers can call without incurring any charges. Perfect for addressing customer inquiries.

Indonesia Mobile numbers:

10-12 digit phone numbers with area code. Suitable for small and medium-sized businesses.
Why Choose DialerHQ for Indonesia Virtual Phone Number?
Advanced features:

40+ innovative features to enhance overall communication experience.

Affordable pricing: Cost-effective solution for business communication needs– starting at $0.
Large pool of area codes:

Choose from a large pool of area codes to create a local presence.

Quality customer support:

24/7 assistance to help you with any issues or questions.

User-friendly UI:

Intuitive UI to help users easily navigate the system in order to make the most out of it.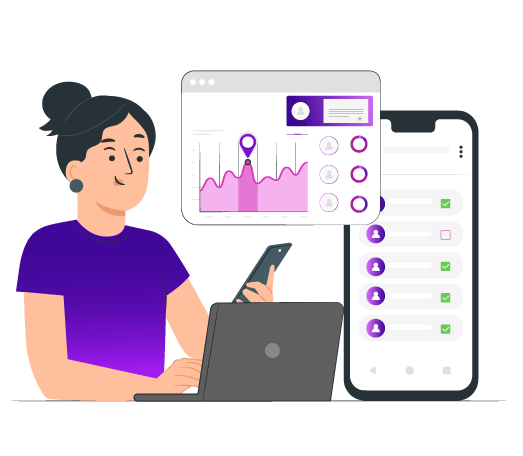 Popular Area Codes for Indonesia
The table provides a list of area codes and phone number prefixes for Indonesia virtual phone numbers. Businesses can use this information to select the appropriate virtual phone number and establish a local presence in a particular Indonesian city or region. The table includes the area code, city, and phone number prefix, making it easy for businesses to choose the right virtual phone number for their requirements.
| Area | Area Code | Virtual Phone Number Prefix |
| --- | --- | --- |
| Jakarta | 21 | +6221 |
| Surabaya | 31 | +6231 |
| Bandung | 22 | +6222 |
| Semarang | 24 | +6224 |
| Yogyakarta | 274 | +6274 |
| Bali | 361 | +62361 |
| Medan | 61 | +6261 |
| Palembang | 711 | +62711 |
| Makassar | 411 | +62411 |
| Manado | 431 | +62431 |
| Batam | 778 | +62778 |
| Balikpapan | 542 | +62542 |
| Padang | 751 | +62751 |
| Pekanbaru | 761 | +62761 |
| Lampung | 721 | +62721 |
Best Times to Call between Indonesia and the US: A Time Zone Conversion Table
The table above shows the best times to call between Indonesia and the US, taking into account the time difference and the three time zones of Indonesia (WIB, WITA, and WIT). It provides recommendations for each time zone in Indonesia and includes the corresponding US time (ET/PT), which can be useful for scheduling international calls.
| Indonesia Time (WIB/WITA/WIT) | US Time (ET/PT) | Best Time to Call Indonesia | Best Time to Call US |
| --- | --- | --- | --- |
| 6am-12pm | 5pm-11pm (prev. day) / 2pm-8pm (prev. day) | 6am-12pm | 8pm-11pm (prev. day) / 5pm-8pm (prev. day) |
| 12pm-6pm | 11pm-5am / 8pm-2am | 12pm-6pm | 11pm-2am / 8pm-11pm |
| 6pm-12am | 5am-11am / 2am-8am | 6pm-12am | 5am-8am / 2am-5am |
| 12am-6am | 11am-5pm / 8am-2pm | 12am-6am | 11am-2pm / 8am-11am |
How much does Indonesia's virtual phone number cost with DialerHQ?
Get Indonesia Phone Number With DialerHQ in 4 Easy Steps
Embark on your DialerHQ journey now by following the 4 simple steps outlined below.


Choose your custom virtual number & make the payment.

Configure your account, features, and settings.

Start making and receiving calls anytime, anywhere.
Features of Indonesia Virtual Phone Numbers
As a leading Indonesia virtual number provider, DialerHQ offers its users a range of innovative features, as listed below, that take your experience to the next level.
Power Dialer
Boost your sales outreach by auto-dialing multiple numbers simultaneously and only connecting with live calls.
Global Connect
Improve your customer engagement by reaching out to your prospects at the most convenient time.
Smart Call Forwarding
Never miss any important calls by forwarding them to the alternate number or the appropriate person with a click.
Call Recording
Keep track of important calls by easily recording and reviewing them for future reference.
Call Transfer
Reduce wait times and increase customer satisfaction by efficiently transferring calls to the right agent.
Call Conference
Improve team productivity and collaboration by hosting multi-participant calls on a single platform.
Frequently Asked Questions
Yes, Indonesia uses an 11-digit mobile number system. The Indonesian mobile number format is +62 (country code) + (3-digit mobile network code + (7-digit subscriber number).
The cost of an Indonesian virtual phone number can vary depending on the provider and the features included. For example, DialerHQ– the leading Indonesian virtual number provider, offers multiple pricing options for Indonesia phone numbers starting at $0. Connect with their sales team to better understand their offerings.
Anyone can buy Indonesian phone numbers as long as they use them for legal activities. In fact, many leading MNCs and businesses worldwide extensively use virtual phone numbers to establish their presence in Indonesia.
Yes, virtual phone numbers for Indonesia are completely legal and regulated by the Indonesian Ministry of Communication and Information Technology.
AThe country code for Indonesia is +62. This means when making an international call to Indonesia, you will have to dial +62 followed by the mobile phone number.
Sign up now and enjoy the benefits of Indonesia virtual numbers
Make international calls & texts without buying a SIM card.