Get Chile Virtual Phone Number
Establish a local presence in Chile and enhance your brand credibility with DialerHQ's communication solutions.
Expand your business reach by establishing a local presence.

Enjoy seamless communication with your Chilean clients.


Reduce costs and increase efficiency with advanced features.
Deliver Exceptional Customer Service in Chile
Connect with your customers easily and efficiently with DialerHQ's Chile phone numbers. Our advanced call management and collaboration features help you manage your calls effectively and stay connected with your customers 24/7.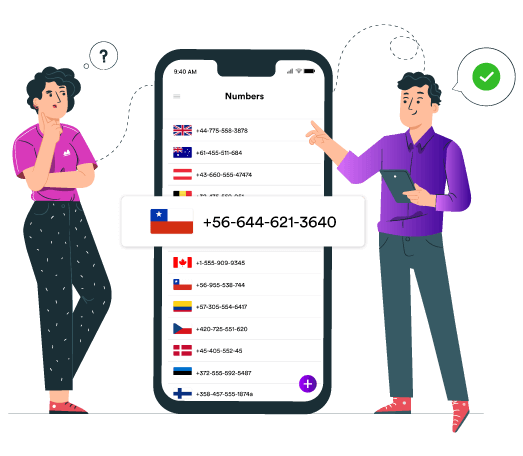 Is Chilean Virtual Phone Number a Real Number?
Yes, a virtual phone number for Chile is a real number. It works just like any regular phone number– but does not require a physical phone line or device. Here are some interesting facts about Chilean virtual numbers:
Chile numbers can be used for sales, support, and marketing purposes.

Chilean virtual numbers come with a range of advanced features like IVR.

Chile phone numbers can be used for both incoming and outgoing calls.

Chile virtual numbers are easy to set up, scalable, and customizable.

Chile virtual numbers are a far more affordable solution for businesses.
Benefits of Chile Phone Numbers
A virtual Chile phone number offers a range of advantages to your company. Here are five major benefits of investing in a Chile phone number:
Communicate with clients effortlessly at significantly lower calling costs.

Improve your brand's reputation and give it a professional edge.

Extend your business's horizons and explore fresh markets in Chile.

Use in-depth analytics and reports to make data-driven decisions.

Serve your clients more efficiently and in a timely fashion.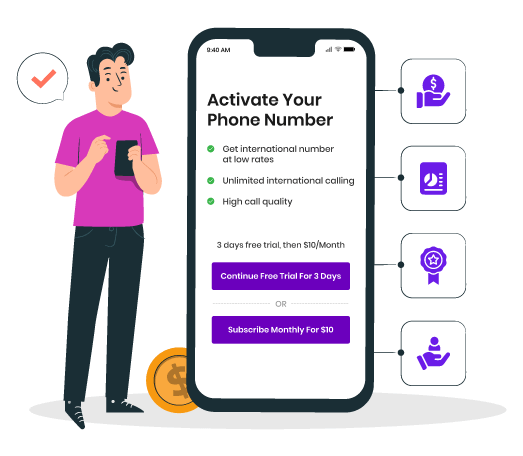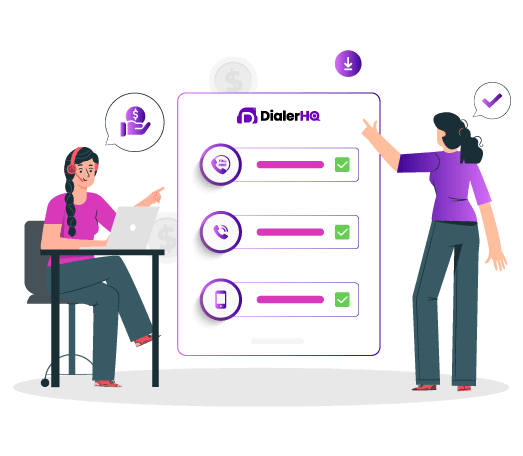 Different Types of Chilean Phone Numbers
There are three different types of Chile virtual numbers, each of which is used for a different purpose.
Local Chile phone numbers:

Suitable for businesses that want to reach out to local Chile clients.

Toll-free Chile phone numbers:

A number that customers can call for free. Ideal for handling customer queries.

Chile Mobile phone numbers:

10-digit numbers consist of an area code and a phone number – excellent for SMBs.
Choose the one that best aligns with your business requirements and objectives.
Chile Country Code & Area Codes
When you call a Chilean phone number, it's important to remember three things– the Chilean country code, the Chilean area codes, and the Chilean dialing format.
Chilean country code:

The numerical prefix used when making an international call to Chile (+56).

Chilean area codes:

A series of 2 or 3 digits identifying a specific region or city within Chile.

Chilean phone numbers:

Unique numerical sequences assigned to individual telephone lines in Chile.

Chilean dialing format:

The correct sequence of numbers and symbols needed to call a Chilean phone number.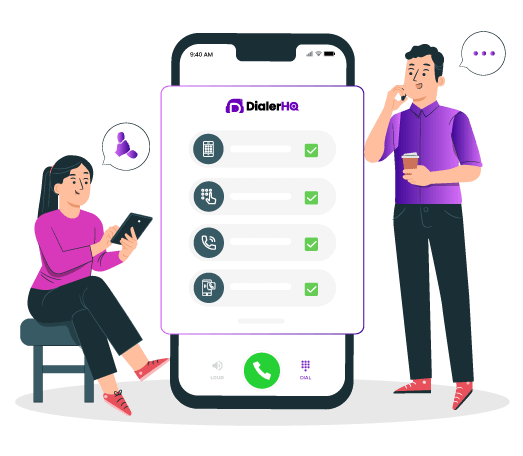 How Much Does Chile Virtual Phone Number Cost?
Buy Chile Virtual Phone Number With DialerHQ in 4 Easy Steps
Embark on your DialerHQ journey now by following the 4 simple steps outlined below.


Choose your custom virtual number & make the payment.

Configure your account, features, and settings.

Start making and receiving calls anytime, anywhere.
Features of Chile Phone Numbers
DialerHQ virtual phone system houses a range of cutting-edge features that will take your team's productivity and efficiency to new heights.
Smart Call Forwarding
Never miss an important call. Seamlessly redirect incoming calls to the most suitable person or department based on predefined criteria.
Call Queuing
Reduce wait times and enhance customer satisfaction. Keep customers informed and connect them to the next available agent efficiently.
Call Center Analytics
Gain valuable insights and improve your call center's performance. Get a comprehensive overview of your team's activities with real-time data.
Predictive Dialer
Accelerate your sales outreach with the Predictive Dialer. Automatically dial multiple numbers at once and connect with live calls only.
Voicemail Greetings
Make a lasting impression on your customers. Customize your voicemail messages with professional greetings and personalized messages.
Global Connect
Seamlessly connect with international clients and partners with high-quality voice and video calls. Expand your business reach.
Frequently Asked Questions
DialerHQ's Chile virtual phone number utilizes VoIP technology to route calls online. When someone dials your virtual number, the call is forwarded seamlessly to your chosen device, ensuring you stay connected regardless of location.
Yes, DialerHQ allows you to select from various Chilean area codes for your virtual phone number, helping you establish a local presence in your desired region and making it convenient for callers to reach you.
Yes, you can forward calls from your virtual number to multiple devices, such as your smartphone, computer, or landline. This ensures you never miss an important call, whether on the go or working from a specific location.
You can port your Chile virtual phone number to DialerHQ's service. This seamless transition ensures you maintain your established contacts and business identity while benefiting from DialerHQ's advanced features and reliable connectivity.
Yes. DialerHQ's virtual phone number service allows you to create a customized IVR system, guiding callers to appropriate departments or information. This streamlines call routing, enhances user experience, and portrays a professional image for your business.
Sign up now and enjoy the benefits of virtual phone numbers in Chile.
Make international calls & texts without buying a SIM card.