Get a Greece Virtual Phone Number
Go global. Attract, connect and serve Greek prospects like never before!
Connect with Greek customers from anywhere.

Enjoy affordable rates for Intl calls to Greece.

Enhance customer communication & experience.
What Is a Greece Virtual Number?
A virtual Greece phone number is an cloud-based phone number that enables businesses to establish a local presence in Greece from anywhere in the world. It facilitates easy connection with Greek customers, building trust and offering convenient communication channels. This solution creates opportunities for global expansion and seamless interaction with the Greek market.
Why Do You Need a Greece Virtual Number?
You need a Greece virtual phone number for various reasons, especially if you have plans to go global or have a business interest in Greek markets. Here's why:
To expand your business presence in Greece.

To connect with Greek prospects and clients.

To build the trust and credibility of Greek customers.

To explore new business opportunities in Greece.

To enjoy cost-effective international calling.

To easily scale operations as the business grows.

To facilitate smooth dealings with Greek customers.
Benefits of Greece Virtual Number
Greece virtual phone numbers present a number of benefits to businesses, as outlined below:
Expands business reach in Greece, regardless of location.

Facilitates seamless communication with Greek customers.

Builds trust and credibility with a local phone number.

Offers cost-effective international calling rates.

Provides flexibility and scalability for business growth.

Enhances customer experiences with convenient channels.

Enables on-the-go connectivity for Greek clients.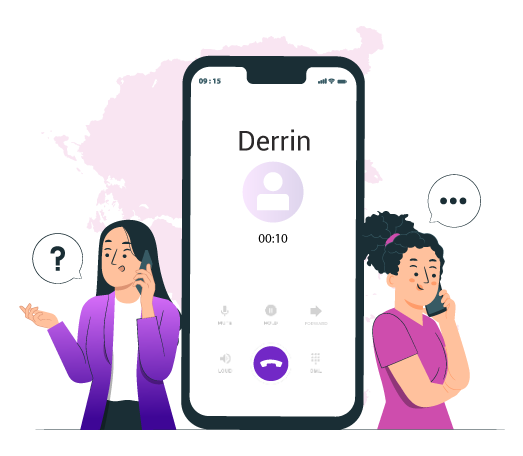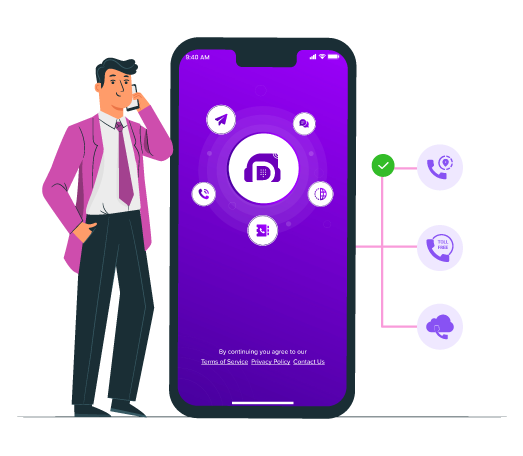 Different Types of Greek Virtual Numbers
Greece virtual numbers are available in three main types, each designed to cater to specific business needs:
Local Greek phone numbers: 10-digit numbers with distinct area codes. Perfect for establishing a local presence and connecting with Greek communities.
Toll-free Greek phone numbers: Begin with toll-free prefixes like 800 or 801. Ideal for customer support, helplines, and sales inquiries.
Virtual Greek mobile number: 10-digit phone numbers starting with the prefix 6. Enable businesses to stay in touch with Greek customers 24/7.
Choose the Greece virtual number type that aligns with your business objectives and enjoy the benefits of virtual number.
Why Buy a Greece Virtual Number
From DialerHQ?
You must buy a virtual phone number for Greece from DialerHQ– the best free Greece VoIP number provider, for the following reasons:
Unmatched expertise:

Benefit from our extensive experience and expertise in the VoIP industry– specifically tailored for the Greek market.

Wide range of numbers:

Choose from a wide range of virtual Greece phone numbers, including local numbers, toll-free numbers, and mobile numbers.

Flexible plans and pricing:

Enjoy flexible plans and competitive pricing options that can be customized to align with your business requirements and budget.

Advanced features: Access a comprehensive suite of advanced features, such as call analytics, Power Dialer, Smart Call forwarding, and more.
Exceptional customer support:

Receive dedicated and prompt customer support from our knowledgeable team for a pleasant experience.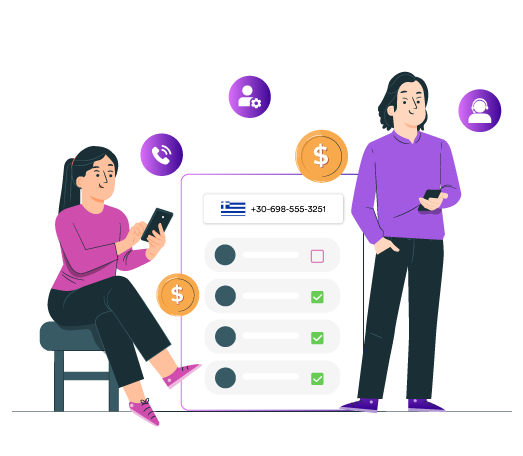 What Types of Virtual Phone Numbers Can You Get in Greece?
This table offers information on the different kinds of virtual phone numbers that businesses can use in Greece. These numbers include local, toll-free, national, international, mobile, and vanity numbers, and allow businesses to establish a presence in Greece without needing an actual office. Toll-free numbers are particularly useful for providing free phone services to customers, while vanity numbers are memorable and help businesses stand out. Overall, virtual phone numbers provide businesses with the flexibility to improve customer service and grow their presence in Greece.
| Type of Virtual Number | Dialing Code | Example |
| --- | --- | --- |
| Local Greek Virtual Number | +30 | +30 210 1234567 |
| Toll-Free Greek Virtual Number | +30 | +30 800 1234567 |
| Mobile Greek Virtual Number | +30 | +30 694 1234567 |
Popular Area Codes in Greece
This table provides a comprehensive list of popular area codes in Greece for phone numbers. The table includes the corresponding cities, phone number formats, and examples of how to dial within Greece. The information in this table can be useful for anyone who needs to make phone calls within Greece and wants to ensure they use the correct area code and phone number format.
| Area Code | City | Phone Number Format | Example |
| --- | --- | --- | --- |
| 11 | Buenos Aires | (11) xxxx-xxxx | (11) 1234-5678 |
| 221 | La Plata | (221) xxxx-xxxx | (221) 123-4567 |
| 223 | Mar del Plata | (223) xxxx-xxxx | (223) 123-4567 |
| 261 | Mendoza | (261) xxxx-xxxx | (261) 123-4567 |
| 299 | Neuquén | (299) xxxx-xxxx | (299) 123-4567 |
| 341 | Rosario | (341) xxxx-xxxx | (341) 123-4567 |
| 351 | Córdoba | (351) xxxx-xxxx | (351) 123-4567 |
| 370 | Formosa | (3704) xxx-xxx | (3704) 12-3456 |
| 379 | Corrientes | (379) xxxx-xxxx | (379) 123-4567 |
| 381 | Tucumán | (381) xxxx-xxxx | (381) 123-4567 |
DialerHQ Pricing Plans for Greece Virtual Phone Number
How to Get a Greek Virtual Number?
Embark on your DialerHQ journey now by following the 4 simple steps outlined below.

Sign in to DialerHQ.

Choose your custom virtual number & make the payment.

Configure your account, features, and settings.

Start making and receiving calls anytime, anywhere.
Features of Greece Virtual Phone Number
With DialerHQ's temporary Greece phone numbers, you will gain access to a suite of advanced features, including those listed below.
Global Connect
Optimize international client communication with Global Connect. Know the right time to call and connect effectively.
Smart Call Forwarding
Stay reachable on the go with Smart Call Forwarding. Ensure constant accessibility with multiple numbers.
Call Analytics
Track call center performance with Call Analytics. Measure various key performance indicators (KPIs) for insights and improvements.
Power Dialer
Supercharge your calling productivity with the Power Dialer. Effortlessly deliver your daily calling commitments like a pro.
Call Conference
Engage in productive 3-way calls with the Call Conference feature. Foster collaboration and effective communication.
Call Recording
Enhance performance evaluation and training with Call Recording. Record every call to better monitor team performance.
Frequently Asked Questions
You can use the DialerHQ VoIP app to easily get a Greece virtual number. Simply download the DialerHQ app, sign up, and select your preferred virtual Greece phone number. Next, make the payment and configure your Greece number.
You can get a Greece virtual number for WhatsApp with DialerHQ. To get the number, sign up with DialerHQ, choose a Greece virtual phone number, and follow the process. Once received, use the number for WhatsApp registration just like a regular number.
Greek VoIP numbers typically have 10 digits, including the area code. The area code may vary depending on the specific location within Greece.
To dial a +30 number (the country code for Greece), simply dial the "+" symbol followed by the 30 country code and the remaining 10-digit Greek phone number. For example, if the Greek number is 1234567890, you would dial +301234567890.
Need a Quick & Easy Greece Phone Number ?
Make international calls & texts without buying a SIM card.