Get Kuwait Virtual Number
Open new doors to global growth with Local Kuwait virtual numbers.

Expand your reach, increase conversions, and enhance customer support.

Tap into thriving Kuwaiti markets for exponential business opportunities & growth.
What is a Kuwait Virtual Number?
A Kuwaiti virtual number is a phone number that uses VoIP technology to make and receive calls. It allows businesses to connect with customers in Kuwait without having a physical presence. These numbers entail innovative features like power dialer, call analytics, and many others helping businesses reduce calling costs, establish worldwide reach, and enhance customer service.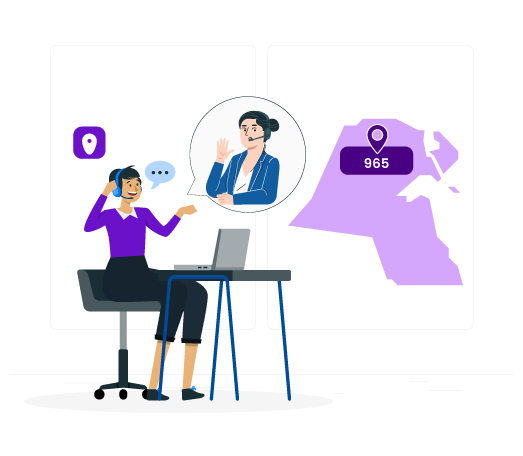 Dominate Kuwait Markets with a +965 Phone Number
Expand your business's reach and dominance in Kuwait with a +965 phone number. Seamlessly connect with customers, establish a local presence, and reduce calling and operational costs.
Reach a vast audience across Kuwait and tap into new markets.

Gain credibility with localized phone numbers for different regions.

Save on int'l calling costs and eliminate the need for physical offices.

Forward calls to any device– ensuring you never miss an opportunity.

Easily monitor and analyze call data for better decision-making.
Benefits of Kuwait Virtual Numbers
Getting a Kuwait virtual phone number offers numerous advantages to your business. 
Cost-effective:

At DialerHQ, we are committed to ensuring our plans remain affordable, making our innovative solutions accessible to a wider audience.

Regional presence: Our local Kuwaiti numbers guarantee higher lead conversions, contributing to your business's success.
Improved productivity: DialerHQ's Kuwaiti virtual phone numbers come with a powerful, feature-rich virtual phone system that includes 50+ call management features.
Valuable Insights:

Our phone system provides multiple dashboards and reports, empowering data-driven decisions.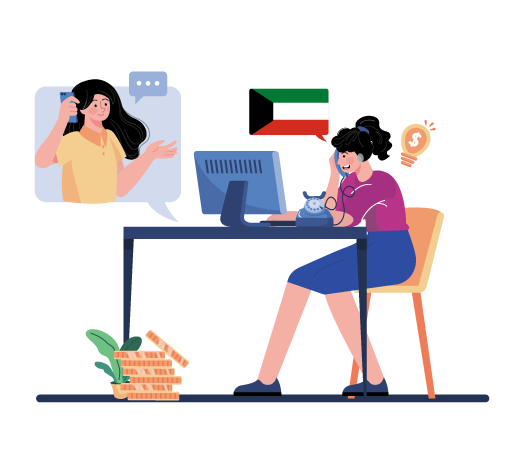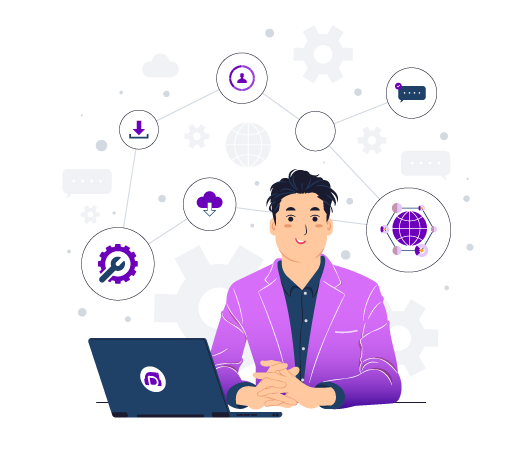 Different Types of Kuwait Virtual Numbers
Kuwait Local Numbers:

Get a virtual local number in Kuwait with DialerHQ and establish a strong local presence.

Kuwait Toll-free Numbers: Expand your business reach in Kuwait with toll-free numbers by DialerHQ. 
Kuwait International Numbers: Extend your business influence beyond borders and cater to international clients with ease, using local country and area codes.
Port Your Kuwait Numbers: Experience uninterrupted communication, retain your business identity, and enjoy advanced features for efficient operations.
What Types of Virtual Phone Numbers Can You Get in Kuwait
This table offers information on the different kinds of virtual phone numbers that businesses can use in Kuwait. These numbers include local, toll-free, national, international, mobile, and vanity numbers, and allow businesses to establish a presence in Kuwait without needing an actual office. Toll-free numbers are particularly useful for providing free phone services to customers, while vanity numbers are memorable and help businesses stand out. Overall, virtual phone numbers provide businesses with the flexibility to improve customer service and grow their presence in Kuwait.
| Type of Virtual Number | Dialing Code | Example |
| --- | --- | --- |
| Local Virtual Number | +965 | +965 22 123456 |
| Toll-Free Number | +965 | +965 1800 5678 |
| International Number | +965 | +965 6001 2345 |
Popular Area Codes in Kuwait
This table provides a comprehensive list of popular area codes in Kuwait for phone numbers. The table includes the corresponding cities, phone number formats, and examples of how to dial within Kuwait. The information in this table can be useful for anyone who needs to make phone calls within Kuwait and wants to ensure they use the correct area code and phone number format.
| Area Code | City | Phone Number Format | Example |
| --- | --- | --- | --- |
| +965 | Kuwait City | +965 XXXX XXXX | +965 1234 5678 |
| +965 | Hawally | +965 XXXX XXXX | +965 2345 6789 |
| +965 | Farwaniya | +965 XXXX XXXX | +965 3456 7890 |
| +965 | Jahra | +965 XXXX XXXX | +965 4567 8901 |
| +965 | Ahmadi | +965 XXXX XXXX | +965 5678 9012 |
| +965 | Mubarak Al-Kabeer | +965 XXXX XXXX | +965 6789 0123 |
| +965 | Salmiya | +965 XXXX XXXX | +965 7890 1234 |
DialerHQ Pricing Plans for Kuwait Virtual Phone Number
How to Get a Kuwait Virtual Number?
Embark on your DialerHQ journey now by following the 4 simple steps outlined below.

Sign in to DialerHQ.

Choose your custom virtual number & make the payment.

Configure your account, features, and settings.

Start making and receiving calls anytime, anywhere.
Features of Kuwait Virtual Phone Number
With DialerHQ's temporary Kuwait phone numbers, you will gain access to a suite of advanced features, including those listed below.
Power Dialer
Unlock your team's full potential and boost productivity with Power Dialer. Make multiple calls effortlessly, meeting your daily targets with ease.
Global Connect
Expand your international client outreach with Global Connect, ensuring higher call pickup rates and greater success in reaching global customers.
Smart Switch
Bid farewell to call connectivity issues using our Smart Switch feature. Choose the best provider and enjoy uninterrupted connections for smooth communication.
Call Barging
Empower supervisors to discreetly monitor calls and provide assistance when needed through the Call Barging feature, enhancing team performance.
Call Conference
Facilitate seamless collaboration with multiple parties using the call conference feature, streamlining team communication and enhancing productivity.
Call Recording
Capture every call on your numbers with Call Recording. Effortlessly store and retrieve recordings for valuable insights and improved customer service.
Smart Call Forwarding
Stay connected no matter where you are with Smart Call Forwarding. Forward calls to multiple numbers, ensuring you never miss important calls.
Call Transfer
Effectively manage incoming calls by assigning them to colleagues using Call Transfer. Ensure prompt resolution to customer queries and smooth call handling.
Need a Quick & Easy Kuwait Phone Number ?
Make international calls & texts without buying a SIM card.
Frequently Asked Questions
You should get a virtual phone number for Kuwait as it offers several advantages. For example, it allows you to establish a local presence in Kuwait, enhance your business's credibility, make it easier for customers in Kuwait to reach you, and help you manage international calls efficiently and cost-effectively.
DialerHQ offers a seamless and reliable service for getting Kuwait phone numbers. With DialerHQ, you can expect exceptional call quality, easy setup, 100s of local area codes, and 50+ innovative features to manage your calls effectively.
Yes, using a Kuwait virtual number is legal. However, it's essential to use virtual numbers for lawful purposes and adhere to local regulations.
3 minutes! Yes, that's the total time it takes to get a Kuwait virtual number from DialerHQ. The setup is quick, easy, and straightforward, consisting of 4 easy steps.
While DialerHQ may not offer free virtual numbers, they provide competitive pricing for their services. Free virtual numbers often come with limitations. Therefore, it's recommended to invest in a reputable service like DialerHQ to ensure the quality and reliability of your virtual number.
DialerHQ can provide you with a Kuwait virtual number that can be used for various purposes, including WhatsApp, Telegram, Google Meet, and Hinge. Once you have the virtual number, you can register it on these platforms just as you would with a regular phone number.
Yes, you can use a Kuwait virtual number for SMS. Virtual numbers offered by DialerHQ typically support both voice and SMS communication. This allows you to send and receive text messages as well as manage calls through the virtual number.
Yes, you can use a Kuwait virtual number for OTP verification. You can receive OTPs on your Kuwait virtual number just like you would on a regular phone number.