Get Turkish Virtual Phone Number
Establish credibility and familiarity with your customers and prospects from anywhere with a Turkish phone number. Buy a Turkish number online and instantly use it for calls and texts from any device. 
You are just one step
ahead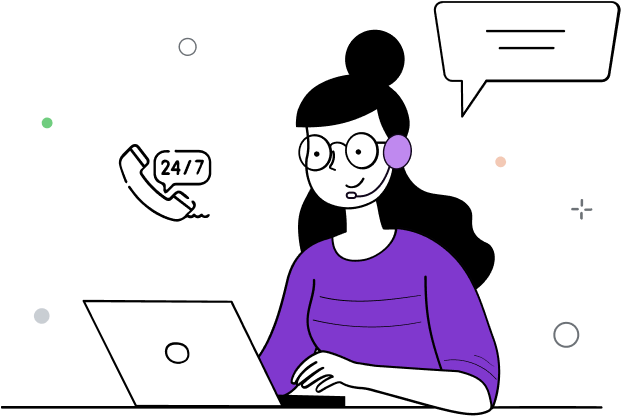 Thank You.
One of our Representative will connect with you shortly.
Why Should You Buy A Virtual Turkish Number?
Having a virtual Turkish mobile number gives you the freedom of unlimited calls from Turkey to your office PBX, smartphone, or landline. Keep your private and customer calls separate at a very affordable price.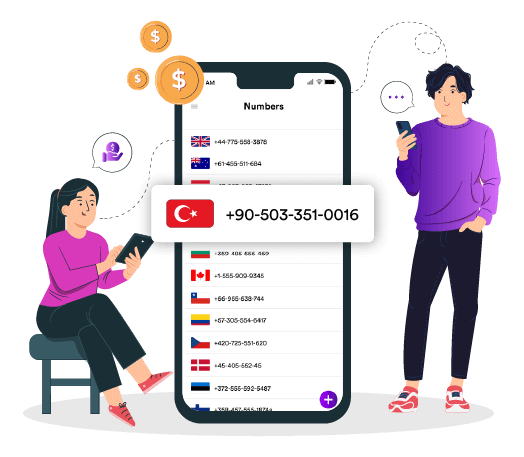 Convenient and Affordable International Call Rates
With a virtual Turkish number, there's no need to wait for plan activation. Save the hassle of getting a new phone or sim card. The Turkey virtual number would help you to contact anyone at a cost-effective price.
You only need a stable internet connection and a smart device, and you are all set! Remain reachable all the time from anywhere in the world. Send and receive calls, voicemails, and text messages anytime and anywhere.
With a free Turkish mobile number, you get powerful calling tools to interact with your clients better.
Easy Transfer & Call Tracking
Transferring and tracking calls no longer has to be a mess! The customer support executives in your firm can quickly transfer calls to the most capable people that can handle a customer query sufficiently.
Get a Turkish mobile number online and efficiently transfer calls in no time. You can enjoy more than just tracing and transferring calls with a Turkish number.
With DialerHQ, you can get a Turkey virtual number that'll help you identify the total number of calls dialed and received, the number of leads generated via calling, the average duration per call, your availability agents' calling status, etc.
You can make informed decisions to improve customer satisfaction and call quality with advanced insights.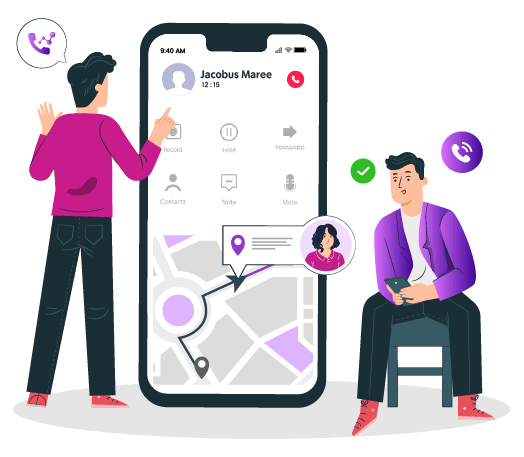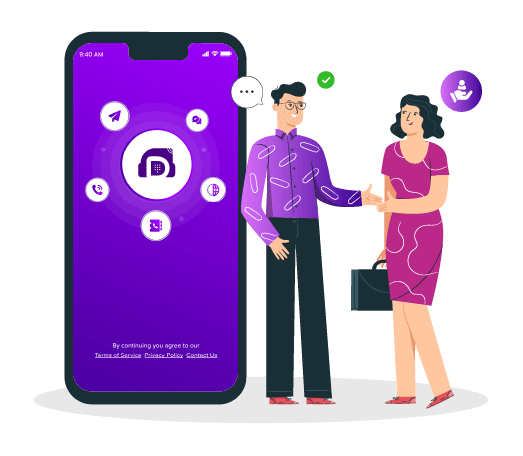 Enhance Customer Relationships
Your ultimate goal as a company is to serve clients in the best way possible. With a Turkey virtual number, you can enhance customer relationships by creating a local presence in the country for your business to broaden your customer base.
You can improve your conversations with the local customer base with a dedicated Turkish mobile number in cities like Istanbul or Ankara. In addition, a Turkish local number helps prospects and customers become more comfortable taking and receiving your phone calls.
Stay available anywhere and anytime using a free Turkey number and improve your customer support. Apart from the local customers, you will also improve your relations with international clients keen to invest in businesses in Turkey.
Increase Pick-Up Rates
People tend not to pick up calls from numbers they don't know! With a Turkey virtual phone number at your fingertips, prospects and customers are more likely to answer your company's calls. If you offer your sales team a local virtual Turkish number, they will be able to get more customers and increase sales.
By allowing your team, for example, to switch from one number to another, they can reach customers quickly. Moreover, you and your staff can connect and forward calls worldwide.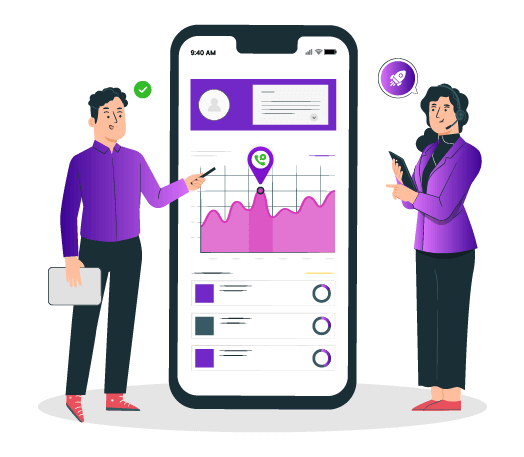 Here is the Table of Different Types of Phone numbers Available in Turkish:
The following table provides a comprehensive overview of the various phone number types that are currently available in Turkish. It contains information on landline, mobile, VoIP, toll-free, and virtual numbers, including their formats, features, as well as their respective advantages and disadvantages. This information may prove useful for individuals or businesses in deciding which phone number type would be most suitable for their particular requirements.
| Type of Phone Number | Description | Number Format | Feature | Pros | Cons |
| --- | --- | --- | --- | --- | --- |
| Landline | A traditional phone line that connects through wires. | 10 digits starting with a 2. | Reliable, good voice quality, can make emergency calls. | Not dependent on internet connection, unlimited calling plans available. | May be more expensive than mobile options, no portability. |
| Mobile | A phone number associated with a mobile device. | 10 digits starting with a 5 or 5. | Portable, can access internet and apps, texting and calling options. | Various plans available, can use for work or personal use. | May have limited coverage in some areas, dependent on battery life, data plans may be expensive. |
| VoIP | A phone number that connects through the internet. | 10 digits starting with a 850. | Can make international calls, can use on multiple devices, various features available. | May be cheaper than traditional phone lines, portable, can use existing internet connection. | Quality can be dependent on internet connection, may not be suitable for emergency calls. |
List Major Area Codes for Virtual Phone Numbers in Turkish
This is a table that displays area codes for virtual phone numbers in Turkish. The purpose of the table is to aid individuals or businesses in selecting an appropriate area code. Information about number types and formats is also included for each area code.
| Area Code | Location | Number Format |
| --- | --- | --- |
| 212 | Istanbul - European Side | 10 digits starting with a 2. |
| 216 | Istanbul - Asian Side | 10 digits starting with a 2. |
| 232 | Izmir | 10 digits starting with a 2. |
| 312 | Ankara | 10 digits starting with a 3. |
| 224 | Bursa | 10 digits starting with a 2. |
| 242 | Antalya | 10 digits starting with a 2. |
| 216 | Istanbul - Asian Side | 10 digits starting with a 2. |
How Much Does Turkish Virtual Phone Number Cost?
Call Center Solution (CCS)
Ideal for Bulk Calling for Sales, Support and Call Center Teams
Power & Predictive Dialer
Automatic Machine Detection
Industry leading call connect rates
Compliance Call Recording
Forward To External Device
Smart DID Routing
Speed To Dial
Auto Rotate
Local Presence
Call Barging
Call Queuing
Create Team
Call Whisper
Post Call Survey
After Call Work
Target Vs Achievement
Multiple Level Call Transfer
Route to External Number
Forward to Multiple Device
Google Drive, AWS S3 Integration
Embedded Dialer Integration
Show More
Show Less
Start Free Trial
Office Phone System (OPS)
Ideal for Businesses to support their Customers and not for Bulk Calling
Unlimited calling in UK, US/Can, Aus
Manual Calling Dialer
Auto Rotate DID
Call Tagging
Custom Greetings
Create Team
Call Barging
Shared Inbox
Call Cascading
Audit Logs
Webhook
Phone Support
24*7 Support
Contact Us
Call Notes & Ratings
Dedicated Account Manager
Personalized Onboarding
Advances Integrations
Custom Integrations
Annual Business Review
Show More
Show Less
Start Free Trial
Buy  Turkish Virtual Phone Number With DialerHQ in 4 Easy Steps
Embark on your DialerHQ journey now by following the 4 simple steps outlined below.


Choose your custom virtual number & make the payment.

Configure your account, features, and settings.

Start making and receiving calls anytime, anywhere.
Features of Turkish Mobile Phone Number
Turkey phone numbers provide several benefits in terms of quality and cost. With high-quality customer service, you can enjoy all the advanced features of call recording, tracing, real-time reporting, call forwarding, etc.
Call Recording
Your new Turkey virtual number will help you record calls from local customers and employees for training purposes.
Real-Time Reporting
View in-depth information about calls made to your Turkish mobile number, customers' call habits, preferred timings, and much more!
Voice Response
This function in your free Turkish number supports call transfers from departments of your organization to others.
VoiceMail Messages
With a virtual phone number in Turkey, customers can conveniently leave their voice messages if a support executive is unavailable.
Multi User Support
With DialerHQ's cloud telephony Turkish VoIP number services, your staff can easily coordinate and collaborate with each other.
Frequently Asked Questions
DialerHQ's Turkish virtual phone number service includes features like IVR, ACD, Voice Broadcast, and AI-enabled Dashboards, enhancing your communication strategies.
DialerHQ provides four pricing plans for Turkish virtual phone numbers:
Basic: $0/month.
Bronze: $7.99/month.
Silver: $11.99/month.
Platinum: $19.99/month.
DialerHQ ensures reliable connectivity and advanced features for your Turkish virtual phone number needs.
Sign up, choose Turkey as the country, select a plan, configure settings, import contacts, and start making calls using DialerHQ's user-friendly setup process.
DialerHQ offers features like Power Dialer, Global Connect, Call Barging, Call Queuing Software, and Smart Call Forwarding to improve communication with Turkish contacts.
Need a Quick & Easy Turkey Phone Number?
Make international calls & texts without buying a SIM card.