Get a Austria Virtual Phone Number
Stay connected with your contacts in Austria and enhance your brand image with a virtual phone number tailored to your business needs.
You are just one step
ahead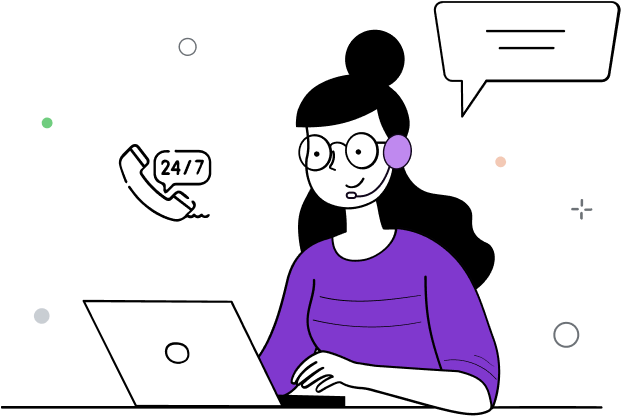 Thank You.
One of our Representative will connect with you shortly.
Reach A Global Audience With Austrian Virtual Numbers
Gain access to new markets and increase your global presence with virtual phone numbers that connect you with customers in Austria and around the world without needing physical offices or infrastructure.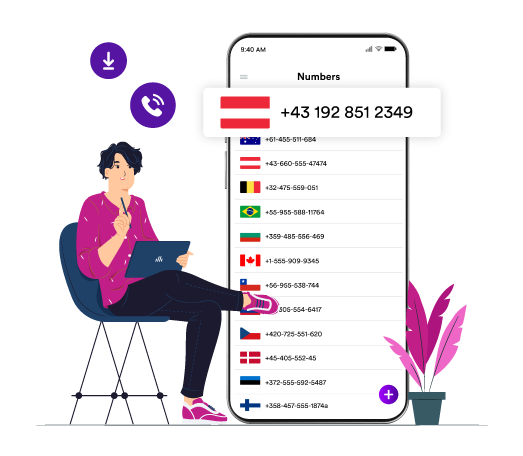 Is Austria Virtual Phone Number a Real Number?
Yes, a virtual phone number for Austria is a real number. It works just like any other phone number– but does not require a physical phone line or device. Here are some interesting facts about Austrian virtual numbers:
These cloud-based virtual numbers can be accessed from anywhere.

Austria numbers can be used for both incoming and outgoing calls.

Calls made to your virtual number can be forwarded to any device.

It is a popular way for businesses to establish a presence in Austria.

Virtual phone numbers are easy to set up, scalable, and customizable.
Benefits of Austria Phone Numbers
A virtual Austria phone number can bring multiple benefits to your business. Here are 5 key benefits of using an Austria phone number:
Connect with customers easily at incredibly lower calling charges.

Enhance your brand image– give it a professional touch.

Expand your business reach and tap into new markets in Austria.

Make data-driven decisions with detailed analytics and reports.

Serve your customers more effectively and in a timely manner.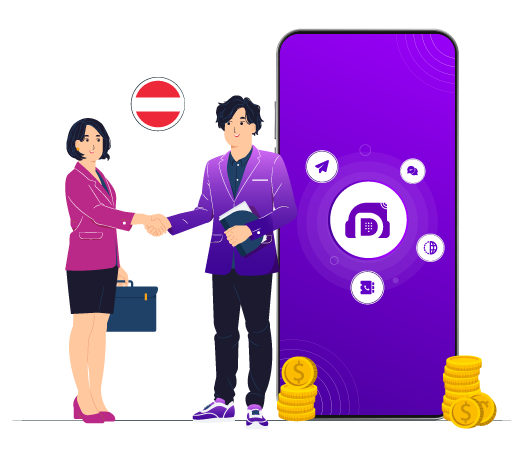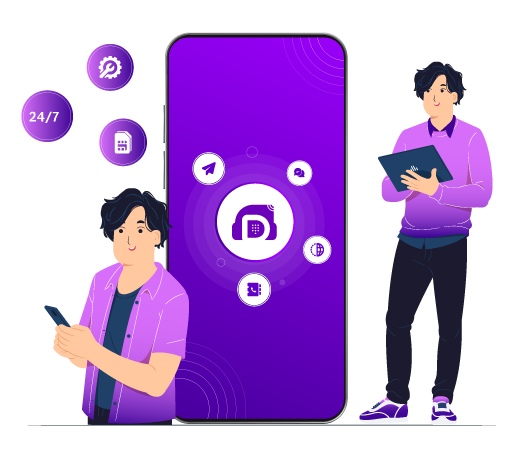 Different Types of Austria Phone Numbers
There are 3 different types of Austrian virtual numbers, each of which is used for a different purpose.
Local Austria phone numbers:

Ideal for businesses that aim to target local customers.

Toll-free Austria phone numbers: Free-to-call number. Ideal for managing customer inquiries.
Austria Mobile phone numbers:

13-digit phone numbers start with the prefix +43– ideal for personal use.
Choose the one that best aligns with your business requirements and objectives.
Who Can Buy Austria Virtual Phone Numbers?
Anyone can buy a virtual Austrian phone number– either for personal or professional use, as long as it is used for legal purposes only. However, when buying a virtual phone number, Keep these factors in mind:
First of all, find out the purpose of the Austria phone number.

Choose a reliable provider with exceptional uptime & features.

Check for provider coverage in your desired region or country.

Compare pricing and features to get the best value for money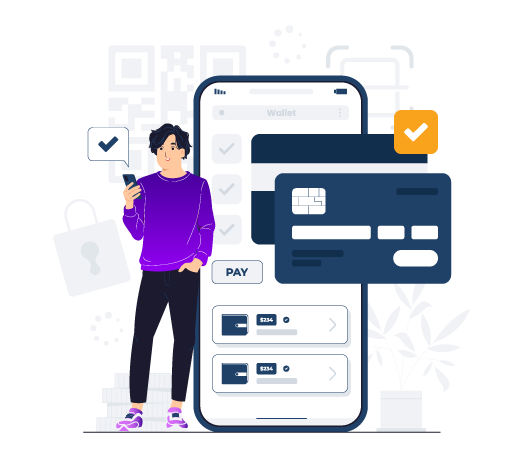 What Types of Virtual Phone Numbers Can You Get in Austria?
This table offers information on the different kinds of virtual phone numbers that businesses can use in Austria. These numbers include local, toll-free, national, international, mobile, and vanity numbers, and allow businesses to establish a presence in Austria without needing an actual office. Toll-free numbers are particularly useful for providing free phone services to customers, while vanity numbers are memorable and help businesses stand out. Overall, virtual phone numbers provide businesses with the flexibility to improve customer service and grow their presence in Austria.
| Type of Virtual Number | Dialing Code | Example |
| --- | --- | --- |
| Austria Virtual Phone Number | +43 | +43 720 123 456 |
| Austria Toll-Free Number | +43 | +43 800 123 456 |
| Austria Mobile Number | +43 | +43 664 123 4567 |
Popular Area Codes in Austria
This table provides a comprehensive list of popular area codes in Austria for phone numbers. The table includes the corresponding cities, phone number formats, and examples of how to dial within Austria. The information in this table can be useful for anyone who needs to make phone calls within Austria and wants to ensure they use the correct area code and phone number format.
| Area Code | City | Phone Number Format | Example |
| --- | --- | --- | --- |
| 1 | Vienna | +43 1 XXX XXXX | +43 1 123 4567 |
| 316 | Graz | +43 316 XXX XXXX | +43 316 123 456 |
| 662 | Salzburg | +43 662 XXX XXXX | +43 662 123 456 |
| 463 | Innsbruck | +43 463 XXX XXXX | +43 463 123 456 |
| 732 | Linz | +43 732 XXX XXXX | +43 732 123 456 |
Austria Virtual Phone Number Pricing Plans with DialerHQ
Call Center Solution (CCS)
Ideal for Bulk Calling for Sales, Support and Call Center Teams
Power & Predictive Dialer
Automatic Machine Detection
Industry leading call connect rates
Compliance Call Recording
Forward To External Device
Smart DID Routing
Speed To Dial
Auto Rotate
Local Presence
Call Barging
Call Queuing
Create Team
Call Whisper
Post Call Survey
After Call Work
Target Vs Achievement
Multiple Level Call Transfer
Route to External Number
Forward to Multiple Device
Google Drive, AWS S3 Integration
Embedded Dialer Integration
Show More
Show Less
Start Free Trial
Office Phone System (OPS)
Ideal for Businesses to support their Customers and not for Bulk Calling
Unlimited calling in UK, US/Can, Aus
Manual Calling Dialer
Auto Rotate DID
Call Tagging
Custom Greetings
Create Team
Call Barging
Shared Inbox
Call Cascading
Audit Logs
Webhook
Phone Support
24*7 Support
Contact Us
Call Notes & Ratings
Dedicated Account Manager
Personalized Onboarding
Advances Integrations
Custom Integrations
Annual Business Review
Show More
Show Less
Start Free Trial
Get Austria Virtual Phone Number With DialerHQ in 4 Easy Steps
Embark on your DialerHQ journey now by following the 4 simple steps outlined below.


Choose your custom virtual number & make the payment.

Configure your account, features, and settings.

Start making and receiving calls anytime, anywhere.
Features of Austria Phone Numbers
DialerHQ virtual phone system houses a range of cutting-edge features that will take your team's productivity and efficiency to new heights.
Power Dialer
Experience the power of efficiency with DialerHQ's Power Dialer function. Quickly and easily make multiple calls to meet your daily targets.
Smart Switch
Say goodbye to call connectivity issues with DialerHQ's Smart Switch feature. Choose the best provider and enjoy seamless connections every time.
Call Analytics
Gain insights and track performance with this feature. Analyze key call center metrics and KPIs to optimize communication and improve customer experience.
Gamification
Add fun and competition to work. Set up challenges and rewards to motivate and incentivize employees to achieve performance targets.
Voice Broadcast System
Deliver important messages to a large audience quickly and easily. Create and send pre-recorded messages to your contacts simultaneously.
Post-call Surveys
Gather valuable customer feedback and insights. Automatically trigger surveys after a call to measure customer satisfaction and identify areas for improvement.
Frequently Asked Questions
An Austria virtual phone number from DialerHQ is a digital contact number that works online and enables seamless international communication. DialerHQ offers this service by assigning you a unique Austrian number that can be accessed remotely, enabling cost-effective international connections.
DialerHQ's Austria virtual phone number enhances global accessibility, facilitates business expansion, and improves customer interaction. It guarantees a local presence in Austria and allows you to build customer relationships without opening a physical office.
Acquiring an Austria virtual phone number is effortless with DialerHQ. Follow the steps below:
Step 1: Visit DialerHQ's website.
Step 2: Navigate the phone number services section.
Step 3: Select Austria as your preferred country.
Step 4: Choose the desired area code and number type.
Step 5: Proceed with the payment.
DialerHQ empowers you to customize various features, including call forwarding, voicemail, and interactive menus. Tailor your Austria virtual number to suit your business needs, ensuring seamless call management and an enhanced caller experience.
Yes, DialerHQ prioritizes security and reliability. Our Austria virtual phone numbers utilize advanced encryption protocols, safeguarding your conversations and data. With reliable infrastructure and 24/7 technical support, DialerHQ delivers consistent and secure communication solutions for your business.
Sign Up Now and Enjoy the Benefits of Austria Numbers
Make international calls & texts without buying a SIM card.