Get a Austria Virtual Phone Number
Stay connected with your contacts in Austria and enhance your brand image with a virtual phone number tailored to your business needs.
Reach A Global Audience With Austrian Virtual Numbers
Gain access to new markets and increase your global presence with virtual phone numbers that connect you with customers in Austria and around the world without needing physical offices or infrastructure.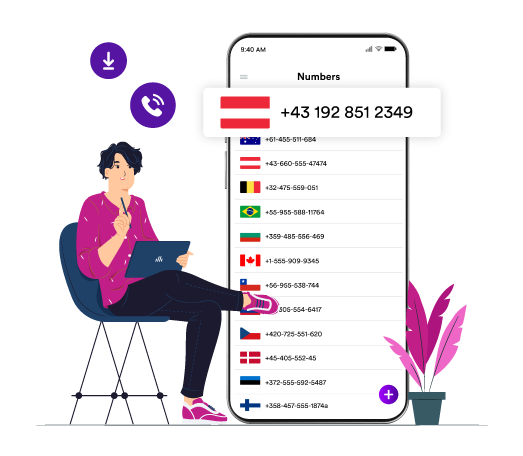 Is Austria Virtual Phone Number a Real Number?
Yes, a virtual phone number for Austria is a real number. It works just like any other phone number– but does not require a physical phone line or device. Here are some interesting facts about Austrian virtual numbers:
These cloud-based virtual numbers can be accessed from anywhere.

Austria numbers can be used for both incoming and outgoing calls.

Calls made to your virtual number can be forwarded to any device.

It is a popular way for businesses to establish a presence in Austria.

Virtual phone numbers are easy to set up, scalable, and customizable.
Benefits of Austria Phone Numbers
A virtual Austria phone number can bring multiple benefits to your business. Here are 5 key benefits of using an Austria phone number:
Connect with customers easily at incredibly lower calling charges.

Enhance your brand image– give it a professional touch.

Expand your business reach and tap into new markets in Austria.

Make data-driven decisions with detailed analytics and reports.

Serve your customers more effectively and in a timely manner.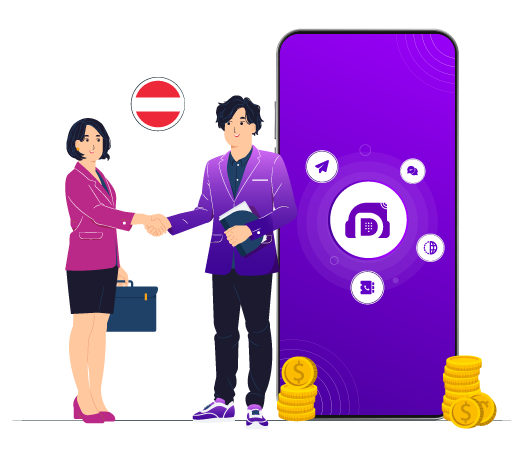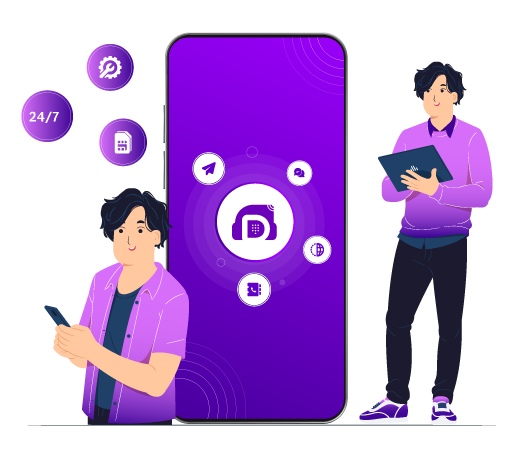 Different Types of Austria Phone Numbers
There are 3 different types of Austrian virtual numbers, each of which is used for a different purpose.
Local Austria phone numbers:

Ideal for businesses that aim to target local customers.

Toll-free Austria phone numbers: Free-to-call number. Ideal for managing customer inquiries.
Austria Mobile phone numbers:

13-digit phone numbers start with the prefix +43– ideal for personal use.
Choose the one that best aligns with your business requirements and objectives.
Who Can Buy Austria Virtual Phone Numbers?
Anyone can buy a virtual Austrian phone number– either for personal or professional use, as long as it is used for legal purposes only. However, when buying a virtual phone number, Keep these factors in mind:
First of all, find out the purpose of the Austria phone number.

Choose a reliable provider with exceptional uptime & features.

Check for provider coverage in your desired region or country.

Compare pricing and features to get the best value for money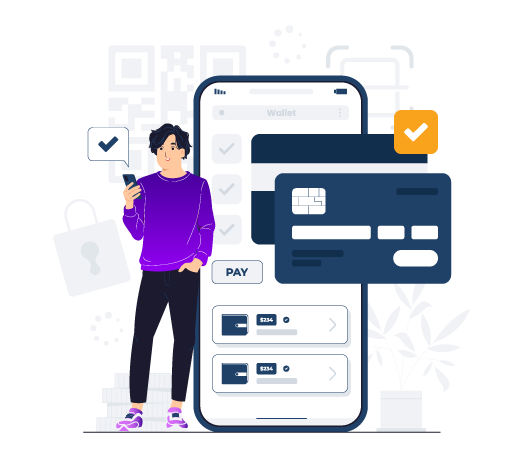 Austria Virtual Phone Number Pricing Plans with DialerHQ
Everything in Unlimited Plus

✓

$1500/month Spend Minimum3

✓

Power Dialer

✓

Voice Broadcasting

✓

Multi-level IVR

✓

Multiple Level Call Transfer

✓

Conference Calling

✓

Call Barging

✓

Route to External Number

✓

Forward to Multiple Device

✓

Single Sign On

✓

DID Group

✓

Call Whisper

✓

Intelligent Reports/Analytics

✓

Reports via Email

✓

Automatic Machine Detection

✓

Intelligent Call Recording
✓

Unlimited calls within the US & Canada2

✓

Free 1 standard Number per user

✓

Click To Dial

✓

Call Recording

✓

IVR

✓

Call forwarding

✓

SMS/Text messages

✓

Voicemail

✓

Webhook

✓

Role based access control

✓

Integration
Custom
Request Quote
Flexible pricing based on needs Contact Us
Everything in Free Software Plus

✓

Custom Reports & Analytics

✓

Customize Features

✓

Custom integrations

✓

Service Level Agreements

✓

Dedicated Account manager

✓

24X7 Support
Get Austria Virtual Phone Number With DialerHQ in 4 Easy Steps
Embark on your DialerHQ journey now by following the 4 simple steps outlined below.


Choose your custom virtual number & make the payment.

Configure your account, features, and settings.

Start making and receiving calls anytime, anywhere.
Features of Austria Phone Numbers
DialerHQ virtual phone system houses a range of cutting-edge features that will take your team's productivity and efficiency to new heights.
Power Dialer
Experience the power of efficiency with DialerHQ's Power Dialer function. Quickly and easily make multiple calls to meet your daily targets.
Smart Switch
Say goodbye to call connectivity issues with DialerHQ's Smart Switch feature. Choose the best provider and enjoy seamless connections every time.
Call Analytics
Gain insights and track performance with this feature. Analyze key call center metrics and KPIs to optimize communication and improve customer experience.
Gamification
Add fun and competition to work. Set up challenges and rewards to motivate and incentivize employees to achieve performance targets.
Voice Broadcast System
Deliver important messages to a large audience quickly and easily. Create and send pre-recorded messages to your contacts simultaneously.
Post-call Surveys
Gather valuable customer feedback and insights. Automatically trigger surveys after a call to measure customer satisfaction and identify areas for improvement.
Frequently Asked Questions
A standard Austria phone number has 10 digits. The first digit is always 0– a trunk code used to make internal calls in Austria. The next 2-3 digits represent the area code. And the remaining 7 or 6 digits are the subscriber number.
Yes, it is possible to get multiple Virtual Phone Numbers for Austria. Many virtual phone number providers, such as DialerHQ, allow you to purchase and manage multiple virtual numbers for different countries. However, it is always better to confirm this with the provider beforehand.
The country code for Chile is +56. This code is used when dialing a phone number in Chile from another country.
A Virtual Austria Phone Number may be a better option than an Austria SIM Card because it is more affordable and flexible. Besides, it allows you to maintain a local presence in Austria from anywhere in the world.