Get UK Virtual Mobile Number
Get your own UK Virtual Mobile Number with DialerHQ App to call anywhere in the world. Establish your business presence locally in the United Kingdom with a Virtual Phone Number. Buy a UK virtual phone number and connect with your loved onces or business customers in a just few clicks and communicate with.perfect voice quality.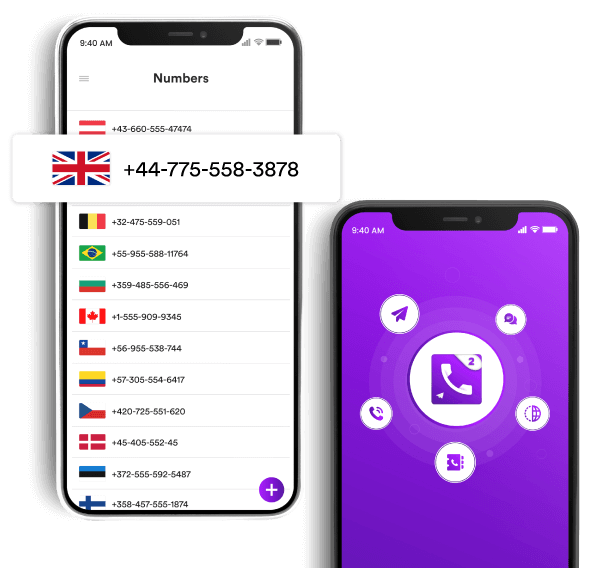 Why Should You Buy A UK Virtual Phone Number?
The benefits of buying a personal virtual phone number are endless. A UK Virtual Phone Number is the cheapest way to get a UK local phone number and a great way to save money on your international calls.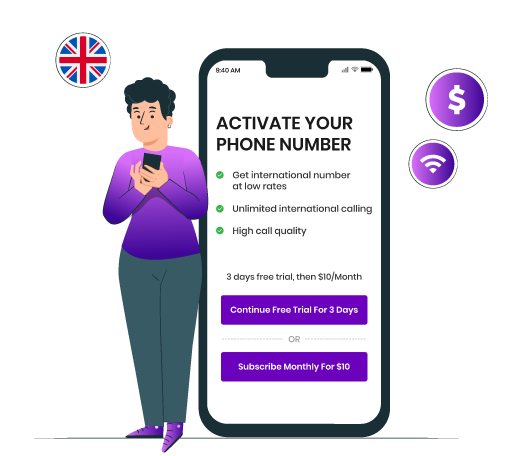 Receive Calls From Anywhere In The World
Virtual phone numbers are a great way to expand your customer base and take advantage of the growing demand for international businesses. You can even receive calls from anywhere in the world!
It's helpful to consider that there are many reasons people might want to contact you when you're not in the same country as them. For example, perhaps they're looking to buy one of your products or services—and if they can't get through on a physical business phone number, there goes their opportunity to reach you.
Or maybe they're interested in doing business with you, but because you don't have an office nearby, it's hard for them to contact you directly. Virtual phone numbers make it possible for anyone in any part of the world to contact you, regardless of where you are.
This means you can take advantage of the growing demand for international businesses and reduce costs by offering your products or services internationally. 
Save Money On International Calls
International calling rates are ridiculously high, making it difficult for many businesses to communicate with overseas clients. Luckily, a free UK virtual number can help you avoid such charges in a big way.
If your business makes frequent international calls, this benefit could save you hundreds of pounds yearly. This is because when you call someone using a UK virtual phone number, their phone will ring like an ordinary landline number. This means they don't need to pay extra charges when they answer the call – unlike other VoIP services, which often charge higher rates than traditional lines.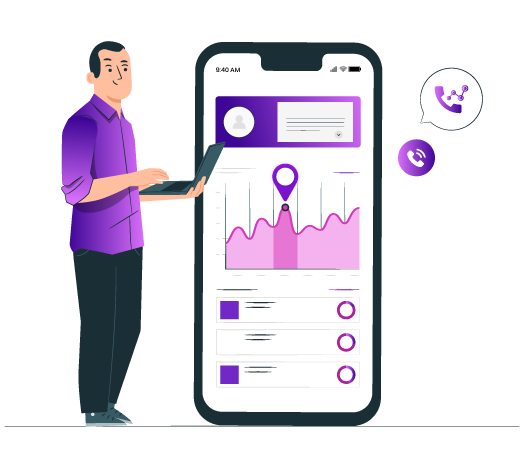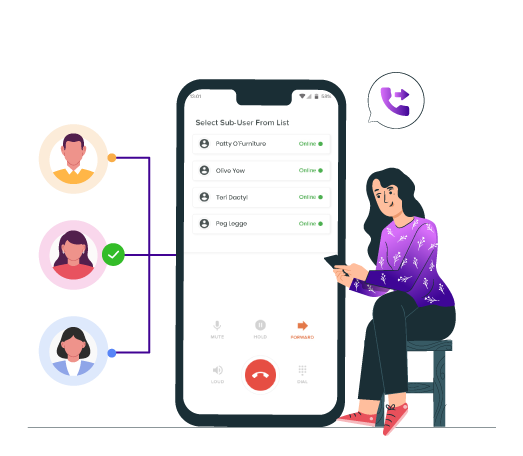 Protect Your Privacy
If you're like most people, you probably get a lot of calls from telemarketers, debt collectors, and other unwanted callers. A personal UK virtual phone number can help protect your privacy by making it harder for these callers to reach you.
The best part is that you can keep using the same mobile number, even moving cities or countries. The only difference is that now there's no way for anyone to tell where you live or work.
You can also use a personal UK virtual mobile number to protect your privacy while doing business online. Many people don't want their private information available online, but they still want to be able to give out their contact details and get work done. Using a virtual private phone number in UK can provide their customers with an additional layer of security while still maintaining their privacy.
Make Yourself Available On The Go
Virtual phone numbers are compatible with Android devices, iPhones (and any other smart device). That means you can receive calls from your friends while you're on the go without carrying around another device or dealing with complicated software or hardware.
Hence, a virtual UK number is just as good as a regular one—you can even connect them to your existing phones so that they ring when someone calls, just like your home or office number.
In addition, they come with call forwarding so people can reach you wherever they need to, and they can be linked to multiple devices in case you keep getting called on your smartphone while at work and want to be able to check messages from your computer during the day.
Above all, a virtual UK number will give everyone else peace of mind about where you are and when they'll be able to reach you.
How To Get A

UK Virtual Mobile Number

?
If you are wondering how to get UK virtual mobile number, then the DialerHQ app has your back! The UK Virtual Mobile Number App helps you set up a local number to increase your presence in the UK. You can start using your virtual phone number UK without investing in a new smartphone or a different SIM card.
To get your own DialerHQ, follow these three simple steps: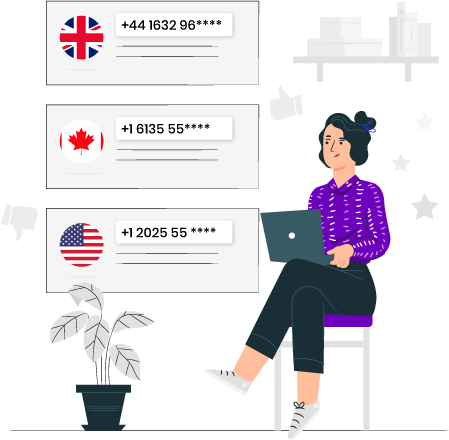 Find your ideal virtual mobile number UK free of charge.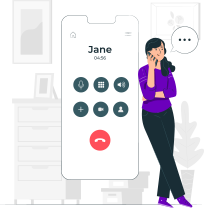 Get up and running in minutes with our easy-to-use interface.
Benefits of Buying a UK Virtual Phone Number
Efficiently boost your brand across your customers with a free VoIP number UK.  Buy a virtual phone number in the UK in minutes and get started today. Choose your preferred country code and make and receive calls using a virtual UK phone number. Create a local presence and win over your customer's hearts.
Brand Building
A UK virtual mobile number can allow you to greet local customers in the UK from anywhere, anytime around the world.
Increased Savings
International calls can hamper your operational budgets. A free virtual phone number UK is ideal for increasing your savings.
Same Infrastructure
A decent net connection on your smartphone is enough to use a UK VOIP number. Use your current phone to place calls anywhere in the UK.
Excellent Calling Experience
It is one of the best virtual phone numbers in the UK. The app is easy to use and requires no training due to its efficient, user-friendly interface.
Impressive Quality
Get a UK virtual phone number & experience the power of impressive call quality. This app eliminates data latency for a smooth experience.
Virtual Setup
Growing your business in the UK could be pretty challenging. Establish your virtual setup in minutes with our UK virtual phone number.
UK Virtual Phone Number FAQs
A UK virtual phone number looks just like the real sim-card phone numbers. The only difference they have is that a Virtual Phone Numbers doesn`t need a physical phone line or SIM-Card to work.
It only requires an internet connection for making calls and seding texts to any UK phone number or any number around the world.
You can find virtual phone number apps on Google PlayStore and IOS app store and can start instant calling.
It is very affordable to call the UK with DialerHQ. You can get a local UK phone number for just $10 per month and make and receive calls from it. All you need to do is download the DialerHQ app and avail the virtual number UK free under a 3-day trial. After that, you can continue the service at $10 per month.
Download the DialerHQ app, one of the best UK virtual phone numbers to call without buying another smartphone. To call a UK phone number, you'll need to dial the international access code (00), the country code (44), and the number itself. So, for example, if you wanted to call 01243-123-4567 in England, you would dial 00-44-1243-123-4567.
The international calling code used in the UK is +44.
Step 1: Install the DialerHQ app.
Step 2: Choose and buy your preferred UK virtual mobile number from the options.
Step 3: Dial and text your customers anytime, anywhere!
The virtual UK number is based on the VOIP software application and runs on servers. However, instead of having a physical presence or equipment, a local-sounding phone number seamlessly maps to your actual telephone number when someone within the area code calls.
If you're looking for a more personal way to connect with your customers, a local UK VOIP number can help. You can use it as an alternative to email or social media—it's less likely that people will ignore calls from their friends than emails from businesses.
Yes, you can get a UK virtual phone number for personal use. DialerHQ virtual numbers are specially designed for personal use. They work just like any other phone number and come with a dedicated UK phone number and unlimited incoming calls, so you can freely call anyone in the UK or anywhere else in the world.
DialerHQ enables you to get a free virtual mobile number UK for Whatsapp. You can also choose a virtual mobile number in the UK according to your preferred area code through DialerHQ. You can easily set up your UK VOIP number for Whatsapp and start using it immediately.
You can use the Virtual Phone number for various purposes for example:-
Personal and Professional Use: You can use it to seprate your personal and professional life.
For Business Calling: You can offer your employess Virtual Phone Number instead of physical phones.
No Extra Device Needed:b> You don`t need an extra device for having a virtual phone number. You just need to download the DialerHQ app, buy your UK Virtual Phone Number and start calling with the use of the app.
For Keeping Privacy:b> You can use Virtual Numbers for random sites sign-ups, online dating, purchasing and selling, etc without sharing your personal number.
Need a Quick & Easy UK Virtual Phone Number?
Make international calls & texts without buying a SIM card.