Get A UK Virtual Phone Number
Enhance your business's communication and expand your reach with a UK virtual mobile number- stay connected 24/7.
Stay connected with customers in the UK from anywhere.

Access advanced features like IVR, power dialer.

Enhance your marketing efforts while reducing costs.
Trusted by 4000+ companies







What is a Virtual UK Phone Number?
A virtual UK number is a phone number that operates using the internet rather than traditional phone lines. This enables businesses to create a local presence in the UK, no matter where they are physically located. Additionally, virtual UK phone numbers often encompass useful features like IVR, voicemail, and power dialer.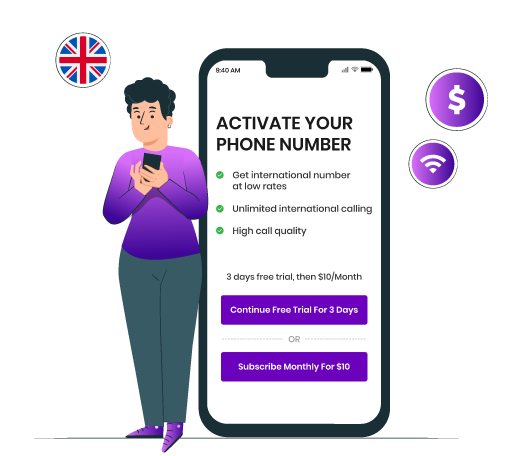 Why Should You Buy a UK Virtual Number?
A UK virtual mobile number is a powerful tool for businesses looking to establish a local presence in the UK. Here are some of the top reasons why you should consider buying a UK virtual phone number:
Broader market presence with a local UK phone number

Build trust and a lasting relationship with UK customers

Less investment and effort compared to traditional ways

Improve customer service with advanced features

Increase flexibility by working from anywhere, anytime

Enhance your brand image with a professional presence
What are the Benefits of Having a UK VoIP Number?
Having a UK VoIP number comes with many benefits for businesses. Here are some key advantages to consider:
Helps you establish a local presence in the UK

Improves your business flexibility and efficiency

Advanced features to enhance customer service

Lets you expand your business to new markets

More affordable than traditional phone lines

Valuable insights for informed decision-making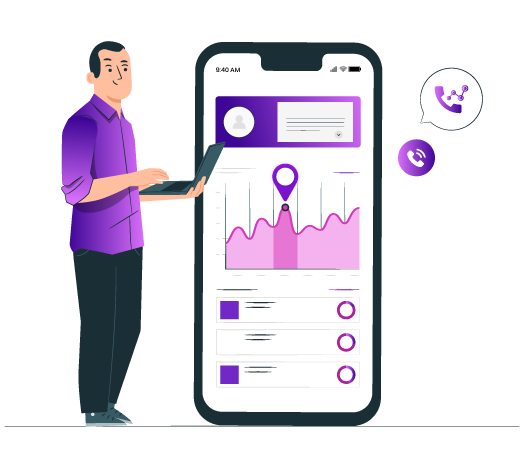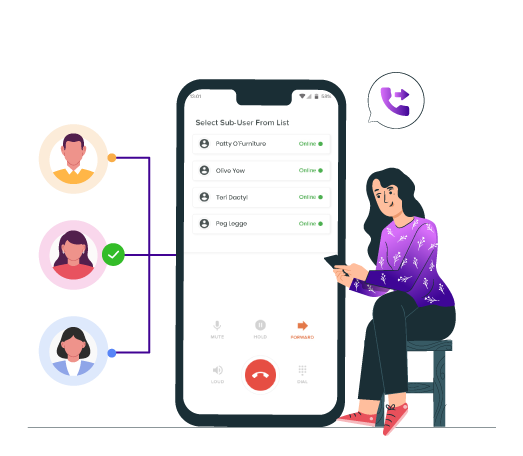 UK Phone Number Format & Codes
When making calls to the UK, it's essential to understand the phone number format and codes. Here's what you need to know:
UK Phone Number Format:

The UK phone number format is +44 XXXX XXXXXX.

UK Country Code:

The country code for the UK is +44.

UK Area Codes:

The UK has geographical area codes ranging from 01202 to 01964.

UK Landline Number:

A UK landline number consists of 10 digits, including the area code and local number.

UK Mobile Number:

UK virtual mobile numbers consist of 10 digits, including the mobile prefix– 07.
How Much Does a UK Virtual Mobile Number Cost?
The cost of UK virtual mobile numbers depends on multiple factors, such as the features offered, the subscription period, and the provider. Here are the UK virtual numbers pricing from DialerHQ:
Unlimited Plan:

$12/user/month 

Free software:

$1500/month
Connect with our Support team to better understand our packages and their benefits.
Types of Phone Numbers Available in the United Kingdom
The United Kingdom VOIP providers offer a wide range of phone number options for personal and business purposes. These include geographic, non-geographic, local, free phone numbers, mobile, and toll-free numbers, each with its own advantages and disadvantages regarding cost, flexibility, and accessibility. Selecting the appropriate number type can help companies develop a professional appearance, enhance customer satisfaction, and broaden their market.
| Type of Number | Format | Features | Pros | Cons |
| --- | --- | --- | --- | --- |
| Geographic Numbers | 01xxx, 02xxxx, 03xxxx | Local presence, Regional routing | Can improve local business presence, Suitable for businesses with regional presence | Not suitable for businesses with nationwide presence, Limited availability of certain area codes |
| Non-geographic Numbers | 05xxx, 07xxx, 08xxx | Nationwide presence, Advanced call routing options | Can improve national business presence, Suitable for businesses with nationwide presence | May not have local presence, Call costs may be higher for customers |
| Toll-Free Numbers | 0800, 0808, 0500 | Free for callers, Enhance customer experience | Improves customer experience, Encourages customer calls | May increase spam calls, Call charges may be incurred for businesses |
| Mobile Numbers | 07xxx xxxxxx | Portable, can be used with any phone service provider | Can be used while on-the-go, easy to keep the same number when changing mobile service providers | Some mobile plans can be expensive |
| Freephone Numbers | 0800 xxx xxxx or 0808 xxx xxxx | Free to call, can improve customer satisfaction | Encourages customers to call, can improve business reputation | The cost of the call is borne by the business or organization |
| Local Numbers | 01xxx xxxxxx or 02x xxx xxxx | Provides a fixed location for businesses and households within a specific area | Easy to identify where the call is coming from | Not portable, difficult to take the number if moving to a new location |
DialerHQ Pricing Plan for UK Virtual Phone Number
How to Get a UK Virtual Phone Number with DialerHQ?
Embark on your DialerHQ journey now by following the 4 simple steps outlined below.


Choose your custom virtual number & make the payment.

Configure your account, features, and settings.

Start making and receiving calls anytime, anywhere.
Features of UK Virtual Phone Numbers
With many advanced features, DialerHQ's UK virtual mobile numbers can significantly enhance your team's productivity and efficiency. These features include:
Power Dialer
Increase your sales outreach by automatically dialing multiple numbers at once and connecting with live calls only.
Global Connect
Connect with international clients and partners using high-quality voice and video calls to expand your business reach.
Call Forwarding
Avoid missing important calls by redirecting them to the most appropriate person or department based on predefined criteria.
Call Recording
Easily record and review important calls for future reference or quality assurance purposes with the call recording feature.
Call Transfer
Effortlessly transfer calls to the right person or department. Improve customer satisfaction and reduce wait times.
Call Conference
Collaborate and communicate effectively. Bring multiple participants together on one call, enhancing productivity.
DialerHQ's UK virtual mobile number service includes features like IVR, ACD, Voice Broadcast, and AI-enabled Dashboards, enhancing your communication strategies.
DialerHQ provides pricing options: Basic ($0/user/month), Bronze ($7.99/user/month), Silver ($11.99/user/month), and Platinum ($19.99/user/month) for UK virtual mobile numbers.
DialerHQ ensures reliable connectivity and advanced features for your UK virtual mobile number needs.
To set up a UK virtual mobile number through DialerHQ, follow these steps:
Step 1: Sign up on DialerHQ.
Step 2: Choose UK as your preferred country.
Step 3: Opt for the virtual mobile number option.
Step 4: Select a plan and complete the payment.
Step 5: Configure the system, import contacts, and start using your virtual mobile number.
DialerHQ offers features like Power Dialer, Global Connect, Call Barging, Call Queuing Software, and Smart Call Forwarding to improve interactions with UK-based contacts.
Get a UK Virtual Mobile Phone Number Today
Make international calls & texts without buying a SIM card.