Senior Writer: Hiba Ali
Reading Time:
5
Minutes
Published :
July 1, 2022
Wi-Fi calling is one of the latest terms in the telecommunication sector. Apart from calling, however, many people have not heard of it, and since it is the future of calling, you might want to know what it is about.
For anyone who hasn't heard of Wi-Fi calling, it is a way to call through a strong network while still using a mobile number. Think of a scenario with a solid Wi-Fi network but poor cell reception. Here is where it is most beneficial.
Need a reliable and affordable business phone system? Look no further than DialerHQ.
It is available on both Apple and Android devices, bypassing the need to use your phone service provider as a middleman. In addition, it is a great way to make HD voice calls indoors.
Many companies will likely be familiar with Wi-Fi calling and its limitations in this new era of remote work. However, with HD Voice over a cloud phone system, you can have effective business communication with your team using much higher quality sound and clarity than cellular service. In this guide, we'll address the common questions regarding wi-fi calling.
What is Wi-Fi Calling?
Wi-Fi calling lets you place and receives voice calls, free texting, and video calls over a Wi-Fi network instead of a cellular network. It is a built-in feature on most smartphones. Consider using this feature if the cellular network service is weak or unavailable and Wi-Fi is available.
The IEEE and the Wi-Fi Alliance established several standards for wireless connections. So if you have a high-speed broadband connection, there is a good chance that you also have a router.
Expert Advice
"WiFi calling is recommended for business use since it has several advantages over conventional cellular calling. WiFi calling eliminates the need for additional hardware or services and enables flawless communication even in locations with weak cellular coverage. By using low-cost or free WiFi networks for communication, WiFi calling can lower the costs associated with international calling. WiFi calling offers an additional layer of security for confidential business interactions over standard cellular calling by encrypting data transmissions. Overall, using WiFi calling can increase security, lower costs, and increase corporate productivity. "
The range of a wireless router is typically about 150 feet, depending on the building materials used, and Wi-Fi calling provides the ability to use a wireless internet connection to make phone calls. Moreover, Android and iOS devices now support universal APIs (application programming interfaces) for VoIP calls, which optimize battery life and user experience.
It is imperative to have a backup connection to ensure business continuity. If your company's wireless network fails, you must be able to conduct business over an LTE-based cellular network. It works over both networks when appropriately configured.
How Does WiFi Calling Work?
A Virtual Phone system is the easiest to make a Wi-Fi call. This system works by connecting to a carrier over an internet connection to establish a second phone number app. A lot is happening under the hood to make this happen, but it's virtually seamless for the end user.
Apps such as WhatsApp, Skype, and Facebook Messenger use VoIP technology to make calls. Today's devices are so capable that it's unnecessary to set up a strong network connection. The free phone number call app such as DialerHQ allows businesses to make Wi-Fi calls from any device even if it doesn't have cellular service.
Centrally, Wi-Fi calling utilizes VoIP technology to provide a better caller experience. As a result, you can choose the right plan and second number to meet your business needs, and it avoids paying your cellular company high international calling rates. In addition, thanks to modern wireless router advancements, you can leverage reliable network connections without any dropped calls.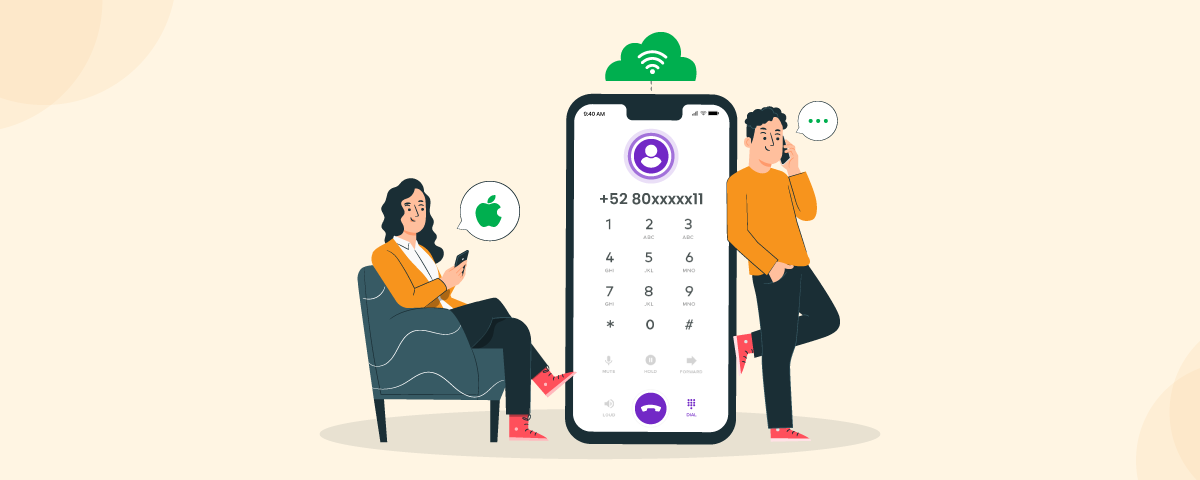 How To Turn on Wi-Fi Calling for iPhones?
If you have a Wi-Fi connection & present in an area where cellular coverage is weak or nonexistent, you can make or receive a phone call with this feature. Here are the steps for using it on your iPhone –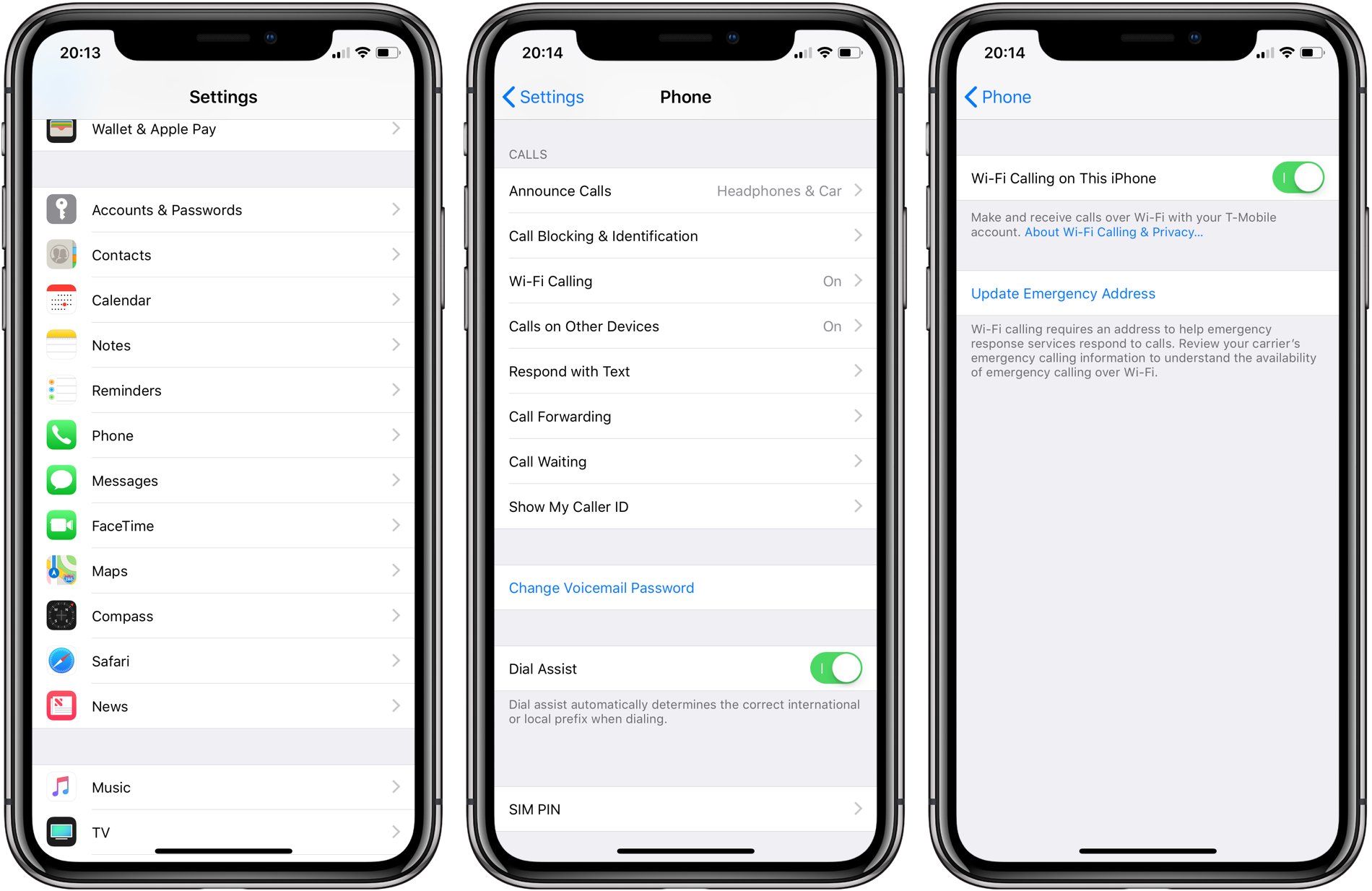 Turn it on in Settings > Phone > Wi-Fi Calling.

Turn on Add Wi-Fi Calling For Other Devices.

Tap Calls on Other Devices on the previous screen.

When you turn on Allow Calls on Other Devices, a list of your eligible devices will appear.

Ensure that all devices you wish to use for this feature are On.
How Turn on Wi-Fi Calls for Android Devices?
Depending on your service carrier, you may be able to make calls over Wi-Fi instead of a mobile network. You will require to allow this option in your android phone settings before you can begin making voice calls over Wi-Fi : 

Swipe up on your phone to see all your apps

Tap on Settings> Network & Internet > Mobile Network> Advanced

Tap on the switch next to turn it on

If you can't find this option, search for "Wi-Fi calling" on your phone, and you should see the right menu.
Pros and Cons of Wi-Fi Calling
Get a clear picture of Wi-Fi calling with our comparison table, which breaks down the pros and cons:
| Pros | Cons |
| --- | --- |
| Exceptional Voice Quality: In recent years, wireless carriers have been working on improving their phones' Wi-Fi connections, resulting in HD voice-quality audio rather than cellular technology. | Variations in signal strength: As a result of sharing bandwidth with other people, your cellular data may slow down in airports, hotels, stadiums, universities, and other overcrowded areas. |
| Free Calls: Since you can make free Wi-Fi calls, if you have not subscribed to your phone service, you can make a call using your Wi-Fi connection. | Unavailable on Most Devices: It is important to note that new iPhones and Android phones are capable of this feature, while old versions may not. |
| Backup Solution for Spotty Cellular Coverage: As a backup resolution for your private phone number calls, Wi-Fi calls do not lock you into using a Wi-Fi connection only. | Delayed Transferring of Data: While using wi-fi, your conversation can get delayed for about one or two seconds. |
| Doesn't Require Additional Apps: It does not require installing multiple apps or software since this feature is built into your phone, so you won't have to spend time downloading another application. | Limitations in International Calling: Many free calling apps such as DialerHQ, Google Voice, etc., support Wi-Fi calling across the US. However, your Wi-Fi calling service might not work if you are traveling abroad. |
| No Additional Login is Required: It works on your existing virtual phone numbers and does not require extra logins. | Charges May Apply for Using Data: Wi-Fi calling will be turned on by default if your phone is disconnected from a Wi-Fi network, and your data plan will get used if your phone is disconnected from a Wi-Fi network. |
| Low Bandwidth Requirements: Free Wi-Ficalling does not require much bandwidth. For example, a call takes 1 megabyte, and video calls take 6 to 8 megabytes | Potential Security Risks on Public Wi-Fi Networks: Public Wi-Fi networks can be insecure, as they often lack encryption or use weak encryption, making it easier for hackers to intercept and steal transmitted data. |
Cellular Data vs. Wi-Fi Calling: What's the difference?
Wi-Fi Calling makes it possible to talk to people who live in remote areas. You do not need to be near a cell phone tower. You just need an internet connection.
While Wi-Fi can provide a faster connection, the quality of voice can be affected if many people use Wi-Fi simultaneously, which is often the case in crowded places such as shopping centers or stadiums.
Wi-Fi calling has the disadvantage that your network can disrupt your call, among other problems related to VoIP. These issues are preventable, but those with poor network connections may experience echoes or delays.
Due to Wi-Fi congestion, video calls over Wi-Fi may suffer. Because of this, it might not be the best option for remote employees stuck in airports with overcrowded Wi-Fi connections. Most likely, they'd have a stronger cellular connection since cellular coverage areas are more reliable in urban areas.
Additionally, Wi-Fi calls can extend the battery life of your device. Using Wi-Fi calls consumes no battery, whereas a device constantly searching for a cellular network to connect to does. It connects to one network and stays there until you disconnect.
FAQs
Typically, phone calls over a cellular network are taken from your monthly allowance. Wi-Fi calling is similar. No additional data charges are incurred for Wi-Fi calls; they are carried out as part of your monthly voice plan.
Generally, you should have a minimum of 1Mbps for making calls. However, WIFI can hold a call at 80Kbps, but it will be of lower quality.
Yes, Wi-Fi Calling works in Airplane Mode.
Check that your device is up-to-date with the latest software and carrier settings. Then, enable Wi-Fi Calling, and restart your device. If the problem persists, turn Wi-Fi Calling off and then on again; If your device isn't working, you might want to try connecting to another WIFI network.

Hiba is a seasoned expert with extensive experience in the dynamic and ever-evolving field of Voice over Internet Protocol (VoIP) and cloud telephony. She is passionate about leveraging VoIP technology to help companies gain flexibility, scalability, and cost savings. Her journey in this domain has been marked by a commitment to staying at the forefront of emerging trends and technologies, ensuring that they provide readers with the most up-to-date and relevant insights. Connect with her on LinkedIn.
Updated : November 28, 2023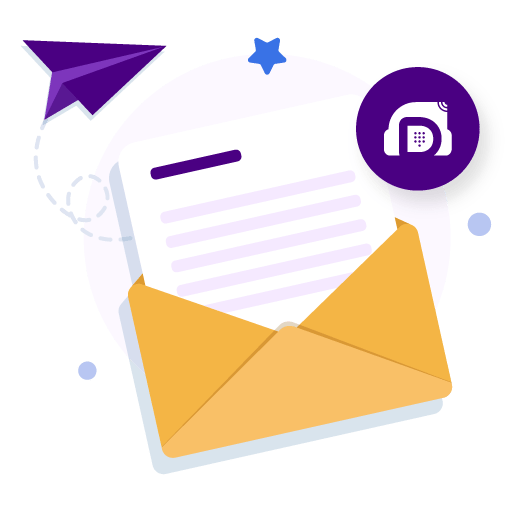 Let's Stay in Touch
Subscribe to our newsletter & never miss our latest news and promotions.

+15K people have already subscribed