Get A Russia Virtual Phone Number
Wondering how you can stay connected to your clients and contacts in Russia? Get a virtual Russian phone number to send texts and make calls in Russia at affordable prices.
Why Do You Need a Russian Virtual Phone Number?
A Russian virtual number allows you to send calls and texts without purchasing a SIM card or a landline connection. There are no commitments as you can start and stop your services anytime.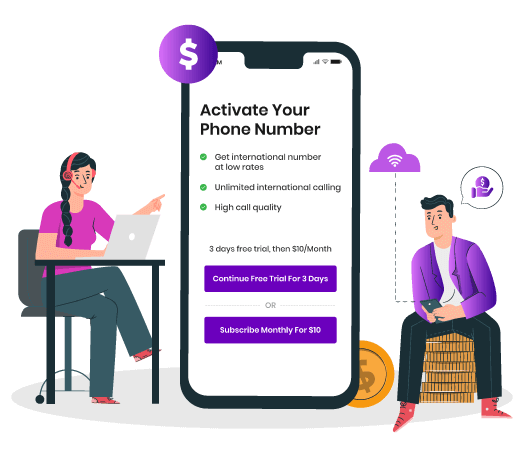 Cost-effectiveness & Convenience
When you buy a Russian virtual phone number for SMS and calls, you can start using it instantly after the purchase. So there is no need to wait for days to get the number activated. Unlike traditional phone numbers, this also saves you the trouble of buying a new phone connection or a SIM card.
A stable internet connection and any smart device (such as a smartphone, laptop, or desktop) are all you need for calling and sending texts. In addition, you can steer clear of outages and repair issues as these phone systems are entirely online. This enables you to work from anywhere and anytime to support your clientele.
No matter where you are and how limited your options become, as long as you are connected to a Wi-Fi network, you can resume your communication. In addition, you can log in from any device with your credentials to access contacts, read notifications, and view call logs.
Detailed Call Tracking Insights
When you get a free Russian virtual number through DialerHQ, you get the most affordable call rates and receive various insights on your present and potential customers. This allows you to better understand what drives your business and how you can improve your approach, call quality, and (eventually) conversions.
With DialerHQ's free Russian VoIP number app, you can procure a virtual Russian number that helps you identify leads generated, the number of calls made and received, agents making the most calls, the average call duration, and so on.
Detailed call insights and reports help you to improve your call quality and approach. Better insights also pave the way for better training, leading to delighted customers.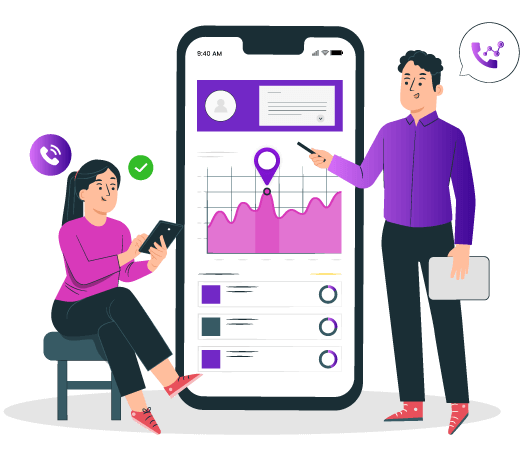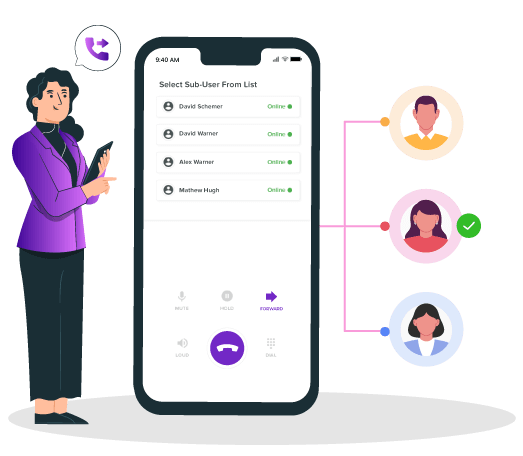 Effortless Call Forwarding
A virtual Russia number can help you direct calls to the right person through call forwarding. Call forwarding prevents your important business calls from being missed or left unattended, which could have an adverse impact on customer relationships and revenues.
With DialerHQ, you can choose to direct calls to other numbers/persons who can assist your customers. This improves customer satisfaction and ensures that their concerns are addressed promptly.
Call forwarding allows you to forward calls anywhere in the world. Thus, you or your teammates can always remain available for your clientele
Accessibility & Affordability
With a virtual Russian number by your side, you can bid farewell to expensive international call rates and cut down on several additional costs. Moreover, a virtual phone number in Russia enables you to call Russian mobile and landline numbers anytime and anywhere in the world.
Having a landline number means that you have to deal with high prices, regular maintenance, and upkeep. There is also very limited mobility and limited global accessibility. In addition, you will have to live in Russia in order to use a Russian phone number.
Virtual Russia numbers can be accessed from anywhere in the world. You can be in the US or Canada and still be in touch with your customers and contacts in Russia with a local number while being on the move. Having a smartphone and an internet connection is enough to make calls and send SMS anywhere.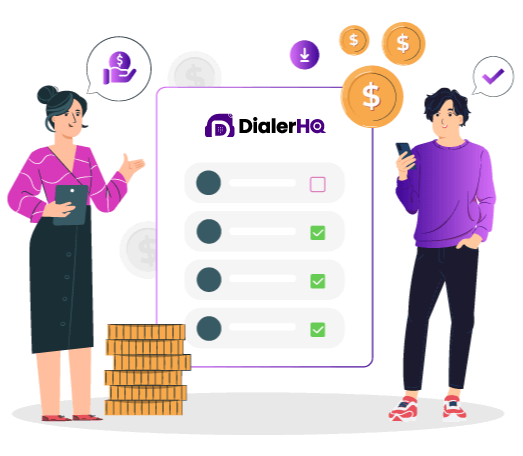 Here is the Table of Different Types of Phone numbers Available in Russia:
The following table provides a comprehensive overview of the various phone number types that are currently available in Russia. It contains information on landline, mobile, VoIP, toll-free, and virtual numbers, including their formats, features, as well as their respective advantages and disadvantages. This information may prove useful for individuals or businesses in deciding which phone number type would be most suitable for their particular requirements.
| Type of Phone Number | Description | Number Format | Feature | Pros | Cons |
| --- | --- | --- | --- | --- | --- |
| Mobile Phone Number | A phone number associated with a mobile phone device. | +7 (XXX) XXX-XX-XX | Can be used to make/receive calls and send/receive SMS messages. | Convenient and portable. | Can be more expensive than other types of phone numbers. |
| Landline Phone Number | A phone number associated with a fixed-line phone device. | +7 (XXX) XXX-XX-XX | Can be used to make/receive calls. | Can be cheaper than mobile phone numbers. | Not as portable and may be tied to a physical location. |
| Toll-Free Phone Number | A phone number that allows callers to make calls for free. | 8-800-XXX-XX-XX | Can be used for customer support or sales inquiries. | Convenient for callers as they don't have to pay for the call. | Can be expensive for businesses to maintain. |
| Virtual Phone Number | A phone number that isn't tied to a physical device or location. | +7 (XXX) XXX-XX-XX | Can be used to forward calls to any phone number or device. | Convenient for businesses that operate remotely or have employees in different locations. | May be more expensive than other types of phone numbers. |
List of Major Area Codes for Virtual Phone Numbers in Russia
This is a table that displays area codes for virtual phone numbers in Russia. The purpose of the table is to aid individuals or businesses in selecting an appropriate area code. Information about number types and formats is also included for each area code.
| Area Code | Location | Number Format |
| --- | --- | --- |
| 495 | Moscow city and Moscow Oblast | +7 (495) XXX-XX-XX |
| 499 | Moscow city and Moscow Oblast | +7 (499) XXX-XX-XX |
| 812 | Saint Petersburg city and Leningrad Oblast | +7 (812) XXX-XX-XX |
| 831 | Nizhny Novgorod Oblast | +7 (831) XXX-XX-XX |
| 383 | Novosibirsk Oblast | +7 (383) XXX-XX-XX |
| 343 | Sverdlovsk Oblast | +7 (343) XXX-XX-XX |
| 846 | Samara Oblast | +7 (846) XXX-XX-XX |
| 843 | Tatarstan Republic | +7 (843) XXX-XX-XX |
How Much Does Russia Virtual Phone Number Cost?
Buy Russia Virtual Phone Number With DialerHQ in 4 Easy Steps
Embark on your DialerHQ journey now by following the 4 simple steps outlined below.


Choose your custom virtual number & make the payment.

Configure your account, features, and settings.

Start making and receiving calls anytime, anywhere.
Get Advanced Features with Russia Virtual Number
Once you have purchased your Russian phone number online, you can immediately start using it to boost your brand presence and provide better assistance to clients. DialerHQ offers a ton of valuable features to help you elevate your business to the next level, which are mentioned below:
Brand Building
A Russia virtual number helps you interact with your Russian clients from anywhere. This enables you to improve brand presence and improve customer loyalty.
Exceptional Call Quality
DialerHQ lets you enjoy the best calling quality while calling Russian numbers. It eliminates problems like signal disturbance and data latency.
Cost-effective Solution
Calling Russian landlines and mobile numbers through ISD can easily break your bank. Thankfully, DialerHQ's plans are flexible and cost-effective.
No Hardware Requirements
Virtual Russian numbers require no fancy hardware or SIM card. Instead, a smart device and an internet connection are all that you need to make calls.
Enhanced User Experience
The DialerHQ app is very easy to use and requires no technical expertise. The simple interface allows you to do more with less effort.
Swift Setup
Setting up a Russian presence may take time. However, setting up the DialerHQ app and getting started with it takes significantly less time.
Frequently Asked Questions
Yes, with DialerHQ's Russia phone number, you can make and receive calls as if you were in Russia, regardless of your physical location.
Various industries, including international trade, customer support, retail, ecommerce, and travel, can benefit from a Russia virtual phone number to connect with Russian clients and partners.
Getting a Russian phone number through DialerHQ is a straightforward process. You can sign up on their platform, select a Russian phone number, choose a plan, complete the payment, and start using it.
You can use your Russian virtual phone number both through a compatible app and, in some cases, by setting up call forwarding to a physical phone.
Yes, a Russian virtual phone number is beneficial for freelancers and remote workers who need to interact with clients, prospects, and partners in Russia, regardless of their physical location.
Need a Quick & Easy Russia Virtual Phone Number?
Make international calls & texts without buying a SIM card.