Get a Japan Virtual Phone Number
Invest in DialerHQ's Japanese virtual numbers to better target Japanese prospects and serve customers. Get started in just 3 minutes!.
Level up your business communication with advanced features.

Make inroads into Japan's local markets with virtual numbers.

Cut down on communication, calling, and maintenance costs.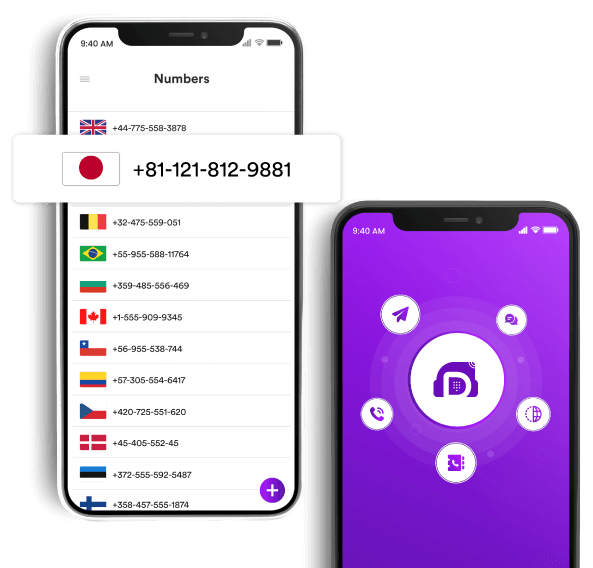 What is a Japan Virtual Phone Number?
A Japanese virtual phone number is a cloud-based solution that enables businesses and individuals to connect with contacts in Japan without requiring a physical presence. Virtual numbers operate over the internet, providing high reliability, easy scalability, and portability. Additionally, Japan virtual numbers come with numerous sophisticated features that enhance overall operations.
Why Do You Need a Japanese Phone Number?
You need a Japan virtual phone number for various reasons, including lower costs, increased reliability, and other advantages. Here are some key reasons:
To lower operational and calling costs substantially.

To enhance support and sales operations for optimal efficiency.

To present a polished and professional image for your brand.

To get valuable customer behavior insights for informed decisions.

To broaden business opportunities and tap into the Japanese market.
Benefits of Having a Japan Virtual Number
The Japan virtual number is a modern business solution that helps companies and individuals in multiple ways, as listed below:
Reduced operational, upkeep, and calling costs.

Access to a range of cutting-edge features.

Enhanced portability and heightened scalability.

Maximum system reliability with a 99.99% uptime.

Improved customer experience and satisfaction.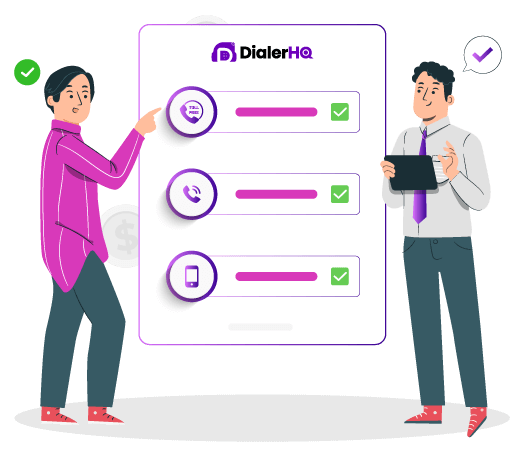 Different Types of Japan Virtual Numbers
Japan phone numbers come in three primary types– each serving a unique purpose:
Local Japan phone numbers:

10-digit numbers starting with 0, followed by a combination of 1-9. Suitable for establishing a local presence in Japan.

Toll-free Japan phone numbers:

Japan virtual landline numbers with the prefix 0120 or 0800. Ideal for customer support– allow callers to reach a business for free.

Japan virtual mobile number:

11-digit phone numbers starting with 080, 090, or 070. Suitable for businesses that want to stay in touch with their Japanese customers 24/7.
Select the Japan virtual number that best fits your needs and aligns with your goals and budget.
Why Buy a Japan Virtual Phone Number From DialerHQ?
You must buy Japanese virtual numbers from DialerHQ– the leading provider, to enjoy the extraordinary benefits outlined below.
Extensive Feature Set:

Gain access to over 50 excellent communication and collaboration features meticulously designed to enhance productivity and cut costs.

Competitive Pricing:

Benefit from various pricing options tailored to unique business requirements. Choose the pricing plan that aligns best with your needs.

Diverse Area Codes:

Expand your business presence in Japan with a wide pool of Japanese area codes. Pick the Japan area code/s that best suit your target market.

User-Friendly Interface:

Experience an intuitive user interface that simplifies navigation, empowering you to access functions and optimize your productivity.

Responsive Customer Support:

Get round-the-clock support from our dedicated team, whose top priority is to ensure that your queries are promptly addressed.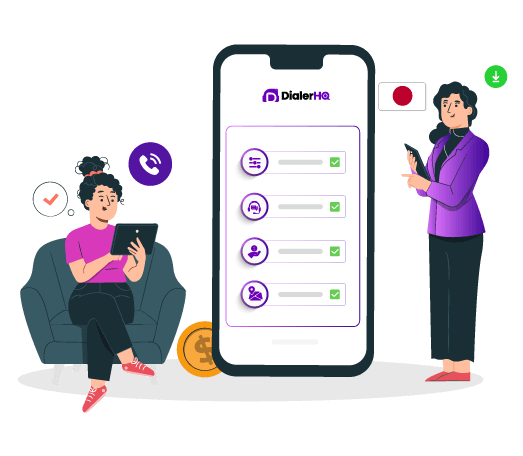 Major Area Codes in Japan
This table provides a comprehensive list of major area codes in Japan for phone numbers. The table includes the corresponding cities, phone number formats, and examples of how to dial within Japan. The information in this table can be useful for anyone who needs to make phone calls within Japan and wants to ensure they use the correct area code and phone number format.
| Area Code | City | Phone Number Format |
| --- | --- | --- |
| 3 | Tokyo | 03-xxxx-xxxx |
| 6 | Osaka | 06-xxxx-xxxx |
| 11 | Sapporo | 011-xxxx-xxxx |
| 23 | Yokohama | 045-xxxx-xxxx |
| 26 | Nagoya | 052-xxxx-xxxx |
| 78 | Fukuoka | 092-xxxx-xxxx |
| 75 | Kyoto | 075-xxxx-xxxx |
Pricing Plans For Japan Virtual Phone Number
Everything in Unlimited Plus

✓

$1500/month Spend Minimum3

✓

Power Dialer

✓

Voice Broadcasting

✓

Multi-level IVR

✓

Multiple Level Call Transfer

✓

Conference Calling

✓

Call Barging

✓

Route to External Number

✓

Forward to Multiple Device

✓

Single Sign On

✓

DID Group

✓

Call Whisper

✓

Intelligent Reports/Analytics

✓

Reports via Email

✓

Automatic Machine Detection

✓

Intelligent Call Recording
✓

Unlimited calls within the US & Canada2

✓

Free 1 standard Number per user

✓

Click To Dial

✓

Call Recording

✓

IVR

✓

Call forwarding

✓

SMS/Text messages

✓

Voicemail

✓

Webhook

✓

Role based access control

✓

Integration
Custom
Request Quote
Flexible pricing based on needs Contact Us
Everything in Free Software Plus

✓

Custom Reports & Analytics

✓

Customize Features

✓

Custom integrations

✓

Service Level Agreements

✓

Dedicated Account manager

✓

24X7 Support
How To Get Japan Virtual Phone Number In 4 Easy Steps
Embark on your DialerHQ journey now by following the 4 simple steps outlined below.

Sign in to DialerHQ.

Choose your custom virtual number & make the payment.

Configure your account, features, and settings.

Start making and receiving calls anytime, anywhere.
Features of Japan Virtual Phone Number
The best aspect of getting a Japanese phone number from DialerHQ is the extensive set of features and functions it offers, highlighted below:
Call analytics
Track and evaluate KPIs, such as call duration and customer satisfaction, for data-driven decision-making and continuous improvement.
Smart Switch
Bid farewell to connectivity woes with our Smart Switch feature. Toggle between multiple telephony providers and choose the one with the best connectivity.
Automatic Call Distribution
Optimize call center operations by intelligently routing incoming calls based on predefined criteria. Eventually, ensure efficient customer service.
Gamification
Enhance productivity among your call center agents by incorporating gamification elements. Foster healthy competition and drive performance.
Voicemail Greetings
Create a positive and professional first impression with customizable voicemail greetings. Deliver tailored messages that align with your brand image.
Call Whispering
Improve training and customer service quality with call whispering. Enable supervisors to discreetly listen to live calls and provide real-time guidance.
Frequently Asked Questions
An example of a Japanese virtual phone number is "+81 90 1234 5678." In this case, the number begins with the country code "+81," followed by the local area code and the subscriber number.
To get a Japanese number for WhatsApp from DialerHQ, simply follow these steps:
Step 1: Sign in to DialerHQ using your credentials.
Step 2: Select the desired type of virtual Japanese number.
Step 3: Customize the number by choosing the appropriate area codes
Step 4: Complete the payment process and configure the number.
Step 5: Use the same number during the WhatsApp registration process.
There are no leading Japanese virtual number providers that offer a free Japanese phone number. However, you can get one for only $12/month from DialerHQ. DialerHQ's Unlimited plan not only offers a free Japanese virtual number but also provides access to a number of features and other benefits.
Sign up now and enjoy the benefits of Japan virtual numbers
Make international calls & texts without buying a SIM card.