Get a Norway Virtual Phone Number
Scale your business and stay connected with customers in Norway using a virtual phone number.
Go Global With a Norway Virtual Phone Number
DialerHQ's Norway virtual phone number enables you to easily reach out to customers in Norway and extend your business beyond national borders. With a local presence in Norway, you can establish a strong foothold in the local markets. Contact us today to start your journey toward global expansion.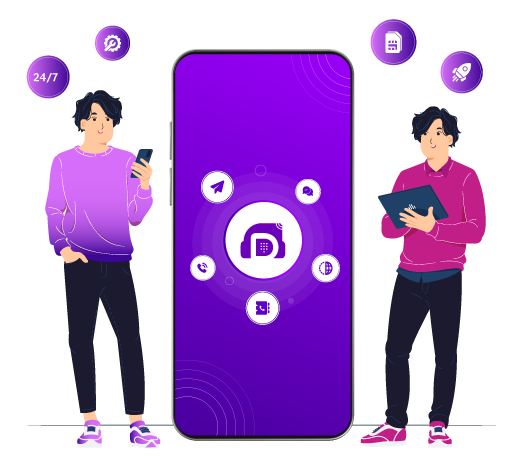 Reasons to Get a Norway Virtual Number
A virtual Norway telephone number can help businesses expand their reach in Norway without a physical presence. Here are key reasons to get one:
Enhance your brand's image and elevate it professionally.

Establish a local foot hold in Norway and foster credibility.

Reduce your expenses on international calls to Norway.

Expand your business into new markets in Norway.

Utilize detailed analytics and reports to make informed decisions.

Improve your customer service efficiency and response times.
Different Types of Norway Virtual Numbers
Norway has 3 distinct categories of telephone numbers, each with a unique application.
Local Norway phone numbers:

Suitable for companies that want to contact Norway-based clients.

Toll-free Norway phone numbers:

A number that customers can call without incurring any charges. Perfect for addressing customer inquiries.

Norway Mobile phone numbers:

8-digit phone numbers with area code. Suitable for small and medium-sized businesses.
Select the one that best suits your business needs and objectives.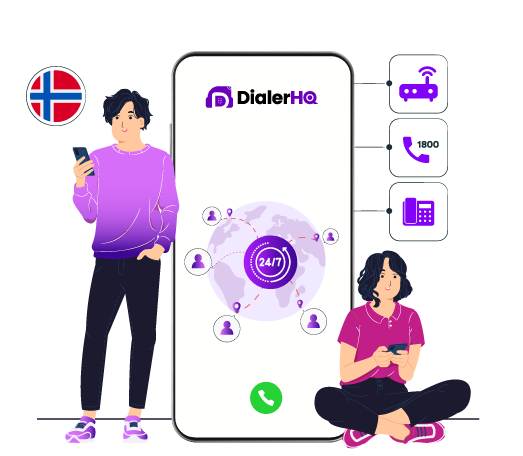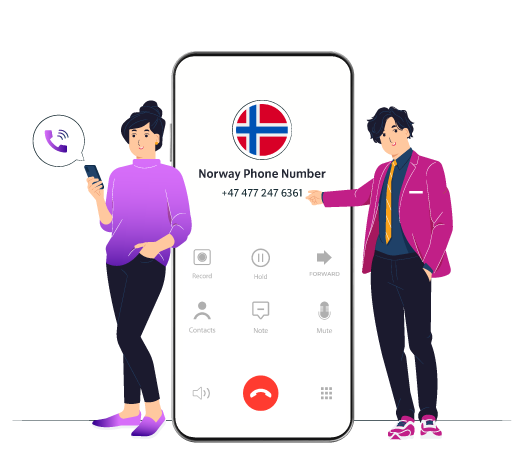 Norway Phone Number Format & Codes
If you plan on making a call to Norway, it's important to understand the country's phone number format and codes. Here's what you need to know:
Norway Phone Number Format:

The phone number format in Norway is +47 XXX XX XXX.

Norway Country Code:

The country code for Norway is +47.

Norway Number Area Codes:

Norway has geographical area codes ranging from 22 to 78.

Norway Landline Number:

A Norway landline number consists of 8 digits, including the country and area codes.

Norway Mobile Number:

A Norwegian mobile number also consists of 8 digits– including the country code and the mobile prefix.
Norway Virtual Number Pricing
The pricing of Norwegian phone numbers can vary based on several factors, including the features provided, the subscription period, and the service provider chosen. Here are DialerHQ's pricing options for Norway Numbers:
Unlimited Plan:

$12/user/month 
Free software:

$1500/month
Connect with our Support team to better understand our packages and their benefits.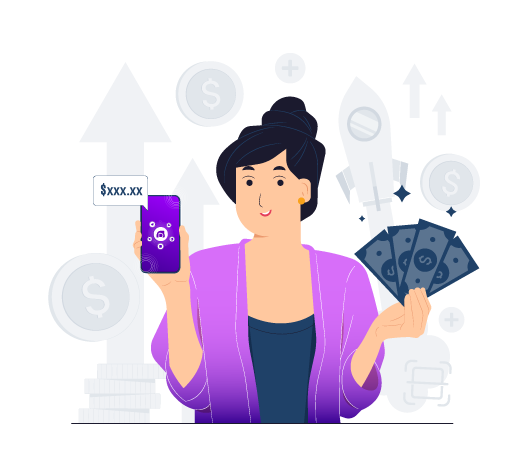 What Types of Virtual Phone Numbers Can You Get in Norway?
This table offers information on the different kinds of virtual phone numbers that businesses can use in Norway. These numbers include local, toll-free, national, international, mobile, and vanity numbers, and allow businesses to establish a presence in Norway without needing an actual office. Toll-free numbers are particularly useful for providing free phone services to customers, while vanity numbers are memorable and help businesses stand out. Overall, virtual phone numbers provide businesses with the flexibility to improve customer service and grow their presence in Norway.
| Type of Virtual Number | Dialing Code | Example |
| --- | --- | --- |
| Local Norway Virtual Number | +47 | +47 21 34 56 78 |
| Toll-Free Norway Virtual Number | +47 | +47 800 12 345 |
| Mobile Norway Virtual Number | +47 | +47 92 34 56 78 |
Popular Area Codes in Norway
This table provides a comprehensive list of popular area codes in Norway for phone numbers. The table includes the corresponding cities, phone number formats, and examples of how to dial within Norway. The information in this table can be useful for anyone who needs to make phone calls within Norway and wants to ensure they use the correct area code and phone number format.
| Area Code | City | Phone Number Format | Example |
| --- | --- | --- | --- |
| 22 | Oslo | +47 22 XX XX XX | +47 22 34 56 78 |
| 32 | Drammen | +47 32 XX XX XX | +47 32 45 67 89 |
| 46 | Malmö | (046) xxxx xxxx | (046) 1234 5678 |
| 51 | Stavanger | +47 51 XX XX XX | +47 51 67 89 01 |
| 55 | Bergen | +47 55 XX XX XX | +47 55 23 45 67 |
| 71 | Trondheim | +47 71 XX XX XX | +47 71 89 01 23 |
| 75 | Bodo | +47 75 XX XX XX | +47 75 45 67 89 |
| 77 | Tromso | +47 77 XX XX XX | +47 77 23 45 67 |
DialerHQ Pricing Plans for Norway Virtual Phone Number
Get Norway Phone Number With DialerHQ in 4 Easy Steps
Embark on your DialerHQ journey now by following the 4 simple steps outlined below.


Choose your custom virtual number & make the payment.

Configure your account, features, and settings.

Start making and receiving calls anytime, anywhere.
Features of Norway Phone Numbers
The DialerHQ virtual phone system offers an array of advanced features to enhance team productivity and efficiency.
Global Connect
Expand your business reach and seamlessly connect with international clients and partners through high-quality voice and video calls.
Call Queuing
Reduce wait times and enhance customer satisfaction with informed updates and connection to the next available agent.
Call Center Analytics
Get a comprehensive overview of your team's performance and gain valuable insights with real-time data to improve your call center.
Smart Call Forwarding
Efficiently forward incoming calls to the right person or department based on predetermined criteria– never miss an important call.
Predictive Dialer
Accelerate your sales outreach by dialing multiple numbers simultaneously and only connecting with live calls using the Predictive Dialer.
Voicemail Greetings
Make a professional and personalized impression on customers by customizing voicemail greetings with personalized messages.
Frequently Asked Questions
Norway virtual phone numbers or any other virtual numbers operate over the internet, allowing you to make and receive calls as if you were physically in Norway or the respective region.
Yes, a Norway virtual phone number from DialerHQ is a great solution for expanding your international business presence and connecting with Norwegian clients.
Getting a Norwegian virtual phone number from DialerHQ is easy – just sign up, choose your desired number, configure your settings, and you are ready to start using it.
Yes, DialerHQ's Norway virtual phone numbers support both voice calls and SMS messaging– making it a versatile communication tool.
You can start using your Norway virtual phone number immediately after completing the setup process with DialerHQ.
Sign up now and enjoy the benefits of a Norway Virtual Number.

Make international calls & texts without buying a SIM card.