Get Panama Virtual Phone Number
Pave your way into Panama's local markets from anywhere in the world.

Reduce international calling, infrastructure, and maintenance costs readily.

Improve agents' productivity with 50+ advanced features and functions.
What is a Panama Virtual Number?
A Panama virtual phone number is a phone number with a Panama area code that isn't tied to a physical location. It helps businesses establish a local presence, build trust, and expand their customer base in Panama without needing a physical office. This boosts accessibility and facilitates cost-effective international communication– fostering business growth.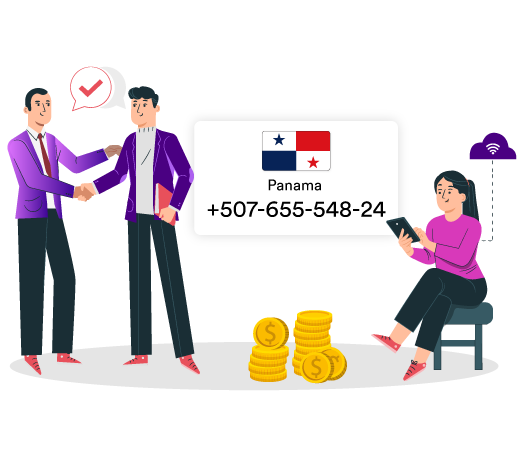 Dominate the Panama Market with a +507 Phone Number
Expand your business horizons and establish a commanding presence in the local Panama market with a +507 phone number.
Establish a local brand image for customers– fostering trust.

Widen your market reach with cost-effective international calling.

Enhance customer support accessibility with toll-free numbers.

Boost performance with 50+ advanced call management features.

Be available for your customers all the time with our portable system.
Benefits of Panama Virtual Numbers
DialerHQ's Peru virtual numbers offer far more benefits than you might think.
Cost-effective: We, at DialerHQ, offer cost-effective solutions with four budget-friendly plans, starting at just $0.
Regional presence:

DialerHQ offers a diverse array of local area codes, spanning multiple regions and countries, including Panama.

Improved productivity:

Experience a remarkable surge in your agents' productivity with DialerHQ's 50+ call management features, including IVR, Smart Call Forwarding, Power Dialer, and more– all designed to streamline operations.

Data-driven Insights:

Harness valuable insights through our virtual phone system's intuitive dashboards, enabling efficient data tracking and analysis.
Different Types of Panama Virtual Number
Panama Local Numbers:

Enhance your business presence in Panama with our Panama Local Numbers.

Panama Toll-free Numbers: Empower customer engagement in Panama using our Toll-free Numbers.
Panama International Numbers:

Extend your business footprint beyond Panama, establish an international presence, and connect with clients worldwide using DialerHQ's seamless communication solutions.

Port Your Panama Number:

Seamlessly transition your existing Panama phone numbers to DialerHQ.
What Types of Virtual Phone Numbers Can You Get in Panama
This table offers information on the different kinds of virtual phone number that businesses can use in Panama. These numbers include local, toll-free, national, international, mobile, and vanity numbers, and allow businesses to establish a presence in Panama without needing an actual office. Toll-free numbers are particularly useful for providing free phone services to customers, while vanity numbers are memorable and help businesses stand out. Overall, virtual phone numbers provide businesses with the flexibility to improve customer service and grow their presence in Panama.
| Type of Virtual Number | Dialing Code | Example |
| --- | --- | --- |
| Mobile | +507 | +507 6123-4567 |
| Landline | +507 | +507 212-3456 |
| Toll-Free | +507 | +507 800-1234 |
Popular Area Codes in Panama
This table provides a comprehensive list of popular area codes in Panama for phone numbers. The table includes the corresponding cities, phone number formats, and examples of how to dial within Panama. The information in this table can be useful for anyone who needs to make phone calls within Panama and wants to ensure they use the correct area code and phone number format.
| Area Code | City | Phone Number Format | Example |
| --- | --- | --- | --- |
| +507 | Santiago | +507 9XX-XXXX | +507 986-5432 |
| +507 | Las Tablas | +507 9XX-XXXX | +507 912-3456 |
| +507 | Chiriquí | +507 7XX-XXXX | +507 789-0123 |
| +507 | Aguadulce | +507 9XX-XXXX | +507 954-6789 |
| +507 | Panama | +507 6XX-XXXX | +507 612-3456 |
| +507 | David | +507 7XX-XXXX | +507 789-0123 |
| +507 | Colón | +507 4XX-XXXX | +507 456-7890 |
DialerHQ Pricing Plans for Panama Virtual Phone Number
How to Get a Panama Virtual Number?
Embark on your DialerHQ journey now by following the 4 simple steps outlined below.

Sign in to DialerHQ.

Choose your custom virtual number & make the payment.

Configure your account, features, and settings.

Start making and receiving calls anytime, anywhere.
Features of Panama Virtual Phone Number
With DialerHQ's temporary Peru phone numbers, you will gain access to a suite of advanced features, including those listed below.
Power Dialer
Elevate your team's efficiency and productivity with our Power Dialer. Seamlessly reach your daily targets by adeptly handling multiple calls.
Global Connect
Effortlessly connect with your global customer base and prospects during optimal time frames using Global Connect, maximizing your call pickup rates.
Smart Switch
Beat call connectivity challenges with the Smart Switch feature. Effortlessly choose the best provider to ensure uninterrupted communication.
Call Barging
Facilitate discreet call monitoring and assistance through Call Barging. Empower team leaders to provide timely support during conversations.
Call Conference
Enhance teamwork and communication with Call Conference. Collaborate seamlessly with multiple participants in real-time discussions.
Call Transfer
Optimize call management with Call Transfer. Swiftly assign calls to colleagues for effective resolution, boosting customer satisfaction.
Need a Quick & Easy
Panama

Phone Number ?
Make international calls & texts without buying a SIM card.
Frequently Asked Questions
In Panama, the international calling code is +507. When making international calls to Panama, you should dial this code followed by the local number.
No leading Panama virtual number provider, including DialerHQ, offers a free virtual Panama number. However, you can get one at an affordable rate of $7.99 per month from DialerHQ. This plan not only provides a Panama virtual number at no additional cost but also includes several other features designed to enhance your business communication.
Yes! DialerHQ's Panama virtual phone numbers are versatile and can be used for both personal and business purposes. They are an excellent choice for establishing a local presence in Panama, even if you are located elsewhere.
Unfortunately, it's not possible to directly transfer an existing Panama phone number to a virtual number. However, you can forward calls from your existing number to your DialerHQ virtual number– ensuring you don't miss any important calls.
You should choose DialerHQ for a Panamanian phone number because we offer multiple area codes, reliable service, affordable pricing options, and exceptional customer support to help you establish a local presence in Panama effortlessly.