Get a UK Toll-Free Number
Unleash growth and establish a strong presence in the UK market with our affordable UK toll-free numbers. Boost customer satisfaction, reduce international call expenses, and enhance brand credibility. Connect easily with UK clients, expand your customer base, and elevate your business with a UK toll-free number from DialerHQ.
Enhance your UK market presence with a toll-free number.

Improve customer experience while reducing international call expenses.

Strengthen brand credibility with a professional UK toll-free number.
What is a UK Toll-Free Number? 
A UK Toll-Free Number is a phone number that allows callers to reach your business without incurring any charges. This makes it convenient and cost-free for your customers to connect with you. It comes with features like auto-attendant, call queues, call transfer, and call recording to help you offer a seamless experience to your customers.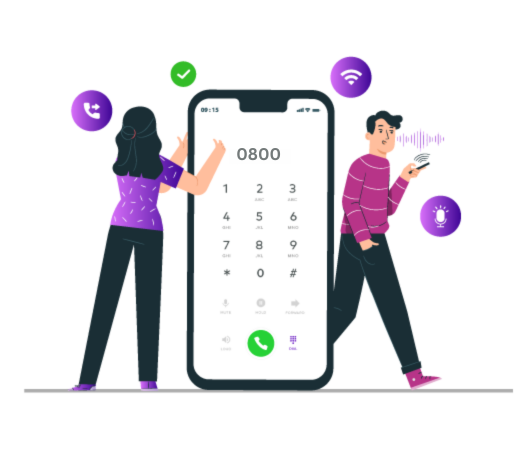 How Does a UK Toll-Free Number Work? 
A UK toll-free number operates through a simple and efficient process. Here's a brief explanation:
Customers dial the toll-free number advertised by the company.

The call is routed to a cloud telephony service provider.

The service provider connects the customer with the business.

The business owning the toll-free number covers the call charges for customers.

The business may pay an additional premium per call for the service.
How Much Do UK Toll-Free Numbers Cost? 
DialerHQ offers three different plans. Our UK toll-free numbers start at $0 per month. However, they might attract per-minute charges. Higher-priced plans offer greater features and benefits. You can also request quotes for the custom plan to meet your needs.
How to Buy a UK Toll-Free Number? 
You can buy a United Kingdom toll-free number in four easy steps. 
Sign up with DialerHQ, that takes just a few minutes. 

Browse through our UK toll-free numbers list and pick one. 

Add your team members to attend calls as and when they come.

You can now make and receive calls from customers.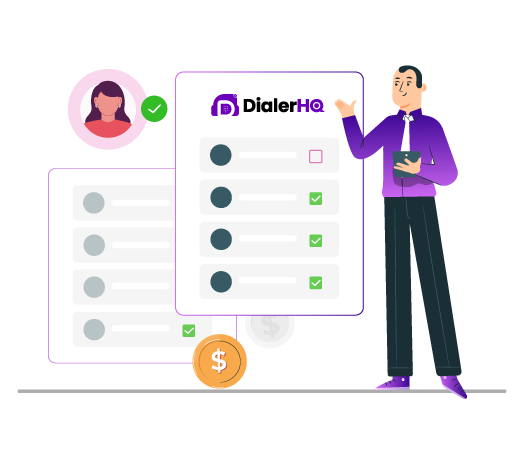 DialerHQ Pricing Plans for UK Toll-Free Number
How to Get a UK Toll-Free Number?
Embark on your DialerHQ journey now by following the 4 simple steps outlined below.

Sign in to DialerHQ.

Choose your custom virtual number & make the payment.

Configure your account, features, and settings.

Start making and receiving calls anytime, anywhere.
Features of UK Toll-Free Number
Unleash the power of your business with UK toll-free number from DialerHQ and embrace a captivating array of extraordinary features.
Power Dialer
Enhance your call efficiency with an automated dialing system, freeing up valuable time. Enable your sales representatives to concentrate on converting leads instead of manually dialing numbers.
Global Connect
Discover the optimal times to contact your UK customers using our worldwide connectivity feature. Increase the likelihood of answered calls without causing frustration to your customers.
Call Recording
Capture and review phone conversations to ensure quality and facilitate training. Mentor new agents in effectively handling customer interactions and different scenarios.
Smart Call Forwarding
Never miss a call by utilizing automatic call forwarding to multiple devices. Easily direct incoming calls to specific individuals or departments based on your preferences.
Call Transfer
Effortlessly shift ongoing calls to another team member or department. Enhance the rate of resolving customer queries on the first call by routing them to the most suitable agent.
Call Conference
Engage in real-time collaboration with both team members and customers through conference calls. Boost productivity and reduce the need for multiple follow-up calls.
Frequently Asked Questions
DialerHQ's UK toll-free number service includes features like IVR, ACD, Voice Broadcast, and AI-enabled Dashboards, enhancing your communication strategies.
DialerHQ provides four pricing plans for UK toll-free numbers:
Basic: $0/month.
Bronze: $7.99/month.
Silver: $11.99/month.
Platinum: $19.99/month.
DialerHQ ensures reliable connectivity and advanced features for your UK toll-free number needs.
Sign up, select the UK as the country, choose a plan, configure settings, import contacts, and start making calls using DialerHQ's user-friendly setup process.
DialerHQ offers features like Power Dialer, Global Connect, Call Recording, Call Queuing Software, and Smart Call Forwarding to enhance communication with UK-based customers.
Need a Quick & Easy UK Toll-Free Number?
Make international calls & texts without buying a SIM card.