Get a Virtual Phone System
Experience Seamless Communication and Enhanced Collaboration with Our Cutting-edge Virtual Phone System
Boost productivity with advanced features like call routing, power dialer, and call analytics.

Seamlessly scale your communication infrastructure as and when the need arises.

Significantly reduce installation, maintenance, and international calling costs.
What is a Virtual Phone System?
A virtual business phone system is a cutting-edge communication solution that operates on cloud technology, allowing businesses to seamlessly manage their phone calls, messages, and other communication-related tasks. These solutions, typically equipped with advanced communication and collaboration features, help businesses deliver an exceptional customer experience.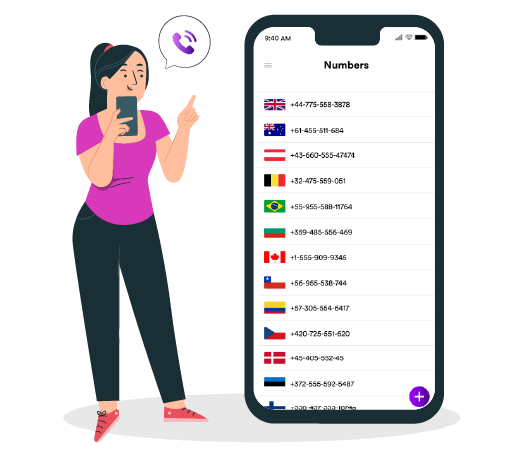 Why Does Your Business Need a Virtual Phone System?
A virtual office phone system is a must-have communication tool that can take your business to the next level. Here are some key reasons why your business needs it:
To manage fluctuating call volumes efficiently.

To understand customers better through analytics.

To reduce calling, operational, and maintenance costs.

To enjoy portability and on-demand scalability.

To serve customers better and expand business footprint.

To streamline and organize customer communication.
How Does a Virtual Phone System Work?
Unlike traditional, virtual business phone systems use internet-based technology – VoIP – to make and receive calls. Here are the three steps explaining how the virtual office phone system work:
Step 1: Analog to Digital Conversion: The sound of the caller's voice is converted from an analog signal to a digital signal.
Step 2: Data Transmission: The digital signal is transmitted over the internet to the recipient's device.
Step 3: Digital to Analog Conversion: At last, the digital signal is converted back into an analog signal so the recipient can hear the caller's voice.
Remember that these processes happen very quickly, so you won't experience any lag or delay during calls.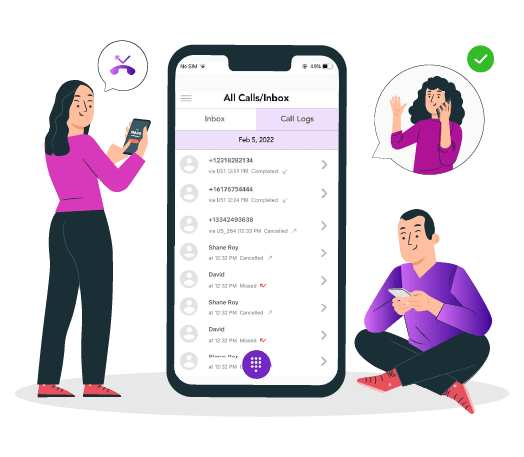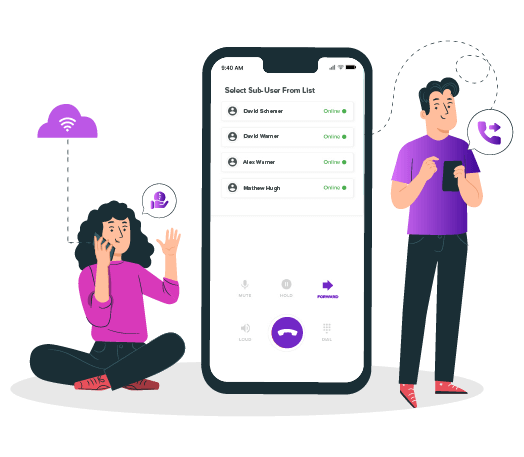 What Are the Benefits of a Virtual Phone System?
Virtual phone systems offer a range of benefits to businesses of all kinds. Here are the top 5 benefits of using a virtual phone system:
Increased flexibility:

Make and receive calls from anywhere.

Cost savings:

Eliminate expensive hardware and maintenance.

Enhanced customer service:

Serve your customers 24*7.

Better call management:

Manage call volume more efficiently.

Increased productivity:

Access advanced features & analytics.
Why is DialerHQ the Best Virtual Phone System?
DialerHQ is the best virtual phone system for small businesses for several reasons listed below:
Affordable pricing plans

Robust set of features

User-friendly and intuitive UI

Wide collection of area codes

Reliable system with 99.9% uptime

Excellent customer support 24/7

On-demand scalability
Furthermore, DialerHQ is extremely user-friendly, allowing users to easily set up and get started in minutes.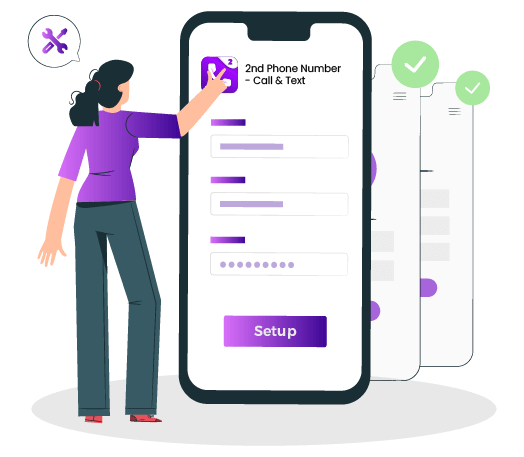 Comparing On-Premise and Virtual Phone Systems
This comparison table presents the differences between on-premise virtual telephone systems and virtual phone systems. On-premise phone systems require physical hardware, complex installation, and ongoing maintenance, while virtual phone systems are software-based, quick to set up, and require minimal maintenance. On-premise phone systems offer higher security and customization options, while virtual phone systems offer a wider range of features.
| Features | On-Premise Phone Systems | Virtual Phone Systems |
| --- | --- | --- |
| Hardware | Requires physical hardware such as PBX box and desk phones | No physical hardware required, all software-based |
| Installation | Installation and setup can be complex and time-consuming | Quick and easy setup, can be done remotely |
| Maintenance | Requires ongoing maintenance and updates to hardware and software | Minimal maintenance required, all updates are handled by the service provider |
| Scalability | Limited scalability, additional hardware may be required to accommodate growth | Highly scalable, can easily add or remove users as needed |
| Cost | Higher upfront costs due to hardware and installation | Lower upfront costs, typically charged on a subscription basis |
| Features | Limited features, mostly basic call handling and voicemail | Wide range of features including call forwarding, voicemail-to-email, virtual attendants, and more |
| Mobility | Limited mobility, users are tied to physical desk phones | Highly mobile, users can take calls from anywhere with an internet connection |
| Reliability | High reliability, dependent on the quality and maintenance of hardware | High reliability, service provider manages uptime and redundancy |
| Security | High security, calls and data remain on-premise | High security, all data is encrypted and stored in the cloud |
| Customization | Limited customization options | High customization options , can tailor features to specific business needs |
| Suitable for | Larger enterprises with in-house IT teams and specialized needs | Small to medium-sized businesses with limited IT resources and remote workers |
| Pros | High reliability, security, and customization options | Lower upfront costs, high scalability, and mobility |
| Cons | Higher upfront costs and limited scalability | Limited customization and reliance on service provider for updates and maintenance |
Top 5 Virtual Phone System Providers
This table compares the top 5 virtual phone system providers based on their features, pricing, customer support, integrations, and platforms. It aims to assist businesses in selecting the most suitable provider for their communication needs. Evaluate the advantages and disadvantages carefully before making a decision on a virtual phone system provider that meets your business requirements.
Virtual Phone System Providers
Main Features
Pricing
Customer Support
Integrations
Platforms
Pros
Cons
DialerHQ

Call forwarding
Call Recording
Voicemail transcription
Texting

Unlimited $12/month
Free Software $0
Custom Price

24/7 support via phone, email, and chat
Integrates with Pipe drive, Zendesk, and more

Easy to use
Affordable plans
Reliable service

Requires high-speed internet

RingCentral

Video and audio conferencing
Team messaging
Contact center solutions

Core: $20/month
Advanced: $25/month
Ultra: $35/month

24/7 support via phone, email, and chat
Integrates with Salesforce, Microsoft Teams, and more

Wide range of features
Good for larger businesses
Excellent customer support

Higher pricing
some features require add-ons

Nextiva

Call recording
Virtual fax
CRM integration

Essential: $18.95/month
Professional: $22.95/month
Enterprise: $32.95/month

24/7 support via phone and chat
Integrates with Salesforce, HubSpot, and more

User-friendly interface
Excellent customer service
Good value for the price

Some users report occasional call quality issues

Vonage

Video and audio conferencing
Call recording
Mobile app

Mobile: $19.99/month
Premimum: $29.99/month
Advanced: $39.99/month

24/7 support via phone, email, and chat
Integrates with Salesforce, Zoho, and more

Feature-rich
Good for international calling
Reliable service

Limited integrations compared to other providers

8x8

Video and audio conferencing
Team messaging
Call recording

X2: $24/month
X4: $44/month

24/7 support via phone and chat
Integrates with Salesforce, Microsoft Dynamics, and more

Scalable
Affordable plans
Good for remote teams

Some users report occasional technical issues
Some users report occasional technical issueslimited customization options
DialerHQ Pricing Plans for Virtual Phone System
Setup Virtual Phone System With DialerHQ in 4 Easy Steps
Embark on your DialerHQ journey now by following the 4 simple steps outlined below.


Choose your custom virtual number & make the payment.

Configure your account, features, and settings.

Start making and receiving calls anytime, anywhere.
Features of A Virtual Phone System
The DialerHQ virtual phone system for small businesses offers an array of advanced features to enhance team productivity and efficiency.
Predictive Dialer
Accelerate your sales outreach by dialing multiple numbers simultaneously and only connecting with live calls using the Predictive Dialer.
Global Connect
Expand your business reach and seamlessly connect with international clients and partners through high-quality voice and video calls.
Call Recording
Easily keep track of important conversations with DialerHQ's call recording feature. Record all incoming and outgoing calls automatically.
Smart Call Forwarding
Efficiently forward incoming calls to the right person or department based on predetermined criteria– never miss an important call.
Call Conference
Enable efficient communication and collaboration by effortlessly conducting team meetings and client calls with Call Conference feature.
Call Center Analytics
Gain valuable insights and improve your call center's performance. Get a comprehensive overview of your team's activities with real-time data.
Frequently Asked Questions
DialerHQ's virtual phone system offers several advantages. It enables you to establish a professional business presence with local and toll-free numbers from various countries, enhancing your credibility and accessibility to customers. Besides, the system facilitates seamless call management, including call forwarding, voicemail, and interactive voice response (IVR). Additionally, you can track and analyze call data to gain insights into customer interactions, helping you make informed business decisions.
DialerHQ's virtual phone system offers a range of features to enhance your communication capabilities. These include click-to-dial, global connect, voicemail, smart switch, SMS, skill-based call routing, campaign management, call queuing, gamification, call feedback, and more.
DialerHQ's virtual phone system offers a range of subscription plans to cater to various business needs, and the pricing is designed to be flexible. The plans start from as low as $0, providing an accessible entry point for businesses seeking essential virtual communication tools. As you progress to higher-tier plans, you'll gain access to more advanced features and increased usage capacities.
Sign up now and enjoy the benefits of the virtual phone system
Make international calls & texts without buying a SIM card.