Get Argentina Phone Number
Looking for a way to stay in touch with your Argentina clients? Enjoy no-extra-cost unlimited calls to the US, Canada, and many more countries. Take advantage of innovative business features, provide better customer experiences & strengthen your brand image.
You are just one step
ahead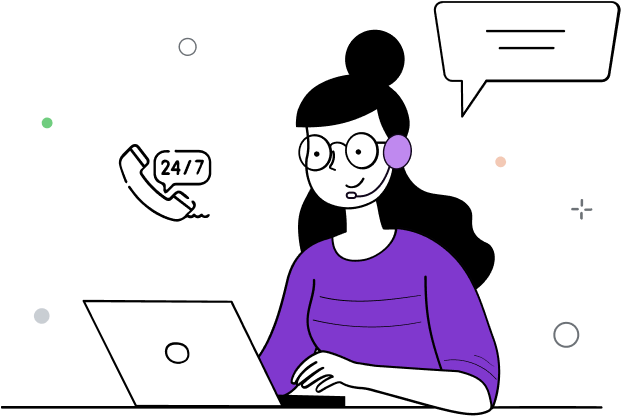 Thank You.
One of our Representative will connect with you shortly.
Why Should You Buy an Argentina Phone Number?
An Argentina phone number can provide various benefits, such as reduced international call charges, enhanced brand visibility, and round-the-clock availability. In addition, virtual phone numbers can enable your business to grow faster than traditional numbers. You just need an internet connection and not even a SIM card to get started.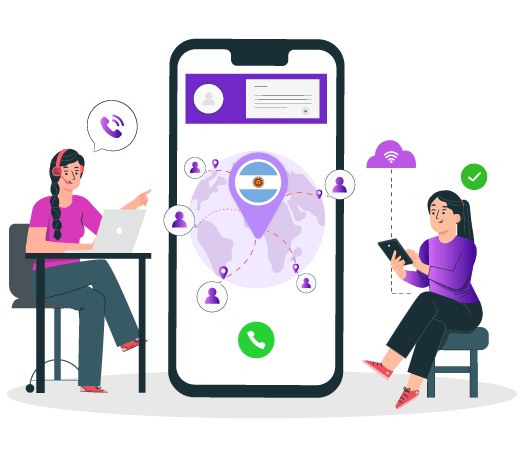 Establish a Local Presence
You can communicate more efficiently with your customers using Argentina's virtual numbers without establishing a physical presence there. In addition, Argentina virtual numbers will also help you add a personal touch to your customer communications.
Industries use Argentina mobile numbers to route incoming calls to appropriate agents based on IVR inputs, regardless of where you are. You can track incoming calls and monitor them with Argentina mobile numbers. An Argentina virtual number has many advantages, including exceptional call quality and international call forwarding.
Cost-Friendly Communication
Virtual numbers in Argentina provide a simple, affordable way to reach your customer base. They aren't tied to any specific phone line, so you can forward calls wherever you need them.
Rather than expensive equipment or onsite installation, everything is handled via your intuitive online dashboard, which allows you to set up your Argentina phone number online and access your settings from anywhere at any time.
You won't have to worry about high bills with an Argentina virtual number from DialerHQ , because it's affordable and personal. In the same way as any other local number, customers can use this number to contact you directly. You can also keep personal calls from interfering with your professional life by using a virtual number to separate business calls from personal calls.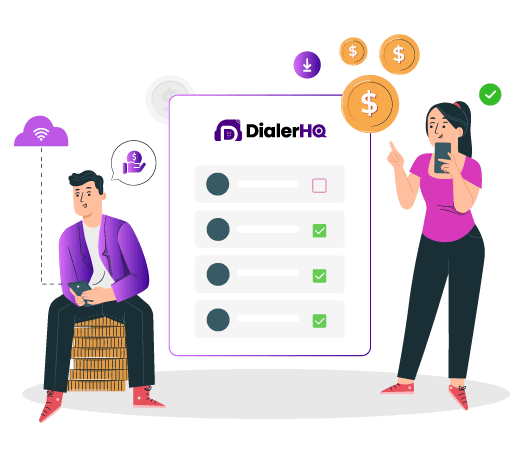 Boost your Pick-Up Rate
To establish better relationships with local residents; international enterprises must blend in seamlessly. You should have local numbers for your business, as calling an international number can be expensive. This will allow your customers to reach you without worrying about costs.
Moreover, as a modern business, you should be able to reach people locally through your phone number because Argentina's virtual phone numbers let you expand worldwide without the need for physical space.
So, for example, when calling from outside Argentina, the caller should dial their exit code(usually 00 in Europe or 011 in the USA), followed by 54 (the Argentina country code), followed by their area code, and finally, the local number.
Provides Useful Call Tracking Insights
Argentina mobile numbers offer more than just low call rates, and as a business owner, you must be aware of the data that drives your business to thrive.
Every phone call tracking is important for making better decisions about your services. It allows you to gather data about your customers, like where they are calling from, what keywords they searched before, and why they are calling.
The Argentina phone number you purchase from DialerHQ allows you to monitor every call you make and receive, the leads you generate, who makes the most calls, how long the calls last, and more. The cutting-edge reporting features help you make better decisions and improve your call quality.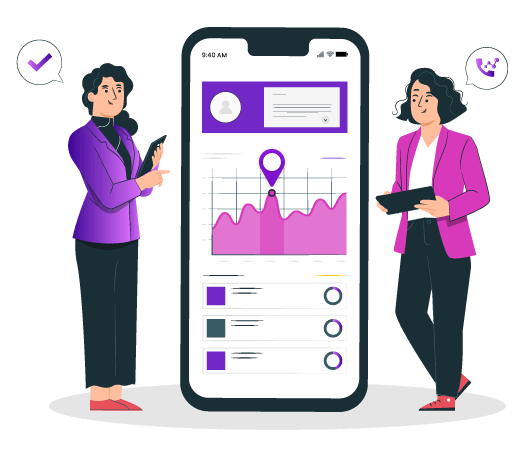 What Types of Virtual Phone Numbers Can You Get in Argentina?
This table offers information on the different kinds of virtual phone numbers that businesses can use in Argentina. These numbers include local, toll-free, national, international, mobile, and vanity numbers, and allow businesses to establish a presence in Argentina without needing an actual office. Toll-free numbers are particularly useful for providing free phone services to customers, while vanity numbers are memorable and help businesses stand out. Overall, virtual phone numbers provide businesses with the flexi
| Type of Virtual Number | Dialing Code | Example |
| --- | --- | --- |
| Local Argentina Virtual Number | (+54) | (+54) 11 1234 5678 |
| Toll-Free Argentina Virtual Number | (+54) | (+54) 800 123 4567 |
| Mobile Argentina Virtual Number | (+54) | (+54) 9 11 1234 5678 |
Popular Area Codes in Argentina for Phone Numbers
This table provides a comprehensive list of popular area codes in Argentina for phone numbers. The table includes the corresponding cities, phone number formats, and examples of how to dial within Argentina. The information in this table can be useful for anyone who needs to make phone calls within Argentina and wants to ensure they use the correct area code and phone number format.
| Area Code | City | Phone Number Format | Example |
| --- | --- | --- | --- |
| 11 | Buenos Aires | (11) xxxx-xxxx | (11) 1234-5678 |
| 221 | La Plata | (221) xxxx-xxxx | (221) 123-4567 |
| 223 | Mar del Plata | (223) xxxx-xxxx | (223) 123-4567 |
| 261 | Mendoza | (261) xxxx-xxxx | (261) 123-4567 |
| 299 | Neuquén | (299) xxxx-xxxx | (299) 123-4567 |
| 341 | Rosario | (341) xxxx-xxxx | (341) 123-4567 |
| 351 | Córdoba | (351) xxxx-xxxx | (351) 123-4567 |
| 370 | Formosa | (3704) xxx-xxx | (3704) 12-3456 |
| 379 | Corrientes | (379) xxxx-xxxx | (379) 123-4567 |
| 381 | Tucumán | (381) xxxx-xxxx | (381) 123-4567 |
DialerHQ Pricing Plans for Argentina Virtual Phone Number
Call Center Solution (CCS)
Ideal for Bulk Calling for Sales, Support and Call Center Teams
Power & Predictive Dialer
Automatic Machine Detection
Industry leading call connect rates
Compliance Call Recording
Forward To External Device
Smart DID Routing
Speed To Dial
Auto Rotate
Local Presence
Call Barging
Call Queuing
Create Team
Call Whisper
Post Call Survey
After Call Work
Target Vs Achievement
Multiple Level Call Transfer
Route to External Number
Forward to Multiple Device
Google Drive, AWS S3 Integration
Embedded Dialer Integration
Show More
Show Less
Start Free Trial
Office Phone System (OPS)
Ideal for Businesses to support their Customers and not for Bulk Calling
Unlimited calling in UK, US/Can, Aus
Manual Calling Dialer
Auto Rotate DID
Call Tagging
Custom Greetings
Create Team
Call Barging
Shared Inbox
Call Cascading
Audit Logs
Webhook
Phone Support
24*7 Support
Contact Us
Call Notes & Ratings
Dedicated Account Manager
Personalized Onboarding
Advances Integrations
Custom Integrations
Annual Business Review
Show More
Show Less
Start Free Trial
Get Argentina Phone Number With DialerHQ in 4 Easy Steps
Embark on your DialerHQ journey now by following the 4 simple steps outlined below.

Sign in to DialerHQ.

Choose your custom virtual number & make the payment.

Configure your account, features, and settings.

Start making and receiving calls anytime, anywhere.
Benefits of Argentina Mobile Number
Argentina phone numbers save you money, provide significant portability, improve brand localization, and don't require additional hardware. Choose the country code most convenient for you, and you're ready to go!
Establish Brand Presence
Your Argentina mobile phone number will enhance your company's image to potential customers.
The Argentina Numbers Pool
Select the best Argentina number based on your requirements and business interests.
Superior Call Quality
Using DialerHQ , you can make clear calls and prevent data latency, ensuring that your voice isn't interrupted during incoming calls.
No Additional Hardware
A virtual Argentina mobile number is easy and quick to set up. All you need is good access to the internet.
Call Forwarding
Our bespoke call forwarding service allows you to direct calls from your Argentina Phone number to any number in any location.
IVR Integration
IVR (Interactive Voice Response) automates all communication needs using a pre-recorded message that greets and routes all incoming calls.
Frequently Asked Questions
A virtual Argentina phone number improves a company's online visibility and allows easy communication with local customers. It promotes trust, making reaching customers easier and conducting worldwide business efficiently. Obtain a virtual number from DialerHQ to increase reach, build brand reputation, and promote cross-border interactions.
What Is The Country Code Of Argentina? To buy a local Argentina phone number from DialerHQ, the following steps will help:
Step 1: Visit DialerHQ's website.
Step 2: Navigate the phone number services section.
Step 3: Select Argentina as your preferred country.
Step 4: Choose the desired area code and number type.
Step 5: Proceed with payment and account setup.
Your virtual Argentina phone number can be seamlessly integrated with the CRM system. DialerHQ provides a range of CRM software. The simplified integration process guarantees effective communication management, fostering stronger client relationships.
Choosing DialerHQ for an Argentina phone number delivers unmatched professionalism and ease. Build trust with Argentine clients, establish a local presence, and use seamless international communication. Take advantage of modern technologies, a simple setup, and budget-friendly plans. You can boost your company's brand image with a virtual Argentina phone number from DialerHQ.
Need a Quick & Easy Argentina Phone Number ?
Make international calls & texts without buying a SIM card.