Get Argentina Phone Number
Looking for a way to stay in touch with your Argentina clients? Enjoy no-extra-cost unlimited calls to the US, Canada, and many more countries. Take advantage of innovative business features, provide better customer experiences & strengthen your brand image.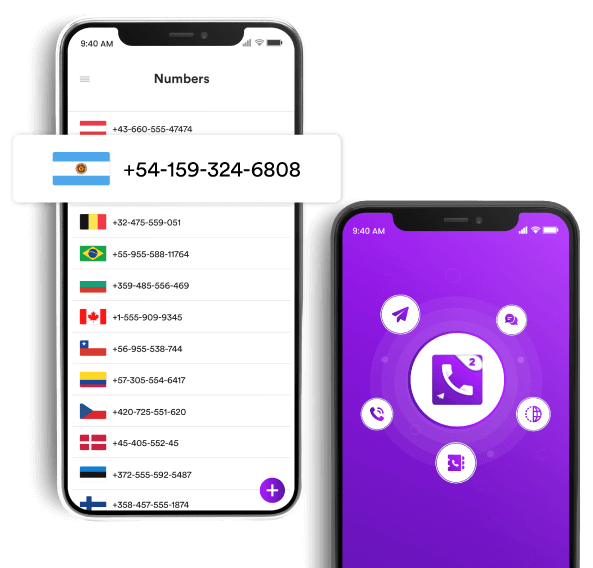 Why Should You Buy an Argentina Phone Number?
An Argentina phone number can provide various benefits, such as reduced international call charges, enhanced brand visibility, and round-the-clock availability. In addition, virtual phone numbers can enable your business to grow faster than traditional numbers. You just need an internet connection and not even a SIM card to get started.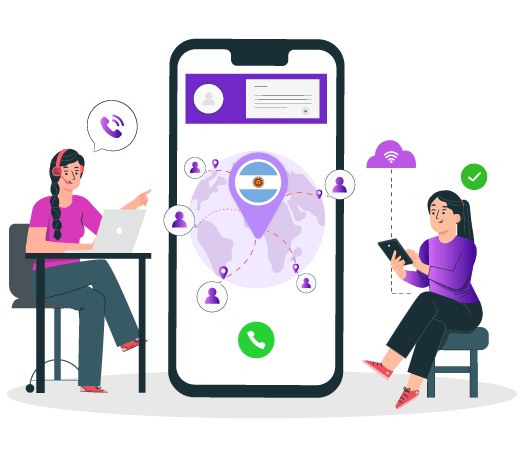 Establish a Local Presence
You can communicate more efficiently with your customers using Argentina's virtual numbers without establishing a physical presence there. In addition, Argentina virtual numbers will also help you add a personal touch to your customer communications.
Industries use Argentina mobile numbers to route incoming calls to appropriate agents based on IVR inputs, regardless of where you are. You can track incoming calls and monitor them with Argentina mobile numbers. An Argentina virtual number has many advantages, including exceptional call quality and international call forwarding.
Cost-Friendly Communication
Virtual numbers in Argentina provide a simple, affordable way to reach your customer base. They aren't tied to any specific phone line, so you can forward calls wherever you need them.
Rather than expensive equipment or onsite installation, everything is handled via your intuitive online dashboard, which allows you to set up your Argentina phone number online and access your settings from anywhere at any time.
You won't have to worry about high bills with an Argentina virtual number from DialerHQ , because it's affordable and personal. In the same way as any other local number, customers can use this number to contact you directly. You can also keep personal calls from interfering with your professional life by using a virtual number to separate business calls from personal calls.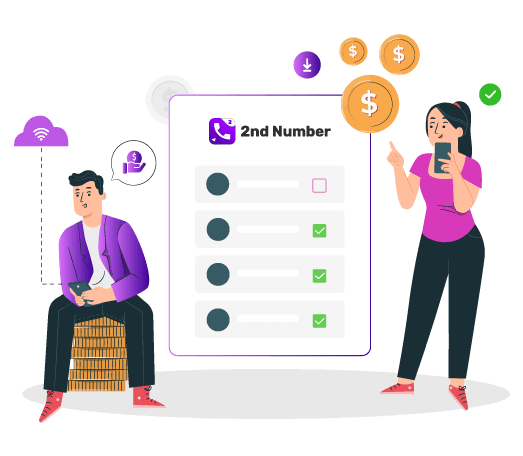 Boost your Pick-Up Rate
To establish better relationships with local residents; international enterprises must blend in seamlessly. You should have local numbers for your business, as calling an international number can be expensive. This will allow your customers to reach you without worrying about costs.
Moreover, as a modern business, you should be able to reach people locally through your phone number because Argentina's virtual phone numbers let you expand worldwide without the need for physical space.
So, for example, when calling from outside Argentina, the caller should dial their exit code(usually 00 in Europe or 011 in the USA), followed by 54 (the Argentina country code), followed by their area code, and finally, the local number.
Provides Useful Call Tracking Insights
Argentina mobile numbers offer more than just low call rates, and as a business owner, you must be aware of the data that drives your business to thrive.
Every phone call tracking is important for making better decisions about your services. It allows you to gather data about your customers, like where they are calling from, what keywords they searched before, and why they are calling.
The Argentina phone number you purchase from DialerHQ allows you to monitor every call you make and receive, the leads you generate, who makes the most calls, how long the calls last, and more. The cutting-edge reporting features help you make better decisions and improve your call quality.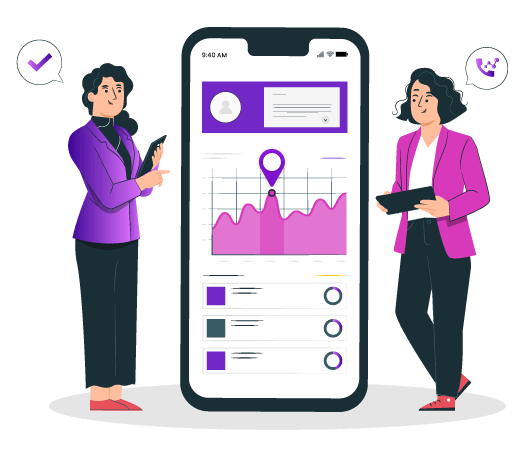 What Types of Virtual Phone Numbers Can You Get in Argentina?
This table offers information on the different kinds of virtual phone numbers that businesses can use in Argentina. These numbers include local, toll-free, national, international, mobile, and vanity numbers, and allow businesses to establish a presence in Argentina without needing an actual office. Toll-free numbers are particularly useful for providing free phone services to customers, while vanity numbers are memorable and help businesses stand out. Overall, virtual phone numbers provide businesses with the flexibility to improve customer service and grow their presence in Argentina.
| Type of Virtual Number | Dialing Code | Example |
| --- | --- | --- |
| Local Virtual Number | Area code + 15 + 7-digit number | 11 15 XXXX-XXXX |
| Toll-free Virtual Number | 0800 + 8-digit number | 0800 XXXX |
| National Virtual Number | 11 + 15 + 7-digit number | 11 15 XXXX-XXXX |
Popular Area Codes in Argentina for Phone Numbers
This table provides a comprehensive list of popular area codes in Argentina for phone numbers. The table includes the corresponding cities, phone number formats, and examples of how to dial within Argentina. The information in this table can be useful for anyone who needs to make phone calls within Argentina and wants to ensure they use the correct area code and phone number format.
| Area Code | City | Phone Number Format | Example |
| --- | --- | --- | --- |
| 11 | Buenos Aires | (11) xxxx-xxxx | (11) 1234-5678 |
| 221 | La Plata | (221) xxxx-xxxx | (221) 123-4567 |
| 223 | Mar del Plata | (223) xxxx-xxxx | (223) 123-4567 |
| 261 | Mendoza | (261) xxxx-xxxx | (261) 123-4567 |
| 299 | Neuquén | (299) xxxx-xxxx | (299) 123-4567 |
| 341 | Rosario | (341) xxxx-xxxx | (341) 123-4567 |
| 351 | Córdoba | (351) xxxx-xxxx | (351) 123-4567 |
| 370 | Formosa | (3704) xxx-xxx | (3704) 12-3456 |
| 379 | Corrientes | (379) xxxx-xxxx | (379) 123-4567 |
| 381 | Tucumán | (381) xxxx-xxxx | (381) 123-4567 |
DialerHQ Pricing Plans for Argentina Virtual Phone Number
Everything in Unlimited Plus

✓

$1500/month Spend Minimum3

✓

Power Dialer

✓

Voice Broadcasting

✓

Multi-level IVR

✓

Multiple Level Call Transfer

✓

Conference Calling

✓

Call Barging

✓

Route to External Number

✓

Forward to Multiple Device

✓

Single Sign On

✓

DID Group

✓

Call Whisper

✓

Intelligent Reports/Analytics

✓

Reports via Email

✓

Automatic Machine Detection

✓

Intelligent Call Recording
✓

Unlimited calls within the US & Canada2

✓

Free 1 standard Number per user

✓

Click To Dial

✓

Call Recording

✓

IVR

✓

Call forwarding

✓

SMS/Text messages

✓

Voicemail

✓

Webhook

✓

Role based access control

✓

Integration
Custom
Request Quote
Flexible pricing based on needs Contact Us
Everything in Free Software Plus

✓

Custom Reports & Analytics

✓

Customize Features

✓

Custom integrations

✓

Service Level Agreements

✓

Dedicated Account manager

✓

24X7 Support
Get Argentina Phone Number With DialerHQ in 4 Easy Steps
Embark on your DialerHQ journey now by following the 4 simple steps outlined below.


Choose your custom virtual number & make the payment.

Configure your account, features, and settings.

Start making and receiving calls anytime, anywhere.
Benefits of Argentina Mobile Number
Argentina phone numbers save you money, provide significant portability, improve brand localization, and don't require additional hardware. Choose the country code most convenient for you, and you're ready to go!
Establish Brand Presence
Your Argentina mobile phone number will enhance your company's image to potential customers.
The Argentina Numbers Pool
Select the best Argentina number based on your requirements and business interests.
Superior Call Quality
Using DialerHQ , you can make clear calls and prevent data latency, ensuring that your voice isn't interrupted during incoming calls.
No Additional Hardware
A virtual Argentina mobile number is easy and quick to set up. All you need is good access to the internet.
Call Forwarding
Our bespoke call forwarding service allows you to direct calls from your Argentina Phone number to any number in any location.
IVR Integration
IVR (Interactive Voice Response) automates all communication needs using a pre-recorded message that greets and routes all incoming calls.
Frequently Asked Questions
Argentina cell phone numbers consist of 12 to 13 numbers divided into groups of 3. The city codes in Argentina are between two and four digits long. So, for example, if you intend to call Buenos Aires using a mobile phone, you must dial the country code (54) + area code (11) + six to eight figures number.
What Is The Country Code Of Argentina?
Yes, making international calls or calling Argentina local customer numbers is 100% safe, as 2nd Number is an encrypted and secure platform.
Yes! You can make unlimited free calls with DialerHQ Argentina virtual numbers.