Get Taiwan Virtual Number
Tap into Taiwan's thriving markets from anywhere in the world.

Better engage with your customers/prospects using local numbers.

Improve agents' productivity with 50+ call management features.
What is a Taiwan Virtual Number?
An Taiwan Virtual Number is a remotely accessible phone number with a prefix associated with Taiwan– enabling global connectivity. It houses features like Power Dialer, Call Analytics, and Global Connect– enabling businesses to enhance customer engagement and expand their reach efficiently.
Dominate the Taiwan Market with a +886 Phone Number
Expand your business horizons and establish a commanding presence in the Taiwan market with a +886 phone number.
Project a local image to customers– fostering trust and familiarity.

Enhance customer support accessibility and responsiveness.

Expand market reach while minimizing international calling costs.

Utilize our 50+ advanced call management & collaboration features.

Gain a competitive edge by tapping into Taiwan's booming economy.
Benefits of Taiwan Virtual Numbers
DialerHQ's Taiwan virtual numbers offer far more benefits than you might think. Not only do they help localize your brand with a global reputation, but they also significantly reduce communication costs.
Cost-effective: With plans starting at $0/month– DialerHQ provides affordable calling solutions that allow you to connect with customers worldwide without straining your budget.
Regional presence:

DialerHQ's diverse pool of Taiwan area codes enables you to establish a strong local presence in different regions.

Improved productivity:

Empower your team's productivity using DialerHQ's 50+ innovative.

Valuable Insights:

DialerHQ's advanced reporting and analytics offer valuable data and insights into call patterns and performance.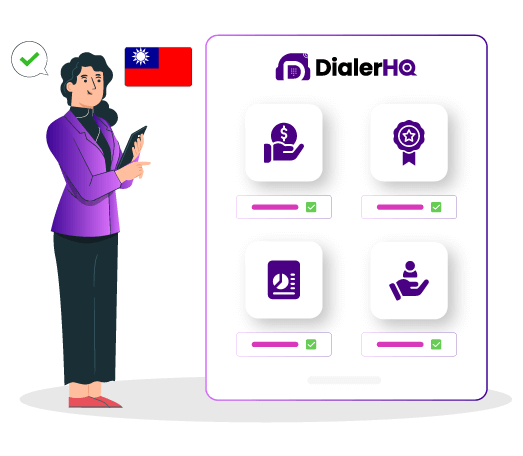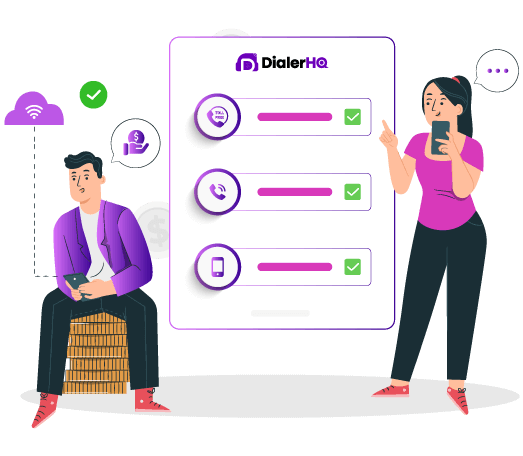 Different Types of Taiwan Virtual Numbers
Taiwan Local Numbers:

Boost your business presence in Taiwan with local numbers– creating a strong connection with customers.

Taiwan Toll-free Numbers: Empower customer engagement with toll-free numbers in Taiwan. Offer a cost-free communication channel, attract a wider audience, and provide top-notch service– all while amplifying your brand reputation.
Taiwan International Numbers:

Seamlessly expand your reach beyond borders using international numbers for Taiwan. Effortlessly connect with a global audience, present a global outlook, and grow your business on an international scale.

Port Your Taiwan Numbers:

Make the transition to DialerHQ by seamlessly porting your existing Taiwan virtual numbers.
What Types of Virtual Phone Numbers Can You Get in Taiwan
This table offers information on the different kinds of virtual phone numbers that businesses can use in Taiwan. These numbers include local, toll-free, national, international, mobile, and vanity numbers, and allow businesses to establish a presence in Taiwan without needing an actual office. Toll-free numbers are particularly useful for providing free phone services to customers, while vanity numbers are memorable and help businesses stand out. Overall, virtual phone numbers provide businesses with the flexibility to improve customer service and grow their presence in Taiwan.
| Type of Virtual Number | Dialing Code | Example |
| --- | --- | --- |
| Local Virtual Number | +886 | +886 2 2345 6789 |
| Toll-Free Number | +886 | +886 800 123 456 |
| International Number | +886 | +886 9 8765 4321 |
Popular Area Codes in Taiwan
This table provides a comprehensive list of popular area codes in Taiwan for phone numbers. The table includes the corresponding cities, phone number formats, and examples of how to dial within Taiwan. The information in this table can be useful for anyone who needs to make phone calls within Taiwan and wants to ensure they use the correct area code and phone number format.
| Area Code | City | Phone Number Format | Example |
| --- | --- | --- | --- |
| +886 2 | Taipei | +886 2 XXXX XXXX | +886 2 2345 6789 |
| +886 3 | Taoyuan | +886 3 XXXX XXXX | +886 3 3456 7890 |
| +886 4 | Taichung | +886 4 XXXX XXXX | +886 4 4567 8901 |
| +886 5 | Tainan | +886 5 XXXX XXXX | +886 5 5678 9012 |
| +886 6 | Kaohsiung | +886 6 XXXX XXXX | +886 6 6789 0123 |
| +886 7 | Pingtung | +886 7 XXXX XXXX | +886 7 7890 1234 |
| +886 8 | Hualien | +886 8 XXXX XXXX | +886 8 8901 2345 |
DialerHQ Pricing Plans for Taiwan Virtual Phone Number
How to Get a Taiwan Virtual Number?
Embark on your DialerHQ journey now by following the 4 simple steps outlined below.

Sign in to DialerHQ.

Choose your custom virtual number & make the payment.

Configure your account, features, and settings.

Start making and receiving calls anytime, anywhere.
Features of Taiwan Virtual Phone Number
With DialerHQ's temporary Taiwan phone numbers, you will gain access to a suite of advanced features, including those listed below.
Power Dialer
Empower your team's efficiency and productivity through our Power Dialer. Seamlessly achieve daily targets by effortlessly managing multiple calls.
Global Connect
Broaden your international presence with Global Connect. Elevate your global connections with higher call pickup and conversion rates.
Smart Switch
Resolve call connectivity challenges with the Smart Switch feature. Effortlessly select the optimal provider– ensuring uninterrupted communication.
Call Barging
Offer discreet call monitoring and assistance with Call Barging. Enable team leaders to provide timely support during conversations.
Call Queuing Software
Ensure Taiwan customer satisfaction with Call Queuing. Manage incoming calls efficiently– guaranteeing timely assistance.
Smart Call Forwarding
Stay reachable 24/7 through Smart Call Forwarding. Divert calls to multiple numbers, ensuring constant connectivity.
Call Transfer
Optimize call management with Call Transfer. Swiftly allocate calls to colleagues for effective resolution and heightened customer contentment.
Need a Quick & Easy Taiwan Phone Number ?
Make international calls & texts without buying a SIM card.
Frequently Asked Questions
You should get a virtual phone number for Taiwan because it enhances your local presence, builds trust, and expands reach in Taiwanian local markets– all while reducing communication costs.
You can buy Taiwan phone numbers for your business from DialerHQ. The process is simple– just sign up with DialerHQ, select your virtual number type, customize it with the country and area code, choose a plan, and make the payment. Once done, you will be assigned a Taiwan virtual number right away!.
DialerHQ offers Taiwan phone numbers with advanced features, cost-effectiveness, and easy integration. Additionally, they provide a robust infrastructure spanning over 80+ countries, along with attentive support for instant resolution of any concerns.
Activation times vary from provider to provider. However, with DialerHQ, you receive your virtual numbers as soon as you apply for them. All you have to do is follow its simple 4-step process.