Get Bulgaria Virtual Phone Number
Connect with customers in Bulgaria seamlessly, without the need for physical offices.
Streamline your communication and improve agents' efficiency.


Give your brand a professional touch with a Bulgarian number.

Cut down on expensive international call charges & maintenance.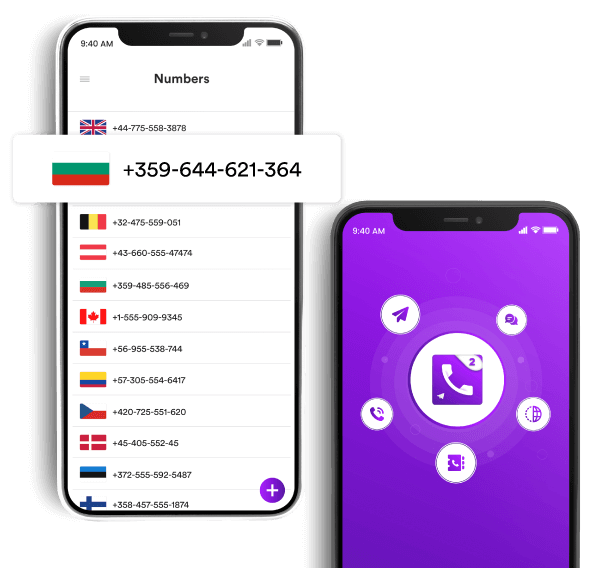 Get More Leads and Deliver Better Customer Service
Our virtual phone numbers in Bulgaria make it super easy for you to handle incoming calls, track leads, and provide excellent customer service– all while maintaining a professional image and cost.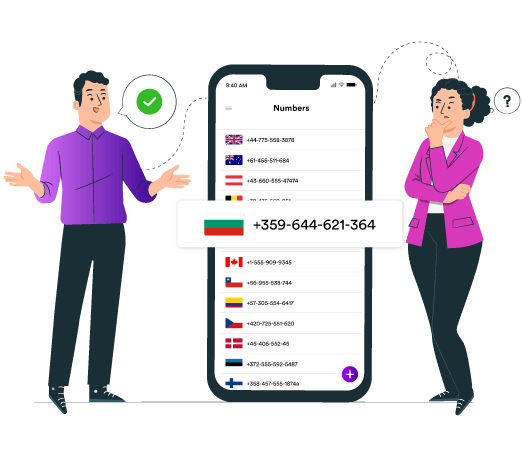 Is Bulgaria Virtual Phone Number a Real Number?
Yes, a virtual phone number in Bulgaria is a real phone number that can be used to make and receive calls, texts, and voicemails just like any other phone number. Here are some interesting facts about virtual phone numbers:
Unlike traditional numbers, virtual numbers work over the internet.

They allow businesses to extend their reach without requiring physical offices.

Virtual numbers are highly portable and can be easily managed online.

It is a widely popular solution for businesses to instill trust in local customers.

Virtual phone numbers are easy to set up, scalable, and customizable.
Benefits of Bulgaria Phone Numbers
Bulgaria virtual phone numbers can bring multiple benefits to your business. Here are 5 key benefits of using Bulgaria numbers:
Connect with customers easily at incredibly lower calling charges.

Expand your business reach and tap into new markets in Bulgaria.

Enhance your brand image– give it a professional touch.

Make data-driven decisions with detailed analytics and reports.

Serve your customers more effectively and in a timely manner.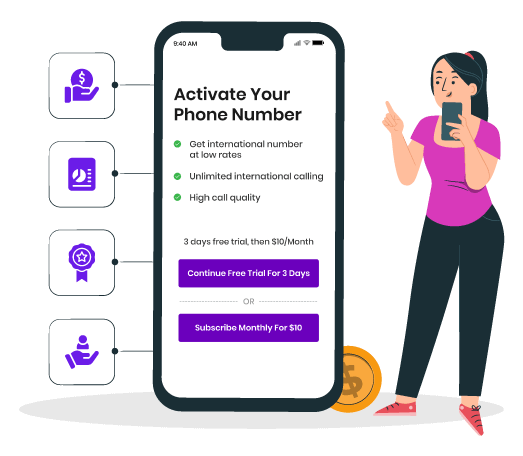 Different Types of Bulgaria Phone Numbers
Virtual phone numbers in Bulgaria come in 3 variants– each serving a different purpose.
Local Bulgaria phone numbers:

Numbers with a local area code. Ideal for establishing a local presence.

Toll-free Bulgaria phone numbers:

Free-to-call numbers. Ideal for managing customer inquiries/feedback.

Bulgarian Mobile numbers:

Numbers for mobile devices. Suitable for personal use as well as SMBs.
Choose the one that best aligns with your business requirements and objectives.
Who Can Buy Bulgaria Virtual Phone Numbers?
Anyone can buy Bulgaria virtual phone numbers, regardless of their location or nationality– unless and until it is used for legal activities. However, when buying a virtual phone number, Keep these factors in mind:
Choose the right type of virtual number– local or toll-free.

Consider the provider's reputation, reliability, and uptime.

Check for all the necessary as well as advanced features.

Consider all types of charges– setup fees, monthly fees, etc.

Ensure to comply with all relevant laws and regulations.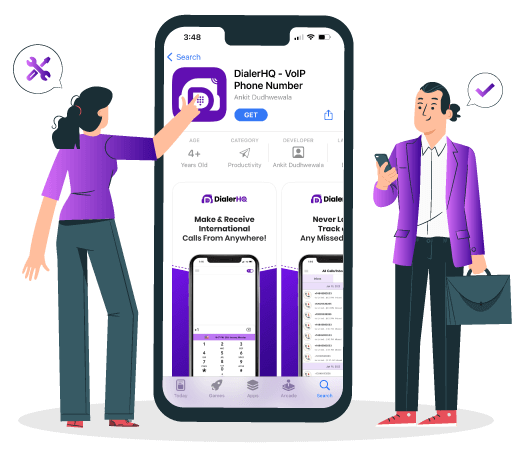 List of Area Codes for Virtual Phone Numbers in Bulgaria:
This is a table that displays area codes for virtual phone numbers in Bulgaria. The purpose of the table is to aid individuals or businesses in selecting an appropriate area code. Information about number types and formats is also included for each area code.
| Area Code | Location | Number Format |
| --- | --- | --- |
| 2 | Sofia | +359 2 xxxxxxx |
| 32 | Plovdiv | +359 32 xxxxxx |
| 52 | Veliko Tarnovo | +359 52 xxxxxx |
| 56 | Ruse | +359 56 xxxxxx |
| 62 | Stara Zagora | +359 62 xxxxxx |
| 72 | Varna | +359 72 xxxxxx |
| 82 | Blagoevgrad | +359 82 xxxxxx |
| 86 | Pernik | +359 86 xxxxxx |
| 88 | Pleven | +359 88 xxxxxx |
| 92 | Burgas | +359 92 xxxxxx |
| 96 | Vidin | +359 96 xxxxxx |
How Much Does Bulgaria Virtual Phone Number Cost?
Everything in Unlimited Plus

✓

$1500/month Spend Minimum3

✓

Power Dialer

✓

Voice Broadcasting

✓

Multi-level IVR

✓

Multiple Level Call Transfer

✓

Conference Calling

✓

Call Barging

✓

Route to External Number

✓

Forward to Multiple Device

✓

Single Sign On

✓

DID Group

✓

Call Whisper

✓

Intelligent Reports/Analytics

✓

Reports via Email

✓

Automatic Machine Detection

✓

Intelligent Call Recording
✓

Unlimited calls within the US & Canada2

✓

Free 1 standard Number per user

✓

Click To Dial

✓

Call Recording

✓

IVR

✓

Call forwarding

✓

SMS/Text messages

✓

Voicemail

✓

Webhook

✓

Role based access control

✓

Integration
Custom
Request Quote
Flexible pricing based on needs Contact Us
Everything in Free Software Plus

✓

Custom Reports & Analytics

✓

Customize Features

✓

Custom integrations

✓

Service Level Agreements

✓

Dedicated Account manager

✓

24X7 Support
Buy Bulgaria Virtual Phone Number With DialerHQ in 4 Easy Steps
Embark on your DialerHQ journey now by following the 4 simple steps outlined below.


Choose your custom virtual number & make the payment.

Configure your account, features, and settings.

Start making and receiving calls anytime, anywhere.
Features of Bulgaria Phone Numbers
DialerHQ virtual phone system houses a range of cutting-edge features that will take your team's productivity and efficiency to new heights.
Smart Switch
Say goodbye to call connectivity issues with DialerHQ's Smart Switch feature. Choose the best provider and enjoy seamless connections every time.
Number Portability
Keep your existing phone number and switch to DialerHQ's phone service to enjoy all the benefits of our virtual phone system.
Gamification
Make calling fun and engaging with gamification. Increase productivity and motivate your team by turning your sales targets into a game.
SDAP
Impress your callers and provide them with a more efficient and personalized experience with our SDAP feature.
Call Whispering
Coach your team in real time. Supervisors can listen in on calls and provide feedback to agents without the caller hearing.
Voice Broadcast System
Save time and reach more customers. Record and broadcast a message to your vast customer base with a single click.
Frequently Asked Questions
A standard Bulgaria phone number has nine digits. The first digit represents the type of phone service, and the following two digits indicate the area code. The remaining six digits make up the subscriber number.
Yes, it is quite possible to get multiple Bulgaria Virtual Phone Numbers. Most leading virtual phone service providers, such as DialerHQ, allow users to purchase multiple virtual numbers from the same country, including Bulgaria.
What is the country code of Bulgaria? The country code of Bulgaria is +359. This code is used when dialing a phone number in Bulgaria from another country.
Yes, it is possible to get a virtual Bulgaria number with different Bulgaria area codes. This may help you establish a stronger presence in Bulgarian markets.
You should consider getting a Virtual Bulgaria Phone Number because it is more affordable, portable, and convenient than a Bulgaria SIM Card. This option allows you to maintain a local presence in Bulgaria without needing a physical SIM card or presence. Additionally, virtual numbers may offer additional features and services unavailable with traditional SIM cards.
Sign up now and set your foot firmly in the Bulgarian markets
Make international calls & texts without buying a SIM card.