Get Bulgaria Virtual Phone Number
Connect with customers in Bulgaria seamlessly, without the need for physical offices.
Streamline your communication and improve agents' efficiency.


Give your brand a professional touch with a Bulgarian number.

Cut down on expensive international call charges & maintenance.
You are just one step
ahead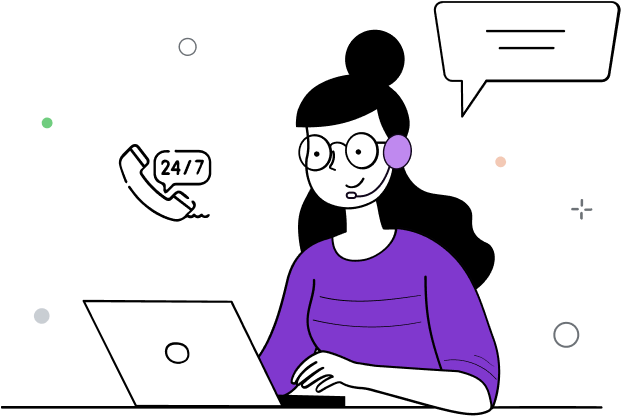 Thank You.
One of our Representative will connect with you shortly.
Get More Leads and Deliver Better Customer Service
Our virtual phone numbers in Bulgaria make it super easy for you to handle incoming calls, track leads, and provide excellent customer service– all while maintaining a professional image and cost.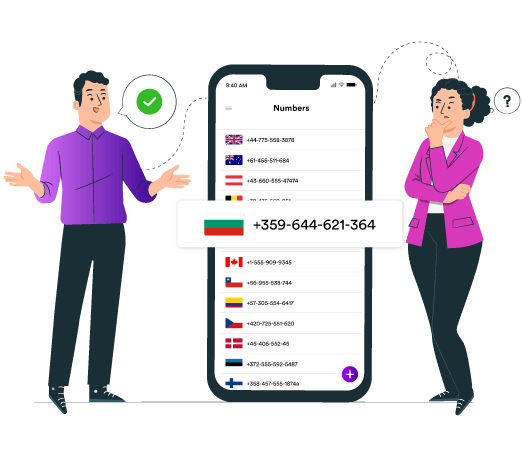 Is Bulgaria Virtual Phone Number a Real Number?
Yes, a virtual phone number in Bulgaria is a real phone number that can be used to make and receive calls, texts, and voicemails just like any other phone number. Here are some interesting facts about virtual phone numbers:
Unlike traditional numbers, virtual numbers work over the internet.

They allow businesses to extend their reach without requiring physical offices.

Virtual numbers are highly portable and can be easily managed online.

It is a widely popular solution for businesses to instill trust in local customers.

Virtual phone numbers are easy to set up, scalable, and customizable.
Benefits of Bulgaria Phone Numbers
Bulgaria virtual phone numbers can bring multiple benefits to your business. Here are 5 key benefits of using Bulgaria numbers:
Connect with customers easily at incredibly lower calling charges.

Expand your business reach and tap into new markets in Bulgaria.

Enhance your brand image– give it a professional touch.

Make data-driven decisions with detailed analytics and reports.

Serve your customers more effectively and in a timely manner.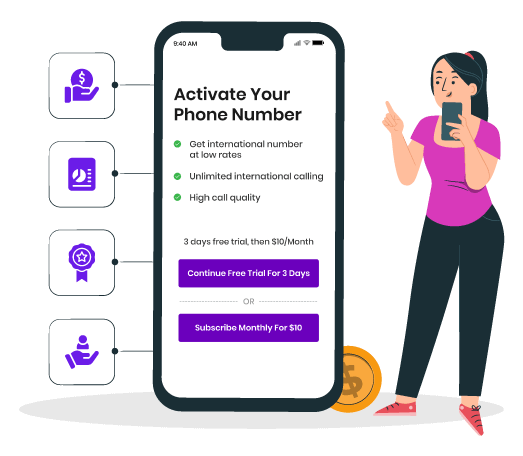 Different Types of Bulgaria Phone Numbers
Virtual phone numbers in Bulgaria come in 3 variants– each serving a different purpose.
Local Bulgaria phone numbers:

Numbers with a local area code. Ideal for establishing a local presence.

Toll-free Bulgaria phone numbers:

Free-to-call numbers. Ideal for managing customer inquiries/feedback.

Bulgarian Mobile numbers:

Numbers for mobile devices. Suitable for personal use as well as SMBs.
Choose the one that best aligns with your business requirements and objectives.
Who Can Buy Bulgaria Virtual Phone Numbers?
Anyone can buy Bulgaria virtual phone numbers, regardless of their location or nationality– unless and until it is used for legal activities. However, when buying a virtual phone number, Keep these factors in mind:
Choose the right type of virtual number– local or toll-free.

Consider the provider's reputation, reliability, and uptime.

Check for all the necessary as well as advanced features.

Consider all types of charges– setup fees, monthly fees, etc.

Ensure to comply with all relevant laws and regulations.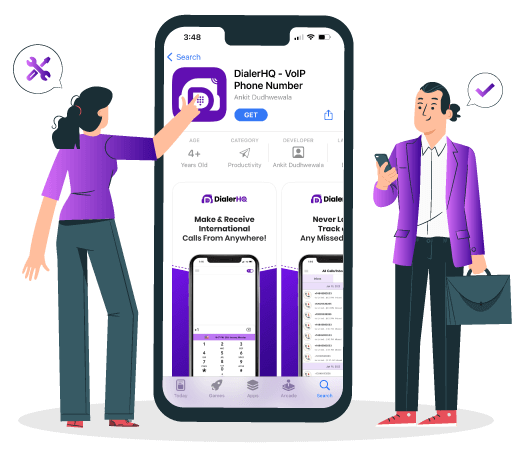 List of Area Codes for Virtual Phone Numbers in Bulgaria:
This is a table that displays area codes for virtual phone numbers in Bulgaria. The purpose of the table is to aid individuals or businesses in selecting an appropriate area code. Information about number types and formats is also included for each area code.
| Area Code | Location | Number Format |
| --- | --- | --- |
| 2 | Sofia | +359 2 xxxxxxx |
| 32 | Plovdiv | +359 32 xxxxxx |
| 52 | Veliko Tarnovo | +359 52 xxxxxx |
| 56 | Ruse | +359 56 xxxxxx |
| 62 | Stara Zagora | +359 62 xxxxxx |
| 72 | Varna | +359 72 xxxxxx |
| 82 | Blagoevgrad | +359 82 xxxxxx |
| 86 | Pernik | +359 86 xxxxxx |
| 88 | Pleven | +359 88 xxxxxx |
| 92 | Burgas | +359 92 xxxxxx |
| 96 | Vidin | +359 96 xxxxxx |
How Much Does Bulgaria Virtual Phone Number Cost?
Call Center Solution (CCS)
Ideal for Bulk Calling for Sales, Support and Call Center Teams
Power & Predictive Dialer
Automatic Machine Detection
Industry leading call connect rates
Compliance Call Recording
Forward To External Device
Smart DID Routing
Speed To Dial
Auto Rotate
Local Presence
Call Barging
Call Queuing
Create Team
Call Whisper
Post Call Survey
After Call Work
Target Vs Achievement
Multiple Level Call Transfer
Route to External Number
Forward to Multiple Device
Google Drive, AWS S3 Integration
Embedded Dialer Integration
Show More
Show Less
Start Free Trial
Office Phone System (OPS)
Ideal for Businesses to support their Customers and not for Bulk Calling
Unlimited calling in UK, US/Can, Aus
Manual Calling Dialer
Auto Rotate DID
Call Tagging
Custom Greetings
Create Team
Call Barging
Shared Inbox
Call Cascading
Audit Logs
Webhook
Phone Support
24*7 Support
Contact Us
Call Notes & Ratings
Dedicated Account Manager
Personalized Onboarding
Advances Integrations
Custom Integrations
Annual Business Review
Show More
Show Less
Start Free Trial
Buy Bulgaria Virtual Phone Number With DialerHQ in 4 Easy Steps
Embark on your DialerHQ journey now by following the 4 simple steps outlined below.


Choose your custom virtual number & make the payment.

Configure your account, features, and settings.

Start making and receiving calls anytime, anywhere.
Features of Bulgaria Phone Numbers
DialerHQ virtual phone system houses a range of cutting-edge features that will take your team's productivity and efficiency to new heights.
Smart Switch
Say goodbye to call connectivity issues with DialerHQ's Smart Switch feature. Choose the best provider and enjoy seamless connections every time.
Number Portability
Keep your existing phone number and switch to DialerHQ's phone service to enjoy all the benefits of our virtual phone system.
Gamification
Make calling fun and engaging with gamification. Increase productivity and motivate your team by turning your sales targets into a game.
SDAP
Impress your callers and provide them with a more efficient and personalized experience with our SDAP feature.
Call Whispering
Coach your team in real time. Supervisors can listen in on calls and provide feedback to agents without the caller hearing.
Voice Broadcast System
Save time and reach more customers. Record and broadcast a message to your vast customer base with a single click.
Frequently Asked Questions
DialerHQ prioritizes excellent call quality. Our advanced VoIP technology ensures minimal disruptions and excellent audio clarity, whether you're making local or international calls using your Bulgaria virtual phone number.
DialerHQ offers flexible payment options for your convenience. You can choose from various payment methods, including credit cards and other secure online payment gateways, making subscribing to our Bulgaria virtual phone number plans easy.
DialerHQ's user-friendly dashboard allows you to customize call forwarding, voicemail settings, and other features according to your preferences. Adapt your communication strategy to align with your business needs seamlessly.
Security is paramount at DialerHQ. We employ industry-standard encryption protocols to safeguard your Bulgaria virtual phone number and communication data.
DialerHQ stands out for its exceptional service quality, user-friendly setup, and competitive pricing. The advanced features, including call recording and IVR systems, empower your business to excel in Bulgaria's dynamic market.
Sign up now and set your foot firmly in the Bulgarian markets
Make international calls & texts without buying a SIM card.