Get a Cambodia Virtual Phone Number
Unite Across Miles: Enjoy Seamless Conversations with Cambodia Virtual Numbers.

Cambodia Virtual Numbers: Local Reach, Global Impact.

Extend Your Global Reach: Cambodia Virtual Phone Numbers.
What is a Cambodia Virtual Phone Number?
A Cambodia virtual number is a telephone number that operates over the Internet, allowing businesses to establish a virtual presence in Cambodia without a physical location. It enables call forwarding to any desired destination, enhancing communication and accessibility, making it a cost-effective and convenient tool for international connections and expanding market reach.
Mark Your Presence in Cambodia With a +855 Phone Number
Enhance your business reach in Cambodia with a Cambodian virtual phone number +855. Improve communication credibility and expand your reach with a virtual Cambodia number. The powerful tool empowers you to:
Foster local partnerships and collaborations.

Efficiently manage customer inquiries and support.

Access previously untapped potential markets.

Personalize call routing for high-tech customer experiences.

Secure a prominent Cambodian market presence, eliminating the need for physical office setups.
Benefits of Cambodia Virtual Numbers
Investing in a Cambodia phone number can elevate your business and provide benefits like global reach, cost savings, enhanced flexibility, and communication.
Global Reach:

With the Cambodia virtual phone numbers, businesses can establish a local presence in Cambodia without being physically present.

Cost-Efficiency:

DialerHQ's Cambodia numbers are more cost-effective than setting up a physical office in Cambodia.

Improved Flexibility:

Cambodia phone numbers offer unparalleled flexibility. Easily redirect calls to any location. Never miss important calls, even if you're on the move.

Enhanced Communication: Cambodia virtual phone numbers have advanced features like call recording, IVR menus, and call forwarding.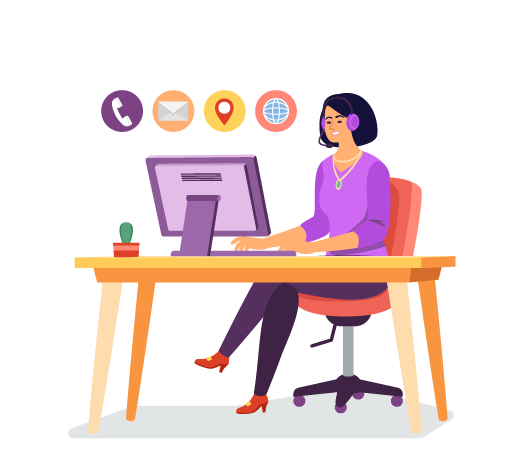 Different Types of Cambodia Virtual Number
Cambodia Local Numbers:

Discover Cambodia's vibrant culture with local numbers that connect you to its exciting business opportunities. Explore the Cambodian market today!

Cambodia Toll-free Numbers: Unlock Cambodia's potential with toll-free numbers – empower businesses to connect, engage, and grow while fostering customer satisfaction effortlessly.
Cambodia International Numbers:

Explore Cambodia's international dialing codes, making global connections effortless. Stay connected with Cambodian customers seamlessly.

Port Your Cambodia Number:

Upgrade your call experience with DialerHQ! Seamlessly port your Cambodia numbers and enjoy clear connections, flawless integrations, and robust features today!
What Types of Virtual Phone Numbers Can You Get in Combodia
This table offers information on the different kinds of virtual phone number that businesses can use in Cambodia. These numbers include local, toll-free, national, international, mobile, and vanity numbers, and allow businesses to establish a presence in Cambodia without needing an actual office. Toll-free numbers are particularly useful for providing free phone services to customers, while vanity numbers are memorable and help businesses stand out. Overall, virtual phone numbers provide businesses with the flexibility to improve customer service and grow their presence in Cambodia.
| Type of Virtual Number | Dialing Code | Example |
| --- | --- | --- |
| Mobile | +855 | +855 12 345 678 |
| Landline | +855 | +855 12 345 678 |
| Toll-Free | +855 | +855 1800 1234 |
Popular Area Codes in Cambodia
This table provides a comprehensive list of popular area codes in Cambodia for phone numbers. The table includes the corresponding cities, phone number formats, and examples of how to dial within Cambodia. The information in this table can be useful for anyone who needs to make phone calls within Cambodia and wants to ensure they use the correct area code and phone number format.
| Area Code | City | Phone Number Format | Example |
| --- | --- | --- | --- |
| 23 | Phnom Penh | (023) XXX-XXXX | (023) 123-4567 |
| 54 | Battambang | (054) XXX-XXXX | (054) 987-6543 |
| 63 | Siem Reap | (063) XXX-XXXX | (063) 555-7890 |
| 63 | Siem Reap | (063) XXX-XXXX | (063) 555-7890 |
| 15 | Kandal Province | (015) XXX-XXXX | (015) 234-5678 |
| 72 | Sihanoukville | (072) XXX-XXXX | (072) 789-0123 |
| 33 | Kampong Cham | (033) XXX-XXXX | (033) 456-7890 |
DialerHQ Pricing Plans for Combodia Virtual Phone Number
How to Get a
Cambodia

Virtual Number?

Embark on your DialerHQ journey now by following the 4 simple steps outlined below.

Sign in to DialerHQ.

Choose your custom virtual number & make the payment.

Configure your account, features, and settings.

Start making and receiving calls anytime, anywhere.
Features of
Cambodia

Virtual Phone Number

With DialerHQ's temporary Cambodia phone numbers, you will gain access to a suite of advanced features, including those listed below.
Real-Time Analytics
Gain valuable insights into your call campaigns with real-time analytics and reporting, enabling data-driven decision-making to optimize your outreach strategies.
Auto-Dialing and Call Routing
Automate outbound calls with auto-dialing features and smart call routing to ensure efficient and targeted communication.
Power Dialer
Streamline and optimize outbound calling processes for sales and customer service teams. Automate the calling process and make it efficient.
Global Connect
Enable seamless international communication and foster collaboration and accessibility across borders through VoIP, multi-language support, and secure connectivity solutions.
Call Routing
Intelligently route calls to available agents, ensuring that the right agent connects with the right lead, improving efficiency and customer satisfaction.
Smart Switch
Automate call routing, ensure efficient connections, improve customer service, and optimize agent productivity to efficiently streamline your calls.
Call Conference
Seamlessly offer international conference calling capabilities, enabling collaboration and communication among team members spread across the globe.
Need a Quick & Easy
Cambodia

Phone Number ?
Make international calls & texts without buying a SIM card.
Frequently Asked Questions
A virtual phone number in Cambodia operates through internet technology, allowing users to make and receive calls online rather than traditional phone lines. It offers flexibility and cost-effectiveness, making it an ideal solution for businesses and individuals needing a Cambodian presence without physical infrastructure.
To set up a virtual phone number in Cambodia with DialerHQ, visit their website, sign up, and choose Cambodia as your desired location. Select a plan, enter your payment details, and follow the prompts to customize your virtual number. DialerHQ offers a seamless setup for your Cambodian business communication needs.
No, Cambodia's virtual numbers typically do not require long-term contracts. They offer flexibility with options for short-term plans, making them a convenient choice for businesses and individuals seeking temporary or adaptable communication solutions in the Cambodian market.
Yes, when selecting a virtual phone number in Cambodia, you can often choose a specific city or region code to customize your business presence. This flexibility allows you to target local markets and enhance accessibility, boosting your global reach and customer engagement.
Yes, you can utilize a virtual phone number in Cambodia for personal purposes. Virtual numbers offer flexibility and convenience, allowing you to make and receive calls as if you were physically in Cambodia, making it an ideal solution for international communication and privacy.