Senior Writer: Priya Naha
Reading Time:
9
Minutes
Published :
November 21, 2022
People get frustrated waiting in queues to get on roller coaster rides. Imagine the situation where you must stay in call queues for technical assistance! 60% of customers say waiting a long time to get the intended service is one of the major causes of subpar customer service. With appropriate call queues, you can provide callers with the needed assistance without sacrificing time and quality of service. Let's gain an understanding of call queuing, its usage, and its benefits to help businesses gather insights on improving customer experience. 
What is Call Queuing?

Call queuing is a technical system that places inbound callers in virtual queues. It is a business phone system feature based on pre-established criteria that puts inbound callers on a virtual line until an ideal agent to assist them becomes available.  With a call queue system, companies can efficiently minimize their call waiting time and direct the callers to the right person.  The main purpose of a phone queue system is to cut down on hold time, the number of phone calls/amount of talk time needed to resolve an issue, and call transfers.  A phone call queue achieves its purpose by evaluating details from caller interactive voice response (IVR) input, following preset call routing rules, and providing useful information while customers wait for an agent. 
Need a reliable and affordable business phone system? Look no further than DialerHQ.
How Does Call Queues Work: A Step-by-Step Guide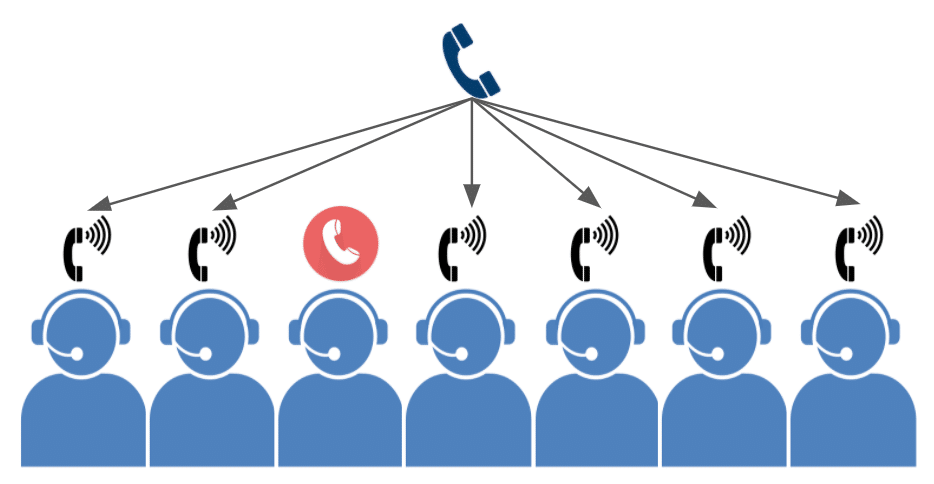 The incoming call-in queues can get frustrating. But, with the right process, you can always achieve excellent customer satisfaction. Call queues follow six steps to help businesses instantly connect calls to the ideal caller agent and improve customer retention. The six steps are:
Adhere to business schedule rules

Manage pre-recorded greetings

Automatic Call Distribution (ACD)

Call routing

Advanced call handling

Historical call queue analytics and real-time monitoring 
Step 1: Adhere to Business Schedule Rules 
The time of the call in connection to the predetermined business schedule is the first thing a call center queue system considers before interacting with a caller.  Call queuing management follows a particular path that depends on the case of received calls:
During a weekday or over the weekend

During or after regular business hours

During a holiday
Step 2: Manage Pre-Recorded Greetings
Multiple businesses have pre-recorded messages instead of typical phone rings. Such messages are greetings that play automatically when a caller calls your company. You can customize your greetings or select them from a VOIP provider's ready-made library.  The pre-recorded messages must include crucial information that can assist customers in the best way. It must consist of details like:
Business names and business hours

IVR menus that collect data from customers

Details on current agents available

Details on language choices

On-hold music or on-hold messages
Step 3: Automatic Call Distribution (ACD)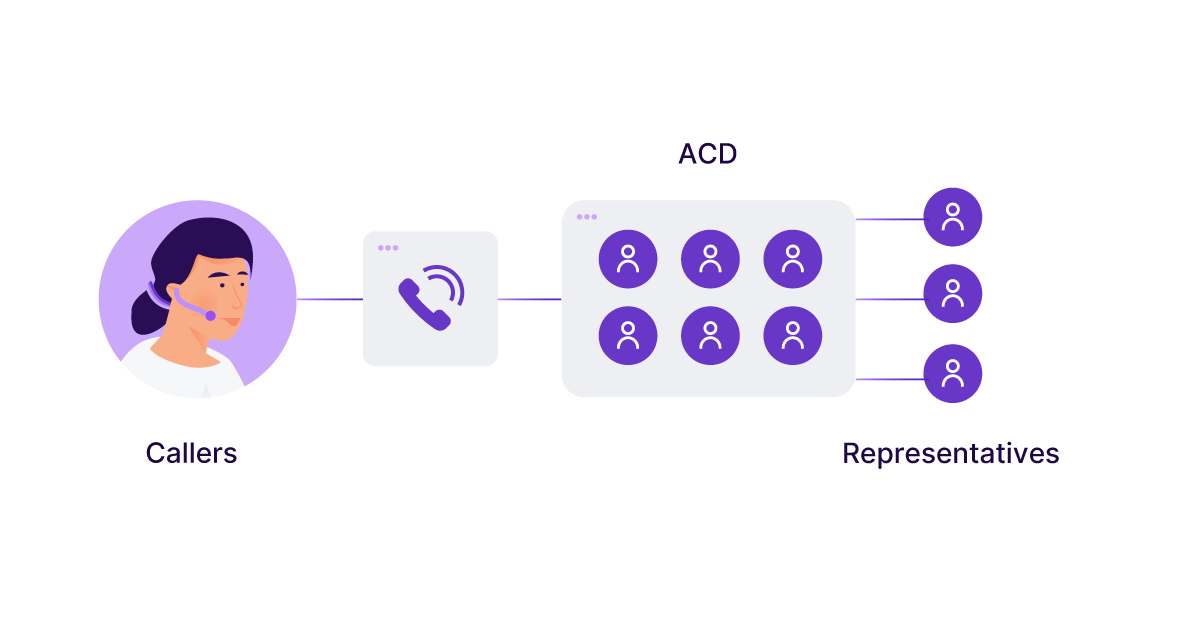 Automatic call distribution is a business phone system feature that receives inbound calls and delivers them to specifically available agents.  ACD follows the predefined call routing rules to connect callers to the appropriate agents through the First In, First Out method, a chronological pattern where the caller in the queue is the first caller sent to an available agent. You must know that ACD and IVR aren't the same things. ACD is a tool that distributes the calls to the proper agents based on the details that the IVR system collects. And IVR collects the customer information that informs the ACD where the calls will be sent. It also gathers details like customer name, the reason for calling, department name, and others. 
Step 4: Call Routing
One of the essential steps in the phone queue process is call routing, which determines the specific agents to which the callers will speak. Using call routing strategies, ACD distributes calls to the appropriate available agents.  The call routing strategies include:
Sequential Routing

: In sequential routing, calls follow a list-based routing strategy that starts at the first agent every time. It is an ideal option for small departments. 

Skills-Based Routing

: In skills-based routing, the calls are routed to agents according to their specific skills and training. Billing departments and customer service departments receive such calls.

Round Robin Routing

: In round robin routing, agents receive calls rotationally. Here the first caller goes to the first agent, the second caller goes to the second agent, and so on. It is an ideal option for sales teams.

Time-Based Routing

: In time-based routing, calls are sent to the specific available agents based on their time zone. It is an ideal option for geographically diverse and remote teams.

Least Occupied Routing

: In the least occupied routing, the agent who hasn't spoken to customers in a long while receives the call. It is an ideal option for optimizing employee productivity. 
Step 5: Advanced Call Handling 
Advanced call handling helps agents specify the ways they can manage calls. Advanced call handling has multiple options:
Simultaneous ringing

Interactive Voice Response (IVR)/ multi-tier IVR

Shared voicemail

Hot desking/call park

External call forwarding
Step 6: Historical Call Queue Analytics and Real-Time Monitoring 
Historical call queue analytics and real-time monitoring play an important role in call center queue systems. With live views, you can get insights into the average hold time, the number of callers in the queue, available agents, and queuing data by department. Optimizing the calls in the queue is easy to prevent agents from getting overburdened and reduce waiting times.  With historical call queue analytics, managers can understand the recurring issues and peak times and allot agents in a better way. Managers can also examine employee performance and productivity and identify communication trends. 
What is Call Queue Management?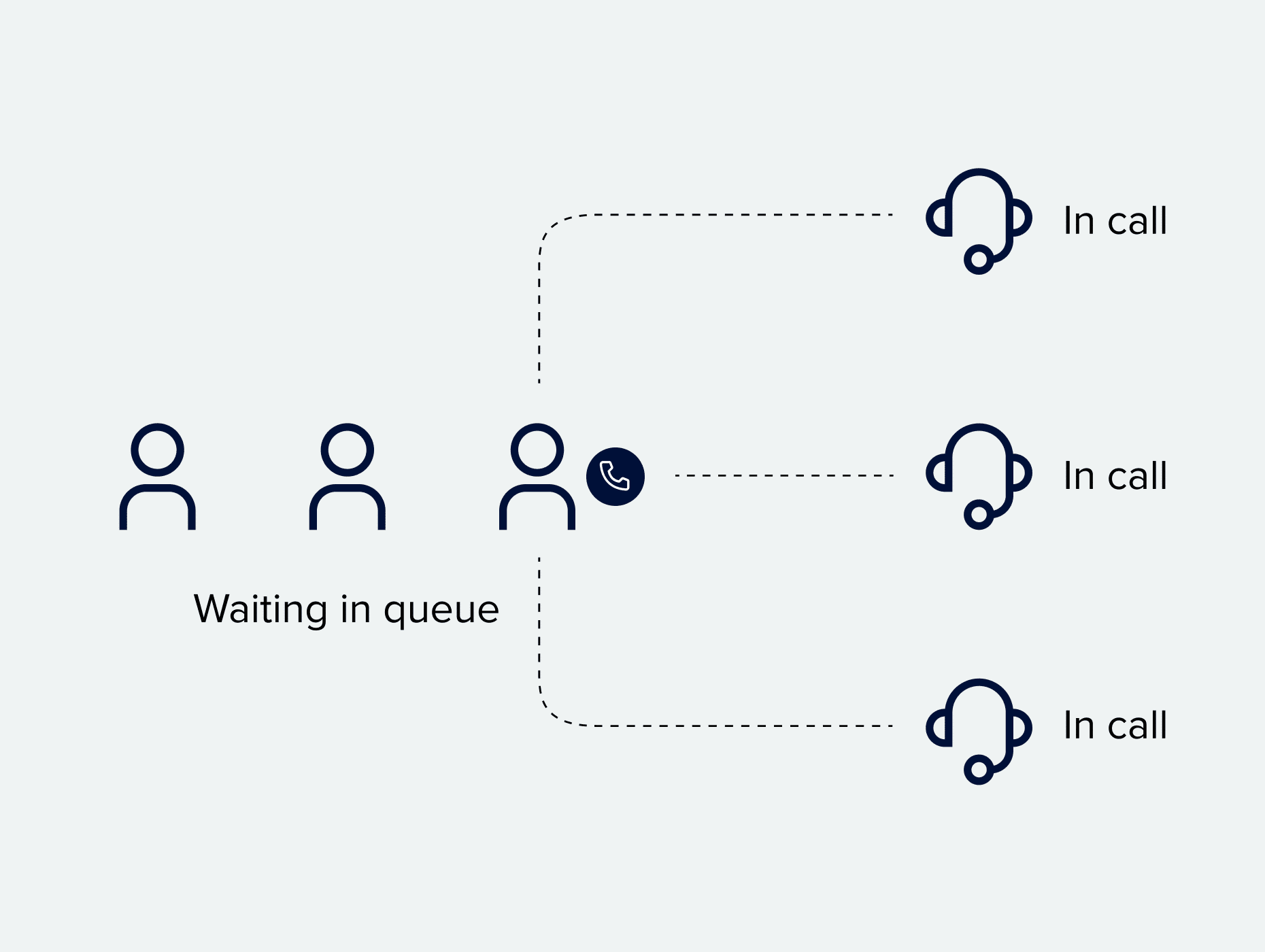 Call queue management is the steps you take to enhance call flow, improve your business' calls in the queue strategy and reduce your customer's waiting time. It consistently monitors and analyzes the call queues to find the best ways to optimize them. But what is the importance of call queue management? Let's take a look:
What are the Benefits of Call Queue Management?
These are the following benefits of call queue management:
1. Reduces Customer Waiting Time 
Nobody likes to wait. And statistics are proof of that! For example, 60% of customers say that long waiting is one of the most frustrating aspects of customer experience.  But, with call queue management, you can optimize queues that will decrease the average call handling time. It will benefit the agents who can spend more time selling and offering customer service. 
2. Enhance First Call Resolution Rates
First call resolution rates (FCR) refer to the time taken to solve customer issues during the first direct communication with caller agents.  The faster you get a customer connected to the right agent; the higher your FCR will be! FCR improves customer loyalty. Customers always prefer agents who can sort out issues at the first contact.  Also, with higher FCR rates, the operational costs will become significantly low, increasing the CSAT rates. 
3. Reduces Call Abandonment Rates
Call abandonment rates measure the speed at which customers hang up while waiting to speak to an agent or during a call with an agent before the issue is resolved.  Mostly call abandonment rates are high due to long hold times, unhelpful agents, and lengthy IVR menus.  With call queue management, customers can quickly connect with specific agents who can help them resolve their queries. And, the faster agents resolve their questions, the lesser the call abandonment rates. It also increases the chances of closing deals and improves customer satisfaction levels. 
4. Improve Employee Productivity and Satisfaction
Call queue management decreases employee turnover. In addition, with calls in the queue process, agents don't have to deal with frustrated customers as they get assigned only to appropriate agents. Agents can deliver the best customer service, fine-tune sales pitches and work on the parts they enjoy the most! In addition, it improves employees' satisfaction levels, retention rates, and productivity.
What are the Factors that Result in Lengthy Call Queues?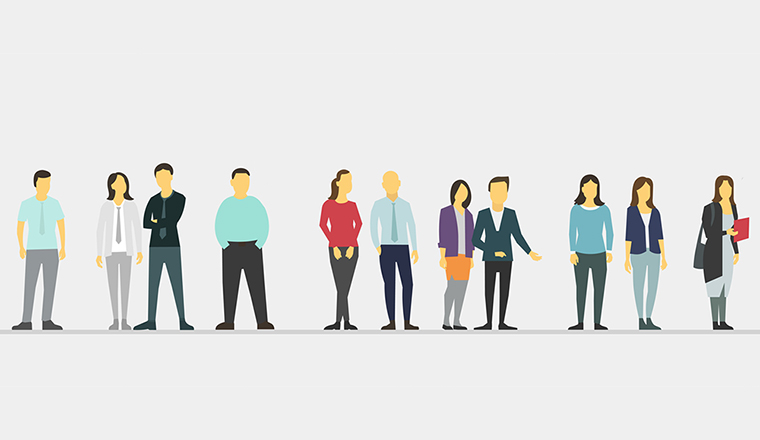 The various factors for long call queues are:
1. Absence of Customer Self-Service 
One of the factor for long call queuing is the lack of customer self-service. Customer self-service is a crucial part of the customer experience. Only a limited number of customers prefer conversations with live agents. The IVR system provides callers to pay bills on the phone and get solutions to basic queries.  But self-service is a better option.  Callers can get the details from online tutorials, databases, chatbots, and videos. There is no need for extra support.  With self-service, agents can connect with callers who need detailed assistance with their queries. Besides, agents will retain their valuable time answering the same questions repeatedly.
2. Prime Call Seasons
Another factor for long calls in the queue can be the time of peak call seasons. As a result, there will be times when you will have unexpectedly high call volumes.  You can examine customer behavior to identify times of the year, month, or day when incoming calls outpace the current number of agents.  Some popular solutions are automating routine tasks to free out agents or providing agents with inter-detailed call scripts to assist other departments at times of need. 
3. Average Trained Staff
A team of average-trained agents and unorganized and unskilled staff members can increase the call queuing length.  You can create training webinars by offering detailed internal wikis for employees who can get access during calls and also take advantage of the free training courses. As a result, business service providers can empower their team members with the knowledge to give customers better service. 
Best Practices to Improve Call Queue Management?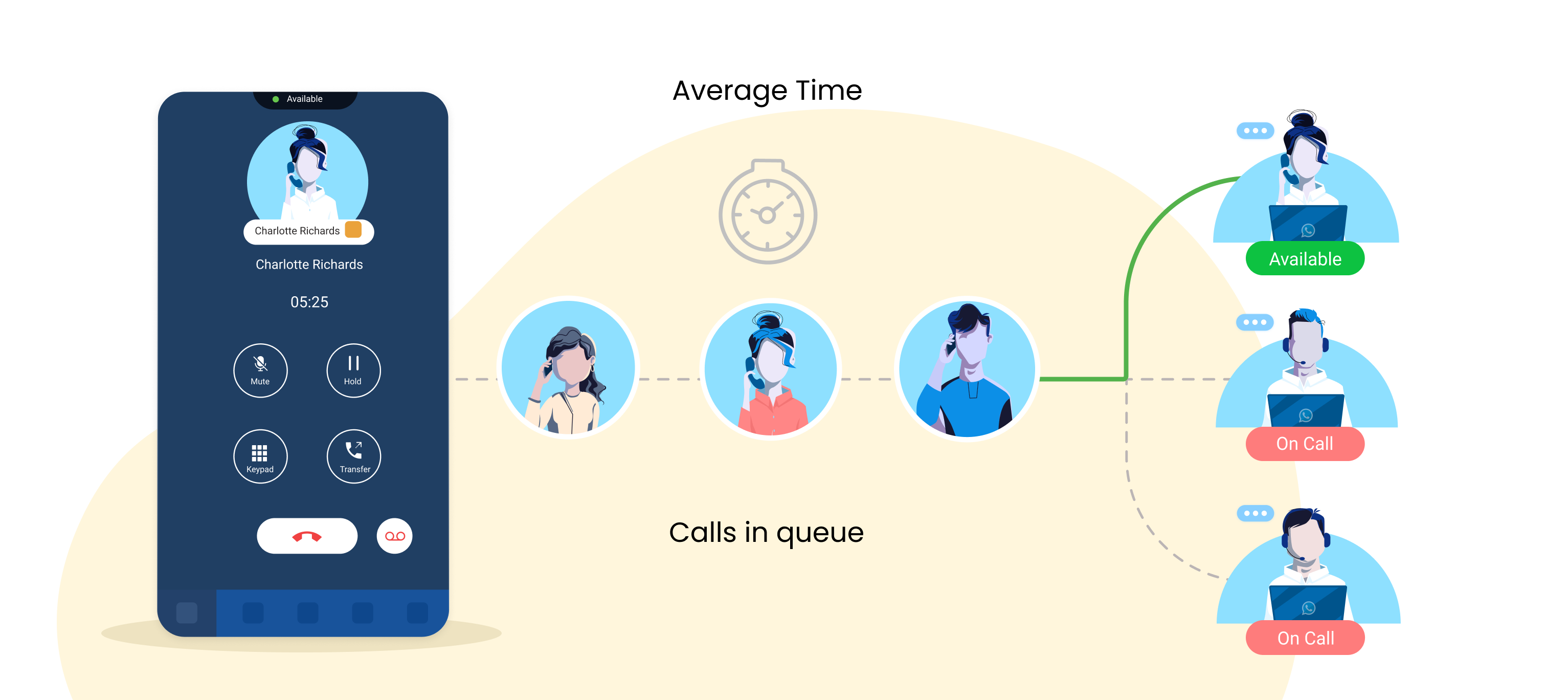 There are countless ways to improve phone queue management. You don't need to hire extra employees or outsource customer service agents.  The following tips will help you improve contact center queue management. With the below-mentioned tips, you can decrease calls in queue times and improve customer satisfaction.
1. Offer Virtual Queuing and Automated Callbacks 
Automating customer callbacks don't just shorten calls in the queue but also improves customer satisfaction levels. With automated callbacks, customers can choose the time to receive the callbacks. With this act, you put the power in the hands of consumers by making them feel valued.  Offering virtual queues is also a good option. It is almost similar to automated callbacks. The only difference is that you get a callback in a virtual queue as soon as an agent is available.
2. Make Use of Diverse Routing Strategies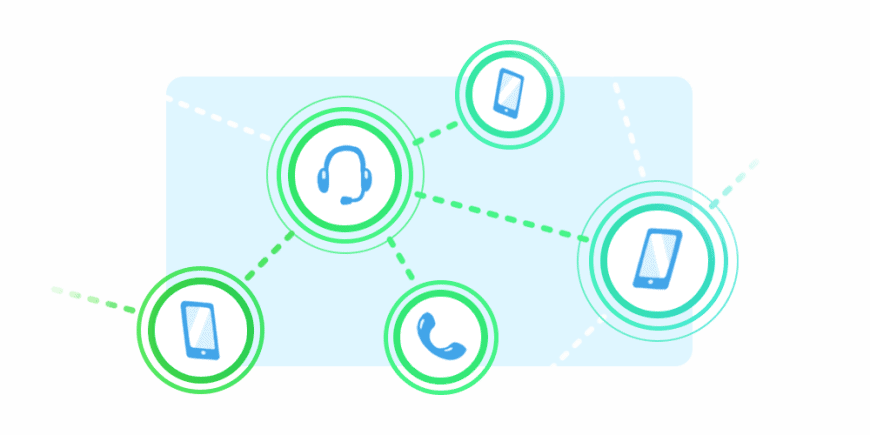 To improve your calls in queue rates, only one strategy for your business phone number isn't feasible. Instead, you can use different routing options for multiple departments based on the present call volume, agent schedules, customer status, etc.  Analyze the routing strategies that are most efficient for your specific situation. Then, ensure that you use these strategies to keep pace with increasing customer expectations and business demands. 
3. Form Call Groups 
Create call groups in call centers to set specific agents and take specific calls based on agent preferences, agent skills, and time of the day.  Often called ring groups, call groups are agent phone extensions/numbers that are based on preconfigured settings. For example, the admins can adjust call groups so that the phone numbers in the group can simultaneously ring before the caller is sent to the next member. The goal is to connect the caller with a live agent during the first call.
4. Utilize the IVR Feature
Use IVR and let the customers clearly explain the reason for calling by responding to their prompts or questions by taking their response on phones or using the phone dial pad. The IVR feature also provides pre-call information to the agents.  Automated IVR collects the contact information and caller identity, the primary reason for calling, and the department to which the caller wants to speak. As a result, a call center agent can go to the customers when they connect with them in real-time since they are already aware of the issue.  Moreover, callers don't have to repeat the same information to various agents, which reduces customer frustration levels to a great extent. 
5. Use Workforce Management (WFM) Tools
With workforce management tools, you can streamline business processes and employee workflow, which improves productivity levels.  Workforce management tools help in phone call queue management as they ensure that sufficient agents in each department with each skill are available throughout the day. In addition, it prepares your company for issues like peak-time calls through agent scheduling, forecasting, and real-time agent allocation. 
Conclusion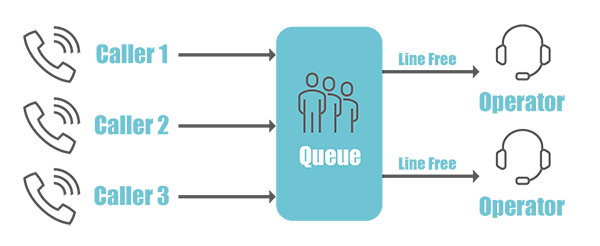 Managing calls in the queue is of great importance to businesses. To improve your strategy, use the right call queuing software and stop relying on tools that don't match customer expectations.  Call center platforms and advanced VOIP offers various phone queue system management features like CRM integration, remote call forwarding, and automated callbacks to optimize call queues and speed up the resolution process.
FAQs
The difference between a call queue and an auto attendant is that the call queue places and handles incoming calls into one or more virtual queues. But an auto-attendant directs callers to an appropriate agent or department based on the callers' input.
In PBX, a queue is a flow or process for inbound calls. Therefore, you can control each group's ring time and manage ring groups that receive calls.
Call queuing systems can help your business in the following ways:
Reduce customer waiting time
Minimize operational costs by having fewer callers on hold
Ensure fair workload distribution among the team
Lessen pressure and stress for agents
Prevent employees from missing calls

Priya is a seasoned writer with over 5 years of experience, specializing in VoIP and cloud telephony. She is also well informed about content and digital marketing. Her expertise extends to SEO, ensuring her work not only informs but also ranks. She's your go-to writer for the telecom industry. Connect with her on Linkedin.
Updated : September 12, 2023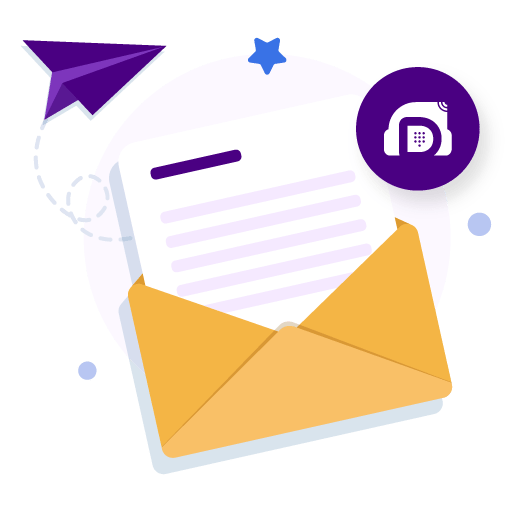 Let's Stay in Touch
Subscribe to our newsletter & never miss our latest news and promotions.

+21K people have already subscribed