Get Switzerland Virtual Numbers
Upgrade your business communication with next-gen VoIP solutions.

Seamlessly connect with Switzerland clients from anywhere in the world.

Save big on international calling, operational, and infrastructure costs.
What is a Switzerland Virtual Number?
A Switzerland virtual number is a web-based phone number associated with Switzerland but operates via the internet. It allows businesses to establish a local presence, enabling cost-effective international communication, and enhanced customer accessibility. Overall it fosters global business expansion and customer trust.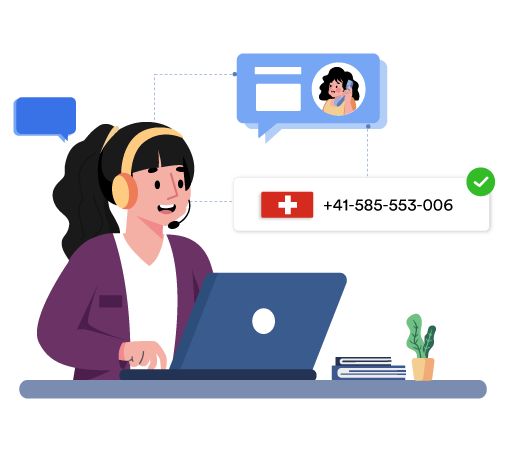 Dominate the Swiss Market with a +41 Phone Number
Command the Swiss market's attention with DialerHQ's +41 phone number. Elevate your presence, connect seamlessly, and cultivate trust with a local touch.
Build credibility and customer trust within the region.

Provide easy access for Swiss clients, boosting interaction.

Save on international calling costs and infrastructure costs.

Forward calls to any device– never miss an opportunity.

Amplify brand image with dedicated Switzerland area codes.

Gain real-time rich insights into results for informed decisions.
Benefits of Switzerland Virtual Numbers
Buying a Switzerland virtual number from DialerHQ unlocks an array of benefits, including global accessibility, on-demand scalability, cost savings, and many others.
Cost-effective: We understand the budget constraints faced by businesses. Hence, our experts have crafted plans starting at $0, enabling businesses to achieve optimal value for money.
Regional presence:

Acknowledging your global aspirations, we offer numerous local area codes for 80+ countries, enabling you to establish or expand your presence effortlessly.

Improved productivity: Our virtual phone solution boasts 50+ features, purpose-built to amplify agent productivity, enhance customer experiences, and boost business revenue.
Valuable Insights:

Harnessing our dynamic dashboard, you gain rich, real-time insights into your results and activities– empowering you to navigate your efforts in the right direction.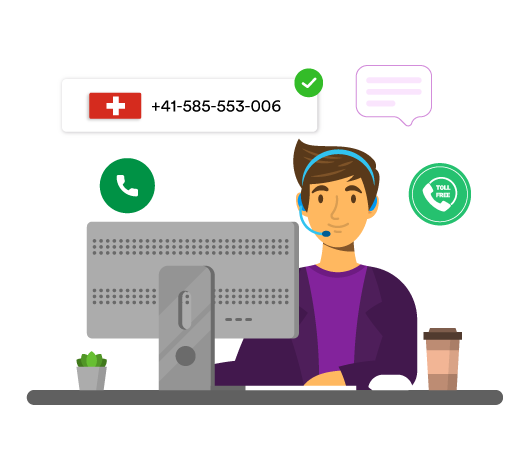 Different Types of Switzerland Virtual Numbers
Switzerland Local Numbers: Establish credibility in Switzerland with DialerHQ's virtual local numbers. Build local connections, boost customer trust, and expand your market reach effortlessly while enjoying cost-effective communication.
Switzerland Toll-free Numbers:

Enhance customer accessibility and service with Switzerland toll-free numbers from DialerHQ. Engage clients seamlessly and reinforce your brand image with a customer-centric approach.

Switzerland International Numbers:

Go global with DialerHQ's Switzerland international numbers. Reach customers worldwide, simplify cross-border communication, and adapt to diverse markets efficiently– all while maintaining a Swiss identity.

Port Your Switzerland Numbers:

Switching to DialerHQ is a breeze. Keep your existing Switzerland numbers by porting them to our platform. Experience improved features, flexibility, and exceptional service.
What Types of Virtual Phone Numbers Can You Get in Switzerland?
This table offers information on the different kinds of virtual phone numbers that businesses can use in Switzerland. These numbers include local, toll-free, national, international, mobile, and vanity numbers, and allow businesses to establish a presence in Switzerland without needing an actual office. Toll-free numbers are particularly useful for providing free phone services to customers, while vanity numbers are memorable and help businesses stand out. Overall, virtual phone numbers provide businesses with the flexibility to improve customer service and grow their presence in Switzerland.
| Type of Virtual Number | Dialing Code | Example |
| --- | --- | --- |
| Toll-Free Number | +41 800 | +41 800 123456 |
| Mobile Number | +41 76 | +41 76 5557890 |
| Geographic Number | +41 44 | +41 44 9876543 |
Popular Area Codes in Switzerland
This table provides a comprehensive list of popular area codes in Switzerland for phone numbers. The table includes the corresponding cities, phone number formats, and examples of how to dial within Switzerland. The information in this table can be useful for anyone who needs to make phone calls within Switzerland and wants to ensure they use the correct area code and phone number format.
| Area Code | City | Phone Number Format | Example |
| --- | --- | --- | --- |
| 22 | Geneva | +41 22 XXX XXXX | +41 22 123 4567 |
| 43 | Zurich | +41 43 XXX XXXX | +41 43 987 6543 |
| 44 | Basel | +41 44 XXX XXXX | +41 44 234 5678 |
| 31 | Bern | +41 31 XXX XXXX | +41 31 876 5432 |
| 21 | Lausanne | +41 21 XXX XXXX | +41 21 345 6789 |
DialerHQ Pricing Plans for Switzerland Virtual Phone Number
How to Get a Switzerland Virtual Number?
Embark on your DialerHQ journey now by following the 4 simple steps outlined below.

Sign in to DialerHQ.

Choose your custom virtual number & make the payment.

Configure your account, features, and settings.

Start making and receiving calls anytime, anywhere.
Features of Switzerland Virtual Phone Number
With DialerHQ's temporary Switzerland phone numbers, you will gain access to a suite of advanced features, including those listed below.
Power Dialer
Supercharge your call outreach using our revolutionary Power Dialer feature. Amplify your connection rates, efficiency, and conversions.
Global Connect
Heighten your worldwide client interaction with Global Connect. Elevate call pickup rates and engagement rates with international clientele.
Smart Switch
Bid farewell to call connection issues through Smart Switch. Effortlessly select optimal providers for uninterrupted, seamless call experiences.
Call Barging
Monitor and improve calls with Call Barging– allowing superiors to make real-time interventions to ensure quality service.
Call Queuing Software
Enhance call management with Call Queuing Software– keeping both waiting customers and agents well-informed about the calls in the queue.
Smart Call Forwarding
Easily redirect calls using predefined rules through Smart Call Forwarding– ensuring crucial opportunities are never missed.
Call Transfer
Effortlessly move calls using Call Transfer. Ensure smooth transitions and provide customers with the appropriate agent and assistance.
Frequently Asked Questions
To get a Switzerland number for WhatsApp, sign up with DialerHQ, choose the preferred virtual number for Switzerland, link it to your WhatsApp account, and start using it to send and receive messages.
A Switzerland virtual number operates through VoIP technology. It allows you to have a Swiss phone number without a physical SIM card– offering flexibility, reliability and cost-effectiveness.
Yes, DialerHQ Switzerland virtual numbers are secure. We use encryption protocols for communication– ensuring the privacy and confidentiality of your conversations and data.
Switzerland phone numbers usually start with the area code "+41."
You should opt for DialerHQ for Switzerland virtual numbers because it offers a budget-friendly virtual phone solution featuring 50+ robust features, dedicated customer support, 99.9% system uptime, a global network, and beyond.
DialerHQ offers Switzerland virtual phone numbers in four different plans– Basic ($0/user/month), Bronze ($7.99/user/month), Silver ($11.99/user/month), and Platinum ($19.99/user/month). In addition, they also provide various add-on solutions and services.
Getting a virtual number for Switzerland is quick and easy. Simply sign up with DialerHQ, choose Switzerland as the country, select your preferred virtual number type, make the payment, and start using it within minutes.
No, you don't need any additional hardware to use a Switzerland virtual phone number. Since it operates over the internet, all you need is a reliable internet connection and a device like a computer or smartphone.
Yes! DialerHQ provides detailed call analytics for your Switzerland virtual phone number– helping you measure key call center KPIs, assess customer interactions, and optimize your strategies continuously.
Setting up a virtual number for Switzerland with DialerHQ is quick and easy. Typically, the entire setup process– from selecting a number to configuring the system, can be completed within a few minutes.
Need a Quick & Easy Switzerland Phone Number ?
Make international calls & texts without buying a SIM card.