Senior Writer: Paras Kela
Reading Time:
15
Minutes
Published :
August 5, 2022
Your virtual office phone system is one of the most crucial assets for small business owners. You'll need to utilize it regularly in your organization. If you pick a small business phone system wisely, it can give you a significant competitive advantage.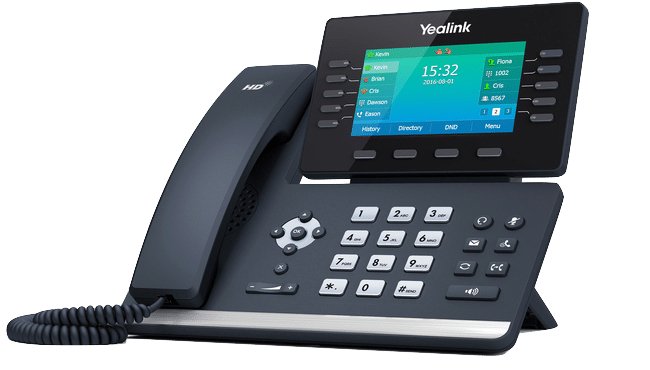 Source
After all, business communications are essential to every company. Being accessible to customers, suppliers, and staff is vital, and small firms can accomplish it just as well as huge corporations, if not better.
But you need to have the appropriate small business phone system. How, then, do you pick the best one? What benefits do various phone systems and service providers provide? Let's take a look.
Introduction To Small Business Phone Systems
A business phone system is a multiline system that includes call recording, voicemail-to-email functionality, ring groups to call multiple employees simultaneously, unlimited calling, automated menus, and voicemail.
Your company can place and receive inbound and outbound business calls using phone systems for small businesses. 
What are the Different Types of Business Phone Systems? 
These are the following small business phone systems:
1. VoIP
Voice over Internet Protocol (VoIP) technology enables users to place voice calls using a high-speed internet connection rather than an analog phone line.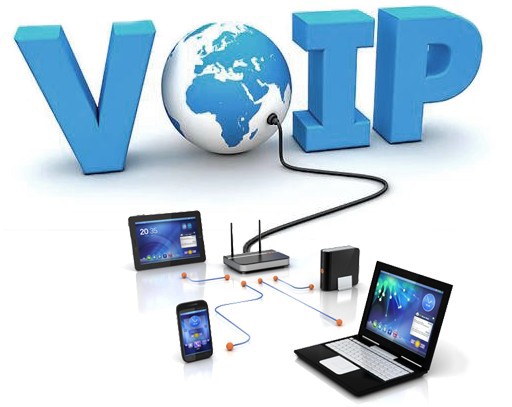 Source
It is simple to set up, leverages your broadband connection for phone conversations, and allows you to pay as you go with little upfront investment. It frequently includes softphone applications with either an iOS or an Android mobile phone.
2. PBX
A Private Branch Exchange (PBX)  is a telephone system that organizations use for all users to share a set number of external phone lines while transferring calls between users on local lines. It is an expensive choice.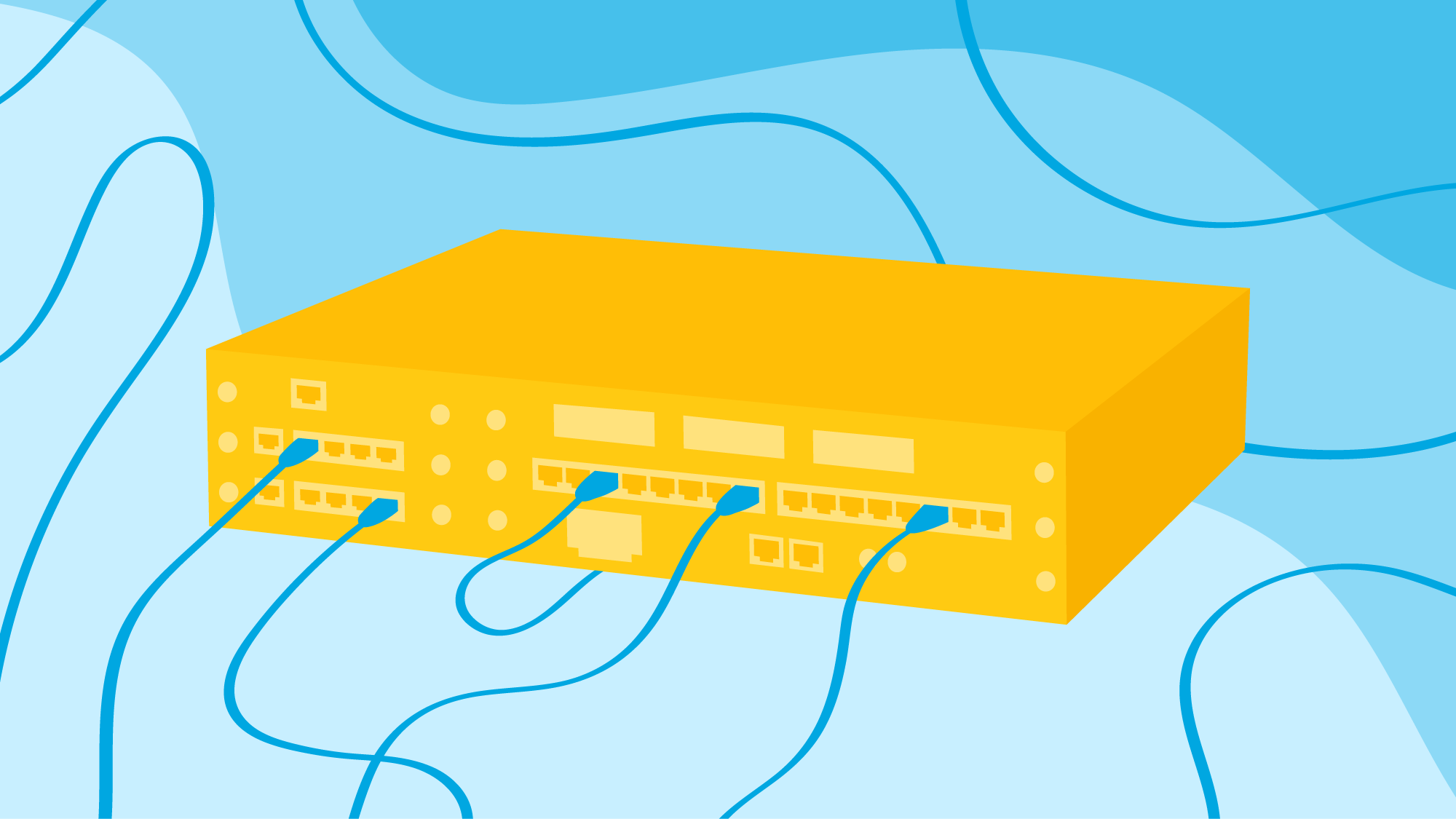 Source
In most cases, you'd have to invest in extra technology upfront and pay an IT professional to assist you with adjustments like adding users or changing voicemail settings. Some PBX systems have improved and are better at this. However, a PBX system calls for extra effort.
3. KSU
The key phone system is among the most basic of the three telephone systems for small business. Multiple business phone system FAQs asks ways to use the KSU. We'll help you with this!
You need to install a  hardware system placed in a cabinet on your property called a key system unit (KSU) by a service technician.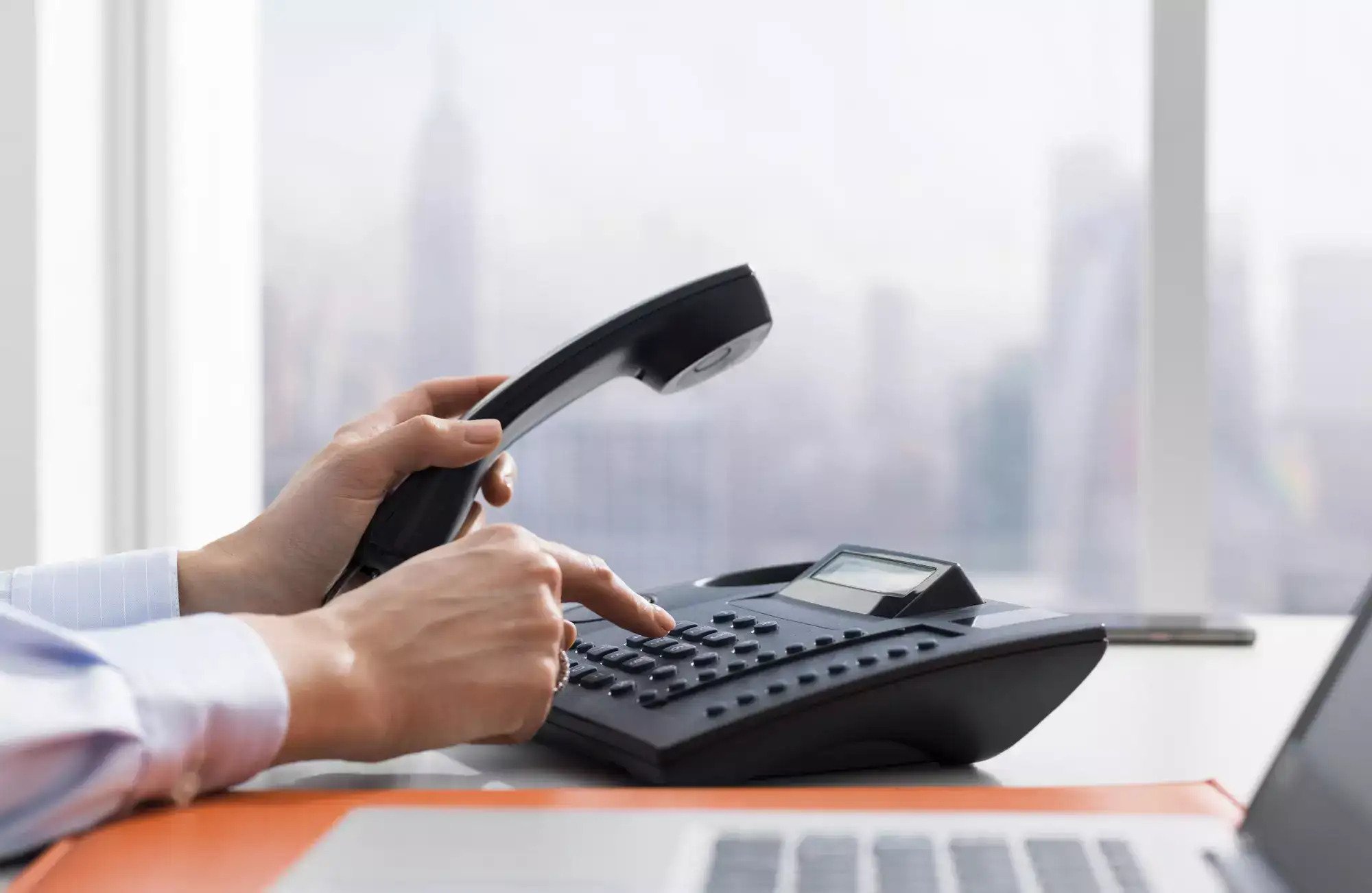 Source
This type of phone system is appropriate for small firms with fewer than forty employees working as phone operators.
It is a simple system to use and is equipped with all the crucial characteristics. However, the KSU phone system lacks portability and flexibility. 
Top Features of a Small Business Phone System
Your company's phone system can make your business a success or failure.
How can you tell which type of phone system is best for your company when so many options are available?
The following comprehensive features list will help you find the best phone systems for a small business. 
1. Auto – Attendant
Phone systems for small businesses can benefit greatly from auto attendants; a professional greeting, call routing to cell phones (or twinned desk phones) and voicemail to email are just a few features.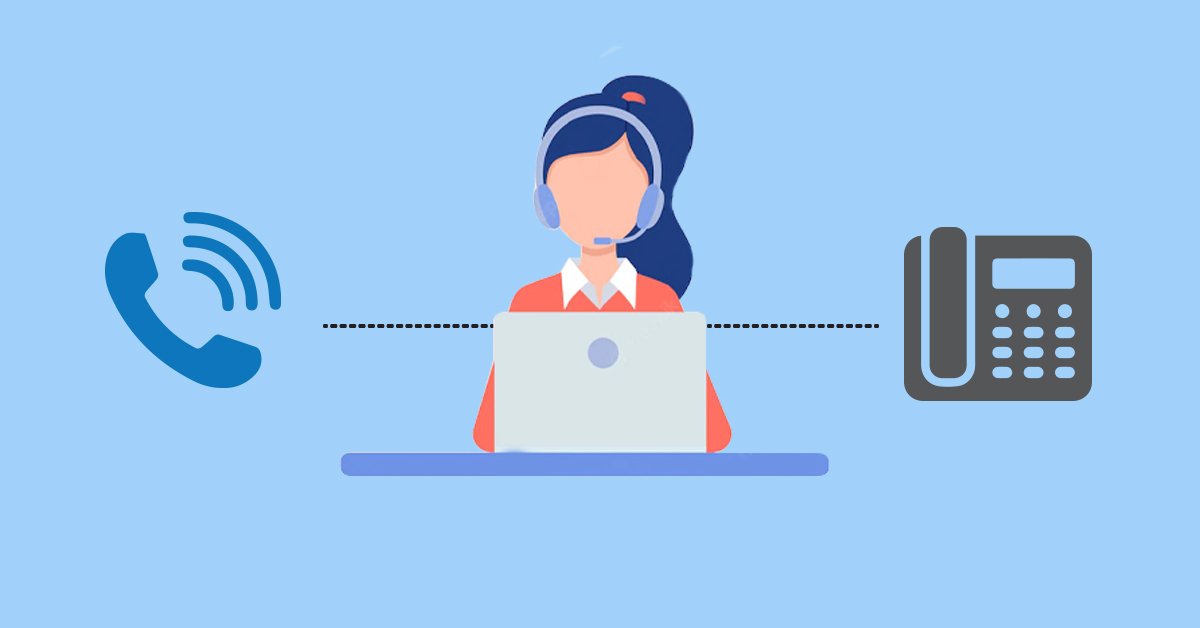 Source
Using an automatic attendant for phone systems for small businesses will help save money, allow efficient call routing, and put customers at ease around the clock. 
2. Unlimited Calling
A small business phone system plan typically includes unlimited domestic calling for no additional fee, so your monthly cost is fixed regardless of how many calls your business makes and receives.
3. Integration with CRM & Other Applications
Identifying and leveraging every possible functionality is essential for businesses to be competitive.
For example, integrating your small business phone system with your CRM gives you features such as a screen pop when you look up caller ID information, click-to-call, call settings, enterprise phone presence, and more – all of which provide unparalleled efficiencies.
4. Voicemail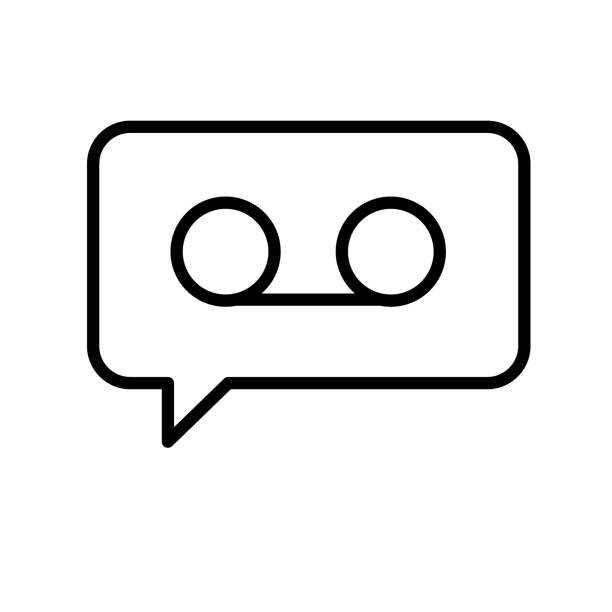 Source
Business phone systems also offer voicemail-to-email functionality, which enables employees to read or listen to their voicemails even when they are away from their offices by sending audio recordings or transcriptions of voicemails to their email inboxes.
5. Call Recording & Accounting
The ability to record and account for calls with your business phone number will enable you to improve customer service and empower your employees to do their job better. Businesses can achieve that elusive level of understanding by dissecting minute details, and nuances of customer conversations.
How To Choose The Right Small Business Phone System?
Many business phone system solutions are available to suit business requirements. The top VoIP phone features are included in every system.
With so many options available, how do you narrow it down? Every business may find the process to be time-consuming and difficult.
Let's consider the pointers that need to be considered while choosing the business phone system.
1. Cost 
You should have a budget in mind when selecting a company phone system. It takes a significant expenditure to create commercial phone systems for businesses. Making the incorrect decision could cost you money and time.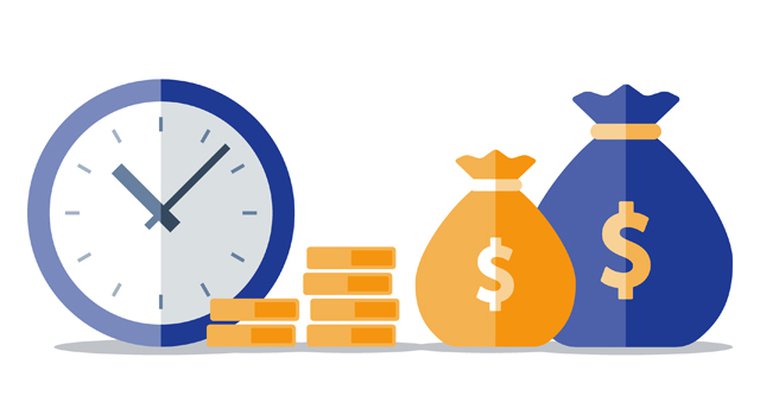 Source
The phone system for business choice depends on the revenue you are ready to spend on business telephone systems. The following cost-related aspects should be taken into account:
The price of the initial setup

Hardware costs

License fees

Costs of installation

Internet connection fees and bandwidth expenses

Membership costs
The initial cost of traditional phone systems is substantial. The most expensive internet-related expenses are for VoIP systems. Virtual phone systems are the least costly to install and maintain but require a subscription.
2. Infrastructure
Consider whether the phone system for the small business you're looking at will be compatible with your current infrastructure. Check whether you have outdated equipment that needs to be upgraded or replaced. You need to buy an internet connection just for VoIP. Both time and money are necessary to make these adjustments.
If you don't have access to internal expertise, you might need to pay someone to evaluate your current network. Certain vendors will provide this service internally at a small fee or even free of charge. 
3. Internet Reliability 
If you're considering a web phone system, you need to assess the reliability of the internet connection in your company.
Thankfully, most companies can get a solid internet connection.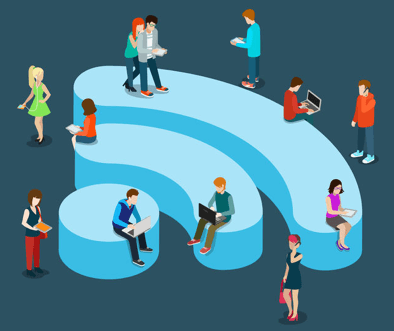 Source
This is necessary for a digital phone system for small business to work properly. A decent download and upload speed should be available on your internet connection.
A traditional phone system can be more appropriate for your office if you don't have a dependable internet connection.
4. Scalability 
As previously indicated, new commercial phone systems can be expensive. Future business objectives are something you must consider.
The type of business phone system for your company will depend on the size and spread of your organization. For instance, you must have small business telephone systems that allows scalability to expand your firm.
If your company is huge or has expansion plans, more lines can be necessary. By guiding your decision on the ideal small business phone system for your organization's strategy, planning can help you save money in the long run.
5. Compatibility 
The compatibility of the phone system for a small business with your other company equipment is another thing to consider.
Your company's first preference must be a simple phone system to combine with your other tools, such as call scripts, CRM software, live chat, ticket management software, and email.
You must consider your staff members' work and how they complete their tasks. Your phone system must aid their ability to conduct business.
11 Top-Rated Small Business Phone Systems
There are currently several small business phone system solutions on the market, each with its features and different packages. They are designed to serve specific industries or sectors. Unfortunately, this makes finding the best phone system difficult.
But, to help you, our telephony experts have researched various systems and short-listed the 3 best business phone service providers in 2023.
Let's look at their unique features, pricing, and other technical and non-technical aspects to understand them better and make an informed decision.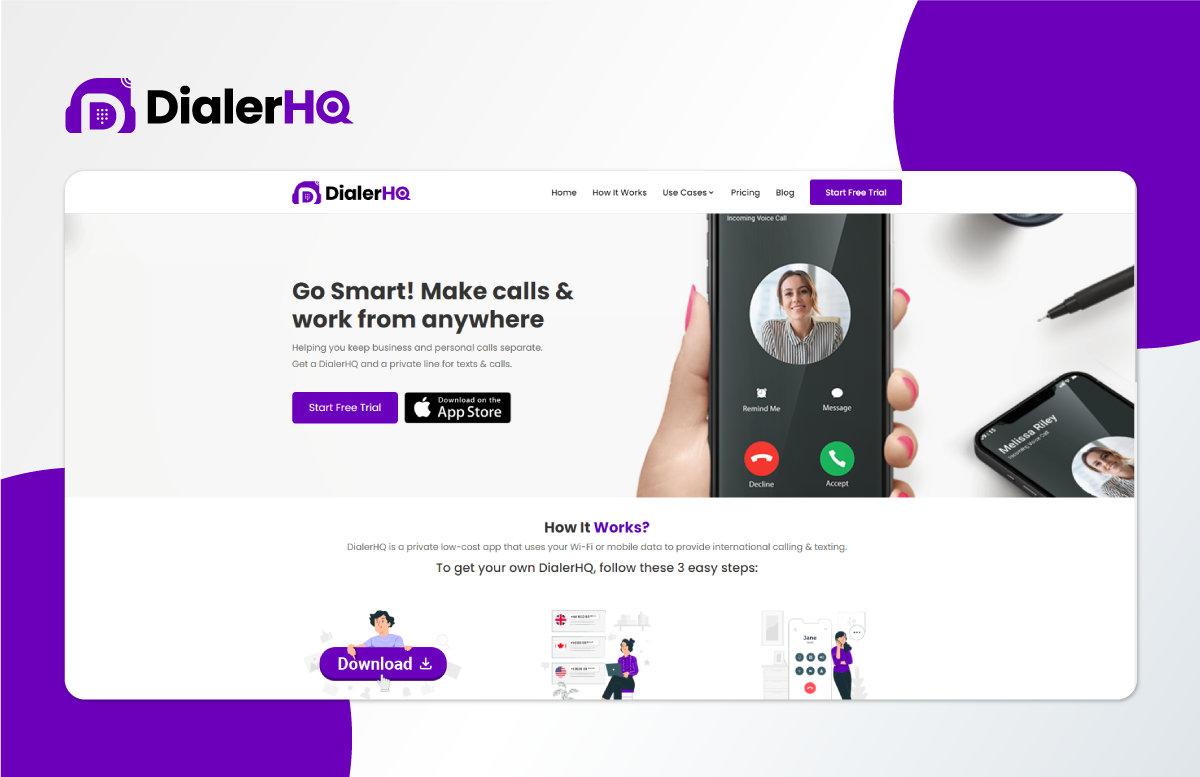 DialerHQ is the best virtual phone system for small scale businesses. It is a virtual business phone number provider app encompassing all essential communication features enterprises need. This app allows you to make calls and send messages without needing a SIM card.
The app will enable you to choose your preferred number from a large pool of business phone numbers based on the country and region.
Besides that, the app has a very simple and neat user interface (UI) and can be set up in minutes. You will not need any additional hardware or equipment to operate this app.
Key Features of DialerHQ:
Great call quality

Exceptional portability

International calling & texting

Seamless business phone line setup

Unlimited calling

Call recording & call routing

No SIM card required
DialerHQ Free Trial Period:
Pros
Great customer service

Multiple features

Smooth integration

High-tech call recording
Cons
Slow loading

Average UI

Expensive
DialerHQ Pricing & Plans:

DialerHQ has standard, free software and custom plans

Unlimited Plan: $12/month
Free Software Plan: This free service is at $0 for unlimited users at a minimum spend of $1500 per month
Custom Plan: Please connect with the vendor
These are the monthly subscription costs. However, signing up for a custom plan will give you a considerable discount. Check out the DilaerHQ pricing in detail.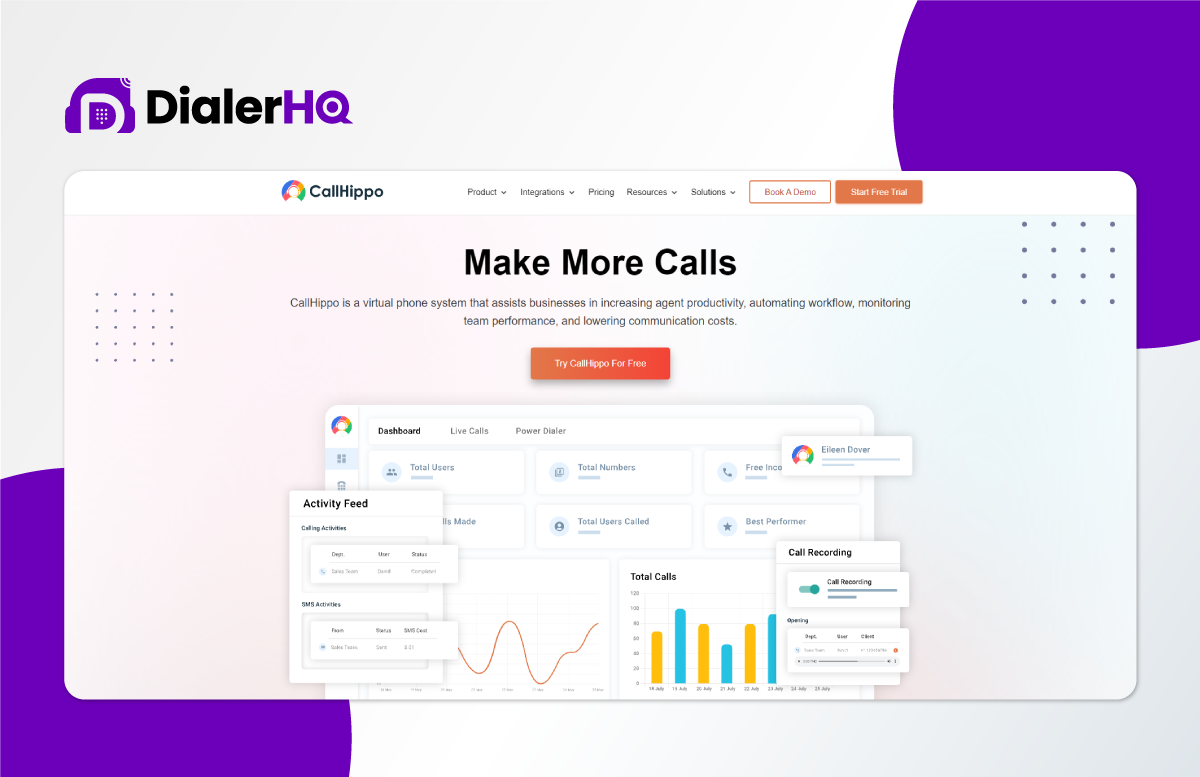 CallHippo houses all the functionalities and features necessary to be at the top of this list. This virtual phone system is suitable for all types of businesses, whether they are new or established.
The system has a clean and well-defined user interface that allows users to navigate and use the system using a cell phone.
When used correctly, the CallHippo cloud phone system can assist organizations in improving agent productivity, streamlining communication, real-time monitoring and analysis of team performance, improving customer satisfaction, reducing costs, and more.
Key Features of CallHippo:
Business tools integration

Power Dialer

Auto-Attendant

Smart Switch

Automatic call distribution (ACD)
CallHippo Free Trial Period:

Pros
Multiple features

Clear UI

Easy integration

Awesome voice clarity
Cons
Average customer service

Issues with privacy calls and data

Expensive
CallHippo Pricing & Plans:
CallHippo provides three business phone system plans, as follows:
Bronze Plan: $16/User/Month (Ideal for startups)

Silver Plan: $24/User/Month (Ideal for small businesses)

Platinum Plan: $40/User/Month (Ideal for SMB sales & support marketing teams)

Enterprise Plan: $48/User/Month (Ideal for enterprises)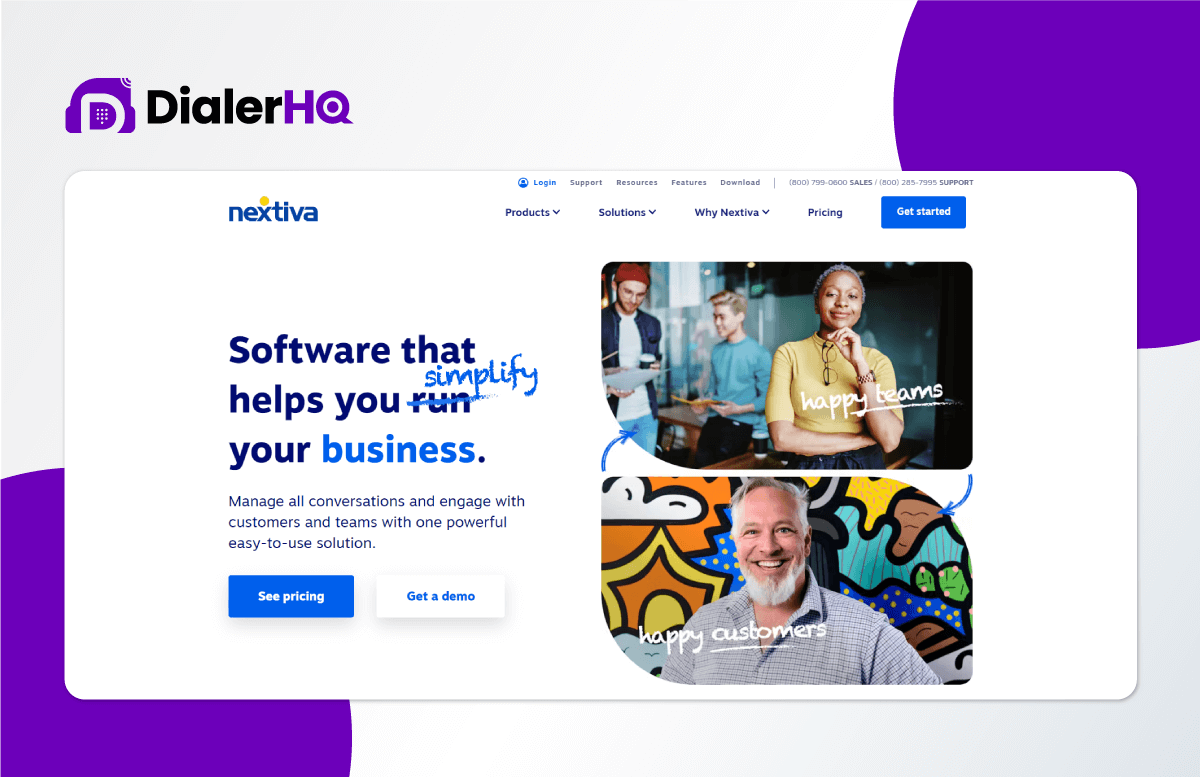 Nextiva is another popular business phone system designed for modern businesses. The solution encompasses calling, mobility, conferencing, collaboration, call analytics, and integration features. 
Moreover, the design and complexity of the Nextiva business phone system have been kept as simple as possible so that even non-technical people can make the best use of it.
The system will enable the organization or managers to improve workflow, capture every interaction across phone calls, emails, and text messages in a single platform, and establish a reliable communication channel with domestic or international customers.
Key Features of Nextiva:
Auto attendant

Advanced call management

VoIP switchboard

Three-way calling

Push to talk
Nextiva Free Trial:
Pros
Great customer support

Customizable auto attendant

Advanced call management

Stable service and call quality
Cons
Average interface

Buggy mobile applications

Average integrations
Nextiva Pricing & Plans:
Nextiva offers a variety of pricing packages based on the number of users, subscription period (monthly or yearly), and plan type.
Essential Plan: $23.95/user/month

Professional Plan: $27.95/user/month

Enterprise Plan: $37.95/user/month
All of these costs are for up to four users. However, as the number of users increases, the package cost decreases.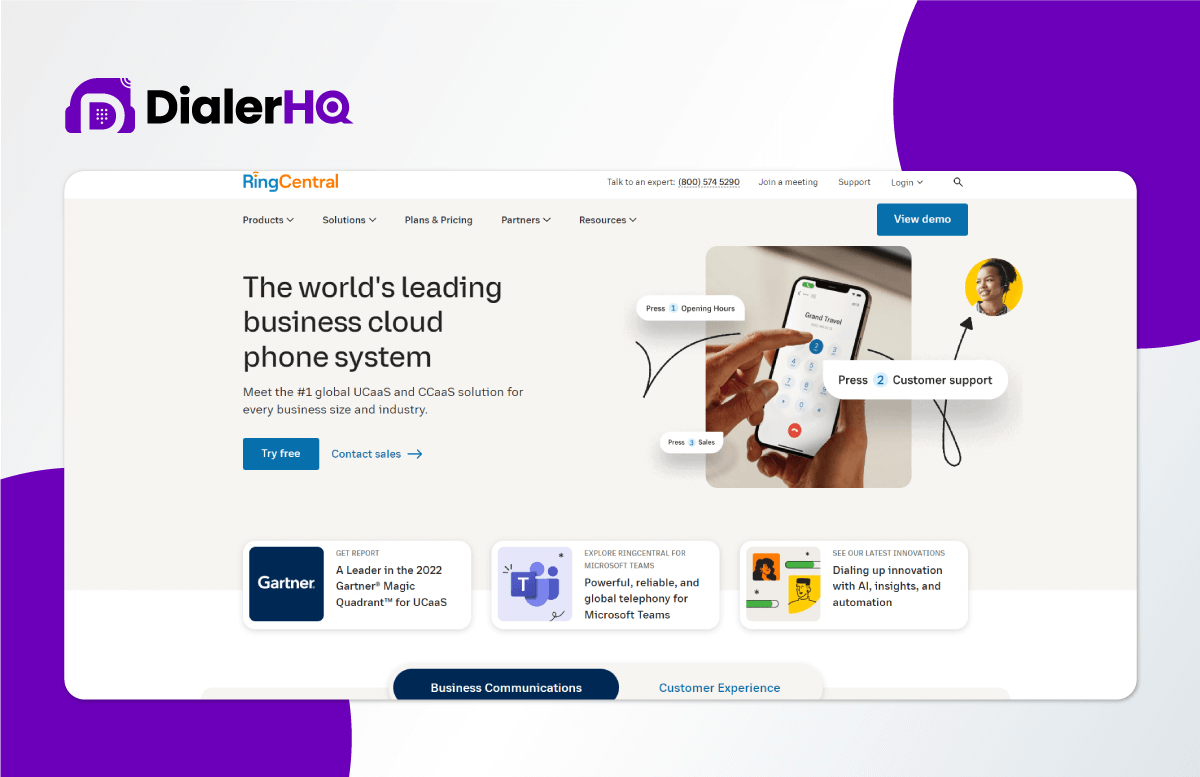 RingCentral is an excellent option if you want a business phone system that is more than just a phone system. It is a unified solution that integrates messaging, video conferencing, and phone calls, making it simple for teams and businesses to organize and analyze large amounts of data.
As one might expect, the system is packed with advanced features and functionalities. Furthermore, it includes over 250 integrations and add-ons that you can use to strengthen your teams and processes. The platform is also protected by seven layers of security and has a 99.99 % uptime guarantee.
Key Features of RingCentral:
Local, vanity, and

toll-free numbers

250+ extensions

Call recording and call forwarding

Multi-level IVR

Call monitoring & call routing

Audio & video conferencing
RingCentral Free Trial:
Pros
Timely collection of payments

On time receipts

Easy to transfer calls

Secure customer information
Cons
Average call quality

Slow uploading time

Buggy software
RingCentral Pricing Plans:
The RingCentral business phone service provider offers three pricing plans, as listed below:
Essential Plan: $29.99/User/Month

Standard Plan: $37.99/User/Month

Premium Plan: $44.99/User/Month

Ultimate Plan: $59.99/User/Month
These prices are for monthly plans. However, you will enjoy a 25-30% discount if you purchase a yearly subscription.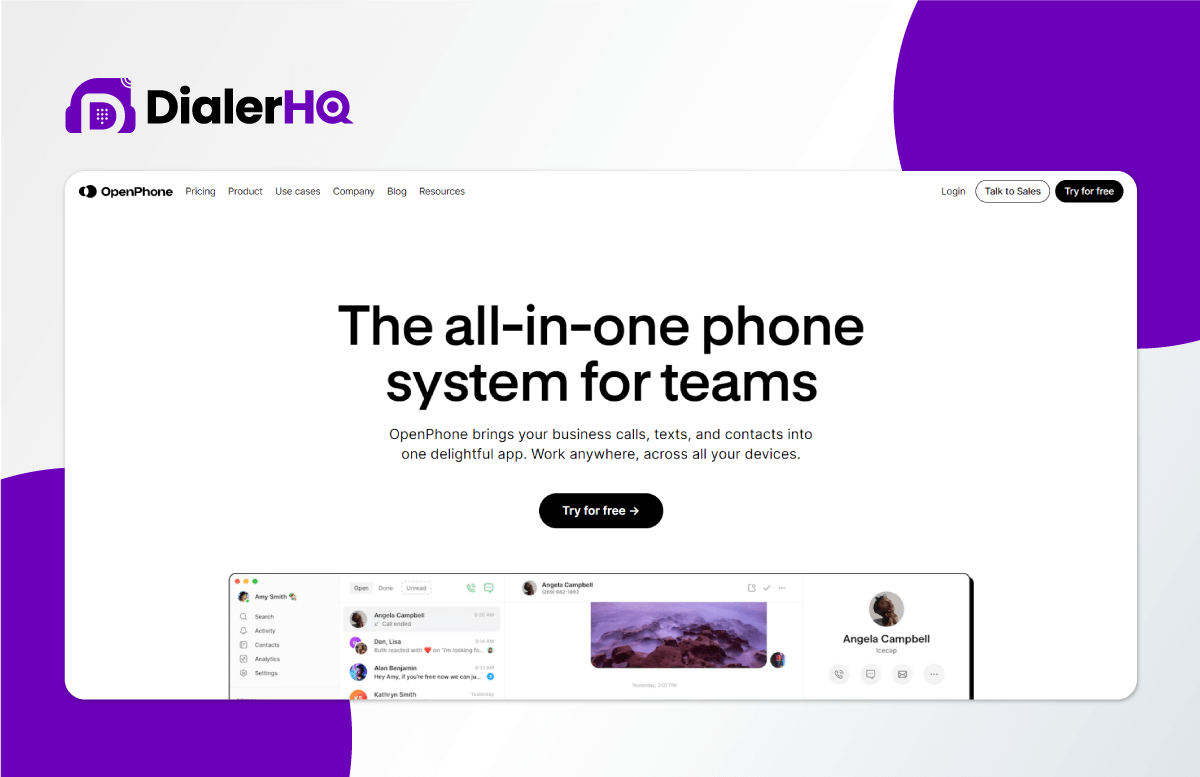 OpenPhone is another well-known, robust phone system for small businesses that merges all communication channels into a single window and provides you with real-time visibility into what's going on at the call center. The platform suits all teams and industries, such as sales, support, marketing, eCommerce, real estate, and others.b
The OpenPhone's multiple innovative & advanced features enable you to streamline, automate, and accelerate the customer communication process, thereby improving customer experience. Besides that, it enhances the team's productivity and keeps the workforce motivated.
Key Features of OpenPhone:
Advanced IVR (Interactive Voice Response)

Local US, Canadian, and toll-free numbers

Call recording & call forwarding

Voicemail transcriptions

Integration with 3000+ applications via Zapier
OpenPhone Free Trial:
Pros
Easy to use

Affordable 

Excellent sound quality

Intuitive UI
Cons
Average call quality

Inability to transfer outgoing calls

Random bugs
OpenPhone Pricing Plans:
OpenPhone has three monthly and annual subscription packages.
Standard Plan: $13/User/Month

Premium Plan: $25/User/Month

Enterprise Plan: Custom pricing
These are the monthly subscription costs. However, you will get a small discount if you choose a yearly subscription.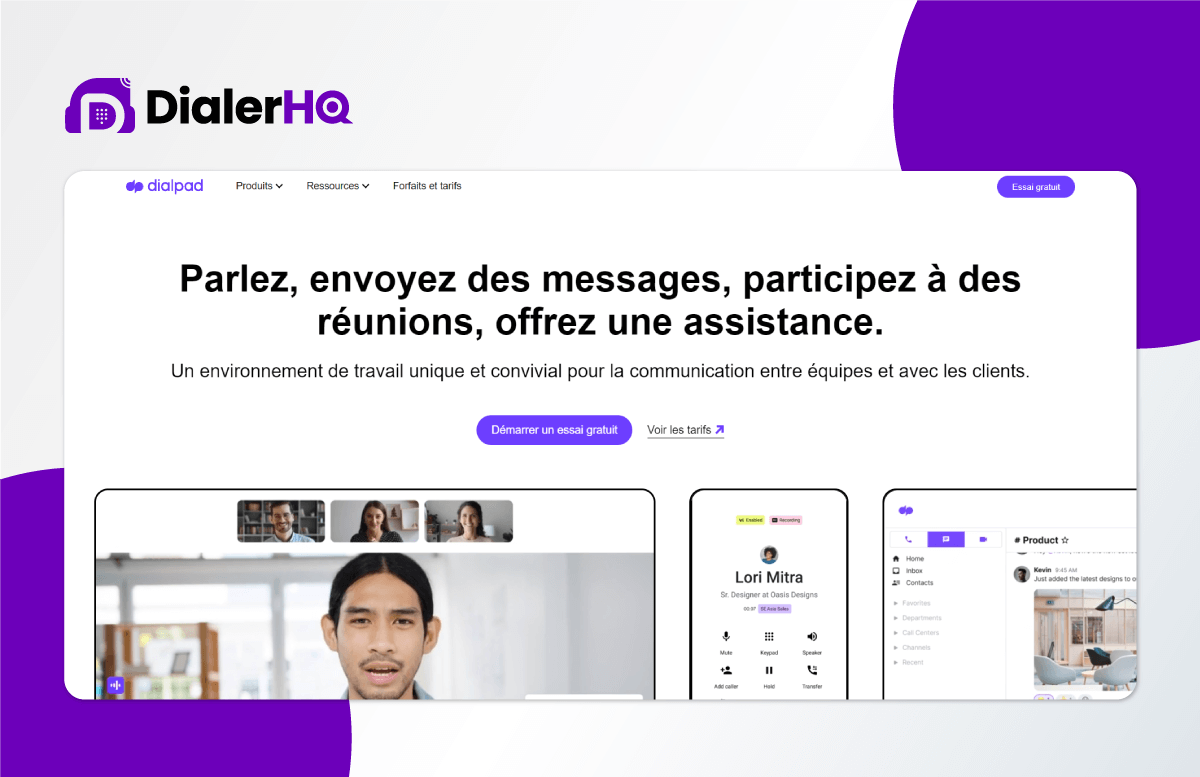 Dialpad is an all-in-one small business phone system that is feature-rich, simple to use, and suitable for all teams and industries. The system allows you to manage inbound and outbound calls, texts, and voicemails from any device. 
Furthermore, this AI-powered business phone system transcribes calls, analyzes sentiment, and even sends you a call summary with the next steps.
The provider claims that the system has an SLA of 100% uptime, ensuring that clients' work is never hampered because of outages. You will also have complete visibility into usage and adoption across global offices. In a nutshell, Dialpad could be one of the best small business phone systems in 2022, capable of meeting all of your business communication requirements.
Key Features of Dialpad:
Artificial Intelligence

Business Phone Number

Contact Center

Analytics

Virtual Receptionist
Dialpad Free Trial:
Pros
Easy to use interface

Easy to transfer calls

Easily receive calls on multiple devices

Accurate transcription
Cons
Issues with customer support

Limited customization

Issues with texting templates
Dialpad Pricing Plans:
Like most other best business phone service providers, Dialpad offers three monthly and annual subscription plans.
Standard Plan: $23/User/Month

Pro Plan: $35/User/Month

Enterprise Plan: Custom pricing
These are the monthly subscription charges. However, you will get a discount if you choose a yearly subscription.

Google Voice is a business phone system that allows businesses to stay connected with their customers while saving time and effort. This simple business phone solution is suitable for organizations of any size and can be accessed via mobile devices, laptops, and supported desk phones, allowing you to stay connected at work, at home, or on the go.
Besides that, you can also customize Google Voice to your specific workflow. Moreover, Voice uses Google's AI to save you time by blocking spam calls and automatically transcribing voicemails to text. To add, you can easily scale the system in accordance with your company's growth, avoiding unnecessary expenditure.
Key Features of Google Voice:
Voicemail transcripts

Multi Level auto attendant

Personalized voicemail greetings

Protection from spam calls and messages

Screen calls before you answer

Audio & video conferencing

Integration with Google Meet & Calendar
Google Voice Free Trial:
Pros
Offers free numbers

Ability to make free calls to US

Easy international calling and texting 

Ability to port existing numbers
Cons
Limited collaboration

Limited text forwarding options

Works only with Google apps
Google Voice Pricing Plans:
Google Voice offers three plans to users.
Starter Plan: $10/User/Month

Standard Plan: $20/User/Month

Premier Plan: $30/User/Month
You may have noticed that Google Voice plans are more affordable than the other business phone systems for small businesses we've discussed so far. It is because Google Voice has fewer business phone features than all the service providers mentioned in this list.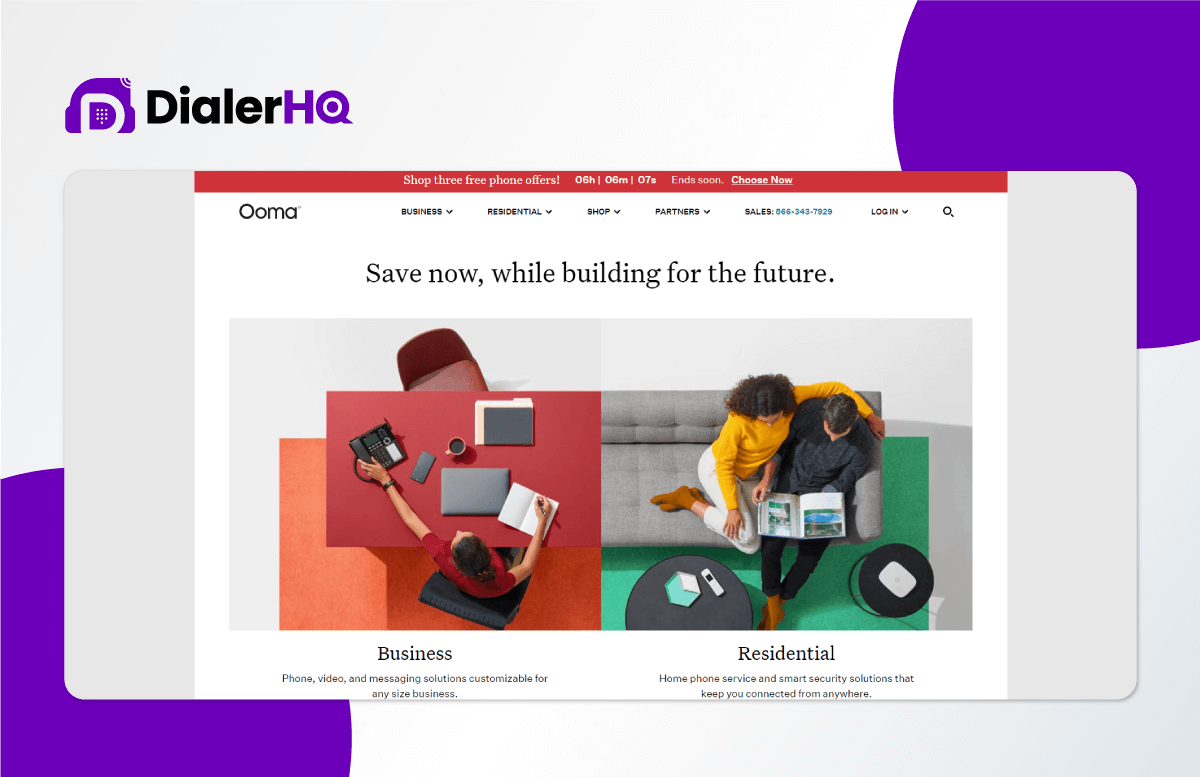 The Ooma small business phone system includes over 50 innovative features to help you stay ahead of the competition. This telephony solution enables remote employees to work, connect, and collaborate efficiently. 
For example, Ooma Office Pro makes meeting with your team, partners, or customers simple. In contrast, the Ooma Desktop app allows you to make calls and access the Ooma Meetings video conferencing platform.
The ease of access to tools and the streamlined workflow eventually assist you in taking your productivity to the next level. This modern phone service system is simple to set up and can be configured in less than 15 minutes with no additional hardware or technical knowledge required.
Key Features of Ooma:
Virtual receptionist

Ring groups

Enhanced call blocking

Voicemail transcription

Google, Salesforce, and Office 365 integration

Call analytics

Find Me/Follow Me
Ooma Free Trial:
Pros
Easy to set up

User-friendly

Reliable service

Easy integration
Cons
App crashes at times

Issues with syncing with phone

Slow loading
Ooma Pricing Plans:
Ooma Office offers three service plans, each with more than 50 features to meet a variety of business needs.
Essentials Plan: $19.95/User/Month

Pro Plan: $24.95/User/Month

Pro Plus Plan: $29.95/User/Month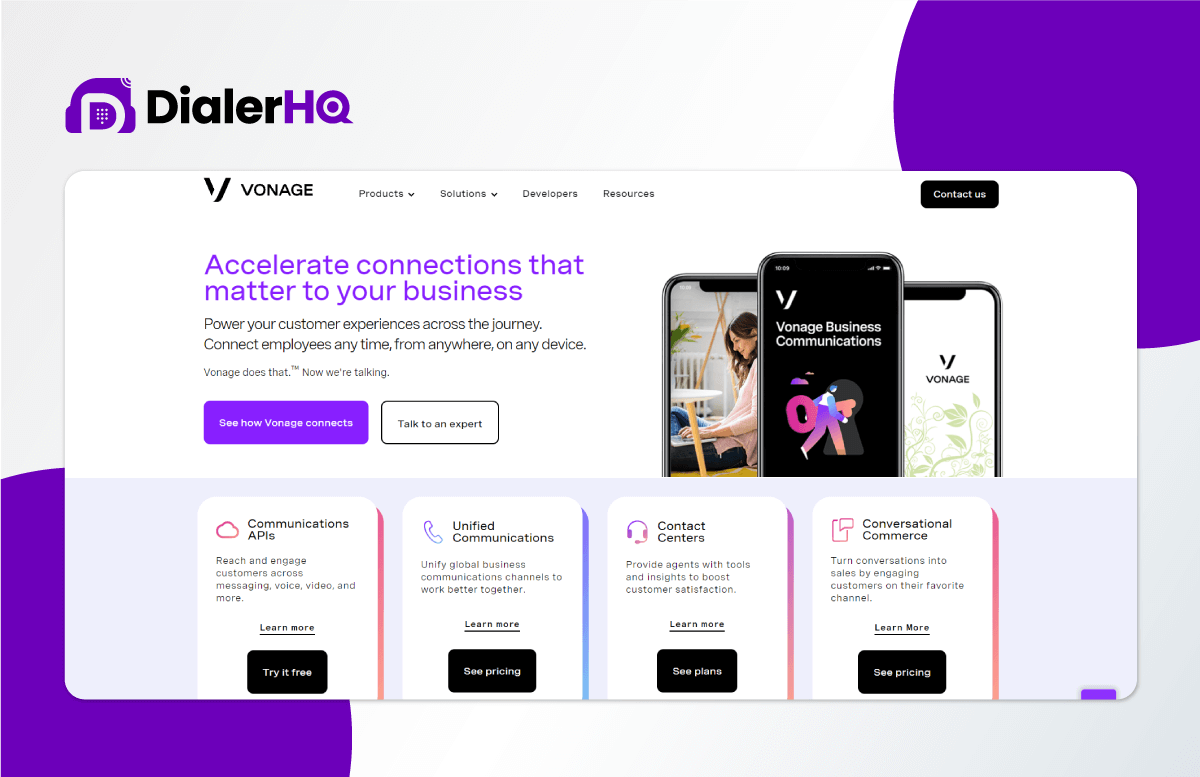 Vonage unified communication is an excellent unified communications platform for small businesses looking to centralize all forms of communication—voice, video, and messaging—into a single place. The solution includes various voice and messaging features that empower conversation at your fingertips. 
In addition, Vonage's exceptional mobility allows you to stay in touch with your agents and customers while on the go, even after business hours, through your cell phone.
Furthermore, you can prioritize your communication traffic for maximum quality and performance. The Vonage business phone system can be easily installed without additional hardware or technical knowledge. All you need to use the system is a desk phone and a reliable internet connection.
Key Features of Vonage:
Simple to set up, easy to scale

Powerful admin portal

AI virtual assistant

Follow Me/Find Me

Multiple devices on one extension

Local/international numbers

Unlimited calling (US & Canada)
Vonage Free Trial:
Pros
Efficient network and connection

Seamless mobile to desktop transitions

Easy to use

Easy customization
Cons
Issues with transferring calls

Web interface can be improved

Needs improvement on dropped calls
Vonage Pricing Plans:
Vonage offers various pricing plans based on the number of users. The number of features increases as you select a higher plan.
Mobile Plan: $19.99/User/Month

Premium Plan: $29.99/User/Month

Advanced Plan: $39.99/User/Month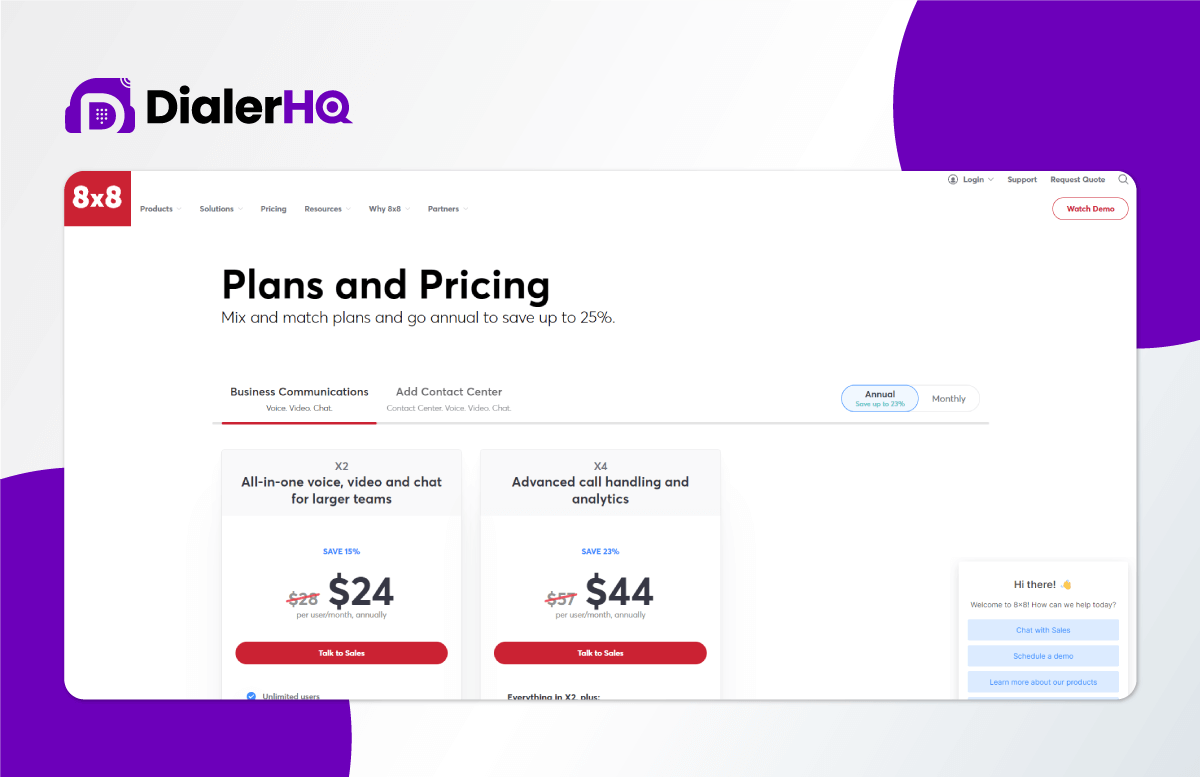 8X8 Express is a small business phone system that allows you to conduct business from anywhere, on any device, while maintaining a professional image. The system includes the most stringent security and compliance policies and procedures validated by third-party security and compliance certifications. This ensures that all of your business and customer data always remain secure.
Startups and small businesses can use this business phone system to give their company a professional appearance while streamlining the workflow and improving the customer experience. The platform allows agents to manage everything from calls, messages, chats, video calling, and more at their fingertips.
Key Features of 8X8:
Advanced call management

Personalized greetings

Branded video meetings

Visual voicemail

Meeting recording & transcription
8X8 Free Trial:
Pros
Easy to use

Seamless integration between VoIP handsets and mobile app

Auto attendant

Easy to install
Cons
Average customer support

Average quality

Slow loading
8X8 Pricing Plans: 
8X8 has three service plans, and each comes with a unique set of features.
8X8 Express Plan: $15/User/Month

X2 Plan: $24/User/Month

X4 Plan: $44/User/Month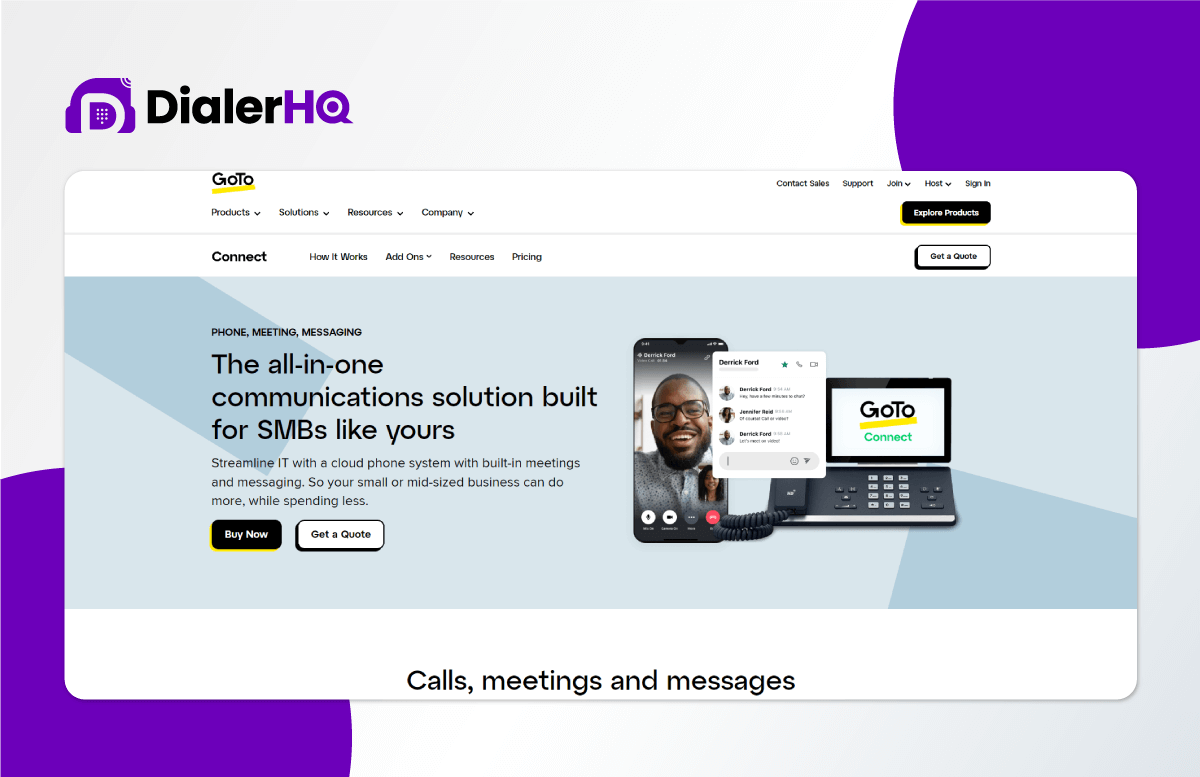 GoTo Connect is a complete meeting, phone and messaging program designed for SMBs. They have assisted companies with connecting with staff and clients from anywhere since 2003, so they can produce their best job. 
GoTo Connect offers IT workers a single system for telephone, meetings, and messaging, hundreds of capabilities, and a unified management site that fosters user success. 
It is quick to deploy and simple to operate.
Cloud VoIP phone systems and GoToMeeting's web, audio, and video capabilities are combined by GoToConnect into one simple, adaptable solution. Users can connect, communicate, and work with secure video conferencing, call forwarding, and screen sharing capabilities via an internet browser, desktop app, or office telephone.
Key Features of GoTo Connect: 
Active directory integration

Automatic call distribution

Call screening

Call tagging

Multi-channel communication
GoTo Connect Free Trial
:
Pros
Simple to use

Great call recording feature

Adaptable to changing work conditions

Value for money
Cons
Issues with previous call loading

Average customer service

Issues with UI
GoTo Connect Pricing Plans:
GoTo Connect has three sets of pricing plans.
Basic Plan: $27/User/Month

Standard Plan: $32/User/Month

Premium Plan: $43/User/Month
Key Takeaways from the Best Small Business Phone Systems Guide
Source
Small businesses can now more easily than ever assume the identity of larger, more established organizations to gain access to more affordable versions of their equipment because of technological advances.

There are IP phones and analogue phones. Today's majority of VoIP phone systems employ IP phones. These phones are ready to make and receive calls immediately because they plug into your internet router.

You can preserve your privacy and keep your work and personal phone lines distinct by getting a dedicated phone number for your business with the best enterprise phone systems. 

Instead of a private number appearing on the caller ID when you call, these small business cloud based phone systems will show the company's caller ID. It is a useful tool for boosting your company's standing in the marketplace.

It's critical to select a provider for phone and collaboration systems that is dependable, well-established, and trustworthy. It must provide technology that meets your company's requirements.
Conclusion
We have provided the list of the best business phone systems vendor. As we've seen, each has its features and diverse pricing plans tailored to a specific industry or business type.
We recommend that you thoroughly examine each of these products, read online reviews, and visit their official website before making a final decision. 
Above all, choose the best small business phone system that perfectly aligns with your company's needs, budget, and goals.
Content Worth Your Time
Know what's happening in your industry all the time