Get a Qatar Virtual Number
Seamlessly connect with Qatar clients and partners from anywhere in the world.

Expand business reach and tap into Qatar's thriving market with virtual numbers.

Save on int'l calling costs while communicating seamlessly with Qatar contacts.
What is a Qatar Virtual Number?
A Qatar Virtual Number is a phone number that operates online– not tied to a physical location. It allows businesses to make and receive calls to customers in Qatar, even if they are based elsewhere. This fosters international communication, builds trust, and enhances customer service.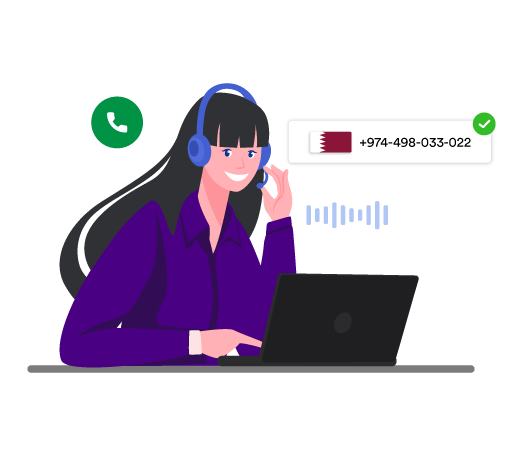 Rule the Qatar Market with a +974 Phone Number
Expanding your business to the vibrant Qatar market? Grab a +974 phone number and gain a competitive edge. With a local presence and 50+ features, establish trust, improve communication, and boost customer engagement.
Establish local credibility and gain trust among Qatari customers.

Communicate seamlessly with cost-effective calling solutions.

Reach both local and international clients– widening market reach.

Be available 24/7 to cater to customer inquiries and support.

Operate without a physical location, reducing operational costs.
Benefits of Qatar Virtual Numbers
When you buy a Qatar virtual phone number from us at DialerHQ, you gain access to various advantages.
Save on communication expenses with DialerHQ's affordable plans starting at $0/month.

Establish a strong local presence in different regions with DialerHQ's virtual phone numbers.

Enhance your team's productivity with DialerHQ's efficient communication tools and features

Make informed business decisions and optimize your strategies based on real-time data.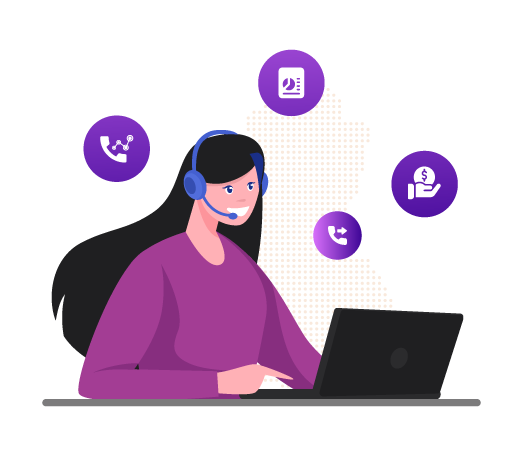 Different Types of Qatar Virtual Numbers
Qatar Local Numbers:

Enhance your business presence in Qatar with local Qatar phone numbers that resonate with Qatari customers.

Qatar Toll-free Numbers: Qatar toll-free numbers allow your clients to reach you conveniently– encouraging more inquiries, customer engagement, and fostering a positive brand image.
Qatar International Numbers:

Expand your business globally while maintaining a local appearance in Qatar.

Port Your Qatar Numbers: Seamlessly transfer your existing Qatar phone numbers to DialerHQ's platform.
What Types of Virtual Phone Numbers Can You Get in Qatar?
This table offers information on the different kinds of virtual phone numbers that businesses can use in Qatar. These numbers include local, toll-free, national, international, mobile, and vanity numbers, and allow businesses to establish a presence in Qatar without needing an actual office. Toll-free numbers are particularly useful for providing free phone services to customers, while vanity numbers are memorable and help businesses stand out. Overall, virtual phone numbers provide businesses with the flexibility to improve customer service and grow their presence in Qatar.
| Type of Virtual Number | Dialing Code | Example |
| --- | --- | --- |
| Local Qatar Virtual Number | +974 | +974 4444 5555 |
| Toll-Free Qatar Virtual Number | +974 | +974 800 12345 |
| Mobile Qatar Virtual Number | +974 | +974 3311 8899 |
Popular Area Codes in Qatar
This table provides a comprehensive list of popular area codes in Qatar for phone numbers. The table includes the corresponding cities, phone number formats, and examples of how to dial within Qatar. The information in this table can be useful for anyone who needs to make phone calls within Qatar and wants to ensure they use the correct area code and phone number format.
| Area Code | City | Phone Number Format | Example |
| --- | --- | --- | --- |
| +974 | Doha | +974 XXXX XXXX | +974 5555 1234 |
| +974 | Al Wakrah | +974 XXXX XXXX | +974 4444 5678 |
| +974 | Al Khor | +974 XXXX XXXX | +974 3333 9876 |
| +974 | Umm Salal | +974 XXXX XXXX | +974 2222 6543 |
| +974 | Al Rayyan | +974 XXXX XXXX | +974 6666 7890 |
| +974 | Madinat Khalifa | +974 XXXX XXXX | +974 7777 4321 |
| +974 | Al Daayen | +974 XXXX XXXX | +974 6666 9876 |
| +974 | Al Shamal | +974 XXXX XXXX | +974 3333 2468 |
| +974 | Mesaieed | +974 XXXX XXXX | +974 4444 1357 |
| +974 | Al Ghuwariyah | +974 XXXX XXXX | +974 5555 8642 |
DialerHQ Pricing Plans for Qatar Virtual Phone Number
How to Get a Qatar Virtual Number?
Embark on your DialerHQ journey now by following the 4 simple steps outlined below.

Sign in to DialerHQ.

Choose your custom virtual number & make the payment.

Configure your account, features, and settings.

Start making and receiving calls anytime, anywhere.
Features of Qatar Virtual Phone Number
With DialerHQ's temporary Qatar phone numbers, you will gain access to a suite of advanced features, including those listed below.
Power Dialer
Bring out your team's maximum potential and ensure maximum productivity with Power Dialer. Make multiple calls to meet your daily targets.
Global Connect
Enhance your international client outreach through our Global Connect feature. Also, experience greater success with increased call pickup rates.
Smart Switch
Say goodbye to call connectivity troubles with our Smart Switch feature. Choose the most suitable provider and enjoy uninterrupted connections.
Call Barging
Enable your supervisors to monitor calls discreetly and offer assistance when necessary with the help of the Call Barging feature.
Call Conference
Easily collaborate with multiple parties at once with the call conference feature. Streamline team collaboration and communication.
Call Recording
Record every call on each of your numbers with the Call Recording feature. Also, easily store and retrieve the recordings whenever needed.
Call Queuing Software
Ensure that no incoming calls go unanswered with the Call Queuing feature. Provide timely assistance to your Qatar customers.
Smart Call Forwarding
Stay connected no matter where you are. With this feature, each user can have calls forwarded to multiple numbers.
Call Transfer
Use the Call Transfer feature to better manage incoming calls by assigning them to your colleagues. Ensure prompt resolution to customer queries.
Need a Quick & Easy Qatar Phone Number ?
Make international calls & texts without buying a SIM card.
Frequently Asked Questions
DialerHQ offers Qatar virtual phone numbers in four different plans– Basic ($0/user/month), Bronze ($7.99/user/month), Silver ($11.99/user/month), and Platinum ($19.99/user/month). In addition, they also provide various add-on solutions and services.
Getting a Qatar virtual number is quick and easy. Simply sign up with DialerHQ, choose Qatar as the country, select your preferred number, make the payment, and start using it within minutes.
No, you don't need any additional hardware to use a Qatar virtual phone number. It operates over the cloud– so all you need is a reliable internet connection and a device like a computer or smartphone.
Yes! DialerHQ provides detailed call analytics for your Qatar virtual phone number– helping you measure key call center KPIs, assess customer interactions, and optimize your strategies continuously.
Setting up a Qatar virtual number with DialerHQ is quick and easy. Typically, the entire setup process– from selecting a number to configure the system, can be completed within a few minutes. This means, you will be able to start using your Qatar virtual number as quickly as possible.
A Qatar virtual number operates over the internet or uses a VoIP system. When someone calls your Qatar virtual number, the call is redirected to your designated phone. This will allow you to communicate with customers in Qatar– regardless of your physical location.
No leading providers– including CallHippo, offer a free Qatar virtual number. However, by paying just $7.99, you can get more than just a free Qatar virtual number. Visit DialerHQ pricing pge to learn more.
To get a WhatsApp number for Qatar, you can sign up for DialerHQ's services and choose a Qatar virtual number. Once you have the virtual number, you can configure it with WhatsApp Business API and start using WhatsApp for business communication in Qatar.
Yes, you can use a Qatar virtual number for international calls. With DialerHQ's virtual numbers, you can connect with customers both in Qatar and internationally. These virtual numbers facilitate cost-effective international communication and expand your business reach beyond Qatar's borders.