Get a Sweden Virtual Phone Number
Supercharge your business communication with a Sweden virtual mobile number and ensure 24/7 accessibility for enhanced local connections.
What is a Sweden Virtual Phone Number? 
A Sweden virtual number is a telephone number that is not tied to a specific physical phone line but operates through the internet. It allows businesses or individuals to establish a virtual presence in Sweden, receive calls, and forward them to any device or location, providing flexibility, mobility, and convenient communication options.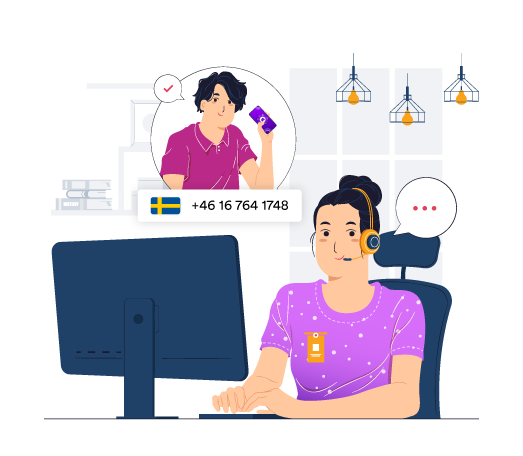 How does a Sweden Virtual Phone Number Work? 
A Swedish virtual mobile number uses the internet to make and receive calls. Here's how it works in five steps. 
You dial a number using your Sweden virtual phone number.

The voice signals are converted into digital packets.

These packets are transmitted to the receiver via the internet.

The packets are converted back into voice signals at the receiver's end.

The entire process happens within seconds, ensuring seamless communication.
Why Buy a Sweden Virtual Phone Number from DialerHQ? 
DialerHQ is a leading provider of Sweden virtual numbers. Here are some reasons to choose DialerHQ. 
Get a free virtual phone number in Sweden

Has advanced features like multi-level IVR and voicemail

Can be integrated with 50+ third-party tools

Proactive customer support team to help you round the clock

Service level agreements guaranteeing exceptional call quality 

Can be scaled up as your business grows
Read: Call Sweden from US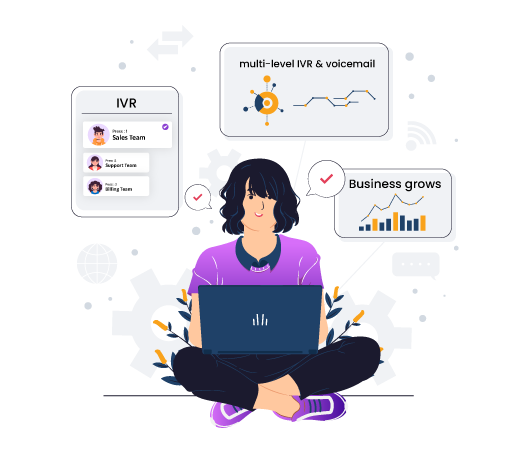 Benefits of Sweden Virtual Phone Number for Business 
A virtual phone number in Sweden offers numerous benefits to businesses in the country. Here are some of them. 
Helps build rapport with customers in Sweden

Offers flexibility and mobility to your business

Makes expanding to Swedish markets easy

Provides actionable insights for better decision-making

Reduces communication costs for both customers and business

Helps enhance customer experience with advanced features
What Types of Virtual Phone Numbers Can You Get in Sweden?
This table offers information on the different kinds of virtual phone numbers that businesses can use in Sweden. These numbers include local, toll-free, national, international, mobile, and vanity numbers, and allow businesses to establish a presence in Sweden without needing an actual office. Toll-free numbers are particularly useful for providing free phone services to customers, while vanity numbers are memorable and help businesses stand out. Overall, virtual phone numbers provide businesses with the flexibility to improve customer service and grow their presence in Sweden.
| Type of Virtual Number | Dialing Code | Example |
| --- | --- | --- |
| Local Sweden Virtual Number | (+46) | (+46) 8 1234 5678 |
| Toll-Free Sweden Virtual Number | (+46) | (+46) 020 123 456 |
| Mobile Sweden Virtual Number | (+46) | (+46) 70 123 4567 |
Popular Area Codes in Sweden
This table provides a comprehensive list of popular area codes in Sweden for phone numbers. The table includes the corresponding cities, phone number formats, and examples of how to dial within Sweden. The information in this table can be useful for anyone who needs to make phone calls within Sweden and wants to ensure they use the correct area code and phone number format.
| Area Code | City | Phone Number Format | Example |
| --- | --- | --- | --- |
| 8 | Stockholm | (08) xxxx xxxx | (08) 1234 5678 |
| 31 | Gothenburg | (031) xxxx xxxx | (031) 1234 5678 |
| 46 | Malmö | (046) xxxx xxxx | (046) 1234 5678 |
| 18 | Uppsala | (018) xxxx xxxx | (018) 1234 5678 |
| 13 | Linköping | (013) xxxx xxxx | (013) 1234 5678 |
| 54 | Norrköping | (054) xxxx xxxx | (054) 1234 5678 |
| 18 | Västerås | (018) xxxx xxxx | (018) 1234 5678 |
| 42 | Helsingborg | (042) xxxx xxxx | (042) 1234 5678 |
DialerHQ Pricing Plans for Sweden Virtual Phone Number
How to Get a Sweden Virtual Number?
Embark on your DialerHQ journey now by following the 4 simple steps outlined below.

Sign in to DialerHQ.

Choose your custom virtual number & make the payment.

Configure your account, features, and settings.

Start making and receiving calls anytime, anywhere.
Features of Sweden Virtual Phone Number 
DialerHQ offers several features that make it an attractive option for buying a Sweden virtual number. Here are they –
Call Queuing
Put callers on virtual queues when all your agents are busy and let them know the potential waiting time to prevent them from disconnecting.
Voicemail
Allow callers to leave a message when you're unavailable so you can get back to them at the earliest and solve their queries.
Call Conference
Connect with multiple parties simultaneously using our conferencing feature to close deals or support tickets faster than ever.
Smart Call Forwarding
Never miss an important call by forwarding them to the right person when you're unavailable, ensuring a seamless customer experience.
Call Recording
Easily record the calls and ensure your agents follow the best practices and meet compliance requirements.
Frequently Asked Questions
DialerHQ's Sweden virtual phone numbers come with advanced features like IVR, ACD, Voice Broadcast, AI-enabled Dashboards, and more, enhancing your communication capabilities.
DialerHQ provides four pricing plans for Sweden virtual phone numbers:
Basic: $0/month.
Bronze: $7.99/month.
Silver: $11.99/month
Platinum: $19.99/month
DialerHQ ensures reliable connectivity and innovative features for your Sweden virtual phone number needs.
Sign up, select Sweden as the country, choose a plan, configure settings, import contacts, and start calling using DialerHQ's straightforward setup process.
DialerHQ offers features like Power Dialer, Global Connect, Call Conference, Smart Call Forwarding, and more to improve your communication with Sweden-based contacts.
Need a Quick & Easy Sweden Virtual Phone Number ?
Make international calls & texts without buying a SIM card.