Get a Bangladesh Virtual Phone Number
Invest in our modern business communication solution to connect, expand, and succeed.
Seamless connectivity and boundless opportunities.

Boost global presence with affordable international calls.

50+ smart features to optimize communication & costs.
What Is A Bangladesh Virtual Number?
A Bangladesh virtual number is a cloud-based service that enables individuals and businesses to establish a local presence in Bangladesh. With features like call forwarding and voicemail, it facilitates efficient communication and customer support. By using a virtual number, businesses can expand their reach, connect with customers in Bangladesh, and seize global opportunities from anywhere.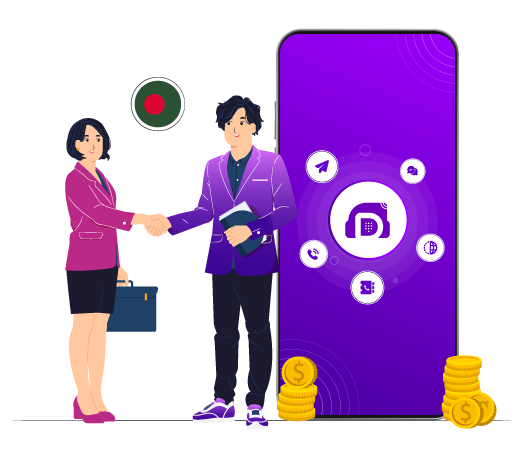 Why Do You Need A Bangladesh Virtual Number?
In this digital, customer-centric era, you need a Bangladesh virtual number for several reasons outlined below:
To save on communication & maintenance costs.

To efficiently serve customers and target prospects.

To ensure uninterrupted connectivity all the time.

To establish a strong local presence in Bangladesh.

To enhance credibility with a local BD virtual number.

To gain a competitive edge with detailed analytics.
Benefits of Bangladesh Virtual Numbers
A virtual Bangladesh phone number provides you with a range of advantages, from cost-cutting to enhanced customer support.
Seamless integration with existing communication systems.

Expanded global reach and communication capabilities.

Virtual presence without needing physical office spaces.

Enhanced business scalability and growth opportunities.

Easy and real-time monitoring for performance evaluation.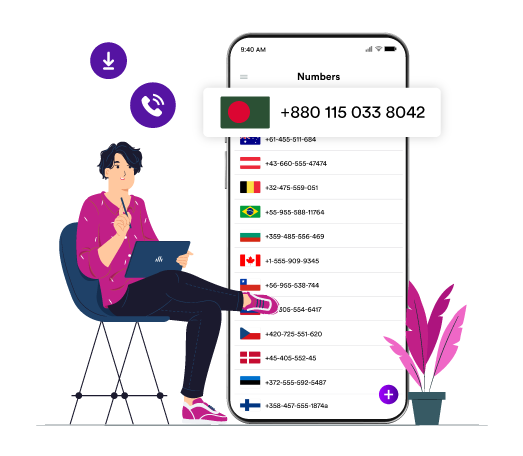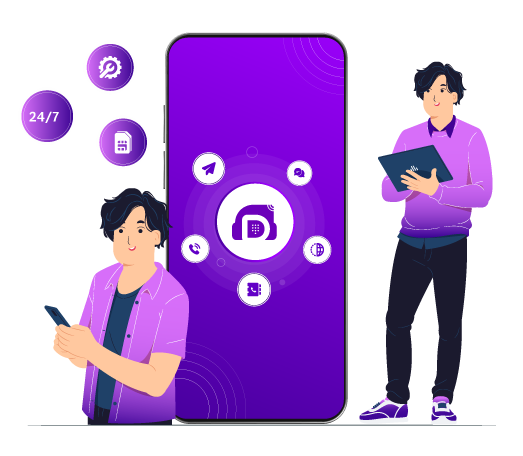 Different Types of Bangladesh Virtual Numbers
There are 3 different types of Bangladesh virtual phone numbers; each used for a different purpose.
Local Bangladesh phone numbers:

10-digit numbers with a specific area code, perfect for businesses targeting local clients in Bangladesh.

Toll-free Bangladesh phone numbers:

11-digit number starting with the prefix "0800" followed by a 7-digit number. Ideal for customer support.

Bangladesh mobile phone numbers:

11-digit numbers consist of an area code and a phone number– excellent for keeping in touch with customers.
Choose the Bangladesh virtual number/s that best aligns with your business requirements and goals.
Why Buy a Bangladeshi Virtual Number From DialerHQ?
You must buy a Bangladeshi virtual number from DialerHQ for the following compelling reasons:
Extensive features:

Gain access to an impressive range of 50+ premium communication and collaboration features.

Competitive pricing:

Benefit from flexible pricing options tailored to suit various business requirements.

20+ area codes:

Choose from a battery of Bangladesh area codes to establish a local presence.

User-friendly interface:

Enjoy the convenience of an intuitive UI that simplifies navigation and maximizes productivity.

24*7 customer support:

Get dedicated and timely support from our attentive customer support team.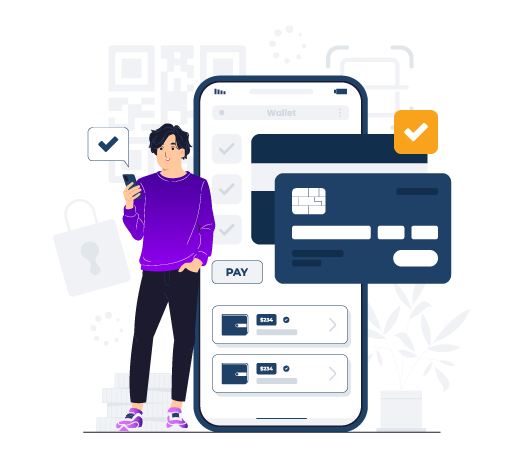 What Types of Virtual Phone Numbers Can You Get in Bangladesh?
This table offers information on the different kinds of virtual phone numbers that businesses can use in Bangladesh. These numbers include local, toll-free, national, international, mobile, and vanity numbers, and allow businesses to establish a presence in Bangladesh without needing an actual office. Toll-free numbers are particularly useful for providing free phone services to customers, while vanity numbers are memorable and help businesses stand out. Overall, virtual phone numbers provide businesses with the flexibility to improve customer service and grow their presence in Bangladesh.
| Type of Virtual Number | Dialing Code | Example |
| --- | --- | --- |
| Toll-Free | +880 | +880 800 123456 |
| Geographic | +880 | +880 2 1234567 |
| Mobile | +880 | +880 17 12345678 |
Popular Area Codes in Bangladesh
This table provides a comprehensive list of popular area codes in Bangladesh for phone numbers. The table includes the corresponding cities, phone number formats, and examples of how to dial within Bangladesh. The information in this table can be useful for anyone who needs to make phone calls within Bangladesh and wants to ensure they use the correct area code and phone number format.
| Area Code | City | Phone Number Format | Example |
| --- | --- | --- | --- |
| 02 | Dhaka | (02) XXXXXXX | (02) 12345678 |
| 031 | Chittagong | (031) XXXXXXX | (031) 1234567 |
| 041 | Rajshahi | (041) XXXXXXX | (041) 1234567 |
| 051 | Sylhet | (051) XXXXXXX | (051) 1234567 |
| 055 | Barisal | (055) XXXXXXX | (055) 1234567 |
| 081 | Rangpur | (081) XXXXXXX | (081) 1234567 |
| 091 | Khulna | (091) XXXXXXX | (091) 1234567 |
DialerHQ Pricing Plans for Bangladesh Virtual Phone Number
How to Get an Bangladesh Virtual Number?
Embark on your DialerHQ journey now by following the 4 simple steps outlined below.

Sign in to DialerHQ.

Choose your custom virtual number & make the payment.

Configure your account, features, and settings.

Start making and receiving calls anytime, anywhere.
Features of Bangladesh Virtual Numbers
When you choose DialerHQ for your Bangladesh virtual phone number needs, you will also receive a range of benefits along with smart features.
Smart Call Forwarding
Seamlessly forward calls to multiple numbers, maximizing opportunities. Never miss a business prospect with efficient call redirection.
Call Queuing
Enhance customer satisfaction by reducing wait times with Call Queuing. Efficiently connect customers to the next available agent.
Call Center Analytics
Gain valuable insights and a comprehensive real-time overview of your team's activities with our detailed analytics and rich reports.
Predictive Dialer
Seamlessly automate the dialing process to maximize efficiency and connect with more live prospects with our advanced Predictive Dialer.
Voicemail Greetings
Create a memorable impact on your customers by customizing your voicemail messages with professional and personalized greetings.
Global Connect
Ensure call pickup and maximize conversions by reaching out to customers and prospects at the right time with Global Connect.
Frequently Asked Questions
DialerHQ's Bangladesh virtual phone number operates through VoIP technology, converting voice signals into data packets for transmission over the Internet. You can choose a local or toll-free number, redirecting calls to your preferred device. It's a cost-effective way to stay connected with clients, family, and friends in Bangladesh.
With DialerHQ's virtual number, you can expand your business outreach, streamline customer support, and facilitate hassle-free international communication. Enjoy features like call forwarding, voicemail, and call analytics. Enhance credibility and accessibility, all while minimizing infrastructure costs.
Yes, setting up a Bangladesh virtual phone number with DialerHQ is simple. Choose your desired number, select a plan, and configure call settings according to your preferences. No complex hardware or extensive technical knowledge is required.
Yes. DialerHQ's virtual numbers cater to both business and personal needs. You can stay connected with friends and family in Bangladesh, manage long-distance relationships, and enjoy seamless conversations.
DialerHQ offers convenient and secure payment options for your virtual phone number plans. You can pay using credit cards, or other accepted online payment methods, ensuring a seamless and hassle-free subscription experience.
Need a Quick & Easy Bangladesh Phone Number ?
Make international calls & texts without buying a SIM card.