Get a Thailand Virtual Phone Number
Stay Connected, Stay Ahead: Expand your business's footprint in Thailand with Thai virtual numbers
Enjoy 50+ advanced call management features

Gain insights with call analytics and reporting

Reduce international calling & maintenance costs
What is a Thailand Virtual Phone Number?
A Thailand virtual phone number is a cloud-based service that enables businesses and individuals to establish a local presence in Thailand. It operates over the internet and encompasses features such as a power dialer, call barging, and a smart switch. These solutions offer multiple benefits to businesses, including expanding business presence, reducing costs, and improving customer satisfaction.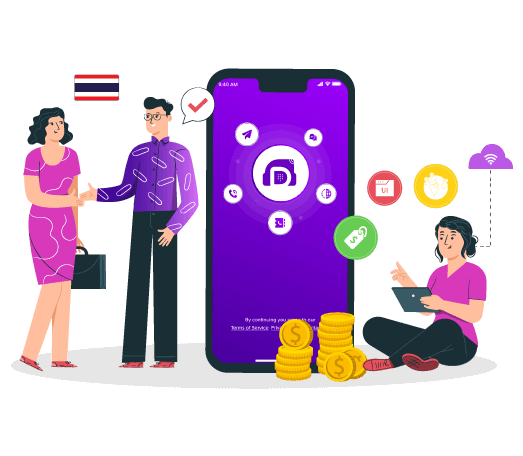 Why Do You Need a Thailand Phone Number?
You need a Thailand phone number because it brings multiple advantages to your business. Here are a few reasons to get one:
To enhance credibility with Thai customers.

To reduce international calling costs significantly.

To ensure easy accessibility for receiving calls.

To improve customer satisfaction and trust.

To expand the reach and tap into the Thai markets.

To access advanced call management features.

To maintain privacy with a dedicated number.
Benefits of Thailand Virtual Phone Number
When you buy virtual Thailand phone numbers– especially from DialerHQ, you will receive a host of benefits, including:
Streamlines international communication with Thai contacts.

Enables seamless remote work and virtual presence in Thailand.

Supports business expansion to reach more Thai customers.

Increases call response rates with a familiar local number.

Enables cost-effective communication with affordable calls.

Enhances call management efficiency with advanced features.

Enables accurate tracking and reporting of call analytics.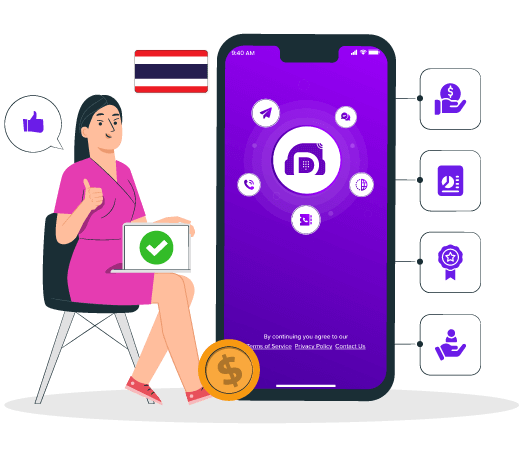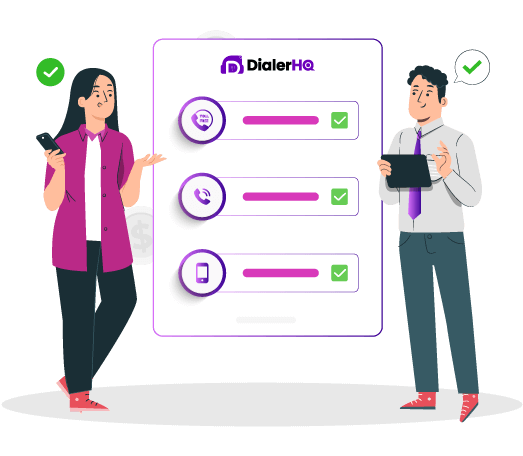 Types of Thailand Virtual Phone Numbers
Thailand virtual phone numbers come in three major types, as listed below, each serving a different purpose.
Local Thailand phone numbers:

9-digit numbers start with varying area codes. Suitable for companies looking to expand business in Thailand.

Toll-free Thailand phone numbers:

10-digit numbers with the prefix 1800 followed by 6 digits. Suitable for sales inquiries, customer support, and surveys.

Thailand Mobile numbers:

10-digit number starting with 0, followed by a 2-digit network prefix. Ideal to be in touch with customers 24/7.
Select the Thailand virtual number that best suits your business goals and budget.
Why Choose DialerHQ for Thailand Virtual Phone Number?
Whether you are a startup or an established enterprise, there are several compelling reasons why you should choose DialerHQ for Thailand numbers:
Advanced Features:

Access over 50 innovative features to enhance your overall communication experience.

Affordable Pricing:

Find a cost-effective solution for your business communication needs, starting at $0.

Pool of Area Codes: Create a local presence across Thailand with a large pool of available area codes.
Reliable Customer Support:

Get prompt assistance and quality customer support from our dedicated team.

User-Friendly UI:

Navigate the system effortlessly with our intuitive user interface & make the most out of it.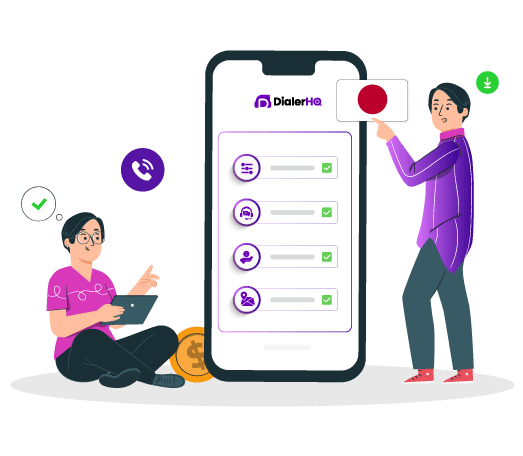 What Types of Virtual Phone Numbers Can You Get in Thailand?
This table offers information on the different kinds of virtual phone numbers that businesses can use in Thailand. These numbers include local, toll-free, national, international, mobile, and vanity numbers, and allow businesses to establish a presence in Thailand without needing an actual office. Toll-free numbers are particularly useful for providing free phone services to customers, while vanity numbers are memorable and help businesses stand out. Overall, virtual phone numbers provide businesses with the flexibility to improve customer service and grow their presence in Thailand.
| Type of Virtual Number | Dialing Code | Example |
| --- | --- | --- |
| Local Thailand Virtual Number | (+66) | (+66) 2 123 4567 |
| Toll-Free Thailand Virtual Number | (+66) | (+66) 1800 123 456 |
| Mobile Thailand Virtual Number | (+66) | (+66) 89 123 4567 |
Popular Area Codes in Thailand
This table provides a comprehensive list of popular area codes in Thailand for phone numbers. The table includes the corresponding cities, phone number formats, and examples of how to dial within Thailand. The information in this table can be useful for anyone who needs to make phone calls within Greece and wants to ensure they use the correct area code and phone number format.
| Area Code | City | Phone Number Format | Example |
| --- | --- | --- | --- |
| 11 | Buenos Aires | (11) xxxx-xxxx | (11) 1234-5678 |
| 221 | La Plata | (221) xxxx-xxxx | (221) 123-4567 |
| 223 | Mar del Plata | (223) xxxx-xxxx | (223) 123-4567 |
| 261 | Mendoza | (261) xxxx-xxxx | (261) 123-4567 |
| 299 | Neuquén | (299) xxxx-xxxx | (299) 123-4567 |
| 341 | Rosario | (341) xxxx-xxxx | (341) 123-4567 |
| 351 | Córdoba | (351) xxxx-xxxx | (351) 123-4567 |
| 370 | Formosa | (3704) xxx-xxx | (3704) 12-3456 |
| 379 | Corrientes | (379) xxxx-xxxx | (379) 123-4567 |
| 381 | Tucumán | (381) xxxx-xxxx | (381) 123-4567 |
DialerHQ Pricing Plans for Thailand Virtual Phone Number
How to Get a Thailand Virtual Number?
Embark on your DialerHQ journey now by following the 4 simple steps outlined below.

Sign in to DialerHQ.

Choose your custom virtual number & make the payment.

Configure your account, features, and settings.

Start making and receiving calls anytime, anywhere.
Features of Thailand Virtual Phone Numbers
As a leading Thai virtual number provider, DialerHQ offers a range of call management features. Here are a few of them:
Call Recording
Record and store each of the important calls for future reference or quality assurance purposes.
Voicemail
Allow callers to leave voice messages when you are unavailable, ensuring you never miss important information.
Auto-Attendants
Create personalized greetings and automated menus to guide callers to the right department or extension.
Interactive Voice Response (IVR)
Implement an IVR system to enable self-service options and route calls efficiently.
Call Analytics
Gain valuable insights into call metrics and patterns to make informed business decisions.
Call Forwarding
Redirect calls to different numbers or devices for seamless communication even when you are on the move.
Frequently Asked Questions
DialerHQ's Thailand virtual phone numbers have features like IVR, ACD, Voice Broadcast, and AI-enabled Dashboards, enhancing your communication capabilities.
DialerHQ provides four pricing plans for Thailand virtual phone numbers:
Basic: $0/month.
Bronze: $7.99/month.
Silver: $11.99/month.
Platinum: $19.99/month.
DialerHQ ensures reliable connectivity and advanced features for your Thailand virtual phone number, supporting your international outreach.
To set up a Thailand virtual phone number from DialerHQ, follow these steps:
Step 1: Sign up on DialerHQ.
Step 2: Choose Thailand as your preferred country.
Step 3: Select the region within Thailand.
Step 4: Pick the type of virtual number you need.
Step 5: Choose a plan and make the payment.
Step 6: Configure the system, import contacts, and start making calls.
DialerHQ provides features like Power Dialer, Global Connect, Call Recording, Smart Call Forwarding, and Call Transfer to improve interactions with Thailand-based contacts.
Need a Quick & Easy Thailand Phone Number ?
Make international calls & texts without buying a SIM card.