Stay Connected Anytime, Anywhere with Our Cutting-Edge Temporary Phone Number Service
1. Safeguard your privacy by using a temporary phone number for online activities.
2. Maintain anonymity while communicating with strangers or using online services.
3. Experience the power of a disposable phone number that keeps your personal number private.
DialerHQ– Temporary Mobile Phone Number
DialerHQ can work as a temporary mobile number that you can use to communicate with customers, friends, family, and loved ones. The app has several innovative calling features and is simple to use.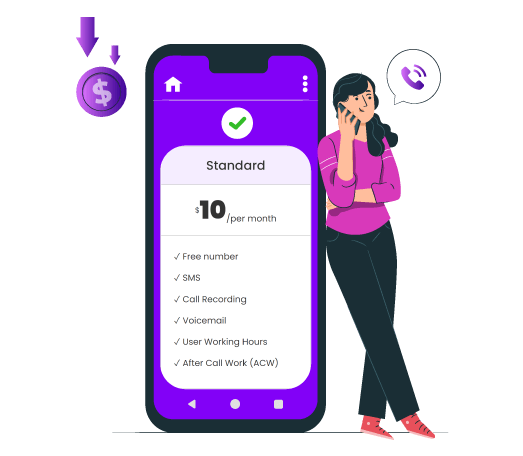 Lower Calling Costs
When you use our temp phone app, you can be certain of one thing– lower communication costs. All of our subscriptions are fairly priced and convenient for all kinds of users.
Easy To Set Up
Our free temporary number app is quite simple to set up. It only takes 3 steps–

A. Install the app from the Apple Store.
B. Choose a country and a phone number.
C. Dial or text your contact.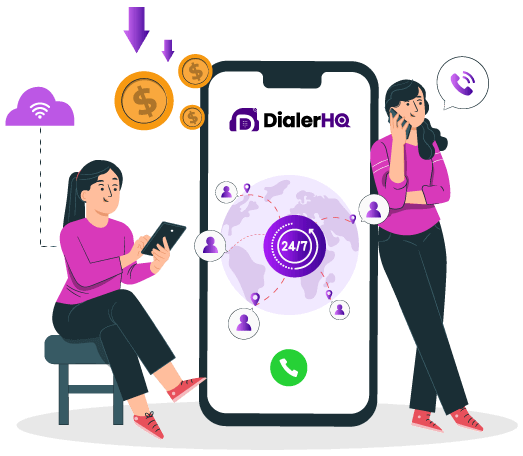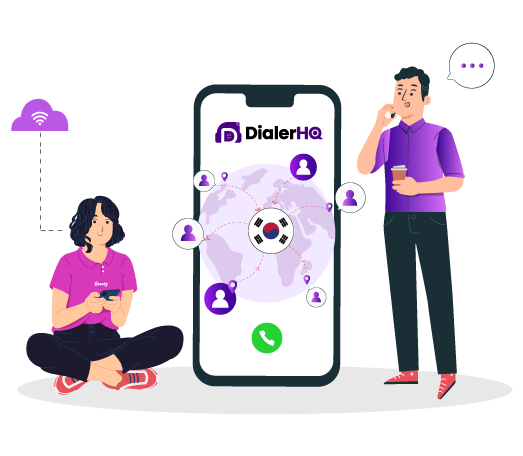 Keep In Touch 24/7
DialerHQ temp mobile number app can be accessed anywhere, anytime, as long as you have a reliable internet connection. This means you can stay in touch with your contacts all the time with temp phone number.
No Additional Resources
You don't need additional hardware or resources to use our temporary mobile DialerHQ app. To make international calls, all you need is a good internet connection and an active subscription for temp mobile number.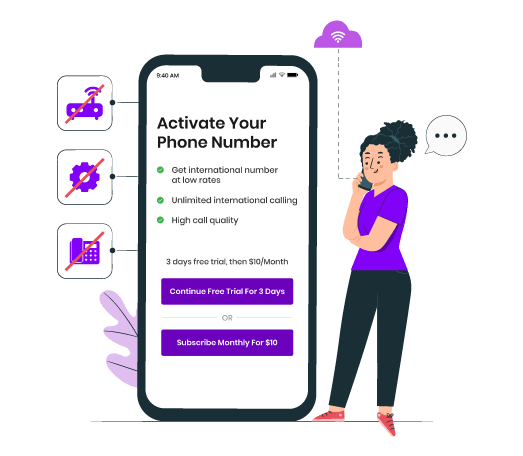 How much does it cost to get a temporary phone number in DialerHQ?
Get Temporary Phone Number With DialerHQ in 4 Easy Steps
Embark on your DialerHQ journey now by following the 4 simple steps outlined below.


Choose your custom virtual number & make the payment.

Configure your account, features, and settings.

Start making and receiving calls anytime, anywhere.
How Does the DialerHQ Help You Establish a Smooth Communication Link?
Global Number Selection
Our temp number app lets you pick your favorite number from a pool of thousands of different numbers.
Innovative Calling Features
Voicemail Facility
This temporary phone number app also includes voicemail functionality, ensuring that you never miss any message.
Crystal Clear Voice Quality
Since the calls are made over the internet, you get crystal clear voice quality with no disruptions or latency.
User Friendly
This temporary mobile phone number app is user-friendly, allowing all types of users to operate it with ease.
Easy-to-Use
Our temporary phone number app is quite easy to operate. It has an intuitive interface that makes it user-friendly.
Frequently Asked Questions
Yes, DialerHQ is a leading temporary number provider that offers temporary or second numbers for 80+ countries spanning continents.
DialerHQ provides four pricing plans for temporary phone numbers:
Basic: $0/month.
Bronze: $7.99/month.
Silver: $11.99/month
Platinum: $19.99/month
DialerHQ's services are highly reliable, given their robust network spanning across continents, coupled with partnerships with leading network providers.
To set up a temporary phone number from DialerHQ, follow these steps::
Step 1: Sign up on DialerHQ.
Step 2: Pick the type of temporary number you need.
Step 3: Choose a plan and make the payment.
Step 4: Configure the system, import contacts, and start making calls.
DialerHQ offers features like Power Dialer, Global Connect, Smart Switch, Call Barging, and Call Queuing Software to enhance communication with temporary contacts.
How Do I Get a Temporary Phone Number?
Acquiring and owning a free temporary phone number app has always been a cumbersome, tedious, and expensive process. Hence, we have listed three simple steps using which you can instantly activate your temporary DialerHQ:
Step 1: Download the DialerHQ app
Step 2: Choose your number, plan, and country-code
Step 3: Call or text anyone, anytime and anywhere with the DialerHQ
The excessive charges and the long turnaround times of most providers can make you feel like giving your temporary mobile number up in the first month itself, especially if you do a value vs. cost analysis! After having a similar experience with a temporary number for SMS/OTP/Verification, we decided to take matters into our own hands and simplify things with DialerHQ!.
Need a temporary international number? We'll get you one with unlimited calling and messaging in just a few minutes! With pricing starting at just 10$, you can use your temporary mobile number for business and personal use.
Why Should You Get A Temporary Phone Number App?
A temp phone number could come in handy if you run an online business that needs a listed phone number and don't want people to call you on your private number. You could also use the DialerHQ app for SMS/OTP/Verification purposes or to avoid getting spam calls from businesses/shops that you have brought from.
Many people use their temporary mobile phone numbers for personal use since they help avert unnecessary harassment or intrusion of privacy. Such numbers can also be used when a person is visiting a country for a short while and need a temporary phone number. For example, if you are visiting Canada for a few weeks, buying a permanent phone number doesn't make sense.
A free temporary phone number can also be helpful for people who are setting up a new business. Having a temporary mobile number that they can share with their new clients helps keep their new venture a secret until the company is established properly. Such free temporary number can also help you maintain a better work-life balance and yet not miss out on important business calls or messages.
Many users avoid using a free temporary phone number for business purposes due to the lack of professionalism and features. However, with DialerHQ, you get a dedicated team of professionals to help and support you, whether you purchase one temporary mobile phone number or a thousand. DialerHQ allows you to purchase a free temporary number for any duration (weeks, months, or years) and discontinue whenever you want – no questions asked.
No need to visit a physical store.
No need to call the phone company.
Just download the DialerHQ app, pick your new temp mobile number, and you're ready to make and receive calls.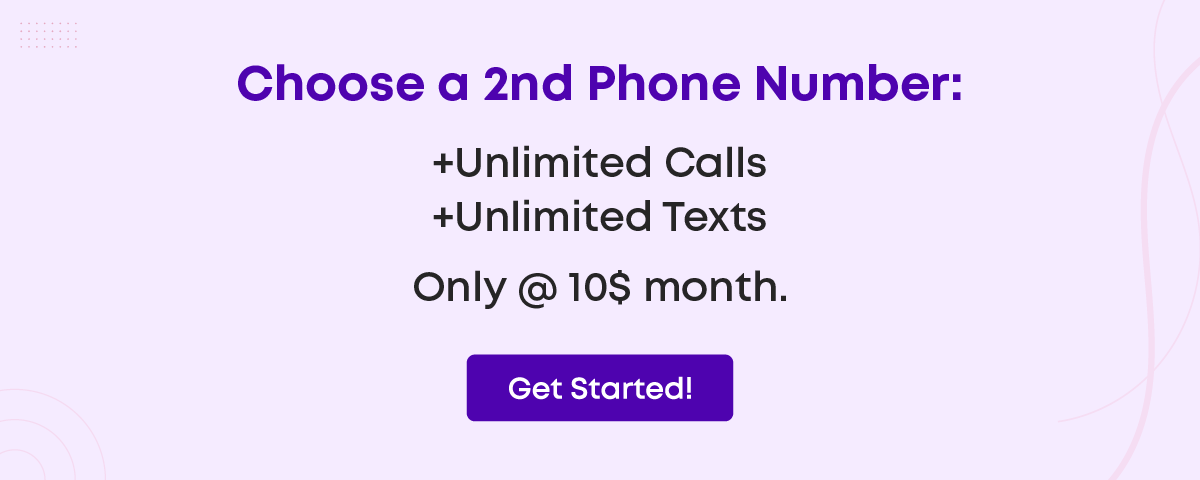 Key Advantages of Having A Temporary Mobile Phone Number
A free temp phone number offers the following advantages to users:
Anonymity: In today's digital world, protecting one's identity is supremely important. Divulging details like your phone number and name can lead to identity theft, and leakage of such information can lead to intrusive promotion and cyberstalking. However, with a temporary number for SMS/OTP/Verification, you can protect yourself from the above threats and remain far away from the reach of marketers.
Convenience: A temporary phone number can be activated and deactivated at any given time. Thus there is no long-term commitment required and once your requirements are met, you can discontinue them. DialerHQ makes the processes much easier as you can start and stop using such numbers using a single click.
Preventing Spam: The moment you share your number with a company, it comes in the public domain, and you are automatically added to calling lists. As a result, your number continuously gets spammed with advertising calls and messages. In many cases, your number is distributed to third parties, and after that, there is no undoing of the same. A free temporary number allows you to avert such incidents and ensures that only your contacts can access your private number.
Global Acceptance: Most providers do not go through the trouble of verifying if the number provided is a real or a virtual one. Thus, you can receive a verification code/OTP on your temp phone number and use it to enter the main site. You can also purchase a free DialerHQ for any country to make and receive calls at local rates.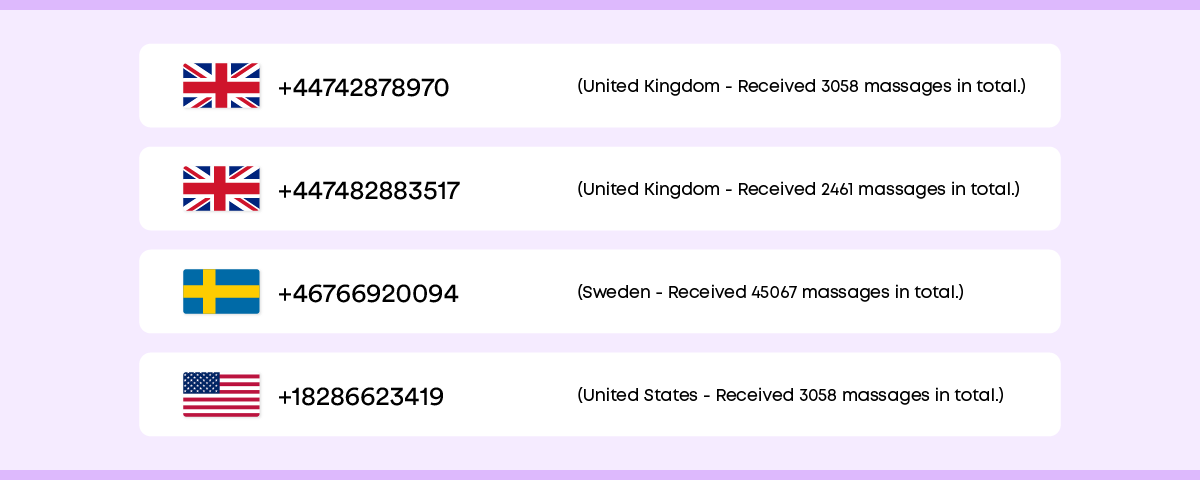 Why Do Users Prefer DialerHQ?
DialerHQ offers several benefits to users that help it score over temporary phone number providers. They are as follows:
Credibility: Finding a reliable and transparent temporary mobile number provider can be difficult. The team behind DialerHQ has faced these issues first-hand and therefore created a brand to help users get a premium experience for their alternate phone number.
100% Privacy: Privacy is a serious concern with most disposable phone number providers. However, DialerHQ makes it a point to safeguard your data at all costs and prevent all types of spamming messages. Additionally, it allows you to instantly get a new number and requires no special details during signup.
Premium Connection Quality: Since a free temp phone number is used in addition to a primary one and most users use them to avoid getting calls, providers seldom focus on the call quality and user experience. However, with the DialerHQ, you can be assured of a premium calling experience on each call placed and received.
Dedicated Customer Support: DialerHQ also has a dedicated team of experts that are ready to serve you 24×7. You can get in touch with the support team before or after taking a connection; and even after you have discontinued your services. As veterans in the VoIP calling industry, we are uniquely equipped to address and resolve your concerns.
Multiple Payment Methods: DialerHQ allows you to pay via multiple digital means. So you don't need to step out of your home to make payments. Additionally, they offer flexible temporary mobile phone number plans, which are perfect for personal and business use.
Conclusion
Purchasing a temp mobile number today is easier than ever. However, finding the right provider that can assist you in every step while offering peerless connection quality can be challenging. With the right provider by your side, investing in a disposable phone number can be very advantageous, ensuring privacy, safety, and convenience.
Need a Quick & Easy Temporary Phone Number?
Make international calls & texts without buying a SIM card.