Get a Belgium Virtual Phone Number
Looking for a Belgium Phone Number to stay in touch with your Belgiam clients? Grab your Belgium Virtual Number & start unlimited calling with no extra cost. Take advantage of great Belgium Phone Number App features, provide better customer experiences & strengthen your brand image.
Why Should You Buy a Belgium Phone Number?
When expanding your business internationally, a Belgium phone number from the DialerHQ becomes a necessity to reach your customers. A Belgium virtual phone number can help your business connect with its customers and increase your business productivity in Belgium. To start calling your customers with your Belgium Virtual Number, you need the DialerHQ app and an internet connection without bothering about a SIM card.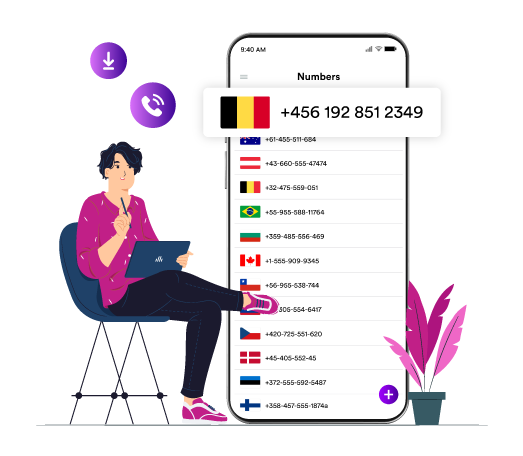 Buy Selective Belgium Numbers
The DialerHQ app allows you to choose from a huge pool of Belgium phone numbers with preferred Belgium area codes. Even if you are situated in a different country with customers and employees in Belgium, the Local Belgium phone numbers will help boost your communication & create a strong local presence and expand your clientele easily. 
Using the online Belgium Number, You can simultaneously reach out to prospective customers and professionalize and localize your brand. For example, if a customer in Bruges receives a call with the prefix 50, they will feel close to the brand and are more likely to trust it. In addition, adding a personal touch to customer communications will become much easier with a Belgium number.
Boost Your Pick-Up Rate
To establish bonds with local residents, international enterprises must blend in seamlessly. Even for a few minutes, calling an international number can be pricey, so businesses should buy virtual local numbers. As a result, your customers will be able to reach you without worrying about costs.
Moreover, as a modern business, you should be able to reach people locally through your phone number because a Belgium virtual phone number lets you expand worldwide without the need for physical set-up.
So, for example, when calling from outside Belgium, the caller should dial their exit international call prefix (usually 00 in Europe or 011 in the USA), followed by 32 (the Belgian country code), followed by the Belgium local area code, and finally, the local number.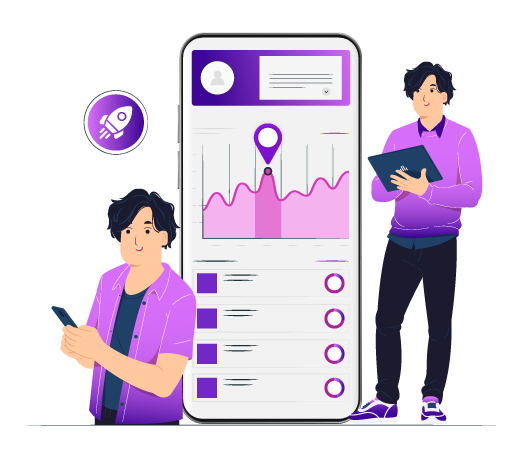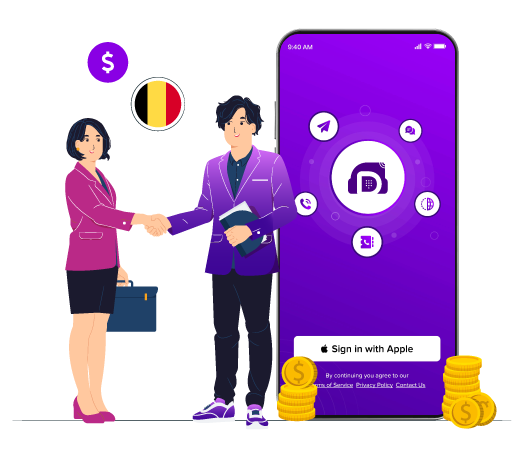 A Cost-Effective Solution
The costs is excessively high when you call your Belgium customers, friends, or family members from other countries using regular international calling plans. When you buy a Belgium phone number through the DialerHQ app, you can save significant money on communication.
The DialerHQ app has very reasonable charges and pricing plans, starting at $10 per month for calls. This Standard plan includes a free standard number, a free trial, a free $2 credit, and email support. Nevertheless, you can upgrade to their higher plans to enjoy more benefits.
Advance Call Tracking Insights
As a business owner, you need to know how to improve the quality of your calls and the data that drives your business. To flourish in business, you need to know the data that drives it. Belgium's virtual phone number goes beyond affordable call rates.
With a Belgium phone number from DialerHQ, you can monitor every call you make and receive, the leads you generate, who makes the most calls, how long the calls last, etc. Cutting-edge reporting features make it easy to improve call quality and make informed decisions.
Advanced reporting features allow you to make informed decisions to enhance call quality and customer satisfaction.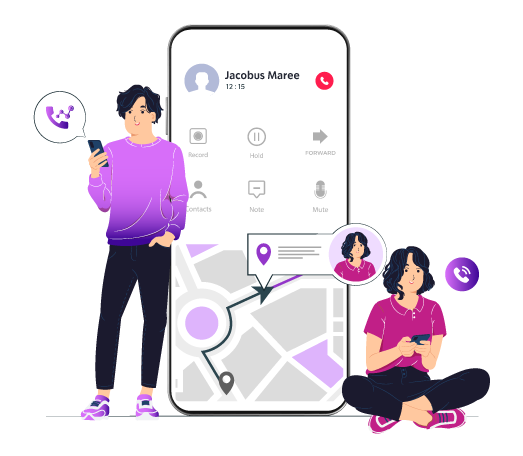 Here is the table of different types of phone numbers available in Belgium:
The following table provides a comprehensive overview of the various phone number types that are currently available in Beligum. It contains information on landline, mobile, VoIP, toll-free, and virtual numbers, including their formats, features, as well as their respective advantages and disadvantages. This information may prove useful for individuals or businesses in deciding which phone number type would be most suitable for their particular requirements.
| Type of Phone Number | Description | Number Format | Feature | Pros | Cons |
| --- | --- | --- | --- | --- | --- |
| Landline Phone Number | A phone number that is tied to a physical telephone line and a fixed location. It is usually associated with homes and businesses. | 02, 03, 04, or 09 | Fixed location, reliable connection | Reliable, suitable for businesses | Limited mobility, requires physical connection |
| Mobile Phone Number | A phone number that is not tied to a specific location or address, but rather to a mobile device that can be used anywhere. | 04, 047x, 048x, 049x, or 03 | Mobile, versatile | Portable, suitable for personal use | Potentially less reliable, signal strength may vary |
| VoIP Phone Number | A phone number that is assigned to a Voice over Internet Protocol (VoIP) service, which allows users to make phone calls over the internet. | Assigned by VoIP service | Internet-based, flexible | Low cost, works on various devices | Requires stable internet connection, may have lower call quality |
| Toll-Free Phone Number | A phone number that is free for the caller to dial. The cost of the call is borne by the recipient of the call. | 0800, 0801, 0802, 0803, or 0804 | Free for the caller, good for customer service | Customer-friendly, professional image | May incur higher costs for the receiver |
| Premium Rate Phone Number | A phone number that charges the caller a higher rate than a standard phone call. | 090x | Higher rates for the caller, used for entertainment, information or adult services | Can generate revenue for the receiver | Potentially unethical or misleading, may damage reputation |
| International Phone Number | A phone number that is assigned to a person or business located outside of Belgium. It can be used to make or receive calls from anywhere in the world. | Assigned by the country of origin | Can be used from anywhere, good for global communication | Suitable for international businesses or personal use | May incur higher charges, may require additional steps for international calling |
List of Area Codes for Virtual Phone Numbers in Beligum
This is a table that displays area codes for virtual phone numbers in Beligum. The purpose of the table is to aid individuals or businesses in selecting an appropriate area code. Information about number types and formats is also included for each area code.
| Area Code | Location | Number Format |
| --- | --- | --- |
| 02 | Brussels-Capital Region | +32 2 xxx xx xx |
| 03 | Antwerp | +32 3 xxx xx xx |
| 04 | Liège | +32 4 xxx xx xx |
| 09 | Ghent | +32 9 xxx xx xx |
| 010 | La Louvière | +32 10 xxx xx |
| 011 | Hasselt | +32 11 xxx xx |
| 012 | Tongeren | +32 12 xxx xx |
| 013 | Geel | +32 13 xxx xx |
| 014 | Turnhout | +32 14 xxx xx |
| 015 | Mechelen | +32 15 xxx xx |
| 016 | Leuven | +32 16 xxx xx |
| 019 | Huy | +32 19 xxx xx |
How Much Does Belgium Virtual Phone Number Cost?
Buy Belgium Virtual Phone Number With DialerHQ in 4 Easy Steps
Embark on your DialerHQ journey now by following the 4 simple steps outlined below.


Choose your custom virtual number & make the payment.

Configure your account, features, and settings.

Start making and receiving calls anytime, anywhere.
 Features of Belgium Number
Belgium telephone numbers save you money, provide significant portability, improve brand localization, and don't require additional hardware. Choose the country code most convenient for you, and you're ready to go!
Establish Brand Presence
Your Belgium mobile phone number will enhance your company's image to potential customers.
Real-Time Reporting
You can view detailed real-time information about the calls made to your free Belgium number.
Multi User Support
With DialerHQ's cloud telephony Belgium number services, your staff can easily collaborate with each other.
Call Recording
Keep track of your recorded calls, which can be played or downloaded anytime.
No Hardware Required
Virtual Belgium numbers are quick and easy to set up. All you need is a good internet connection.
Call Forwarding
Our bespoke call forwarding service allows you to direct calls from your Belgium number to any number in any location.
Frequently Asked Questions
Yes, DialerHQ's Belgium virtual phone numbers support international incoming calls. This feature aids global communication, making it convenient for clients, partners, and customers worldwide to reach you easily.
Yes. You can also port your Belgium virtual phone number to DialerHQ's platform. This smooth transition ensures you retain established communication channels while benefiting from DialerHQ's advanced features and services.
Many of DialerHQ's Belgium virtual phone numbers have SMS functionality. You can send and receive text messages through your virtual number, enabling versatile communication with your contacts.
DialerHQ offers comprehensive customer support, including online resources, FAQs, and dedicated support channels. You can reach out for assistance with setup, troubleshooting, and any inquiries related to your Belgium virtual phone number service.
Yes, setting up a Belgium virtual phone number with DialerHQ is hassle-free. Simply choose your plan, select a preferred Belgian area code, and configure call forwarding settings. Your virtual number will be operational swiftly, enabling you to communicate immediately.
Need a Quick & Easy Belgium Virtual Phone Number?
Make international calls & texts without buying a SIM card.