Want to strengthen your business in Nigeria? Get Nigeria virtual phone number to make things easier for you. Build familiarity with your customers sitting in any corner of the world! Virtual Nigerian numbers are easy to avail. No new sim cards or cell phones-only need a stable internet connection.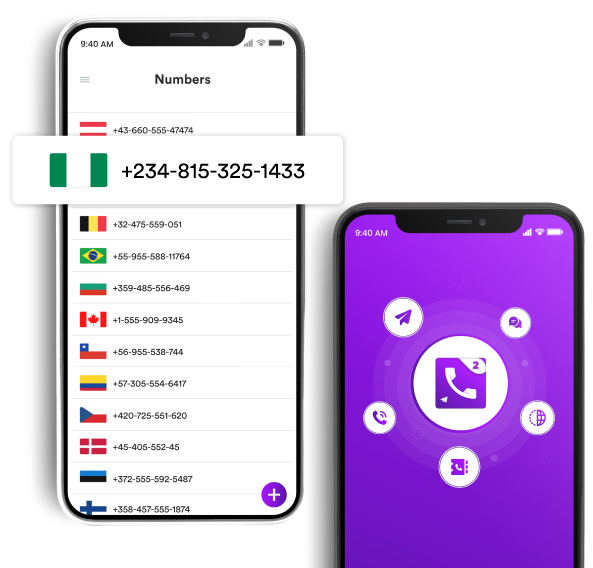 Why Should You Buy A Nigeria Phone Number?
With DialerHQ app's virtual Nigeria phone number, expensive international call rates are no longer a fret! Connect with your customers at affordable prices anytime and anywhere—mark your business presence by calling Nigeria with virtual numbers.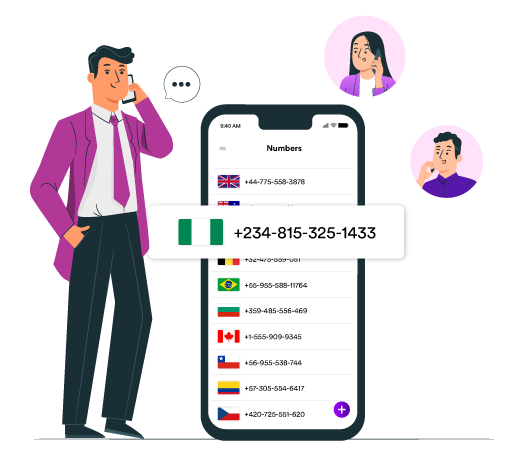 Build a Potent Customer Base
Create a local presence and quickly expand your customer base with virtual Nigeria phone numbers. Don't bother even if you are an international company! With our Nigerian numbers, you can gain access to the Nigerian market by simply sitting at home.
Use our app to get free Nigeria numbers and attract new customers to purchase your product and services. Local customers are more likely to answer calls from a local Nigerian phone number improving the conversion rate. 
Improve customer satisfaction levels internationally and locally with virtual Nigeria cell phone numbers. Get a Nigeria local phone number and start working on your customer base instantly!
Minimal International Calling Rates
International calling is an expensive affair. But with the help of a DialerHQ app, you can get a virtual Nigeria number and significantly reduce your international calling costs. You can also get a temporary Nigeria number for your business at cost-effective rates. 
The Nigeria virtual phone number functions similarly to a regular phone number. However, the call rates are significantly lower. The virtual Nigeria numbers use a stable internet connection to make and receive calls & messages. 
+234 1 xxx xxxx is a Nigeria phone number example that can make long-distance calls at low costs. Boost your business worldwide by saving hardware and calling costs with a Nigeria phone number.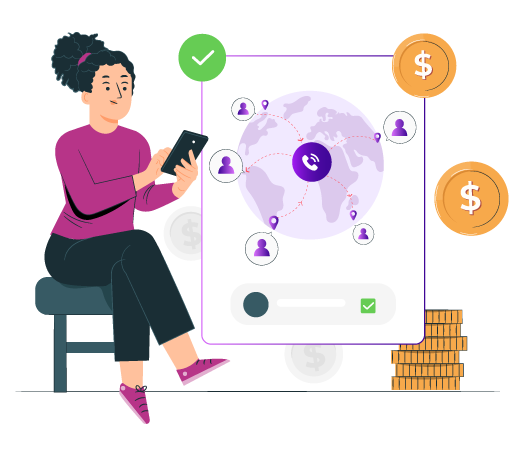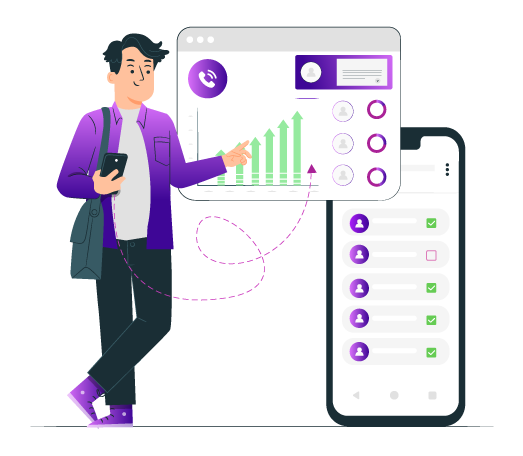 Improved Flexibility & Productivity
You can make calls from anywhere and anytime with Nigeria virtual numbers, Use the DialerHQ app to get free Nigeria numbers and improve customer satisfaction. All you need is an active subscription and a stable internet connection.
Make calls from anywhere worldwide and improve your team's productivity by promoting efficient remote work. 
Improved flexibility isn't just a benefit to clients but to personal users as well. You can always stay in touch with your kith and kin with a virtual Nigeria phone number. Connect with your loved ones even in a limited network area coverage. 
Premium & Features Filled Voice Calling
There's no compromise on quality calls with a Nigeria virtual number. Connect seamlessly anytime and anywhere in the world. 
Never fret about leaving calls unattended with our brilliant call forwarding feature. Track calls in no time with the best virtual Nigerian phone number.
Generate an online Nigeria number and identify the Number of leads generated via calling, the agent's calling status, the average duration of calls, the total number of calls made and received, etc. 
Transfer your calls quickly with DialerHQ's call transfer feature. Make informed decisions and enhance call quality using virtual Nigerian numbers with the advanced reporting feature.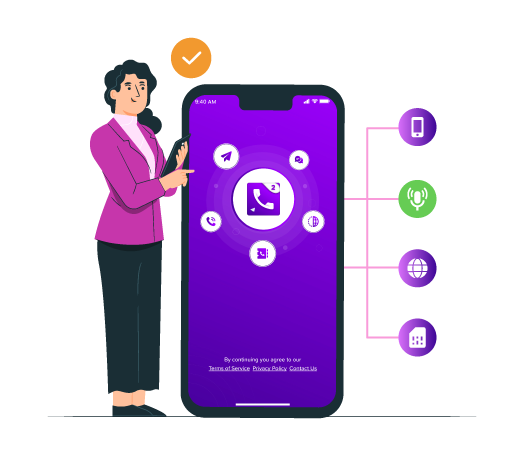 How Do You Get

Free Virtual Nigeria Phone Number

?
With the DialerHQ, you can get a free VoIP number or buy a virtual Nigeria phone number at a minimal cost. As a virtual Nigeria number provider, DialerHQ does not require a new SIM card or extra equipment to get you started.
The process of getting a virtual Nigeria phone number is quite simple. Just follow these steps:
:
How can you make the most out of a Virtual Nigeria Phone Number?
Buy virtual Nigeria cell phone numbers in no time and start instantly. Choose your preferred country calling code and area code to make and receive calls using a virtual Nigeria phone number. Build a local presence and win your customer's hearts in Nigeria and worldwide. The perfect strategy to enlarge your business starts with a Nigeria phone number.
Brand Loyalty
Project a professional brand image and earn the trust of your customers with a Nigeria virtual phone number.
Boost Savings
Traditional international calling can hamper your operational budgets. Free virtual Nigeria numbers are the best solution to enhance your savings.
Easy Setup
A good internet connection on your smartphone is enough to use a virtual Nigeria phone number. Use your phone to place calls anywhere in Nigeria.
User-Friendly Interface
It is one of the finest virtual phone number apps in Nigeria. The app is easy-to-use and requires no training due to its efficient, simple interface.
Excellent Quality
Get a virtual Nigeria phone code number & experience the power of seamless calling. DialerHQ eliminates data latency for a smooth experience.
Remote Access
Grow your business in Nigeria effortlessly. Create your virtual setup in minutes and avail remote access with our virtual Nigeria area code number.
Need a Quick & Easy Nigeria Virtual Phone Number?
Make international calls & texts without buying a SIM card.