Get a France Virtual Phone Number
Are you tired of paying absurdly high international calling charges? Install the DialerHQ app to drastically reduce your phone bill.
Why Should You Buy a Virtual French Phone Number?
There are multiple advantages to using a France phone number, including lower calling costs, improved portability, brand localization, and a better customer experience, among others.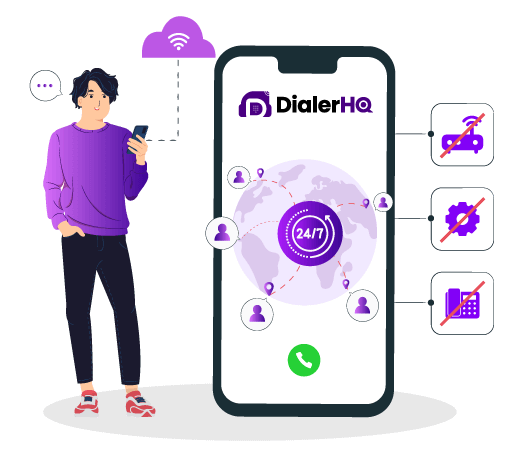 Unparalleled portability
The first major advantage of the DialerHQ– a free France number app, is its exceptional portability. You can use or access the app whenever and wherever you want, just like any other regular mobile app. All you'll need is a steady internet connection and an active subscription.
This extent of portability allows you to respond to customer calls and messages from anywhere, at any time, ultimately increasing customer satisfaction. Not only is portability useful for business purposes, but it is also useful if you use the DialerHQ app for personal purposes.
For example, you can always stay in touch with your loved ones, even if you are in an area with the limited mobile network coverage. To summarize, the portability of virtual France phone numbers can be a significant benefit for its users.
Low-cost calling solution
International calling is usually expensive, especially if you use traditional methods. However, with the help of the DialerHQ application– a free France phone number app, you can overcome this issue or significantly reduce your international calling costs.
Although the French phone number purchased from the DialerHQ private phone number app functions exactly like a regular phone number, the calling costs are significantly lower. This is because, unlike traditional calling methods, a virtual French phone number uses the internet to make calls and send messages.
Furthermore, the DialerHQ pricing plans begin at just $10 per month. Even the most basic plan includes a free phone number and  $2 in credits. However, if you want more advanced features, you can always upgrade to a higher plan, such as Premium or Unlimited.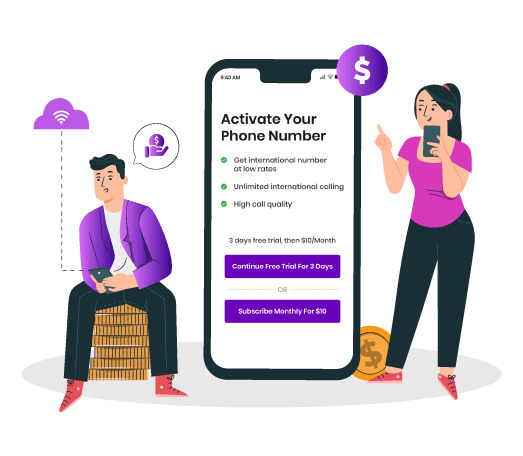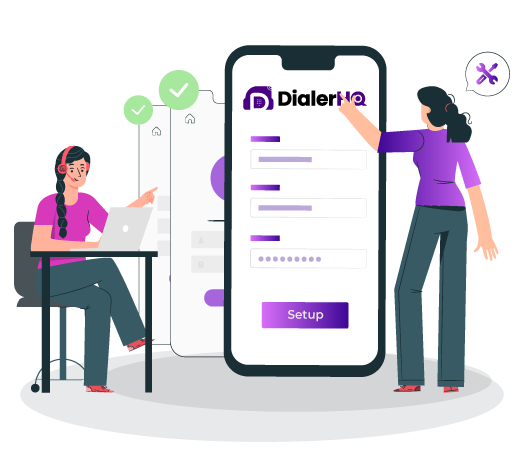 Quick & easy setup
Setting up a traditional business phone system is both a time-consuming and costly affair. To set up the system, you will require purchasing various standalone hardware and devices. However, you can bypass the need for additional hardware by using a virtual French phone number provider app like DialerHQ.
The DialerHQ– a free France number app, is very easy to get started with. Download and install it from the Apple Store, then configure it to your needs. Next, select your preferred country, area code, and phone number.
For example, if you want to buy a French VoIP number, select the country as France, the preferred area code, and the France phone number. Then, choose the suitable plan and pay. Once your number has been activated, you are ready to make calls and send messages. Remember that, to operate, a virtual number will not even require a SIM card.
Brand localization
When using a France Phone Number for business, it is critical that your number has an area code that corresponds to the area you want to target or where your customers live. For example, if you want to target Corsican customers, select the area code 04 when purchasing the French Number from the DialerHQ.
So when you call your customers in Corsica using that French phone number, they will receive a call from a number with the area code 04, which they may find trustworthy and are likely to pick up. On the other hand, if the France virtual phone number you purchase has a different area code than the region you are targeting, the chances of call pickup will be lower.
To summarize, the France virtual number will assist you in localizing your brand among customers. At the same time, having a dedicated customer number will help you project a professional image of your company to customers.
Read: Call France from the US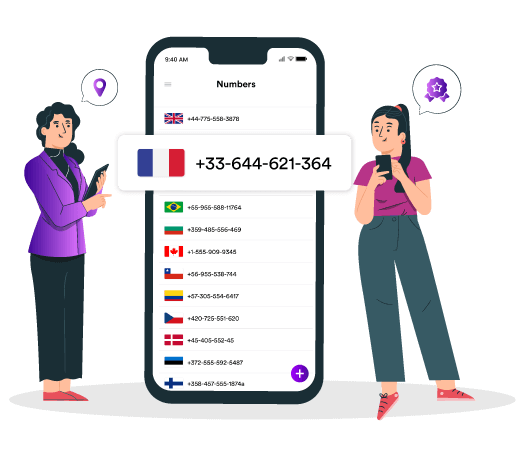 Here is the Table of Different Types of Phone numbers Available in France:
The following table provides a comprehensive overview of the various phone number types that are currently available in France. It contains information on landline, mobile, VoIP, toll-free, and virtual numbers, including their formats, features, as well as their respective advantages and disadvantages. This information may prove useful for individuals or businesses in deciding which phone number type would be most suitable for their particular requirements.
| Type of Phone Number | Description | Number Format | Feature | Pros | Cons |
| --- | --- | --- | --- | --- | --- |
| Mobile Phone Number | A phone number associated with a mobile device | 06 XX XX XX XX | Mobility | Portability, accessibility | May have poor signal quality in some areas |
| Landline Phone Number | A phone number associated with a physical address | 01 XX XX XX XX | Reliable | High-quality sound, stable connection | Not portable |
| VoIP Phone Number | A phone number associated with a Voice over Internet Protocol (VoIP) service | 09 XX XX XX XX | Flexible | Low cost, can be used with multiple devices | May require a strong and stable internet connection |
List Major Area Codes for Virtual Phone Numbers in France
This is a table that displays area codes for virtual phone numbers in France. The purpose of the table is to aid individuals or businesses in selecting an appropriate area code. Information about number types and formats is also included for each area code.
| Area Code | Location | Number Format |
| --- | --- | --- |
| 01 | Paris and Île-de-France | (0)1 xx xx xx xx |
| 02 | Northwest France | (0)2 xx xx xx xx |
| 03 | Northeast France | (0)3 xx xx xx xx |
| 04 | Southeast France and Corsica | (0)4 xx xx xx xx |
| 05 | Southwest France and overseas departments | (0)5 xx xx xx xx |
How Much Does France Virtual Phone Number Cost?
Buy France Virtual Phone Number With DialerHQ in 4 Easy Steps
Embark on your DialerHQ journey now by following the 4 simple steps outlined below.


Choose your custom virtual number & make the payment.

Configure your account, features, and settings.

Start making and receiving calls anytime, anywhere.
What are the Benefits of Using a French Phone Number?
As previously noted, having a France virtual number has a slew of benefits. For example, it lowers call costs, provides significant portability, aids in brand localization, and requires no additional standalone hardware to function. In addition to these major benefits, the French VoIP number provides several additional benefits, as mentioned below.
Brand Building
A dedicated France virtual phone number will help you project a professional image of your company to customers.
Cost-Effectiveness
The French phone number enables low-cost international calling while also eliminating setup and maintenance costs.
Excellent Call Quality
Since the France phone number operates over the internet, there is no quality degradation, ensuring clear voice calls.
Remote Access
The DialerHQ app can be accessed from anywhere at any time as long as you have an internet connection and an active subscription.
Simple Setup
Setting up the DialerHQ app to use a France virtual number is a simple process that requires no technical expertise.
No Additional Hardware
Setting up a France phone number does not require any additional standalone hardware or devices, not even a SIM card.
Frequently Asked Questions
All French phone numbers are ten digits long, with the first two digits indicating the area code, followed by an eight-digit phone number.
The typical French VoIP numbers are of 10-digits and look like XX XX XX XX XX. (For example, 01 96 56 54 23).
ATo get a French phone number from abroad, use free mobile number apps like DialerHQ. This app provides a pool of international numbers and area codes to choose from. Select your preferred France phone number, select the appropriate plan, and start calling your loved ones or customers in France.
Need a Quick & Easy French Virtual Phone Number?
Make international calls & texts without buying a SIM card.