Keep your business and personal communications separate, and stay in touch with customers all over the world with our business phone number app– DialerHQ.
DialerHQ– Advance Business Communications
Along with assisting you in establishing a professional image for your company, our free best DialerHQ app also assists you in significantly reducing your overall communication spend.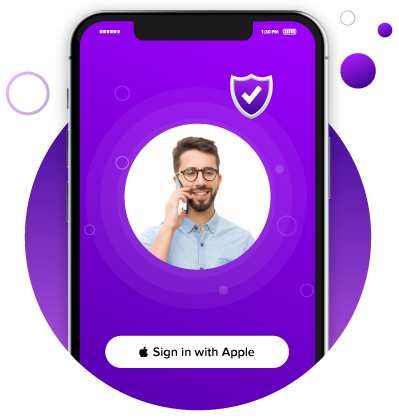 Portray Professional Image
The DialerHQ app is an excellent option for projecting a professional image of your company. Every time a customer receives a call from a unique number, it instills trust in your company.
Keep In Touch 24/7
You can stay in touch with your valued customers at all times by using our best free DialerHQ app. With just a few taps, you can call or text them anytime, from anywhere.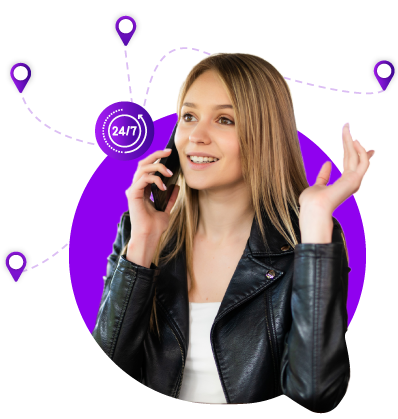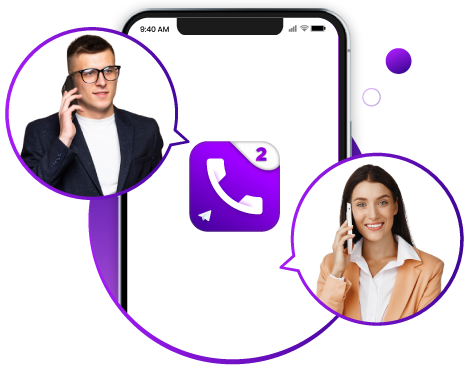 Lower Communication Spend
Our best free DialerHQ app helps you save money on business communication. When compared to regular calling charges, DialerHQ of charges are considerably lower and more affordable.
Easy-To-Set Up
DialerHQ– the free DialerHQ app iPhone is feature-rich, easy to set up, and simple to use. Even someone with no technical knowledge can operate it effectively.
How does It work

?
DialerHQ is a business phone number application that uses mobile internet or wifi to make calls and send text messages.
To get your own DialerHQ, follow these three simple steps: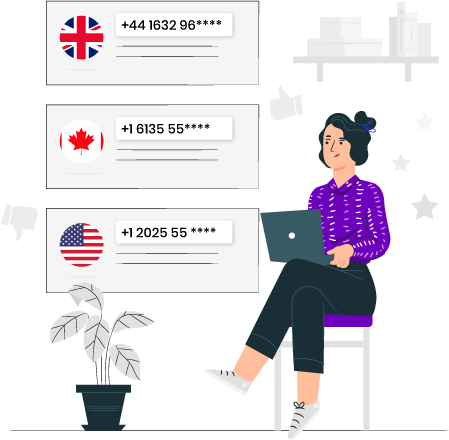 Select a country and your preferred phone number from the list.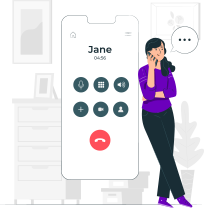 Dial or text your customers anywhere, anytime!
How DialerHQ Help Your Firm Attain a Professional Edge?
Pool of Global Numbers
With the second phone app, you can select the country and your preferred phone number from a large pool of options.
Improved Voice Quality
Being the best free DialerHQ app, we provide exceptional voice quality that will help you address customers better.
Worldwide Calling & Texting
Connect with customers on the other side of the world in real-time. The DialerHQ app lets you text and call people worldwide.
No Hardware Requirement
Setting up a second line app is simple and requires no additional hardware. All you need is a reliable internet connection.
Innovative Calling Features
Exceptional Portability
You can access the DialerHQ business phone number app from anywhere, as long as you have a decent internet connection.
Listed below are some of the best DialerHQ apps:
DialerHQ
Sideline
Hushed
Ring4
Phone.com
Grasshopper
Cloud SIM
Google Voice
Burner
Some of the key reasons to use a second line app are:
Dating websites are popular with the youth and it can be used by women who can use a DialerHQ app for free for privacy and security.
You can use a free DialerHQ app when you go shopping.
It is best to get a DialerHQ when you are relocating to a new city/country.
You can use a second line app for your clients so that you can ignore the calls when you are with your family.
Get a DialerHQ to use the same phone for both work and for personal life.
You can use a free DialerHQ app to sign up on any promotional websites/ applications.
Some of the most common features of a second phone app include:
Provides an option to have multiple phone numbers on the same phone.
You can share the number with your clients around the world.
Get unlimited text and calls with a free DialerHQ app.
Helps you save money on roaming charges.
Helps you work remotely and attend work calls from anywhere, anytime.
A DialerHQ app allows you to choose a number of your choice and make calls and text to anyone around the world. It helps you a lot as you don't need to share your personal number with anyone.
There are some important things you need to consider when you choose a DialerHQ app:
You can find hundreds of apps on the play store, however you need to check if it allows you to make calls to the location of your choice.
If you use an iPhone, get a free DialerHQ app for iPhone from all the available options.
There are different types of payment options to choose from including pay per phone, pay per use, pay per phone number etc. Choose the best app which suits your requirements.
Opt for a free trial before making a payment. Most DialerHQ apps have a free trial period of 7 or 15 days so you can check the service before you buy.
Look for authentic customer reviews and ratings on their website.
List of the best DialerHQ apps:
Sideline
DialerHQ
Google Voice
Burner
Hushed
Flyp
Cloud SIM
Ring4
In order to get a free DialerHQ, it is important to download the best free DialerHQ app. There are different second line apps available for free and provide high-quality calling and texting. Once you get a DialerHQ for free, you can use it for business or personal use.
A second line app allows you to choose a custom phone number for calls and texts globally. You can use a second line app when you are not willing to share your personal phone number. Once you get a DialerHQ for free, you can use it for business or personal use.
Yes, you can get a free DialerHQ app for iphone without buying another SIM. It is possible to use this app on iPhone for unlimited calling and texting.
There are various free DialerHQ apps that allow you to run 2 phone numbers on one phone without buying an additional SIM. It can be used for both Android and iPhone.
Yes, it is possible to get a DialerHQ for personal use. You can choose one of the best DialerHQ apps from hundreds of apps available online. Get a DialerHQ app which suits your requirements.
Download a second line app from the above mentioned list.
Most DialerHQ apps offer a free-trial before making a commitment. Choose an app which provides a free-trial.
Choose a Personal or Business option depending on your requirements.
Sign up on the app and provide the necessary details.
Select your preferred number and get started.
Use the app for services including texts, calls, voicemails and more.
By using a DialerHQ app, it is possible to protect your identity and keep your personal information safe. Some of the best DialerHQ apps allow you to create burner numbers to share with strangers
Technology has made it possible for individuals and businesses to own a free DialerHQ through mobile apps. When running a business, a DialerHQ can boost customer satisfaction. And if you are an individual, to get a DialerHQ app can ensure your privacy.
Let us understand everything about the best free DialerHQ apps of 2022.
Why Do You Need A DialerHQ App?
The simple answer to the question is that it will save you time and help you streamline your communication. A survey shows that small and mid-sized businesses miss nearly 62% of customer calls. The following pie chart breaks down how the phone calls ended up either with no response or in voicemail.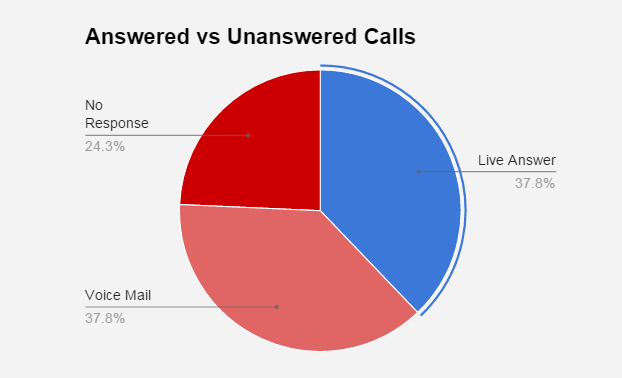 21st-century businesses cannot survive without DialerHQ apps. Let us discuss some reasons why your business needs a DialerHQ app briefly:
A DialerHQ For Work
A second-line private phone number calling app gives you a number exclusively for work-related calls and messages. Your calls, text messages, and contacts will not interfere with your professional communication.
Added Privacy
Using the same phone number for work and personal calls puts you at risk of receiving spam calls. So you can get a  DialerHQ to make anonymous calling and also you can share it and display it on your website or social media platforms.
Auto-Reply To Missed Calls
We saw how businesses miss crucial calls and face losses. A DialerHQ app ensures you never miss a business call again. You also get the option to set up an auto-reply to missed calls outside office hours or during weekends. Thus, you can achieve a better work-life balance.
Ease Of Use
Most popular free DialerHQ app iphone can get you up and running in a few minutes. You do not need to wait for a service provider to activate your DialerHQ.
No Need For A New Device Or Hardware
There is no need to buy an additional phone or hardware to use a DialerHQ. You can use the free DialerHQ app on all your connected devices.
Factors To Consider When Choosing A DialerHQ App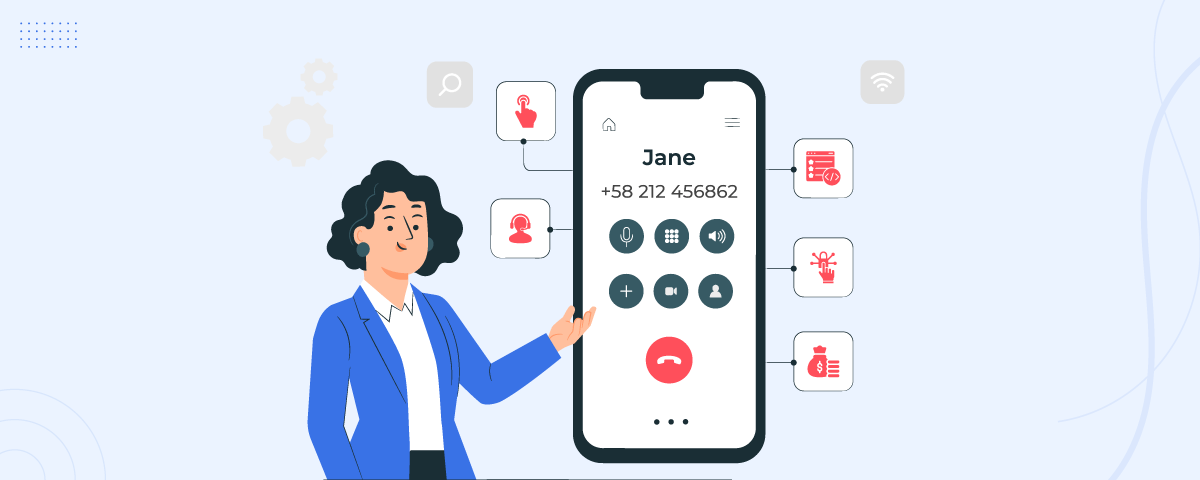 It is not so easy to choose a DialerHQ app free for startups, small businesses, and freelancers. So they should take into account the following factors when choosing such apps.
Access
You should be able to download the second phone app and start making calls with your private virtual phone number without a lengthy registration process.
Cost
The second cell phone number apps come with subscriptions. Your service provider should offer reasonable pricing plans that suit your needs.
Features
The app should provide features that optimize your business communication. It should provide features like auto-reply and voicemail and let you route calls to others.
Customer support
You should be able to get in touch with the customer service team 24/7 for any queries or issues.
Extra Features
Get a DialerHQ free app that delivers more than an additional number. For example, it should let you automate online requests. Moreover, if your DialerHQ app can create lists and streamline customer interactions, it will enhance your customer engagement.
Top 6 DialerHQ Apps in 2022
| | | | | | | |
| --- | --- | --- | --- | --- | --- | --- |
| App feature | DialerHQ | Burner | Chalkboard | Google Voice | Hushed | Sideline |
| DialerHQ | Yes | Yes | Yes | Yes | Yes | Yes |
| No extra equipment | Yes | Yes | Yes | Yes | Yes | Yes |
| Free trial | Yes | No | Yes | Yes | No | Yes |
| Auto-reply feature | Yes | Yes | Yes | No | Yes | Yes |
| Broadcast messages | Yes | No | Yes | No | No | Yes |
| Availability | Yes | No | Yes | No | No | No |
1.

DialerHQ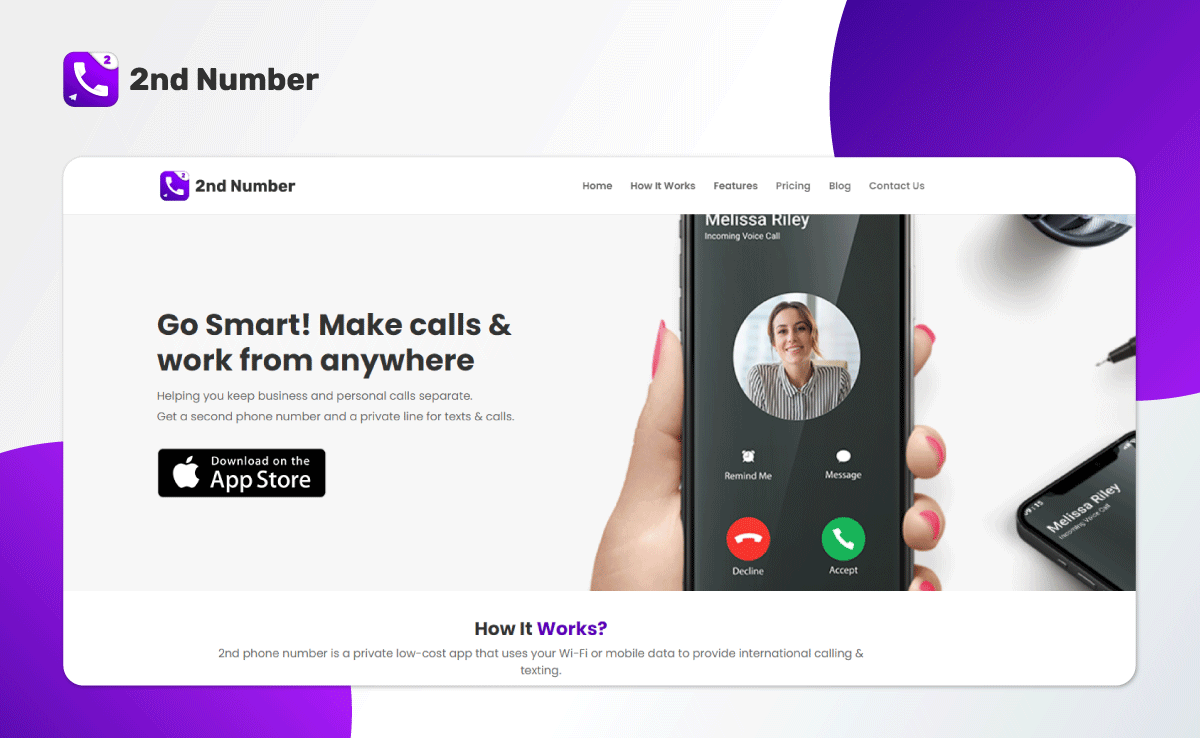 The DialerHQ app is a low-cost service for small businesses. It uses your Wi-Fi or mobile data to make international calls or send texts. Brands can create their global presence within a reasonable budget. You can also download the iOS app to connect with friends or family while avoiding the regular tariffs.
Pros:
Global number selection: The app allows you to select a number with your preferred country's code.
High-quality calling: You can experience a crystal clear voice quality with DialerHQ.
International calls and texts: You can stay connected with your global clients at no additional cost.
Intuitive UI/UX: The free DialerHQ app is user-friendly. It lets you manage your account, calls, and texts from the app dashboard.
Quick setup: You can download the DialerHQ app and start using your DialerHQ in a few steps.
Zero investment in new hardware:You do not need to invest in new hardware to use the various features of the mobile app.
24/7 access from anywhere, anytime:The app works over WiFi calling and mobile network calls. You can make the most of the second line app across the globe.
Call Forwarding:: You can redirect your incoming calls to a call forwarding number so that you can answer them from any other number of your choice.
Cons:
None.
Pricing:
Check out the following image: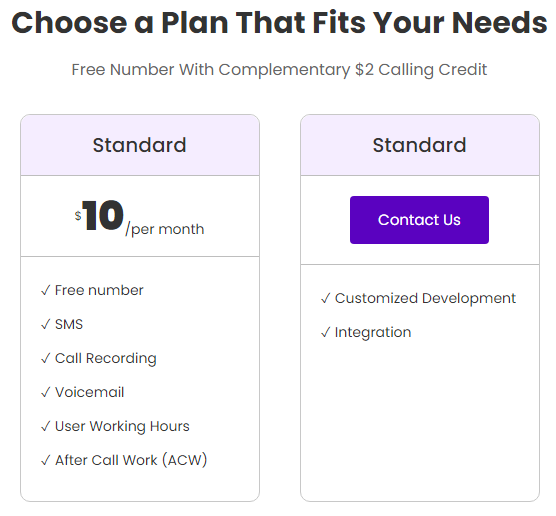 2. Burner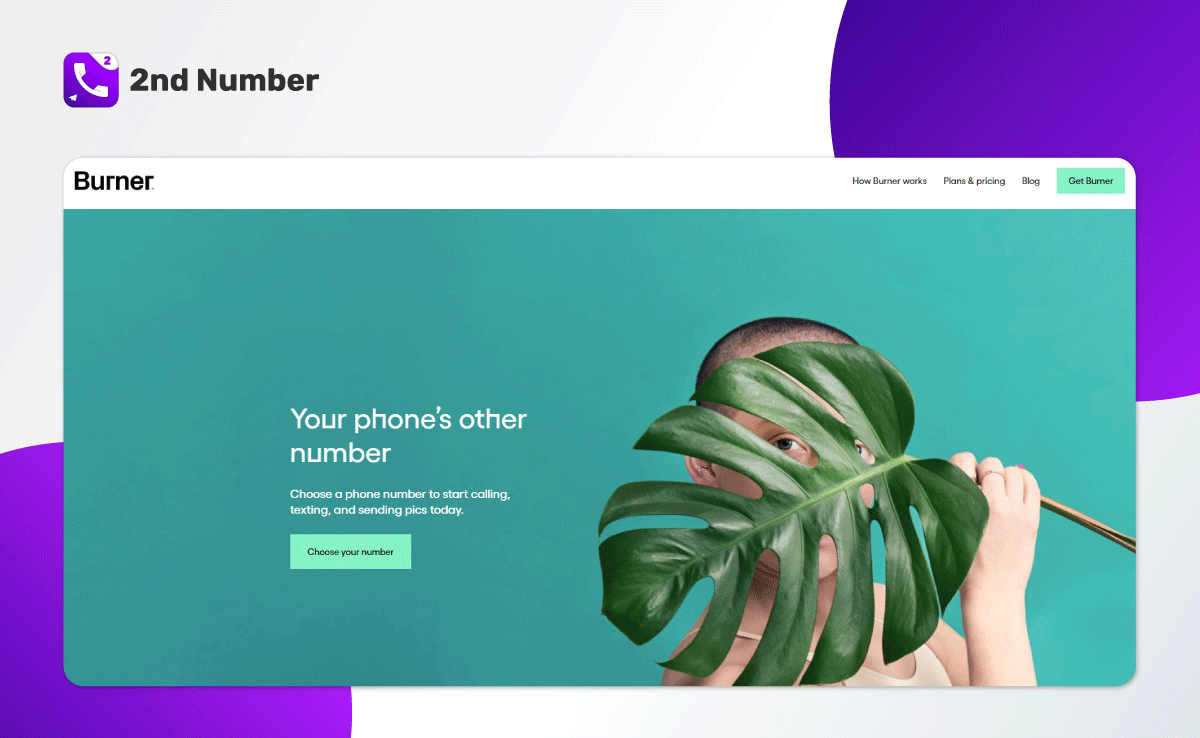 The Burner app is similar to the burner phones used by spies in espionage thrillers! Yes, you can create a new number, use it, and then ditch it permanently. The second phone app also offers a permanent second cell phone number.
Pros:
Easy integration with Slack and Evernote for greater team collaboration.
Integration with SoundCloud for sharing voicemails publicly or privately.
Cons:
Complex interface.
Too many notifications.
Pricing:
It offers a seven-day trial.
3. Chalkboard
The Chalkboard app can get you started within minutes. You can choose your local phone number (UK mobile or US local), and the DialerHQ app does the rest for you.
Chalkboard is helpful for small businesses and startups due to its lists and review features. It lets you categorize contacts into lists and automate online review requests. The best thing is Chalkboard's subscription plans include everything. You do not have to pay per call or message separately.
Pros:
Advanced auto-reply feature.
Contact lists.
Automated review requests.
Freedom to choose your phone number (US).
Cons:
The app is currently not available globally.
Pricing:
There is a free trial, and then you can choose the subscription plans.
4. Google Voice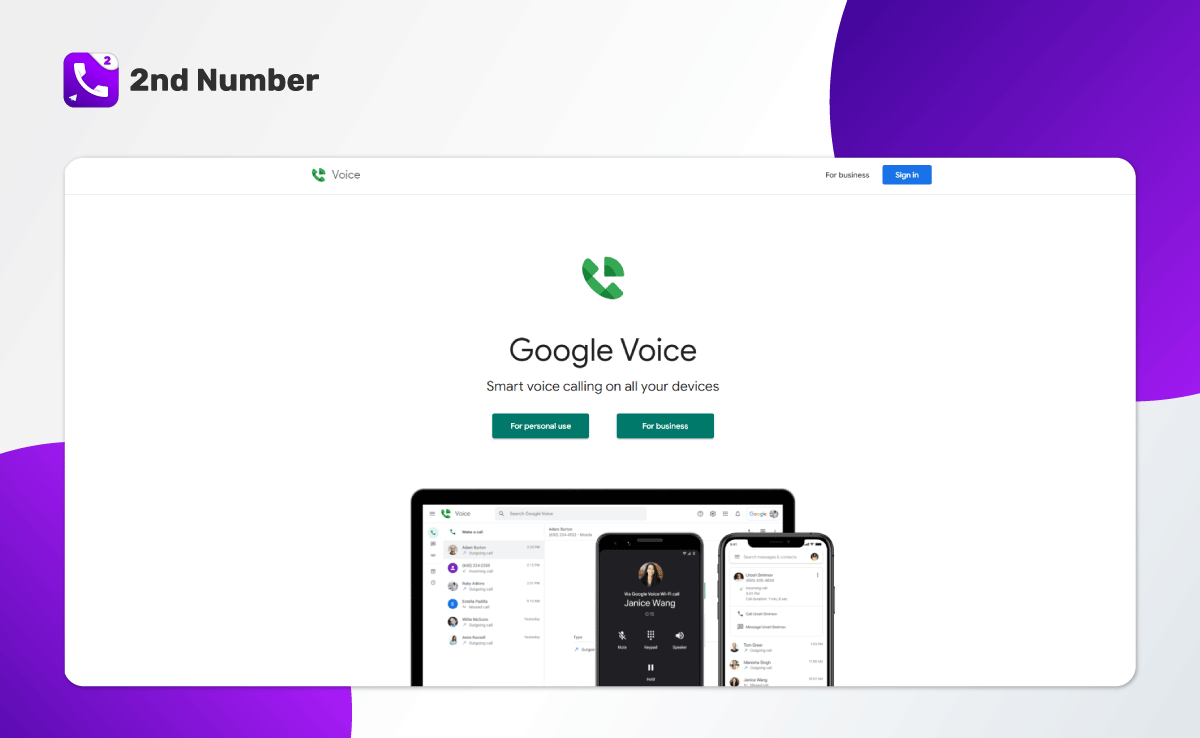 Google Voice provides you with features, such as voicemail, messaging, and calling that you can use on any of your linked devices. You can also forward calls, texts, and voicemails to your chosen phone number.
You can block unwanted calls and filter out spam. Last but not least, you can also store your communication, which is beneficial for small businesses.
Pros:
Easy to set up.
Spam filters.
Cons:
It works only in the US for personal Google accounts and G Suite in other countries.
It does not support texting in several countries.
Pricing:
International calls depend on market rates. A free trial is available.
5. Hushed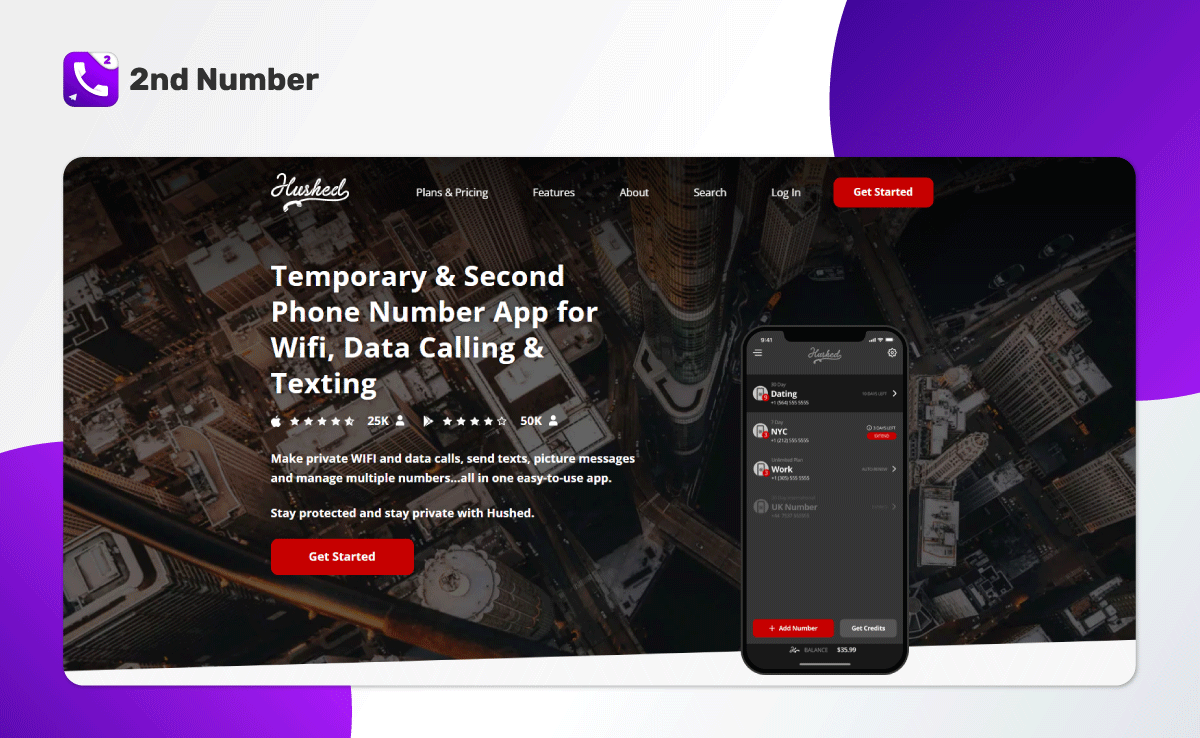 Hushed offers voicemail, encrypted messaging, and secure calling. You can add as many numbers as you like using the free DialerHQ app iphone. The second cell phone number will expire depending on the subscription plan. It is also one of the few apps to accept Bitcoin.
Pros:
Add unlimited numbers to your account.
It offers flexible plans and special offers for students.
Cons:
It is a complex app for regular small business owners.
Pricing:
Subscription plans start at £1.45 per week.
6. Sideline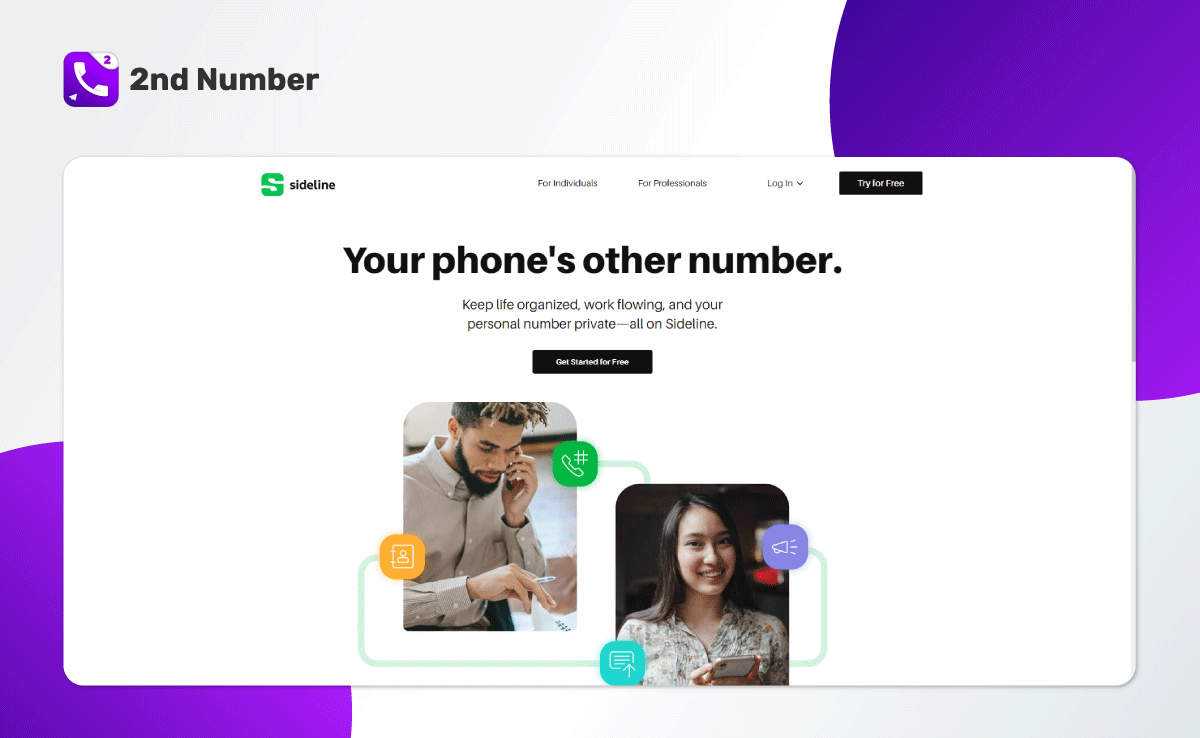 Sideline lets you use your existing mobile service provider's voice calling and messaging minutes. You can also port your second cell phone number to Sideline. It ensures continuity for business conversations.
Pros:
Number portability.
Make use of your existing voice and messaging minutes.
Cons:
It operates primarily in the US market.
The plans are expensive after the free trial period.
Lack of business features.
Pricing:
The second line app comes with a seven-day free trial period and costs you between £7.25 to £11.25 per month.
A Final Word
Focus on what matters the most when running a business. It is a clever move to organize and automate your business communication with a free DialerHQ app. We have given you many options in this blog. The ball is in your court now!
Need a Quick & Easy DialerHQ App?
Make international calls & texts without buying a SIM card.