Senior Writer: Paras Kela
Reading Time:
12
Minutes
Published :
June 29, 2022
Summary: Well-organized, transparent, and concise business communication—whether internal or external—has become more important than ever for the business world. It is critical that information reaches the receiver in the same form that it was sent from the source. This can be accomplished by instituting an effective communication process at the workplace and investing in the right communication tools, such as the 2nd Number. In this blog, we have discussed the business communication definition, its various types, and the importance and best practices of business communication.
Tired of communication headaches? Switch to DialerHQ for seamless business.
Whether you believe it or not, effective business communication plays a significant role in the company's success. It not only allows you to better communicate organizational goals and expectations to your employees but also creates a transparent and better company culture that fosters innovation while building long-term relationships with your clients.
But what is business communication, its different types, and why is a well-designed business communication process essential for a company's growth? We will find answers to all of these questions in this blog.
What is Business Communication?
Business communication is the process of sharing information within the organization and with people outside the organization. The information can be anything, including but not limited to ideas, concerns, challenges, and so on.
Effective business communication plays a significant role in the company's success. It allows you to better communicate organizational goals and expectations to your employees and creates a transparent and better company culture that fosters innovation while building long-term relationships with your clients.
Expert Advice
"Any business' success depends on its ability to communicate effectively since it fosters relationships, fosters trust, and effectively conveys crucial information. Messages to stakeholders, such as employees, clients, suppliers, investors, and other business partners, are delivered systematically and professionally through business communication. Businesses can use business communication to streamline internal and external communications, prevent miscommunications, and ensure everyone is on the same page. It improves customer satisfaction, employee morale, and the development of the company's brand. Corporate communication is crucial for any company that wishes to prosper in today's cutthroat market. "
Moreover, business communication can be carried out through various means and methods, including verbal and nonverbal methods. For example, verbal business communication methods include face-to-face meetings and presentations, whereas nonverbal communication methods include reports, emails, online chat, documentation, etc.
Whatever medium of communication you choose, your ultimate goal should be to transfer information efficiently and quickly.
Let's move on to the next section to learn about the various types of business communication.
Why is the Importance of Effective Business Communication?

According to a Salesforce report, 86% of executives see ineffective collaboration and communication as a major cause of business failure. This figure alone underlines the importance of business communication.
Some of the most significant advantages of effective communication in business are listed below.
1. It Fosters A Transparent Work Environment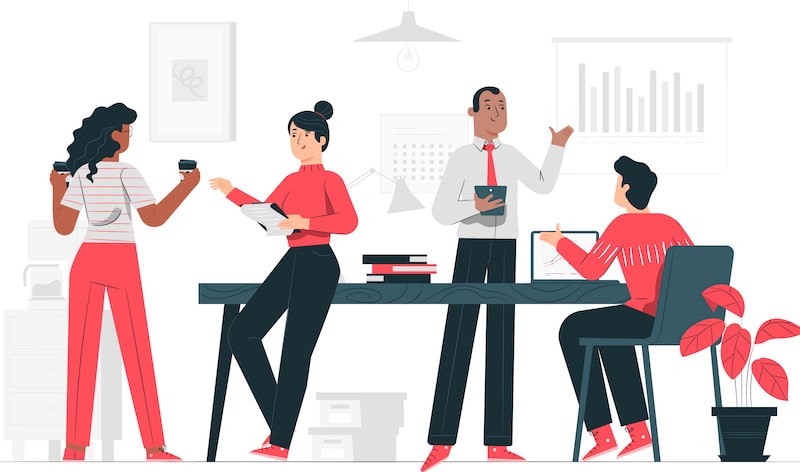 The first major benefit of effective communication in business is that it contributes to developing a positive, transparent, and better company culture. Since employees are communicated with and kept informed about major decisions that affect their working and growth all the time, it fosters a transparent and trustworthy workplace.
Moreover, as employees will be aware of every decision and intent behind it, they will be able to raise concerns or make suggestions if they have any. Overall, unlike poor communication, effective business communication ensures the transparent flow of all information to all relevant individuals, allowing them to raise their concerns on time and thus dodge damage.
2. It Boosts Employee Engagement And Collaboration
Employee engagement is an important factor in the growth of any organization. Therefore, it is expected that employees should be able to express their ideas, concerns, and suggestions without fear of repercussions. This level of engagement freedom can only be achieved in the workplace by implementing efficient business communication systems.
If the company has a well-designed communication structure in place, employees can effectively share data with peers, higher management, or other teams. Employees will also be able to receive immediate feedback on their suggestions or ideas. This will eventually make the workplace more engaging & meaningful.
3. It Helps Build Long-term Customer Relationships
Another importance of business communication is that it improves customer relationships and elevates customer satisfaction. No matter whether you are a B2C (Business-to-Consumer) or B2B (Business-to-Business) company, building healthy relationships with your customers is critical because it directly impacts your reputation and revenue.
Transparent, timely, and precise communication with your customers will benefit you big time. Since your customers receive accurate information about their concerns, products, or services, they will trust your company. These customers are more likely to prefer your service or purchase your products in the future. This is how effective business communication helps build long-term customer relationships and improve customer satisfaction.
4. It Improves Employee Productivity
Communication is indeed a key when it comes to addressing any issues at an organizational level. The problem will not be resolved unless and until you communicate it to the appropriate authority. And to communicate problems to the right person via the right medium, you will certainly need a well-organized communication process in place.
Well-designed business communication systems or software will enable every individual in the organization to immediately voice their concerns to the appropriate person or team. This will eventually allow them to get an immediate solution, prevent the work from being disrupted for a long period of time, and improve employee productivity.
5. It Improves The Decision-making Process
The fifth major benefit of effective business communication is improving decision-making. As there is a constant flow of information, management will always be aware of every concern, problem, challenge, or benefit. This will enable them to make better decisions by considering all relevant factors.
Since management has a prior employee perspective on the decision, they can make necessary adjustments before implementing it to make it more employee-friendly. Similarly, because employees are aware of upcoming decisions, they can express their concerns or make suggestions before it is implemented.
These are the five most crucial importance of business communications. 
We are optimistic that after reading this section, you must have decided to implement an effective communication process at your workplace. However, there are some good communication practices that you should follow to reap the maximum benefits.
Types of Business Communication
Business communication can be classified into four categories based on the flow of information between teams or within an organization. Let's take a quick look at them to understand their objectives better.
A. Upward Communication
Upward business communication is a type of internal business communication in which information flows from lower to higher levels of a hierarchy. This type of communication enables internal communications professionals to effectively communicate their concerns, ideas, feelings, and needs to senior leadership.
Strength
Management will get more vigilant toward maintaining employee satisfaction, which will be done efficiently as the information will be communicated from the basic level of the organization.

The process of identifying issues will get more effective and result oriented as communication will be streamlined.

With this communication, employees can display their creative side by providing new ideas related to products and services. Which is beneficial for the organization.

A friendly environment makes the employees put more effort into their tasks and get more efficient as their issues are quickly addressed.
Weaknesses
The information received from the employees may not be reliable.

If there is no swift chain of command in the organization, then this won't be successful.

Employees will always feel they don't have adequate management access and won't communicate freely.
B. Downward Communication
Downward business communication is completely the opposite of upward business communication. In downward communication, information flows from the top level of the organizational hierarchy to the bottom level. In other words, communication starts at the top and works its way down.
This type of internal communication is typically used to convey critical decisions, policy changes, or other important messages to employees. The management can communicate effectively with employees through various communication channels, including
Using Emails

Through meetings

Using the company manual.
Let's look at the strength and weaknesses of downward communication.
Strength
This communication mode assists the management in providing relevant information regarding operational amendments, resolution of issues, etc.

Delegation of work and responsibilities can be done easily.

It makes the employees more compliant with rules and regulations imposed as regular reminders can be given to them.

It allows organizations to measure internal communications by controlling the flow of information.
Weaknesses
There are chances of discrepancies in information as it is passed from different levels of management.

Effective monitoring of information communicated is not feasible as top-level management loses track of it.

It demotivates employees as this mode of communication makes them feel unimportant, and they tend to lose interest in work as they feel constantly bossed.
C. Lateral Communication
Lateral communication is a type of internal business communication in which ideas or information are shared among employees on the same team, peer groups, or units at the same hierarchical level. However, the information is not shared with the other team or senior executives. The goal of lateral business communication is to improve project coordination or achieve common team goals.
Now let's take a closer look at its strengths and weaknesses.
Strength
Improve departmental cohesion as communication is enhanced.

No higher level approval is required, due to which hassle-free communication is feasible.

It boosts employee morale and amplifies their problem-solving skills.

With this mode of communication, employees feel the freedom to express their thoughts and ideas, which benefits the organization.

Makes the work environment more collaborative, which will assist the organization in gaining effective results.
Weaknesses
Employees might lose touch with technical communication to be done in a professional manner.

It will increase the competitive mindset, making the environment argumentative.

Misunderstandings will be elevated as employees will get less formal with each other.
D. External Business Communications
The fourth major type of communication is known as external business communication. As the name implies, in external communications, unlike internal communications, information is transmitted to external parties or outside persons of the organization. It could be a customer, another organization, clients, dealers, business partners, government officials, or someone else.
The goal of external communication can be anything from communicating the organization's accomplishments to the outside world, sharing marketing emails with prospects, announcing company news, delivering product guides to customers, and so on. Let's observe its strength and weaknesses. In these scenarios, a marketing consultant can provide strategic direction, ensuring your external communication efforts are effectively reaching, engaging, and converting your target audiences.
Strength
Its effective implementation makes the organization more reliable.

This approach assists organizations in creating a better rapport with their clients or customers.

It assists organizations in creating a brand perception among their prospective and existing clients. 
Weaknesses
It gets tricky for organizations to revamp if external communication is not done effectively.

External communication directly affects the reputation of the business.

It requires a proper implementation strategy and employees have to be given appropriate training.
5 Steps to Set Up Your Business Communication Process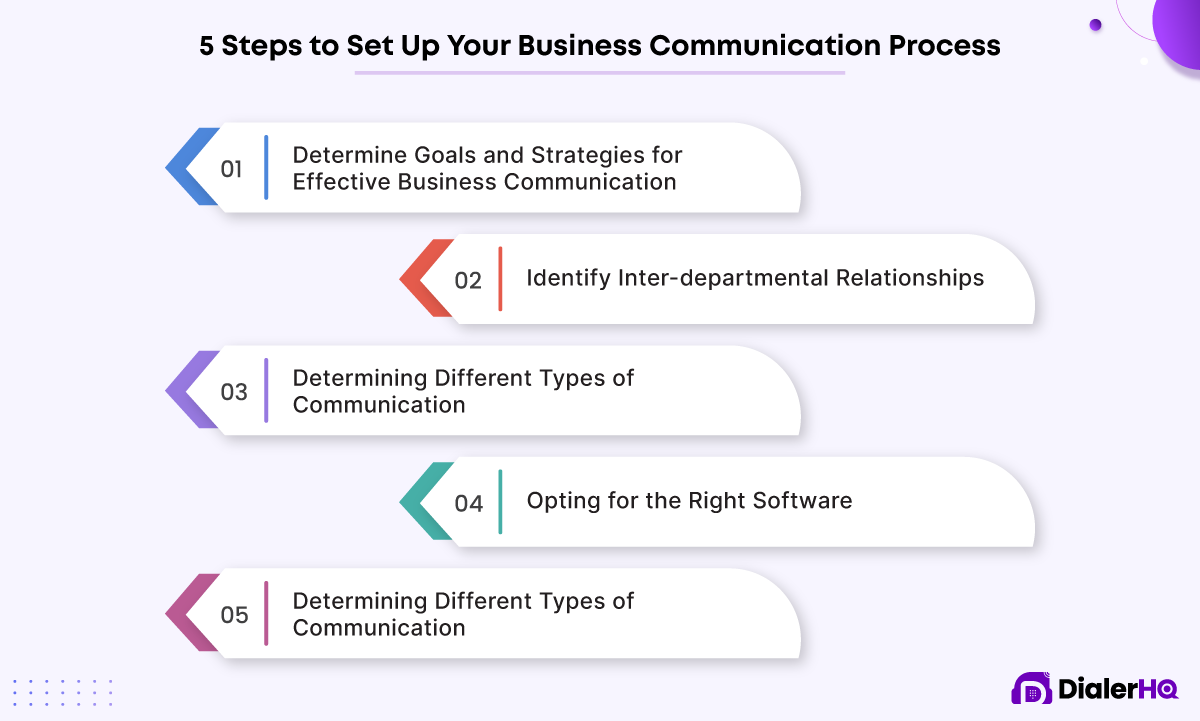 Having a structured business communication process is a must-have for any organization, whether internal or external communication. Effective communication leads a business enterprise to not only get a hold of inter-departmental issues but also attain and resolve employees' constraints and problems they face effectively.
So below mentioned are the five significant steps that are essential for an enterprise to consider while setting up the business communication process:
Step 1: Determine Goals and Strategies for Effective Business Communication
The top management needs to effectively scrutinize the actual state of both kinds of business communication, i.e., internal and external. Both inter-departmental as well as external communication is essential for an organization. For the smooth functioning of business, management must adopt advanced internal communication methods so that employees can freely connect and share their ideas, complaints, etc.
Similarly, strategies must be framed for making external communication effective as business revenue and reputations rely on it, and objectives must be determined to maintain the quality of communication with clients or customers, as company and client relationships should not be hampered at any cost.
However, business communication might be needed to revamp for the following reasons:
Employees not being satisfied with the process.

High ambiguity in communication.

Ineffective monitoring of information.
Below are some goals that can be determined to make communication more effective.
Attain a specific employee satisfaction rate.

Increase customer satisfaction.

Monitoring effective accomplishment of projects.
Step 2: Identify Inter-departmental Relationships
There are mainly three classifications in which the organization identifies the relationship between different departments or employees. They are as follows:
Department-wise classification: This classification includes several organizational departments like marketing, operations, sales, human resources, etc. 

Employee or Management level Classification: This segment includes designation-wise classifications such as team leaders, department heads, and executive level.

External Classification: It includes customers, suppliers, stakeholders, etc.
An organization must analyze whether business communication is carried out effectively and accurately. If not, necessary steps which could be training courses or simply a senior members of staff mentoring more junior staff must be taken to gain efficiency, as this will benefit the organization by leaps and bounds.
After considering all the aspects, an efficient way of communicating has to be mapped out to gain desired results and accomplish the objectives stated.
Step 3: Determining Different Types of Communication
The next and most important step is to determine the modes of communication which are in consonance with goals that an organization can rely on as per the nature of its business. Also, internal communication among the core groups must be considered.
Here are some of business communication examples, which are as follows:
Web-based communication

Telephonic communication

Video conferencing

Face-to-face communication

Presentations

Customer management 

Conducting surveys
From the above-mentioned methods, an organization must identify the most suitable communication type.
Here are some of the questions, the answers of which will assist an organization in effective decision-making while choosing a communication method.
Which type of communication will be effective for the organization in achieving its objectives?
Which methods will be challenging to adopt?
Which method will be complicated to integrate into the system?
So conducting these steps will enable an organization to choose an appropriate mode of communication. Also, a relevant communication type must be chosen based on the size of a business.
Step 4: Opting for the Right Software
Choosing the right tool is a matter of personal choice; no instruction manual can be provided on which tool to purchase and which not, as there are ample numbers of software available that support different modes of communication and provide various features. So every organization has different requirements, and as per the organizational requirements, relevant software is to be chosen. 
E.g., for, e-mail tools like Gmail and Outlook are present, messaging slack and hangout, and cloud storage tools like google drive and drive are available, etc. So an organization has to decide which is more suitable, whether Gmail or outlook, based on the requirements and features offered. In addition, employee preference is also considered, and software that is easy to adapt is preferred so that efficiency and productivity are not hampered.
Step 5: Documentation
Documenting the decisions taken concerning the business communication process has several benefits. Providing those documents to the workforce will give them a proper idea of which software is being utilized, and adapting to those tools will be easy.
Moreover, this practice will improve efficiency and enable the organization to keep a record of the utilization and figure out whether this approach is effective or not. 
Essential Business Communication Channels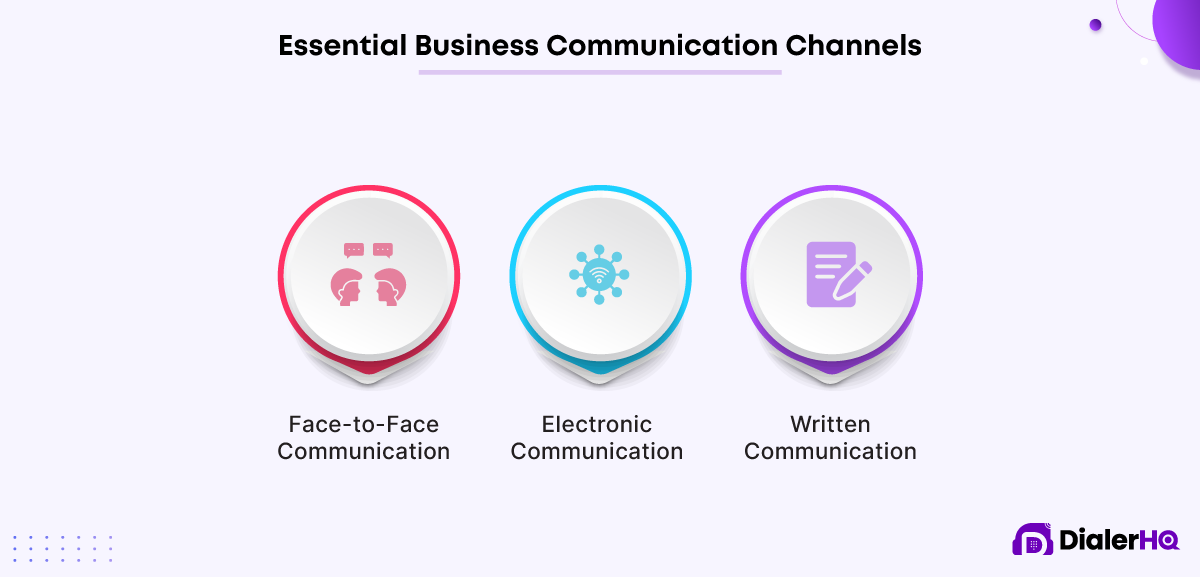 Business communication can be mainly done verbally or written. Both communications are mandatory for an organization.E.g., an organization uses mail and chat for written communication of the strategies framed, decisions taken, etc. 
At the same time, verbal communication is done for brainstorming ideas, conducting discussions, etc. For better business communication, organizations frame channels to make it effective. Let's have a look at business communication channels.
1. Face-to-Face Communication

It is one of the most effective kinds of communication because face-to-face communication has to be done internally and externally. Internally it can be done amongst employees to get new innovative ideas or discuss any improvements needed that can benefit the organization. The main benefit is that in in-person meetings, people stay spot-on during the discussion, and desired results can be achieved.
2. Electronic communication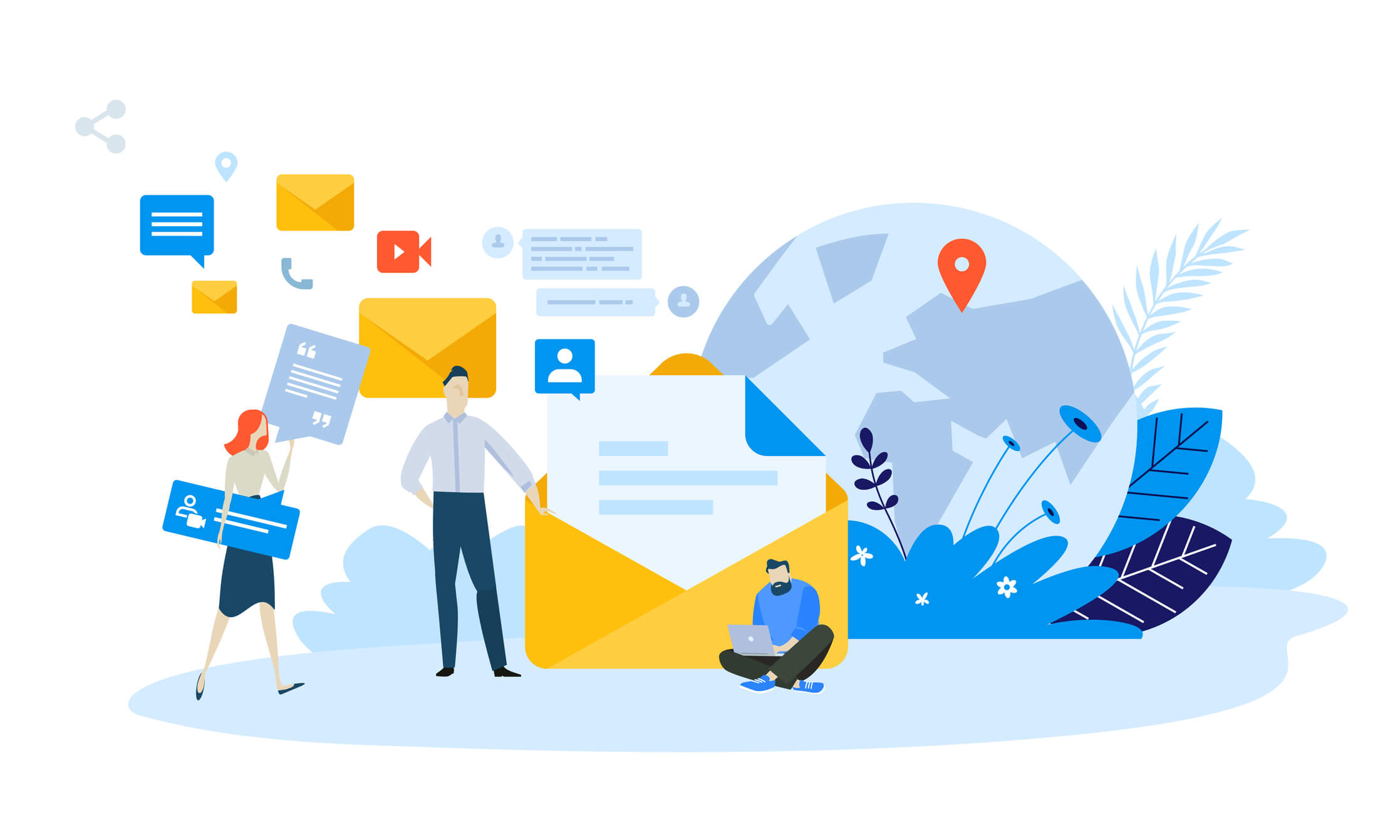 Electronic communication is a mixture of both written and verbal communication, as it includes the usage of e-mails, chat systems, etc., for communication by writing. It also allows video conferencing, telephonic meetings, etc., for verbal communication. Almost every organization these days prefers electronic communication as it is extremely convenient and greatly benefits the organization.
3. Written communication
Written communication includes forum boards or FAQs, conducting surveys, and providing reports and official documents. All the relevant information regarding how to use or avail products and services by clients, communicating the implementation of new rules and regulations to the workforce, updating the employees regarding the latest developments, etc.
What is the Future of Business Communication?
The future of business communication seems very bright as day by day, new technological advancements are seen through which business communication can be taken to another level by the organization and make it more efficient than ever.
Every business organization requires building a good rapport with its customers and partners to streamline the business process and make it more profitable. This is only feasible if the communication is done effectively and the brand or enterprise is well-connected with prospective and existing customers.
Apart from customers and partners, the workforce needs to be maintained, and their issues and constraints must be addressed and resolved quickly. Operational efficiency can only be achieved if employees are satisfied with the management. 
So with the availability of advanced business communication tools, business enterprises can conduct all the mentioned activities easily and efficiently and streamline the business communication process.
Boost External Business Communication With DialerHQ Application
Among the multiple business communication tools listed above, the DialerHQ is one such tool that can significantly help you reach out to your overseas customers at reasonable rates.
It is a private phone number calling app or a business calling app that allows companies or individuals to call or send messages to customers living in other countries.
In contrast to a regular mobile number, the DialerHQ allows you to make international calls and text messages without using a landline SIM card. Rather, it uses mobile or Wi-Fi data to make phone calls or send messages.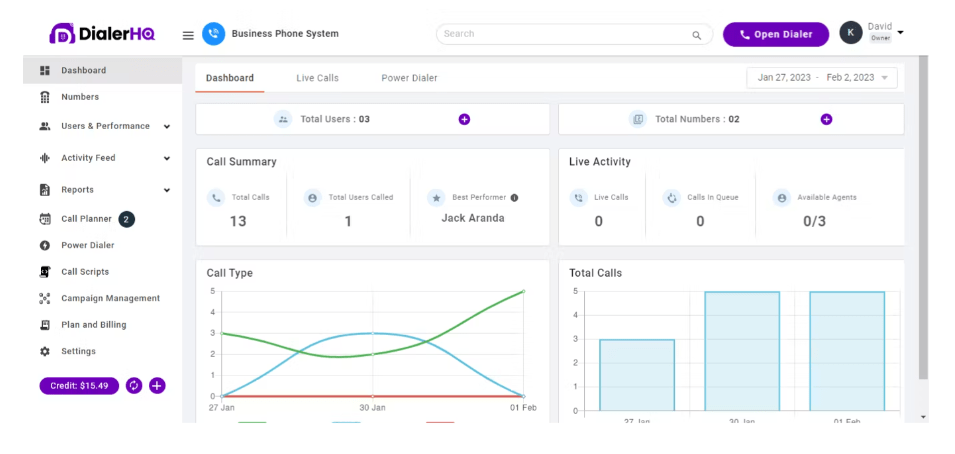 The application offers a variety of advantages to a growing business or remote teams, including:
The freedom to

choose a second phone number

with your preferred

country code.

Improve business communication & calling experience with crystal clear voice quality.

Access the application from anywhere as long as you have decent internet connectivity– ideal for remote employees.

Seamless setup that requires no additional hardware.

Advanced communication features that elevate the calling experience.
Besides that, getting a DialerHQ business phone number app is a simple four-step process, as outlined below.
Step 1

: Register to DialerHQ first.

Step 2

: Pick your free virtual phone number Canada and pay.

Step 3

: set up your account, attributes, and settings.

Step 4

: Start making and receiving phone calls.
To learn more about the application and its benefits, arrange a demo call with our expert today.
Conclusion

 
Effective business communication is critical to the survival and growth of any company. It not only improves employee engagement but also creates a diverse and positive environment of change, flexibility, open dialogue, and community building. 
However, in order to better understand and implement this process, you must first understand the different types of business communication, and the best organizational practices explained above. Also, consider investing in advanced business communication tools and applications such as the DialerHQ.
FAQs
Basically, there are two types of communication, i.e., verbal and written. But a mix of both communications is followed by every business enterprise, whether large or small, to effectively communicate. Here are some examples of business communication.
E-mail: for internal and external communication.
Web-conferencing: It can be conducted with employees internally or with clients.
Presentations: Mainly, a presentation is a form of internal communication conducted between employees, partners, or stakeholders.
Surveys: It is a form of written communication taken from customers regarding the products and services and from employees regarding the work culture, experience, etc
Business communication skills refers to the manner in which communication is to be carried out by employees internally or with customers. Effective business communication skills can be gained by developing active listening and other necessary abilities that will be assistive in building strong professional relationships.
Adapting this approach will hone employees' negotiation and networking skills, which are a must-have in a professional setup.
The six C's of business communication are Clarity, Completeness, Correctness, Conciseness, Coherence, and Courtesy. Let's have a brief understanding of all the six C's.
Clarity means how effectively and the motive behind the communication is understood on the receiver's end.
Completeness means that all the important aspects to be conveyed are included in the communication.
Correctness directly refers to the accuracy of the information conveyed.
Conciseness pertains to communication being on point without any irrelevant information.
Coherence refers to the logical flow of information and ensuring it is conveyed effectively.
Courtesy is never using a rude or harsh tone to avoid any scuffle with the receiver and build a productive professional relationship
There are four methods of business communication, which are as follows:
Electronic communication: it includes e-mails, telephonic calls, messaging or chats, video conferences, etc.
Non-Electronic communication includes face-to-face meetings, basically not using any digital modes of communication.
Written communication is applicable to both formats, i.e., electronic as well as non-electronic communication. It includes anything in writing such as letters, contracts, emails, etc.
Verbal communication has a vast ambit, and it includes everything like conversations between employees, meetings conducted, presentations, etc.

Paras Kela is an accomplished IT professional with 7+ years of industry experience, including 4+ years as a dedicated content writer. His expertise lies in crafting informative blogs on VoIP and cloud telephony, among other technical subjects. Outside his professional pursuits, he cherishes quality time with loved ones, indulges in watching documentaries, and finds solace in gardening. Connect with him on LinkedIn.
Updated : September 20, 2023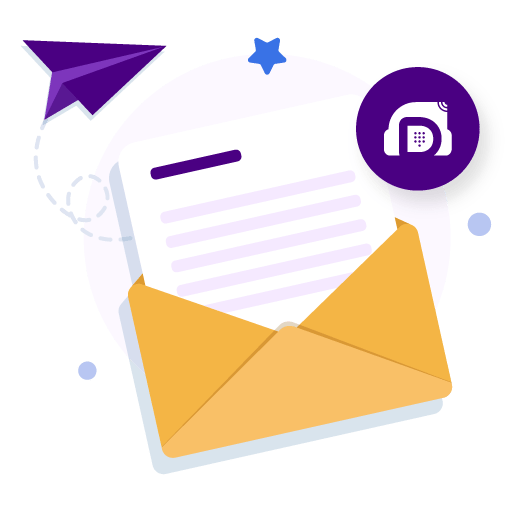 Let's Stay in Touch
Subscribe to our newsletter & never miss our latest news and promotions.

+21K people have already subscribed