Senior Writer: Paras Kela
Reading Time:
9
Minutes
Published :
June 29, 2022
Summary: Well-organized, transparent, and concise business communication—whether internal or external—has become more important than ever for the business world. It is critical that information reaches the receiver in the same form that it was sent from the source. This can be accomplished by instituting an effective communication process at the workplace and investing in the right communication tools, such as the 2nd Number. In this blog, we have discussed the business communication definition, its various types, and the importance and best practices of business communication.
Whether you believe it or not, effective business communication plays a significant role in the company's success. It not only allows you to better communicate organizational goals and expectations to your employees but also creates a transparent and better company culture that fosters innovation while building long-term relationships with your clients.
But what is business communication, its different types, and why is a well-designed business communication process essential for a company's growth? We will find answers to all of these questions in this blog.
What Is Business Communication?
Business communication is the process of sharing information within the organization and with people outside the organization. The information can be anything, including but not limited to ideas, concerns, challenges, and so on.
Effective business communication plays a significant role in the company's success. It allows you to better communicate organizational goals and expectations to your employees and creates a transparent and better company culture that fosters innovation while building long-term relationships with your clients.
(Source)
Moreover, business communication can be carried out through various means and methods, including verbal and nonverbal methods. For example, verbal business communication methods include face-to-face meetings and presentations, whereas nonverbal communication methods include reports, emails, online chat, documentation, etc.
Whatever medium of communication you choose, your ultimate goal should be to transfer information efficiently and quickly.
Let's move on to the next section to learn about the various types of business communication.
Types of Business Communication
Business communication can be classified into four categories based on the flow of information between teams or within an organization. Let's take a quick look at them to understand their objectives better.
A. Upward Communication
Upward business communication is a type of internal business communication in which information flows from lower to higher levels of a hierarchy. This type of communication enables internal communications professionals to effectively communicate their concerns, ideas, feelings and needs to senior leadership.
B. Downward Communication
Downward business communication is completely the opposite of upward business communication. In downward communication, information flows from the top level of the organizational hierarchy to the bottom level. To put it another way, communication starts at the top and works its way down.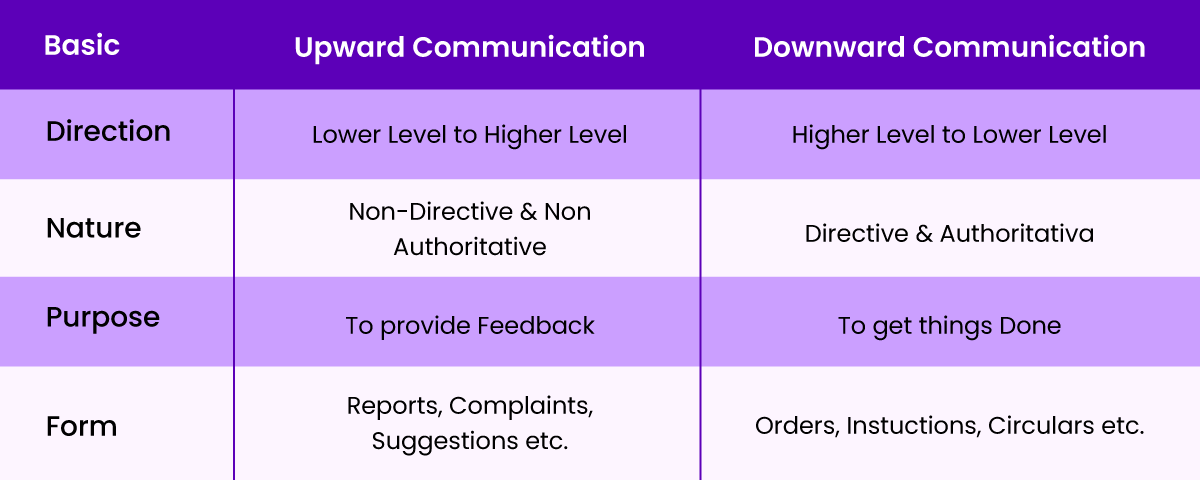 This type of internal communication is typically used to convey critical decisions, policy changes, or other important messages to employees. The management can communicate effectively with employees through various communication channels, including
Using Emails

Through meetings

Using the company manual
C. Lateral Communication
Lateral communication is a type of internal business communication in which ideas or information are shared among employees on the same team, peer groups, or units at the same hierarchical level. However, the information is not shared with the other team or senior executives. The goal of lateral business communication is to improve project coordination or achieve common team goals.
D. External Business Communications
The fourth major type of communication is known as external business communication. As the name implies, in external communications, unlike internal communications, information is transmitted to external parties or outside persons of the organization. It could be a customer, another organization, clients, dealers, business partners, government officials, or someone else.
The goal of external communication can be anything from communicating the organization's accomplishments to the outside world, sharing marketing emails with prospects, announcing company news, delivering product guides to customers, and so on.
Importance of Effective Business Communication
According to a Salesforce report, 86% of executives see ineffective collaboration and communication as a major cause of business failure. This figure alone underlines the importance of business communication.
Some of the most significant advantages of effective communication in business are listed below.
A. It Fosters A Transparent Work Environment
The first major benefit of effective communication in business is that it contributes to developing a positive, transparent, and better company culture. Since employees are communicated with and kept informed about major decisions that affect their working and growth all the time, it fosters a transparent and trustworthy workplace.
Moreover, as employees will be aware of every decision and intent behind it, they will be able to raise concerns or make suggestions if they have any. Overall, unlike poor communication, effective business communication ensures the transparent flow of all information to all relevant individuals, allowing them to raise their concerns on time and thus dodging damage.
B. It Boosts Employee Engagement And Collaboration
Employee engagement is an important factor in the growth of any organization. Therefore, it is expected that employees should be able to express their ideas, concerns, and suggestions without fear of repercussions. This level of engagement freedom can only be achieved in the workplace by implementing efficient business communication systems.
If the company has a well-designed communication structure in place, employees can effectively share data with peers, higher management, or other teams. Employees will also be able to receive immediate feedback on their suggestions or ideas. This will eventually make the workplace more engaging & meaningful.
C. It Helps Build Long-term Customer Relationships
Another importance of business communication is that it improves customer relationships and elevates customer satisfaction. No matter whether you are a B2C (Business-to-Consumer) or B2B (Business-to-Business) company, building healthy relationships with your customers is critical because it directly impacts your reputation and revenue.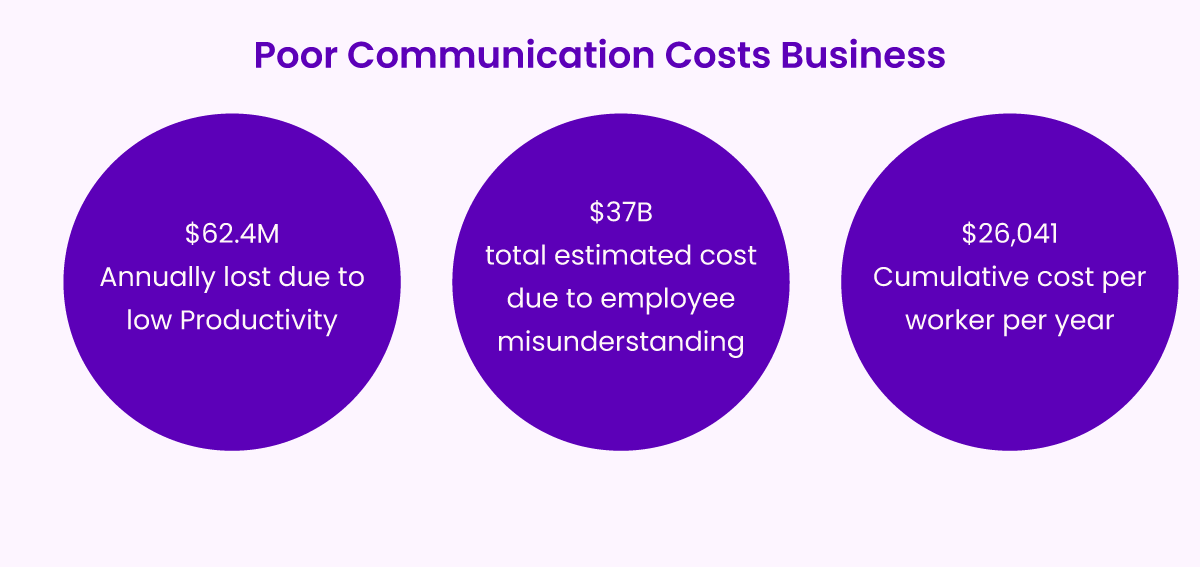 Transparent, timely, and precise communication with your customers will benefit you big time. Since your customers receive accurate information about their concerns, products, or services, they will trust your company. These customers are more likely to prefer your service or purchase your products in the future. This is how effective business communication helps build long-term customer relationships and improve customer satisfaction.
D. It Improves Employee Productivity
Communication is indeed a key when it comes to addressing any issues at an organizational level. The problem will not be resolved unless and until you communicate it to the appropriate authority. And to communicate problems to the right person via the right medium, you will certainly need a well-organized communication process in place.
Well-designed business communication systems or software will enable every individual in the organization to immediately voice their concerns to the appropriate person or team. This will eventually allow them to get an immediate solution, prevent the work from being disrupted for a long period of time, and improve employee productivity.
E. It Improves The Decision-making Process
The fifth major benefit of effective business communication is improving decision-making. As there is a constant flow of information, management will always be aware of every concern, problem, challenge, or benefit. This will enable them to make better decisions by considering all relevant factors.
Since management has a prior employee perspective on the decision, they can make necessary adjustments before implementing it to make it more employee-friendly. Similarly, because employees are aware of upcoming decisions, they can express their concerns or make suggestions before it is implemented.
These are the five most crucial importance of business communications. 
We are optimistic that after reading this section, you must have decided to implement an effective communication process at your workplace. However, there are some good communication practices that you should follow to reap the maximum benefits.
5 Effective Business Communication Best Practices
Communication is a complex and ambiguous process. However, there are several techniques to improve organizational practices and make it more structured. Let's take a look at them one by one.
A. Exercise Active Listening
"Listen to understand, not to respond."
When it comes to business communication, this saying is spot on. 
Successful business communication involves active listening. In fact, it is one of the most effective communication practices every company should exercise. Active listening will make you more influential and allow you to better understand the speaker's message as well as get more out of the conversation.
To actively listen, you must eliminate all distractions. Listen to the speaker calmly and respond only when they have finished speaking. Don't get in their way when they're talking. You can ask the questions and then pay close attention to the answers.
B. Don't Just Inform; Inspire And Engage As Well
The business communication must not be one-sided or monologue. For example, rather than simply asking someone to perform a task or do some job, you should also share the reason for that task and encourage them to offer suggestions. This will spark a conversation, boost employee motivation, and improve communication.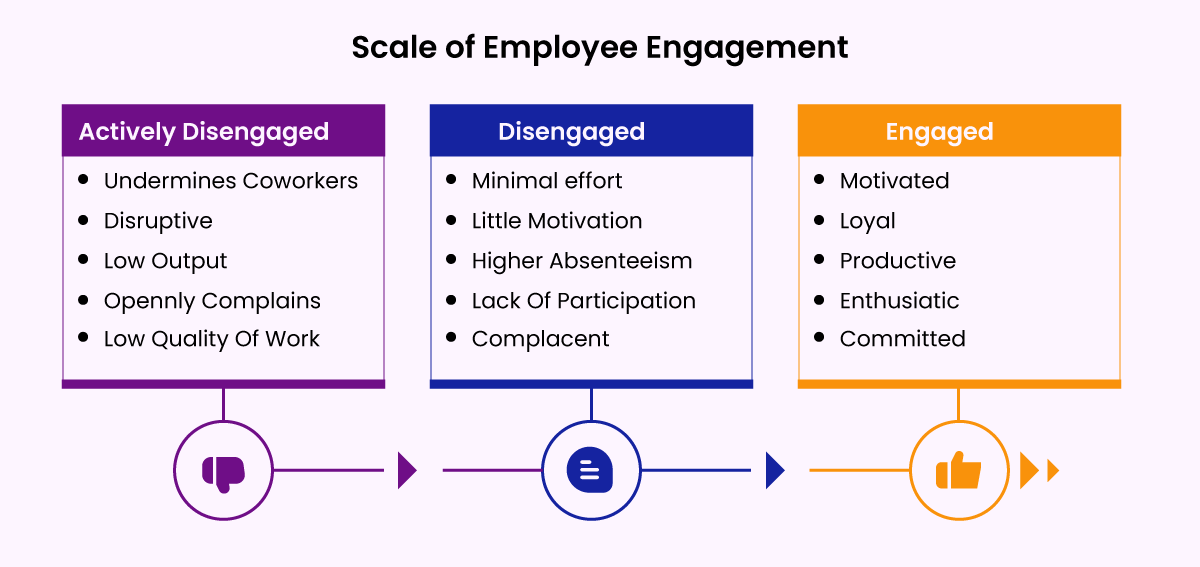 Motivating your employees to be more engaged will allow you to connect with them on an emotional as well as an intellectual level. When senior management initiates employee engagement or inspires them to share their perspectives on tasks, projects, or processes, employees will feel valued and will share their viewpoints bluntly.
C. Involve Employees In Decision-making Process
It is apparent that every decision that the management takes will directly or indirectly impact the employees. For this reason, it is suggested that management involve the teams or individuals in the decision-making process. Some of the major benefits of this exercise will be:
Boost employee engagement

Promote collaboration

Recognizing your own blind spots

Lower employee retention rate
However, this does not indicate that you must involve employees in every decision-making process. For example, you can involve employees in tactical and operational decision-making. But, it is not necessary to involve them in strategic decision-making as well.
D. Be Open To Feedback And Criticism
The next best practice for effective business communication that managers or top-level management should follow is to be open to feedback and criticism. Of course, the word "criticism" has a negative connotation. However, if taken positively, constructive criticism can benefit the entire organization.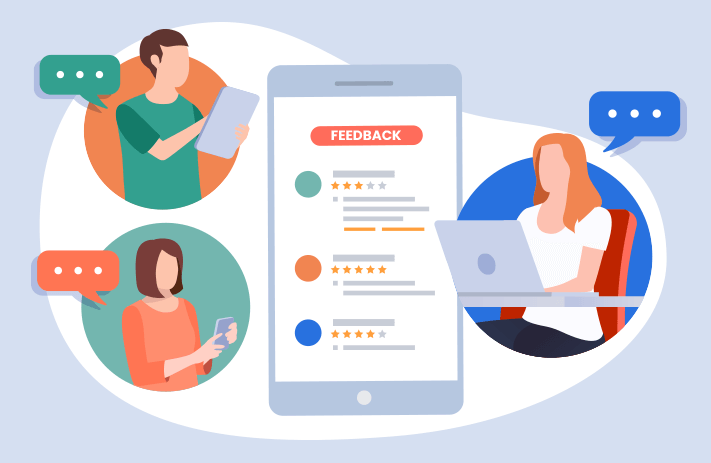 For example, it will help you identify flaws in your process or products and create an environment where everyone can voice their opinions without fear of retaliation from management. In a nutshell, a positive attitude toward feedback and criticism will help the company grow.
E. Invest In The Right Communication App
The fifth business communication best practice that you should follow is to invest in the right set of communication applications to improve.
There is a range of communication tools and applications for remote teams available on the market, including:
Voice and video conferencing tools (

Google Meet

, Zoom)
File sharing tools (Google Drive, Dropbox)
Document collaboration tools (Google Docs, Confluence)
Knowledge center tools (Document 360, Helpjuice)
Push-to-Talk Tool for Remote Workforce (NuovoTeam PTT)
Choose the tools based on your company's needs and goals. Then, for a more thorough analysis, compare their features, pricing, customer support, usability, and other factors. Also, visit their websites to better understand the solution and make more informed decisions.
Boost External Business Communication With DialerHQ Application
Among the multiple business communication tools listed above, the DialerHQ is one such tool that can significantly help you reach out to your overseas customers at reasonable rates.
It is a private phone number calling app or a business calling app that allows companies or individuals to call or send messages to customers living in other countries. In contrast to a regular mobile number, the DialerHQ allows you to make international calls and text messages without using a landline SIM card. Rather, it uses mobile or Wi-Fi data to make phone calls or send messages.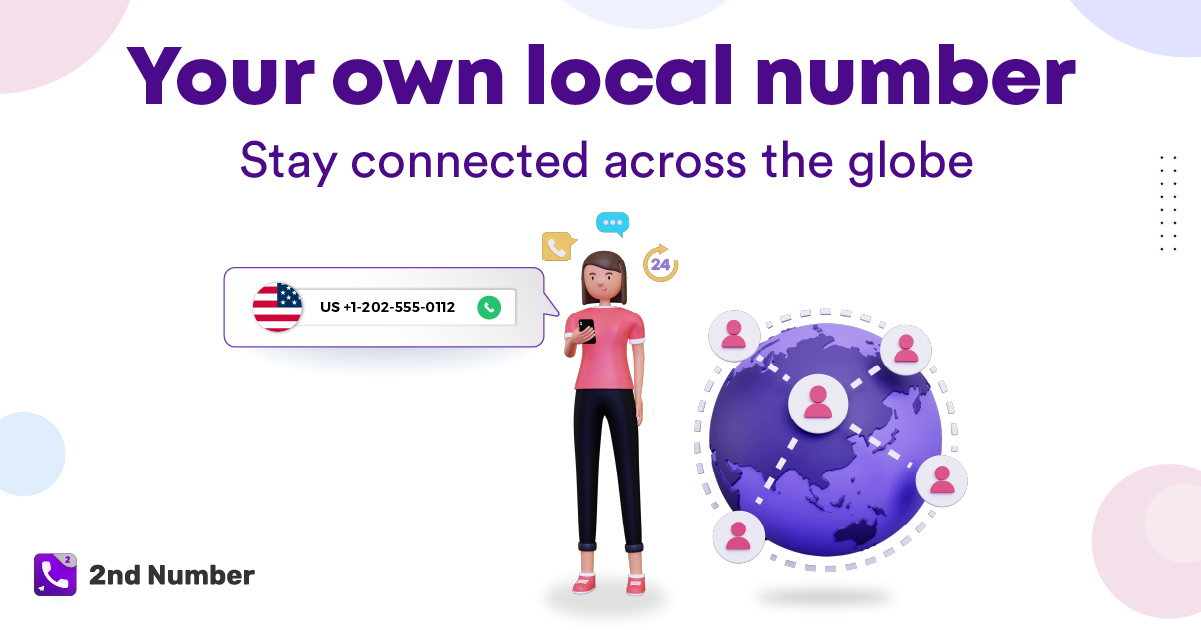 The application offers a variety of advantages to a growing business or remote teams, including:
The freedom to choose a

second phone number

with your preferred country code.

Improve business communication & calling experience with crystal clear voice quality.

Access the application from anywhere as long as you have decent internet connectivity– ideal for remote employees.

Seamless setup that requires no additional hardware.

Advanced communication features that elevate the calling experience.
Besides that, getting a DialerHQ business phone number app is a simple three-step process, as outlined below.
Step 1: Download and install the application.
Step 2: Select your preferred country code and free phone number.
Step 3: Select a plan and make a payment.
To learn more about the application and its benefits, arrange a demo call with our expert today.
Conclusion: Effective business communication is critical to the survival and growth of any company. It not only improves employee engagement but also creates a diverse and positive environment of change, flexibility, open dialogue, and community building. However, in order to better understand and implement this process, you must first understand the different types of business communication, and the best organizational practices explained above. Also, consider investing in advanced business communication tools and applications such as the DialerHQ.
Content Worth Your Time
Know what's happening in your industry all the time