Get A Virtual Vietnam Phone Number
Build strong relationships for business growth and expansion in local Vietnamese markets. Get Vietnam phone number online from DialerHQ at pocket-friendly prices and improve your brand presence.
Boost customer experience with advanced features.

Reduce expenses on international calls, maintenance, and setup.

Strengthen your local presence with a Vietnam number.
You are just one step
ahead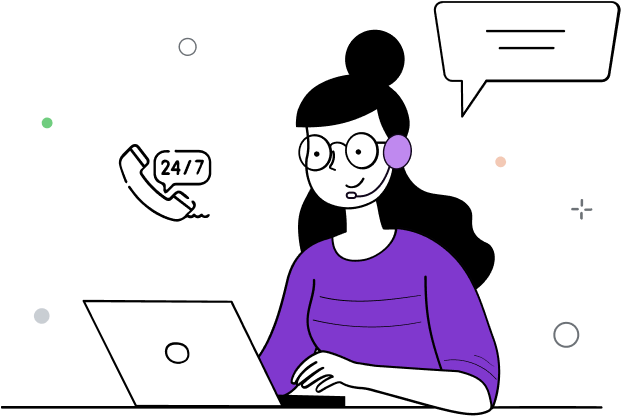 Thank You.
One of our Representative will connect with you shortly.
What Is Vietnam Virtual Phone Number?
A Vietnam virtual phone number is an internet-based phone number that you can use to establish a local presence in Vietnam. It has advanced features like call forwarding, voicemail, and automated attendants. These features can help you build rapport with local customers, improve user satisfaction, and build credibility.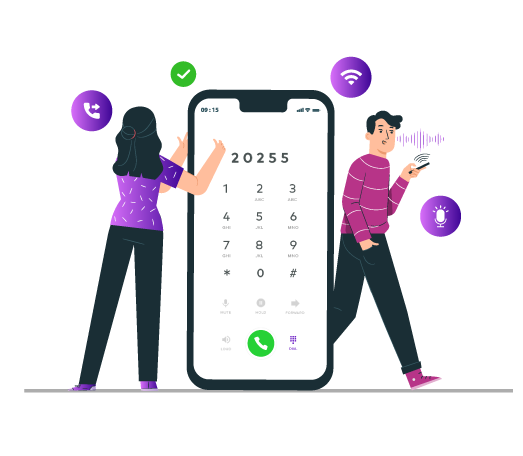 How Does Vietnam Virtual Number Work?
A Vietnam virtual phone number uses an internet-based system that routes calls to your chosen phone number. Here's how it works.
You dial a number using your virtual number.

Voice signals are converted into digital packets.

They are then transmitted over the internet.

These are converted back into voice signals at the receiver's end.

Everything happens within seconds, eliminating lags.
What Are The Benefits Of Having A Vietnam Virtual Number?
When you purchase a Vietnam virtual number from DialerHQ, we offer a plethora of benefits, including:
Improved customer communication

Cost savings on international calls

Increased accessibility

Improved scalability

Call tracking and analytics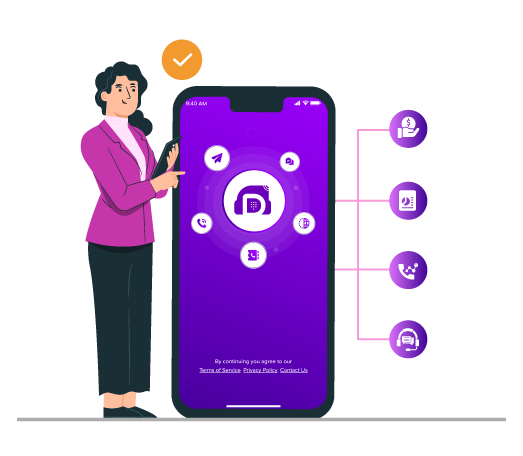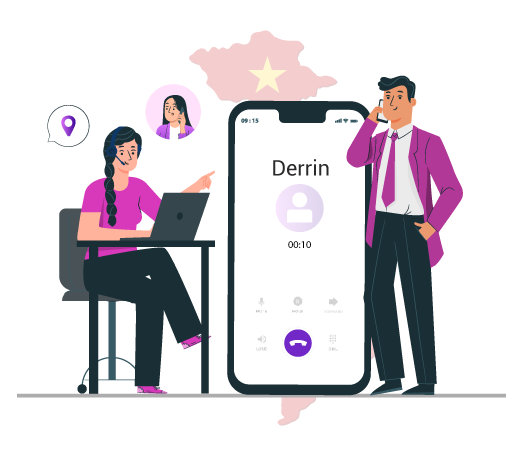 What Are The Different Types Of Vietnam Virtual Phone Numbers?
Vietnam offers various types of virtual phone numbers to businesses. These include:
Local Vietnam phone numbers:

Ideal for businesses seeking a local presence in Vietnam and connecting with customers within the country.

Toll-free Vietnam phone numbers: Customers can call this number without being charged, making it an excellent choice for businesses looking to support customers or run marketing campaigns.
Vietnam mobile phone numbers:

These are 10-digit numbers with an area code suitable for small to medium-sized companies.
Choose the type of virtual phone number online that best aligns with your business objectives and enables you to connect easily with customers in Vietnam.
Why Choose DialerHQ To Buy A Vietnam Virtual Phone Number?
You should buy a Vietnam virtual phone number from DialerHQ as it offers advanced features at reasonable prices. Here's what makes DialerHQ the best choice for buying Vietnam virtual numbers.
Easy Setup and Integration:

Setting up a virtual phone number with DialerHQ is quick and easy.

Excellent Customer Support: We ensure your issues or concerns are addressed promptly and efficiently.

Affordable Pricing:

Our pricing starts at $0, allowing you to get a free Vietnam virtual number.

Vast Range of Area Codes:

You can establish a local presence by choosing from a diverse range of area codes.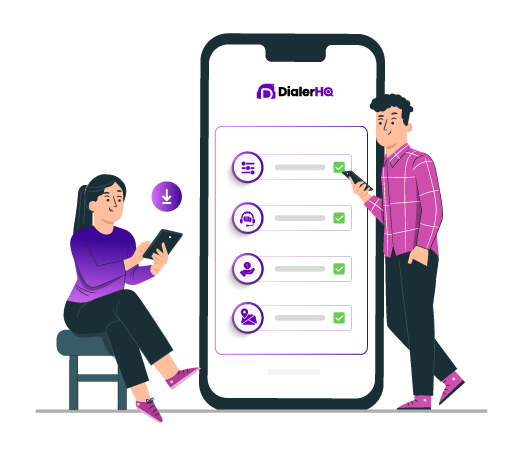 Major Area Codes In Vietnam
This table provides a comprehensive list of major area codes in Vietnam for phone numbers. The table includes the corresponding cities, phone number formats, and examples of how to dial within Vietnam. The information in this table can be useful for anyone who needs to make phone calls within Vietnam and wants to ensure they use the correct area code and phone number format.
| Area Code | City | Phone Number Format | Example |
| --- | --- | --- | --- |
| 4 | Hanoi | +(84) 4 XXXX XXXX | +(84) 4 1234 5678 |
| 8 | Ho Chi Minh City | +(84) 8 XXXX XXXX | +(84) 8 8765 4321 |
| 24 | Haiphong | +(84) 24 XXXX XXXX | +(84) 24 9876 5432 |
Pricing Plans For Vietnam Virtual Phone Number
Call Center Solution (CCS)
Ideal for Bulk Calling for Sales, Support and Call Center Teams
Power & Predictive Dialer
Automatic Machine Detection
Industry leading call connect rates
Compliance Call Recording
Forward To External Device
Smart DID Routing
Speed To Dial
Auto Rotate
Local Presence
Call Barging
Call Queuing
Create Team
Call Whisper
Post Call Survey
After Call Work
Target Vs Achievement
Multiple Level Call Transfer
Route to External Number
Forward to Multiple Device
Google Drive, AWS S3 Integration
Embedded Dialer Integration
Show More
Show Less
Start Free Trial
Office Phone System (OPS)
Ideal for Businesses to support their Customers and not for Bulk Calling
Unlimited calling in UK, US/Can, Aus
Manual Calling Dialer
Auto Rotate DID
Call Tagging
Custom Greetings
Create Team
Call Barging
Shared Inbox
Call Cascading
Audit Logs
Webhook
Phone Support
24*7 Support
Contact Us
Call Notes & Ratings
Dedicated Account Manager
Personalized Onboarding
Advances Integrations
Custom Integrations
Annual Business Review
Show More
Show Less
Start Free Trial
How To Get Vietnam Virtual Phone Number In 4 Easy Steps
Embark on your DialerHQ journey now by following the 4 simple steps outlined below.

Sign in to DialerHQ.

Choose your custom virtual number & make the payment.

Configure your account, features, and settings.

Start making and receiving calls anytime, anywhere.
Features Of Vietnam Virtual Phone Number
As a leading Vietnam virtual phone number provider, DialerHQ boasts several features, including the following.
Power Dialer
Boost your call efficiency with automatic call dialing and save hours every month. Allow your sales reps to focus on converting customers instead of dialing numbers.
Global Connect
Know the right time to call your customers in Vietnam with global connect. Increase your chances of getting the calls picked up without irritating customers.
Call Recording
Record and review call for quality assurance and training purposes. Coach new agents to handle customers in the most efficient way.
Smart Call Forwarding
Never miss a call with automatic call forwarding to multiple devices. Easily route the calls to different individuals or departments.
Call Transfer
Seamlessly transfer calls to another team member or department. Improve first-call resolution rate by routing calls to the most suitable agent.
Call Conference
Collaborate with team members and customers in real-time with conference calling. Improve productivity and reduce back-and-forth calls.
Frequently Asked Questions
DialerHQ's Vietnam virtual phone number service includes features like IVR, ACD, Voice Broadcast, and AI-enabled Dashboards, enhancing your communication strategies.
DialerHQ provides four pricing options for virtual phone numbers in Vietnam:
Basic: $0/month.
Bronze: $7.99/month.
Silver: $11.99/month
Platinum: $19.99/month
DialerHQ ensures reliable connectivity and advanced features for your Vietnam virtual phone number needs.
Setting up a virtual phone number for Vietnam with DialerHQ involves these steps:
Step 1: Sign up on DialerHQ.
Step 2: Choose Vietnam as your desired country.
Step 3: Select the specific region within Vietnam.
Step 4: Opt for the type of virtual number you need.
Step 5: Choose a plan and make the payment.
Step 6:Configure the system, import contacts, and start making calls.
DialerHQ's Vietnam virtual phone numbers offer features such as IVR, ACD, Voice Broadcast, AI-enabled Dashboards, Power Dialer, Global Connect, Real-time Analytics, and Skill-based Call Routing.