DialerHQ Vs Textnow
Not satisfied with TextNow? Explore the finest 10 alternatives to TextNow that outshine it. Among them, DialerHQ stands out as the ultimate choice. Upgrade your communication strategy and experience enhanced efficiency and customer satisfaction with DialerHQ.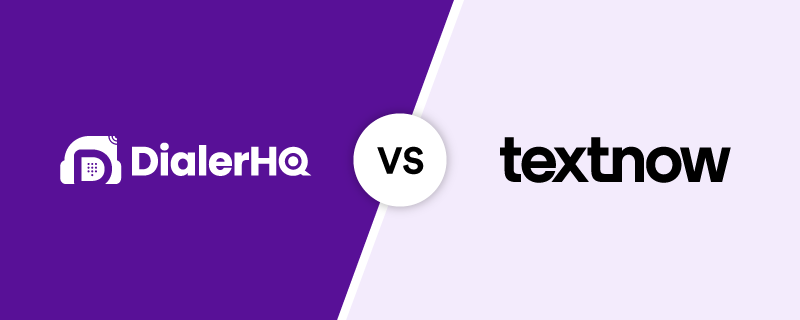 Unleash Maximum Efficiency with DialerHQ
DialerHQ surpasses the expectations of a typical virtual phone system, presenting itself as a comprehensive VoIP solution that greatly improves call center efficiency.
Equipped with advanced features, user-friendly interface, customizable settings, and cost-effective pricing, DialerHQ fulfills all the requirements for businesses. Reach out to our DialerHQ experts today and experience its benefits first hand.
DialerHQ: The Top TextNow Alternative
Wondering what makes DialerHQ an ideal alternative to TextNow? Check out the table below that compares the key aspects of both of these leading virtual phone systems.
Brand Name
Key Features
Pricing
Free Trial
DialerHQ

Power dialer
CRM integration
Call analytics
Local presence

Unlimited Plan: $12/month
Free Software Plan: $0
Custom Plan: On-request

10 Days
Callhippo

Virtual Phone System
Call forwarding
Voicemail
Call Analytics

Bronze: $16/month
Silver: $24/month
Platinum: $40/month

10 Days
Google Voice

Call Forwarding
Conference Calling
Voicemail Transcriptions
Text Messaging

NA
Line2

Call Forwarding and Transfer
Team Messaging
Conference Calling
Voicemail Transcription

NA
TextPlus

Free Texting & Calling
Team Messaging
Free Calling
Voicemail

7 Days
TextMe

International Calling
Cross-Platform Support
Free Calling
Voicemail

7 Days
Hushed

Temporary Phone Numbers
Call and Text Encryption
Call Forwarding
Voicemail

Prepaid plans: $1.99/month
Unlimited Subscriptions: $3.99/month
International plans: $3.99/month

3 Days
KeepCalling International

International Calling
Mobile App
Speed Dial
Online Account Management

NA
2nd Line

Second Phone Number
Dedicated Voicemail
Text Messaging
Voicemail Greetings

7 Days
Numero eSIM

Numero eSIM
International Phone Numbers
Call Forwarding
SMS Forwarding

3 Days
Spend Less, Gain More with DialerHQ
With our remarkable virtual phone system, you can spend less and gain more. Experience double the benefits compared to TextNow, all at half the cost. Enjoy advanced features, seamless integration, exceptional call quality, and outstanding customer support—all while saving your valuable resources.
Make the smart choice with DialerHQ and unlock the true potential of your communication strategy.
Unbeatable Features That Make DialerHQ the Best TextNow Alternative
From a worldwide footprint to an industry-leading call connect rate and a robust infrastructure, DialerHQ has everything that gives it an edge over TextNow.
Upgrade to DialerHQ: Better Features than TextNow
DialerHQ boasts a comprehensive suite of robust features, positioning it as a superior virtual phone system that outshines TextNow in multiple areas.
DialerHQ: Seamless Internal Calling
Enhance collaboration and productivity with DialerHQ's hassle-free internal calling functionality.

Experience crystal-clear audio and reliable connections for all your internal calls with DialerHQ.

Leverage features like Call Conference and others to connect with more than one individual at a time.

Stay connected and productive across your organization, ensuring maximum output and minimal communication gaps.
DialerHQ: Master Time Zones
Effortlessly bridge the time gap with DialerHQ's time zone expertise, facilitating efficient communication with international clients.

Optimize lead generation efforts– reaching potential clients at the most opportune moments across different regions.

Enhance client satisfaction by making calls at the right time, ensuring personalized and convenient communication.

Unlock global possibilities with DialerHQ's timezone intelligence, enabling you to connect with clients at their convenience, no matter the distance.
Competitive Pricing at Its Best
We offer competitive pricing plans tailored to your business needs, ensuring optimal cost-efficiency without sacrificing functionality.

Amplify your communication solution with our add-ons, such as Call Scribe (₹1200/user/month), Voicemail Transcription (₹145/user/month), and more.

Compare our plans and features to find the perfect fit for your business needs, including power-packed options like Bronze, Silver, and Platinum.

Experience competitive pricing at its best with DialerHQ, where you can save up to 3 months' cost by choosing our annual plans.
DialerHQ: Feature-Rich Communication
Empower your communication with a comprehensive suite of feature-rich tools designed to enhance productivity and efficiency.

Experience efficient communication with DialerHQ's advanced functions like Power Dialer, Call Transfer, Call Recording, and more.

Enhance customer interactions with powerful features like Global Connect, Call Analytics, Call Monitoring, and more.

Leverage advanced call analytics features to optimize agent performance and enhance customer experience.
DialerHQ: Acclaimed by Users across Review Platforms
DialerHQ has garnered impressive ratings across renowned review platforms such as Capterra, G2, and GetApp. These positive feedbacks serve as a testament to DialerHQ's efficiency and reliability.
Top 10 TextNow Alternatives in 2023
Explore these top 10 alternatives to the TextNow phone system, each offering a range of similar features. Select the one that best aligns with your requirements and objectives.
DialerHQ offers a comprehensive feature set, including virtual phone numbers, call forwarding, call recording, and more. It's user-friendly, scalable, and cost-effective.
DialerHQ stands out with its competitive pricing, extensive integrations, global connectivity, and advanced call analytics. It provides a seamless communication solution for businesses of all sizes.
Yes, migrating from TextNow to DialerHQ is quick and simple. You can port your existing phone numbers, maintain your call workflows, and leverage DialerHQ's robust features without any hassle. Get in touch with our sales team to learn more.
Sign up with DialerHQ to experience its benefits firsthand
Get started with DialerHQ to better understand its features and benefits for your business.