DialerHQ Vs Sideline
Looking for a Sideline alternative that aligns with your requirements and objectives? Look no further than DialerHQ's virtual phone system. Take a closer look at its features and compare them to make a well-informed choice and pick the best one.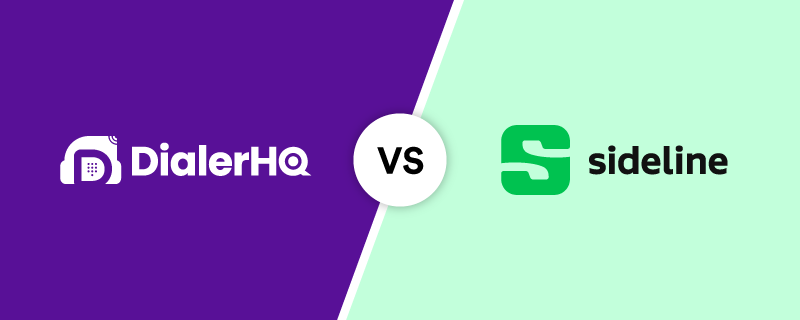 What Makes DialerHQ The Ideal Alternative of Sideline?
When you compare DialerHQ Vs. Sideline, you will find that the former boasts a significant advantage in terms of features, customer support, and reliability. Additionally, global presence and cost also contribute to DialerHQ's popularity and make it the best Sideline alternative.
Advanced Features
Auto-attendant, IVR, Analytics
Cost-effective
Affordable plans, Low installation cost
DialerHQ Vs. Sideline: Feature-by-Feature Comparison
| Feature Comparison | DialerHQ | Sideline |
| --- | --- | --- |
| Subscription Plans | Reasonable | Costly |
| App Size | 34.7 MB | 93.1 MB |
| Call Quality | High | Average |
| Call Recording | ✅ | 🚫 |
| Call Routing | ✅ | 🚫 |
| Global Number Selection | ✅ | 🚫 |
| Free Calling | ✅ | 🚫 |
| Professional/ Personal Choice | ✅ | 🚫 |
(Disclaimer: The information provided in this comparison table is accurate to the best of our knowledge but may be subject to change.)
Experience the power of advanced virtual phone system With DialerHQ
Enhance your communication and take your business to the next level with our features-packed solution.
Frequently Asked Questions
With Sideline's integrated inbox, you can view all your texts, calls, and voicemails from one place, and incoming calls ring like usual with a Sideline caller ID. In addition, you can make a call or send a text using your Sideline number.
Sideline is a paid service. Users can try Sideline for seven days for free. After that, they can choose from a $99 yearly or $9.99/month plan.
In Sideline plans, you can't have multiple numbers (i.e., a 2nd, 3rd, etc.) on a single device or account.
Sideline, a top DialerHQ App Alternative, uses cellular networks instead of VoIP (Voice over IP).
Regarding handling calls, Google Voice offers more customization than Sideline. While Sideline fits well for solopreneurs and small teams who share lines, it isn't as effective for larger groups with more complex routing needs. You can also look for another alternative of Sideline, the DialerHQ, one of the most affordable and versatile options for individual and professional requirements.
Sideline provides users with a DialerHQ for their smartphone. But, Sideline is more than a second line for your business. You can use it to give your customers a work number instead of your private number, which provides them with flexible, personal communication.
Whenever you place a call through Sideline, your receiver will see your Sideline number, not your registered number or pilot number, and you cannot block your Caller ID.
Yes, calls made through Sideline will appear on your phone bill as if they were connected to your primary number. However, only pilot numbers will appear on your account.
DialerHQ is the best Sideline App Alternative. Here are some of the qualities that make DialerHQ a great Hushed alternative:
Auto-attendant (IVR)
Voicemail transcription
Call forwarding
Dedicated customer support
Call recording
Automatic call distribution
Dedicated mobile apps for iOS and Android
International calling & messaging
Yes, Sideline is safe. Whether starting a business, growing, or managing one, Sideline, a leading alternative of Sideline, is a good communication solution due to its reliability and feature-rich interface.
Yes, you can use a Sideline Number for Whatsapp.
In Sideline plans, you can't have multiple numbers (i.e., a 2nd, 3rd phone number, etc.) on a single device or account.
No, you cannot use Sideline on two phones.
The following support options are available through Sideline: Email/Help Desk, FAQs/Forum, Knowledge Base, Chat, 24/7 (Live rep)
Don't settle for less. Upgrade to DialerHQ
Make international calls & texts without buying a SIM card.