Senior Writer: Rohit Rajpal
Reading Time:
11
Minutes
Published :
December 2, 2022
The best VoIP providers make business communications cost-effective and help quickly set up an office phone system. In addition, VoIP providers have advanced features for modern businesses, including auto-dialer, auto-attendant, team messaging, call recording, voicemail transcription, business hours, and more.
According to Verified Market Research, the VoIP market was valued at $23.28 billion in 2020. It is expected to reach $52.84 billion by 2028, growing at a CAGR of 10.8%. This indicates more and more businesses are adopting VoIP phone systems. Implementing a VoIP system could reduce the cost of phone calls by 50%.
However, with hundreds of providers, each with its pricing and features, finding the right VoIP phone system for your business could take time and effort. But don't worry. This article will help you understand what VoIP is, how it works, its benefits, and how to choose the best VoIP service, providers. Let's get started.
What Is VoIP and How Does It Work?
VoIP, or Voice over Internet Protocol, is a technology that allows you to make and receive calls over the internet rather than traditional phone lines. As a result, local and international calling becomes more affordable.
VoIP services don't require installing phone lines in your office or purchasing desk phones. Instead, you can use a mobile device or desktop to manage business communications from anywhere as long as you have an internet connection. This makes it easier for remote teams to collaborate cost-effectively.
VoIP system converts your voice signals into data packets and sends them over the internet. Then, the receiving end reassembles the data packets into audio to make communication possible. And all of this happens within microseconds, eliminating potential delays.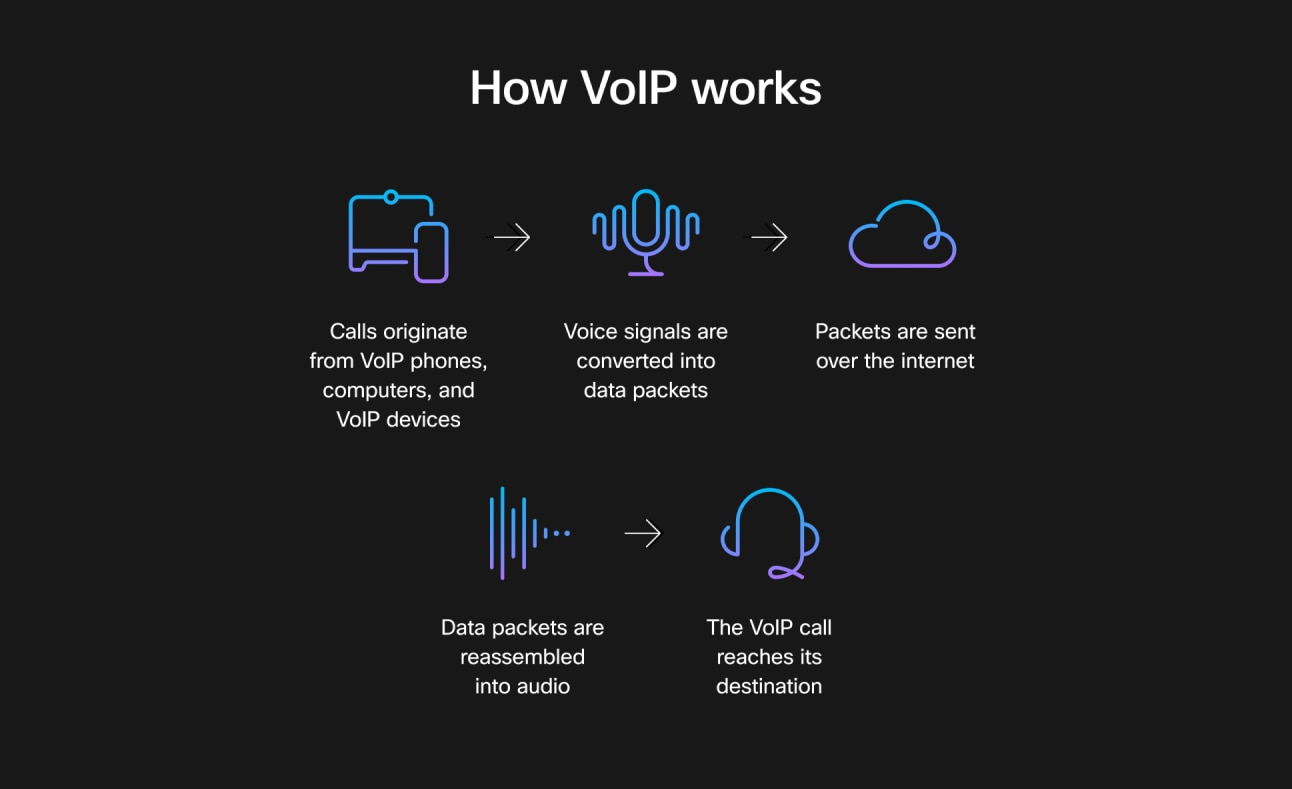 What To Consider When Choosing the Best VoIP Service Provider?
As mentioned above, hundreds of VoIP business phone systems are in the market and choosing one could be overwhelming. We have identified the four most critical aspects of business VoIP service providers to make things easier. Let's look at them.
Price: Since VoIP service is often subscription-based, you'd need to consider long-term costs when buying one. Check if VoIP offers the necessary features in your budget. Or do you have to buy an add-on for the features you need?
Call Quality and Uptime: You'd want to partner with a VoIP provider that offers excellent call quality rather than the one that frequently experiences call drops. The best VoIP providers, like DialerHQ and CallHippo, offer a 99.99% uptime guarantee. This highlights that their technology can withstand all incoming and outgoing calls.
Customer Support: Even the best technology faces challenges at some point. Therefore, choosing a VoIP provider that offers 24/7 support or a dedicated account manager to whom you can reach out instantly is critical.
Local and Toll-free Numbers: Local numbers help establish and strengthen your presence in different locations. On the other hand, a toll-free number allows your customers to reach out to you for free. If you're a small business, a local number would be sufficient. However, as your business grows, you'd also need toll-free numbers.
How Much Do VoIP Services Cost?
The cost of a VoIP business phone system can vary immensely based on its features. Besides, there are numerous free VoIP service providers with basic features like one ring group, one auto-attendant, video conferencing (up to 20 participants), and team messaging. On the other hand, premium plans range from a few dollars to hundreds per month for businesses with high-end requirements.
Most VoIP service providers offer unlimited calling and messaging across specified parts of the world (like the US and Canada). In addition, subscriptions are often offered on a per-user basis. However, companies like the DialerHQ and CallHippo allow you to add unlimited extensions to each number, making them more pocket-friendly.
The Benefits of VoIP
The benefits of the VoIP phone system are lower costs, increased accessibility, better scalability, improved coaching, and extensive analytics. Let's look at these benefits in more detail.
Lower costs: Since you don't need any hardware or install wires, the upfront investment is eliminated. Furthermore, the price of calling per minute is typically lower than that of traditional phone lines.
Increased accessibility: One of the best benefits of VoIP is that it can manage business communications from anywhere. This makes it perfect for remote teams and businesses with multiple branches.
Better scalability: You can scale your VoIP system up and down per your business requirements. You can even add more features to support business growth.
Analytics and reports: Monitor agents' performance, measure customer satisfaction, and coach them based on actionable insights. You can also analyze call recordings to determine common objections and optimize your script accordingly.
The Five Best VoIP Phone Services Compared
| | | | |
| --- | --- | --- | --- |
| VoIP Service Provider | Pricing | Features | Support |
| DialerHQ | From $10/user/month | Free number, call recording, business hours | 24/7 support |
| CallHippo | From $0/user/month | IVR, power dialer, AI-based call routing, call barging | 24/7 support |
| RingCentral MVP | From $19.99 /user/month | Integrated phone, video, and messaging | Live chat, support case, and knowledge base |
| Nextiva | From $18.95/user/month | HD phone, team chat, conversational AI | Live chat and knowledge base |
| Dialpad | From $15/user/month | Video conferencing, voice intelligence, open APIs and webhooks | Live chat and knowledge base |
The Best VoIP Providers of 2022
Our list of VoIP providers includes the following
1. DialerHQ
2. CallHippo
3. RingCentral MVP
4. Nextiva
5. Dialpad
6. 8×8
7. GoToConnect
8. Ooma Office
9. 1-VoIP
10. AT&T Business
Let's compare VoIP providers so you can make a more informed decision.
1. DialerHQ – VoIP Service Provider
DialerHQ is the best VoIP provider that makes business communications look more professional. Another thing that makes it a top VoIP provider is its seamless setup and exceptional portability. You can set up and start using your virtual phone system in less than four steps. However, it is best suited for small businesses and entrepreneurs.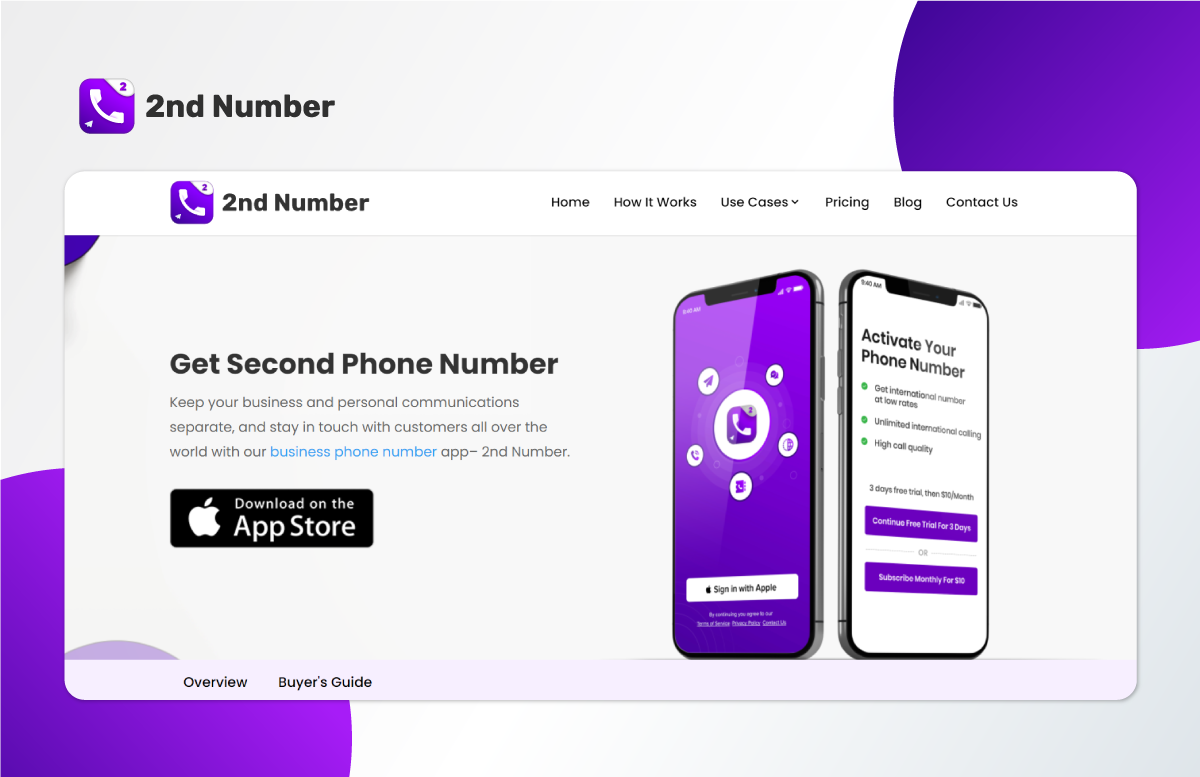 Features of DialerHQ
Free number (standard)
Business hours
Call recording
Firepower threat defense (FTD)
Unlimited calling
Free SMS
The features depend on the plan you choose.
Pros of DialerHQ
Easy to set up
It comes with a free number and a $2 complimentary calling credit
The free trial allows you to test the system before committing
Its mobile app helps boost team productivity by allowing them to work from anywhere
Cons of DialerHQ
Limited features for growing businesses
Only the top-tier plan has 24/7 phone support
Does not have a voicemail transcription facility
Offers minimal support for customer service personalization
DialerHQ Pricing
It offers three plans. Here's how much they cost (when billed annually).
Standard: $10 per month
Premium: $20 per month
Unlimited: $30 per month
2. CallHippo – Business VoIP Service Provider
CallHippo is one of the best business VoIP service providers offering advanced features at pocket-friendly prices. Plus, its unmatched call quality empowers you to offer the best possible experience to your callers. Another reason to choose CallHippo over VoIP telephone service providers is its in-depth call reports that provide actionable insights to help you improve.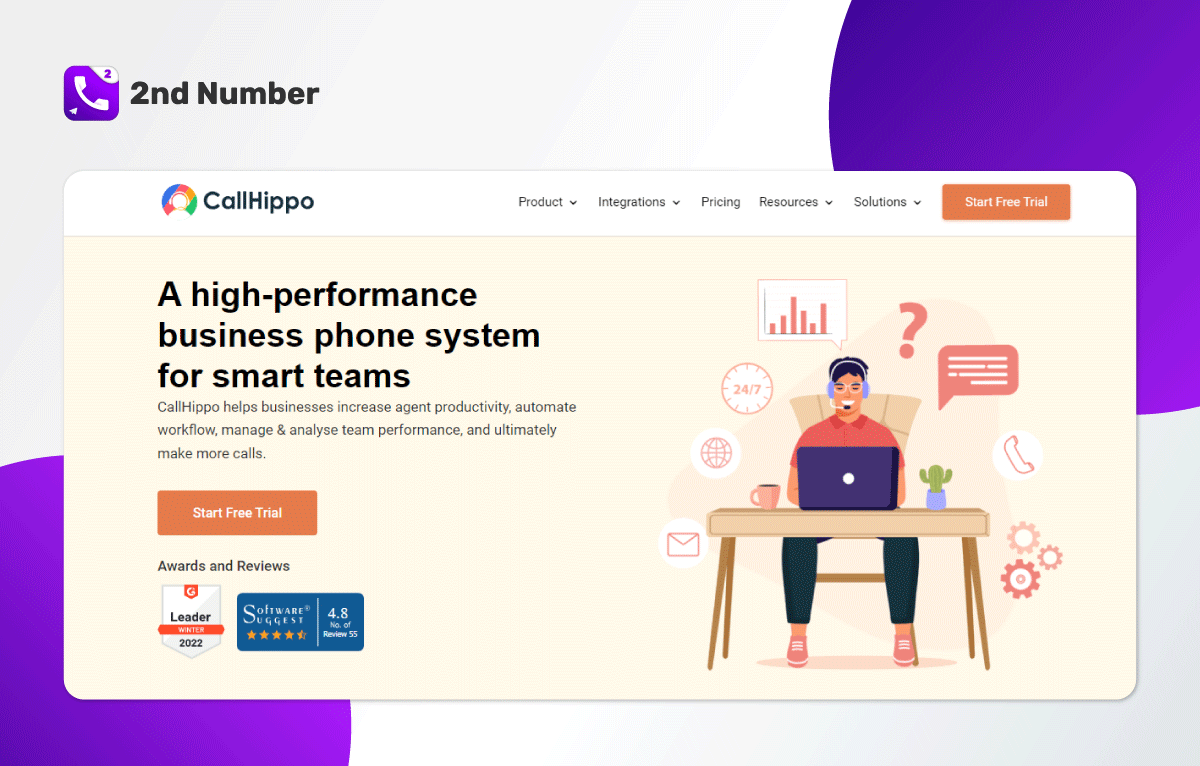 Features of CallHippo
Click to dial
Global connect
Call forwarding
Voicemail
AI-based call routing
Webhook
Campaign management
Power dialer
Voice broadcasting
Multi-level IVR
Call barging
Intelligent reports
Automatic machine detection
85+ integrations
Pros of CallHippo
More features at less price
No random call drops or jitter issues
Provides complete customer information on the dial screen
Customer support team is available round the clock
Cons of CallHippo
The mobile app could be improved
Add-on services are quite expensive
No knowledge base for self-service
Setting up voicemail is time-consuming
CallHippo Pricing
CallHippo has four plans. Here's how much they cost (when billed annually).
Basic: $0 per user per month
Bronze: $16 per user per month
Silver: $24 per user per month
Platinum: $40 per user per month
3. RingCentral MVP – VoIP System Service Provider
Formerly known as RingCentral Office, RingCentral MVP is a leading VoIP provider with all the features that a modern business will ever need. Built for businesses of all sizes and industries, this phone VoIP service provider makes it easier to comply with data regulations like GDPR and HIPAA.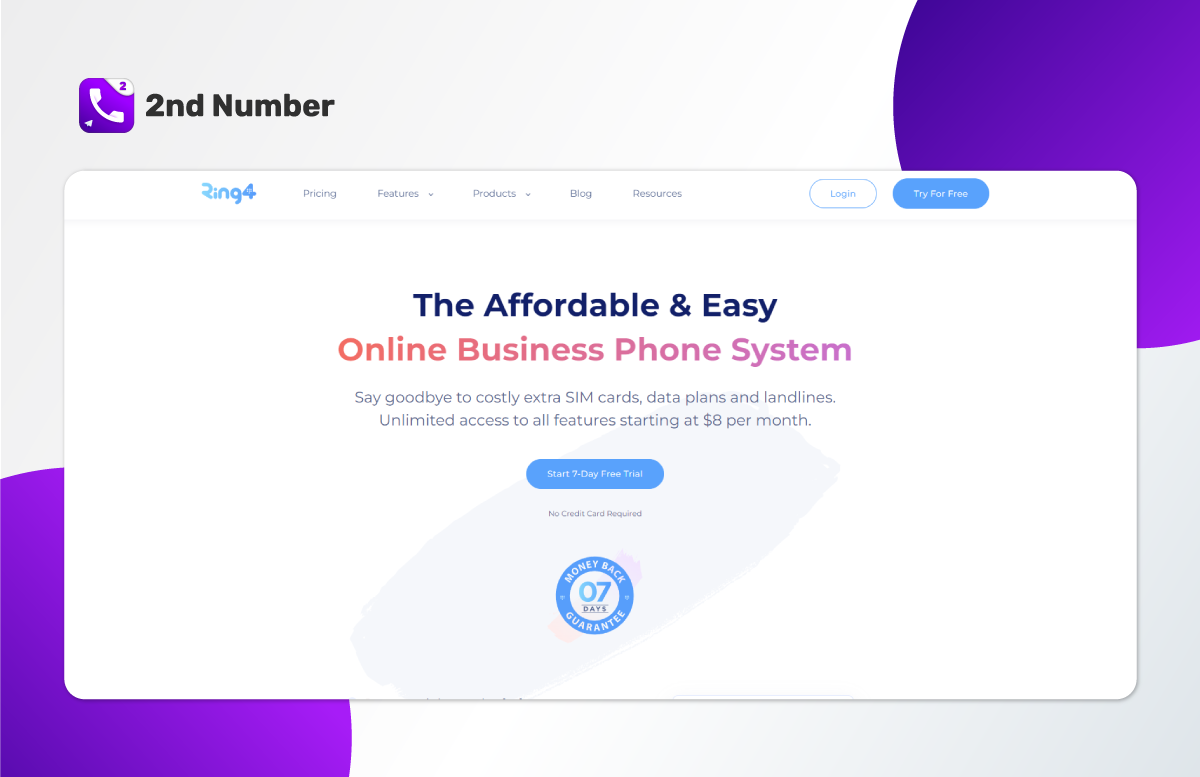 Features of RingCentral MVP
Business phone or toll-free numbers
Unlimited calling within the US and Canada
Business SMS
Voicemail transcription
Document sharing
Call log reports
Video conferencing
Integration with Microsoft 365, Google Workspace, and Slack
Call recording
Pros of RingCentral MVP
Helps comply with GDPR and HIPAA regulations
Extensive features for rapidly growing businesses
Lets you monitor your team in real time via customizable dashboards
Allows you to send images and MMS through text
Cons of RingCentral MVP
Expensive for small businesses
24/7 support available only on select plans
The video conferencing feature is difficult to navigate and doesn't work with the Safari browser
International calls drop very often
RingCentral MVP Pricing
RingCentral offers four plans. Here's how much they cost (when billed annually)
Essentials: $19.99 per user per month
Standard: $27.99 per user per month
Premium: $34.99 per user per month
Ultimate: $49.99 per user per month
4. Nextiva – Phone VoIP service provider
Nextiva is one of the best VoIP providers, bringing all your business communications (voice, video, messaging, and email) to one place. It also makes team collaboration more effortless, so you get necessary information faster.
Features of Nextiva
Unlimited calling
Video conferencing
Team messaging and collaboration
Calendar and meeting scheduling
Integration with HubSpot and Salesforce
Call recording
Pros of Nextiva
Easy to use, intuitive interface
It helps unify all your communications
Has a highly customizable auto attendant
Advanced call management system
Cons of Nextiva
Lacks 24/7 email or phone support
Mobile apps have a lot of bugs and glitches
Offers limited integration options
You need to add a number in the contacts to see their availability status
Nextiva Pricing
Nextiva has three plans. Here's how much they cost (when billed annually).
Essential: $18.95 per user per month
Professional: $22.95 per user per month
Enterprise: $32.95 per user per month
5. Dialpad – Featured VoIP Service Provider
Powered by artificial intelligence, Dialpad is a VoIP service provider that offers advanced features to make the customer experience seamless. For example, it has built-in speech recognition and natural language processing to help you analyze all the inbound and outbound calls.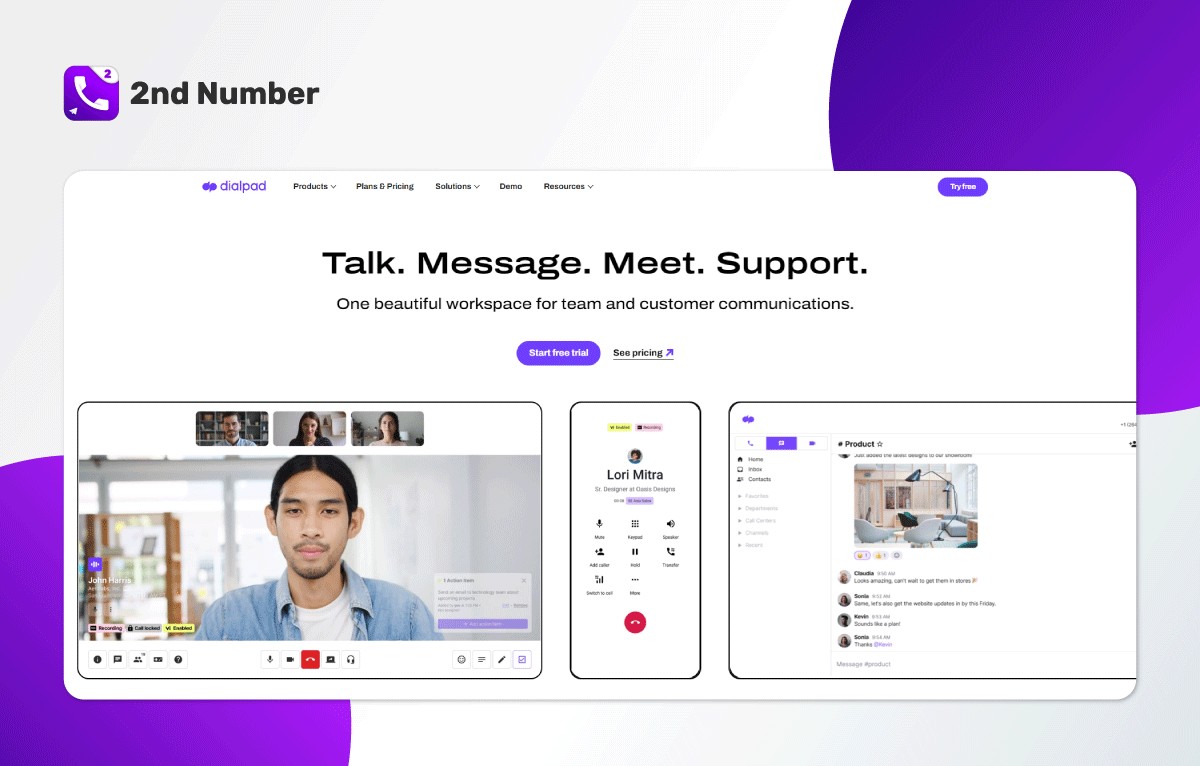 Features of Dialpad
Unlimited calling and text messaging
AI-powered call and voicemail transcription
Unlimited video conferencing
Web and chat support
CRM integrations
Open APIs and webhooks
Multiple phone numbers per account
Pros of Dialpad
Unlimited calling and video conferencing in the standard plan
Pocket-friendly pricing
You can sort the dashboard by department or type of call
Robust analytics and reporting
Cons of Dialpad
Limited integration options
No 24/7 support in the standard plan
Phone activation and deactivation can be challenging
Voicemail transcription isn't effective
Dialpad Pricing
Dialpad has three plans. Here's how much they cost (when billed annually).
Standard: $15 per user per month
Pro: $25 per user per month
Enterprise: Custom quote available
6. 8×8 – Business VoIP Service Provider 
8×8 is yet another top VoIP services provider that offers a variety of features at competitive pricing. Designed for businesses of all sizes, 8×8 allows you to buy local and toll-free numbers from different countries to gain a competitive edge. Its analytics and reports help you understand agents' performance and take corrective actions to improve them.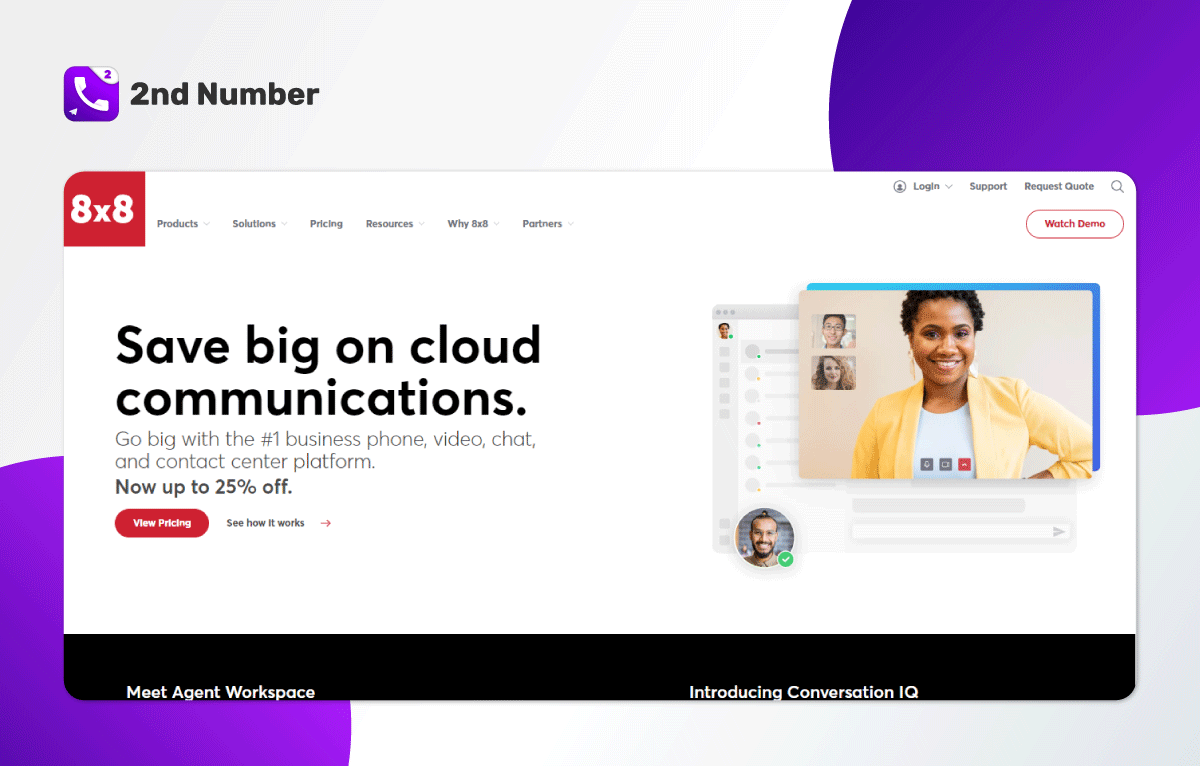 Features of 8×8
Unlimited calling in the US and Canada
Auto attendant
Music on hold
Voicemail
Team messaging
Hot deskingCall queues
Presence detection
Call activity analytics
Pros of 8×8
Easy to set up and assign users
Lots of features in high-end plans
The learning curve is very small, making it easier for new employees to understand and use the VoIP system
Cross-platform functionality and experience is good
Cons of 8×8
Customer support could be improved
The basic plan is expensive, given the features it offers
If you don't have a robust WiFi connection, the call quality will reduce significantly
Connecting Bluetooth headphones to the app is complicated
8×8 Pricing
8×8 has three pricing plans. Here's how much they cost (when billed annually).
Express: $15 per user per month
X2: $24 per user per month
X4: $44 per user per month
7. GoToConnect – VoIP Service Provider
What makes GoToConnect one of the best VoIP service providers is it's in-built messaging and meetings feature that allows you to collaborate more efficiently. Plus, the VoIP provider offers all the necessary features in every plan, making it perfect for small businesses with a limited budget.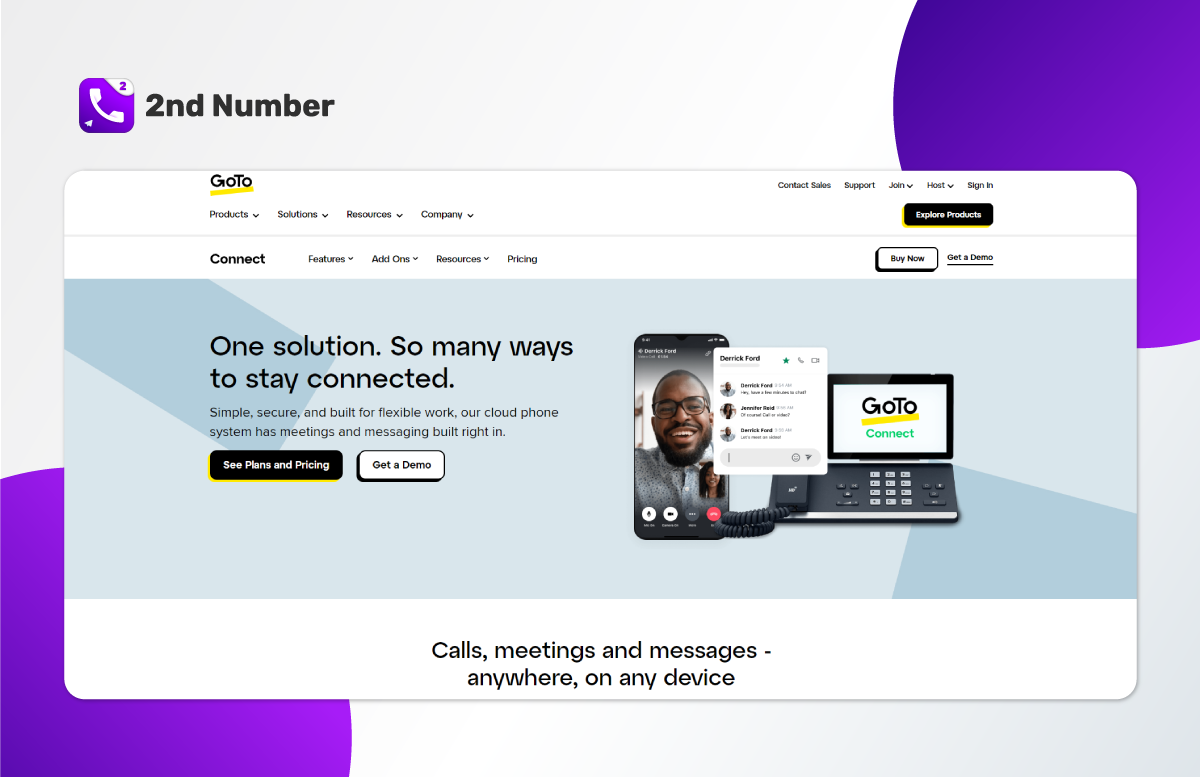 Features of GoToConnect
Number porting
Local, toll-free, and vanity numbers
Smart call routing
Unlimited extensions
Call forwarding
Instant response
Customizable dial plans
Auto attendant recorded greetings
Ring groups
Hot desking
Intercom
Pros of GoToConnect
End-to-end encryption
Even the basic tier consists of all the necessary features
CRM integrations
The graphical IVR editor makes it easy to customize the IVR system
Cons of GoToConnect
Customer support could be improved
Troubleshooting the software could be challenging at times
Call queue dashboard is hard to navigate, and confusing
Reporting and analytics could see some improvement
GoToConnect Pricing
GoToConnect offers three plans. Here's how much they cost (when billed annually).
Basic: $27 per user per month
Standard: $32 per user per month
Premium: $43 per user per month
8. Ooma Office – Customize VoIP Service Provider
Ooma Office is the right choice if you're looking for a small business-hosted VoIP service. It has 50+ standard features in every plan, making it one of the most cost-effective VoIP telephone service providers. Furthermore, it has a mobile app that lets you manage your business communications from anywhere.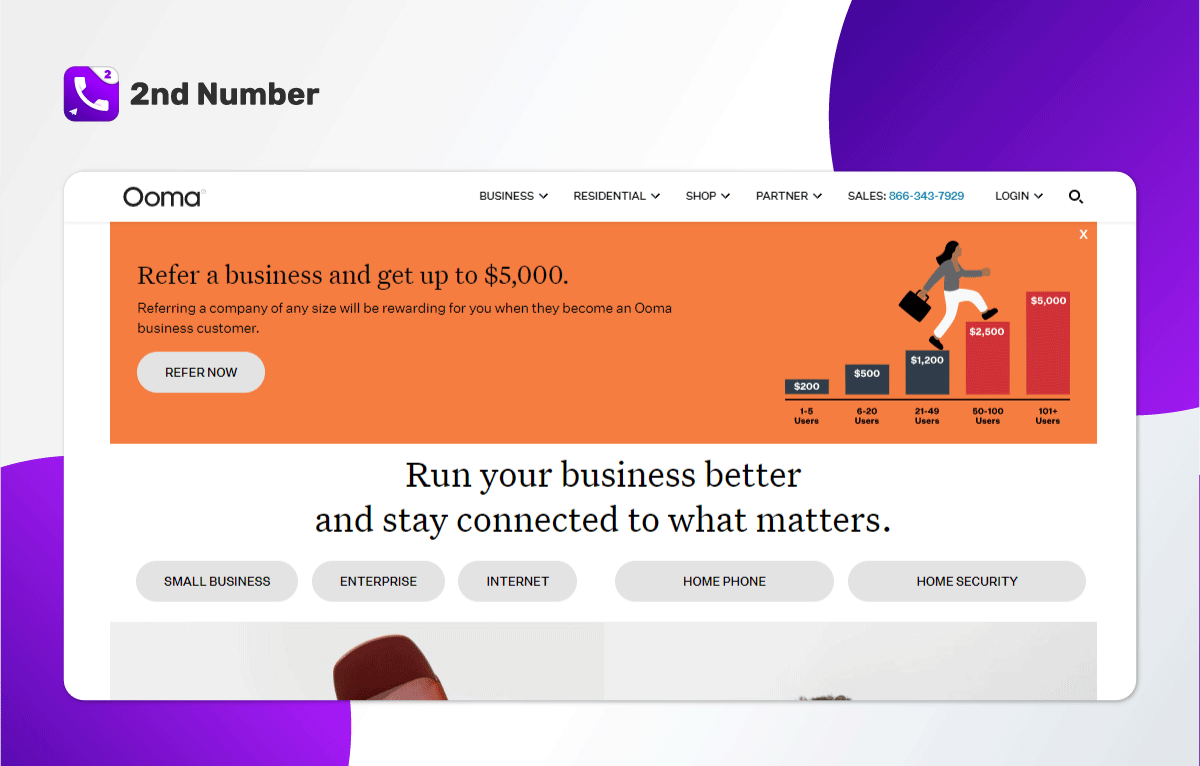 Features of Ooma Office
Virtual receptionist
Ring groups
Music on hold
One toll-free number
Email audio attachments
Text messaging
Video conferencing
Call recording
Enhanced call blocking
Voicemail transcription
Google and Office 365 integrations
Call analytics
Pros of Ooma Office
Easy-to-use, intuitive software
50+ standard features in the basic plan
Customer service is knowledgeable and proactive
Robust virtual assistant
Cons of Ooma Office
Phones have to be configured by Ooma
Some essential features are missing
Reviewing call logs could be a little cumbersome
Doesn't have robocall or spoofed caller ID-blocking feature
Ooma Office Pricing
Ooma Office has three plans. Here's how much they cost (when billed annually).
Essentials: $19.95 per user per month
Pro: $24.95 per user per month
Pro Plus: $29.95 per user per month
9. 1-VoIP – Best VoIP Service Provider
1-VoIP is a leading VoIP services provider that offers HD call quality and numerous features at a pocket-friendly price. However, what makes it different than other companies in this list of VoIP providers is that it offers all the features in every plan.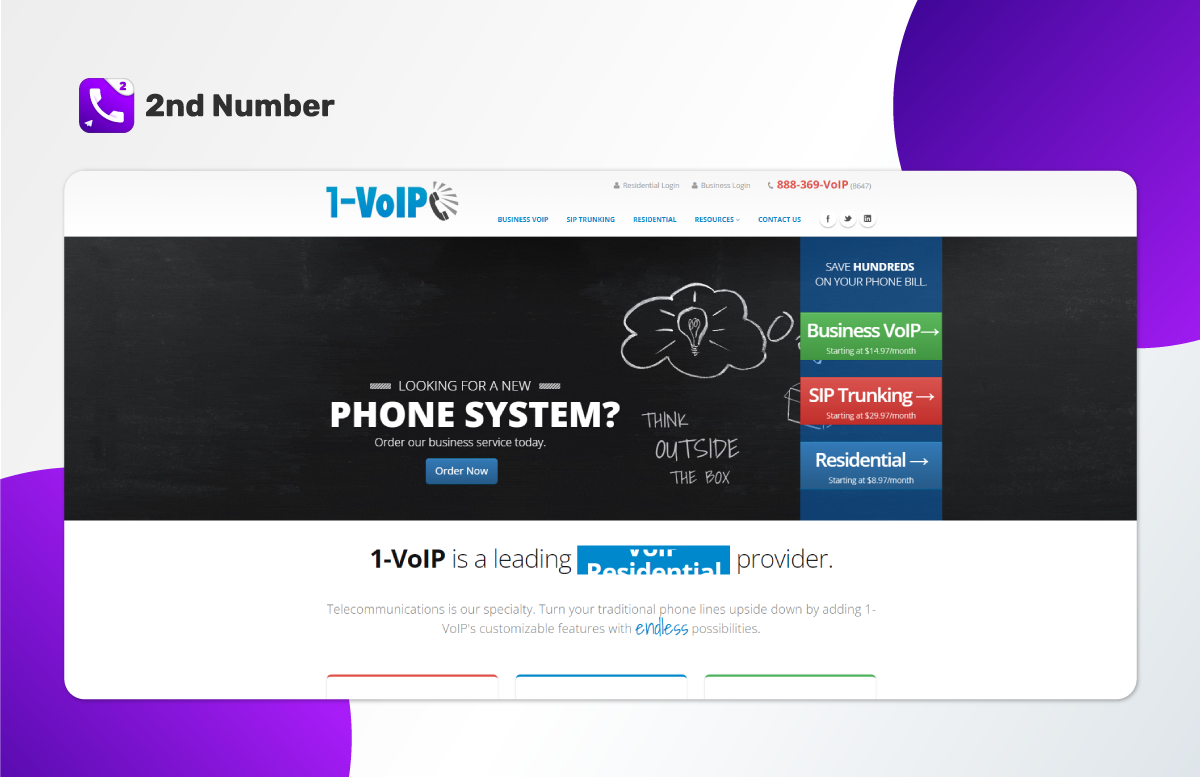 Features of 1-VoIP
Music on hold
Call queues
Digital call forward
Auto attendant
Virtual fax
Extension transfer
Business hours
Voicemail
Custom announcements
Pros of 1-VoIP
Offers flexible pricing
Great anti-spam feature
24/7 customer support
User-friendly interface
Cons of 1-VoIP
Limited customization options
Configuring the system can be challenging
No video conferencing
Number porting doesn't always work
1-VoIP Pricing
1-VoIP has three plans, and they'd cost you:
Metered: $14.97 per extension per month
Corporate: $19.97 per extension per month
Professional: $29.97 per extension per month
10. AT&T Business – Business VoIP Service Provider
The last one on our list of VoIP phone service providers is AT&T Business. It integrates with more than 30+ third-party tools, including Microsoft and Salesforce. Besides, you can use your analog phones as well with AT&T VoIP. Its standard edition includes 1000 toll-free minutes per month and unlimited internet faxing.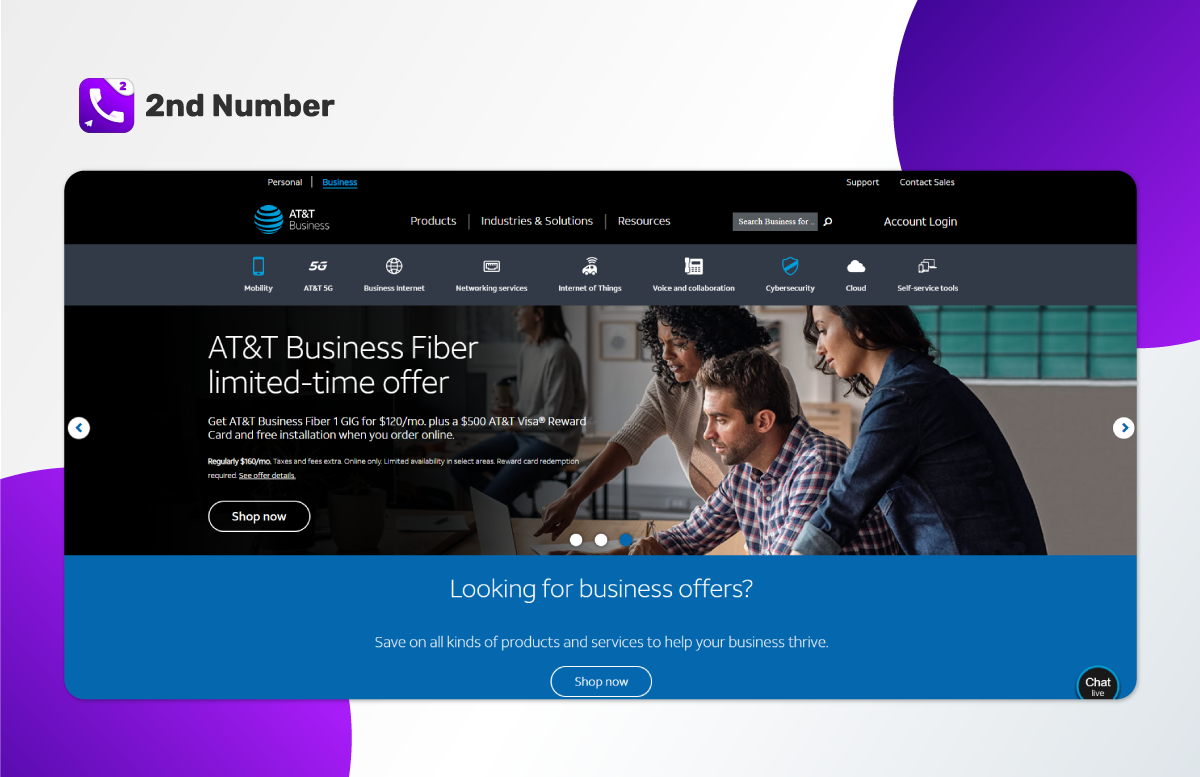 Features of AT&T Business
Unlimited calling to Canada, the US, and Mexico
Advanced call handling and routing
Automatic and on-demand record
Three-way calling
Flexible caller ID
Voicemail transcription
Call screening
Pros of AT&T Business
Supports legacy PBX systems
Excellent call quality
Integration with 200+ apps
Extensive list of features
Cons of AT&T Business
Configuring the VoIP system could be challenging
Customer support isn't great
No free trial or freemium version
International calling rates are on the higher side
AT&T Business Pricing
AT&T has various plans depending on your needs. You can check them out here.
Learn more About VoIP Systems
VoIP services are cost-effective, offer more features than landlines, and help you provide better customer service. Therefore, you must understand what VoIP is and how it can help your business grow. Then, choose from our list of top VoIP providers to speed up the process!
Updated : February 16, 2023
Content Worth Your Time
Know what's happening in your industry all the time