Senior Writer: Hiba Ali
Reading Time:
6
Minutes
Published :
June 9, 2023
France is one of the most popular destinations for travelers, business people, and cultural enthusiasts from the US. Whether you want to explore the Eiffel Tower, close a deal with a French client, or catch up with a friend in Paris, you must know how to call France from the US without breaking the bank. And the answer to this is VoIP!
Need a reliable and affordable business phone system? Look no further than DialerHQ.
With companies experiencing a staggering 50% to 75% reduction in communication costs after adopting VOIP software, it's no wonder that savvy individuals and businesses are seeking efficient, cost-effective ways to bridge the distance.
In this post, we'll explore how to call France from the United States, the perfect time to call, etc., ensuring that your conversations are crystal clear and hassle-free.
So, sit back, relax, and let us guide you through connecting with your French contacts like a pro!
Expert Advice
"When calling France from the US, dialing the correct country code (33) before the local French number is critical. Consider using a VoIP service or international calling plan to save money on long-distance calls. Be aware of the time difference between the two countries, as France is 6 hours ahead of US Eastern Standard Time. Finally, don't forget to check your phone plan's international calling rates to avoid any unexpected fees. "
How do I Call France from a US Cell Phone or a Landline Phone?
Knowing the correct dialing procedure is important to ensure a successful connection when calling France from a US phone. International calls from landlines, cell phone numbers, or internet-based services can be made.
Here are the steps on how to call a French number from the US:
Dial 011, the exit code of United States.
Then, dial France country code, which is 33.
Enter the area code, which consists of 1-5 digits.
Lastly, dial the local phone number (8-10 digits).
The number would look like this – 011-33-4-44-44-44-44.
What is France's Dialing Code?
The dialing code is an essential part of the phone number, and it is necessary to include it when making calls to France. To successfully connect a call to its intended recipient in France, it is crucial to include the country code, which for France is +33. This code serves as an identifier and is necessary for making international calls from other countries to France.
Failure to include the country code may result in the call not being connected to the intended recipient. It is also used when making domestic calls within France, but only from a mobile phone or a non-geographic number.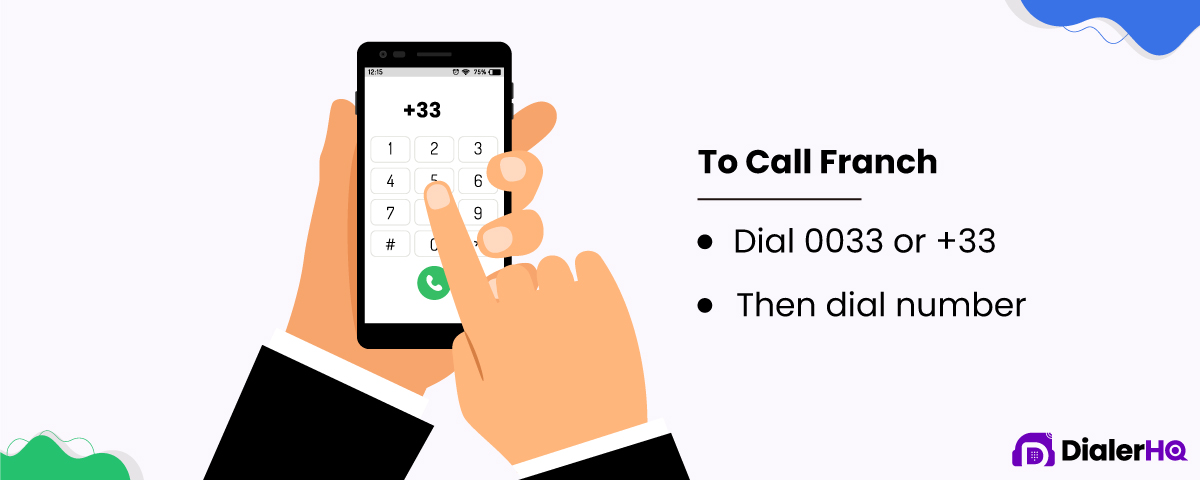 It is important to note that the dialing code may vary depending on the country from which the call is being made. Suppose you are making an international call to France from the United States. In that case, you must first dial the exit code, which for the US is 011, followed by the French country code +33, to ensure that the call connects to the correct destination.
List of Major France Area Codes
In France, there are a total of 21 area codes. When calling a specific city in France, you need to dial the corresponding area code after entering the International Subscriber Dialing (ISD) Code.
However, if there is no area code for the city you are calling, dial the recipient's number directly after the ISD Code. Here is a list of the area codes in France:
| City/Region | Area Code |
| --- | --- |
| Paris/Île de France | 1 |
| Northwest France (Brest, Cherbourg, Le Havre, Nantes, Orleans, Rouen), the Réunion and Mayotte Overseas Departments | 2 |
| Northeast France (Boulogne, Calais, Dijon, Lille, Nancy, Strasbourg, Reims, Troyes) | 3 |
| Southeast France (Cannes, Grenoble, Lyon, Marseille, Monaco, Nice, St. Etienne, Toulon, Valence) and Corsica | 4 |
| Southeast France (Bordeaux, Limoges, Lourdes, Toulouse) and Martinique, Guadeloupe, Saint-Barthélemy, Saint-Martin, French Guiana and Saint Pierre et Miquelon Overseas departments | 5 |
Download France Area Code Template
What is the Perfect Time for Calling France from the USA?
Determining the ideal time to call France from the United States is crucial to ensure smooth communication. The perfect time for dialing France from the USA depends on several factors:
1. Time-Zone Difference 
France is typically ahead of the USA by 6 hours, depending on the specific US time zone and daylight saving time. When it's daytime in the USA, it will be late afternoon or evening in France. The most suitable times are usually in the morning in the US, around 6 AM to 9 AM Eastern Time, which corresponds to the afternoon in France, around 12 PM to 3 PM.
2. Business Hours 
If you're calling on a France-fixed line number for business purposes, it's best to call during normal French business hours, from 9 AM to 5 PM in France. That translates to Monday through Friday in the US, from 3 AM to 11 AM Eastern Time. Remember that France has a tradition of a long lunch break of 1 – 2 hours, during which businesses might be closed.
3. Holidays 
Be aware of public holidays in each country, which can affect business hours. Check an international calendar to see if any holidays could impact your calls. For instance, France observes several national holidays, such as Bastille Day on July 14th, which might affect the availability of your French contacts.
4. Recipient's Preferences 
It is advisable to inquire about the most convenient times to chat with the person you intend to call in France, considering their work hours and schedule. It is also thoughtful to inform the person beforehand about your intended call time. This consideration helps ensure that your call is well-received and that the recipient is prepared for the conversation.
Is Calling France from the USA Expensive?
Dialing France from the USA can be expensive, depending on your chosen method and service provider. Traditional landline and mobile phone calls can incur high international calling rates, which vary depending on your phone carrier. These rates can range from a few cents to over a dollar per minute and may also include additional fees for connection or long-distance charges.
Dealing with per-minute charges for international calls can be bothersome and costly. Fortunately, there is a better option that enables you to connect with your contacts in France at a fixed monthly rate, ultimately saving you hundreds of dollars in the long run.
To avoid these high costs, many people opt for alternative methods of communication, such as Voice over Internet Protocol (VoIP) services or international calling apps like DialerHQ. These apps allow you to make free calls to France and other countries at a significantly lower cost than traditional phone companies. With DialerHQ, you can enjoy unlimited calls to France from the US for just $12 per month per user.
Another option is to purchase a prepaid calling card or add an international calling plan to your existing phone service. These prepaid calling cards can offer reduced rates for calls to specific countries, including France, and a more cost-effective solution if you frequently make international calls.
Lower Your Calling Costs To France By Using DialerHQ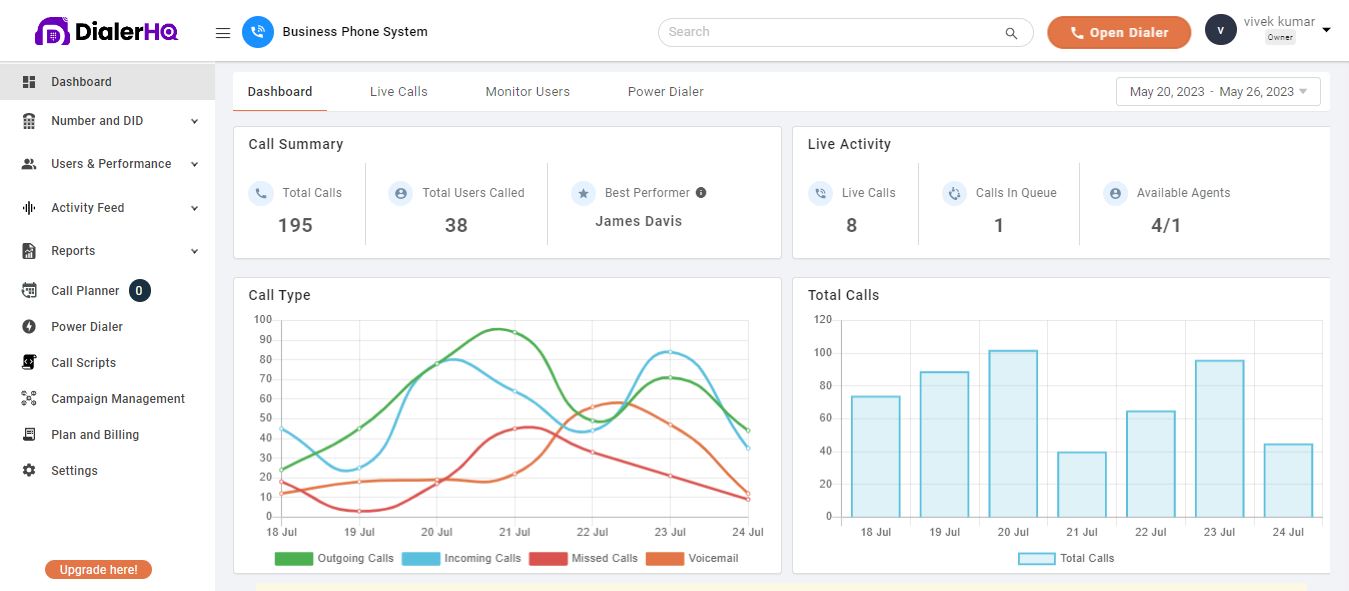 DialerHQ is an international phone calling app offering a seamless and intuitive experience for international phone calls. The app makes it easy to stay connected with friends, family, and colleagues abroad without breaking the bank. With exceptional call quality and no need for additional hardware or setup, this VoIP app can be easily installed on your mobile devices and accessed whenever and wherever you need it.
Discover the remarkable features of DialerHQ and unlock its potential. Acquire an affordable USA virtual number and avail the following benefits:
1. Effortless Integrations
Incorporate your essential business tools to streamline communication and improve collaboration across teams and departments.
2. Data-Driven Decision Making
Leverage advanced analytics and real-time reporting to obtain valuable insights, empowering you to make informed, data-driven choices contributing to business growth.
3. User-Friendly Design
Navigate the system easily using an intuitive interface, eliminating extensive training requirements and ensuring smooth adoption.
4. Customizable Solutions
Adapt the system to meet your needs by customizing features, workflows, and settings to align seamlessly with your business goals and processes.
5. Automated Dialing
Boost your outreach efforts with an automated dialer that streamlines the dialing process, allowing you to quickly connect with more potential clients through live calls.
6. Personalized Greetings
Create a lasting impression with customized, professional voicemail greetings that showcase your brand identity and leave a positive impact on callers.
7. Worldwide Communication
Effortlessly connect with partners, clients, and colleagues globally using high-quality voice and video features, overcoming geographical limitations and promoting collaboration.
8. Intelligent Call Routing
Improve call management by effortlessly routing incoming calls to the suitable individual or team, utilizing predefined guidelines for smooth handling and ensuring a seamless UX.
9. Cost-Effective 
DialerHQ presents a budget-friendly alternative to conventional international calling approaches. By utilizing this application, you can save a substantial amount on your phone expenses.
10. High-End Security
At DialerHQ, security is paramount, and the app ensures that your calls are encrypted, assuring comfort, as it safeguards your conversations with contacts in France, providing an added layer of protection and security.
Conclusion
We hope we've answered your question about how to call France from the USA. Calling France from the US is straightforward and cost-effective with the right tools and knowledge. To ensure seamless communication, familiarize yourself with the US's international access code, France's country code, local number format, and French area codes. By leveraging modern technology and VoIP services, you can significantly reduce the expenses associated with international calls while enjoying superior call quality.
Moreover, DialerHQ is a feature-rich, user-friendly app offering affordable rates and exceptional call quality. With DialerHQ, you can manage your calls efficiently and experience high-quality voice calls without breaking the bank. This advanced app simplifies the process of calling France from the US and provides a range of additional features to enhance your overall communication experience.
So, whether you're connecting with friends, family, or business associates in France, consider using DialerHQ as your go-to solution for affordable and reliable international calling.
Embrace the convenience and cost savings this innovative app offers, and stay connected with your contacts in France without any hassle.
FAQs
DialerHQ's rates remain consistent throughout the day, making it convenient to call France from the US anytime without worrying about fluctuating costs.
DialerHQ prioritizes crystal-clear voice quality. Ensure a stable internet connection and use compatible devices for optimal call quality when connecting with friends and family in France.
Yes, DialerHQ supports calling both landline and mobile numbers in France. Dial the appropriate country and area codes before the recipient's mobile number for smooth connectivity.

Hiba is a seasoned expert with extensive experience in the dynamic and ever-evolving field of Voice over Internet Protocol (VoIP) and cloud telephony. She is passionate about leveraging VoIP technology to help companies gain flexibility, scalability, and cost savings. Her journey in this domain has been marked by a commitment to staying at the forefront of emerging trends and technologies, ensuring that they provide readers with the most up-to-date and relevant insights. Connect with her on LinkedIn.
Updated : October 17, 2023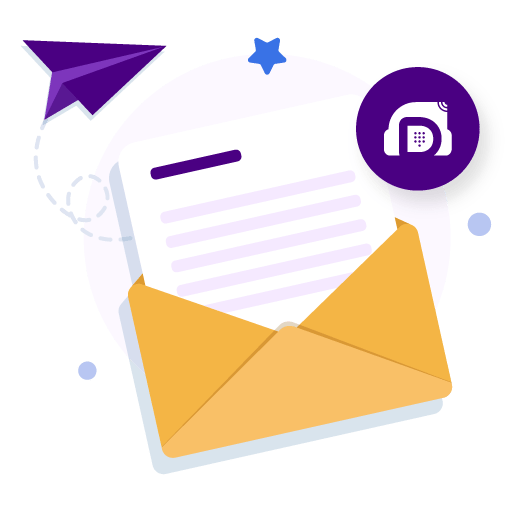 Let's Stay in Touch
Subscribe to our newsletter & never miss our latest news and promotions.

+15K people have already subscribed