Best Hushed Alternative
Looking for a Hushed alternative for your virtual number needs? DialerHQ is a perfect choice! We have compared these top virtual number providers, feature by feature, to help you make an informed decision. Scroll down to see the difference yourself and pick the best one.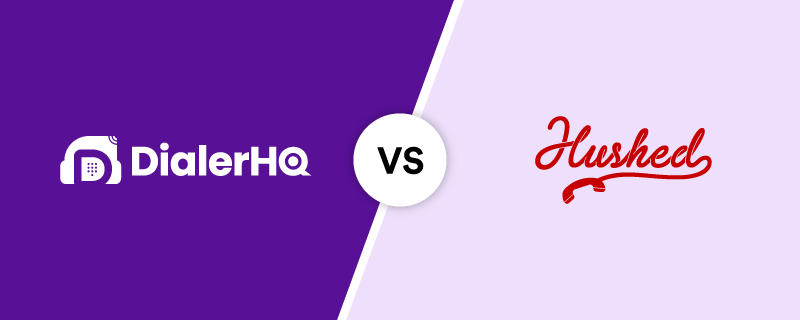 Why is DialerHQ the Best Hushed Alternative?
DialerHQ enjoys a clear advantage over Hushed, providing advanced features that enable smooth business communication. Its wide network coverage, global presence, 24/7 customer support, and affordable plans further enhance its popularity and effectiveness.
Innovative Features
Auto-attendant, IVR, Analytics
Easy-To-Set Up
Get started within minutes
DialerHQ Vs. Hushed: Feature-by-Feature Comparison
| Feature Comparison | DialerHQ | Sideline |
| --- | --- | --- |
| Call Quality | High | Average |
| Privacy Rate | High | Low |
| App Size | 34.7 MB | 93.1 MB |
| Network Connectivity | High | Weak |
| Global Number Selection | ✅ | 🚫 |
| Call Recording | ✅ | 🚫 |
(Disclaimer: The information provided in this comparison table is accurate to the best of our knowledge but may be subject to change.)
Sign up for DialerHQ today and enhance your global presence!
DialerHQ allows you to reach out to customers in multiple countries with local numbers to build brand credibility. Try it now.
Frequently Asked Questions
DialerHQ is the best Hushed App Alternative. Here are some of the qualities that make DialerHQ a perfect Hushed alternative:
Advanced features for seamless business communication
Extensive network coverage for reliable call quality
Global availability for international calling
Strong customer support for assistance with any issues
Affordable plans for cost-effectiveness
Seamless activation process
User-friendly interface
Choosing between Hushed and Burner can be difficult as both offer secure virtual phone lines and unlimited texting. However, Hushed has a wider geographical spread and can be used anywhere, while Burner is limited to Canada and USA. You should also consider another leading Hushed alternative– DialerHQ, which offers advanced features and a global presence.
Hushed guarantees that no trace of your Hushed numbers will appear on your phone bill, including any text messages you send.
Hushed is one of the few anonymous phone number applications that puts privacy at its core. Once you've used the number, you can quickly dispose of it without compromising personal information.
most affordable and versatile options for individual and professional requirements. In addition, they prevent unauthorized access to your personal information and private messages.
Here are 3 easy steps to get a fake DialerHQ:
Download the Hushed App.
Create your Hushed account.
Claim your Free 3 Day Trial Number.
Yes, the app is 100% safe and legitimate. Your calls are encrypted end-to-end, and there are next-generation cyber protocols that further strengthen security.
People use the Hushed app primarily for the following reasons:
For its privacy and security features
For its international calling and texting capabilities
To keep their personal and professional lives separate
For reaching out to international customers at a low cost
Yes, Hushed app is a reliable and legitimate app, but if you want a much better alternative to Hushed– try DialerHQ. DialerHQ is a free Hushed alternative for your sales and operations teams to manage inbound calls and texts simultaneously.
Using the Hushed app is relatively simple. Here are the basic steps to get started:
Step 1: Download the app
Step 2: Create an account
Step 3: Choose a number type and plan
Step 4: Add payment method
Step 5: Start making calls and sending texts from the new number
Step 6: Customize account settings
Step 7: Check call logs and text messages in the inbox section of the app
Hushed offers a three-day free trial, during which you can sample its features. Choose from the US or UK number or a random area code. Furthermore, Hushed offers three subscription plans ranging from $1.99 to $4.99.
The Hushed app is a private phone number for any occasion. With Hushed, you can call and text local numbers from over 300 U.S., Canada, and UK area codes. Even handle numerous lines for your personal or business life, so you can make private calls and hide your caller ID with a fake number.
The recipient of the call or text only sees your Hushed phone number on the Caller ID - just like any traditional phone number. Rest assured that your actual phone number is always wholly hidden and cannot be tracked.
Unfortunately, the service does not support SMS verification, so WhatsApp is not supported.
Don't settle for less. Upgrade to DialerHQ
Make international calls & texts without buying a SIM card.