Senior Writer: Rohit Rajpal
Reading Time:
10
Minutes
Published :
June 1, 2023
Our rapidly evolving culture has made effective communication a crucial asset that affects both our personal and professional lives. It is essential to offer a range of methods for customers to reach us, given our growing reliance on smartphones and other mobile devices.
Getting your hands on an alternate number is a wonderful idea since it expands our contact options beyond our primary digits. Commonly known as a backup phone number, it serves as an additional communication channel that seamlessly integrates into our current devices or can be used on a different smartphone.
Getting an alternate number has many advantages. One of its most prominent ones is the ability to separate personal calls and business calls. This division is extremely helpful for business owners, independent contractors, and anyone managing multiple projects for various clients.
Need a reliable and affordable business phone system? Look no further than DialerHQ.
Furthermore, having a secondary phone number simplifies connectivity while on the go, ensuring continuous contact regardless of our location. It enables us to stay in touch easily, removing any issues that may emerge. Furthermore, having an additional free phone number protects our privacy by giving us more control over the broadcast of our personal information.
What Is an Alternate Phone Number? 
An alternate phone number is a dedicated number that you can use specifically for your various business purposes. You can think of it as your private business number that you exclusively use for calls and messages related to your line of work. 
This ensures that you won't be bothered during your well-earned relaxation. It is comparable to having a solid force barrier protecting your privacy. With an additional phone number, life gets easier to manage. You can swiftly determine which calls and messages are for work and reply accordingly. 
Expert Advice
"Alternate phone numbers extensively increase your privacy and professionalism, and take your organization to the next level. It provides specialized phone lines for particular purposes or departments and separates personal from business communications. "
You'll become an expert at multitasking, handling your personal and professional duties like a true communication master. It is the ultimate convenience, confidentiality, and an amazing way to triumph in the world of communication.
Benefits of Getting an Alternate Phone Number 
Our lives are dependent on connectivity and communication, and having an alternate phone number provides a variety of advantages. Some of the most common advantages are written below. Let's take a closer look at them!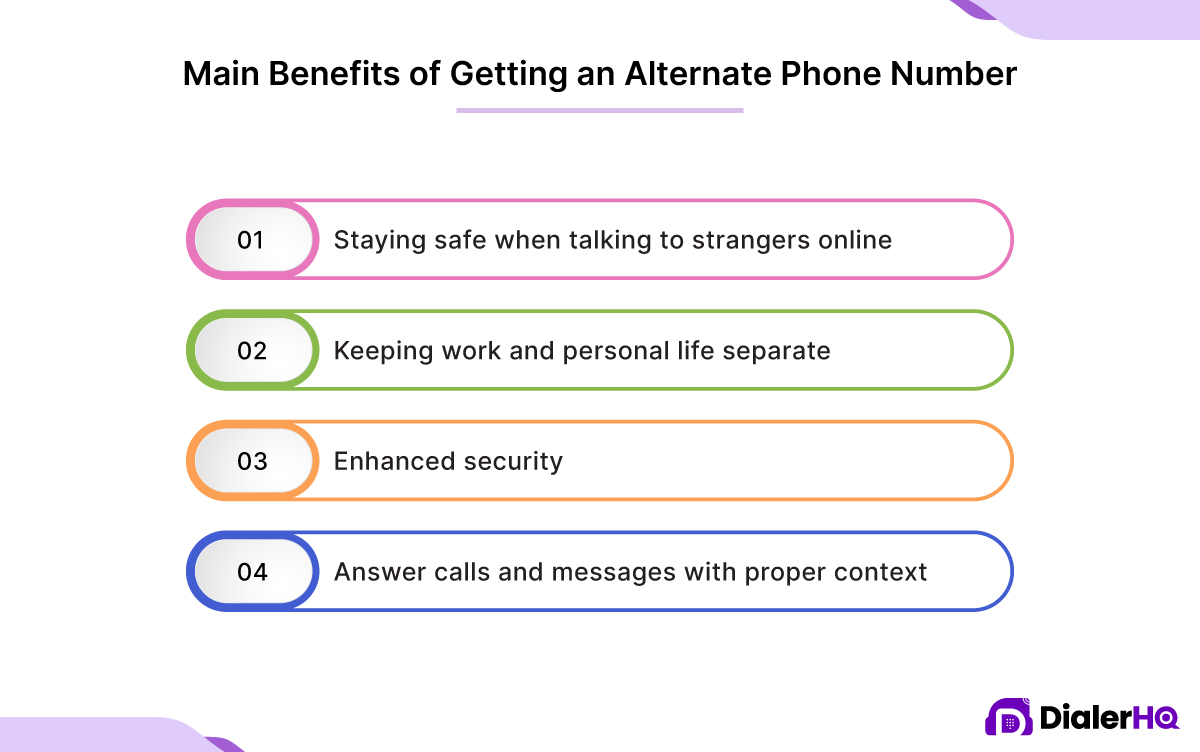 1. Staying safe when talking to strangers online
Interacting with strangers online via social networking sites, dating applications, or online markets is becoming increasingly common. All these interactions have the potential to be both dangerous and thrilling. You can keep some anonymity by using a different phone number. 
You can ensure the privacy of your personal information by providing them with your backup phone number rather than your primary phone number. If necessary, you can easily disconnect from the backup number without risking your primary contact information.
Additionally, if you use a different phone number for specific tasks like signing up for online services or subscribing to newsletters, your primary phone number will not be vulnerable to data breaches. 
2. Keeping work and personal life separate
For our general well-being, maintaining a healthy work-life balance grabs a crucial spot. It can be difficult, though, when calls and messages from the office interrupt our personal time. 
You can create distinct boundaries between your personal and professional lives by establishing a different phone number just for business communications. 
This makes it a mere cakewalk for you to tune out of work-related issues during downtime, improving relaxation and lowering stress levels. Additionally, it aids in call and message identification and prioritization according to significance and relevance.
3. Enhanced security
In today's digital landscape, security is critical, and an alternate mobile number adds an extra degree of safety. You reduce the danger of unwanted access to your sensitive accounts and personal data by using a different number for specific tasks such as online banking or two-factor authentication. 
In the event of a data breach or compromised account, having an alternate number guarantees that you can still be reached securely while addressing the issue.
4. Answer calls and messages with proper context
Having a separate business number provides reassurance because it helps prevent accidentally taking a client call in an informal tone or being overly formal when speaking with friends or family members.
Choosing an appropriate provider allows you to easily distinguish incoming calls, specially dedicated to your work number, via call alerts.
Types of Alternate Phone Numbers
 Alternative phone numbers can refer to a range of phone types that perform different duties. Some popular types of alternative phone numbers include: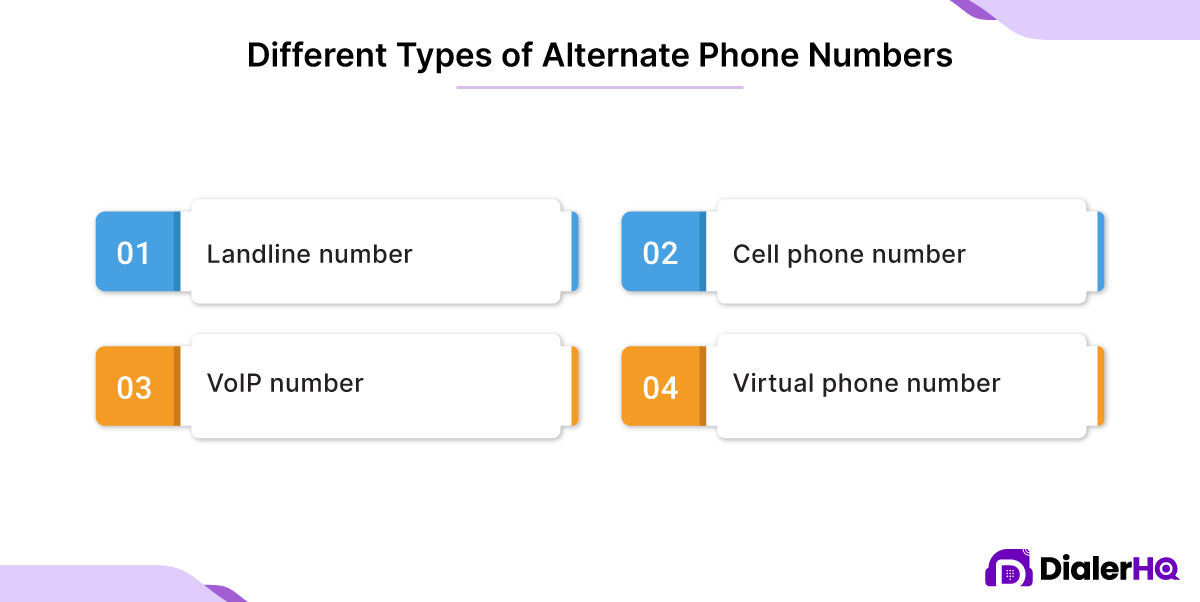 1. Landline number 
A landline number is an old-fashioned, physically-based method of communication. It is frequently offered by telecommunications firms and connected to a particular place or address. 
Landline numbers provide dependable connectivity and are frequently used as backup phone numbers or secondary numbers for particular calls, like those related to the workplace. Many people and companies trust them, and they offer reliable connections.
2. Cell phone number 
Cell phone numbers, also known as mobile phone numbers, are linked to cellular devices. 
Individuals rather than specific locations are assigned cell phone numbers, allowing users to make and receive calls from anywhere. Having a backup cell phone number provides flexibility and mobility, making it appropriate for both personal and professional use.
3. VoIP number 
VoIP phone numbers transmit voice calls over the internet. These numbers are given to customers of VoIP services. Since VoIP numbers can be accessed from any internet-capable device, such as smartphones, computers, or specialized VoIP phones, they offer flexibility. 
Because they frequently provide cutting-edge features like call forwarding, virtual attendants, and voicemail-to-email transcription, they are well-liked for business applications.
4. Virtual phone number 
Cloud-based or virtual phone numbers aren't connected to any particular phone line or gadget. Instead, they are accessible online and are hosted in the cloud. 
They are perfect for remote work, international calling, or maintaining privacy because they make it possible for you to be reached from anywhere. In order to facilitate seamless call forwarding, virtual phone numbers can be connected to other numbers, such as landlines or mobile phones.
When selecting an alternate contact number, make sure to keep in mind your specific requirements. These primarily include privacy, mobility, and desired features. Furthermore, evaluating the service provider's dependability and customer support is critical for seamless communication experiences.
How to Set up an Alternate Phone Number? 
Setting up a different phone number is simple, whether you wish to separate personal and business calls or establish a virtual presence in another location. Here are the steps you need to follow when setting up an alternate phone number.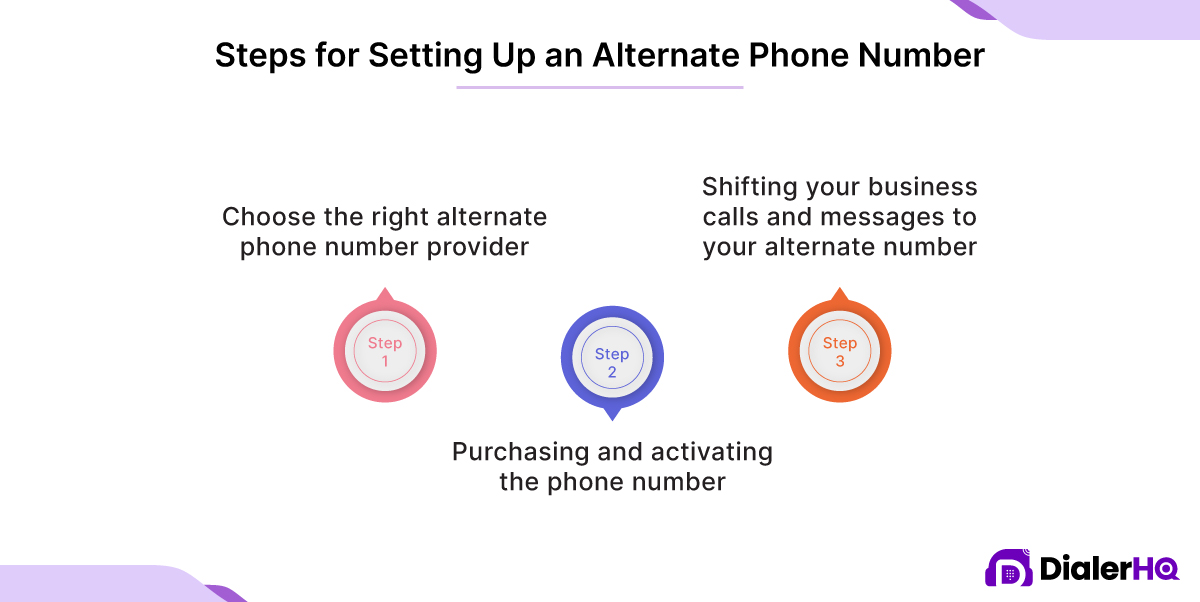 Step 1 – Choose the right alternate phone number provider
The first and foremost step in setting up an alternate phone number is to find a reliable provider. With so many providers available, it's important to compare all their relevant features and pricing plans. 
Consider call quality, availability in your desired location, pricing, and extra features. These primarily take into account call forwarding, voicemail, and text messaging. This in-depth research will extensively help assist you in selecting the provider who best meets your business goals. 
Step 2 –  Purchasing and activating the phone number
Once you've selected a reliable alternate phone number provider, it's time to activate it. Most of the time, providers offer such functionality where you can easily select the number as per your requirements. 
However, first, you need to register with a specific account in order to get your hands on an alternate number. Its activation time is completely governed by the service provider's policy. 
Step 3 – Shifting your business calls and messages to your alternate number
Begin by informing your key consumers about the change. Contact your business prospects via a variety of methods, such as your website, social media platforms, and broadcast communications. By communicating the revised contact information in advance, your clients will gradually adapt and begin to use the new information.
It is essential to keep your private discussions on your old personal phone number so that you can clearly distinguish between personal and professional correspondence. This strategy ensures that your new backup phone number will only be utilized for business-related communications, making the communication process more efficient and focused.
Nevertheless, you can smoothly switch all of your other business contacts to your other phone number with efficient communication and a distinct separation between personal and professional connections.
Comparison of 8 Best Alternate Phone Number
Brand Name
Key Features
Pricing
Free Trial
Google Voice

Free phone number
Voicemail transcription
Call forwarding
Text messaging

14 Days
OpenPhone

Business phone number
Call routing
Voicemail
Team collaboration

7 Days
CallHippo

Virtual phone numbers
Call forwarding
IVR system
Call analytics

Bronze: $16/month
Silver: $24/month
Platinum: $40/month

10 Days
DialerHQ

Power dialer
CRM integration
Call analytics
Local presence

Unlimited: $12/month
Free Software: $0
Custom: Contact sales

10 Days
Sideline

Second phone number
Business texting
Auto-attendant
Team messaging

Starting from $9.99/month

NA
Line2

Business phone number
Unlimited calling
Text messaging
Call forwarding

30 Days
Chalkboard

Virtual phone system
Auto-attendant
Call routing
Voicemail transcription

14 Days
KrispCall

AI-powered noise cancellation
HD voice quality
Call recording
Conference calling

14 Days
8 Best Alternate Phone Number Providers
When it comes down to choosing the best alternate phone number service provider, you need to look carefully into their pros and cons. Below mentioned is a list of alternate phone number app providers. Let's take a look at them!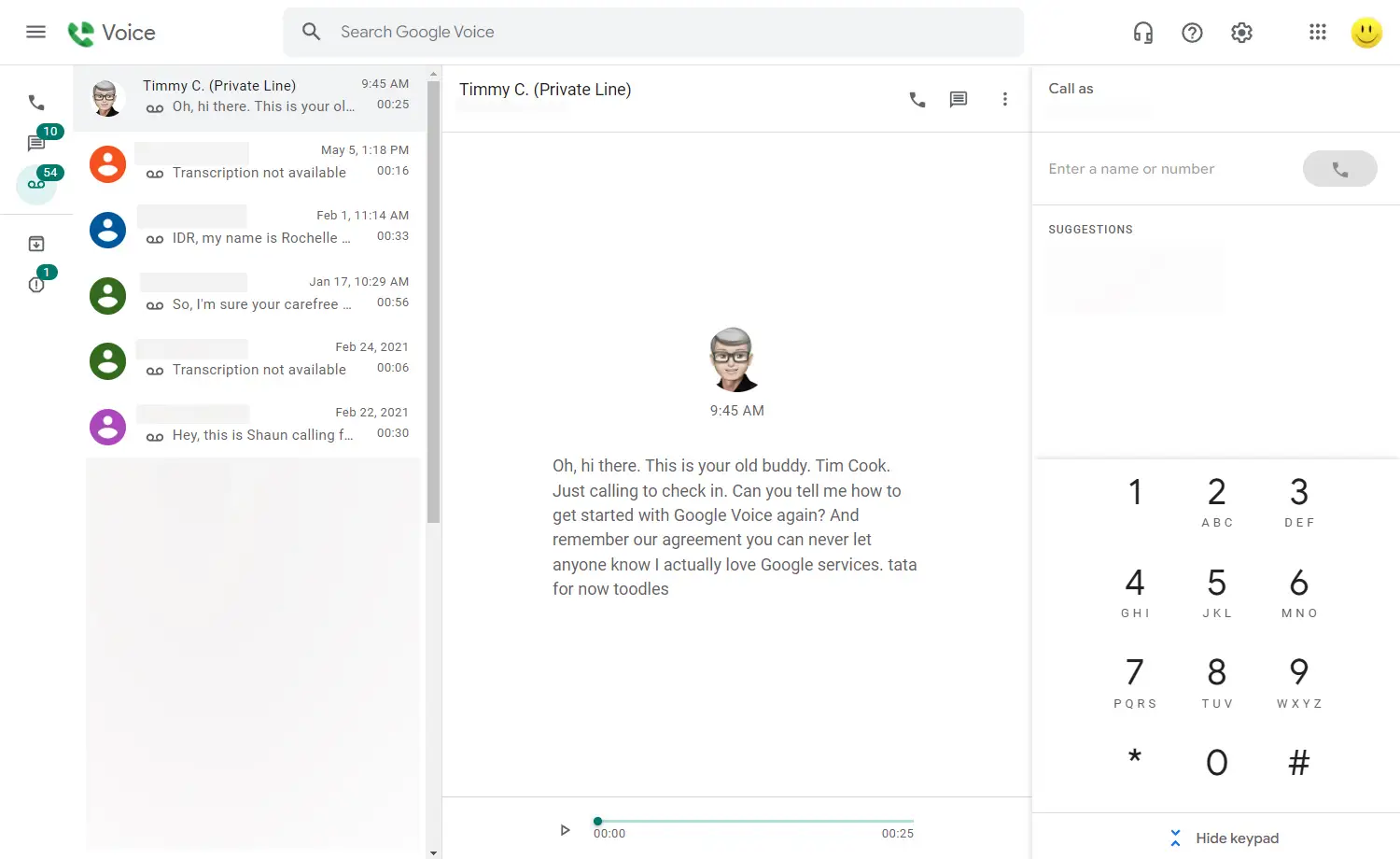 Google Voice, as a VoIP (Voice over Internet Protocol) service, uses your internet connection to make and receive calls and send messages. It offers a free personal plan, but only individuals with US phone lines are eligible. 
Furthermore, their software separates calls, texts, and voicemail messages into separate sections, making it difficult to follow conversations.
Google Voice may be a choice for solopreneurs on a small budget. However, if you work in a group, this program has numerous limitations. It's difficult, for example, to communicate with your teammates. You must use a different app, such as Google Chat, for this.
Key Features
International calling

Personalized greetings

Blocking, screening, and porting

Android and iOS mobile apps
Pros and Cons
This platform offers a wide range of reinforced security features.

It has a terrific customer satisfaction rate.

Offering affordable pricing plans, this software attracts various potential customers.
This platform offers only a few external connections.

At times, it is on the lower side when it comes down to scalability.
Pricing
Starts at $10 per user per month.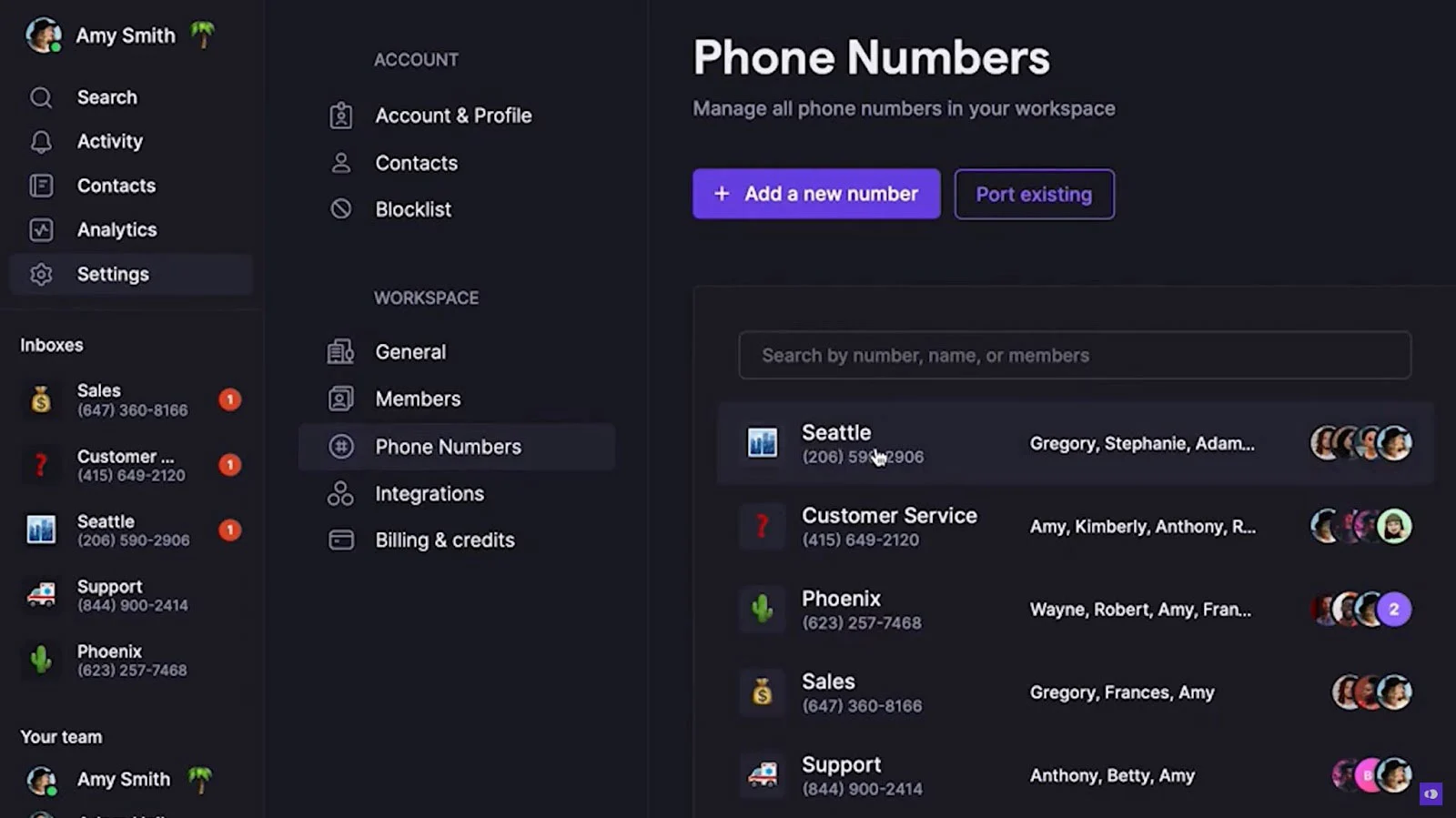 OpenPhone is a complete phone system designed specifically for teams. It combines business calls, texts, and contacts into a simple app that works on a wide range of devices.
OpenPhone makes collaboration easier by allowing teammates to collaborate using shared phone numbers, ensuring continuous customer support. Furthermore, it provides a user-friendly CRM tool that assists teams in managing contacts and cultivating stronger relationships. 
Key Features
Call routing

Shared multichannel inboxes

Reporting and analytics
Pros and Cons

This software provides a dedicated list of distinct contacts.

It provides automated texts during certain business hours.

It is extremely simple to use and to set up.
It doesn't offer customizable ringtone functionalities.

At times, this software leads to the dropping of calls causing certain difficulties.
Pricing
Starts at $10 per user/month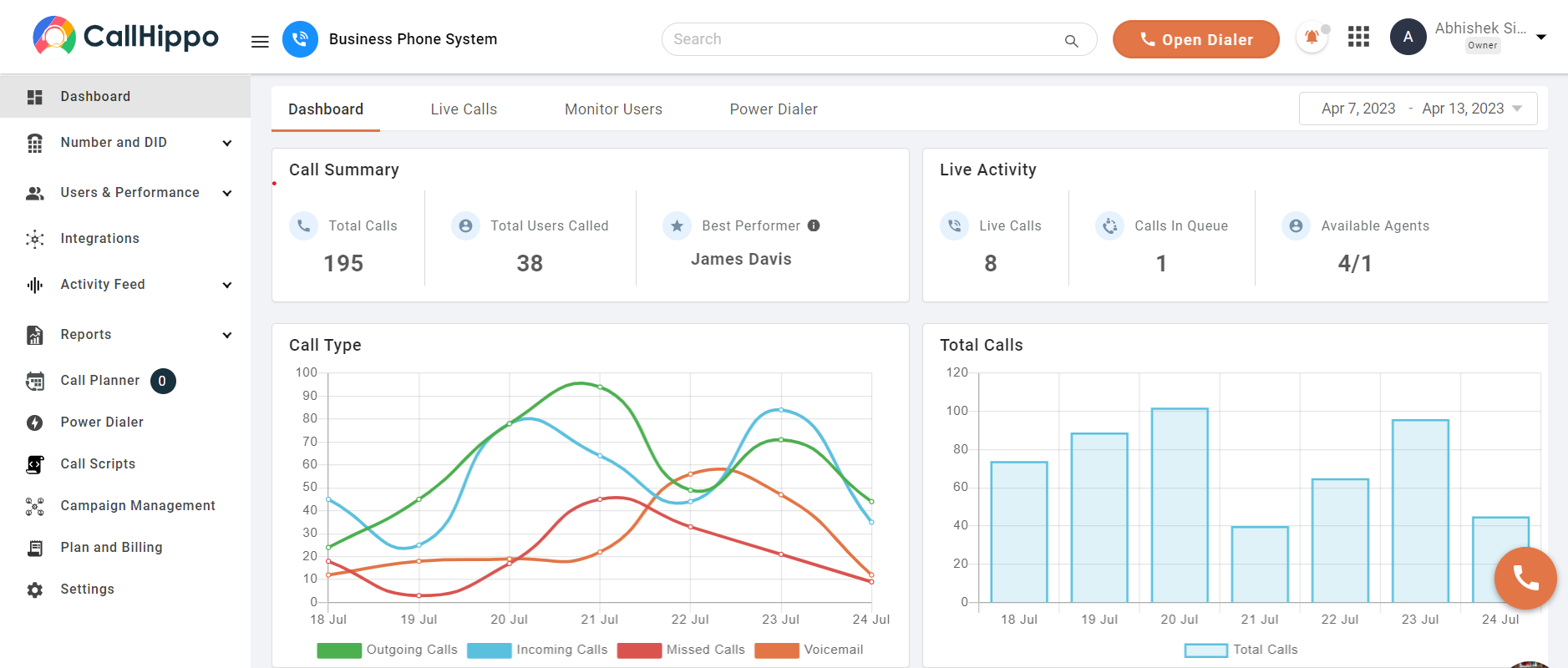 CallHippo is a popular virtual phone system that enables small and medium-sized enterprises to interact with their consumers. Being a cost-effective option, it allows businesses to stay in touch with their customers without making a hole in their pockets. 
It's ideal for new businesses wishing to set up a reliable phone system for sales and customer service. Businesses may use CallHippo to provide exceptional customer service, seize new business possibilities, and increase sales.
Key Features
Call forwarding

Call recording

Effective Call Management
Pros and Cons
It offers a dedicated free trial.

Being super easy to use, newbies can also get their hands on this software.

Along with its cloud-based architecture, it can easily be integrated across many platforms.
This software allows for only metered calling.

It does not log all the call recordings into the CRM.
Pricing
Bronze: $16 per user/month

Silver: $24 per user/month

Platinum: $40 per user/month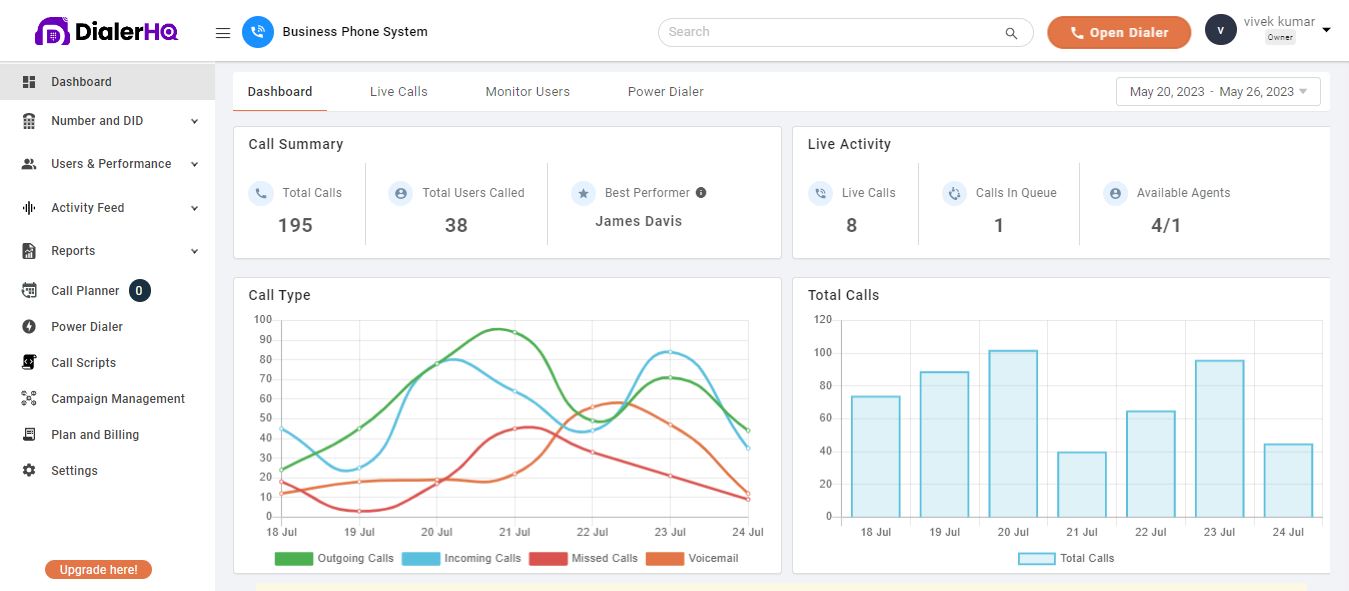 DialerHQ is the leading virtual phone system for small businesses, providing a wide range of essential communication tools tailored to the needs of businesses. This service provider enables users to make calls and send messages without the need for a physical SIM card.
DialerHQ emerges as the go-to option for small businesses seeking a dependable and efficient communication solution. It is designed for businesses of all sizes and provides businesses with a toll-free number and a backup phone number. This allows them to manage private and business communication on a single platform.
Key Features 
Top-notch call quality

International calling & texting

Seamless business phone line setup
Pros and Cons
It provides excellent customer service and responds quickly to all of its customers' concerns.

This software provides a variety of unique calling features along with seamless integration.

It offers a dedicated ten-day free trial.
At times, this software can slow down and cause many difficulties.

Its slightly higher price makes it a bit difficult for startups to acquire it.
Pricing
Unlimited Plan:

$12/month

Free Software Plan:

$0 (at a minimum spend of $1500 per month)

Custom Plan:

On-request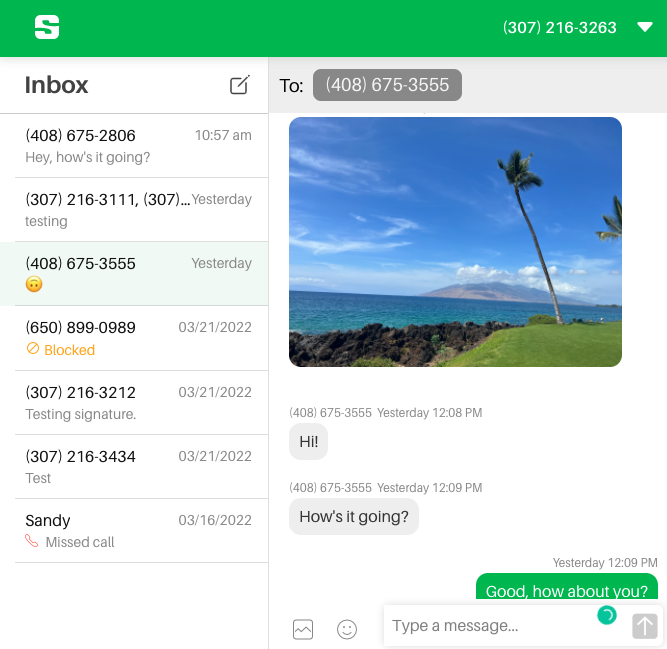 By providing an exclusive phone number for your business operations, Sideline offers a unique solution. With Sideline, you can keep your personal and professional calls, texts, and voicemail separate, ensuring greater privacy and better organization. Notably, Sideline has an automatic text response feature that, in the event of a missed call, sends the caller a text message right away.
Sideline is designed specifically for business needs and provides essential functionality without unnecessary frills. This well-designed app caters to professionals looking for an extra phone number while avoiding unnecessary features. 
Key Features
group messaging

Interactive voice response (IVR) system

Appointment reminders
Pros and Cons
This software shares various phone lines for a fixed monthly fee.

It offers unlimited calling to 165 countries.

By providing a Free vanity number, this software attracts various customers.
Certain features of this platform are exclusive only to iOS users.

This software requires an additional fee to remove ads.
Pricing
Starts at $9.99 per user per month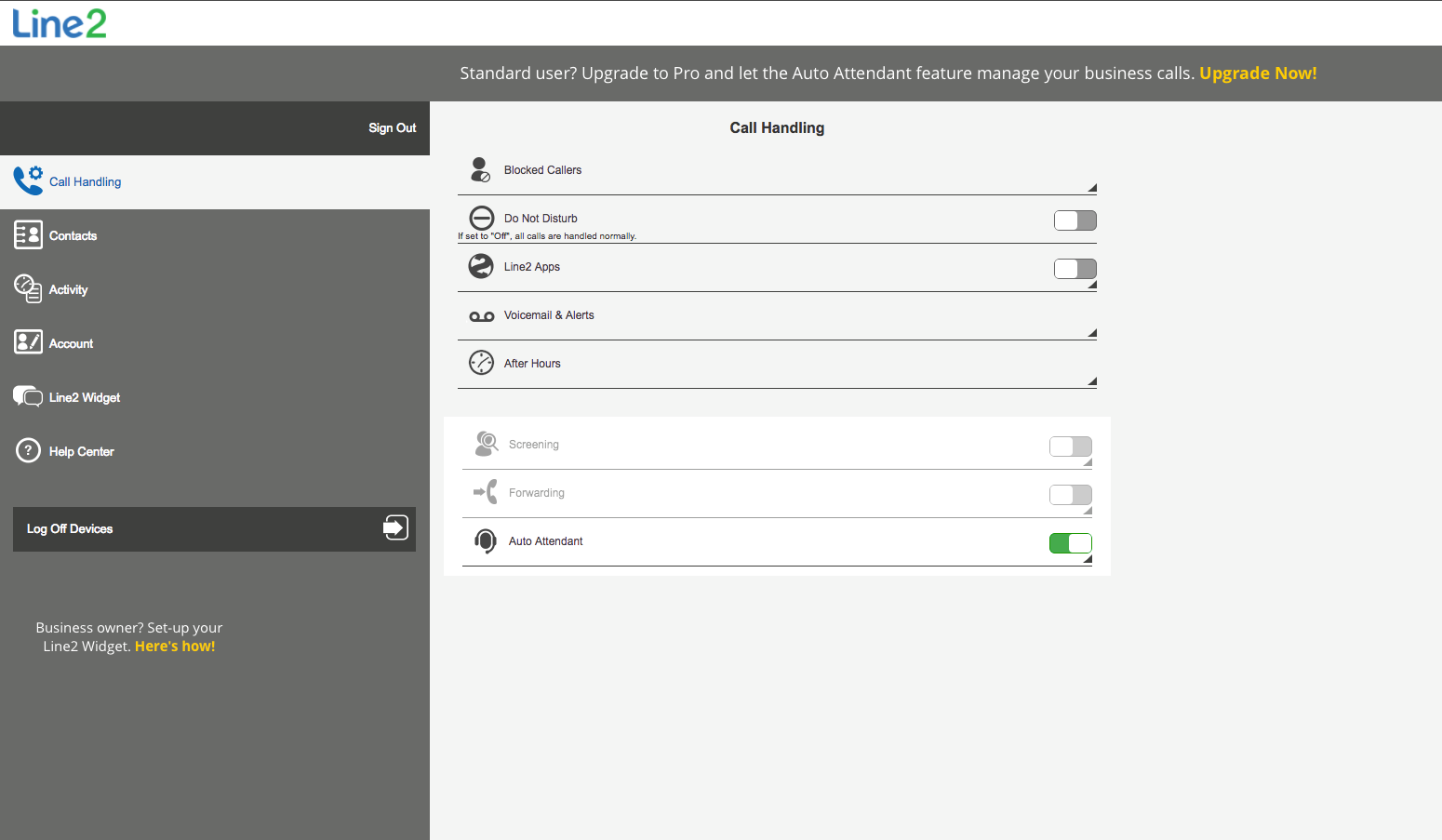 Line2 is a cloud-based Voice over Internet Protocol (VoIP) software designed specifically for business phone service requirements. This innovative solution allows users to send text messages and make phone calls from any device using a simple app. 
Individuals who sign up for Line2 receive a second phone number, which is ideal for business communications while preserving the privacy of their personal numbers.
Key Features
Voicemail transcription

Audio/video conferencing

Call Routing
Pros and Cons
Being so simple to set up, this software attracts various potential customers.

It offers a dedicated Intuitive softphone client.

With all its exceptional functionalities, this software includes incoming fax.
This software is on the lower side when it comes down to offering third-party integrations.

It doesn't offer video conferencing or any other collaboration features.
Pricing
The cost of a license starts at $16 per month.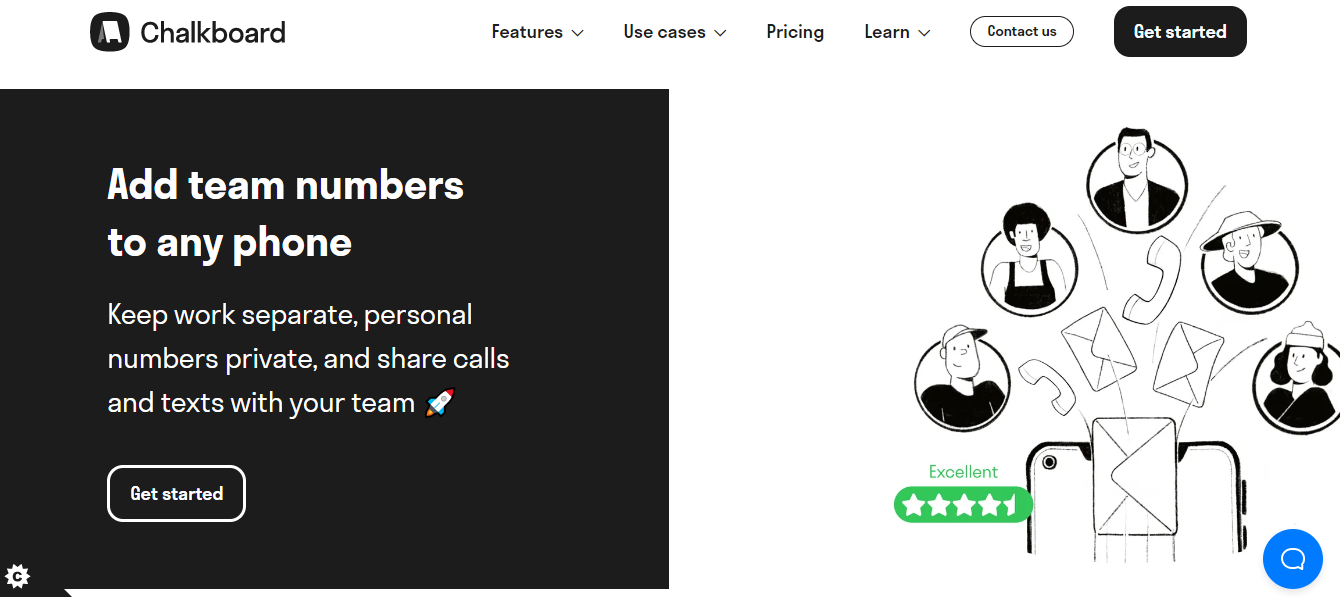 You can protect your privacy by keeping your personal and professional phone numbers separate with the help of the mobile business phone app Chalkboard. It eliminates the need for a complex and costly phone system. 
It allows you to protect your personal phone numbers, quickly identify and collaborate on business calls and messages, and take advantage of premium features right inside the app.
Key Features
VoIP services

Voicemail-to-text

Simultaneous ring
Pros and Cons
This platform offers a business virtual phone number that's very easy to set up.

Its broadcast SMS makes it a simple task to send SMS to multiple contacts at once.

Its automatic replying functionality converts missed calls into conversions.
At times, the app can get a bit slow and cause difficulties.

It lacks certain advanced features.
Pricing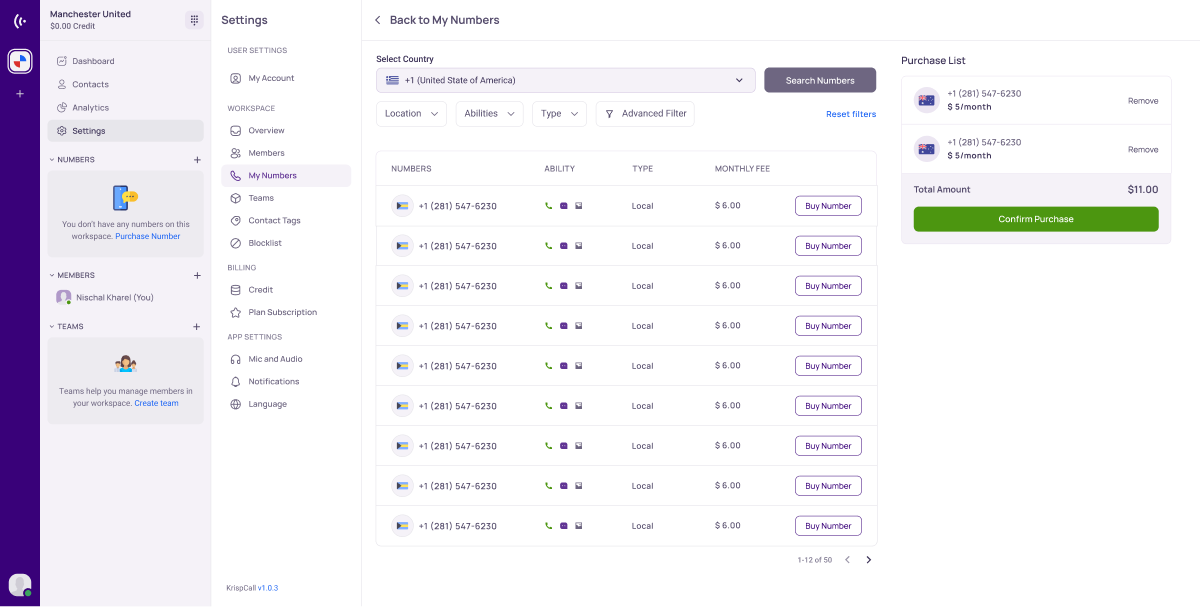 KrispCall is a well-known VoIP service provider that offers virtual alternative phone numbers from more than 100 different nations. This VoIP service provider offers an affordable pricing structure to support the growth of companies of all sizes. 
You can manage your personal, professional, and corporate phone needs using a single web-based app thanks to the advanced telephony solution. 
With the help of KrispCall, you can get low-cost access to virtual phone numbers from more than 100 different countries and benefit from cutting-edge communication features.
Key Features
Unified callbox

Number porting

Intelligent call routing
Pros and Cons
This platform offers effective noise cancellation and allows for smooth interactions.

Being easy to use, it attracts a wide range of users.

Modern telephony features built into these numbers ensure seamless communication.
This software is quite expensive.

At times, the platform can be unresponsive and cause difficulties.
Pricing
starts at $15 per user per month 
Conclusion
Using an alternate number is a cost-efficient way to safeguard your privacy and facilitate multiple business operations. You can easily choose the best alternate phone number for your firm from the list given above. Connect with our expert teams to learn more about alternative telephone numbers and how you can get one.
FAQs
There are numerous free applications that address the need for alternate phone numbers. These leverage the power of the internet to provide customers with virtual phone numbers. This allows users to make calls, send texts, and even receive voicemails with ease.
These apps' numerous functions guarantee a seamless communication experience. Among the features accessible to users are call forwarding, which makes sure that important calls are never missed, and voicemail transcription, which conveniently translates voicemail messages into text for simple access.
Having two phone numbers on a single cell phone is not difficult. In fact, there are several approaches that offer flexibility and convenience. One such method is to use a dual-SIM phone, which has two SIM card slots and allows users to use two different phone numbers at the same time.
This is extremely useful for people who prefer to keep their personal and professional contacts separate, as well as for avid travelers who want the convenience of a local number while traveling abroad.
Instead, virtual phone number apps provide a practical way to add a second phone number to the same cell phone along with the primary one. Users can easily manage calls and messages from both numbers using these apps thanks to a streamlined interface.
For people who want the advantages of having multiple phone numbers without having to spend money on a physical dual-SIM phone, this provides a convenient and streamlined experience.
The primary phone number acts as the main point of contact for people or things and represents their communication identity. With close friends, family, coworkers, and other vital connections, it is the go-to number.
Individuals may have an alternate phone in addition to their primary number to meet specific needs. This alternate number serves as a secondary contact method, allowing people to protect their privacy or conduct specialized business transactions in a separate realm.
These extra phone numbers—whether they are temporary or permanent—enable people to effectively compartmentalize their communications, ensuring a distinct separation between their personal and professional lives. People can maintain control over their interactions thanks to this flexibility, which allows them to customize their communication experience to suit their particular needs.

Rohit Rajpal simplifies intricate technical ideas into practical insights through his articles and publications. His journey in VoIP and cloud telephony reflects a profound grasp of the evolving landscape, a flair for innovation, and a dedication to creating user-friendly blogs. Rohit's broad expertise encompasses VoIP protocols, codecs, and cloud-based telephony systems, ensuring accessible knowledge for all. Connect with him on LinkedIn. 
Updated : November 17, 2023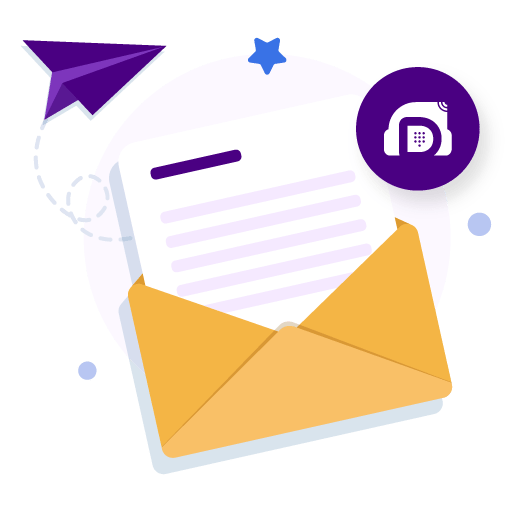 Let's Stay in Touch
Subscribe to our newsletter & never miss our latest news and promotions.

+15K people have already subscribed