Senior Writer: Hiba Ali
Reading Time:
11
Minutes
Published :
August 22, 2022
There used to be a lot of complexity and cost associated with international calls. Nowadays, international calling apps can efficiently and cheaply connect you with people worldwide. These services reduce your fees and simplify the complicated process of making international calls.
Need a reliable and affordable business phone system? Look no further than DialerHQ.
In today's world, most call service companies offer free calling plans with unlimited minutes, but not when it comes to international calls, such as connecting with people abroad. Today, many telecom companies provide free international calls to nearly any country nationwide. 
In addition, thanks to technological advancements, several calling platforms have emerged and are here to stay. With these platforms, you can now engage with others on an international level at a minimal to zero cost.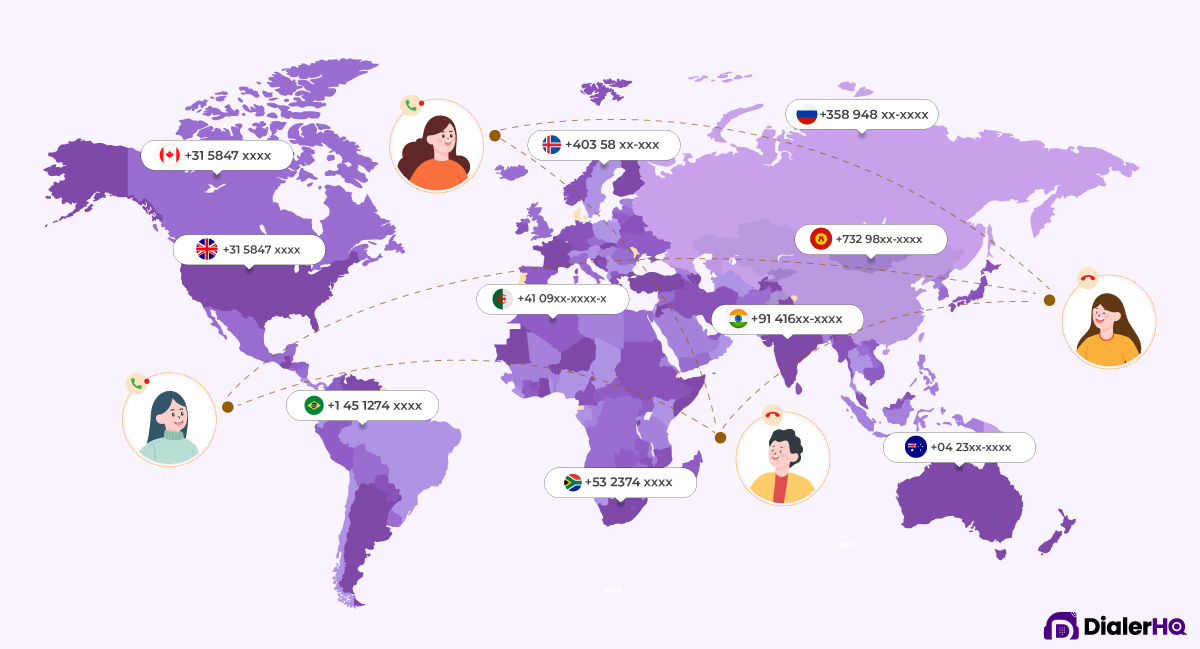 Furthermore, you won't have any technical glitches or problems using these best international calling apps. Several free international calling apps are available to match your personal or professional needs. In this article, we will answer all your questions about international callings, like how to get an international calling app for free, and suggest some apps to call internationally for free.
Expert Advice
"For companies that conduct international business, international calling apps can be a great benefit. These apps offer an affordable and practical way to connect with clients, consumers, and team members worldwide. International calling applications can improve communication and teamwork amongst remote workers with capabilities like call recording, voicemail transcription, and multi-party conferencing. These programs frequently provide reliable connectivity and crystal-clear audio quality, making international calls as smooth and efficient as possible. By adopting international calling apps, businesses can increase their worldwide reach and streamline communications while saving money. "
What is Free International Calling App?
An international calling app lets users make international calls and texts to anyone living abroad. The top-rated apps include DialerHQ, Facetime, and Skype.
The DialerHQ app allows users to make affordable international calls. As an app that offers cheap international phone calls, users can stay in touch with their friends, colleagues, family, and anyone else who lives abroad.
International calling apps are great virtual phone systems that provide flexibility to call anytime, anywhere, and to any cellular device. You can easily place calls to landlines, cellular phones, and VOIP phones for business communication, regardless of what telecom services they subscribe to. As a result, international calling apps benefit business owners with business partners, customers, and clients abroad.
Additionally, international calling apps are reasonable for people who visit different countries regularly, either on official business or for personal reasons. DialerHQ lets you make international calls for only a fraction of the cost, so you're worth it to check them out.
Most of these providers offer mobile apps, too – many of them will be able to access your contact list, making the call as seamless as possible. Regardless of your provider, you'll pay in the same way, either with credit or by signing up for a monthly plan (which may be more cost-effective overall).
Depending on the service, you may be charged a connection fee and a per-minute rate (often as low as a penny).
How to Make Free International Calls with apps?
When it comes to making free international calls, every app has its distinct process, but for example, getting started with the DialerHQ takes only a few steps:
Download the DialerHQ app

Choose a number with a country code of your choice.
Communicate with your customers anywhere, anytime.
Role of Technology in Making Free International Calling a Reality
It has been a long journey since Alexander Graham Bell first invented communication. Technological advances in communication led to several innovations, including VoIP technology, which continues to evolve and is a popular communication tool today.
There was a time when people were curious about international phone calls and how to call international for free. Nevertheless, the technological advancements in the communications industry have made this possible.
As a result, many business organizations have adopted VoIP business phone systems as their preferred communications infrastructure since it offers many advantages, such as cost savings, scalability, flexibility, and efficiency.
Generally speaking, free call services use VoIP technology, allowing you to make calls over cellular and broadband connections; these phone calls are typically made using consumer-level applications or specific software.
Despite their notoriety, VoIP phones refer to applications that let you make phone calls over the internet. They turn your computers into "real phones," enabling you to make phone calls from phone to phone, PC to phone, and even between VoIP-enabled devices.
Usually, VoIP services for companies have a subscription cost, depending on the plan you choose. As for the features of these plans, you get what you pay for.
Best Free International Calling Apps Comparison
If you're looking for international calling apps for your business, there are plenty of options to choose from. We've compiled a comparison table on the basis of feature, price, availability ,pros, and cons ,of the top 15 free international calling apps to help you make an informed decision.
App Name
Key Features
Pricing
Free Trial
DialerHQ

Free calling to any number worldwide
High-quality voice calls
In-app balance recharge
No internet connection needed for calling

Unlimited: $12/month
Custom: Contact Sales

10 days
CallHippo

Virtual phone system
Call forwarding and routing
Voicemail
SMS and chat

Bronze: $16/month
Silver: $24/month
Platinum: $40/month

10 Days
FaceTime

Video and audio calls numbers
Integrated with Apple devices
End-to-end encryption

10 days
Viber

Voice and video calls
Instant messaging
Group chats

NA
Rebtel

Unlimited international calls numbers
Low-cost international SMS
Voicemail transcription
Wi-Fi calling

unlimited Plan: $10/monthly

7 days
Skype

Voice and video calls
Instant messaging
Screen sharing
Group calls

Starting from £2.40/month

7 days
PopTox

Free international call
No registration required

Starting from $10 to $50/month

NA
LINE

Free voice and video calls
Instant messaging
Group chats
Stickers and emojis

Starting from $9.99 to $14.99/ monthly

NA
Vonage Mobile

Free calling and messaging to other Vonage Mobile users
Low-cost international calling

Starting from $19.99 to $39.99/Month

NA
Tango

Free voice and video calls
Instant messaging
Group chats
Games

NA
VoipBuster

Free calls to other VoipBuster users
Low-cost international calls

NA
VoipStunt

Free calls to other VoipStunt users
Low-cost international calls

NA
Voxofon

Free app-to-app calls and messages
Low-cost international calls and SMS
Call forwarding

Starting from 0.9¢ to 1.3¢ per text/call

NA
WeChat

Free voice and video calls
Instant messaging
Group chats

NA
Google Voice

Free calling to the US and Canada
Low-cost international calling
Voicemail transcription

Starting from $10 to $30 per user

NA
15 Best Free International Calling Apps 
To assist you in making the suitable choice when choosing a free international calling app, here is a list of the best free international calls app for connecting with people internationally: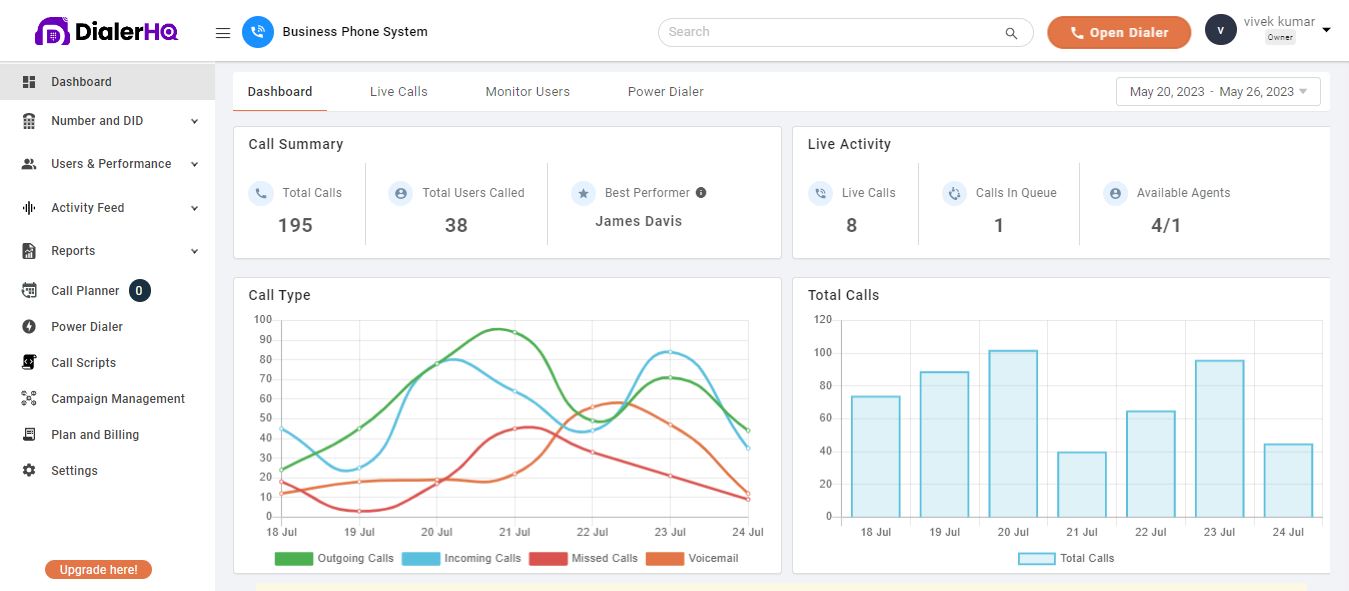 DialerHQ is one of the best international calling apps in the market that significantly assists you in reaching out to your international clients at reasonable rates. It is a private phone number calling or business calling app that allows businesses or individuals to reach out to customers abroad.
The DialerHQ makes seamless international calls and texts without using landline SIM cards. Instead, you can use mobile or Wi-Fi data to make calls and send messages.
DialerHQ Pros and Cons
Seamless call forwarding

Cost-effective

User-friendly interface

No extra cost for international calls and texts
Limited safety features

Lagging call quality

The mobile app needs improvement
Pricing 
Unlimited: $12/user/month

Custom: Custom pricing
Availability
App store , Windows , MacOS

CallHippo is one of the leading VoIP service providers in the industry. It has gained huge popularity in this segment as it offers seamless calling services across 50+ countries worldwide. This software offers many features, including an interactive dashboard, call recording, tracking, speech analytics, etc. Moreover, it offers services to large brands having a global presence.
Brands primarily use it to centralize and grow their sales and customer experience operations. It operates on a smart AI algorithm that ensures the quickest and highest call routing and connectivity ratio. In addition, the onboarding process is quick and hassle-free. All the services provided are completely cloud-based, making theinfrastructure extremely secure. Hence, CallHippo is the most reliable VoIP service provider because it is easy to integrate and highly scalable, which leads an organization to achieve the desired outcome.
CallHippo Pros and Cons
Amazing call quality

High data security

Seamless third-party integration

Easy-to-use dashboard
Demands for a stable internet

Voicemail transcription requires extra money

Customer service needs improvement
Pricing 
CallHippo pricing plans range from $0 – $40 per monthly user.
Availability
App store, MacOS, Windows, & Android.
Apple's FaceTime app is a free international calling app that lets you make free audio and video calls to other Mac, iPad, iPod touch, and iPhone users worldwide. To get started, you'll need an Apple ID. FaceTime automatically registers your phone number when you use an iPhone.
While FaceTime Video is excellent for seeing the person you're calling, FaceTime Audio is a voice-based phone call similar to Skype or something similar. However, because FaceTime Audio uses voice over internet protocol (VoIP technology), it often provides superior call quality than regular phone calls.
FaceTime Pros and Cons
Quick setup and effortless sign-in

Easy integration with Apple devices

HD-quality audio/video calls

End-to-end encryption
Video calls consume high data

This application operates exclusively on iOS devices

For optimal performance, a high-speed internet connection is necessary
Pricing 
FaceTime is free for iOS users.
Availability
iOS devices, iPad, iPhone, and MacBook.
Viber is the best free international calling app that lets you make free voice and video calls; click "Free Call" to call or chat with someone in your Viber contact list to other Viber users and make cheap international calls
to landlines and mobiles. In addition, your contacts can find you on the app, as Viber has Android and iOS apps and a browser version.
Although Viber isn't as popular in the United States as WhatsApp and Skype, it's popular in other regions, including Eastern Europe. Additionally, the app allows you to share messages, photos, and other media, like its competitors.
Viber Pros and Cons
Easy sign-up process.

Seamless transfer of high-quality images

Create groups and add participants easily

End-to-end encryption
Cannot block calls from unknown users

Too many ads

No spam filtering
Pricing 
Calls made via Viber are free. Regardless, all USA-based landline and mobile numbers can be dialed at a flat rate of only 1.9 cents per minute.
Availability
Rebtel is a cutting-edge international phone call app that works through landlines rather than Wi-Fi, so you get crystal-clear audio wherever you are. Rebtel excels when it comes to international calling, especially when it comes to calling quality and reliability.
In addition to the apparent call quality benefits, Rebtel offers a traditional phone service app that's user-friendly and easy to understand. Plus, with its Red Box feature, you'll get a tailored experience based on your specific needs.
Rebtel Pros and Cons
Low international calling rates

User-friendly interface

No need for Wi-Fi

The app is easy-to-use
Average call quality

Poor customer service

Can't share images
Pricing 
The Rebtel pay-as-you-go rate is 2.78 cents per minute, and the unlimited subscription rate is $10 monthly.
Availability
Skype, an international free calling app, has been around since 2003 and provides free national and international calls. With Skype, you can go for group voice or video calls and communicate with other Skype users using voice and video calls.
The only price you have to pay is if you want to send text messages or make calls to a cell phone or landline. Therefore, Skype to Skype international calls are free, but Skype to traditional phone calls are not.
Skype Pros and Cons
One of the best international calling apps

Screen sharing

Multi-device support option

Easy sign-in process
It requires a high-speed Wi-Fi connection

Frequent connectivity issues

No new features
Pricing 
Skype is free. However, the subscription plan starts from £2.40 per month.
Availability
Android, iOS, and Desktop (Windows).
PopTox lets you make free international calls to any number, including landlines, without installing an app or creating an account. Instead, it uses VoIP technology which you can access from your computer or smartphone, go to the site, enter the number, and click "Call.".
You can make unlimited calls by paying per minute if your daily limit gets over. You can use PopTox from your computer or the mobile app, but you must have an internet connection.
PopTox Pros and Cons
No sign-up is required for making phone calls

Excellent voice quality

Free calls from a cell phone or computer

User-friendly interface
Limited phone calls per day

Limited free version

Initially, the application may present a challenge in understanding its functionality
Pricing 
Poptox's pricing plans range from $10 – $50 per month.
Availability
Web browsers like Opera, Google Chrome, Firefox, & UC Browser.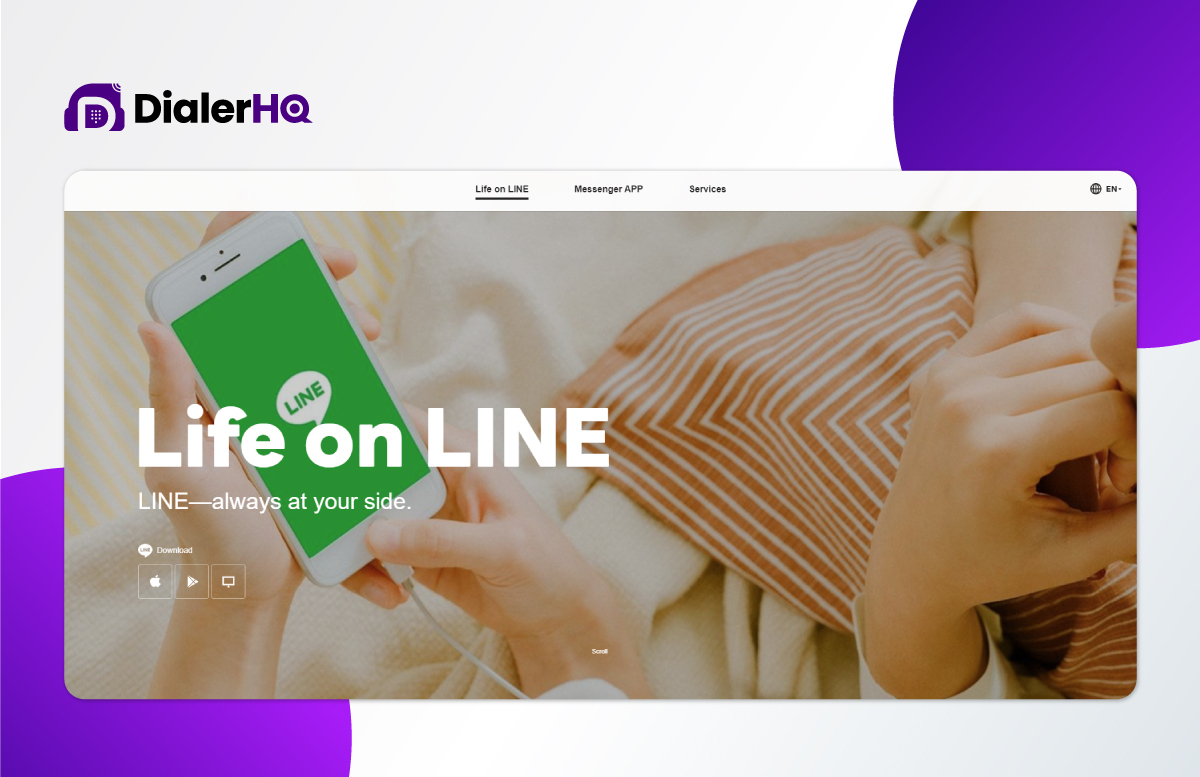 LINE is a free international calling app for android and iPhone that lets you make free international calls worldwide after watching a quick ad. It's available in Google play and App Store, or you can download the desktop version. In this case, you can call a mobile phone or a landline without downloading the LINE app.
But if you're using the LINE app, you can also make longer calls (for free) and send fun stickers and emojis. Keep in mind that you'll need Internet access on your device to make the free calls, so hold a close eye on your data usage, or you will find yourself owning your cell phone carrier a fortune.
LINE Pros and Cons
Straightforward user interface

Multi-platform support

Fun filters for your chat

Seamless integration with your account
High network speed is required during calls

Frequent call drops

Limited to certain countries
Pricing 
Line's app pricing plans start at $9.99 – $14.99 monthly.
Availability
Android, iOS, Windows, Nokia, and Blackberry
Known as one of the leading phone companies in the industry, Vonage has many options for making international calls. VOIP pioneer Vonage offers international calling for residential and business landlines, plus Vonage Mobile is a great international calling app that allows you to make voice and video calls.
This app can also send complimentary video messages when you don't want to make a phone call. It is available for Android, Apple devices, and tablets with cellular data and a reliable internet connection.
Vonage Pros and Cons
Two-factor authentication to prevent fraud

HD voice & call quality

Easy to set up and simple application

Call tracking and call merging features
Customer support needs improvement

Call drops are very frequent

The majority of the time, the phone lines are not operational
Pricing 
The pricing begins at $19.99 per month and goes up to $39.99 per line.
Availability
iOS, Android, and desktop.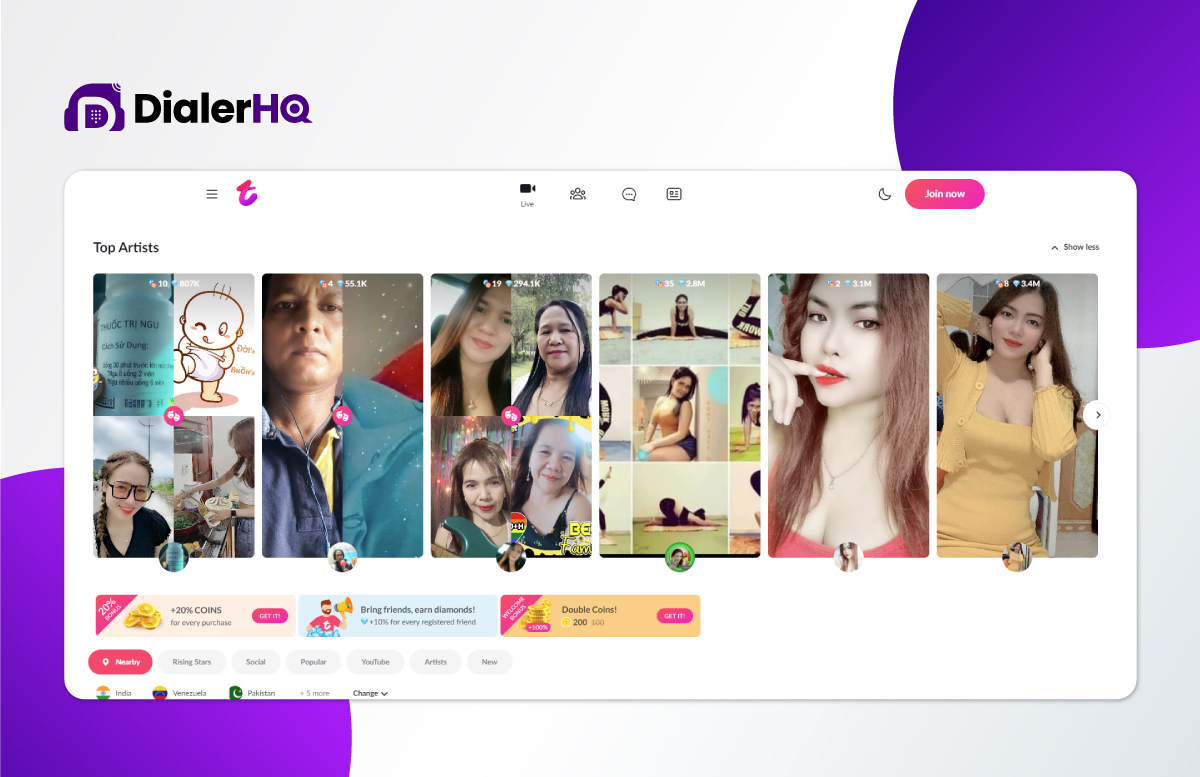 Tango, a free international call app and service allows you to send free texts, make free voice calls, and make free video calls worldwide, provided the other person also uses Tango. You can use Tango over WiFi or cellular networks.
The Tango mobile app works on Windows PCs, iPhones, iPads, Android devices, and Windows Phones. It is a simple app with a simple interface, but its call and video quality need to be improved. Not even using cellular networks you can also enjoy wifi calling with Tango using a strong WiFi connection.
Tango Pros and Cons
Switch between video and voice calls during conversations

An all-in-one communication and entertainment solution

Knowledgeable customer service

The app is very user-friendly
Video call glitches

The video quality is quite low

Video and audio synchronization errors
Pricing 
Availability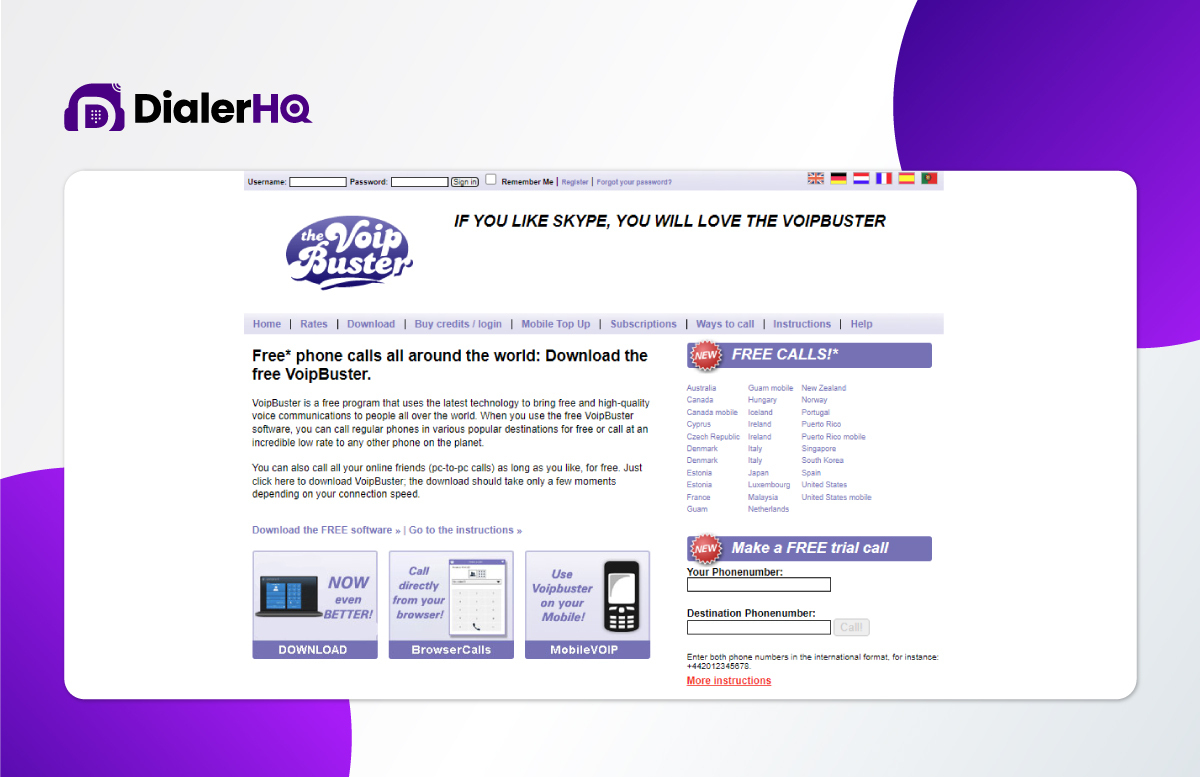 In addition to making international calls for free, VoipBuster allows its users to do high-quality voice communications around the globe using various methods: the downloaded version, the web browser, or the phone application can be used to make international calls.
This application includes an Android and iOS app, a complete guide on setting up and starting international calls, the ability to top up prepaid mobile numbers instantly, send international text messages, and quickly resolve customer service issues.
VoipBuster Pros and Cons
Free PC to Phone calls in many countries

The application is straightforward and user-friendly

Many useful features

It is free to use
It doesn't support video calls or text messages

Terms and rates change without prior notice

Automated volume control can become annoying sometimes
Pricing 
The service is free, but you will be charged 5 cents for phone-to-phone calls.
Availability
Windows, macOS & Android.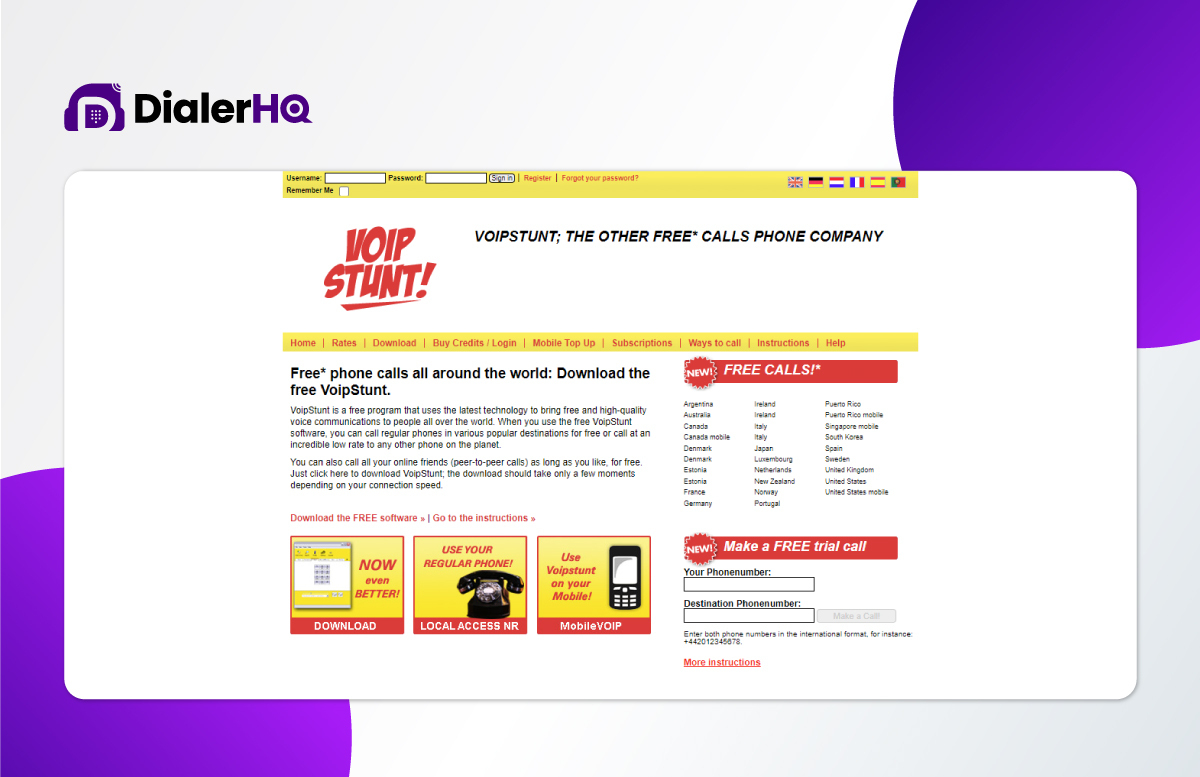 The free VoipStunt software allows you to make free calls to regular cell phones at various popular locations or meager rates to any other phone on the planet. The software works on computers, mobile devices, and fixed phones.
Additionally, peer-to-peer calls can be made for free using the software. With VoipStunt, you can make free in-app calls on your phone or computer. In addition, online calls have an unlimited duration.
VoipStunt Pros and Cons
Free calls to landlines and mobiles to the USA

Unlimited international calls

Great call quality

Easy-to-use user interface
No free number

The duration of the credit is too short

Call droppings
Pricing 
Phone calls are billed in cents and rounded up to the nearest minute.
Availability
iOS, Android, and Symbian.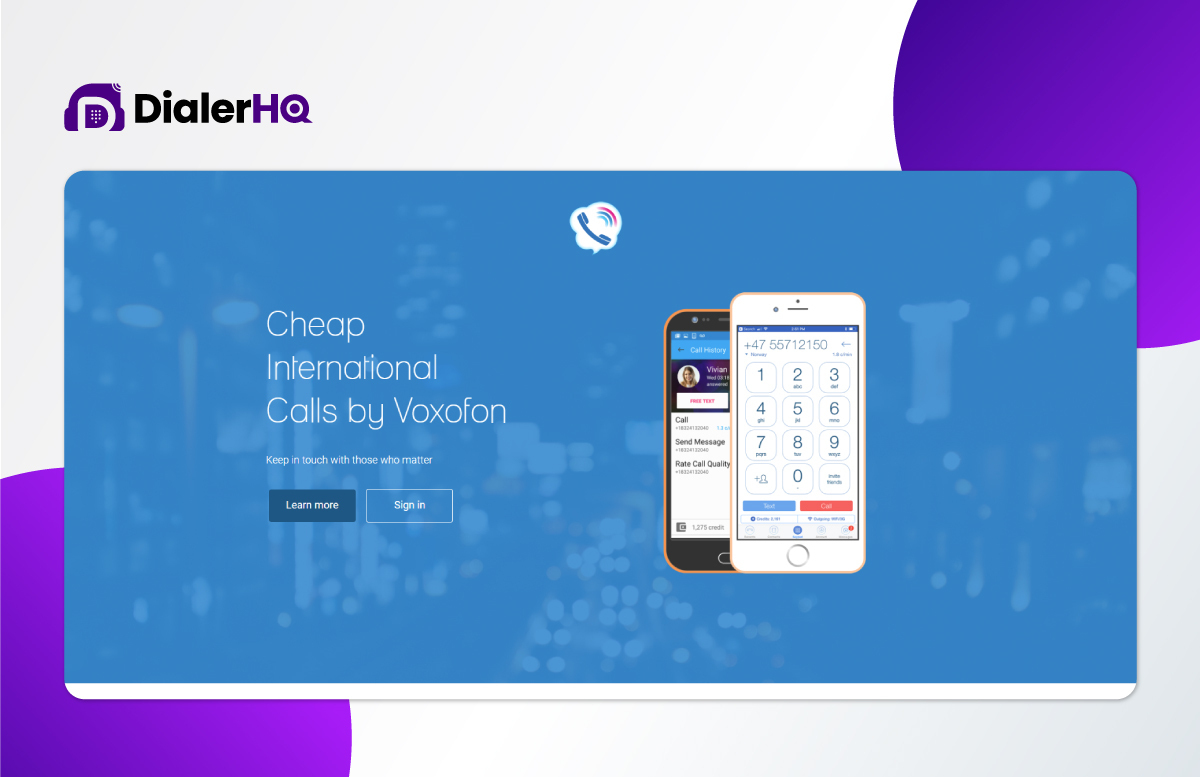 You can call your friends anywhere in the world using Voxofon cheap international calls, regardless of whether they are using an Italian landline or an Australian mobile phone.
Voxofon delivers your texts, pictures, and videos and conveniently receives the replies on Android and iOS devices (iPod, iPad, iPhone) and the desktop. You can send your contacts, photos, videos, audio messages, and locations.
Voxofon Pros and Cons
It is inexpensive

Great audio quality

Knowledgeable custom support

You can easily send images
Clients have difficulty making payments and getting phone credits

They overcharge for credits

Data is the only way to make calls
Pricing 
Voxofon's rates in the United States start from 0.9¢ – 1.3¢ per text/ call.
Availability
Android phones, tablets, iOS (iPod, iPad, iPhone), and desktops.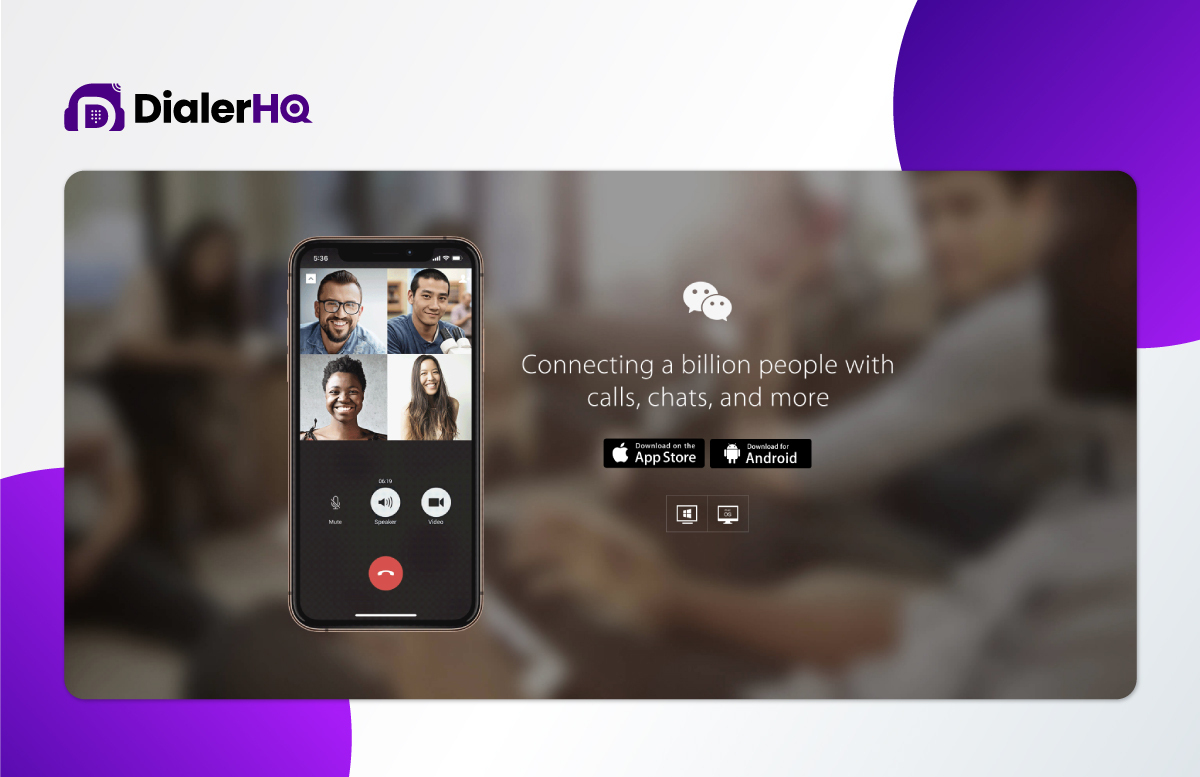 If you live in the U.S., you may not have heard much about WeChat, but it is enormous in China, with over 1 billion active users. WeChat is available as an app in the App Store and Google Play, and you can also use it through a web browser. However, to use WeChat for free international calls, you must have a WeChat account.
Additionally, WeChat allows you to make free video calls, send messages, and share photos and videos. WeChat's sticker gallery offers a variety of fun stickers to help make your chats more engaging.
WeChat Pros and Cons
WeChat is free to use

Seamless file sharing

WeChat's mini-programs for creating mini-apps

It offers many advanced features
WeChat doesn't use end-to-end encryption

Privacy issues

Easy to get personal details
Pricing 
Despite being free, WeChat charges an annual fee of USD 99 to verify Official Accounts (usually by phone).
Availability
iOS, Android, Windows, and MacOS.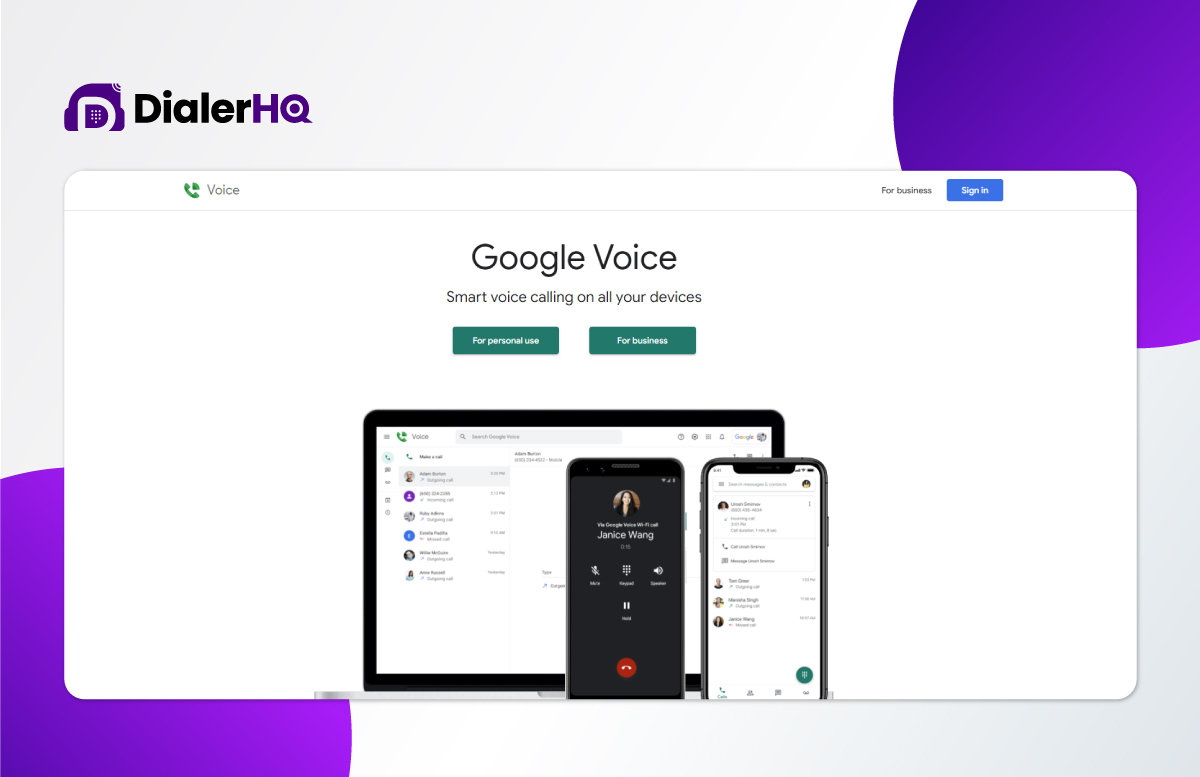 You can utilize your Google Voice number to place calls and text messages for free if you talk between it and other U.S. numbers. However, if you want to place calls overseas, you'll need to add credits to your account.
However, Google Voice is relatively inexpensive since it works solely over the Internet. Therefore, wherever you have an Internet connection, you can access Google Voice, make and place calls, send texts, etc.
Furthermore, you only need a microphone and speaker to use Google Voice, so it'll work wonders whether you use your laptop or smartphone.
Google Voice Pros and Cons
It offers free numbers

Free calls to the USA

Accurate caller identification

AI technology with voice
Limited Collaboration

No toll-free numbers

Limited text forwarding options
Pricing 
Google Voice's monthly pricing plans range from $10 – $30 per user.
Availability
You can download Google Voice from the Google Play Store, Apple App Store, Chrome OS, Apple Mac, Windows, Android (latest two versions), and Apple iOS (latest two versions).
Wrapping Up
Whether it's a free app or a fee-based service, when it comes to connecting with your customers abroad, there are plenty of options for international calling apps. So choose the app that offers your needed features and enjoy your experience.
Various free international calling apps are available to download, offering a range of data and call packages/plans to choose from. These are a few of the best international calling apps that have enabled individuals and businesses to thrive and form deeper relationships.
Using these international calling apps is as easy as registering and enabling a service, resulting in a seamless and optimized experience for you and your customers, regardless of where they live.
FAQs
Online calling apps like Google Voice, Skype, Facetime, etc., provide the most affordable way to make international calls. Regardless of location - whether both parties are in the US, one is abroad, or both are in remote parts of the world - as long as there is internet access, users can call each other for free.
Another affordable medium for businesses to call internationally is having a private phone number calling app like DialerHQ or a VoIP provider like CallHippo with many other features than just free international calling.
You do not get charged for receiving an international call. The person making the call from overseas pays any charges for the international call.
WhatsApp's voice calling feature allows free calls to people even if they are in other countries. Calls are made online using your data or Wi-Fi, not mobile plan minutes. However, data charges from your internet provider may apply to the data used for voice calls.

Hiba is a seasoned expert with extensive experience in the dynamic and ever-evolving field of Voice over Internet Protocol (VoIP) and cloud telephony. She is passionate about leveraging VoIP technology to help companies gain flexibility, scalability, and cost savings. Her journey in this domain has been marked by a commitment to staying at the forefront of emerging trends and technologies, ensuring that they provide readers with the most up-to-date and relevant insights. Connect with her on LinkedIn.
Updated : December 4, 2023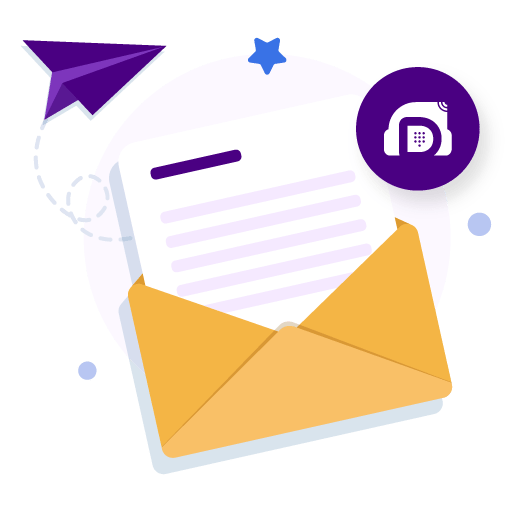 Let's Stay in Touch
Subscribe to our newsletter & never miss our latest news and promotions.

+15K people have already subscribed