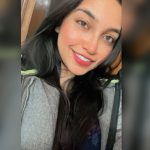 Senior Writer: Hiba Ali
Reading Time:
12
Minutes
Published :
July 8, 2022
Many within the business communications sector have praised VoIP's scalability, flexibility, and ease of use, emphasizing how technology has revolutionized phone services for business and individual use.
Voice over internet protocol lowers operating costs, offers mobile calling from any internet-connected device, and provides advanced features unavailable on traditional phone systems.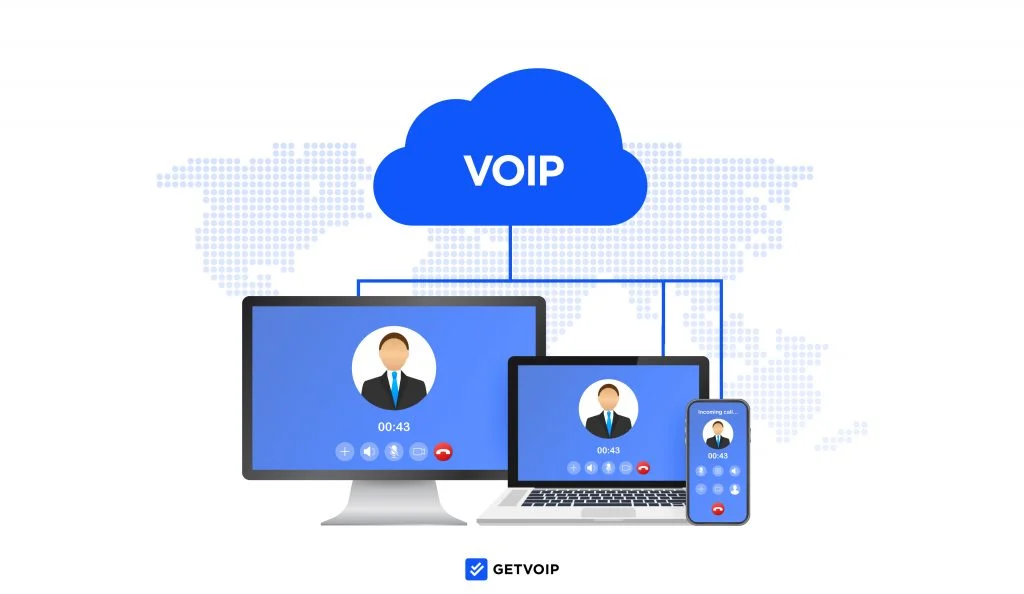 There's one thing you haven't heard, a clear explanation of Voice over IP phone! This post is here to make VoIP easier to understand – and will teach you how to explain it to others.
So, read on to learn what does VoIP stand for, how they work, what features to look for, and why you should consider them.
What is VoIP? 
VoIP, aka voice over internet protocol, is a technology that lets users communicate with the internet instead of using a wired Public Switched Telephone Network (PSTN). VoIP is also known as virtual telephony, online telephony, cloud-based telephony, IP telephony, virtual calling tools, etc.
With VoIP, users can make calls from a computer, smartphone, tablet, or any other mobile device.
Voice over Internet Protocol means replacing traditional landlines with digital lines instead of physical ones. The "IP" in VoIP stands for "Internet Protocol," – which facilitates long-distance and local telephone calls over digital connections instead of physical ones.
By the end of 2022, the US VoIP market is estimated at $17 billion. As voice over IP phone offers scalable global communications, it has become the standard telephony solution for most companies.
Approximately $102.5 billion is expected to be spent on VoIP technology globally by 2026. Today's selection of VoIP statistics offers insight into the rapidly growing nature of VoIP and its importance.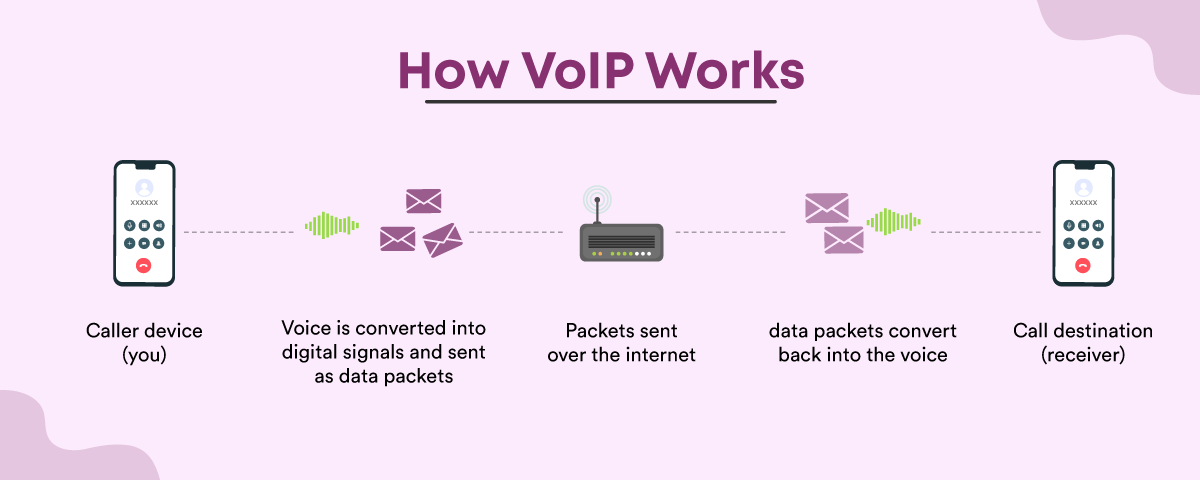 Source
Voice over IP phone converts your voice electronically, compresses it, and sends it over the internet. The VoIP service provider (similar to your internet provider) sets up the call. Many individuals choose VoIP over traditional landlines because of the low startup costs and because VoIP allows them to make long-distance phone calls through the internet.
Small data packets transmit phone calls over the internet via wifi-calling, which can send these packets globally in less than a second. These packets travel between your phone and the VoIP provider for internet telephony.
Voice over internet phone enables phone calls between other cell phones or to another phone company. Furthermore, it offers other valuable features like voicemail, call forwarding, call recording, etc.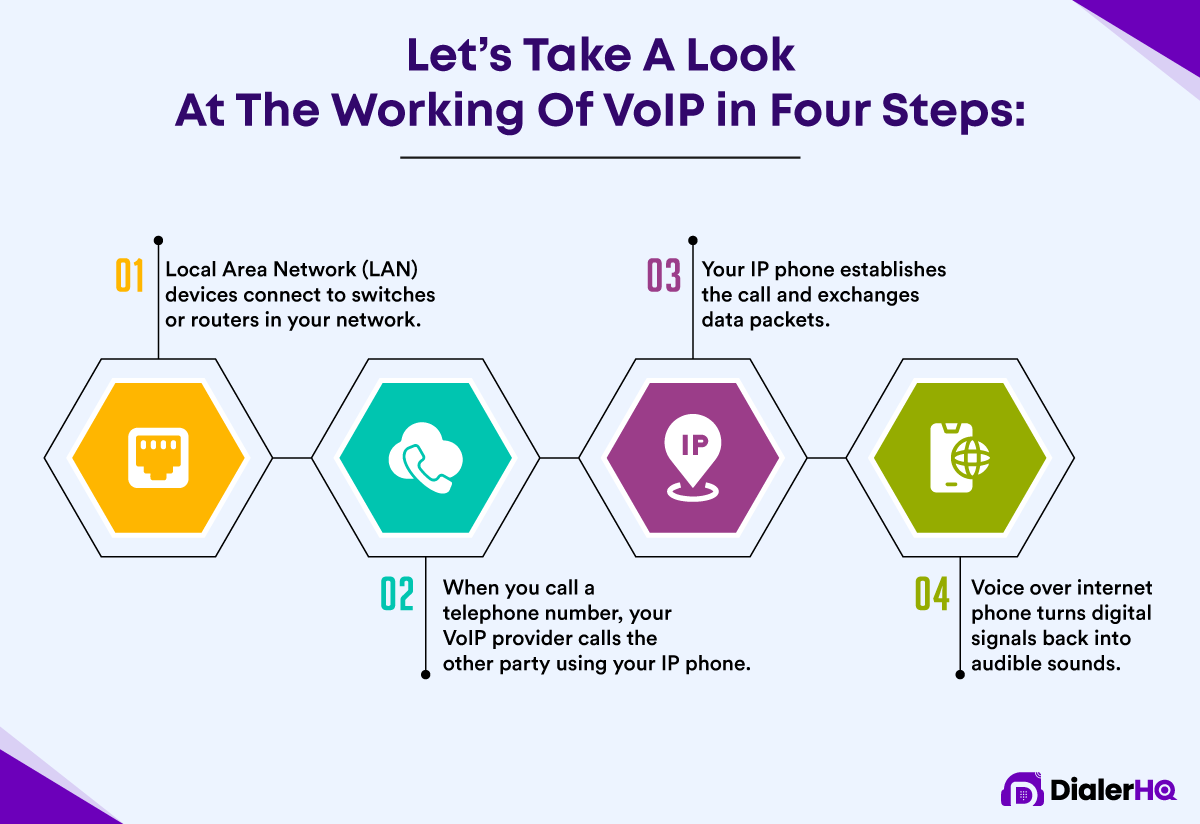 With voice over internet protocol, you don't have to worry about the telephone company since you can utilize it anywhere there is a high speed internet connection. This is a significant improvement over an analog phone system. It used to require expensive, proprietary equipment to implement VoIP, but those days are gone.
Instead, VOIP is built upon open standards such as the Session Initiation Protocol (SIP). SIP ensures complete interoperability between different types of desk phones, conference phones, and virtual phone system apps.
When you think about it, cloud-based PBXs act like full-service telephone companies you control, with support for features such as voicemail, conference calls, and call routing. But first, you need a broadband internet connection (cable, DSL, or fiber), and you're ready to go.
Voice Over Internet Protocol (VoIP) Advantages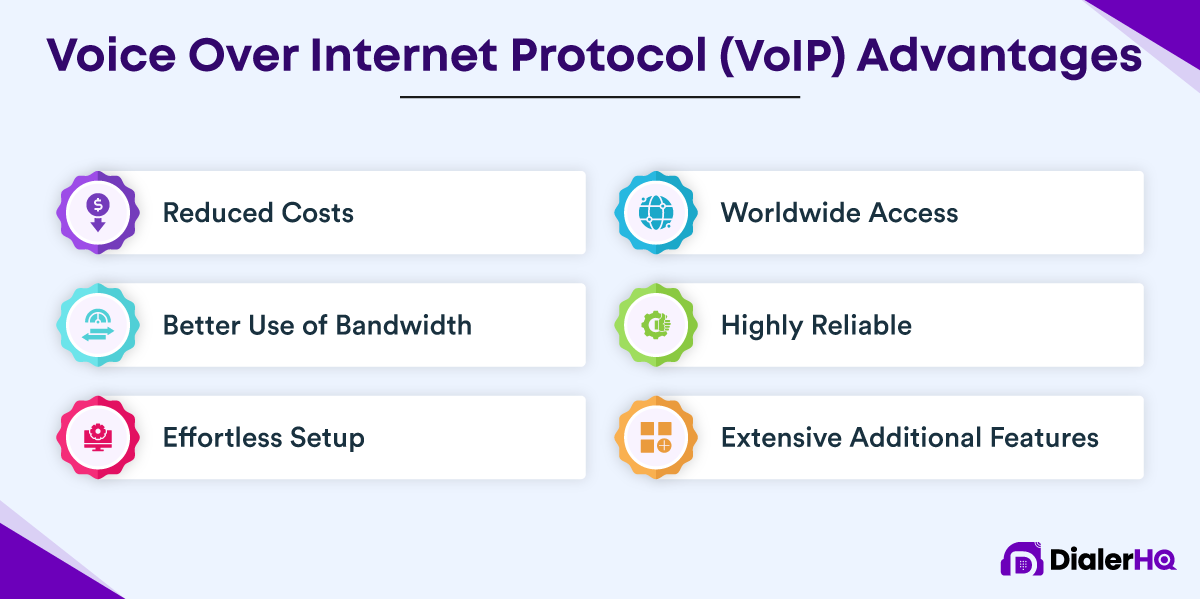 A VoIP system is the latest business telephony technology. Here, we'll explore the main advantages of voice over IP phone for businesses.
1. Reduced Costs
It is a simple fact that virtually any business can appreciate the cost savings of VoIP. You can only install many phone lines before the cost becomes substantial, especially if your business regularly makes long-distance VoIP calls. Voice over internet protocol can save users up to 50% on telecom costs.
An additional benefit of VoIP is that minimal costs associated with the hardware and software are necessary to operate the system. Companies don't have to purchase their phones or infrastructure when working with quality Voice over IP, as they guarantee their clients always have the latest software and hardware.
2. Worldwide Access
Increasingly, employers are recognizing the benefits of having their employees work from home, such as smaller office spaces, decreased utility costs, etc. One advantage of VoIP is that employees can use your office's voice, fax, and data services remotely via your intranet.
Since VoIP has become highly portable, employees can connect from home offices and even for emergency services.
3. Better Use of Bandwidth
In addition to improving the efficiency of your existing bandwidth, VoIP fills those information gaps with other data from other bandwidth consumers, further assisting you in making the best use of your resources.
Furthermore, VoIP allows for voice compression and removing speech redundancies for even greater efficiency.
4. Highly Reliable
Probably the most common (and incorrect) objection to VoIP is that businesses would have to suffer without phone service if there is an internet outage.
However, one of the benefits of VoIP technology being flexible is that if an office phone becomes inoperable due to a lack of connectivity, VoIP calls can always be forwarded to other devices, such as a mobile phone. Hence, power failures and weather issues are no longer a concern.
5. Effortless Setup
One of the tremendous benefits of VoIP is the ease of installation, so you don't need to hire specialists to install phone wiring across your office. Instead, IP phones are just plug-and-play.
With hosted VoIP software, you can easily add new users, move, add, or change your system configuration through a web portal. In addition, maintenance is straightforward and does not always require professional assistance.
6. Extensive Additional Features
Many companies aren't aware of a VoIP service's benefits and additional features. VoIP provides the ability to connect a wide range of devices to maintain a high level of productivity.
Voice over internet phone typically includes caller ID, virtual phone numbers, contact lists, voicemail, etc., but companies can use these features in more sophisticated ways to increase operational efficiency.
For example, the ability to forward messages and voicemails to multiple colleagues within a single click. Moreover you can get voicemail-to-text transcriptions sent directly to your inbox, allowing you to review them while you're on the go.
Various voice communications offer many features, and because VoIP is flexible, you can tailor your service based on your company's unique needs.
Best Features of VoIP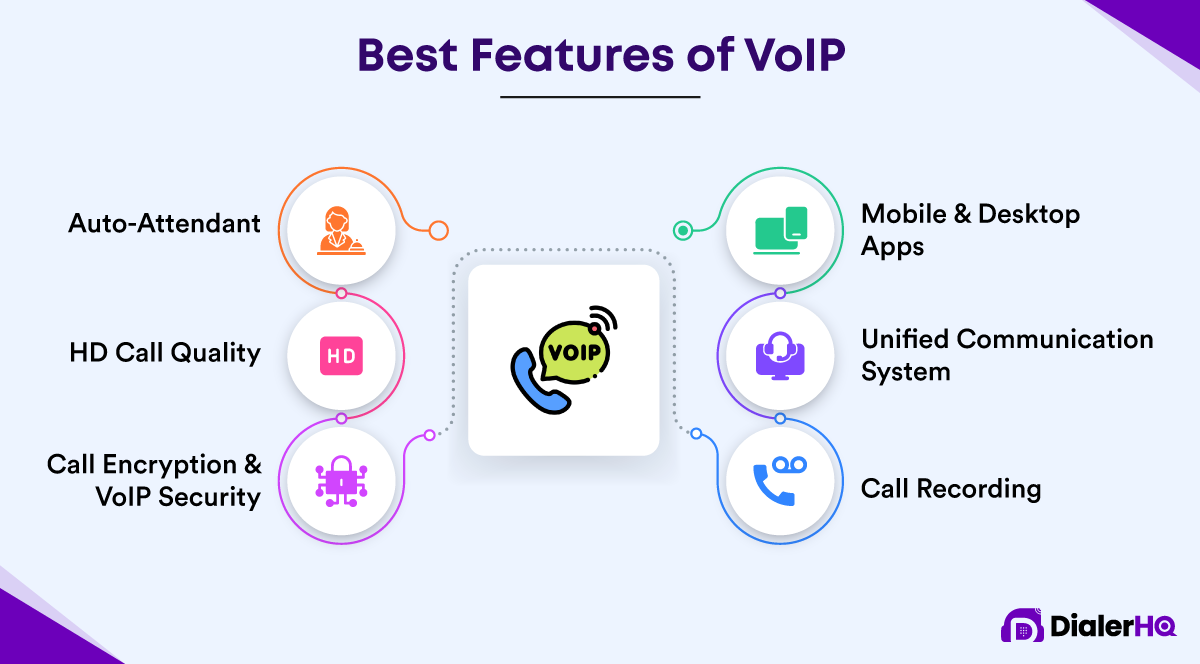 Business phone features listed here are the most popular ones you'll enjoy using, so depending on your needs, they'll be more or less critical. Reliability, price, features, flexibility, and scalability are the factors that influence a buyer's final purchase decision.
1. Auto-Attendant
An auto attendant helps you guide your callers to the right person or department. In addition, you can forward calls to your voicemail or elsewhere outside business hours to project a professional image. If you've ever called a company and had to press 1 for sales, or 2 for support, you've used an auto attendant.
2. Mobile & Desktop Apps
Cloud communications prevent you from missing incoming calls even when you're not in the office. All the major VoIP service providers now offer apps for your computer or mobile device. With these apps, you can call, join conference calls, and exchange text messages. And, yes, you can use the app without a desk phone if you want to.
There are also free phone number apps that you can access for a trial to review their performance and compatibility according to your communication needs.
3. HD Call Quality
This voice over IP phone technology doubles the clarity of phone calls over a traditional phone system, making it almost impossible to ask callers to repeat themselves.
VoIP headsets and phones offer noise-canceling capabilities for even more outstanding sound quality. This high-definition sound quality is apparent even over long distances.
4. Unified Communication System
VoIP can boost your team's productivity through Unified Communications (UC). Instead of using several separate apps, your company's communication platform is integrated. As a result, it's now easier for employees to communicate with each other and customers. You can also swap voice calls between mobile devices.
Here are some of the fundamental processes within a UC platform:
Instant messaging

Team chats

Video calls

Screen sharing

Conference calling

Mobile and desktop apps
5. Call Encryption & VoIP Security
The importance of voice over IP phone security is top of mind for business owners. The telephone carries sensitive information like credit card numbers and HR conversations. It is vital to protect these assets, or it could cost you.
VoIP is safe and secure even through data transmission over the internet. Additionally, voice over internet phone has built-in security features to stop bad actors from intercepting calls.
Ask your VoIP provider about call encryption. VoIP technologies such as TLS and SRTP scramble call data, reducing the possibility of eavesdropping.
6. Call recording
Recording calls through your phone system can uncover areas for improvement. It's also secure, so only authorized personnel can access it. The advantage of VoIP call recording is that it's undetectable to all parties. Like landline PBX systems, VoIP call recording requires no additional hardware.
4 Types of VoIP Technology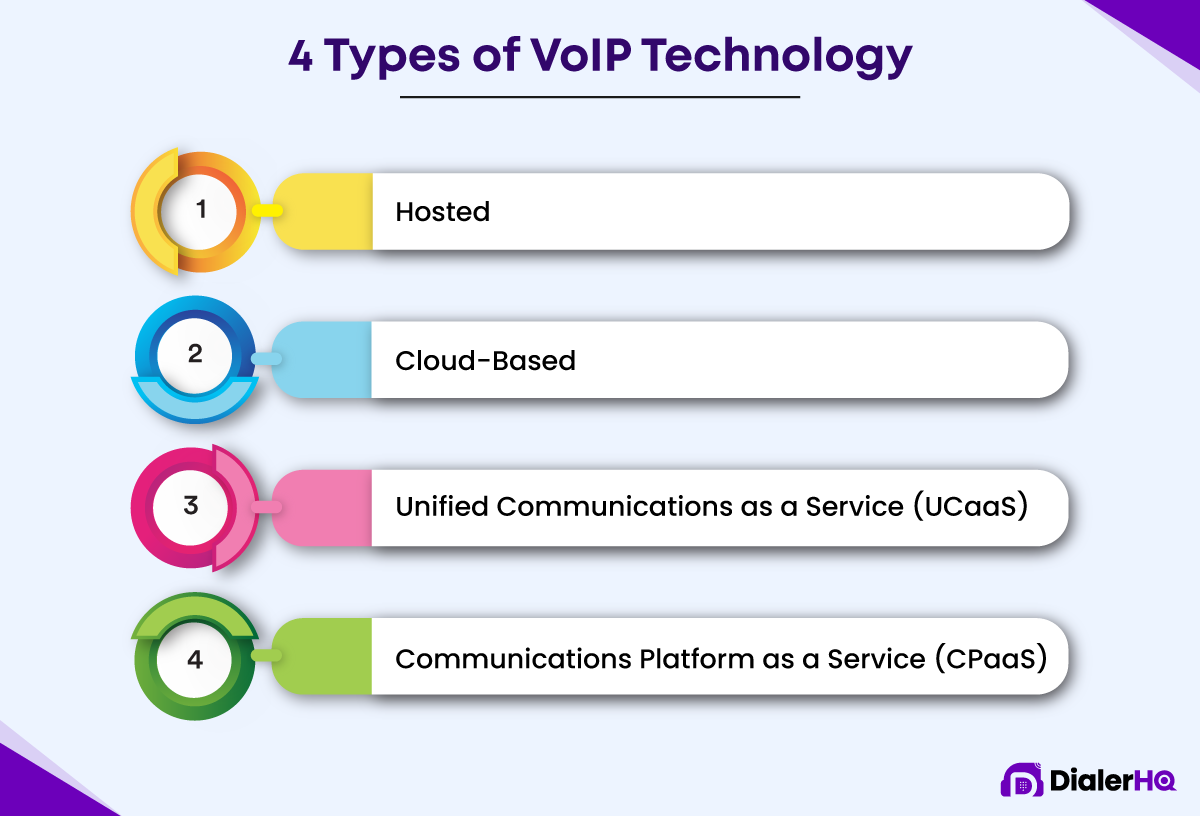 The types of VoIP you get differ from company to company. When you consider the types of VoIP, many business owners believe they are the same.
1. Hosted
Hosting a VoIP solution differs from an on-premises solution in that everything – from the equipment to the connection – is installed and maintained by the company setting up the system. In contrast, the provider supports the VoIP system during deployment.
As a result, the company deploying the phone system is only required to provide the phones and internet connection, while the provider assumes all other hardware costs.
The hosted PBX market, according to Startupanz, will be one of the fastest-growing spaces in the industry, growing at around 15% CAGR by 2025.
2. Cloud-Based
Businesses choose cloud-based voice over internet protocol because they don't have to manage hardware; they plug in the phones and dial. VoIP telephone systems use the Internet to make calls; everything is hosted on the provider's IP network.
3. Unified Communications as a Service (UCaaS)
Unified Communications as a Service is an internet-based phone and messaging platform that allows companies to provide employees with collaboration tools to work anywhere.
The typical features of UCaaS are multi-tenancy (including tenant partitions residing on common infrastructure, such as data centers, racks, compute, network, standard equipment, and blades) and self-service web portals to provision, manage, and track performance and usage.
UCaaS is a cloud-based communications technology that relies on six essential communication functions. These six communication functions are: 
Telephone capacity

Audio, web, and video conferencing

Integrated messaging

Real-time messaging

Accessibility

Improved business processes through communications
Unified Communications (UC) integrates communication and collaboration tools under one platform, including a virtual phone system, video conferencing, team messaging, team presence, file sharing, and more. As a result, the unified communications market is anticipated to expand at a CAGR of 16.8% from 2019 to 2025.
UC allows employees to communicate internally and externally without using disconnected, fragmented technologies. This leads to cost savings, higher productivity, support for remote employees, and improved customer satisfaction, so it's not surprising that VoIP and UC are proliferating.
In addition to VoIP solutions, UCaaS also offers SIP-based solutions. Systems can be customized to meet specific business requirements. As a result, UCaaS helps businesses reduce costs and increase profits by improving business processes and streamlining operations.
4. Communications Platform as a Service (CPaaS)
The Communications Platform as a Service (CPaaS) provides cloud-based, customizable communication services for unified communications systems. The feature of being customizable allows for it to be tailored to any business and its specific needs.
In addition, everything is integrated to work in real-time on the platform without the need to access external systems.
What are the Drawbacks of VoIP?
While VoIP has several advantages, it has some limitations, as well. However, these limitations are solvable, and organizations considering switching should be aware of them.
1. Limitations on Internet Use
The principal disadvantage of voice over IP compared to traditional lines is that it relies entirely on your internet connection speed. If you don't have internet access, you can't use VoIP. Luckily, it does not consume nearly as much bandwidth as you imagine.
To achieve optimal VoIP performance, each device on your network should have at least 100 kbps upload speed, and your Ping and Jitter, which evaluate your internet connection's latency and stability, should be less than 70ms.
2. Limitations of Location Tracking
Voice over IP is one of the best ways to create a virtual presence, as you can get a local number in any state with any area code, no matter where your business is located. However, emergency workers often use phone numbers to find you in an emergency, so if your phone number and location do not match, they may have difficulty locating you. 
3. Jitter & Latency Issues
Every online communication (email, video, or audio) is split up into "data packets," which are little information. The original message is then reconstructed by reassembling these packets at the intended destination.
Attenuation and jitter are related to delays in transmission or incorrect reassembling. Maybe the problem didn't come from your network but an extensive internet backbone; they put traffic on the shortest path to its destination to ensure consistency. 
4. Security
As a public network, the internet can intercept data while it is being sent, including voice data during VoIP calls. It seriously threatens private phone number communications and should not be understated.
How to Choose The Best VoIP Providers?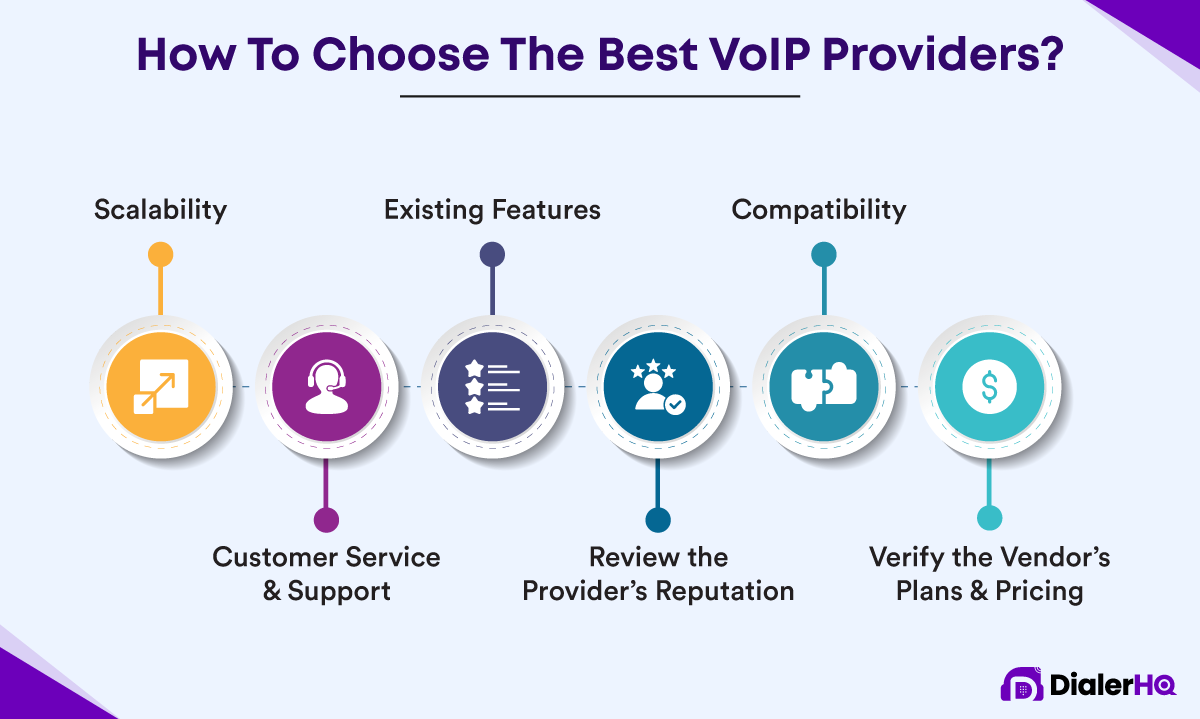 What else should you consider when assessing voice over internet protocol software? What else should you look for besides a fair and transparent pricing structure? The following factors are crucial to pay attention to when choosing a VoIP service provider:
1. Scalability
A voice over IP provider's ability to scale up or down when users' needs change is known as scalability. For instance, a provider offering only 2-3 plans is not as scalable as one offering 4-5 price structures.
Scalable solutions have the following benefits:
Don't let you pay for features you don't need

Adding additional features and users to your VoIP service will let it grow with your company.

Despite better prices elsewhere, they offer a better overall value.
Additionally, consider whether or not the provider allows you to upgrade from a business phone system to a contact center software or unified communications system in the future, allowing you to add new communication channels, like video conferencing or live chat, without needing to switch providers.
2. Existing Features
More features do not always mean better. Too many features are confusing and overwhelming for new users, often causing more work than they were supposed to save. Instead, concentrate on whether or not the provider offers the specific features that are the most relevant to your company.
When you work in healthcare, you'll need a voice over IP solution that's HIPAA compliant. Similarly, when you manage an outbound call center, you'll likely prioritize features like visual voicemail over many available dialing modes.
3. Compatibility
It makes no difference how affordable a voice-over IP system is or how many features it offers if it is incompatible with your current business tools and operating system.
Verify that any provider you're considering complies with:
Mobile devices (Apple & Android apps)

Currently running OS (Mac, Windows, etc.)

Preferred browser (Google Chrome, Safari, Firefox, etc.)

Third-party apps (CRM system, project management tool, team chat app, etc.)

Extra hardware (analog phones, headsets, etc.)
4. Customer Service & Support
As the last step, ensure the service and support provided by the VoIP provider are excellent and responsive. You need to know the following:
What are the available support channels? (Phone, live chat, etc.)

When is each channel available? It is best if at least one channel is open 24/7

What average time does the provider take to resolve a customer's issue?

How fast does the provider respond on average?

How much up-time is guaranteed? (99.9% is the minimum you should consider)

Does the provider offer any security standards or certifications? Compliance with GDPR, HIPAA, PCI, SOC II, etc.

What kind of training materials are provided to users? (Online courses, tutorials, employee training, etc.)

Is priority support available?

Does the provider have an active developer community and support forum?
5. Review the Provider's Reputation
You should consider the reputation of the provider you are considering for your organization. Although it can be difficult to distinguish a good review from a spam review, it is worth looking at the public's general opinion about the provider.
One thing you can look at is the number of subscribers. Generally, a provider with many subscribers is regarded as dependable and secure by their customers and the industry.
You can also focus on the brands that have confidence in the provider for their communications. Big brands do their due diligence before signing up for a service, ensuring they will get an adequate return on their investment.
6. Verify the Vendor's Plans & Pricing
The fact that plans and pricing are mentioned last is not a coincidence. As with any commodity, price shouldn't be the first thing when looking for quality. Although there may be lower-priced voice over IP services, their reliability and security can be problematic.
Investing in research and development to ensure they deliver the best product is another reason top providers charge more. Considering the price only once your list has been streamlined would be best.
Process For Setting Up Your VoIP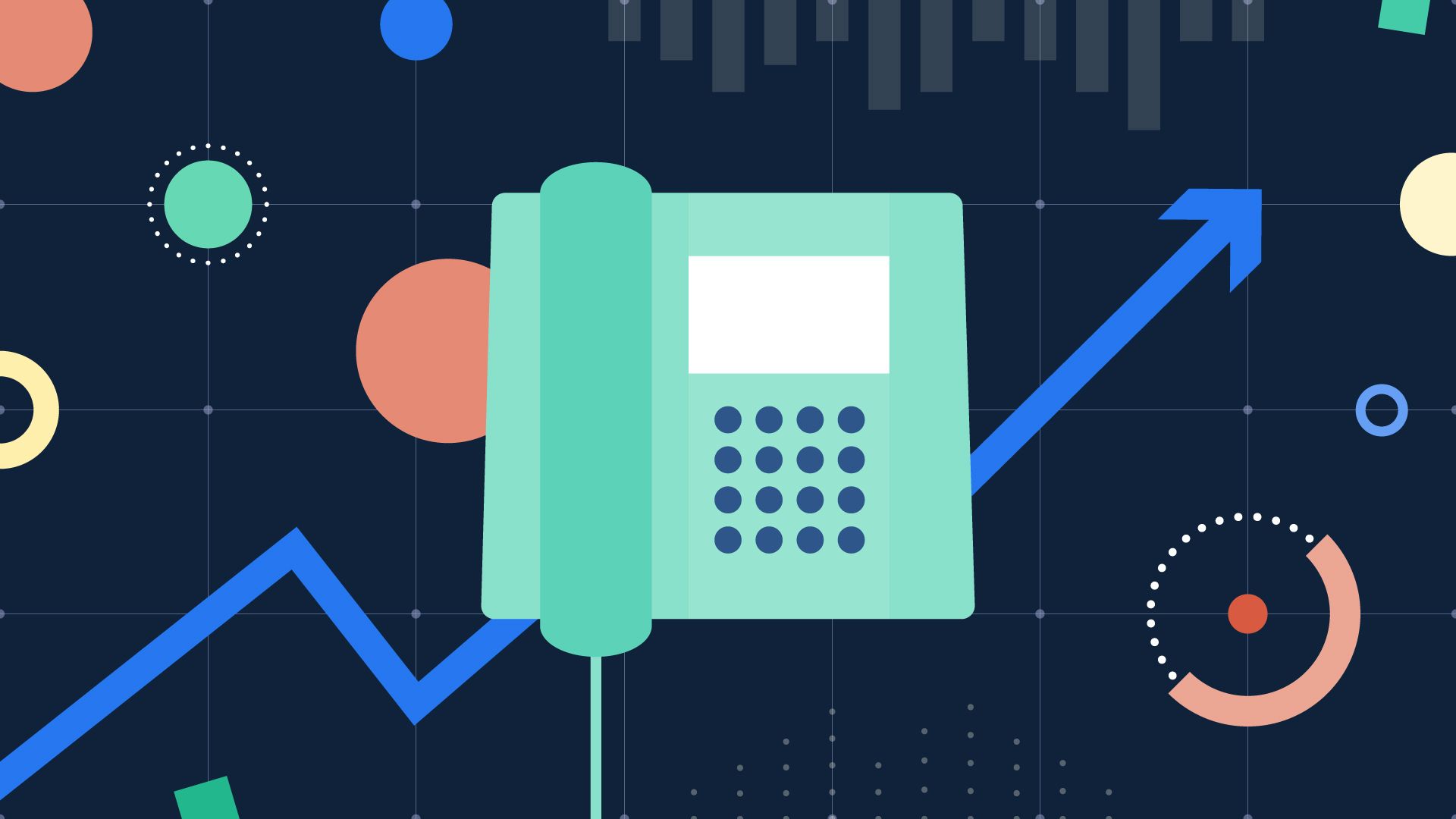 Source
Choosing the right provider is an essential first step. Ensure the provider offers phones for your office and E911 calls that provide emergency responders with the callback number and location.
Choose the number of lines you will need. You will also want to discuss aspects such as porting your old number to the new system. Keeping the number consistent is vital if your business has been around for some time. Do inform the provider of this when signing up.
After choosing a voice over IP service provider and allowing them to set up the service, the next step is to plug the system in. This means connecting the communications device (phone or computer) to the Internet; your provider can guide you through the configuration process and test the system to see any issues.
Bottom Line
Voice over IP technology might also enable you to cut costs on communications services since long-distance and international telephone calls are generally free with VoIP. 
The cost of internet access is the only expense associated with it. Furthermore, VoIP technology doesn't mean all your employees must use IP-enabled phones.
The best VoIP service providers implement IP telephony in a way that protects your investments in existing telephone equipment, even if you still use analog systems.
Content Worth Your Time
Know what's happening in your industry all the time