Senior Writer: Paras Kela
Reading Time:
8
Minutes
Published :
January 13, 2023
In this digital age, businesses are expected to be available 24/7. Companies need their communication networks to be reliable and secure to meet customers' expectations. That's why more and more businesses are depending on hosted phone systems.
A hosted phone system is a type of phone system that is hosted in the cloud and managed by an external provider. This eliminates the need for businesses to pay for expensive equipment and excessively rely on on-premises IT personnel and resources.
Need a reliable and affordable business phone system? Look no further than DialerHQ.
It is an economical and efficient method for small to medium-sized businesses to access the latest telephony technology. They also benefit from protected data hosting, customer support, and other essential features.
In this article, we'll explore the world of VoIP hosted phone systems and go over the different types of hosted phone systems, how they work, their advantages and disadvantages, the right features to assess when choosing the right hosted phone system, and how firms can benefit from VoIP apps as a hosted phone system.
What is a Hosted Phone System?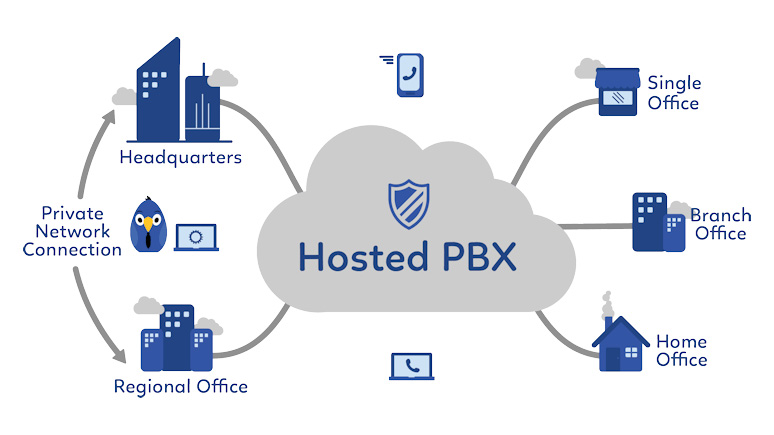 Hosted phone services are cloud-based phone systems that enable businesses with physical and non-physical locations to unify and manage their communications.
Hosted phone systems provide businesses with the critical infrastructure to run their business, including phone lines, networks, and messaging services.
In addition, hosted PBX systems route calls over the internet, automate switching, and provide mobility and scalability, plus a number of other features.
Unlike traditional PBX systems, hosted phone systems are managed and maintained by an external provider and hosted in their data centers. This implies businesses don't have to maintain their hardware or operate a dedicated telephony infrastructure.
Types of Hosted Phone Systems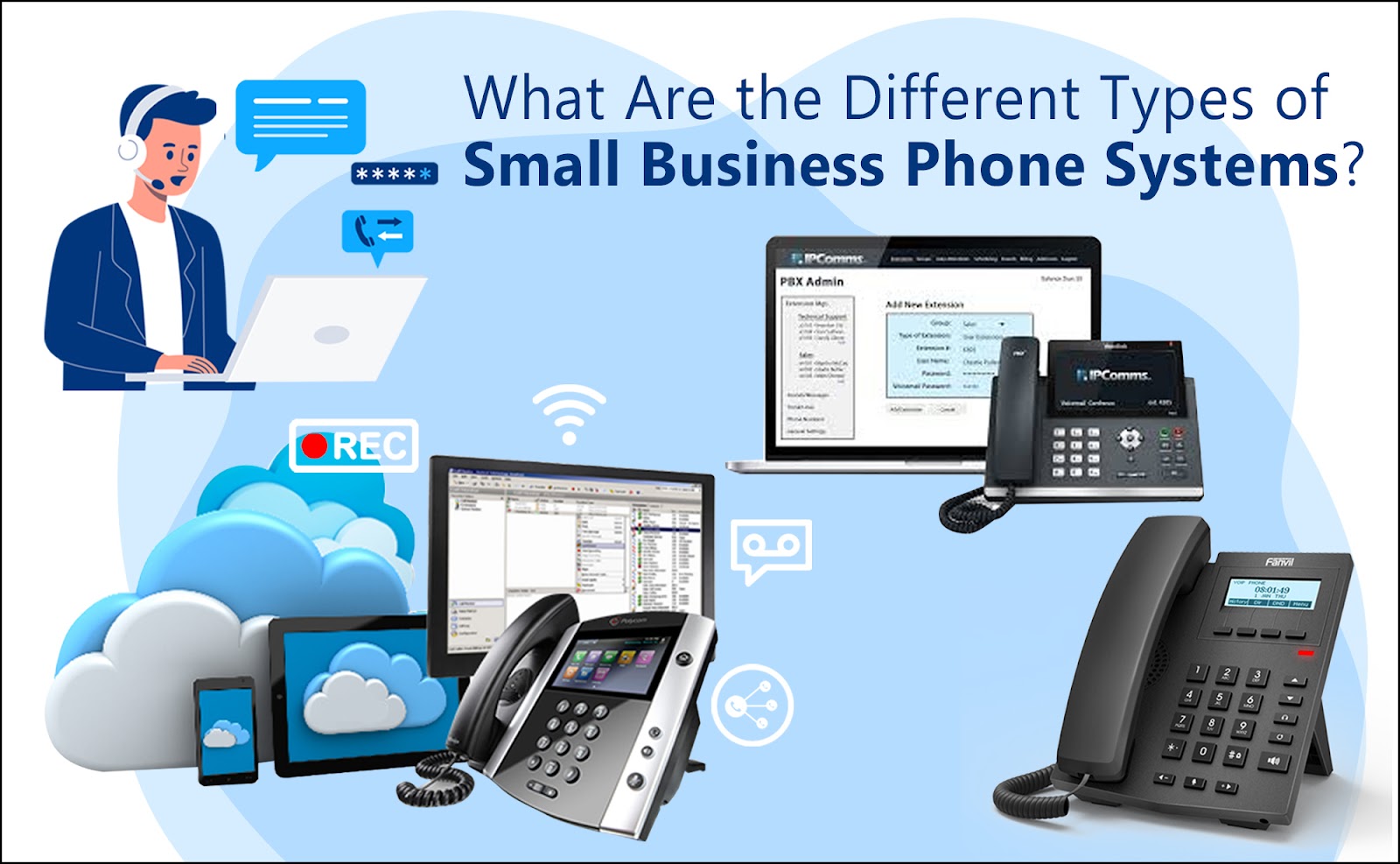 1. Cloud-Hosted Phone System
Swapping to a cloud-hosted phone system is a great way for businesses to save time and money. With a cloud, managed system taking upkeep of all the tedious tasks, companies can focus on what really matters – their customers.
This system eliminates the need to invest in physical hardware and maintain a dedicated phone system. Instead, the cloud provider maintains the servers, storage, and other IT infrastructure.
Plus, the scalability feature allows businesses to readily add more features and extensions to accommodate evolving needs and boost their client base. You can rely on additional features and extensions to keep up with the needs of your ever-growing consumer base.
2. PBX SIP Trunking
If you're a VoIP user, SIP trunking offers a range of features and benefits to improve the efficiency and reliability of your communications. This cloud-based technology provides a secure, high-speed internet connection to access public switched telephone networks, adding reliability to calls.
PBX SIP Trunking also offers line encryption, real-time monitoring and automatic call routing, ensuring your calls are always secure and uninterrupted. With SIP trunking, you can maximize the efficiency and cost-effectiveness of your business communications.
How Does a Hosted VoIP Solution Work?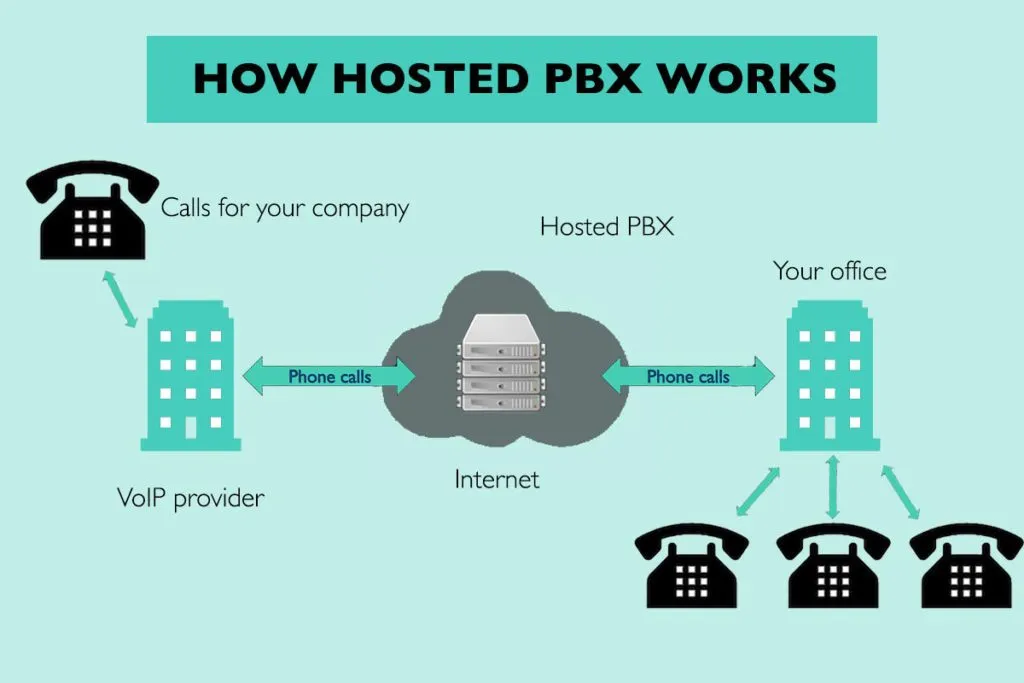 As a cloud-based phone system, hosted VoIP offers numerous advantages to small businesses, such as increased flexibility, scalability and cost savings.
This technology works by routing calls from the company PBX system to their provider via Voice over Internet Protocol (VoIP). The transfer of these calls is managed through a dedicated server set up by the provider using proprietary hardware and software. 
Depending on business needs, requests are routed directly or indirectly onto user end devices – landlines or mobile phones. Users don't need technological expertise for this service as all tasks will be handled efficiently by the supplier's team.
Moreover, access to multiple accounts can immensely boost cost savings without compromising quality when it comes time to make international connections.
This is specifically useful in cases where you have many sites requiring the same services, thus reducing expenditures compared with individual operations.
To sum up, we can say that hosted VOIP solutions offer a considerable benefits package enabling companies to remain competitive while accessing cutting-edge communication tools without having to invest heavily in unnecessary equipment. Hosting providers deliver top-tier professional services at attractive prices, which are often more cost-efficient than maintaining conventional telephone systems.
Pros and Cons of Using a Hosted Phone System for Your Business
Get a Clear Picture of Hosted Phone Systems: Our Table Breaks Down the Pros and Cons:
| Pros of Hosted Phone System | Cons of Hosted Phone System |
| --- | --- |
| Scalability: Hosted phone systems are easily scalable, allowing you to add or remove phone lines as needed. | Lack of Control Over the System: With a hosted phone system, you don't have complete control over the system and rely on a third-party provider to make changes and updates. |
| Low Initial Investment: Hosted phone systems typically have lower upfront costs compared to traditional phone systems. | Limited Options for Customizations: Hosted phone systems may have limited options for customizations, such as the ability to add new features or integrate with other systems. |
| Access to the Latest Technology: Hosted phone systems offer access to the latest technology and features, which can help improve productivity and customer service. | Dependence on the Quality of Your Internet Connection: Hosted phone systems rely on a stable and high-quality internet connection, which can be a challenge in areas with poor connectivity or frequent outages. |
| Cost Savings: Hosted phone systems can offer cost savings over traditional phone systems, particularly for businesses with a large number of phone lines. | Security Risks: Hosted phone systems can pose security risks, particularly if they are not properly secured against cyber threats. |
| Reduced Downtime: Hosted phone systems are designed to minimize downtime, which can help ensure that your business stays connected with customers and partners. | Limited Integration with Other Systems: Hosted phone systems may have limited integration options with other systems, which can limit their overall functionality and usefulness. |
| Improved Customer Service: Hosted phone systems can improve customer service by offering advanced features such as call routing, auto-attendants, and voicemail-to-email. | Reliance on a Third-Party Provider for Maintenance and Updates: With a hosted phone system, you rely on a third-party provider for maintenance and updates, which can be a challenge if they don't provide timely and reliable support. |
| Enhanced Mobility: Hosted phone systems can offer enhanced mobility, allowing employees to work from anywhere with an internet connection. | Possible Loss of Data During Internet Outages or Disruptions: Hosted phone systems can experience data loss during internet outages or disruptions, which can be a challenge for businesses that rely on phone communications. |
10 Hosted Phone System Features That You Should Consider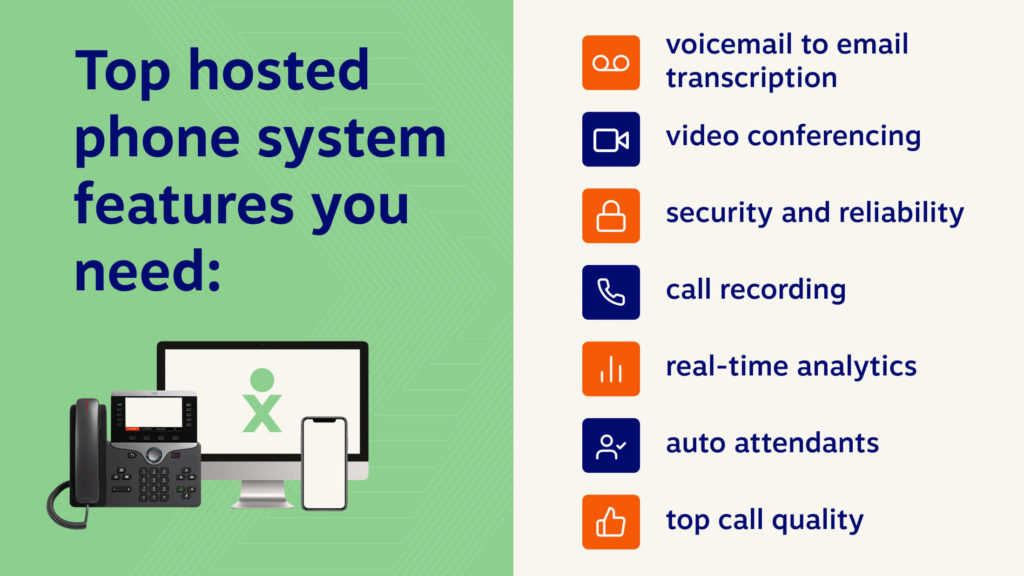 With hosted systems, you want to ensure that you are taking advantage of the features you need and not paying for those you don't. To help you choose the right features for your business-hosted phone system needs, here are ten features to consider:
1. Call and Voicemail Transcription
Some hosted phone solutions have call and voicemail transcription abilities. This feature enables calls and voicemails to be automatically transcribed into text, making them easier to read and reference. This can be extremely helpful for employees who want to review and save calls for future reference. 
2. Video Conferencing
Video conferencing enables remote employees and clients to join meetings and/or conferences remotely. Video calling allows for real-time conversations and is also a great way to build relationships with clients and team associates by allowing them to see each other literally. 
3. Messaging
Many hosted business phone systems can support chat and SMS/MMS messaging, enabling users to send or receive messages to and from other linked accounts such as voice, SMS and even instant messaging.
This unified experience provides users with the convenience of not having to swap between various apps or programs in order to communicate.
4. Uptime Reliability
Uptime reliability is one of the most noteworthy features of any hosted phone system. Uptime is simply the amount of time the phone system functions correctly and how reliable it is in staying connected.
Look for a hosted phone system that offers consistently dependable uptime, and contact your provider to ensure you're getting the performance you desire.
5. Call Recording
Whether you need to record calls for customer service purposes, legal requirements, or training, this feature allows you to record calls for later playback easily.
6. Built-In Reporting and Analytics
Understanding how your business's phone system is being utilized is essential. A satisfactory hosted business phone system will offer built-in reporting and analytics that track usage, connection times, and more.
You can use this data to detect trends and identify potential problems.
7. Auto Attendant
An auto-attendant feature is a great way to personalize client communication. It allows you to create personalized messages that route incoming callers to the correct department or individual.
8. A Fully Integrated Contact Center
For businesses that need a robust contact center, a hosted telephone service can provide them with one platform to manage customer service inquiries, sales calls, and support. A fully integrated contact center has features such as call routing automation services, various customer self-service tool options, and more.
9. Integrations With Your Preferred Tools
A good hosted phone system should be able to integrate with the other tools and software used in your business, such as email, customer relationship management (CRM) software, VoIP phones and other enterprise applications.
10. Excellent Call Quality
A hosted phone system should offer excellent call quality. Look for one that provides crystal-clear audio with minimal noise and distortion. The best systems will likewise feature HD (High Definition) voice processing, providing clearer voices on both ends of the conversation.
Comparison Of Top Hosted Phone System Providers
Check the following table for a quick overview of the leading  hosted phone system providers, ranked based on their features, pricing, pros, and cons:
| Brand Name | Key Features | Pricing | Pros | Cons |
| --- | --- | --- | --- | --- |
| DialerHQ | Outbound calling Call recording Lead management Analytics and reporting CRM integration | Starting from $12/month | - Outbound calling capabilities with call recording - Lead management features for sales teams - Advanced analytics and reporting - Integration with CRM systems | - Need stable internet connection |
| RingCentral | Business phone system Video conferencing Team messaging File sharing Integrations | Starting from $19.99/month | - Comprehensive business phone system with video conferencing and team messaging - File sharing and collaboration features - Integrations with popular business applications | - Some users may find the interface overwhelming - Limited customization options |
| Dialpad | Cloud-based phone system Team messaging Video conferencing AI-powered features Integrations | Starting from $15/month | - Cloud-based phone system with team messaging and video conferencing - AI-powered features for transcription and analytics - Integrations with popular business tools | - Some advanced features require higher-priced plans - Limited customization options |
| OpenPhone | Virtual phone system Team collaboration Voicemail transcriptions Auto-attendant Integrations | Starting from $13/month | - Virtual phone system with team collaboration features - Voicemail transcriptions for easy message management - Auto-attendant feature for call routing - Integrations with popular business apps | - Limited advanced calling features compared to some other options |
| Vonage | Business phone system Video meetings Team messaging Call recording Integrations | Starting from $19.99/month | - Business phone system with video meetings and team messaging - Call recording feature for quality assurance - Wide range of integrations with popular business applications | - Some users may find the interface complex - Limited customization options |
How to Choose the Right Hosted Telephone Systems?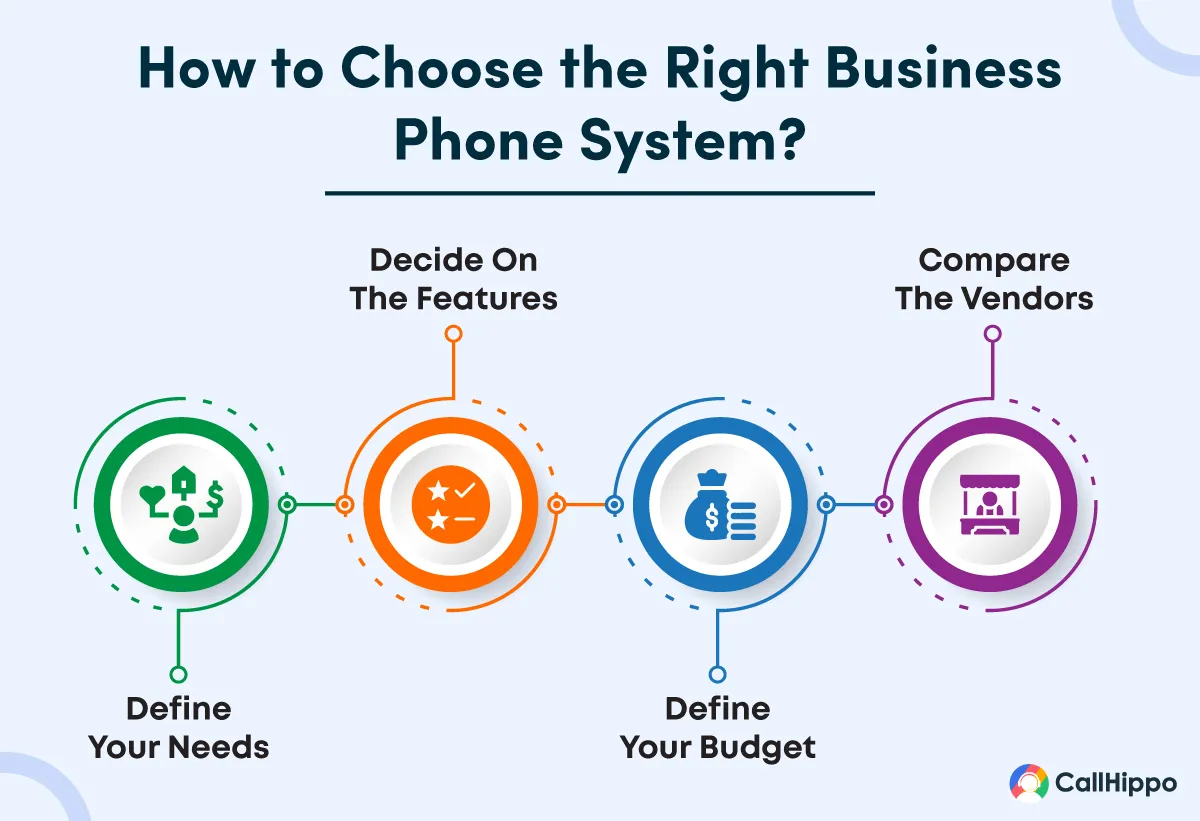 Are you looking for one of the perfect hosted telephone systems for your business? Finding the right fit can be tricky, so it's important to weigh all your options first. When considering a hosted telephone system, think about the features it offers.
For example, do you need video conferencing or messaging tools, or is scalability critical? Additionally, investigate the security features, such as encryption and data protection, to make sure your communications are secure.
Next, consider the cost of the hosted telephone systems. Factor in monthly fees and read customer reviews to ensure that you're trusting a reliable provider.
Finally, check out how long the provider has been in business to ensure you have solid tech support. With the right balance of features and cost-effectiveness, you can be confident in choosing the perfect hosted telephone service for your VoIP needs.
Use DialerHQ VoIP As Hosted Phone System
Are you looking for an easy and reliable way to manage your business's phone system? Look no further than DialerHQ! Our virtual phone system offers VoIP users a comprehensive, all-in-one communication solution. 
With DialerHQ, you get features like call forwarding, call routing, international toll-free numbers, call recording and much more.
Furthermore, you get a user-friendly interface, great call quality, and exceptional portability with DialerHQ. And you don't have to worry about managing dedicated hardware – DialerHQ is reliable, secure, and affordable. So get the benefits of a hosted phone system without the hassle – try DialerHQ today!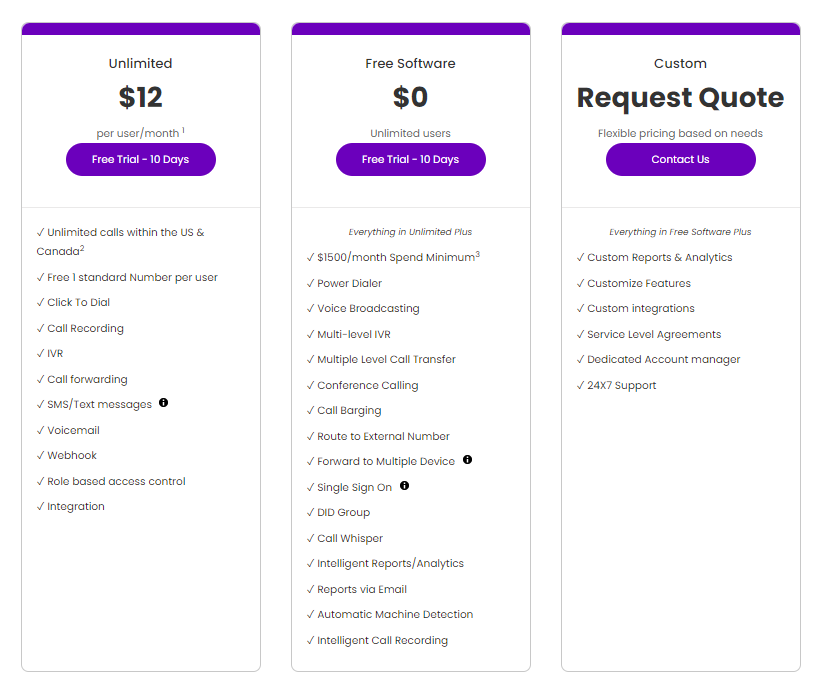 Wrapping Up
Hosted phone solutions are an integral part of many businesses operations. Not only do hosted phone solutions unlock access to the latest communication technologies, but they also provide companies with scalability, cost savings, enhanced customer service, and more. 
When choosing the right hosted telephone service, you must assess your business's needs, budget, and feature requirements. Luckily, there are numerous hosted phone service providers out there, including DialerHQ VoIP, that can fulfill your business's needs.
If you are looking for a hosted IP phone system, there are numerous features and options available. Hence, take the time to assess each service carefully so that you can make an informed decision that best suits your business needs.
FAQs
Yes, hosted Voice is the same as VoIP. Both are digital phone systems that use the internet to transmit audio and text communications.
Typically, a hosted phone system requires a compatible router, reliable internet connection, ethernet cables, and IP phones.
Hosted phone systems such as DialerHQ, Grasshopper, Line2, and Avaya Cloud are exemplary choices for small businesses.

Paras Kela is an accomplished IT professional with 7+ years of industry experience, including 4+ years as a dedicated content writer. His expertise lies in crafting informative blogs on VoIP and cloud telephony, among other technical subjects. Outside his professional pursuits, he cherishes quality time with loved ones, indulges in watching documentaries, and finds solace in gardening. Connect with him on LinkedIn.
Updated : September 28, 2023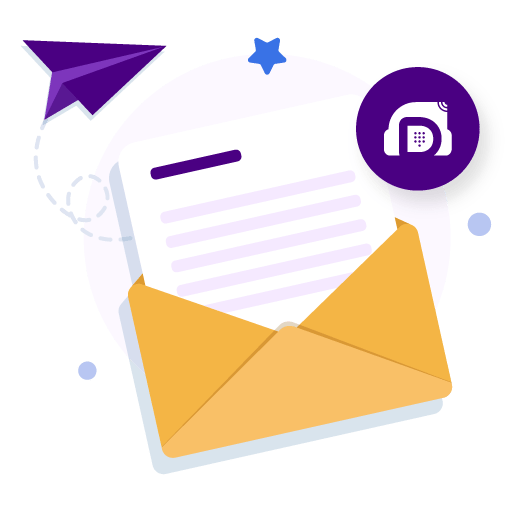 Let's Stay in Touch
Subscribe to our newsletter & never miss our latest news and promotions.

+21K people have already subscribed