Senior Writer: Paras Kela
Reading Time:
11
Minutes
Published :
May 26, 2023
Conference calling is the ideal tool for connecting with colleagues all over the world, collaborating with remote teams, and hosting virtual meetings that impress clients. 
Need a reliable and affordable business phone system? Look no further than DialerHQ.
These services are highly reliable and are now more important than ever. The world of conference calling has undergone a remarkable transformation, providing cutting-edge features and unparalleled user experiences. According to research, more time has been spent in meetings over the last 20 years.
You have nothing to worry about, whether you're a small business looking for low-cost solutions or a large corporation in desperate need of rock-solid security and scalability! To meet your every need, we have carefully curated a list of services ranging from well-known corporations to risk-taking startups.
So, whether you're an expert in conference calling or you're just getting started, buckle up and follow along as we uncover the top ten conference calling services.
Expert Advice
"Conference call services are essential for enabling seamless collaboration between teams, partners, and clients. Choosing the right conference calling service allows businesses to realize the benefits of real-time audio and video communication fully.Invest in the best conference calling service to gain a competitive advantage and increase bottom-line profits instantly."
What is a Conference Call Service? 
A conference call is basically a call where several participants join the same audio call at the same time. Typically, conference call participants can join calls by dialing a common conference number from their phones. 
Free conference call services enable individuals/businesses to connect and communicate via audio or video channels. This deeply facilitates collaboration and reduces the need for face-to-face meetings.
Conference call services have improved significantly. Users now have complete access to higher-quality audio and video connections. Not only this but integrations have smoothened extensively with tighter security measures. These enhancements protect sensitive information and private conversations from unauthorized access.
Why do Businesses Need a Conference Calling Service?
As remote work and global collaboration become more common, businesses require conference call services. The best free conference call services and VoIP call recording allow multiple people to converse at the same time, regardless of their physical location. Let's look at the main reasons why businesses need a conference call service.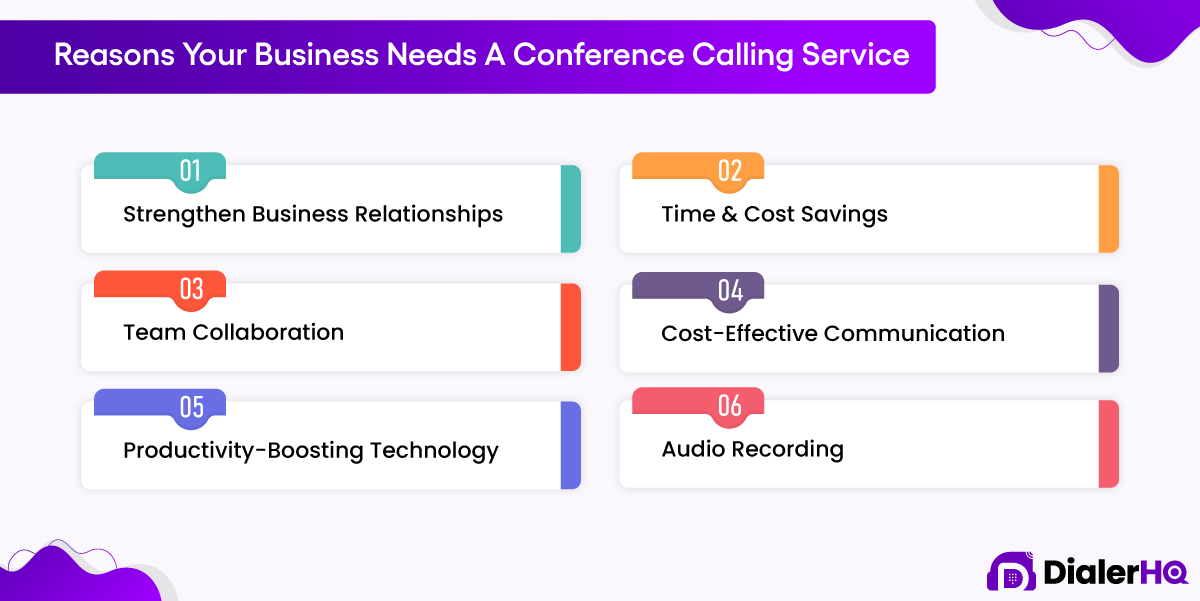 1. Strengthen Business Relationships
Conference calls make it possible for stakeholders, clients, and business partners to collaborate and communicate effectively. You can enhance relationships, align goals, and foster unity among participants by getting everyone on the same page. 
Whether you're discussing project updates, closing deals, or brainstorming ideas, conference calls offer a forum for open and honest conversation, ultimately improving your business relationships.
2. Time and Cost Savings
Participants can join meetings remotely thanks to conference calls, which eliminates the need for them to physically travel.  This reduces the amount of time and money needed for travel, lodging, and other associated costs. 
Businesses can hold meetings and make crucial decisions using a conference call service without the costs and logistical difficulties of in-person interactions.
3. Team Collaboration
Meetings with multiple participants can be difficult to organize and coordinate. Conference call services make this process easier by offering user-friendly platforms that allow participants to join meetings with a few clicks with better team collaboration. 
Meetings can be scheduled, invited, and managed seamlessly, removing the stress associated with physical meeting organization. Furthermore, conference calls reduce the anxiety associated with public speaking because participants can contribute to discussions from the comfort of their own homes.
4. Cost-Effective Communication
Charges for traditional phone service can quickly add up, particularly for long-distance or international calls. Conference call service providers frequently offer low-cost plans that are tailored to the needs of businesses. 
They provide affordable rates for both domestic and international calls, allowing businesses to communicate with customers, partners, and team members all over the world without breaking the bank. By utilizing a conference call service, businesses can significantly reduce their phone service costs and allocate those savings to other areas of the business.
You May Also Read : Top 15 Free International Calling Apps
5. Productivity-Boosting Technology
Conference call services offer cutting-edge features and technology that help meetings run more smoothly. Metaverse development services provide tools that allow users to collaborate on documents in real-time, share screens, and use virtual whiteboards. 
This promotes effective communication, reduces misunderstandings, and helps teams stay focused on their current tasks. Some conference call services integrate with other productivity tools, such as project management platforms or customer relationship management systems, to further streamline workflows and boost productivity.
6. Audio Recording
Recording meetings is frequently an option with conference call services, which can be very beneficial for businesses. Participants can revisit discussions, go over crucial details, and note action items when calls are recorded. 
Additionally, it promotes knowledge exchange and serves as a guide for future judgment calls or conflict resolution. Furthermore, missed team members can catch up on discussions and stay informed by sharing recorded calls with them.
By using telephone conference call services, businesses can extensively enhance communication, streamline collaboration, and promote success in a remote work environment.
What are the Different Types of Conference Calling Services?
Conference calls have become vital for organizations because they allow people to connect and communicate from anywhere in the world. These requirements encourage successful dialogue, discussion, and information sharing. 
There are numerous conference call service solutions available to meet a variety of needs and tastes. Some of the different types of conference call services include:
1. Reservationless Services
Reservationless conference call service offers convenience and flexibility. It allows participants to join a call without prior scheduling, making it ideal for impromptu meetings or situations requiring immediate communication. 
At the scheduled time, they dial in and enter the code to join the call. There's usually no need to notify a conference call provider or make reservations in advance. Small to medium-sized businesses and teams often choose this service because of its simplicity and accessibility.
2. Operator-assisted Services
Operator-assisted conference call service is a comprehensive option suitable for larger-scale conference calls. This service is frequently used for investor relations calls, earnings reports, and international business meetings. 
Participants pre-register, and instructions for joining are sent. The operator can provide extra services such as translation, transcription, and advanced audio controls during the call, in addition to facilitating participant introductions, Q&A sessions, and call recording. 
Both reservationless and operator-assisted conference call services have multiple benefits yet certain limitations. Although reservationless services are flexible and convenient, they might not have specialized features. 
On the other hand, operator-assisted service offers a more professionally managed experience, but it also costs more and necessitates more planning. When choosing conference call providers, businesses should take into account their unique requirements, available budgets, and the nature of their conference calls.
Essential Features Of A Conference Calling Service
When narrowing down your conference calling and call recording software options, look for a service that is adaptable to your needs and the needs of your business. Some of the most common features needed in a conference call service are written below. Let's dig deep!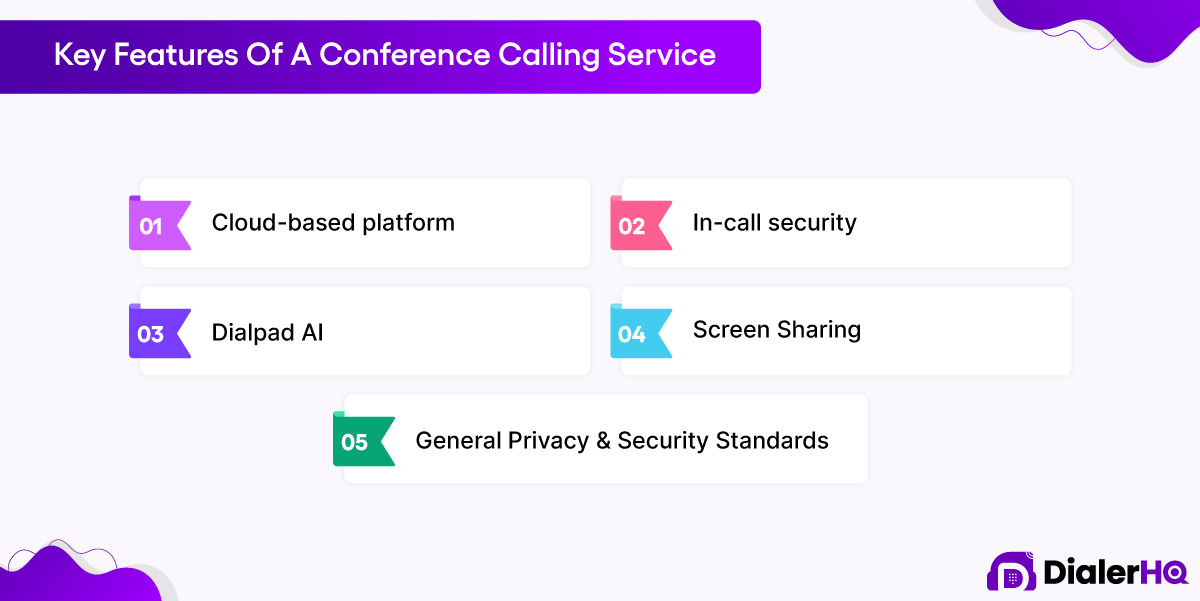 1. Cloud-based platform
There are numerous advantages to using cloud-based services over traditional on-premises solutions. For starters, they eliminate the need for costly and complicated hardware installations, lowering initial costs and maintenance requirements. 
Furthermore, the scalability provided by cloud-based services allows you to easily accommodate an increasing number of participants without having to worry about infrastructure constraints.  This feature ensures seamless collaboration regardless of the user's preferred device or geographic location.
2. In-call security 
It is essential to protect your conference calls against cyberattacks in the modern world. You should give in-call security features top priority when choosing a conference call service. It is also necessary to check the legitimacy of participants by using a reverse phone lookup tool and proactively avoid any potential threats.
By encrypting the audio and video data sent during the call, end-to-end encryption is an essential component that guarantees the privacy of your conversations. This protects your private information by preventing unauthorized access and listening in. 
3. Dialpad AI
Conference call services are just one example of how artificial intelligence (AI) has transformed numerous industries. Dialpad Ai, a service with AI capabilities, should be sought after. 
AI-powered services can improve the overall conference call experience by including features such as automatic transcription, real-time language translation, and intelligent virtual assistants. 
The ability to search for specific information discussed during the call or refer back to the conversation is enabled by automated transcription, which can be extremely beneficial. 
Real-time language translation is also useful for international collaborations. It plays a crucial role when it comes down to allowing participants who speak different languages to communicate seamlessly.
4. Screen Sharing 
Screen sharing allows participants' screens, documents, presentations, and other visual content to be shared in real-time. This exceptional feature promotes better comprehension, engagement, and collaboration by visualizing the information being discussed. 
It ensures that everyone is on the same page, regardless of where they are physically located, whether they are reviewing reports, brainstorming ideas, or giving product demonstrations. Choose a conference call service that provides dependable and user-friendly screen-sharing capabilities to facilitate smooth collaboration and information sharing.
5. General Privacy and Security Standards
It is crucial to take into account a conference call service that complies with both in-call security features and general privacy and security standards. To protect your personal information and guarantee transparency in data handling practices, look for services that adhere to industry regulations like the General Data Protection Regulation (GDPR). 
Privacy policies should clearly clarify how user data is gathered, stored, and used to give you huge confidence in the service provider's commitment to privacy. 
Comparison Of Top 10 Best Conference Calling Services
Brand Name
Key Features
Pricing
Free Trial
DialerHQ

Power dialer
CRM integration
Call analytics
Local presence

Unlimited: $12/month
Free Software: $0
Custom: Contact sales

10 Days
Callhippo

Virtual Phone System
Call forwarding
Voicemail
Call Analytics

Basic: $0
Bronze: $15.71/month
Silver: $22.96/month
Platinum: $38.68/month

10 Days
FreeConferenceCall.com

Conference Calling
Screen Sharing
Video Conferencing
Recording

Classic: Free
Unlimited: $4.83/month
Complete: $7.25/month

NA
Dialpad

Cloud-based phone system
HD video calling
Team messaging
AI-powered features

Standard: $15
Pro: $25/month
Enterprise: $22.95/month

14 Days
RingCentral

Cloud Phone System
Video Conferencing
Team Messaging
Auto-attendant

Core: $20/month
Advanced; $25/month
Ultra: $35/month

14 Days
Webex

HD Video Conferencing
Screen Sharing
File Sharing
Meeting Recording

Free Plan: $0
Meet Plan: $14.50/month
Enterprise: Contact sales

30 Days
GoToMeeting

HD Video Conferencing
Screen Sharing
Webinar Hosting
Recording

Professional: $12/month
Business: $16/month
Enterprise: Contact sales

14 Days
Grasshopper

Virtual Phone System
Call Forwarding
Voicemail Transcription
Business SMS

Solo: $28/month
Partner: $46
Small business: $80

7 Days
Nextiva

VoIP
Video Conferencing
Team Messaging
Auto-Attendant

Essential: $18.95/month
Professional: $22.95/month
Enterprise: $32.95/month

NA
GoTo Connect

Cloud Phone System
VoIP Calling
Team Messaging
Call Management

Basic: $27.00/month
Standard: $32.00/month

14 Days
10 Best Conference Calling Services in 2024 
Some of the best conference call companies are written below. Let's take a look at them!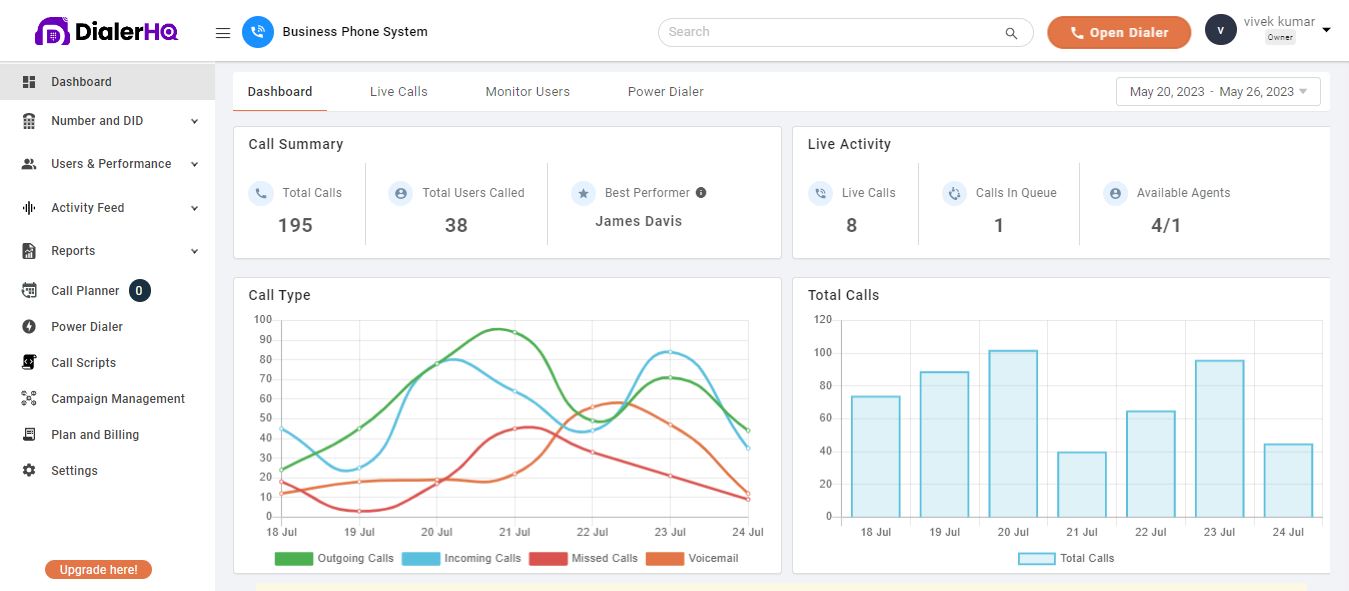 DialerHQ is a popular conference calling service that offers lots of advantages. Communication between teams, partners, and clients has become quite seamless thanks to DialerHQ's exceptional features and user-friendly interface.
The elegance of DialerHQ is in its simplicity. Even those with little technical expertise can easily navigate and use its features thanks to its user-friendly interface. Because of this, companies can easily adopt and integrate DialerHQ into their operations without needing a lot of help or training. 
As a result, communication is streamlined and effective, boosting output and teamwork inside the company. For companies looking for a conference calling service that combines ease of use with robust features, DialerHQ is the go-to choice.
Features
Role-based access control
Call recording & call routing
Multi-user login & role-based access control
International calling & texting
Pros
This software is well-known for its advanced call-recording features.
It provides exceptional customer service in order to resolve all of its customers' concerns in minimal time.
This software provides a dedicated 10-day free trial.
Cons
This software needs frequent updates.
Pricing
Unlimited Plan:

$12/month

Free Software Plan:

$0 (at a minimum spend of $1500 per month)

Custom Plan:

On-request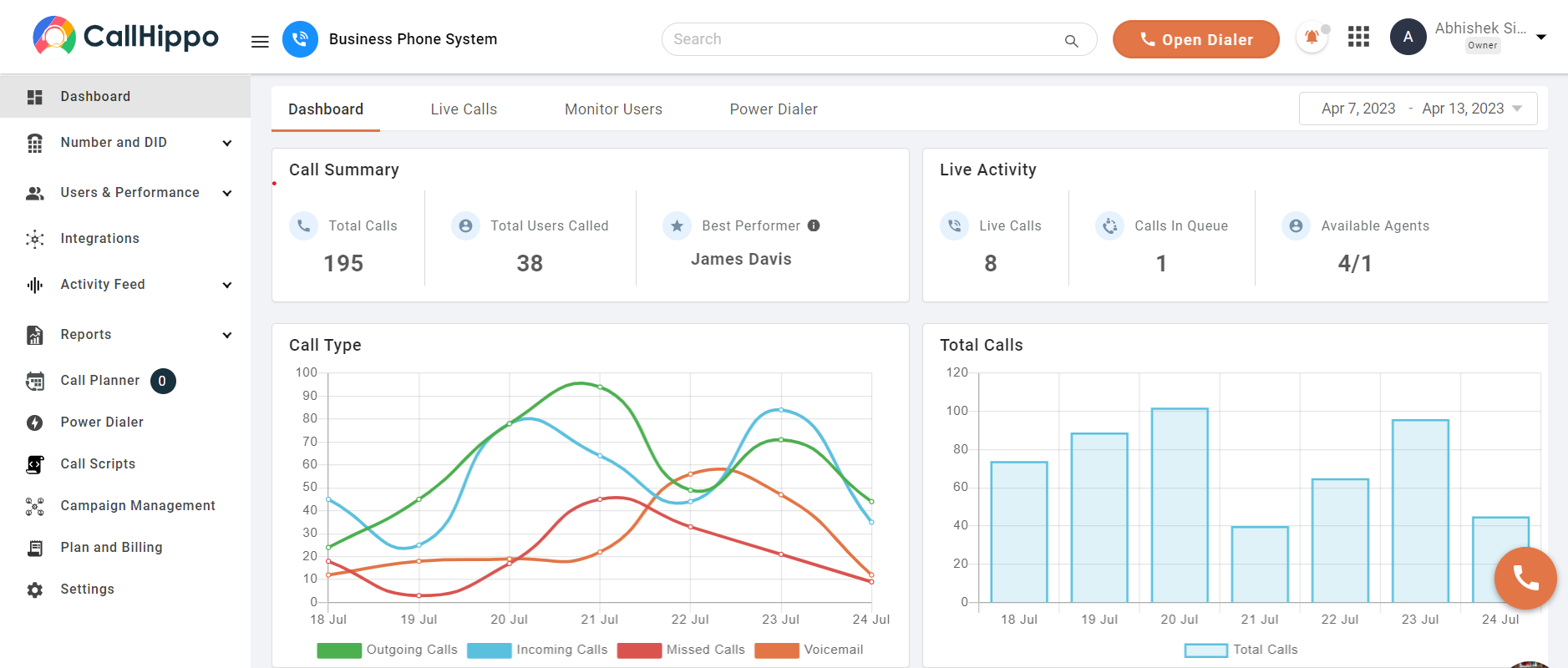 CallHippo is a revolutionary conference call service platform that gives organizations a powerful toolkit for transforming their operations. It provides businesses with vital real-time statistics on team performance and customer interactions. Because of this data, businesses may improve their customer support operations and provide better service.
Features
Call management
Power dialer
Smart call forwarding
Call analytics
Pros
It provides a free trial for a complete ten days, so you can easily try the product.
It can integrate easily across many platforms.
Being very simple to use, this software can easily be set up.
This software can be easily customized to meet various business needs.
Cons
Despite all its exceptional features, this software allows for only metered calling.
It does not log all the call recordings into the CRM.
Pricing
Bronze: $16 per user/month

Silver: $24 per user/month

Platinum: $40 per user/month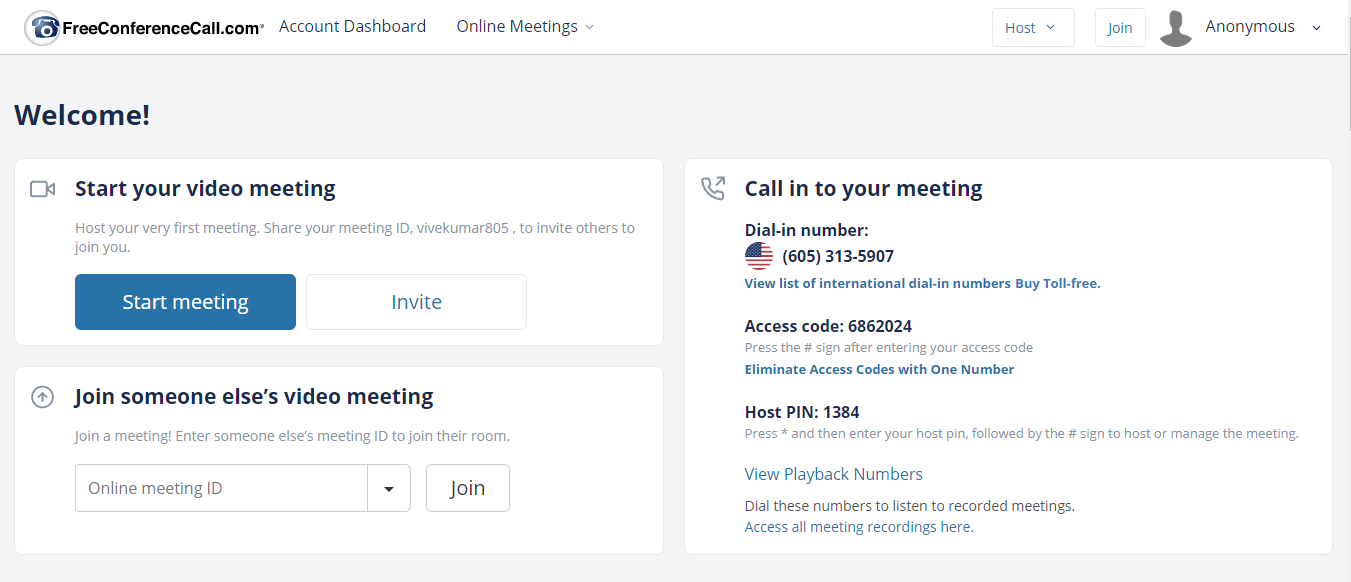 FreeConferenceCall.com is an excellent option for those looking for free conference calling services. It allows you to host an unlimited number of teleconferences or video conferences with up to 1,000 participants for free.
The platform is incredibly simple to use. You will be given an access code and a dial-in number for teleconferencing services after creating a free account. Conference hosting can begin right away without any waiting. 
Features
Call recording
Multiple call controls
Breakout rooms
Screen sharing
Pros
It offers multiple local in-country dial-in numbers in over 65 countries.
It doesn't charge anything for user reports.
You can easily connect using VoIP or a dial-in connection with this free online-based service.
Cons
At times, the software can lead to the dropping of calls.
This platform demands a software download.
Pricing
This platform does not provide a variety of plans for growing businesses; it is completely free.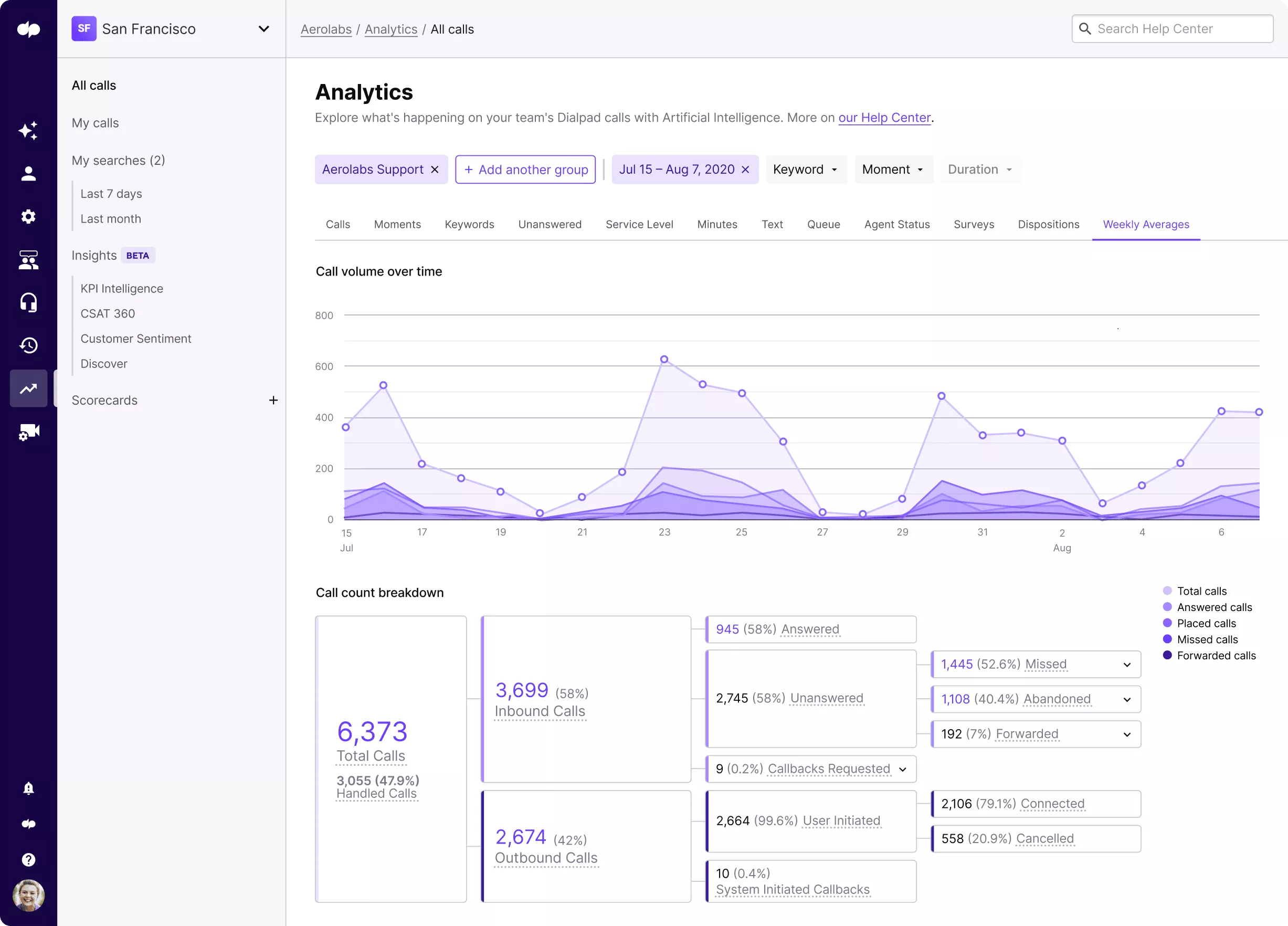 If you currently spend a lot of time working remotely, you'll need a service that is excellent at facilitating both one-on-one meetings and massive webinars.
This is where Dialpad Ai Voice (previously known as Uberconference) comes into use. It provides free cloud-based video conferencing and reasonably priced international calling without the hassle of PINs or app downloads.
You can access all the features offered in the Dialpad app directly from your web browser, thanks to Dialpad's browser-based platform. Your clients, prospects, and other participants will also appreciate this convenience since they won't have to download anything in order to join your call.
Features
HD meetings
Unlimited conference calls
Spam prevention
Live chat
Pros
Through this software, one can easily conduct unlimited video meetings.
It offers a 100% uptime service-level agreement.
Its 24/7 customer service attracts a wide range of potential customers.
This software offers smooth integration with Google Workspace and Microsoft Outlook.
Cons
This video conferencing is limited to only ten participants with the lowest level plan.
It offers only a certain set of external connections.
Pricing
Standard: $15/month (minimum one user)

Pro: $25/month (minimum three users)

Enterprise: Custom price (minimum 100 user license)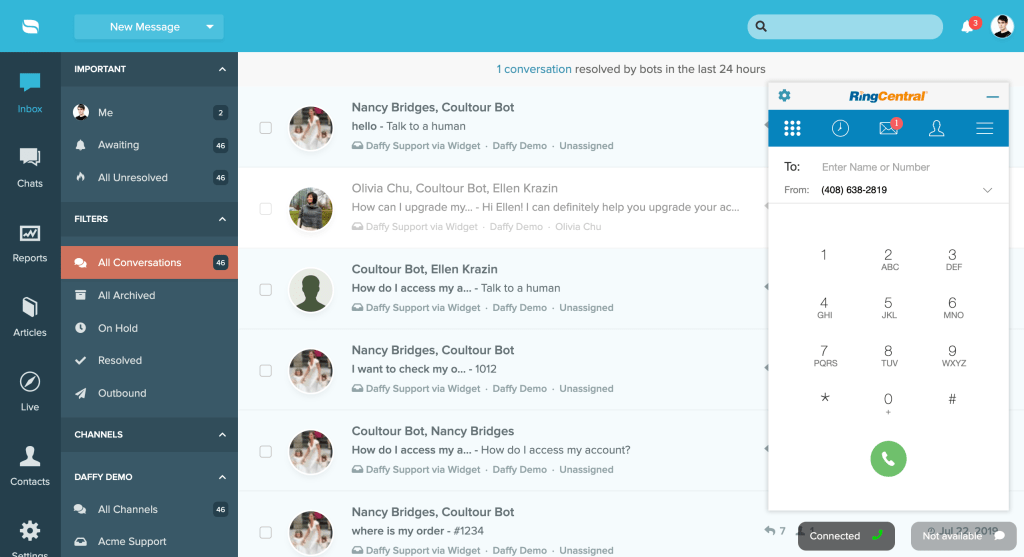 RingCentral is a popular unified communications software that can hold a conference call with up to 1,000 callers. They have been in the industry for a long time and are well-known.
However, because their technology is derived from traditional phone systems, it can be difficult to set up and deploy. This may not be a problem if you have an IT team. However, if you want a simpler setup process that does not require advanced technical knowledge, you should look into newer options that are designed to be user-friendly and work seamlessly in the cloud.
Features
Participant mute
Robust call monitoring
Call recording
HD audio and video conferencing tools
Pros
This software offers end-to-end meeting encryption along with password protection.
It operates seamlessly across various devices like desktops, tablets, and smartphones.
This software offers live transcription.
Being highly user-friendly, this software attracts various potential customers.
Cons
It doesn't provide any free trial.
This software's video meetings are limited to only 200 participants.
Pricing
Essentials: $19.99 per month 

Standard: $27.99 per month 

Premium: $34.99 per month 

Ultimate: $49.99 per month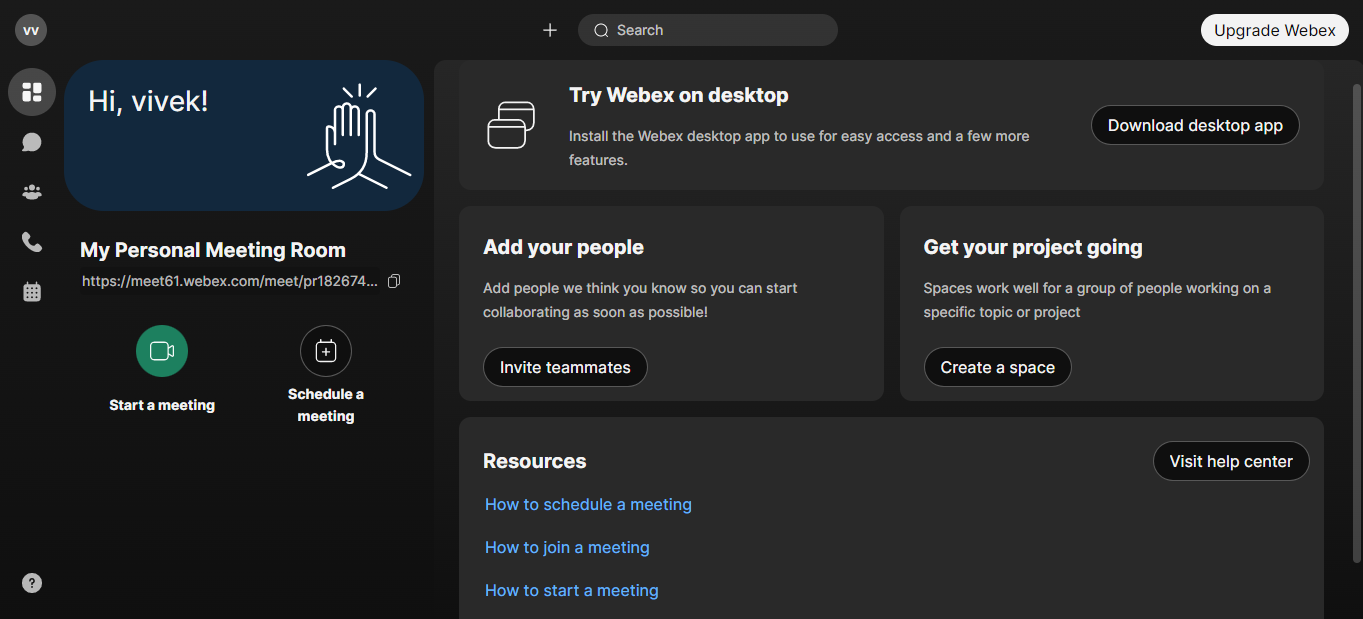 A flexible set of features are offered by Webex, a Cisco conference call service, to accommodate different communication needs. If you want to host webinars, hold sizable virtual events, participate in online learning, offer remote customer support, or simply have one-on-one conversations with team members, Webex has you covered.
Despite being primarily a video platform, Webex also supports calls that are just audio. Participants can dial in using toll or toll-free numbers for audio-only access when scheduling a meeting. Additionally, the Call-Me feature eliminates the hassle of remembering the meeting number or password by enabling the conference line to call you directly. All participants will experience a seamless and trouble-free conference call thanks to this practical feature.
Features
Speech enhancement
Call recording
File sharing
Real-time translation
Pros
This software records meetings and easily makes them available for offline use.
This platform can run on all devices.
It is available in both IOS and Android versions.
The software ensures minimum utilization of Internet data.
Cons
This software's comment control and chat control are quite poor.
Its website version is weaker as compared to its app.
Pricing
Starts at $17 per user/month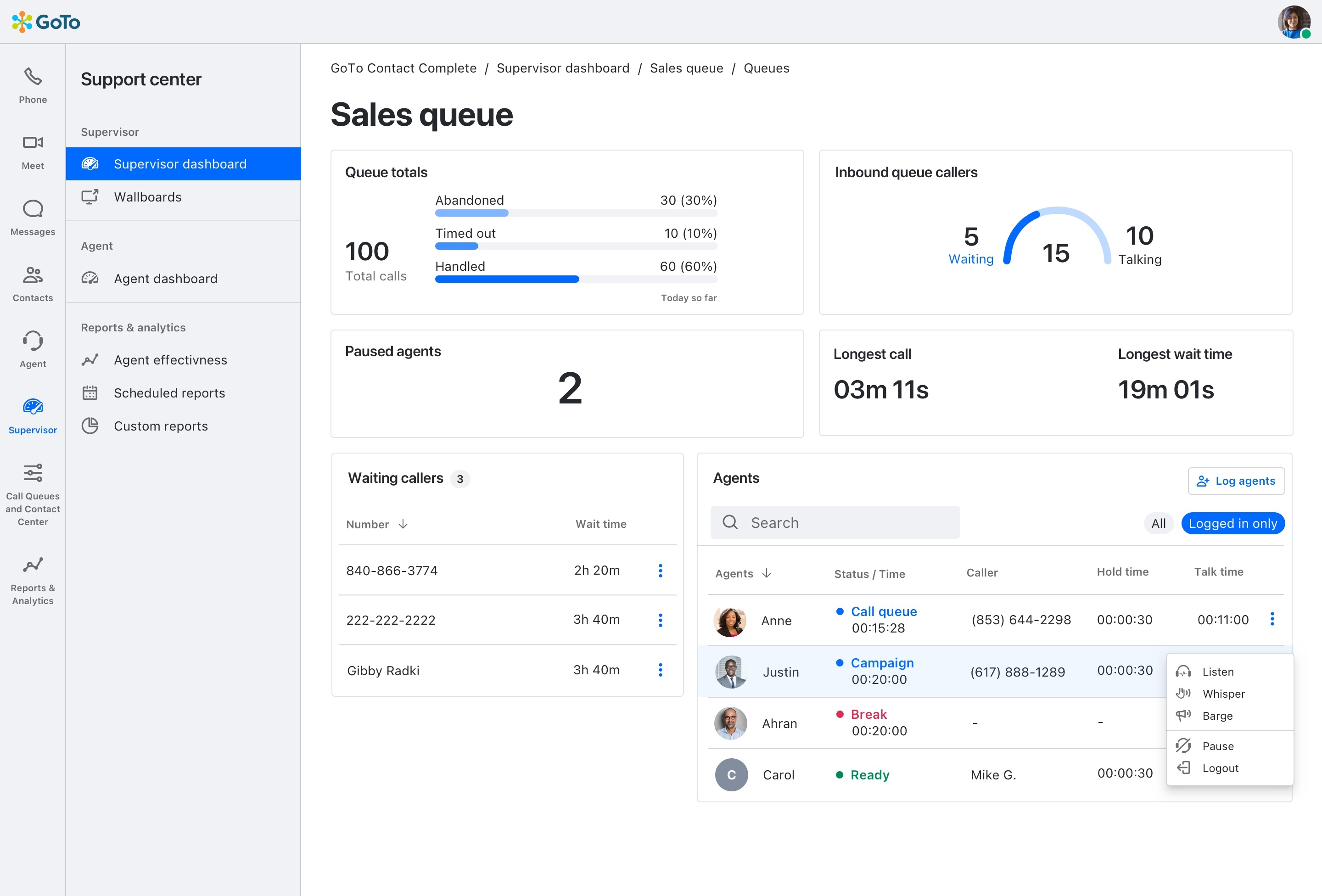 GoToMeeting is one of the most popular conference call providers that accommodates a wide range of preferences by offering dial-in lines for those who prefer phone connections. The platform ensures reliable and secure communication with a service uptime of 99.996% and top-tier enterprise-grade security.
GoToMeeting is an excellent choice for conducting business because of this integration, which allows for streamlined collaboration and increased productivity.
Features
Tag management
Secure file sharing
Calendar integration
Customizable chat surveys
Pros
This software offers various strong meeting collaboration features.
It allows for easy and seamless email integration.
Offering such a user-friendly UI, it attracts new customers very easily.
Cons
This software offers limited chat features.
It offers inconsistent customer support.
Pricing
Professional:

$12 per user/month

Business:

$16.00 per user/month

Enterprise: On-request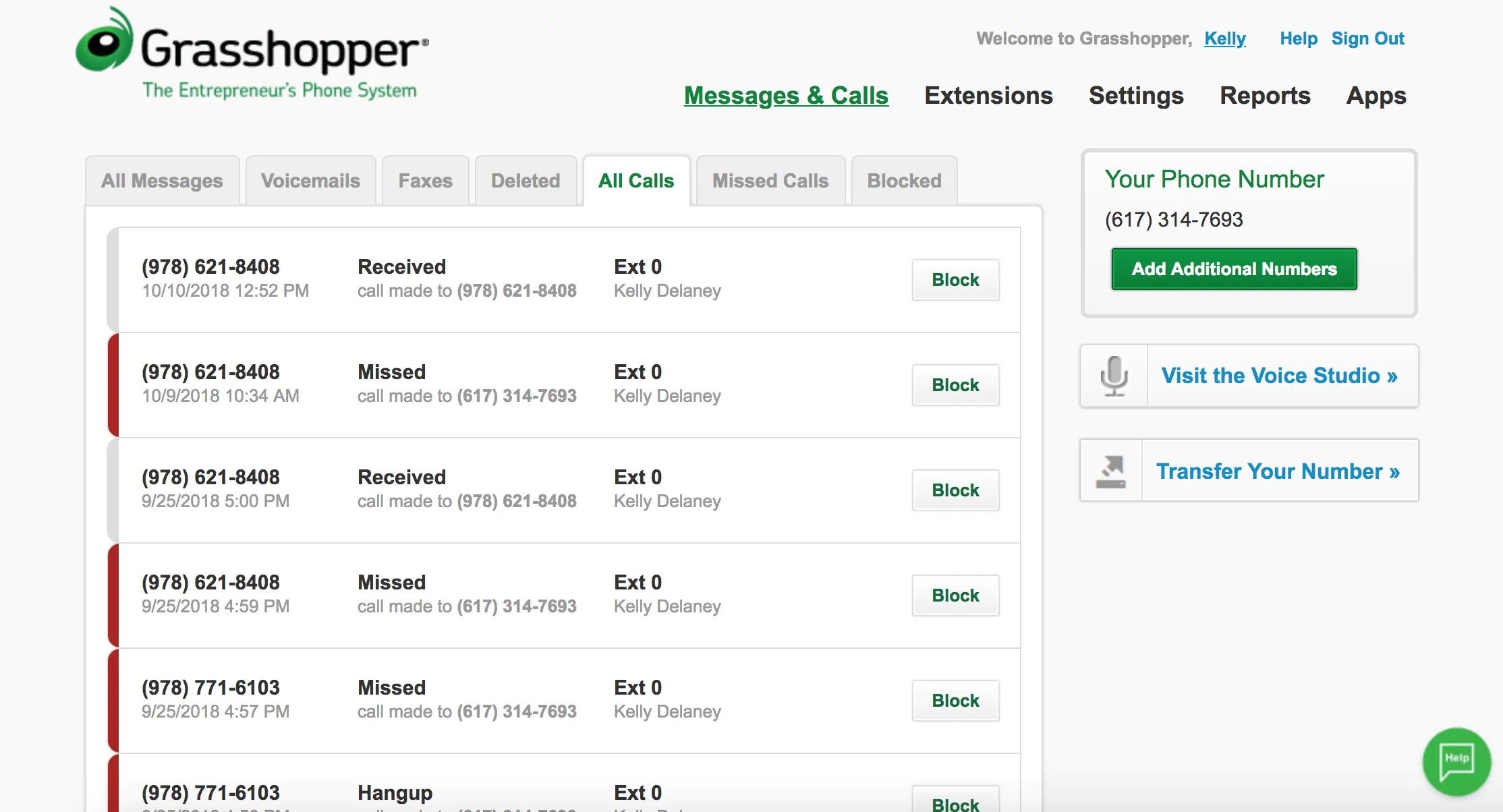 Toll-free, local, and vanity numbers are all available from Grasshopper, a well-known VoIP provider. All of these products have the same features, like instant text responses and unlimited call minutes. These laws apply to all toll-free prefixes, primarily 833, 844, 855, 866, 877, 888, and 800.
Grasshopper offers the most important features that business owners look for in VoIP, such as customized toll-free numbers and voicemail transcription. It does, however, require the more complicated features that many new businesses require. 
Features
Employee directory
Call recording
Call Logging
Voice recognition
Pros
This software offers unlimited extensions.
It offers a dedicated free trial of 7 days and a variety of pricing plans.
It has a user-friendly interface and is easily navigable.
Cons
This software doesn't offer a subscription plan for larger businesses.
It doesn't store call recordings even with the paid pricing models.
Pricing 
Solo: $28/month

Partner: $46/month

Small Business: $80/month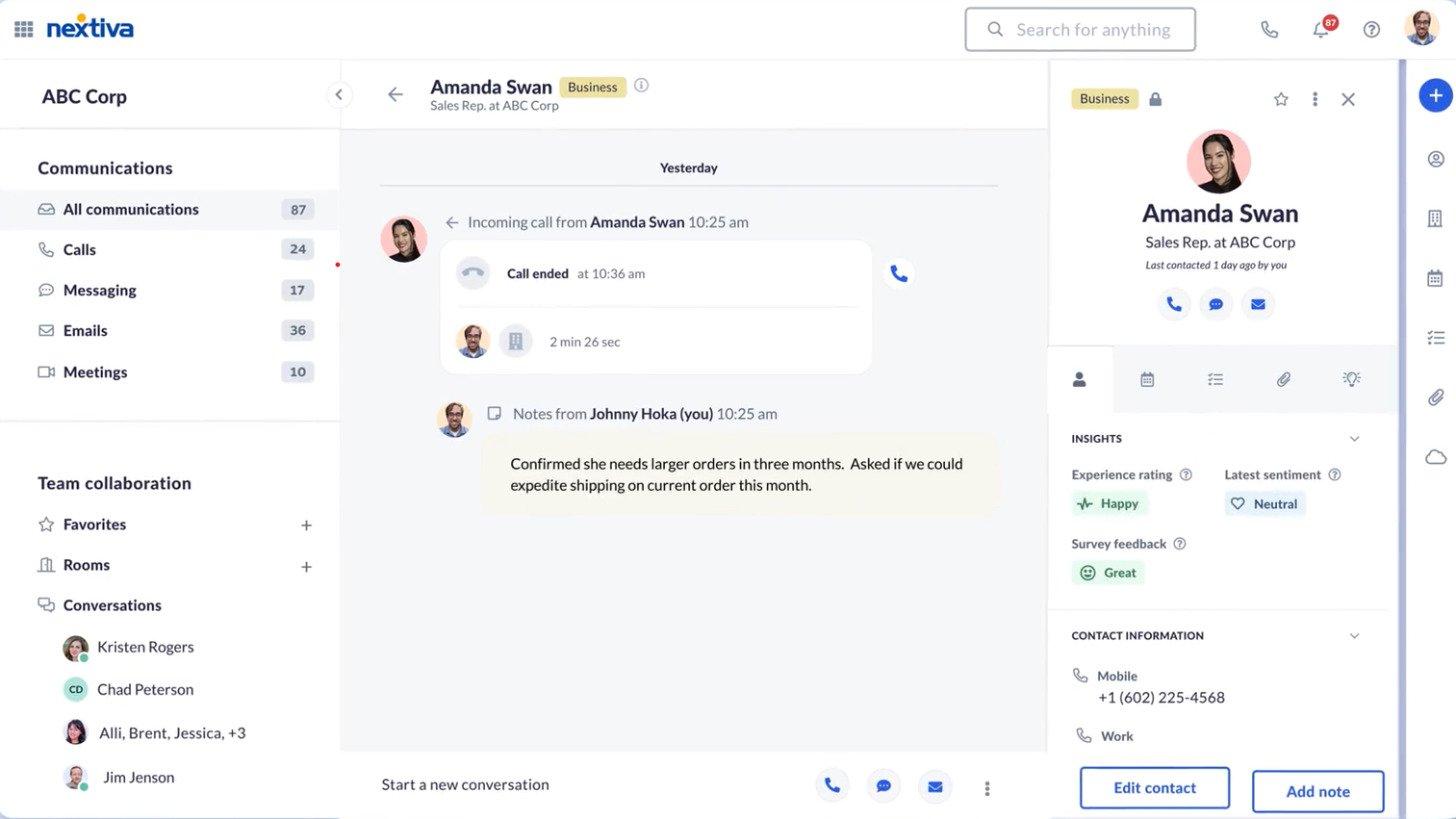 Nextiva offers businesses a complete solution for streamlining internal and external communications with its extensive cloud-based suite of call center tools.
Nextiva's HD VoIP conference calling service primarily includes business applications, intelligent automation, and communication. It allows you to scale up your functionality from basic calling to call analytics and automated transcriptions.
Features
Video conference recording
Advanced reporting capabilities
Interactive voice response
Pros
This platform provides a minimum of 1,500 toll-free minutes in a month.
It offers unlimited calling within the United States and Canada.
Many prospective customers are drawn due to its user-friendly interface.
It offers free local and toll-free numbers.
Cons
This software provides dedicated screen recordings only in the Premium plan.
Its CRM integrations are served specifically as add-ons.
Pricing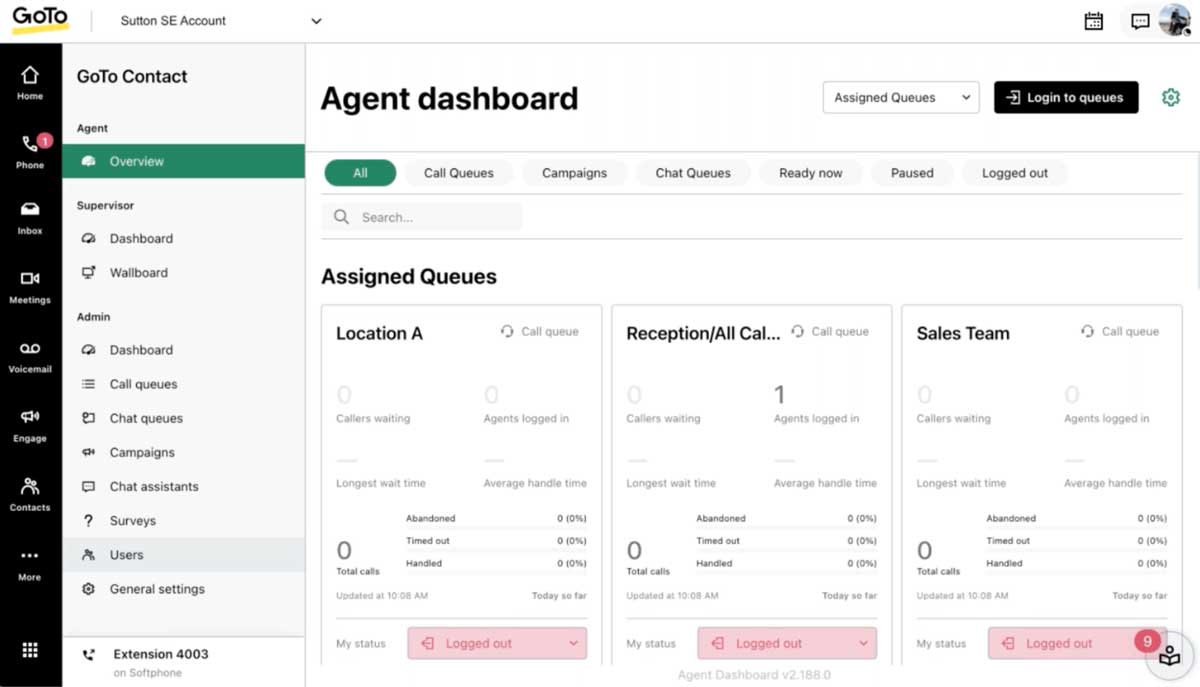 GoTo Connect, a comprehensive virtual phone system, provides small businesses with a dependable and feature-rich conference call service. They offer three distinct call solution tiers, enabling businesses to choose the one that best meets their needs. 
The higher tiers give businesses the option to scale up their conference calling capabilities as their needs change. However, it's important to keep in mind that the Basic tier and the higher tiers have very different capabilities.
Features
Audio conferencing
Team messaging
Unified admin
24/7 customer support
Pros
It offers a wide range of built-in messaging and meeting facilities.
This platform helps you to take calls from anywhere.
Helps easily set up and maintain a unified admin system.
Cons
It has a limited list of desk hardware and phones.
The admin isn't able to check messages for any phone without knowing the password.
Pricing
Basic:

$24 per user/month

Standard:

$29 per user/month

Premium: $39 per user/ month
Conclusion
Businesses have a variety of conference call service options. These services have evolved into critical tools for effective communication and collaboration in today's business environment. 
Businesses must use caution and take into account important factors that fit their specific needs when choosing a conference call service. Audio and video quality, ensuring crystal-clear communication, and security measures that protect sensitive information are crucial among these factors. Making an informed decision that maximizes value for the organization also heavily relies on cost considerations.
FAQs
The most reliable method of communication is still calling someone on the phone. They involve a direct line of communication between two individuals using telephones or other mobile phones. One-on-one interactions over the phone often allow for ongoing conversations.
Conference calls, on the other hand, bring people together for a simultaneous discussion. They make it possible for discussions to involve larger groups of people, remote meetings, and teamwork. Participants can join the discussion from their respective locations without having to physically be present, ensuring effective communication across time zones.
An Internet connection is typically required for conference calls. Voice over Internet Protocol (VoIP) technology, which sends audio and video data over the Internet, is typically used by conference call services. Using Internet-capable devices like smartphones, laptops, or desktop computers, participants join the conference call.
Each participant's audio and video data is transmitted to the conference call service provider via the Internet and then instantly distributed to all other participants. Traditional telephone lines can be used to dial-in to conference calls, but this is less common in contemporary settings.
The capacity of a conference call to accommodate a certain number of participants depends on the service or platform used. Different services have different features, but the majority can easily accommodate a large number of participants.
While some services can only handle a small number of people, such as 10 or 20, others can handle hundreds or even thousands. Before starting a conference call, check the service's capacity and restrictions to ensure your needs are met.

Paras Kela is an accomplished IT professional with 7+ years of industry experience, including 4+ years as a dedicated content writer. His expertise lies in crafting informative blogs on VoIP and cloud telephony, among other technical subjects. Outside his professional pursuits, he cherishes quality time with loved ones, indulges in watching documentaries, and finds solace in gardening. Connect with him on LinkedIn.
Updated : December 8, 2023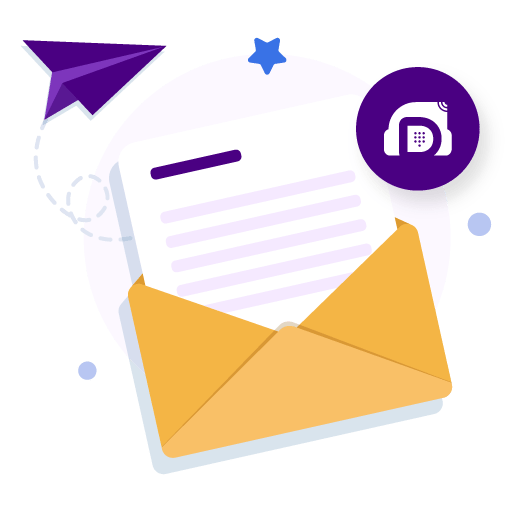 Let's Stay in Touch
Subscribe to our newsletter & never miss our latest news and promotions.

+15K people have already subscribed